Welcome to the next chapter in Coach Luke's quest to become the winningest college football coach of all-time in NCAA Football 14. To learn more about this series and read up on past installments, visit the About page of this site.
As a warning, the newsletter may appear in all bold letters in your email. Substack is aware of the issue but I have not heard of a solution from them yet. I recommend loading the newsletter post on the website to see it formatted correctly.
As a recap, here are some of the notable things you should know about last season:
The Cowboys were a 99 overall team with Lamont Collins continuing his run as one of the nation's best players. An upset loss to Nevada ruined our chance at a perfect season but we went 13-1 and won the MWC and Rose Bowl.
The recruiting class was ranked #17 in the nation. The top recruits were WR Jepson Quickley (75 OVR), C Ty Anderson (78 OVR), and OLB Matt Page (75 OVR).
---
Lamont Collins has dazzled Laramie and the nation with his running ability over his first two seasons under Coach Luke. Coming into his third season, Coach Luke is hoping to unlock a bit more of Lamont's stellar passing ability. He may not be a pure pocket passer but he's shown hints of being able to lead a pass-heavy offense too when needed.
The team is loaded with talent and that's a big reason why they are ranked #4 in the nation coming into this year. That high ranking bodes well for the team as it means that they have less ground to make up in the rankings if they get on a winning streak.
The country is starting to talk about the Cowboys as championship contenders and it seems like Coach Luke's fourth national championship may be coming sooner than later.
2033-34 Preseason
This feels like the year for the Cowboys offense. We lost HB Anthony Cox from last season, but we have Jaymond Woods and Bo Sullivan ready to shoulder the running load. We have elite talent at WR with Mooney playing out of the slot. But, the big reason this feels like an important year is because the entire offensive line is in their senior year. If the team is going to win, this likely needs to be the year. There's no guarantee that Lamont Collins will return for his senior year and the offensive line won't be this good again for a while.

As good as the offense may be, the defense has question marks. The secondary has taken a major step back with nobody rated higher than 88 OVR there. Our starting DT is only 76 OVR as well. There are weak links that we can't ignore. It will be up to DE Marky Mark and MLB Axel Rose to be standout players this year if this defense is going to perform at a championship level.

The good news for the Cowboys is that the schedule is a bit softer than it has been. There are four opponents rated 90 or higher but we are rated much better than all of them. There are also seven opponents that are rated 84 or lower overall. On paper, this looks like an undefeated season.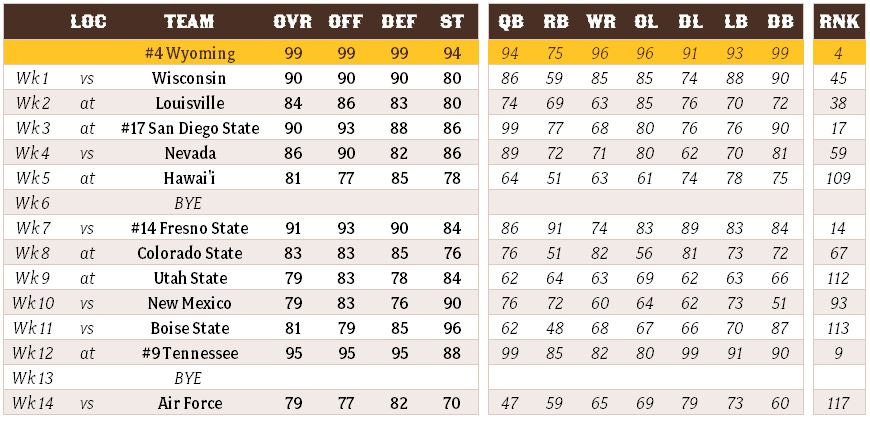 ---
Year 21 (2033-34)
We're in the 21st year of Coach Luke's coaching career. If his coaching career were a human being, they'd be having their first drink this year after celebrating their 21st birthday. It's crazy to think how long we've been at this. After getting three championships in Akron fairly easily, the road to another title has been tougher thus far in Wyoming. This year feels like the year though.
0-0 | Week 1 vs Wisconsin
The season starts with an old Big Ten foe visiting Laramie. Wisconsin is only rated 90 overall and should represent a chance to send a message to the country that Wyoming is on a warpath this season.
And?
*
*
*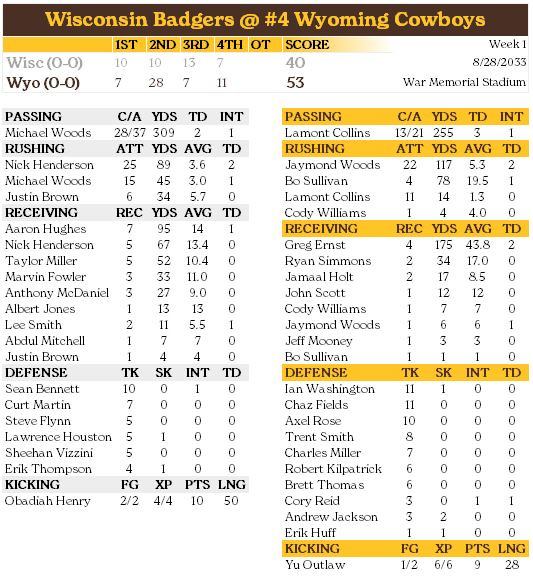 Well! We win 53-40.
This, for better or worse, is what I expected for this season. It appears that we have a prolific offense and a shaky defense. Greg Ernst had a breakout game at receiver as he accumulated 175 yards on just four receptions. Defensively, we let up far too many points and I'm worried this may be a trend as the season goes on.
1-0 | Week 2 at Louisville
We travel to Louisville next and they are rated 86 overall. With this being a slightly worse team, I'm hopeful to see our defense have a better performance than they did against Wisconsin.
*
*
*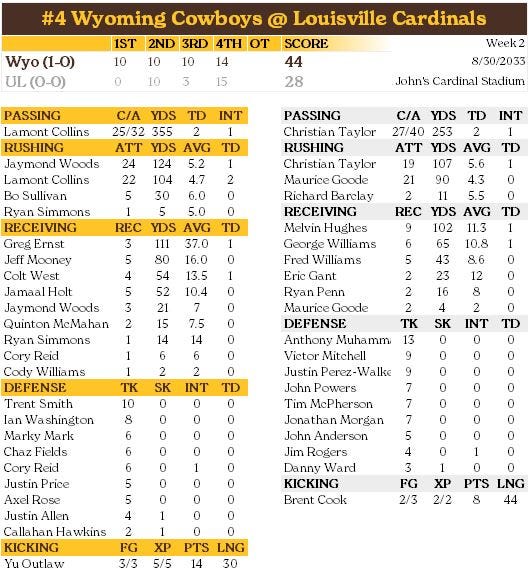 A 44-28 win! That's a bit better.
I'd still prefer to not let up four touchdowns to a lesser team but a win is a win. Jaymond Woods had his second 100-yard rushing game and Lamont Collins threw for over 350 yards in this one. The offense was firing on all cylinders and it's actually a bit of a surprise that they only scored 44 points.
2-0 | Week 3 at #14 San Diego State
Despite two big wins to start the season, the Cowboys still sit at #4 in the country as we head into Week 3.
We have our first conference game on the schedule and it is against the #14 San Diego State Aztecs. They are, arguably, one of the toughest teams in the MWC that we'll face as they are rated 90 overall.
We've slipped up against conference opponents in past years so this is a time for the boys to stay focused and, hopefully, win big.
*
*
*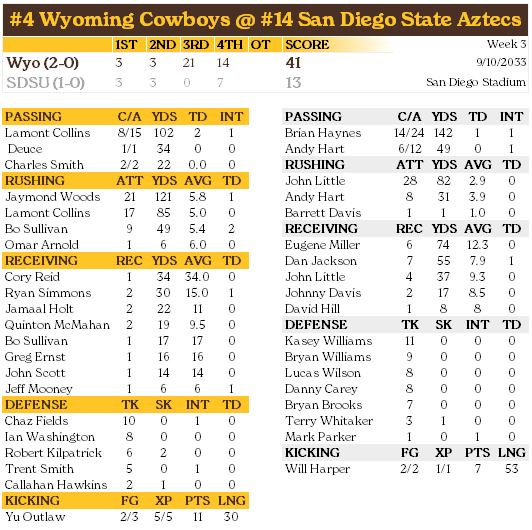 There it is! We win 41-13.
This is one of our first "complete" games as we were able to put up a ton of points and our defense actually showed up and shut down the Aztecs. In a wonderful surprise, our punter Deuce threw an amazing 34-yard pass on a fake punt that jumpstarted this team in the 3rd quarter.
With two of our toughest opponents down, the hope is that this team gets on a roll now.
3-0 | Weeks 4-6
The next two games on our schedule are against some lesser opponents. Yes, we surprisingly lost to Nevada last year so anything could happen as we face them again but, in reality, these are games we should win and…
We do. We win them both and improve to 5-0 on the season. We've scored over 40 points in every single game this season. The defense hasn't exactly shut down teams but the offense is making that a non-issue.
5-0 | Week 7 vs #23 Fresno State
We've jumped to #3 in the country. We just need one more team ranked above us to lose and then we are in the driver's seat to return to a national championship.
That's if we keep winning, of course.
The next game is our toughest in-conference game as we face Fresno State and their 91-rated team. They are only 2-2 on the season but still ranked #23 in the country. If we can get past this game, we'll have taken care of three of our four toughest opponents.
*
*
*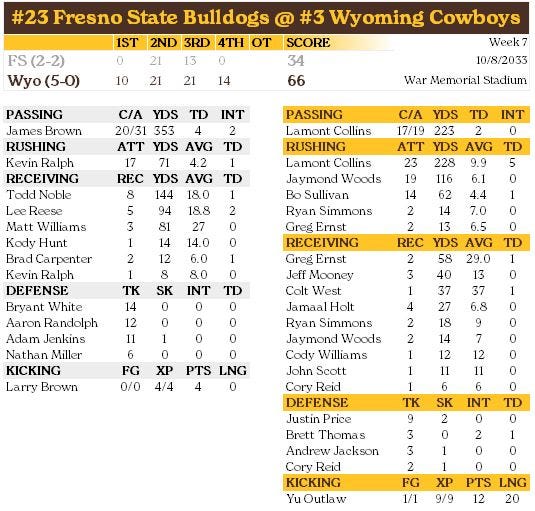 Wow! We win 66-34!
This is the type of game we're used to this season. We put up a ton of points time and time again while also, you know, letting up a lot of points too. But, hey, check out the box score of this one though because…
Lamont Collins accounted for seven touchdowns and over 450 yards of offense by himself!
What a performance! He is now a frontrunner to win the Heisman Trophy. That would be our first-ever Heisman winner under Coach Luke. We've accomplished a lot in this dynasty but I'm itching for the chance to add that to our accomplishments.
6-0 | Weeks 8 to 11
We get a bit of a breather over the next four games. They are all divisional matchups and some of the teams are having good seasons but, really, these are all games we should dominate as none of these teams are rated above 83 overall.
And?
Well, the games weren't all pretty as we eked out wins over Colorado State and Utah State but we win them all! Our Cowboys team is a bit of an odd powerhouse as we are just relying on epic offense here since our defense continues to allow tons of touchdowns in every game.
But…
It's hard to feel bad about being 10-0 as we have two games left in the season.
10-0 | Week 12 at Tennessee
At this point in time, we have moved up to #2 in the country. We can make a national championship game again if we just keep winning!!!
That's why this Week 12 matchup is so important. It's against a Tennessee team that is rated 95 overall. The good news, for us, is that they are struggling mightily as they are only 4-6 somehow. Despite their good players, it's not coming together for them this year.
We can't take them lightly though… This is a must-win game!
*
*
*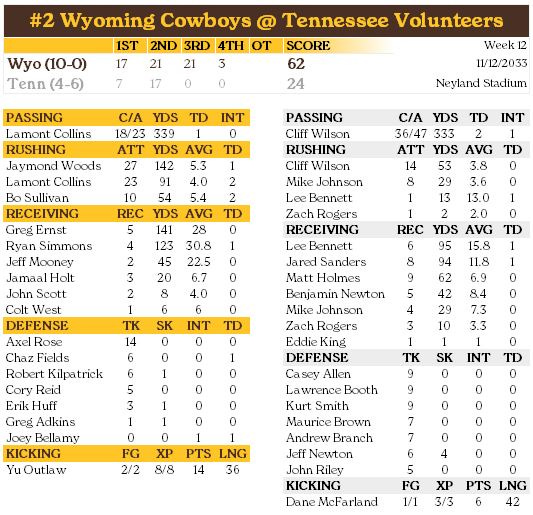 As usual, lots of points are scored by both teams but we score the most again! We win 62-24! We are a scoring machine this year. We still have not had a game where we scored less than 38 points and we have scored over 60 points multiple times now.
The amazing part of this game is that it was against a really talented team. This is a win that should give us momentum heading into postseason play.
11-0 | Week 14 vs Air Force
Before we can start the postseason, we must face Air Force though. They are only rated 79 overall. Spoiler alert: we win.
Our defense actually shows up in this one too! We are now rated #1 in the country and are headed to another MWC Championship game.
---
12-0 | MWC Championship vs #25 San Diego State
I don't know if it is lucky or unlucky but we are playing scheduled to face San Diego State again in the championship here. We played them in Week 3 and were able to beat them 41-13. Will they know what to expect as they face us for a second time?
*
*
*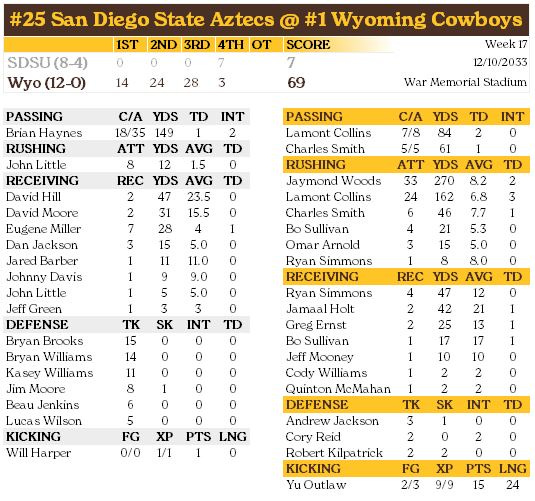 Nope! We win 69-7! Our defense has their second great game in a row as we hold their halfback to 12 yards rushing and hold them to under 150 yards passing too. We were winning by so much that Lamont Collins was pulled from the game midway through. We didn't want our star QB to get injured before a BCS National Championship game. He's still the frontrunner for the Heisman and had already scored five touchdowns in this one before we took him out.
With this win, we find out that we will face #2 TCU in the national championship! This is a flashback to Year 14 when Coach Luke beat TCU in his last game as Akron's head coach.
---
Season Awards
Before we head into our first national championship in Wyoming, I'm eager to find out if Lamont Collins gets that elusive Heisman Award. He had been the favorite for it all year long. But…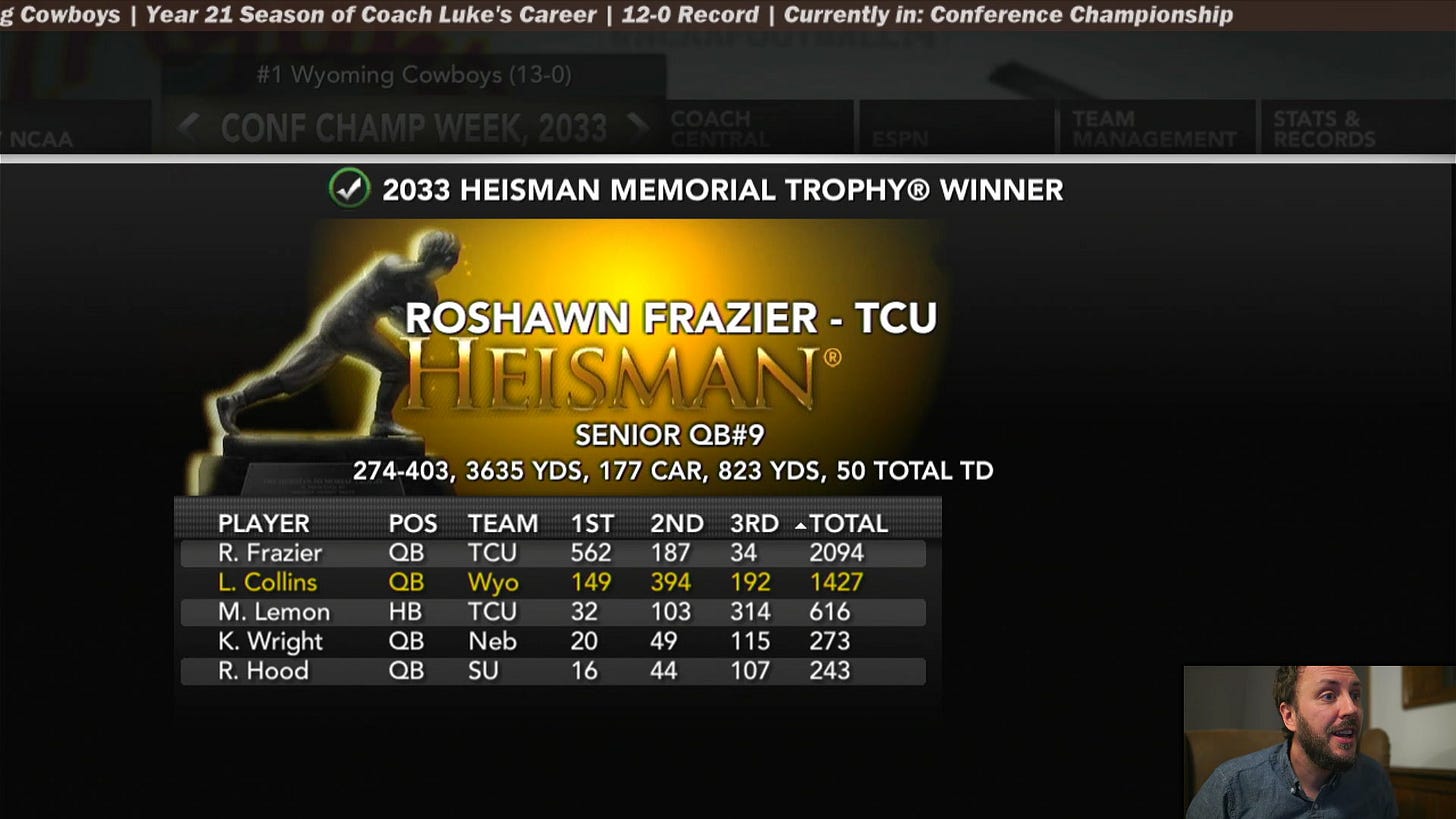 No! Somehow, the voters changed their minds at the last second and picked TCU's quarterback instead. That gives us even more fuel for the fire as we are set to face TCU in the title game! Both their quarterback and halfback finished in the top three of the voting. Their team might be pretty dang good.
If you ask me though, Lamont Collins still got robbed. These were his numbers:
Passing: 201/280, 3181 yards, 33 TD, 4 INT
Rushing: 200 carries, 1179 yards, 19 TD
It's okay though. We'll get a Heisman another year maybe and our team did take home a lot of hardware anyway:
Maxwell Award – QB Lamont Collins
Walter Camp Award – QB Lamont Collins
Davey O'Brien Award – QB Lamont Collins
Outland Trophy – G Justin Williams
Rotary Lombardi Award – DE Marky Mark
Ray Guy Award – P Deuce
Coach of the Year – HC Coach Luke
---
13-0 | BCS National Championship vs #2 TCU
TCU is rated 99 overall. They are coached by the winningest coach in the game. This is a battle for the ages. I don't need to use my words to hype you up for a national championship game. You understand what's on the line here.
You can watch a long highlight package of the game if you'd like the experience of seeing how this one plays out:
*
*
*
*
*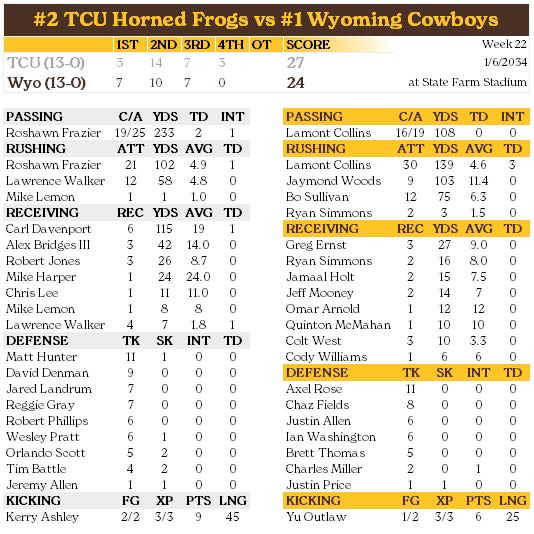 A heartbreaker.
We lose 27-24.
There's a lot of blame to go around here if I'm being honest. We veered away from our passing game and were dominated in the trenches as our offensive line struggled. Our defense actually did an admirable job by holding TCU to only 27 points but our offense just didn't do enough here.
There were also a few questionable coaching decisions late in the game where Coach Luke went for it on fourth down twice when it may have been more advisable to punt the ball.
There was also a tragic false start penalty that ruined a field goal opportunity for us to tie the game.
The fact is: we lost. We are not national champions this year.
It stinks and we have to hope we can retool and get this opportunity again soon. We do find out some good news after the game though:
Lamont Collins has agreed to return to Laramie for his senior year! I'm a bit shocked as I thought he'd take this opportunity to cash in but he must feel there's unfinished business here too. Year 22 is our year and it's his time to win that Heisman.
---
Recruiting Recap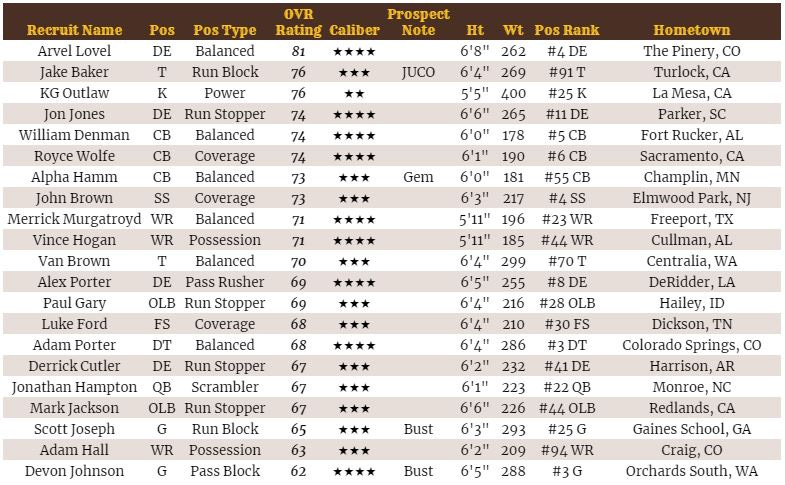 There are many recruiting restrictions in place for our team via house rules but, somehow, we still managed to have the #1 recruiting class in the country this season. The star of the class is DE Arvel Lovel and we also get some help for our secondary with William Denman, Royce Wolfe, Alpha Hamm and John Brown all coming aboard. In a nice twist of fate, we get the younger brother of Yu Outlaw as our new kicker.
This is a class with a lot of good talent. There likely isn't anybody who is going to jump in and make us better for Year 22 but the seeds are in place for a great Cowboys team a few years from now.
---
Year 22 Starts Soon!
I will be doing a short Twitch stream tonight to start the Year 22 season. I am still in the process of finishing up the Year 22 Preview post, which should go out tomorrow. If you're just a reader of the newsletters, keep an eye out for that soon.
If you're a viewer of the Twitch channel as well, I will be streaming at 8:00 PM EST tonight to watch the first game or two of the season.
You can find the Twitch channel here, if you don't know by now.
We'll ride again next season! I'm ready for a revenge tour!