When I started this newsletter back in July of last year, I did it because I thought what Ricky O'Donnell was doing with his simulated basketball adventure looked fun. I couldn't have predicted that I'd still be doing the series six months later and that we'd move from Akron to Wyoming along the way. I also couldn't have predicted that I'd meet such wonderful people that I'd communicate regularly with on Discord and Twitch.
It's been a big boost for me in a trying time and I've been grateful for the opportunity to provide you all entertainment along the way. My original goal for all of this was to do it for all sixty seasons that NCAA Football 14 would allow. We have completed twenty of those seasons and it feels like a good time to step back and let the readers add some stories to the universe again.
So, in honor of the twenty fun seasons, today's newsletter post is a special one. This post includes three pieces that are meant to tell the stories of past players and moments from this series. They are not written by me though. These are contributions from the community.
Thank you all for following this series as long as you have. It's been quite the ride!
Zip it up and zip it out! Er, let's go Cowboys!
---
The first story is a longform piece written by reader Ray. Our beloved Ray is affectionately known as the Mayor on the Twitch channel and has been a big cheerleader for this series along the way.

Ray has an affinity for history and historical storytelling so it is fitting that he wrote an epic oral history piece to add to the lore of this series. In Ray's story, he takes us back to a defining moment: the redshirting of Kenneth "K-Dubs" Washington that almost cost Coach Luke his job before a special somebody came along to save it.
---
"What Do We Have to Lose?": An Oral History of How Cortez Haumiller Saved Coach Luke's Career
It has been over 20 years since Coach Luke and Cortez Haumiller became inextricably linked. Coach Luke has always been frank about the transformation that Haumiller instilled at Akron, and about the fact that Haumiller probably saved his career before it had even gotten off the ground. After a series of interviews and communications with the people who were involved, we have compiled an oral history of Cortez Haumiller's ascent to the starting job at Akron. All jobs and positions are those that the participants held during the 2014-15 season.
To Redshirt, or not to Redshirt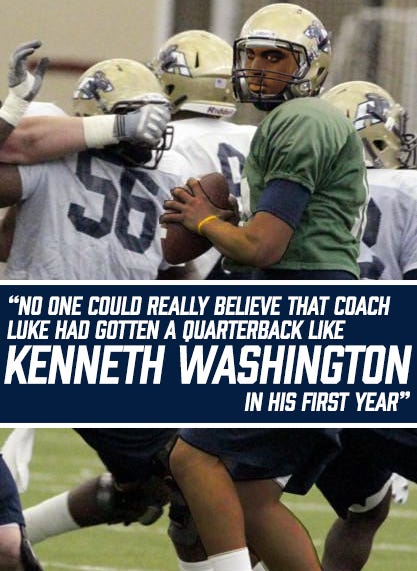 Ryan Timothy, Chief Usher at InfoCision Stadium: The thing that everyone forgets is that we weren't supposed to have Haumiller OR Jim-Joe Carlson. We all thought we were going to get to see Kenneth Washington.
Heather Dinich, ESPN College Football Reporter: No one could really believe that Coach Luke had gotten a quarterback like Kenneth Washington in his first year. It was such a coup, and such a great chance to turn the program around, that I think we took it for granted that he would be the starter from the second the ink dried on his commitment letter.
Dan Horrigan, Administrator of Akron Athletics' Z-Fund: We were so amped up! Years of being moribund, years of being devoid of hope, years of watching Kent State draw Sharpie penises on the Wagon Wheel. No one thought we would be contending for the BCS right away, but I can tell you that the city was buzzing with excitement about all the winning K-Dubs was going to lead us to. K-Dubs, snappy nickname. I came up with it, you know.
Leah Washington, Kenneth's Cousin: That's not true. His father called him Kenneth, but we've all called him K-Dubs since he was in kindergarten.
Kevin O'Connor, Akron Athletics Equipment Manager: I was printing jerseys for the upcoming season, and I thought there was some mistake. K-Dubs wasn't on the list of names. I asked Coach Luke if it was a mistake, and he told me "I think that apricot still has a little green on it." I didn't know what color an apricot is supposed to be, but I decided not to ask questions.
Kenneth Washington, Akron Zips Quarterback: It took a while for Coach Luke to convince me. I'd toiled in Bozeman Mining Junior College for 2 years, and I couldn't imagine waiting any longer to play. But Coach Luke made me realize how great we could be if I spent a year honing his offense and waiting for him to recruit more competent players. He said "Sometimes, if the coyote is patient, it learns that it was a wolf the whole time." The man is a genius.
Thomas Sawyer, Mayor Emeritus of Akron: I laughed at him. He told me about his plan to redshirt K-Dubs, and I laughed at him. I told him "Son, you're going to set the city on fire. I just don't know if they'll be celebrating you with bonfires or burning you in effigy."
The Old Guard Leads the Way
With Kenneth Washington redshirting, the starting quarterback job remained with Jim-Joe Carlson. Carlson was an unassuming junior who had taken up physics after unsuccessfully trying to master accounting. He had been the starter during the previous season's 1-11 campaign, and was something of a known quantity to the Akron fan base.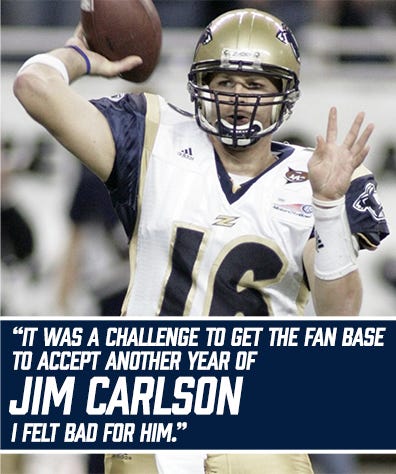 Zippy Zach Zesperson, Host of WKRK's "Akron Roundtable": That boy moved slower than a tortoise in an ice storm.
Lucy Jackson, Frequent Caller to WKRK: I kept calling Zippy Zach and saying that Jim-Joe had to get the piano off his back. He was such an ungainly runner.
Horrigan: It was a challenge to get the fan base to accept another year of Carlson. I felt bad for him. I knew he was trying, but you can't teach things like speed or personality.
Patricia Carlson, Jim-Joe's Mother: Those [profane language removed] uncles on his father's side thought it was SO damned funny to pretend not to know if his name was Jim or Joe. I wanted so desperately for him to stand up for himself and tell them to [profane language removed]. But instead, everyone just started calling him Jim-Joe.
Zac Davis, First Year Akron Offensive Coordinator: When Jim-Joe ran the 40, I had to time him with a calendar. I had been brought to Akron to run an offense built around mobile quarterbacks like K-Dubs. I couldn't believe that Coach Luke was going to stick me with this Jim-Joe mother[profane language removed]. I begged him to burn K-Dubs' redshirt, but he just said "The fox isn't born knowing how to braid the rabbit's hair." I really regretted leaving UNC-Pembroke at that point.
Carlson declined to be interviewed for this project. However, he did submit an email statement in response to our repeated inquiries.
Jim-Joe Carlson, Akron Quarterback: I enjoyed my time in Akron, and I felt a connection with the fans. I knew they believed in me, and it was their support that motivated me to work as hard as I could in the offseason. Coach Davis was always supportive, and he told me that he could see me playing on Sundays.
Davis: I told him I could see him playing chess on Sundays, because he always left his damn curtains open.
Dinich: Coach Luke insisted that running Davis' offense with Carlson would give the team a year of reps and make them that much better when Washington began starting. We [the media] wanted Coach Luke to succeed, because everything he did or said really drove audience engagement. But there were more than a few of us who thought that another full year of Carlson might break that fan base.
Points at a Premium
Akron began the season with a 26-14 defeat at Minnesota. The competitive final score belied growing concerns about the team's offensive direction.
Alan Gordon, Akron Defensive Coordinator: Our defense played well, and I was pleased with them in that game. The problem was that our offense couldn't move the ball at all. Our field position was terrible, our offense kept going three-and-out, and our boys wore down. Hell, the Gophers' average starting field position was OUR 47-yardline (Ed. Note: It was actually the Minnesota 41).
Davis: Gordon gave me so much [profane language removed] after that game. And what could I say? The defense was so focused on our running backs because they knew Jim-Joe wasn't fast enough to hurt them. Hell, half our points were from recovering a bad punt snap in the end zone!
Horrigan: It was disappointing, but we tried to stay positive. Minnesota is always one of the stingier defenses in the Big Ten, so we wanted to believe that the offense would get better as competition grew weaker.
The Zips won their next game 19-3 against FCS Dayton. However, settling for 4 field goals and failing to break 20 points against a Flyers team with no scholarship players hardly settled the fan base down. A 17-10 loss to Iowa State further reinforced the fan base's belief that an impotent offense was holding the team back.
Zesperson: If anything, the close losses made things worse. It was evident that our defense was sharper than expected, but the offense's ceiling was so low that it didn't matter. With K-Dubs redshirting and Carlson gumming up the works on offense, the fans felt cheated by Coach Luke.
Dinich: All of a sudden, the game against Youngstown State became a must-win game. It was imperative that Akron and Coach Luke show that progress was being made on offense. The fan base was not going to tolerate another 1-11 year, and Carlson needed to show that he could move the ball against an FCS opponent before they got to the teeth of the MAC schedule.
The Breaking Point
Anxious to avenge an embarrassing loss from the prior year, Carlson and the Zips charged into battle against the Youngstown State Penguins. Instead of revenge, the Zips suffered a stunning 14-7 loss to their FCS opposition.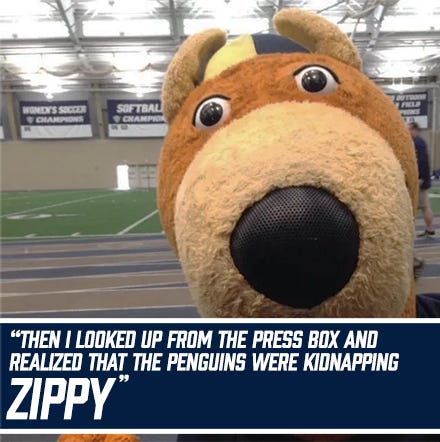 Timothy: People forget that, in spite of everything, we had a chance to tie the game in the final minutes. It was 4th and 2 on the Penguin 24. But Davis called for a read option, and Carlson didn't come close to the first down marker.
Davis: That's a lie! There's no way that, after almost 16 quarters of watching him that I was going to put the ball in Carlson's hands. I called Power O to Andre Brown, the competent member of that backfield. But then Carlson audibled! I couldn't believe it. I've never thrown my clipboard so hard.
Horrigan: No one knew what to say. The fan base was livid. You could feel the vitriol as they booed Carlson off the field.
Zesperson: We thought we'd reached the nadir of the Akron experience. Then I looked up from the press box and realized that the Penguins were kidnapping Zippy.
Rudy Carson, Chief of Akron University Campus Police: I felt so bad for that kid. I had my officers stationed behind the sideline, in case the fans tried any funny business on Carlson. It never occurred to me to guard the mascot. I can still see the plaintive look in her eyes as they dragged her off to the locker room. I can't imagine what it must have been like.
Rebecca Griner, Akron University Mascot: It was actually an interesting experience. They gave me space to get changed out of the costume, and then they gave me sandwiches and kept telling me fun facts about penguins. I didn't think to ask what they were doing with the costume, and I couldn't believe they got the work done so quickly.
Sawyer: They had spray-painted Zippy to look like a penguin. Honestly, I had to stifle a laugh. It was one of the more unbelievable things I've ever seen.
O'Connor: It took me a week to scrub the paint off of that costume.
Dinich: I couldn't believe it when I saw the video. Zippy being kidnapped and transformed into a penguin? You couldn't find a more appropriate symbol of the direction the Akron program was trending towards under Carlson. We knew Coach Luke had to do something.
Decision Time
Zesperson: The fan base was in an uproar. I knew they were about to hemorrhage season ticket holders and sponsors. I also knew that the higher-ups at the school had to be plotting something.
Horrigan: Those are privileged conversations, and I'm not going to betray anyone's confidence. But suffice it to say there were some big names in the Akron community demanding that a change be made.
Delonte West, former Cleveland Cavaliers Guard: I was having breakfast with LeBron's mom, and she told me that he was livid. She said he kept saying that either Carlson would go, or Coach Luke would.
Davis: I told Coach Luke again that we couldn't afford to keep Carlson at quarterback. He was silent for a long time, and I'm sure the pressure was getting to him. Finally, he said "what do we have to lose?". I was taken aback. I'd never heard him speak so plainly. I knew how stressed he had to be. For the first time, I began to feel sorry for him.
O'Connor: We were all a little surprised that Cortez had hung around. He hadn't even gotten to campus yet before the coach that recruited him was fired. I think before K-Dubs was recruited he thought he might have a chance to be Coach Luke's quarterback. After K-Dubs committed, we thought that Cortez must have stayed because he felt like he didn't have anywhere else to go.
Dinich: It's a heck of a thing to make a redshirt freshman your starter right before your rivalry game. At the same time, we were all curious to see what Cortez could do.
Andre Brown, Akron Running Back: Cortez was always a quiet guy. We knew he had some speed, but we didn't know how he would handle going up against starters as such a young quarterback. But after a week of practice, we were all smirking like the cat that ate the canary. We knew Kent State was in for a surprise.
The Battle for the Wagon Wheel
Davis: Cortez was a quiet person, but I could tell he was amped before the game. Too amped. He threw his first pass into the front row! (chuckles) After that, I simplified the offense. Only a couple of passes, and easy zone reads.
Beth Mowins, ESPN Commentator: The next time Akron got the ball, Haumiller broke 3 tackles and dashed 40 yards. It was electric, and you could see the boost it gave to the whole team.
Later in the drive, down 7-0 and facing 3rd and goal from the 8, Akron called another pass play.
Aaron Davis, Akron Wide Receiver: Honestly, I thought he was going to tuck it and run. I definitely didn't think he would throw to me, because I was double-covered. But we made eye contact, and I saw a glint in his eye. The next thing I knew, I was snagging a pass in the end zone.
O'Connor: The people who say they could see our sideline transform were right. Guys were engaged, encouraging each other, laughing with one another. It was beautiful to see.
Horrigan: The fans were in rapture. Three rushing touchdowns from a quarterback? This was everything we had been led to believe was possible from Davis' offense.
Davis: I ran up to Coach Luke after the game and clapped him on the back. "Great call, coach!" I yelled in his ear. He just grinned and said "You can't make an omelet without slicing a pineapple!"
Zesperson: The fan base was so relieved. And who could blame them? Four weeks of offensive ineptitude, four years of losing the Wheel, all erased. The image of Zippy running around with the Wagon Wheel in her pouch was a national phenomenon.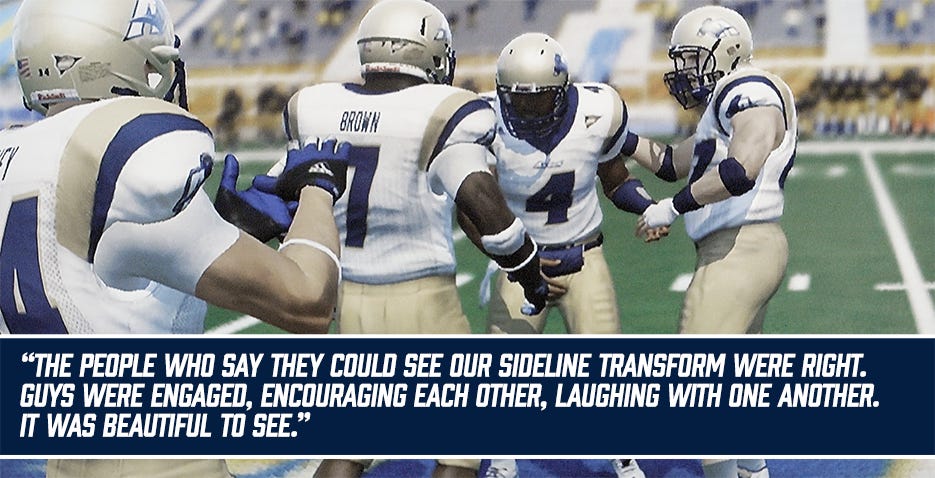 The Snow Will Purify Us
Akron struggled after beating Kent State, losing 3 straight blowouts. Even so, there was a different air about the program after the Kent State game.
Davis: Once Cortez was on game film, our next few opponents had some success against him. I was still working with him to expand his playbook, so we kept things pretty vanilla for a few weeks.
Horrigan: The losing was much less of a big deal this time because the fans had seen the future. Cortez had given them a reason to believe. With the Wagon Wheel in hand and proof that mobile quarterbacks could win at Akron, our fans were much more willing to be patient.
Carlson (email statement continued): I made sure to let Coach Luke and Coach Davis know I was willing to step back in as starter, especially when the losing continued. Coach Luke told me to "Consider the way of the hawk in the sky, and you will have your answer." Unfortunately, there are over 200 species of hawk, so I couldn't be sure which one he was referring to.
West: Look, everyone talks about how everything was peaches and cream after Kent State. All I know is that LeBron's mom kept talking about how pissed LeBron was. LeBron wasn't about rebuilding. He wanted to win games in that season.
Gordon: Before the Miami game, I heard Coach Luke talking to a pack of recruits. The snow was beginning to swirl, and I heard him say "The snow will purify us. The Earth is giving us a clean slate. I promise you will watch us become snow warriors on this night." I could see that the recruits were eating it up.
Zesperson: At his pre-game press conference, someone asked Coach Luke how secure he felt his job was. He actually pulled out a piece of the Wagon Wheel and started combing his hair with it. It was remarkable to see how much his confidence had grown, and I know that rubbed off on the players.
Mowins: Akron was only up 15-14 at halftime, and we were expecting a back and forth slugfest. Instead, Cortez took over the game with 3 long touchdown runs. Miami couldn't contain him. I knew at that point I'd better start making a list of good restaurants in Akron, because we were going to be coming back a lot over the years.
O'Connor: After his last touchdown, Cortez got a penalty for screaming "No one comes back from the mountain alive!" at the Miami sideline. I tried explaining to him that we're only 1,000 feet above sea level, but he and Coach Luke kept jabbering on about the Snow King wearing a blue crown or something. I don't know what it meant, but Coach Luke was really connecting with the kids.
Akron added wins over Central Michigan and Northern Illinois to finish the season at 5-7. After the season, Coach Luke rode the team's momentum through to National Signing Day, where he hauled in the #1 class in the MAC. The future was bright at Akron. Coach Luke signed a 6-year extension in the offseason, and he and the Zips never looked back.
Horrigan: Finding money for Coach Luke's extension was actually one of my easier tasks at the Z-Fund. Our boosters had gotten a taste of success, and they knew we had to make sure that Coach stayed around. Of course, some boosters had deeper pockets than others, even if they lived on the West Coast, so that helped too. I guess I've always been good at bringing money and people together to do special things (Ed. Note: Horrigan was elected mayor of Akron in 2015).
Griner: My senior year, the 2016-16 season, was such a dramatic difference from the earlier years. Winning the MAC, beating Kansas, it all felt surreal. But I'll never forget how empty InfoCision used to be, or how close we came to not breaking that cycle.
O'Connor: I've seen all of our greats. K-Dubs. Patterson. Drew. Sims. But none of that would have been possible without Cortez. We were staring into the abyss, and he grabbed us by the collar and pulled us back.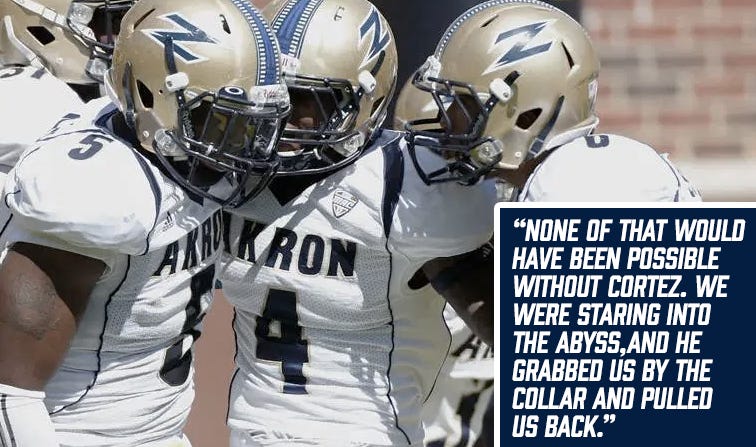 ---
The next story tells the tale of an almost-forgotten cornerback in our history. Reader Ron pens the saga of CB Eric West from Years 3 through 7 of the series.

Ron is a long-time reader of the series dating back to the beginning and he's been the heart of Twitch community. In addition to that, he's been a key piece in our recruiting process as Ron helps identify our needs and wants every year.

In Ron's story, we learn how Eric West got started and what happened to him after Akron football.
---
Second Fiddle: The Eric West Story
Eric West always had talent but never had the name. As a senior at Parma Senior High School in Parma, Ohio, West was known more for his music ability than his play on the field, and that is saying something. Eric played violin for the school band, and he was just as highly recruited for his music as for his play in the secondary. Akron for him was an easy decision: the music program offered him a way forward in his primary love and the football team offered him an outlet for his aggression.
Eric made all-state in band year after year in high school but always ended up in the second chair. His talent never could quite come out during his tryouts. He would finish second to a different person each year. As a freshman in high school, it was an honor. As a sophomore, it showed continued excellence. As a junior, it became monotony. As a senior, it was frustration. At Akron, he was offered first chair as a freshman to entice him, but he wanted to earn it. He worked and he worked to do his best. Once again, it evaded him.
On the field, Eric was one of the few incoming freshmen allowed to start. In Year 4 of the Coach Luke era, he came in and partnered with Kenny McKinney. Kenny, a junior, immediately took Eric under his wing. Eric stood at 6 foot 3 and, though he weighed in at 195 pounds, his frame looked much larger due to his Polynesian ancestry. McKinney worked out with West constantly, pushing him as much as he could, seeing the future of the Zips secondary taking shape right in front of him. The following year, West and McKinney once again started, but at this point, there was very little difference between the two, so Coach Luke kept the now senior McKinney as the #1 corner. Eric was content to bide his time. Knowing that the secondary was thin behind his two starts, Coach Luke recruited hard that year for a strong secondary. Eric looked forward to taking these new freshmen under his wing just as Kenny had him.
Of course, Year 5 of Coach Luke's career saw one of the great recruiting classes of all time at Akron, and the biggest name of all came that off season: the GOAT, cornerback Anthony Morris, signed with Akron. At the beginning of the year, Eric West took over as the #1 corner. This, however, did not last long, as Morris soon outpaced West and the rest of college football, quickly becoming not just the best cover man in Akron, but in all of college football. Partway through his junior year, Coach Luke pulled Eric aside and gave him the news that Morris would now be the #1. Once again, Eric was pushed into the #2 role. Finally in his senior year, West could see what a phenom Morris had become, and quickly ceded his spot. He did not, however, give up helping the younger players.
What happened to Eric West, who always played his best yet never came in first?
After graduating, he turned down a chance to play pro football, letting evaluators know his heart was in music. He put his degree to good use. He now plays for the Cleveland Orchestra, considered one of the "Big Five" orchestras in the United States, where he plays violin as the first chair.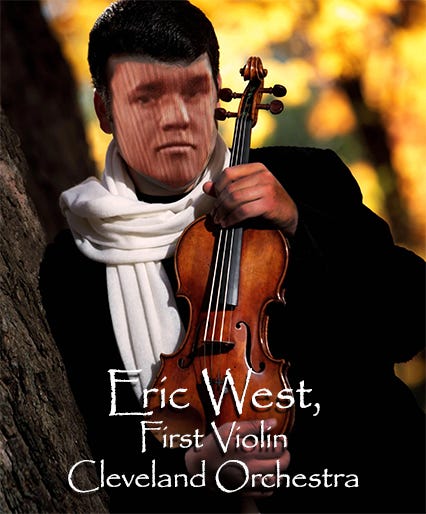 ---
While the first two pieces told stories of our early Akron years, reader Nick brings us a fresher tale. Nick is one of the more creative members of the Twitch and Discord community. He relishes at the chance to see position players playing special teams in blowouts and always does a good job of keeping things light and funny on the Twitch channel.

His writing follows that lead. He brings us the story of offensive lineman Toot Tutins who was one of the first recruits that Coach Luke was able to get in the offseason that he first came to Wyoming.
---
Toot Toot: The Toot Tutins Story
Adam Tutins, a 4 star LG from San Buenaventura, California. A man who didn't believe in what he was being sold by Oregon and San Jose. He knew that his high ranking, 3rd in the nation was not deserved, he didn't want to disappoint these schools who were dumping the hopes of their future on his shoulders. He just wanted his degree in botany, then he was going to start micro-farming back home, starting a business that he could pass down onto his children.
Adam was always a large man, reaching 300 pounds in seventh grade. He made his high school varsity team in 8th grade, due to his size. His friends called him freight train starting in 2nd-grade flag football as once he got moving there was no stopping him. His coaches and fans would bring train whistles to his games to celebrate his countless touchdowns; as even in flag football, nobody could stop him, nor did they want to.
He had received interest from a few schools, but nothing serious. This was because the humble Adam knew he could not live up to his lofty ranking. He wanted to go to a school that wanted him for him. He would tell coaches to not spend too much time on him, telling them that he doesn't want the fame. Then one day, a school that had expressed interest in Adam announced that they had fired their coach. The new coach's first order of business was to finish up recruiting. Adam had heard of this coach, he didn't want the attention of some suit-toting, rich man who brings the attention of the national media and high-value athletes. Adam crossed Wyoming off his list, never expecting to get a call from the new coach anyway. Fate had other plans in mind.
The next day, as Adam was prepared to commit to Oregon and be a dance major, he gets a knock at his door. Coach Luke, the new man in charge of Wyoming, the man who Adam wanted nothing to do with, was at his door. Luke, who had yet to even secure his own housing in Wyoming, came to San Buenaventura, wearing simple clothes. Khakis and a sweater vest, no national media, no entourage, no high profile. Luke just wanted to talk. He told Adam about how great Wyoming is, how quiet, how LeBron and him were done after LeBron kicked Luke's cat and set his suit on fire. Additionally, Luke was done with the lifestyle he had in Akron, he wanted a quiet life filled with days at the Grand Tetons and nights around his wood-burning furnace.
Adam was sold, he committed to Wyoming on the spot, but on one condition. "Coach, I have never felt comfortable being called Adam. Please, Coach, accept me for who I am, I am Toot Tutins." Luke was stunned, he had had a few people change their names while on his roster before, but they had never come to him before doing it, they just went to the courthouse on their own. Immediately, Luke drives his newest charge to the local courthouse, changes his name, then takes him to dinner at Olive Garden.
Toot "Toot" was not very good as a freshman, but Luke made him the starting LG anyway, believing in Toot's maturity and poise to make him effective. What Luke had not expected, was how effective Toot would be on the line. Toot's secret weapon was screaming "TOOT TOOOOOOOOOOT" on every single snap, intimidating the blitzing defenders. Toot established himself that year as the anchor of Coach Luke's offensive line of the future.
Coach Luke was so enamored with Toot, that Luke had a heated greenhouse built adjacent to the team training facility. It was small, but it meant the world to Toot. Toot became a captain for his junior and senior seasons, leading the team onto the field (albeit very slowly) and calling the coin tosses. He was even once ejected from the coin toss and sent to the sideline because instead of calling heads or tails, he yelled out, "TOOT TOOOOT!!" and the referee was not impressed. Toot had forgotten that the game had yet to start. In the end, Toot became one of the greatest linemen in Wyoming history. Toot holds no records, because the game does not appreciate men like him the way they deserve, but he does not care. The man has two conference championship rings and three bowl game wins.
Unfortunately, the NFL does not acknowledge his abilities, believing that NFL players are more adept at playing through intimidation such as Toot's signature, "TOOT TOOOOOOT" scream which has wreaked havoc in college for 4 seasons. But that is just fine with Toot, who stayed in Wyoming to work on his greenhouse. Toot had even received a grant to expand his greenhouse. Additionally, he got hired by Coach Luke as an offensive line coach. For 2 seasons now, Toot had commanded a legion of men. This legion has protected Lamont Collins admirably, to the point where Lamont is a Heisman frontrunner as a junior. But Toot is thinking of multiple things. First, he wants the natty that the selection committee had kept him from as a senior. Second, he believes it is time for a promotion. He has spoken to Coach Luke about it, but Luke tells him that there are no available positions on his staff currently and that he leaves his coordinator decisions to be made by the Athletic Director. Luke prefers to spend his time at his fireplace with his now retired, Cat President Phoenix.
---
Thanks to Ray, Ron, and Nick for their contributions! These stories and deep-dives into this fictional universe from all of you are a big part of why I have loved working on this series. The newsletter will return to the regular content in the coming days as Year 21 is shaping up to be very special for Wyoming.