Hello to the Rubber City Dynasty and Laramie City Lights community, and welcome to my new NCAA Football 14 dynasty series! This will be a long post but I do want to introduce you to our new coach character. He's got quite the story. After we meet the coach, I'll chat with y'all about the plan for this series.
If you are completely uninitiated, this is a newsletter series that recounts simulated football games in NCAA Football 14 and it builds an evolving backstory behind it. In 2020-21, this series lasted for 22 seasons and followed a coach character that went from Akron to Wyoming. We're back at it again for another run with lessons learned from before and a whole new coach character to follow this time.
Speaking of that coach character, we haven't met him yet, have we? Well, here's a little teaser video to give some insight into who he is:
So, without further ado…
---
Meet Coach Luke Touchdown
Coach Luke Touchdown has taken an unlikely path to his first college coaching gig. The fact that his first coaching job was also a head coaching job has upset many people in football's inner circles as well. East Carolina University is getting publicly—and privately—blasted for what has been deemed a publicity stunt on their part.
"And, that last name? Touchdown? That can't be real, can it?"
Well, unfortunately for Luke, that's indeed his legal last name.
The Touchdown Kid
The reason for his last name can be traced back to a single decision he made in 1999.
The Carolina Panthers were hosting the Cincinnati Bengals on a late September afternoon. Through a local town raffle, Larry and Holly Bellringer had won endzone seats to the game and brought their son Luke. The family was not wealthy by any means and, frankly, felt a little out of their element at the game. Little Luke was just vibing though.
The Carolina Panthers were coasting to a big win. The stadium was full of joy and optimism that September day. Wesley Walls would catch a touchdown in the fourth quarter to extend Carolina's lead.
That's when it happened.
You have to remember that 1999 was a different time. Security was laxer and times were simpler. That's why little Luke was able to jump right onto the field that day. Luke would later say that he didn't know what came over him. All we know is that Wesley Walls celebrated that touchdown and that Luke wanted to celebrate too. So, he ran onto the field and celebrated.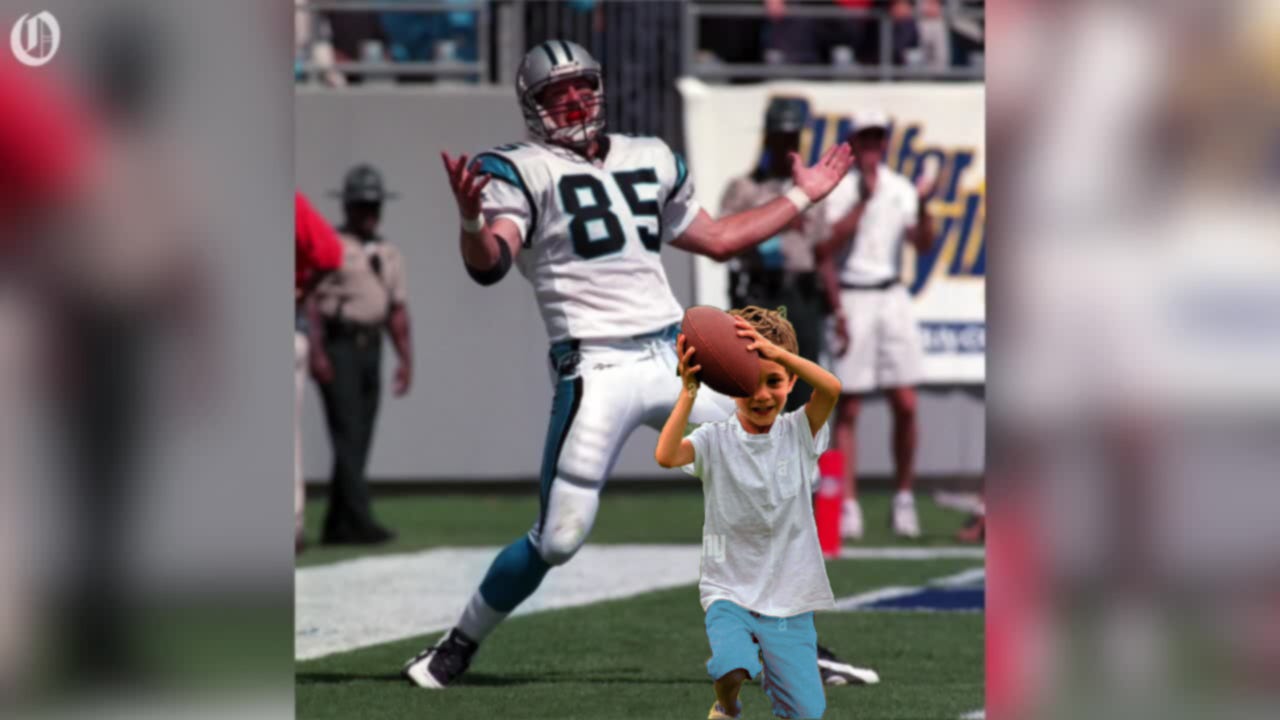 Wesley Walls, to his credit, played along with this surprise moment. He didn't raise a fuss when Luke grabbed his touchdown ball and ran with it. He, like everyone, just laughed until security returned Luke to his family.
The video of this kid running with the touchdown ball started to spread around the world. It spread as quickly as memes could spread in the days of 1999. So, it spread slowly and stayed in the news for a long, long time.
Whether you were an Overly Attached Girlfriend or a Touchdown Kid, you didn't only go viral but you stayed viral back then. For Luke Bellringer, he had no control over his mild celebrity status though. All he knew was that he ran onto a field and then was appearing on shows like Good Morning America and Late Night with Conan O'Brien to talk about it.
Luke also had no control over his family's dwindling finances and the fact that they looked at this as a chance to make money. Looking to act fast while at the height of this "Touchdown Kid" fame, the family took out a loan, purchased an old Pizza Hut, and announced the creation of The Touchdown Grill in their hometown of Elkin, NC.
When that didn't make big news as they had hoped, Larry and Holly panicked a bit because of how much money they had just taken out. They did something drastic at that point and they changed their last name to Touchdown.
The news vans were suddenly back in Elkin and in front of their restaurant. Yes, they knew that was because they were the butt of jokes, but they also knew this wacky last name was financially saving their family. So it goes.
Growing Up For Lukey Touchdown
When you're known as The Touchdown Kid, you get asked about football a lot. To be ready for adults and strangers teasing him about football, Luke soaked up everything he could about it. He became an encyclopedia of knowledge, with his specialty being facts about iconic coaches like Woody Hayes or Mike Ditka. He was drawn to these leaders of men.
Luke would dabble with a few offensive positions in high school but found most of his success at wide receiver. He attended Charlotte University where he was able to make their team as a walk-on. His time as a football player was mostly spent watching and learning though.
He'd find himself straying from football in his early twenties after he graduated. He'd never taken time to process his childhood fame and the whirlwind that his life was back then, so he became a bit of a hippie for a while as he processed life and tried to mellow out.
After years of drifting without fanfare, he started a Twitch account in 2016 and planned to play Madden while chatting with people online there. When he became recognized as the Touchdown Kid from the memes, his follower base instantly grew because of the curiosity of it all. When people saw the way he'd pause the game and start to break down football, his follower base only grew from there, but now because people started to look to him as a source of football knowledge.
He transitioned his Twitch channel into focusing more on football analysis and techniques. He broke down coaches and dispensed his vast football knowledge to a growing fanbase.
There was a buzz about Lukey Touchdown suddenly. He was turning down broadcasting offers even. He knew he wanted to actually be on the football field one day though, and that's when his followers started email campaigns to beg any school with a coaching vacancy to hire him.
An NCAA World Torn Apart
It would fill an entire book to tell you the story of how the major conferences and the NCAA itself got to this point but, in this universe, the College Football Playoff never came to be in 2014. Instead, chaos and division grew stronger and a bold proposal brought forth by NCAA Vice President Antonio Dingle came to fruition instead.
The NCAA agreed to an innovative relegation system that would split the country's teams into three competing regions with their own tiered conference structure that would financially reward teams for their performance and punish teams for failing to compete.
The Western Region would hold an alliance between the Pac-12, Big 12, and MWC and there would be relegation/demotion between them. The Southern Region had the SEC, Sun Belt, C-USA, and the Northern Region had the Big Ten, ACC, and MAC.
The remaining American Conference agreed to host the service academies and to be a training ground for teams that had been demoted out of the lowest tier in each region. If a school won the American Conference, they could enter their region's relegation conferences again.
The way relegation would work is that conference champions would get promoted and replace the worst team from the tier above them each season.
To top it off, a brand new 8-team playoff would emerge too and the three regions would send their top conference champs into the playoffs as well as one other team each season (plus two national at-large teams). It created regional pride and excitement for this new system.
Despite being agreed upon in 2013, this new structure would not begin until the year 2022 as it gave schools time to prepare for this brave new world.
The Hire That Broke The Internet
East Carolina University was not one of those schools doing well in preparing for this new relegation-based world. After numerous financial scandals surrounding Tim Biakabutuka's tenure as Athletic Director, their sports programs were being drained of money at the wrong time. They had no way to save themselves from being placed in the dreaded American Conference when 2022 arrived. This was a financial blow because they fell out of the new Southern Region's three conferences and lost money as a result.
While other schools in the Carolinas were excited about a new relegation universe, East Carolina was mired not only in financial chaos but apathy. Their previous coach, Kevin Greene, had driven fans away with a bad football product and his general distaste for college-aged people.
After firing Greene before the 2022 season, ECU's biggest concern was getting people to care about them at all. The stadium needed to stop being empty. The country needed to notice them. They needed some buzz.
That's when the emails came flooding in.
The subjects read "Hire Coach Luke!", "Hire Coach Touchdown!" or some variation of that, and they came in non-stop. So, they hired the damn guy.
Sure, it wasn't quite that simple. There were interviews and a vetting process and a safe contract structure to protect themselves from potential embarrassment.
But, man, they gave the job to The Touchdown Kid.
Now, the world wants to see what will happen. Now, the students want to see their Twitch streamer coach. And, well, the athletes are skeptical—but hopeful.
Will it work?
We'll find out soon enough.
---
Welcome to The Touchdown Chronicles
So, there you have it! A backstory for our coach! That's something we never really had before.
As you can see, there will be some new wrinkles in this universe and that includes a conference relegation system and an 8-team playoff. We had changed conferences enough in the past so that we were essentially doing our own mini-relegation system before. So, I think this will add some cool drama to the series without having to manufacture it ourselves later.
The other exciting part of this new version of the series is a little website I made.
In the past iteration of this series, I felt Substack was limiting me. This series had lots of record-keeping with no place to store it on Substack.
In addition, I have also thought that having more people do a simulated sports series like this would be an awesome thing. However, that can end up being a bit disjointed when it's split among a variety of Substacks.
That's where Sim To End comes in. It's a work-in-progress but the site will host mirrored copies of the Substack posts from this series as well as additional newsletters that people may create in the future with their own sports stories. In addition, Sim To End will hold stats about each series and any other information we may want to store. It's more of an archive site than anything at this point but it may look like it's own little ESPN site one day with many different sports on there.
For those that may create their own stories one day, your series would not need to be as detailed as my series. Everybody can do their own takes and everyone can be their own special selves. If you have an interest in doing a future series, let's chat sometime.
For now, just bookmark Sim To End but you'll keep getting your newsletters here as normal too.
The Twitch Return
Oh yes, I stream this series on Twitch, don't I? Well, first off, feel free to check out my newly-renamed Twitch channel: CoachLukeTD.
This week, I plan to do a few practice streams that will be unscheduled. I'm mainly testing out new equipment and I'll likely be playing NES games, but feel free to say hello if you're online at the time.
My first stream for this series is going to be during the evening of Friday, October 28th. I will be doing a Year 1 Season Preview post prior to that to introduce you (and myself) to this East Carolina Pirates team. I'll give more details about the stream start time and all in that post.
So, my friends, let's f'n raid?!
Thank You
Also, a deep thank you for your patience and your kindness everyone. I can't wait to reconnect with you all and I can't wait to connect with new people too along the way too. Make sure to invite your gardener to subscribe because we're going to have some fun.