Welcome to another Wyoming roster preview to supplement the series about Coach Luke's journey for peace and happiness in NCAA Football 14. For any new readers, feel free to check out the about page of the site to read about this whole project and catch up on the past installments.
FYI: Once again, my Substack posts are in bold letters in your e-mails though they look fine on the website. Substack still hasn't given me a solution yet, so I'd recommend loading the post on the site for now!
---
The Cowboys are coming off their third straight season with a 13-1 record. Last season was different though. That one loss coming in the championship game stings a bit worse. Losing by three points in that game is haunting. It's the fuel that fires the team this year though.
There was no doubt that Lamont Collins could have been a top pick in the NFL Draft after his big season last year yet Coach Luke was surprised when he didn't even need to sell Lamont on returning for his senior season. Lamont is just as motivated as Coach Luke to get a title for Wyoming and he knows he's their best shot at it.
This team will have to fight hard as it's not the same roster from last year's amazing team. Will Lamont's career end with a Heisman trophy and a championship win? Let's take a look at the roster to find out.
---
Meet the Offense
This year's offense will still be potent mostly because Lamont Collins is behind center. Outside of that, we're looking at a lot of changes compared to last year. We had all seniors on the offensive line last year so this year's unit has five new starters there. Last year, the average starting offensive lineman was rated over 90 overall. This year, the average lineman is rated under 80 overall. We have to hope this doesn't affect Lamont's ability to be his usual self.

In addition to that situation there, we also have a new starting halfback and a few new receivers to lead our offensive attack.
Omar Comin': HB Omar Arnold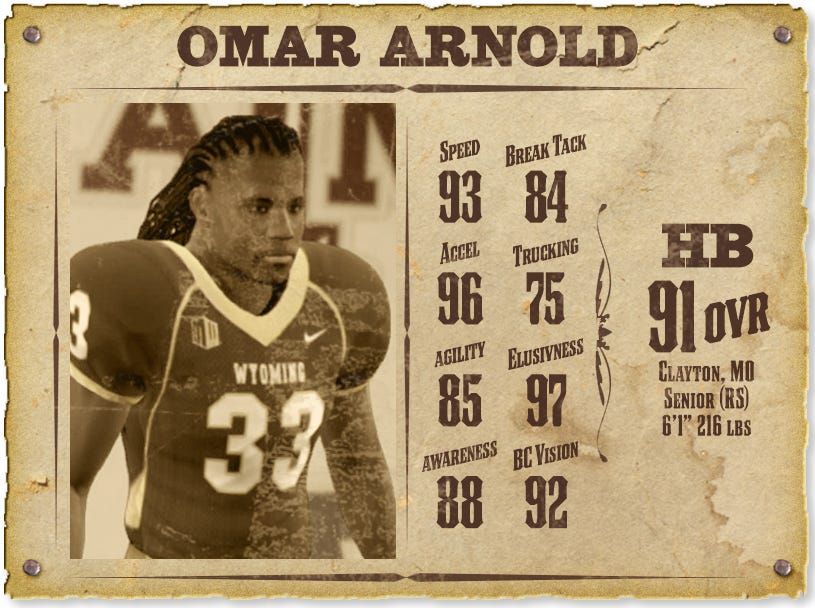 For better or worse, the starting halfback position has bounced from senior halfback to senior halfback for the past few years in Wyoming. Omar Arnold is the latest senior starter after Jaymond Woods and Anthony Cox were the leaders the past two seasons.
Omar grew up in St. Louis but he found himself wanting to leave the St. Louis area after it became the only city to legalize human cloning. In the year 2026, cloning became legal in St. Louis and those clones are now starting to grow up there. It has created a lot of tension between humans and clones in the area. The clones have also created an overcrowding issue as there are just so many of them now. Omar wanted some peace and quiet and open spaces and found himself enamored with Coach Luke and the Wyoming scenery during the recruiting process.
Coach Luke wasn't sure what the plan would be with Omar as the running back position was pretty full at the time but, at worst, he thought he might be able to train Omar to play fullback. Omar pleaded with Coach Luke to let him focus on being a halfback even if meant being a backup for a number of years.
In his senior year, the time has finally come for Omar to be a starter and he is overjoyed at the shot to be the leading back on a championship football team.
Colt .45: WR Colt West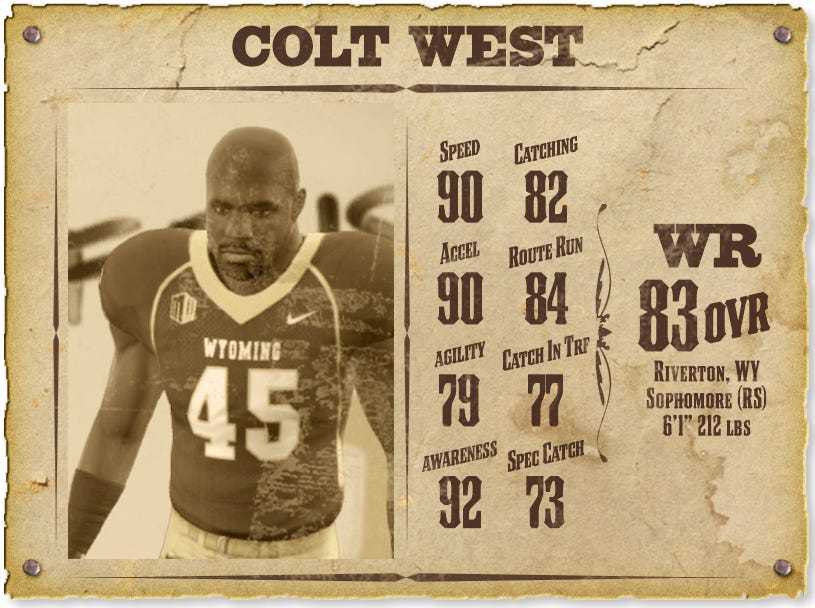 If you're a star football player from Wyoming, there's a good chance that you'll want to play for Coach Luke these days. Coach Luke makes sure to recruit the best players from the state every year as winning a title at the University of Wyoming should be a celebration for the state itself and the people from it. Colt West is the latest in-state star to join the Cowboys.
He grew up in a tiny town of Riverton that is lovingly known as "The Rendezvous City". It's not known as being a football mecca but Colt West made it one for a few years. From a young age, it was apparent that he was built differently than everyone there and he dominated football at every single level. At times, he played quarterback, halfback, cornerback, linebacker and was the best player on the field every single time.
He settled into playing receiver in his senior year once the school had a true quarterback to throw it to him. Given the level of his competition at the time, nearly every catch turned into a touchdown in high school for him. He's learning how to play against tougher competition now during his years under Coach Luke. The good thing is that he's learning quickly and Coach Luke sees it too as he thrust Colt into a starting role in his sophomore year now.
Players Talked About In Previous Years
---
Meet The Defense
The secondary was a major issue last year as players were put into starting roles sooner than expected there because of a mass exodus of players the year before. All of the starters in the secondary have returned this year though and we hope to see a major improvement in that department.

The front seven will be lead by the two stars with funny names: MLB Axel Rose and DE Marky Mark. With those two creating double-team situations, the hope is that it allows for other players to step up and make an impact too.
Mean Ol' Callahan: DT Callahan Hawkins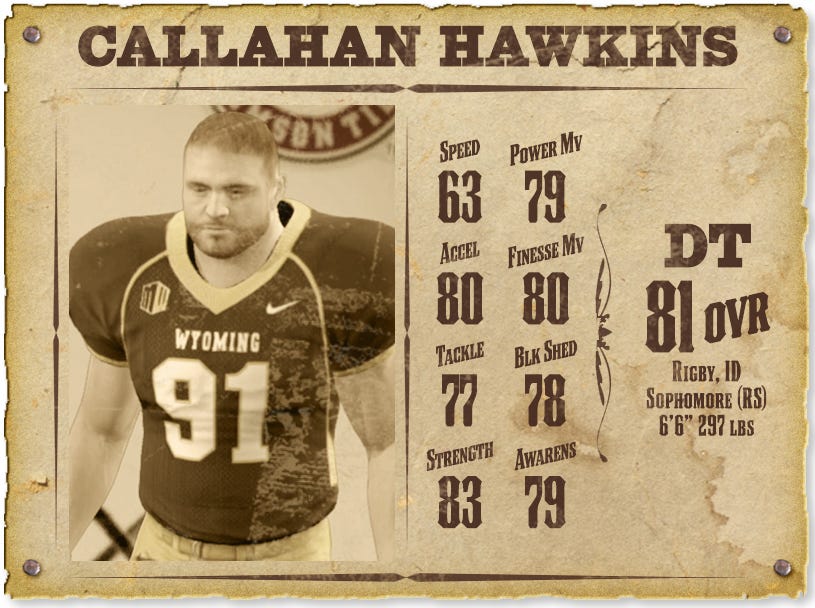 Coach Luke has made an effort to get players from smaller states over his time in Wyoming and he's had surprising success with nearby Idaho. We've seen DE Marky Mark, DE Andrew Jackson, QB Charles Smith, and a handful of other players come to Wyoming from Idaho and find success.
When Marky Mark found himself having so much fun and success in Wyoming, he made sure to make a call to the other great defensive lineman from his home state: Callahan Hawkins. Marky Mark was incredibly convincing with his usual charm and charisma and basically recruited Callahan to Wyoming before Coach Luke ever talked to him. Callahan and Marky are now two of the three starters on the line and proudly representing their home state on a budding championship team.
A Fresh Page: ROLB Matt Page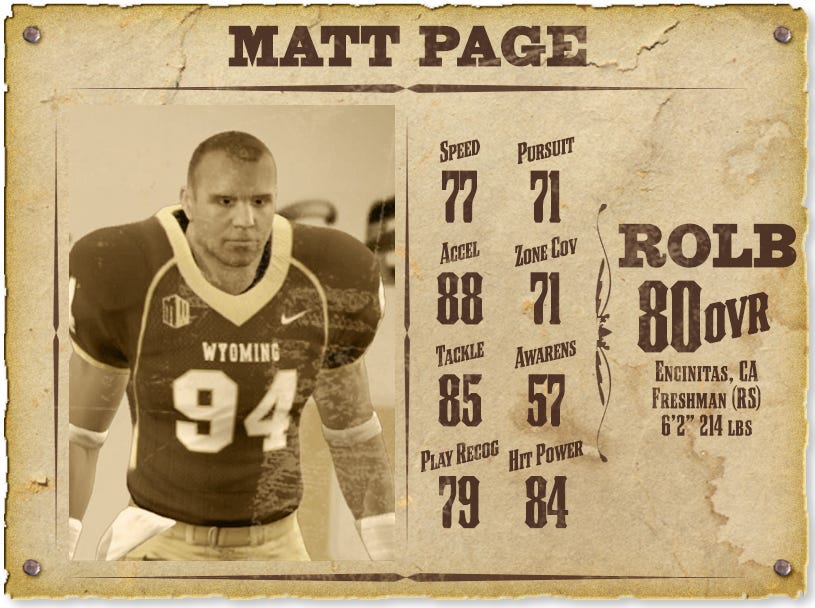 Despite running a 3-4 defense, you might be able to argue that Coach Luke has never produced a true stud linebacker. We've recently seen players with 99 overall ratings like Tavares McBride there but their performance on the field usually serves as a safety net rather than a disruptor. Matt Page hopes to change that perception as he comes to Wyoming with a rare chance to start as a freshman.
With the team in the middle of some lean years defensively, there have been secret rumblings about whether Coach Luke may eventually hire a defensive coordinator who favors a 4-3 alignment. That doesn't worry Matt Page because he knows he has the ability to be disruptive from the outside linebacker position in any sort of alignment.
We don't often see freshman starters and it will be fascinating to see how Matt Page takes advantage of that rare vote of confidence from Coach Luke.
Players Talked About In Previous Years
---
Year 22 Overview
To get a more intimate look at the entire roster, you can check out the yearly roster spreadsheet here:
We have our first neutral site game on the schedule this year during our time in Wyoming. The administrators at Oklahoma State and Wyoming set up a game at Cowboys Stadium in Dallas that is being dubbed The Cowboy Bowl. That is how we will kick off the season. The toughest games on our schedule outside of that are against Oklahoma in Week 2 and Minnesota in Week 8.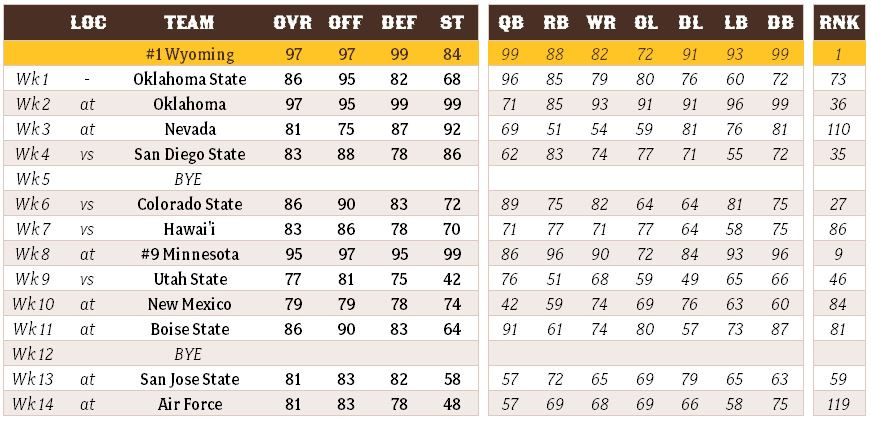 As always, the conference games look winnable. Our highest-rated opponents in the conference only rate at 86 overall this year, which is a good thing for us. You just never know what can happen on the football field but this certainly could be an undefeated regular season once again if the team can go take care of Oklahoma and Minnesota.
---
Two Twitch nights this week!
As I alluded to in the previous newsletter, I actually started the streams for this season last Friday. This week, I will be streaming on Wednesday and Friday nights to finish up the remaining games:

If you get excited about the idea of maybe watching a championship stream live, feel free to stop into Friday night's stream. If we're going to see a championship then that would be the night for it. Here's a link to my Twitch channel.
Let's f'n ride!