Welcome to the next chapter of the University of Akron's quest to win seven national championships in NCAA Football 14. To learn more about this series and read up on past installments, visit the About page of this site.
Coach Luke and his Akron Zips have shown themselves to be among the top-tier of teams in college football. The hope is that Akron can continue establish themselves as a perennial threat as opposed to a one-hit wonder. That became a legit concern after Year 9 was technically a step backwards after their national championship season.
The Zips lost two regular season games, but they still were able to win the Fiesta Bowl against a lowly UMass team. Coach Luke and his beautiful suit secured the #1 recruiting class in the country. The saddest part of Year 9 was that our beloved Fountain Drew and Anthony Morris played their last games in an Akron uniform.
It's not like things got completely off track, but Year 10 will hopefully be a step forward for the Zips. There will be a new quarterback and a new offensive playbook which means there are a lot of unknown variables this season. Will these changes catapult Akron forward or end up being our downfall?
I don't know! It's time to find out.
Let's f'n zip!✓
---
Preseason
While we are always on the championship path at this point in our dynasty, Coach Luke is a firm believer in the power of the redshirt. In fact, red shirts just may be his favorite item of clothing after his beloved suit. We start the preseason by naming those redshirts for our team and there are the top players in that group:
LG Dennis Thomas (79 OVR)
LOLB Trevor Allen (79 OVR)
LOLB Jack Garcia (78 OVR)
LE James Smith (78 OVR)
LT James Alexander (78 OVR)
There's some talent there that will help us in the trenches moving forward and there's help on the way for our up-and-down linebacker position. We'll have to wait until next year to see these guys though.
As for our Year 10, our schedule ends up being an uneven mix of top-tier teams with 95+ OVR ratings and bottom-feeder teams that are barely above 80 OVR. With five ranked teams on the schedule, the hope is that Akron can win a majority of those and prove to the country that we are among the best teams in this era.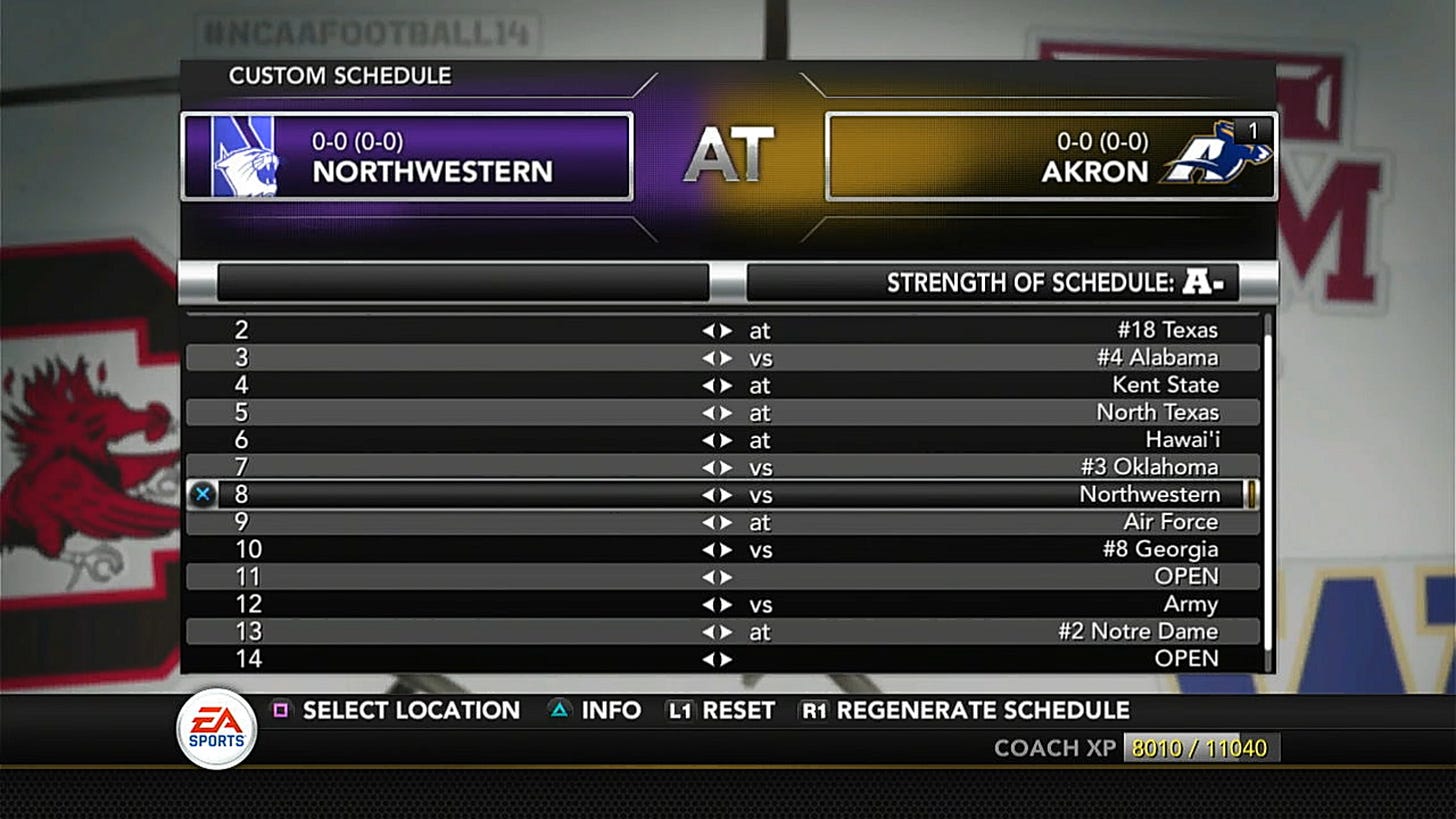 Year 10 Roster
As I talked about in the Year 10 Preview post, we have a new quarterback in Rod Jackson as well as new cornerbacks that have a lot of promise in Ethan Terrell and Howard Norman. There are some weaknesses on our offensive line and in our front seven but this seems like a championship-caliber roster again. That's all contingent on sophomore QB Rod Jackson stepping up though.
Our ratings are identical to last year as we are rated 99 overall with a 97 offense and 99 defense.
Can Ian Brown emerge at halfback? Can Chauncey White continue to be the best WR in college football? Can anyone replace Anthony Morris? Can our kicker E.J. Johnson not let us down?
Ahh, so many questions! Let's do this!
---
Year 10 (2022-23)
We are now a couple years into the future. There are still flying cars everywhere while jetpacks are becoming the main form of transportation. Everyone eats energy cubes and space travel is becoming commercialized. Even with all of these futuristic changes, college football is still the country's favorite game.
Before this season started, Coach Luke held a meeting with his horde of assistants and came up with a new playbook. The playbook is fully customized and uses run-and-shoot passing concepts and read option runs.
Historically, Coach Luke is known for recruiting and not his game management. This playbook will hopefully show the world that he's not only a great recruiter—maybe he's a great gameday coach too.
0-0 | Week 2 at #19 Texas
After teaching the offensive playbook to Rod Jackson and the other Zips, the team travels to heart of Texas to face a tough 95-rated Texas squad. No better way to test out the playbook, I suppose.
We watched this game on Twitch so we could see the playbook up close.
Here are the condensed highlights of the game:
*
*
*
*
*
What a disaster!
The Zips blow a big lead and lose the game 26-23 in overtime. This game really felt like a punch to the gut.
The Zips were driving down to kick a FG to win the game at the end of regulation. Coach Luke felt like his team needed to catch their breath so they were slow to set up and wasted nearly all of the clock before they ran a long bomb on the final play instead of playing for the field goal. This forced the game into overtime where the Zips defense crumbled and let up a TD on their first play.
The media is sure to have a field day as they rip into Coach Luke for his coaching blunders and clock management. The pressure for him to focus less on recruiting and more on the game itself is likely going to be a national story.
There were some strong performances but the star for the Zips was CB Ethan Terrell getting two interceptions in the game.
Coach Luke decides to stick around Texas and do some recruiting as the team heads back to Akron, and the recruiting trail offers good news at least. Coach Luke is able to secure three insta-commits to start the year:
QB Leonard Sims (77 OVR)
CB Lamar Taylor (75 OVR)
OLB Victor White (69 OVR)
These all seem to be depth-based signings but bode well for our future. After those signings, the recruiting board is reconfigured heading into Week 3. It mainly has a focus on rebuilding the offense: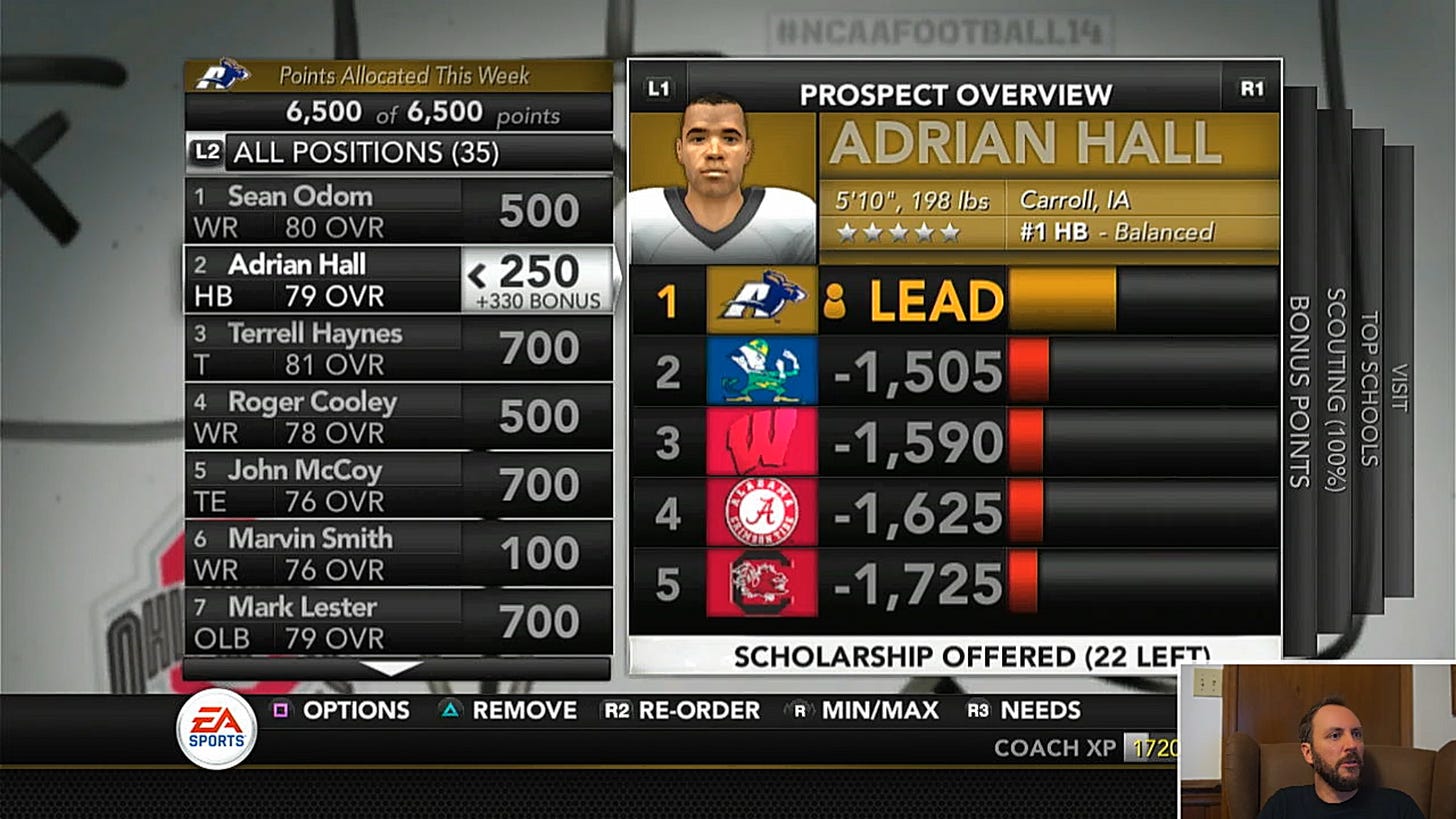 0-1 | Week 3 vs #3 Alabama
We return home after the Texas debacle and don't have any time to get comfortable as we face an Alabama team that beat us last year. Most of their star players are back and they're as tough as ever.
This game was streamed on Twitch as well, and here is a short highlight package from that stream:
*
*
*
We win 33-9!
Don't lose faith in the Zips yet, baby!
We established an early lead and kept running the ball as our defense continued to play lights-out. HB Ernie Francis redeemed himself with 175 yards rushing in relief of an injured Ian Brown. CB Ethan Terrell had a pick-six and two more interceptions to bring his season total to four already.
That's a huge win for our boys.
On the recruiting trail, the biggest focus is on the top three on our board: WR Sean Odom (80 OVR), HB Adrian Hall (79 OVR) and T Terrell Haynes (81 OVR). Getting two of those three would be a great step in building the future of our offense.
1-1 | Week 4 at Kent State
It's nice to take a breath after two tough games to start the season. We travel fifteen minutes down the road to play our supposed "rivals" at Kent State. I issue a challenge to my players to beat the Flashes by sixty in this one!
And?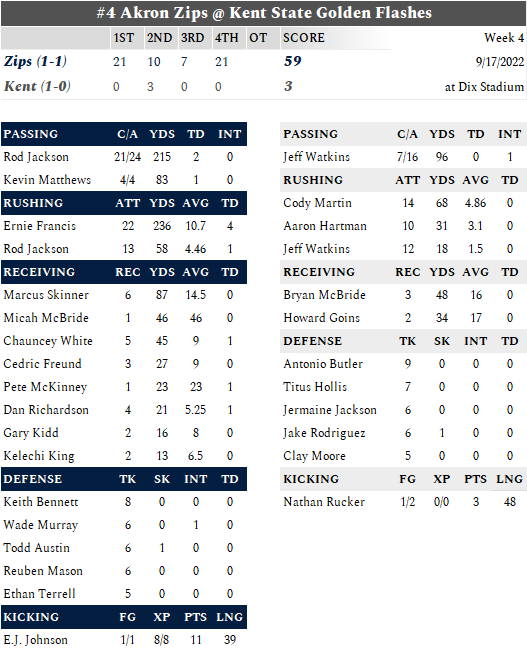 Aww, nearly a sixty point blowout! It was just a dominant performance from the whole crew. Our backup QB Kevin Matthews even got to make an appearance. You love to see it.
The big news is that it appears that Ernie Francis has supplanted Ian Brown at halfback at this point. He's usually a better sim game and stream game back based on what we've seen.
The recruiting front remains quiet despite our massive win over our rivals here. I start to invite recruits out for our Oklahoma game later in the season.
2-1 | Week 5 at North Texas
In the next easy game on our schedule, we travel back out to Texas but go against the lowly North Texas Mean Green this time. This is basically just a recruiting trip for Coach Luke. Let's see how much we win by…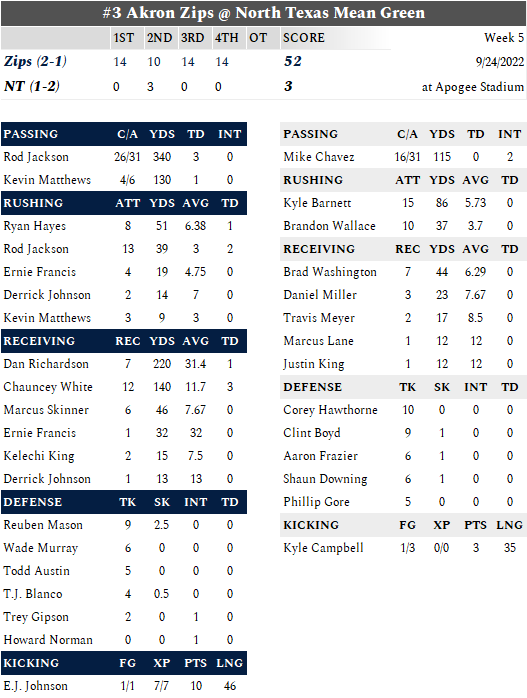 Boom! Roasted!
We pass all over them as Rod Jackson is starting to put up some impressive numbers in sim games. Chauncey White is no longer our only great receiving threat as Dan Richardson puts up over 200 yards in this one.
Let's celebrate with a vacation!
3-1 | Week 6 at Hawai'i
We booked a Hawai'i game on our schedule so our Zips could have a chance to relax on the beach and maybe play a little football when they're done.
They do just that.
And?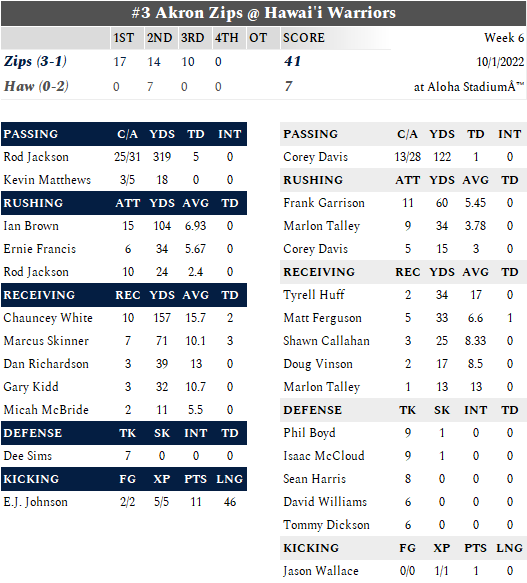 Easy does it. Once again, Rod Jackson has a field day and is starting to work himself into Heisman consideration in only his sophomore year here.
4-1 | Week 7 vs #18 Oklahoma
The Sooners are currently the defending champs and rated at 97 overall. Despite how tough of a game this is, the plan is to watch the Notre Dame game in Week 13 so I'll sim past this one.
This is going to be a key game as we also have over a dozen recruits coming out to visit. A loss would hurt our recruiting progress as well as our national championship hopes…
I nervously hit the button to simulate the week.
And?
*
*
*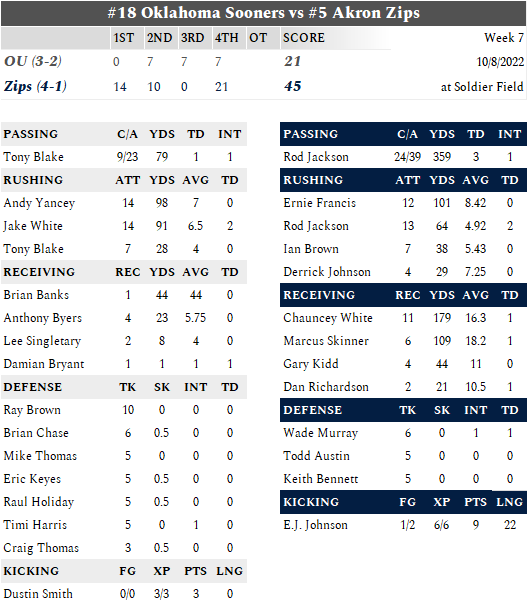 Yeehaw! We win big in a 45-21 outburst.
This is a huge win for us! Our visiting recruits loved it too. We get the following commitments to Akron from the game:
G Justin Gray (80 OVR)
WR Sean Odom (80 OVR)
HB Adrian Hall (79 OVR)
WR Roger Cooley (78 OVR)
HB Mickey Palmer (75 OVR)
WR Jeremy Ricks (70 OVR)
It's all offensive players! We got two of my top-three targets! We also got one of the top guards in the country!
This haul right here may contain four future Zips starters. What a week! The recruits saw Coach Luke and his dazzling suit coaching on the sidelines and they knew they couldn't resist signing with Akron.
I do some adjustments to the board after all of these signings and we now have these players at the top of our list: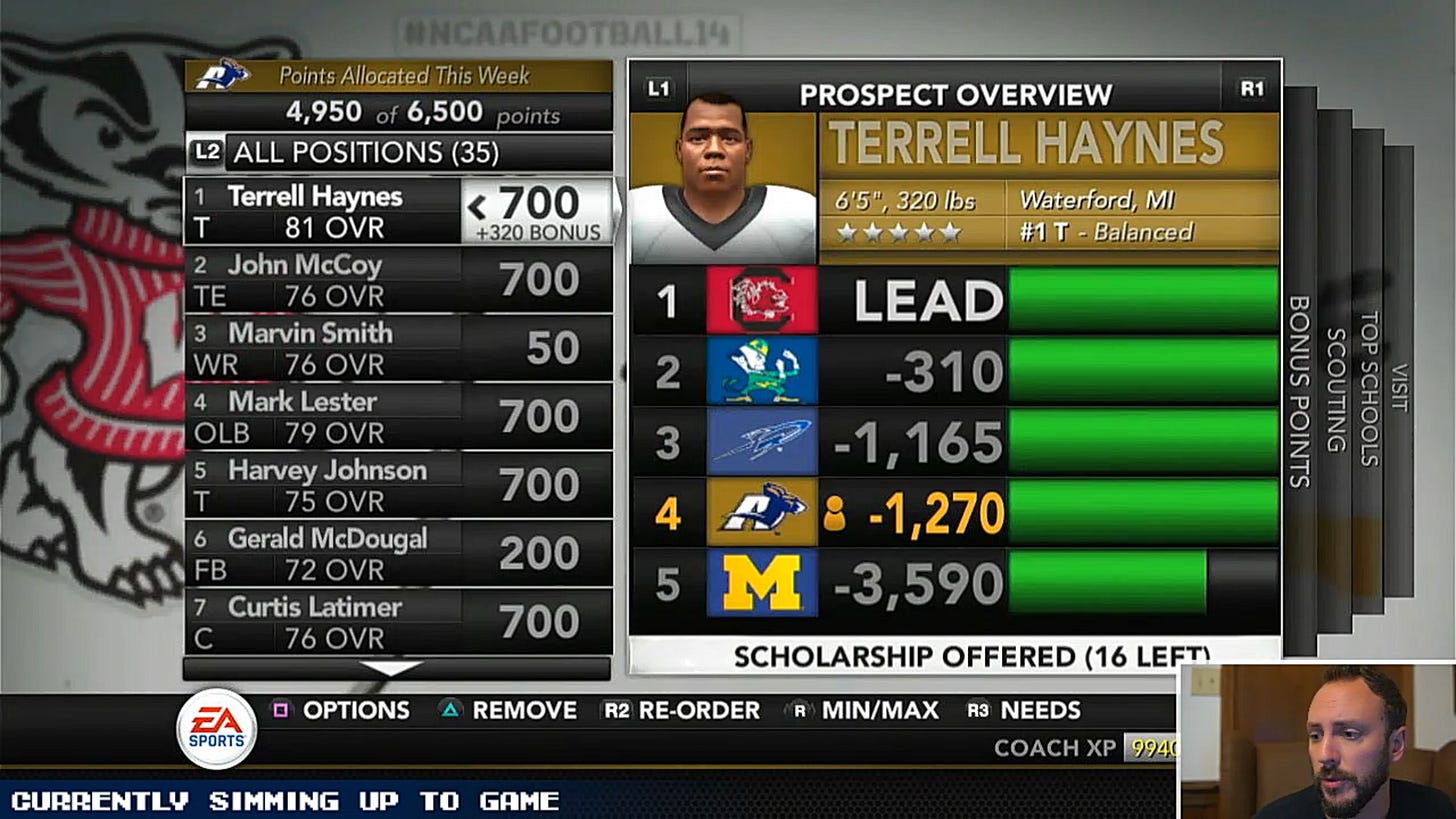 It's not looking great for T Terrell Haynes but the hope is to get TE John McCoy and OLB Mark Lester at this point. T Harvey Johnson represents a solid backup option if we don't get Haynes.
5-1 | Week 8 vs Northwestern
The next game of our schedule shouldn't be hard but it was scheduled for entertainment purposes. The Northwestern Wildcats are rated 81 OVR and their QB is the reader-created Ricky O'Donnell Jr.
We watched a bit of this game on Twitch and the actual Ricky O'Donnell did pop by to say hi. Fun times were had and, needless to say, we won the game!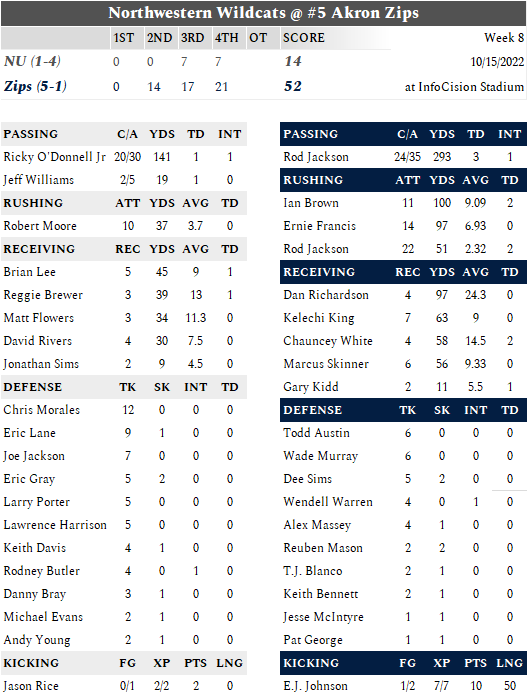 We had nine sacks on the poor quarterback and our offense actually looked like a legit offense in a streamed game.
Everything came together nicely—well, except for the fact that Ernie Francis got injured in this game. He'll be out for a few weeks but we hope to have him back by our crucial Week 13 Notre Dame game.
In news that only I am happy about, we got FB Gerald McDougal (72 OVR) to commit after the game. We actually do have a few formations that utilize the fullback and we won't have to worry about recruiting one for a few years now.
6-1 | Week 9 at Air Force
We follow up that fun game with another fairly easy game against Air Force.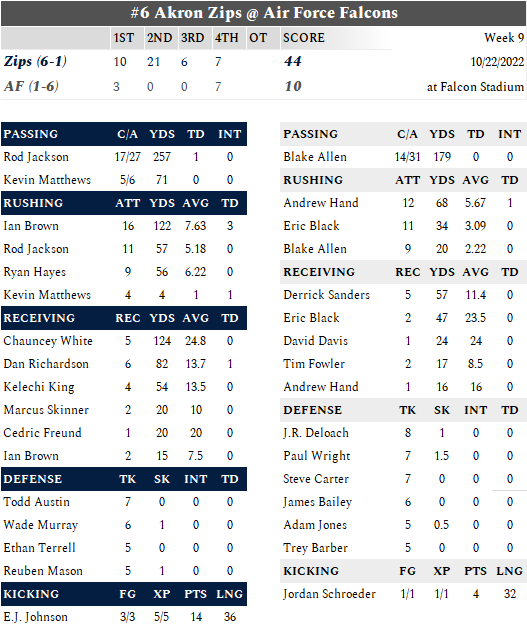 We ground the Air Force!
We also get C Curtis Latimer (76 OVR) to commit after this game. Two of the hardest positions to recruit in this game are FB and C because the game doesn't generate a lot of them despite every team trying to get at least one. You can always move other players into those positions, but I like being able to get recruits that are naturals at those positions. I'm excited about this signing for that reason.
7-1 | Week 10 vs #14 Georgia
We have two tough games remaining on our schedule and this is one of them.
The Georgia Bulldogs are coming to visit Akron and they are rated 93 overall. They're actually the lowest-rated ranked team that we'll play this year but that doesn't mean that we should look past them.
Akron will likely have to win this game and the Notre Dame game if we watch to get back in the championship picture.
I nervously sim the game…
And?
*
*
*
*
*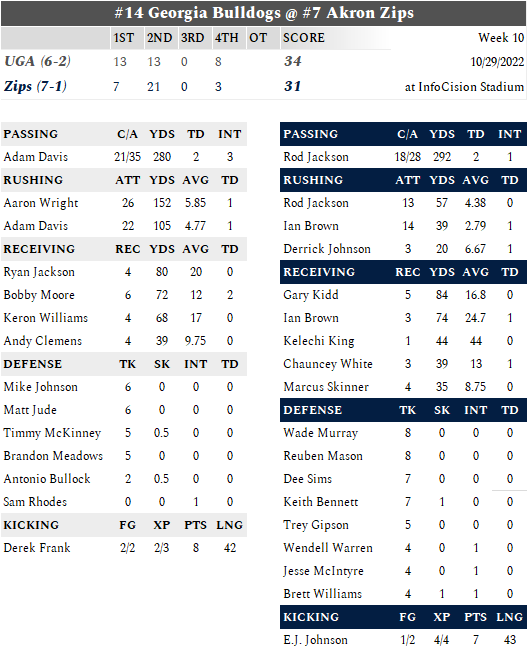 Oh nooooooooo!
That's not a mistake. That's the actual box score. We lose 34-31. This is our first sim game that we've lost in years. Ugh.
Our running game got shut down and our defense let up way too many rushing yards themselves. That was the story of this game.
Man…
Was our schedule too hard this year or was this Zips team just not ready for the moment yet? It's hard to say. I don't want to eulogize this season yet though. There's still games to play despite this crushing loss.
7-2 | Week 12 vs Army
The next game on our schedule isn't one to just skip past either now. Army is 6-2 and was briefly ranked during this season after they pulled off a few upsets. They're rated 88 overall and we really need to win this game.
I'm more nervous than usual to sim this one now that we've found we can actually lose sim games again.
*
*
*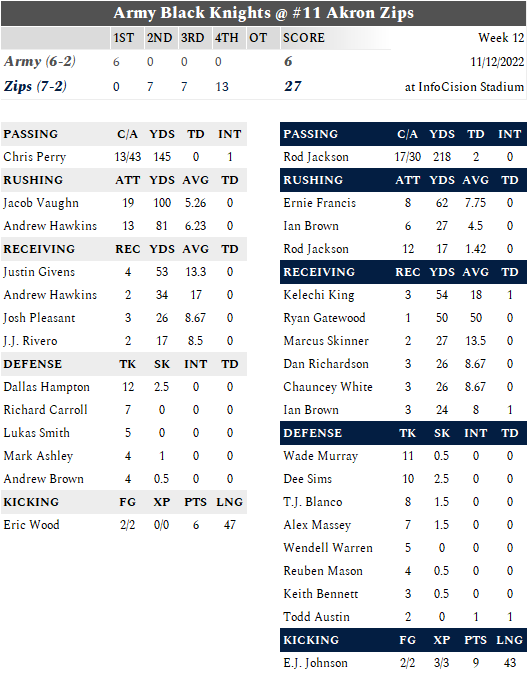 Okay. Phew. Our defense steps up and accumulated a ton of sacks in this 27-6 win. That's big.
8-2 | Week 13 vs #1 Notre Dame
The last major game of the regular season is a doozy. We're playing the top-ranked Fighting Irish who beat us last year at Soldier Field. We're back on that field again this year and hoping for a better result. In a perfect world, we're hoping for a snowy, fun, exciting game that the Zips win.
Before the game, we get news that Rod Jackson is currently among the five Heisman hopefuls in the country. He's putting together a stellar season. If this season doesn't end in a national championship, the silver lining could be beating a #1 Notre Dame team and Rod Jackson winning a Heisman. That would make me happy.
The game was streamed on Twitch and here are the highlights from it:
*
*
*
*
*
Oh man. We lose 24-20.
This season is rough, y'all.
QB Rod Jackson went out early which hurts his Heisman chances. The good news is that QB Kevin Matthews came in and almost seemed to run the offense better than Hot Rod. Maybe we need a balanced quarterback in the future instead of a scrambler.
We had a lead in this game though and then squandered it at the end. This was another tough loss in an already tough season. This offseason will be a time to analyze how to get this team right again.
The season recap ends here for now. I'll stream the last part of the season on Twitch on Tuesday at 8:00PM EST so feel free to come out for that or check out the post shortly after that.
---
Current Commitments
Here's a full look at the recruits who have currently committed to Akron this season: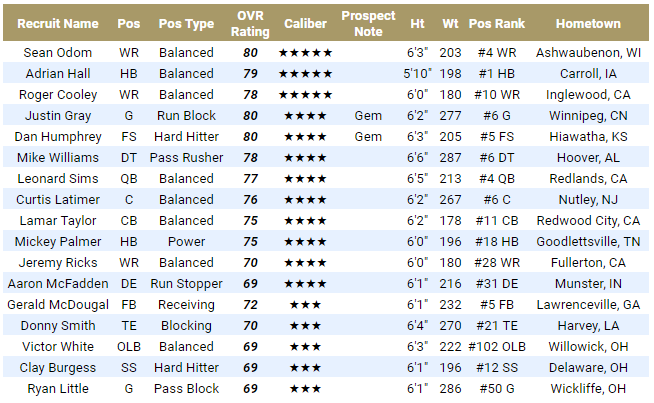 ---
Stats Dump
I'm now putting the full box scores and team stats for the season into the recruiting spreadsheet. That spreadsheet has turned into our master database, I guess.
Here's a link to the spreadsheet.
It's hard to organize this all in spreadsheet-form so if anyone wants to take ownership of that or has ideas on how to display it all then let me know.
---
Twitch Stream on Tuesday @ 8:00PM EST
I'll be streaming the rest of the season and offseason on Tuesday night starting at 8:00PM EST. Click the graphic below to follow my Twitch channel if you want to check it out.
We'll watch the bowl game, have an in-game contest to create a recruit and then work on the offseason tasks. The most important task will be coming up with the Year 11 schedule. Come on out and hang with a fun group of people if you can make it. The streams usually go for a few hours.
If you want to get your schedule set, the first stream for Year 11 will be on Friday night at 8:00PM EST.
Thanks for reading/watching/participating, my friends! As always, tell your favorite IT technician and your aunt about the series by punching the button below:
See y'all on Tuesday or Friday night! Go Zips!