Welcome to the second half of the Year 10 season in the University of Akron's quest to become a football powerhouse in NCAA Football 14. To learn more about this series and read up on past installments, visit the About page of this site.
---
It feels like someone either bought a Zippy voodoo doll or Coach Luke walked under too many ladders to start this year. The Year 10 season just feels cursed. When we look back on this season years from now, we will likely only refer to it as the Cursed Season.
It's not like it's been a disaster, but the year started with high hopes when the Zips were ranked #1 in the nation in the preseason polls. We were the team to beat.
And then?
We got beat time and time again. It all started with a crushing overtime loss to Texas that left the media questioning Coach Luke's game management skills. Akron was able to get back on track before falling to both Georgia and Notre Dame.
With the season not over yet, the Zips already have more losses than they've had in any season since Year 4 here. Coach Luke has been reading How Stella Got Her Groove Back in hopes of helping the Zips also get their respective groove back to end this season.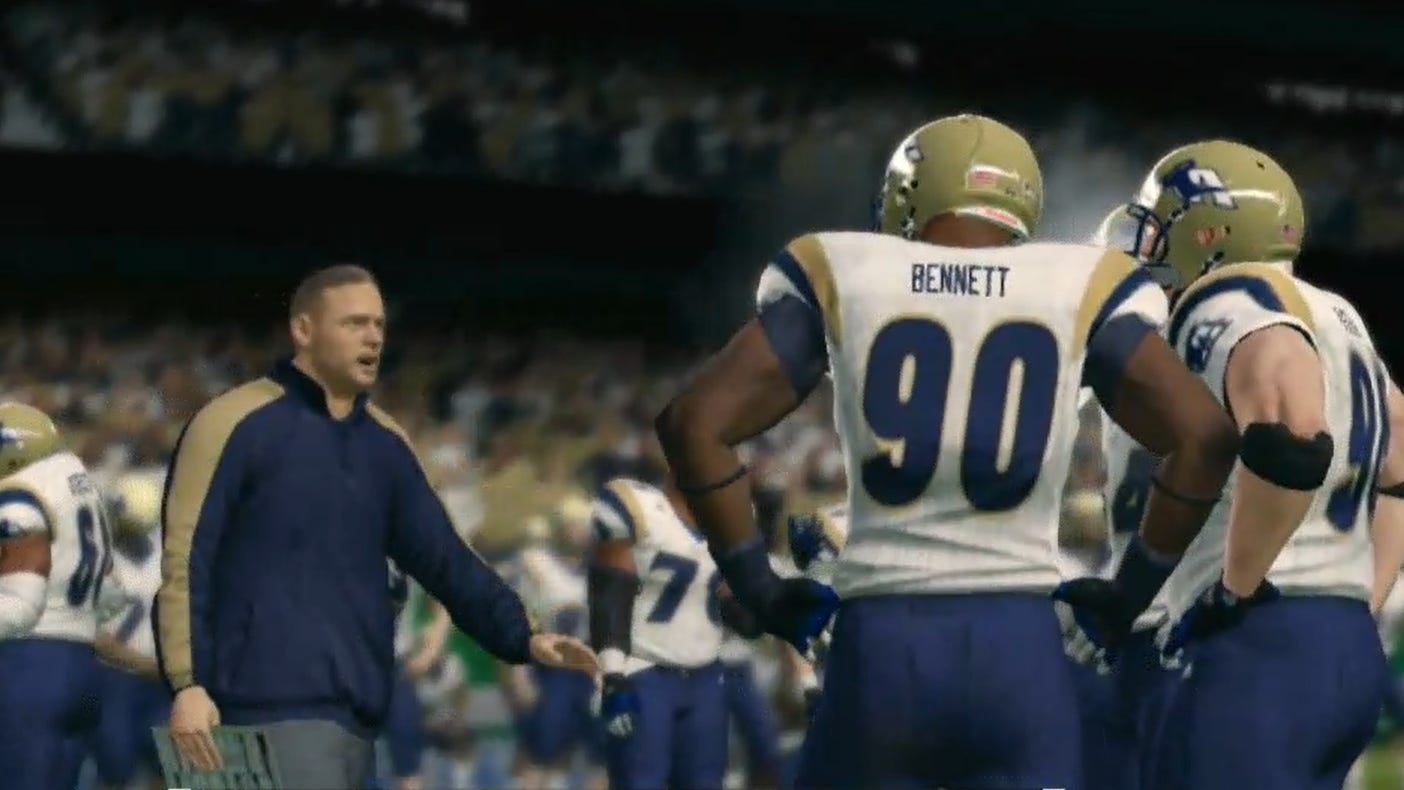 Year 10 (2022-23) Second Half
We last left the Zips when they were exiting Soldier Field after losing to the #1 Notre Dame Fighting Irish. We saw QB Kevin Matthews command the offense with a poise that had been missing in games that we watched this season. QB Rod Jackson still is doing great in simulated games though and he remains in the Heisman hunt. It's not quite a QB controversy but it's close to being one.
8-3 | Week 14 at Navy
There's one game left on the regular-season slate and it is against a lowly Navy team that is only rated 84 overall. We last saw Navy in Year 7 when we opened the season with a blowout 52-21 win over them.
We want to get another blowout win here to help our BCS ranking and maybe get into a major bowl game. We're ranked #13 in the country at this point. If we're going to rise into the top ten, we will likely need a few things to go right after this game.
First off, we need a win though!
*
*
*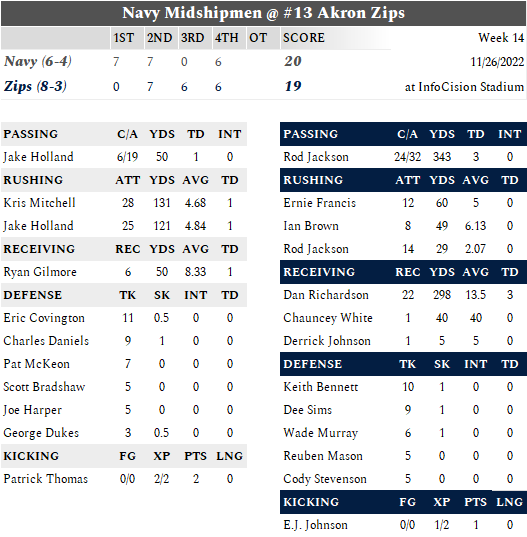 Welp… this season is freakin' cursed.
We lose 20-19.
This was just a one-point game and E.J. Johnson missed an extra point early on, which ended up causing our demise as we failed on a two-point conversion attempt later to try to make up for it. E.J. Johnson has continued to be a thorn in my side despite his ratings going up. He even worked himself into award voting for the top kicker in the country this year but I just don't see it.
Our run game got stuffed while theirs flourished. In retrospect, Coach Luke should have focused more on run defense in the game plan given that Navy is known for their option attack. They had two 100+ yard rushers and controlled the clock in this one.
Dan Richardson had himself a hell of a day and Rod Jackson helped his Heisman consideration but it's all for naught in this crushing loss.
The #CursedSeason has one game left now as we are invited to a minor bowl game.
8-4 | Meineke Car Care Bowl vs Iowa State
We travel to Houston for the Meineke Car Care Bowl. This is almost as exciting as when we were in the Famous Idaho Potato Bowl but, honestly, I'd prefer to get potato swag rather than free car care.
We play a 77-rated Iowa State team that is 6-6 on the season. It's our weakest opponent of the year. The game plan is to start with Rod Jackson but then get Kevin Matthews some snaps so that we can get a sense of whether he is the QB of the future or not.
We watched the game on Twitch (you can scrub through the game video by clicking on this link). It wasn't exactly a highlight-fest, so let's just jump to the box score…
*
*
*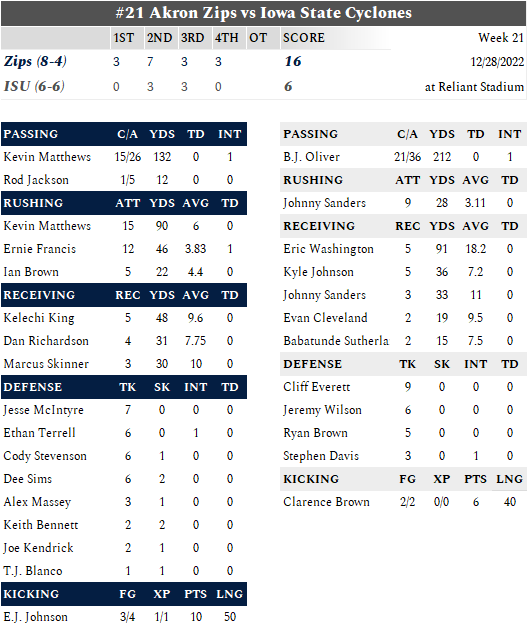 Welp! It's a win. The defense was huge and accumulated eight sacks but the offense was pathetic. Rod Jackson looked terrible on his first two drives and then Kevin Matthews stepped in and looked efficient but mediocre.
But, yay, we won the Meineke Car Care Bowl! That's seven straight bowl wins for Coach Luke and the Zips, which shouldn't be dismissed.
It was a weird year without any standout stars on the stat sheet. You can get a full look at everyone's stats on this page of our dynasty spreadsheet. I've made some changes to the sheet to hopefully make it easier to navigate and look at our team history.
---
Offseason
After getting my car serviced at Meineke to celebrate the win, I return home to my Akron mansion. It's not peaceful though as the phone is ringing non-stop. The media wants to know if I feel safe with my job after this rough year. Who would have thought that a four-loss season would suddenly be a disappointment at Akron? Expectations are a hell of a drug. My e-mail inbox is filled with hate mail and my house has been egged by local hooligans. Life is rough for Coach Luke.
As I retreat to my study to start to think about our offseason plan, I am surprised when I open the door. LeBron James is sitting at my desk, with my cat on his lap, as if he's been waiting for me. Before I can ask how he even got in, he starts with a seemingly-scripted speech about how disappointed he is in the Akron football team. He then threatens me by telling me that he will stop all of his donations to the university if the team fails to get ten wins next season. I try to tell him this is a terrible idea as we need that money to get into a power five conference. He then tosses my cat to the floor and retreats out the study window.
I hate him so much.
Needless to say, the pressure is on for Year 11. We need to end this offseason on a good note.
First and foremost, we find out that Chauncey White ended his career by adding to the Akron records that he holds:
Career Receptions: Chauncey White (291)
Career Receiving Yards: Chauncey White (4604)
Career Receiving TDs: Chauncey White (52)
Chauncey was never a stream-game star but he was certainly the best receiver we ever saw at Akron and helped us win a championship. His records should stand for a long time.
Unfortunately, Chauncey isn't the only player leaving. Many players want to leave, in fact: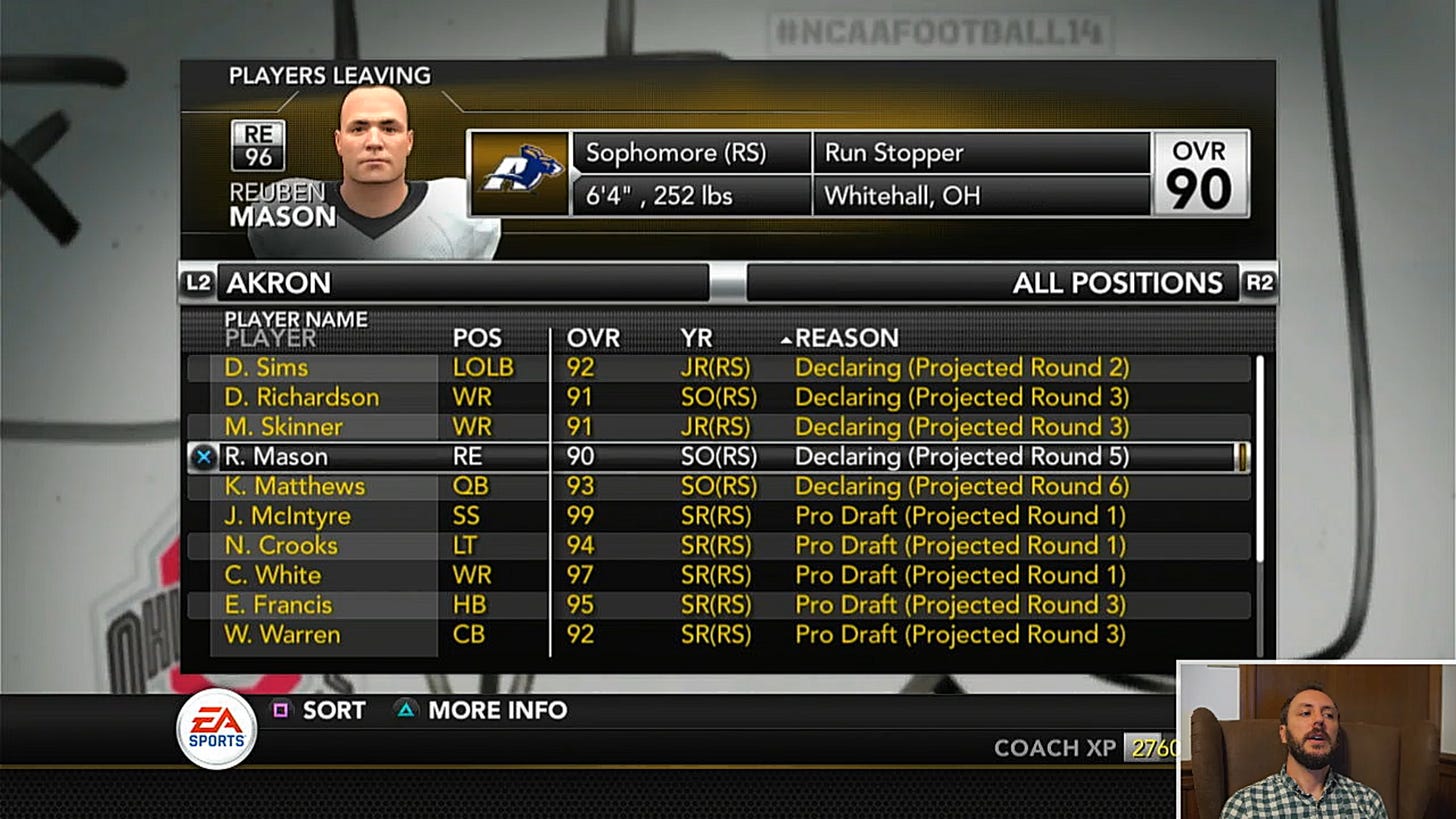 We're set to lose multiple starters. This sucks. Kevin Matthews makes our QB dilemma easier by deciding to leave early, but the others are tough to see go.
Coach Luke only makes one pitch each offseason to save a player from leaving. After some deliberation, he pulls aside WR Dan Richardson and convinces him that the Akron degree is more valuable than an NFL contract. Dan is easily swayed by this and promises to return to Akron. Phew.
The NFL draft ends up being littered with Zips players, including three first-rounders: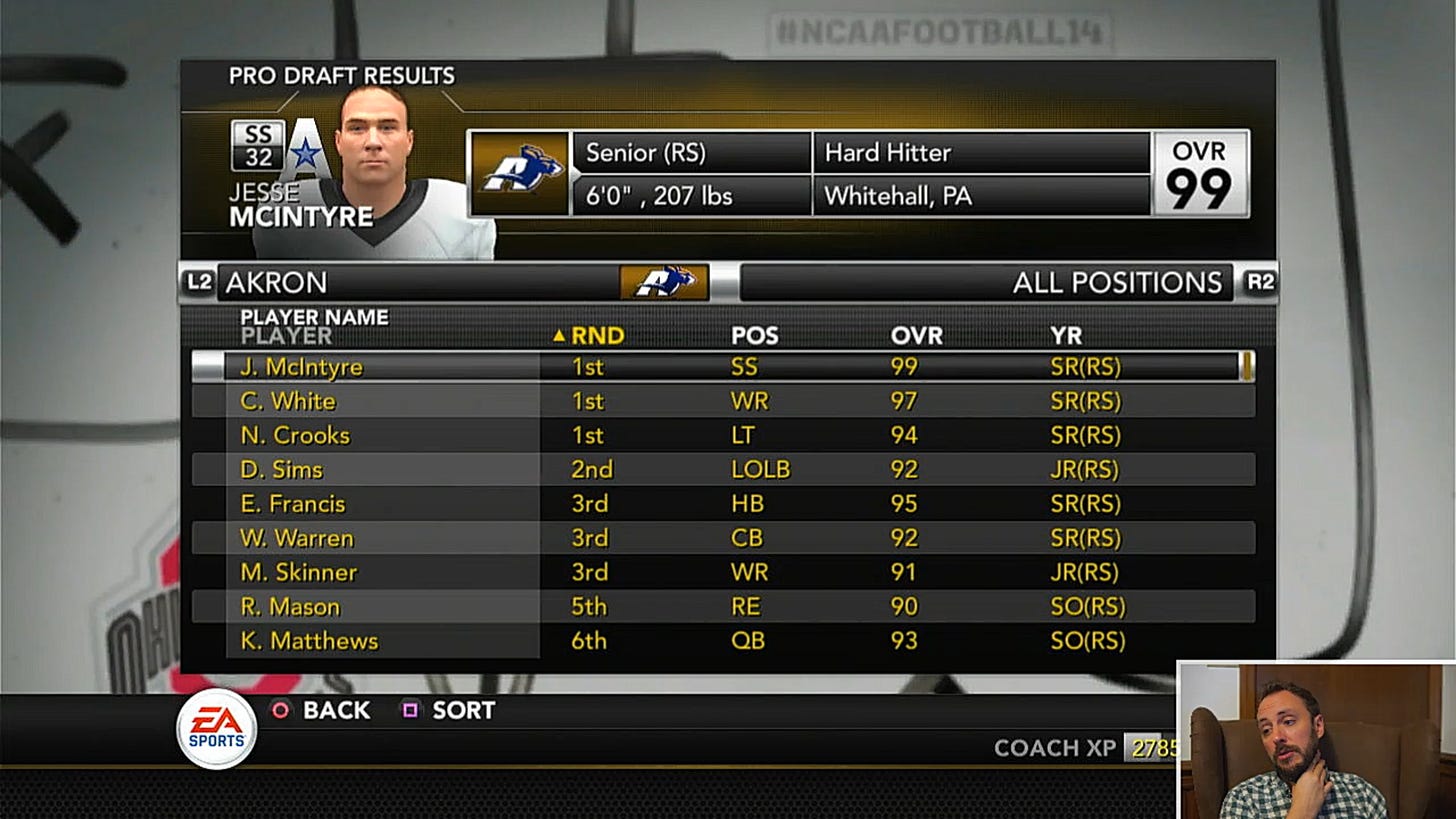 We're legit, guys. If you want to go to the NFL, Akron is certainly the school for you.
We arrive at the recruiting portion of the offseason with only four scholarships left to offer after a successful in-season recruiting year. We have the #1 OLB Mark Lester still on our board and I make him our top priority. It would also be nice to land more offensive help by getting T Harvey Johnson and TE John McCoy. Here's how I allot our offseason recruiting points: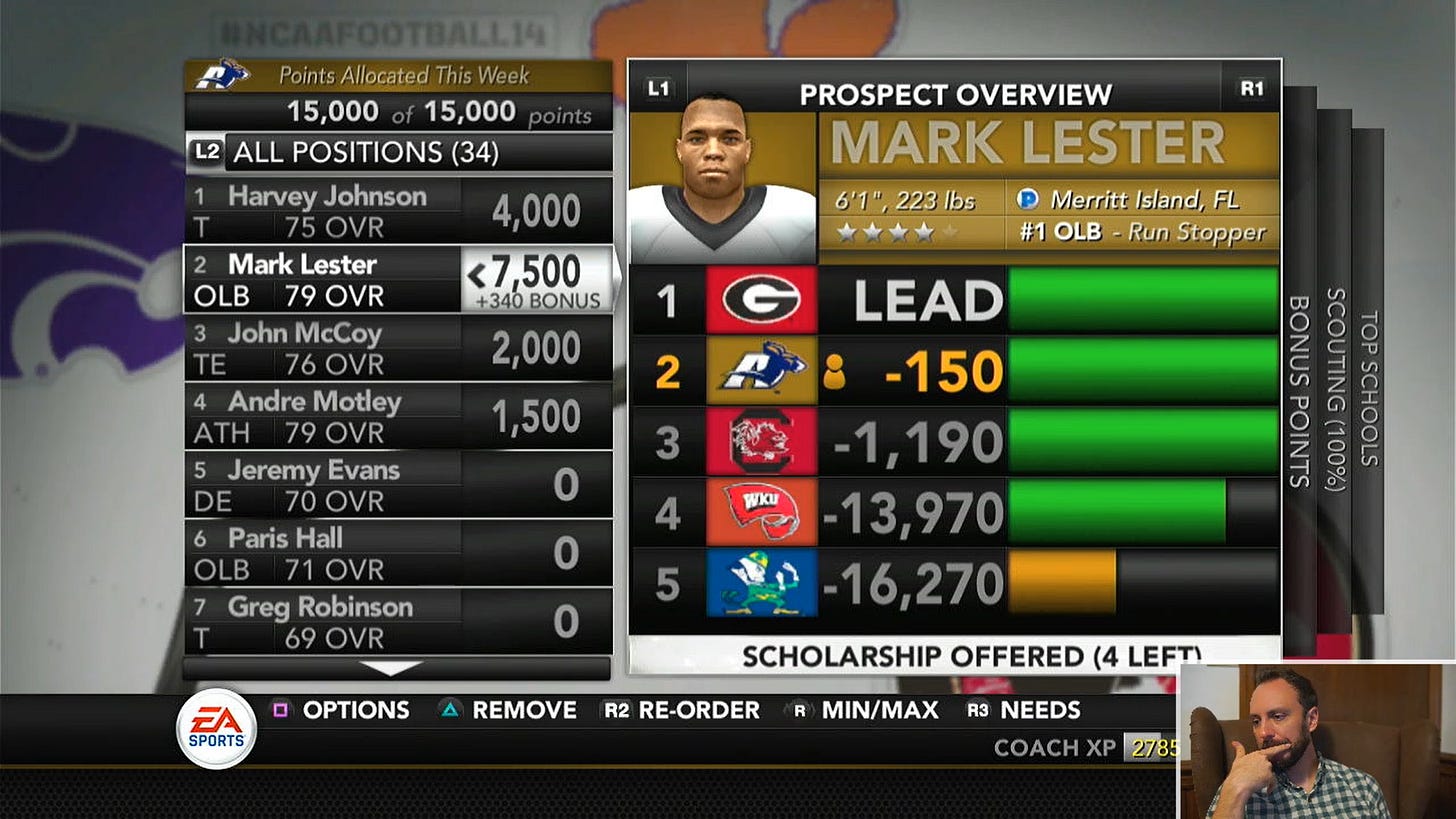 Let's end this season on a high note! No more #CursedSeason!
*
*
*
*
*
Success! We get the three guys I most wanted and we miss out on ATH Andrew Motley. This is a beautiful end to the season and bodes well for a change in luck for the Zips in Year 11. Here's a full list of our new commits: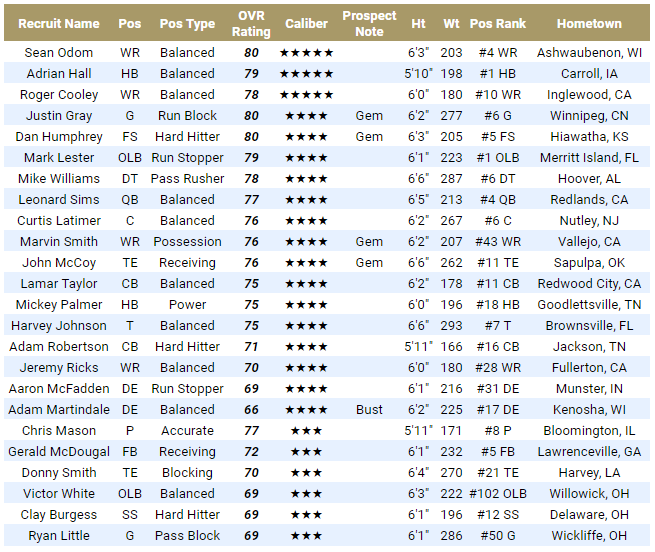 You can check out a full look at the commitments for this year and past years on this page of our dynasty spreadsheet.
We end up with the #1 recruiting class again. There's a ton of great talent here. QB Leonard Sims seems very exciting as a balanced QB that could run our offense in a couple of years.
In the last part of the offseason, Coach Luke cuts eleven Zips players from the roster. The most notable and satisfying cut is kicker E.J. Johnson. The kicking duties will be split between punter Adam Henry and freshman kicker Roland Williams next season.
Created Recruits
Reader A-Lo won our contest on Twitch to get the ability to create his own custom recruit. He created the son of Marshawn Lynch to go into our Zips universe: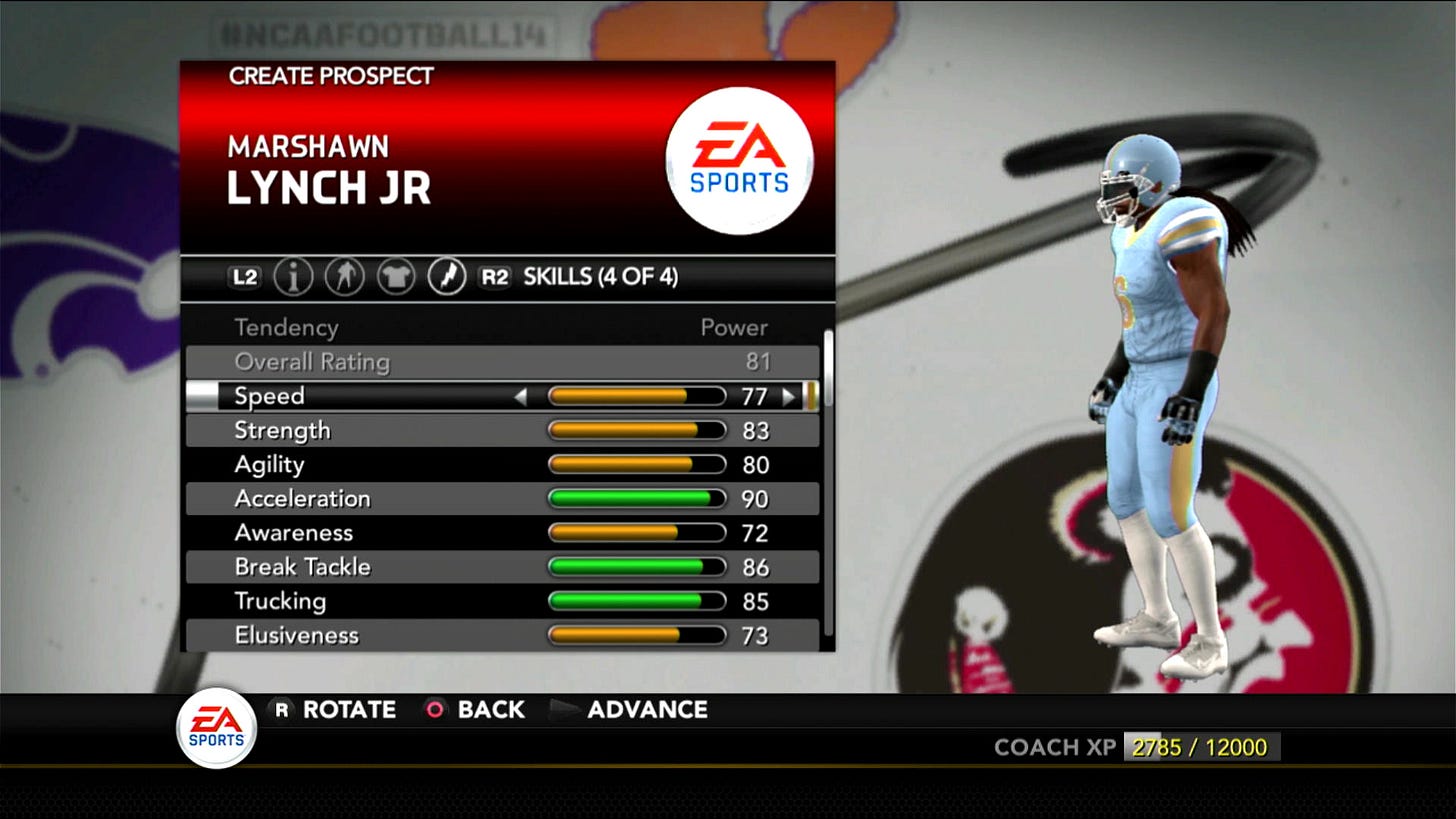 We now have four reader-created players in the game. QB Ricky O'Donnell Jr continues to do well at Northwestern. DE Jiminy Cricket didn't make a splash as a freshman at NC State but has a bright future. HB Matthew Morrow V committed to Auburn and we're excited to see how he develops too.
Here's a page of the dynasty spreadsheet that will be tracking the stats of all reader-created recruits.
Year 11 Schedule
We set up the schedule on the Twitch stream. It includes games against the reader-created prospects and an upstart Georgia State team. We also have our faux conference championship against Notre Dame to end the season.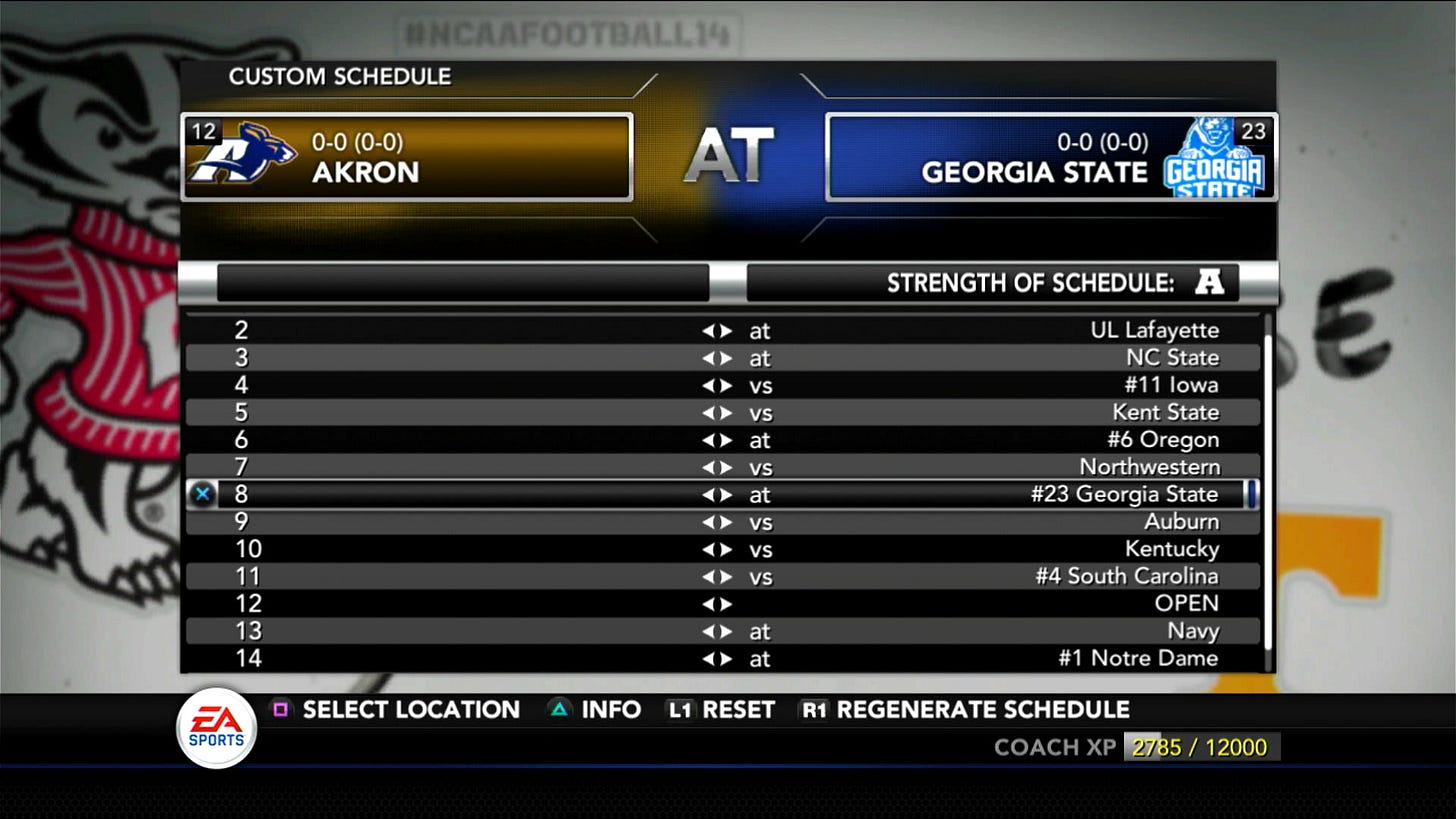 Year 11 Top Players
As we get ready for Year 11, here's a look at the top players on our roster: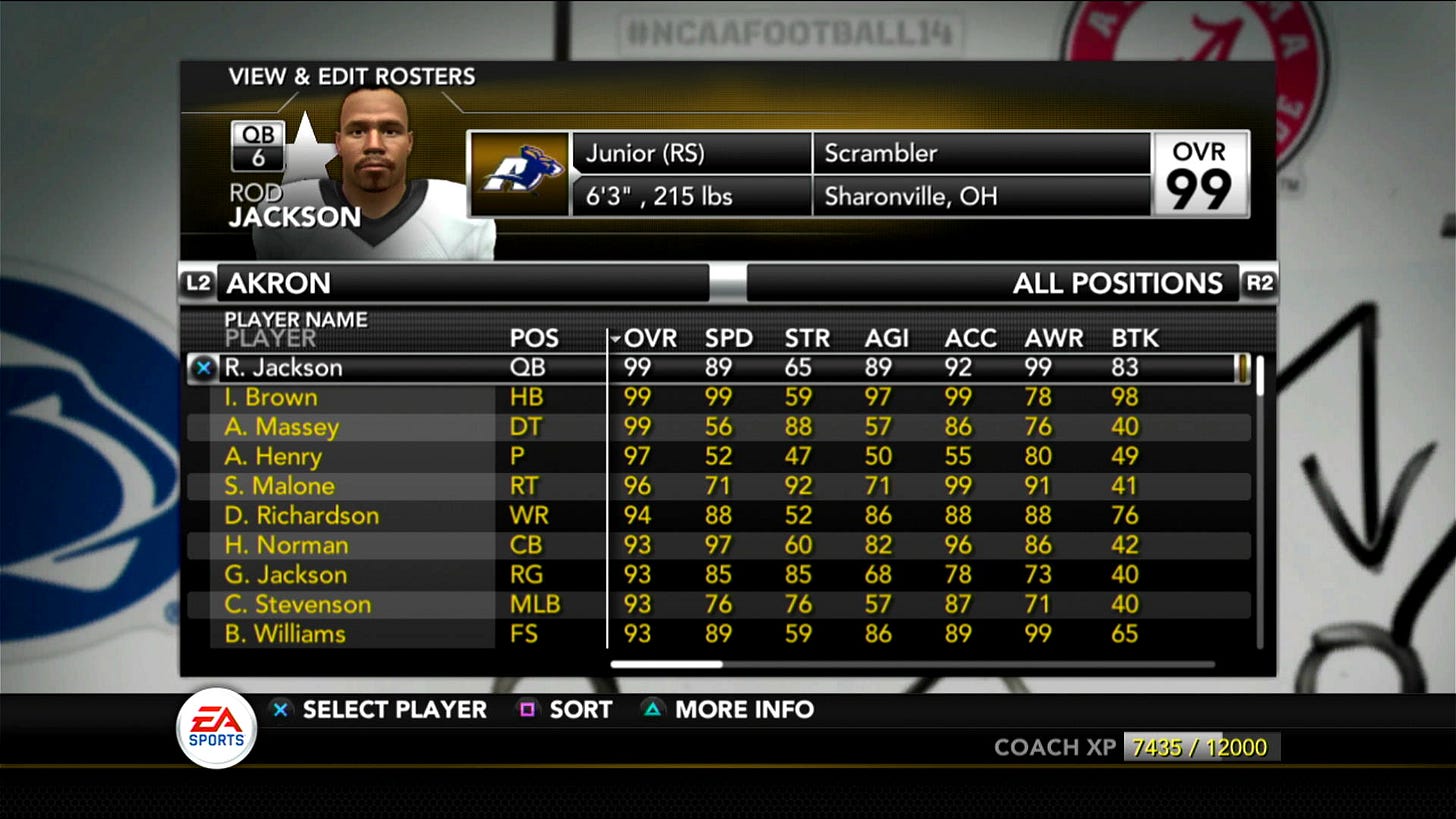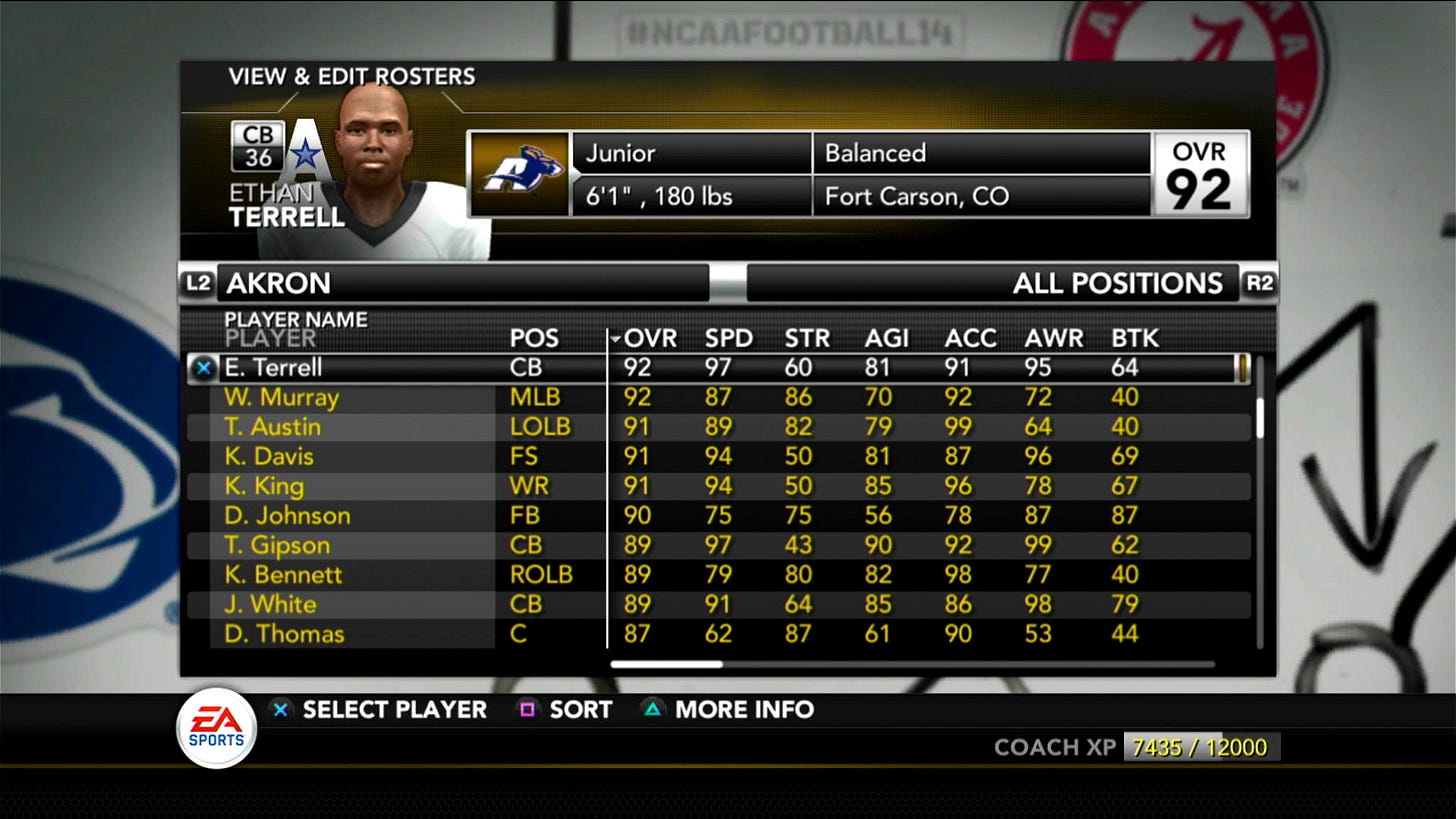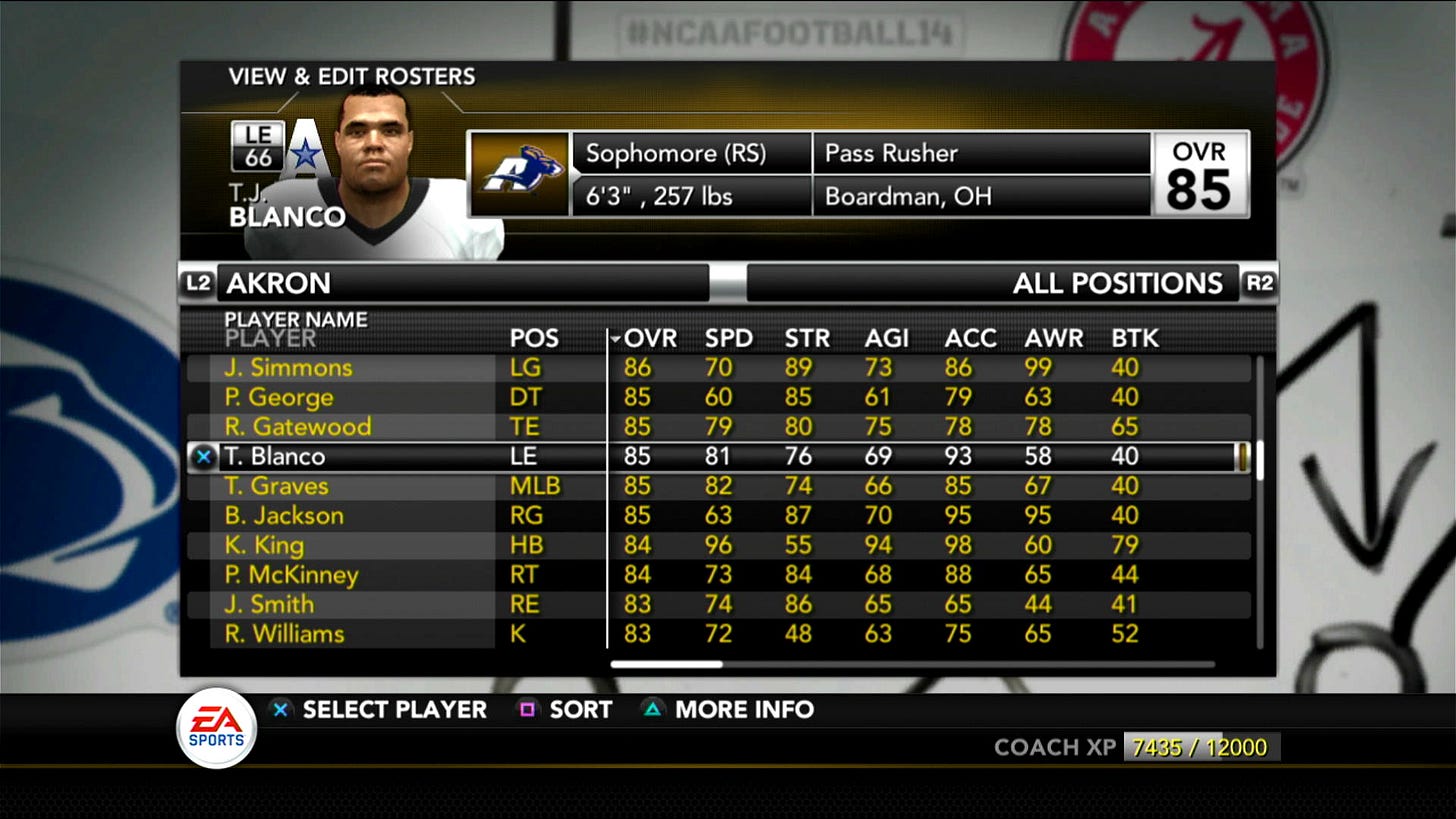 Can Ian Brown step up now that he's older and more mature? Can Rod Jackson overcome his bowl game benching? Can Ethan Terrell build upon his amazing season at cornerback?
We'll find out on Friday in our first Twitch stream of the season!
---
Rubber City Dynasty Scheduling
I'll be doing three Twitch streams for this season again. We'll watch a bunch of regular-season games in the first two streams and then conclude with a bowl game stream. Here's what the schedule looks like:

If you don't have it already, here's a link to my Twitch channel. Come on out on Friday night and see if the Zips start the season off right!
Keep an eye out for the upcoming posts related to this season if you're unable to pop into the Twitch streams. The #CursedSeason is over and I'm so ready to start a new chapter in this dynasty.
As always, if you enjoy the series, feel free to share it with your old gym teacher or anyone else you can think of:
Don't forget that we have a subreddit to post theories, ideas, stories or whatever you'd like. Reader Andy suggested starting a Discord to more easily post the streaming schedule and things like that but that's a whole world I'm not as familiar with. If anybody thinks there's any merit in doing that, let me know and we can make it happen.
Party time on Friday night though, y'all! LFZ!!!