Welcome to another roster preview to supplement the series about Akron's quest for eternal glory in NCAA Football 14. For any new readers, feel free to check out the about page of the site to read about this whole project and catch up on the past installments. This preview is meant to give you a closer look at the team since there are so many players to know on a fictional football team.
---
As I sit here in the futuristic year of 2022 in Akron, I can't help but sit back and admire the many trophies we've accumulated over this series. I also can't help but take a moment to stare at the ceiling and reflect on the good times we had with Akron legends such as CB Anthony Morris and QB Andrew Fountain. Morris in particular is a player that never let us down and will only be remembered in the fondest of lights. It's tough to see these players go and to see new chapters begin.
It makes me recall the words I was told in my youth by a wise bespectacled man: "every new beginning comes from some other beginning's end." We are here at a new beginning now that one day will end too.
We have a new CB crew and a new QB leading the offense. I don't know how the year will go. I'm equally excited and scared to move on from our championship roster of the past. Alas, time stops for no one and we must play Year 10 of this dynasty.
And…
Well…
Okay—look, I was stalling because I thought LeBron James would show up as he does every year. I guess maybe he's had a change of heart though. Oklahoma has been in the last couple title games, winning the whole thing last year, and I have the suspicion that LeBron has traded his Zips gear for Sooners gear. I don't know where he's gone but it looks like he is not showing up to say to Coach Luke this year. It's okay though. Time moves on. This is another example of that.
But, hey! We have football to watch so let's meet our latest Zips team!✓
---
Meet the Offense
This year's offense looks vaguely similar to last year's offense if you squint. We're rated 97 on offense, just like last year. We have a stud QB and WR with a patchwork offensive line and we have the confusing Ian Brown at HB. All just like last year.

The main differences here are that Rod Jackson is now our QB1 and Kelechi King is buried on the depth chart. It feels like an offense that should dominate sim games and we hope to create a playbook that will bring out their best in stream games.
Hot Rod: QB Rod Jackson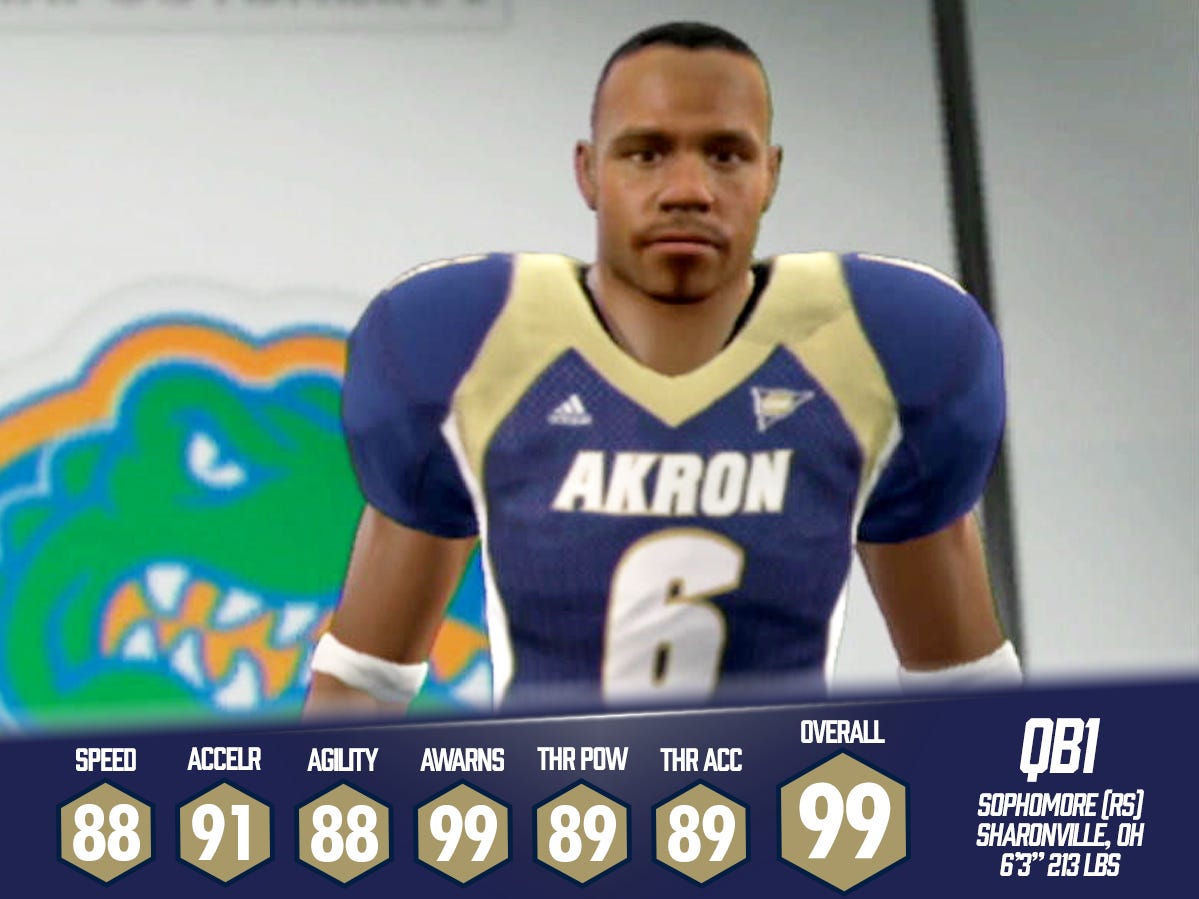 I'm going to talk about one player on offense this time around because he's the most important sophomore player we've had since… well, Andrew Fountain. It's our QB that will lead the helm for hopefully the next few years.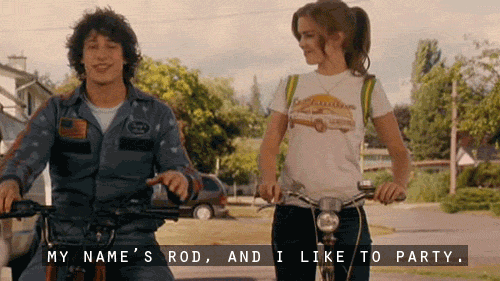 On paper, there are many similarities between Rod and our past quarterbacks. If we are to compare his base numbers to Andrew Fountain's sophomore year, the main difference is that Rod has max awareness already and is a less accurate but more powerful passer. The other difference is that he's three inches taller than our beloved Fountain Drew. The summary is that he's a scrambling QB with a large frame and a powerful arm.
As with many of our recruits, Rod Jackson never dreamed of being an Akron Zip when he was a kid. In his teenage years, he saw Coach Luke's dream building there but he still didn't consider the in-state school to be a top destination for him. Rod's hometown of Sharonville, OH was on the complete other side of the state from Akron. He was more like to go to Cincinnati or OSU if he stayed in state.
But, Coach Luke went on one of his famous road trips throughout the state one day. This is where Luke dreams up new plays and recruiting ideas. Coach Luke stopped at the Temple of Tolerance in Wapakoneta, OH. It's this weird giant stone temple that a man built in his rural backyard. Coach Luke loves this shit. After Luke's enlightening stop there, the man at the temple advised Luke to drive south a little bit and see Rod Jackson from Sharonville. Coach Luke hadn't heard of Rod and thought this may be a spiritual quest. The man was a Zips fan though and felt Rod would be a great player for Coach to check out. The man was right.
Coach Luke saw Rod practice that night and knew this guy could do it all. He would either be a star WR, QB or HB but he would be a star. Rod was mostly being recruited to do anything other than play QB while Coach Luke promised Rod the opportunity to be our next great QB. This was music to Rod's ears. Within weeks, the recruiting magic started to work and Rod was set on moving to Akron.
In his first year on campus, as a redshirt, he saw how crazed the campus became as the Zips won a national championship. He saw the struggles that went along with leaving the MAC last year and now he is ready to take this team from being a Cinderella story to being a national powerhouse.
Players Talked About In Previous Years
Here are players I mentioned in the past previews:
HB Ian Brown – I hyped the tiny speedster as being our next great running back last year. He looked terrible in streamed games and didn't do well in simmed games either. He was benched late in the year for Ernie Francis. He's getting another chance to start this year but the leash is short.
WR Kelechi King – Kelechi may go down as a bust before he even gets a chance to redeem himself. He was also hyped up last year but disappointed us by having major blunders in every streamed game we watched. He did kick a sweet extra point in the Fiesta Bowl though. He's now relegated to our #4 or #5 WR and is hopefully using that as a chance to improve his skills.
WR Chauncey White – I love our Zips legend K-Dubs who hailed from Mentor, OH. It's fair to now say that Chauncey is the pride of Mentor though. He was the best WR in college football last year and is back for one more ride. I can't wait to see if he can quickly develop a connection with Rod Jackson. I'm also hoping we can find a way to get the CPU to use him in streamed games so we get a better look at how good he is.
---
Meet The Defense
Once again, the defense is our calling card as we're rated 99 on defense again. We lost the GOAT Anthony Morris but we have great players in every spot that could step up when needed.

The right side of our front seven poses a potential weakness but the left side should eat with Mason and Sims feeding off each other to cause havoc. Jesse McIntyre starts his final campaign with us and hopes to become as beloved as Anthony Morris with a stellar year here.
The Sandwich: RE Reuben Mason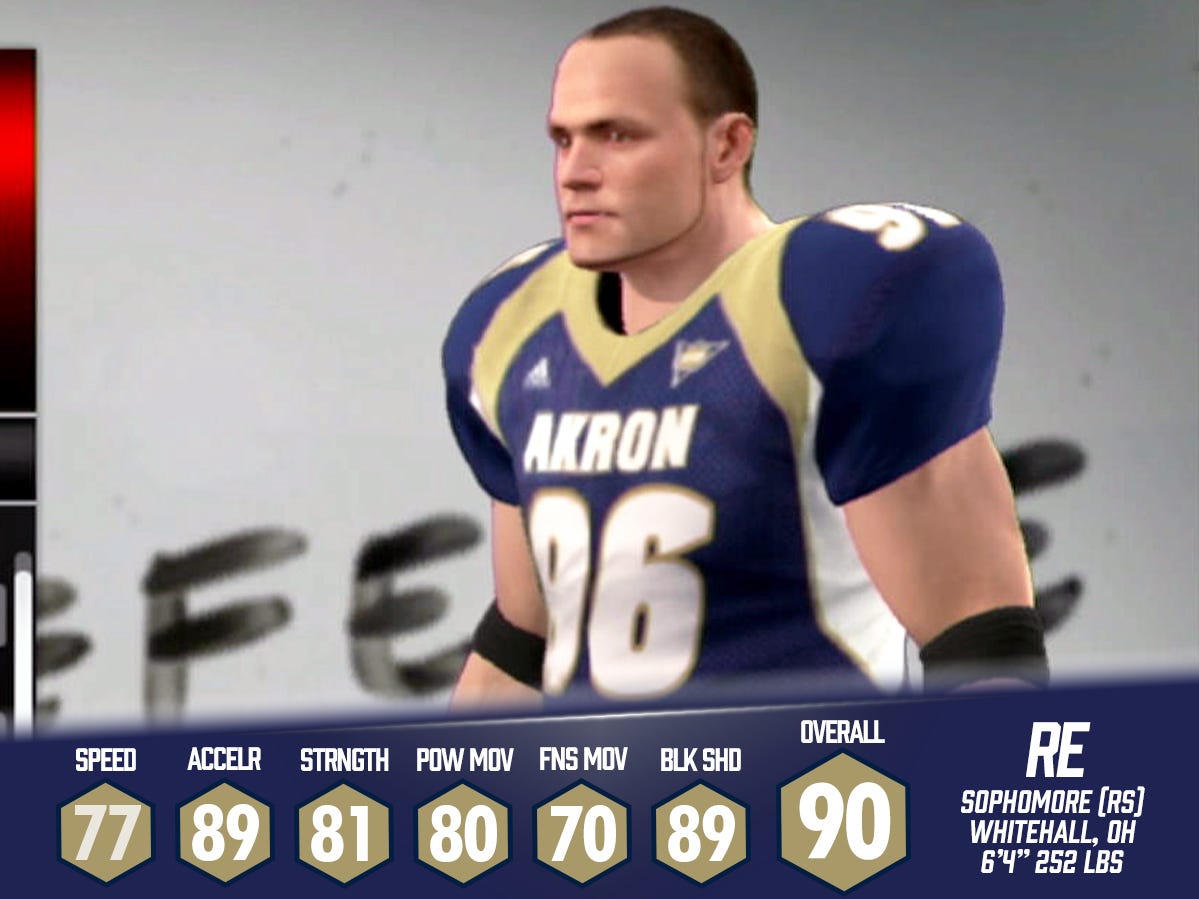 As one of the top defensive end recruits in the whole country, it was a slap in the face to Reuben when his beloved Ohio State never came calling. He grew up in the suburbs of Columbus and even a courtesy call from the Buckeyes may have been enough to convince him to go there. With the Buckeyes deciding they were content at DE, Coach Luke swooped in and gave a hard sell to Reuben all year long. Reuben waited and waited and waited until the last minute but ultimately was persuaded by the consistent push and Luke's super flashy suits.
He's now seen the Zips become a championship team and a team that is no longer in the middling MAC. Needless to say, he is happy with his decision. He's been hidden away until now though and is finally getting a chance to start in his sophomore season. He's already rated at 90 overall and is hoping to fill in the void left by John Clark on our line.
Air Control: CBs Ethan Terrell & Howard Norman
You can't replace Anthony Morris at CB. Instead, I hope that having a deep roster at secondary will ensure we don't lose a step. We have Wendall Warren as the new top cornerback and we have two exciting prospects filling the CB2 and CB3 positions.
First off, there's Ethan Terrell.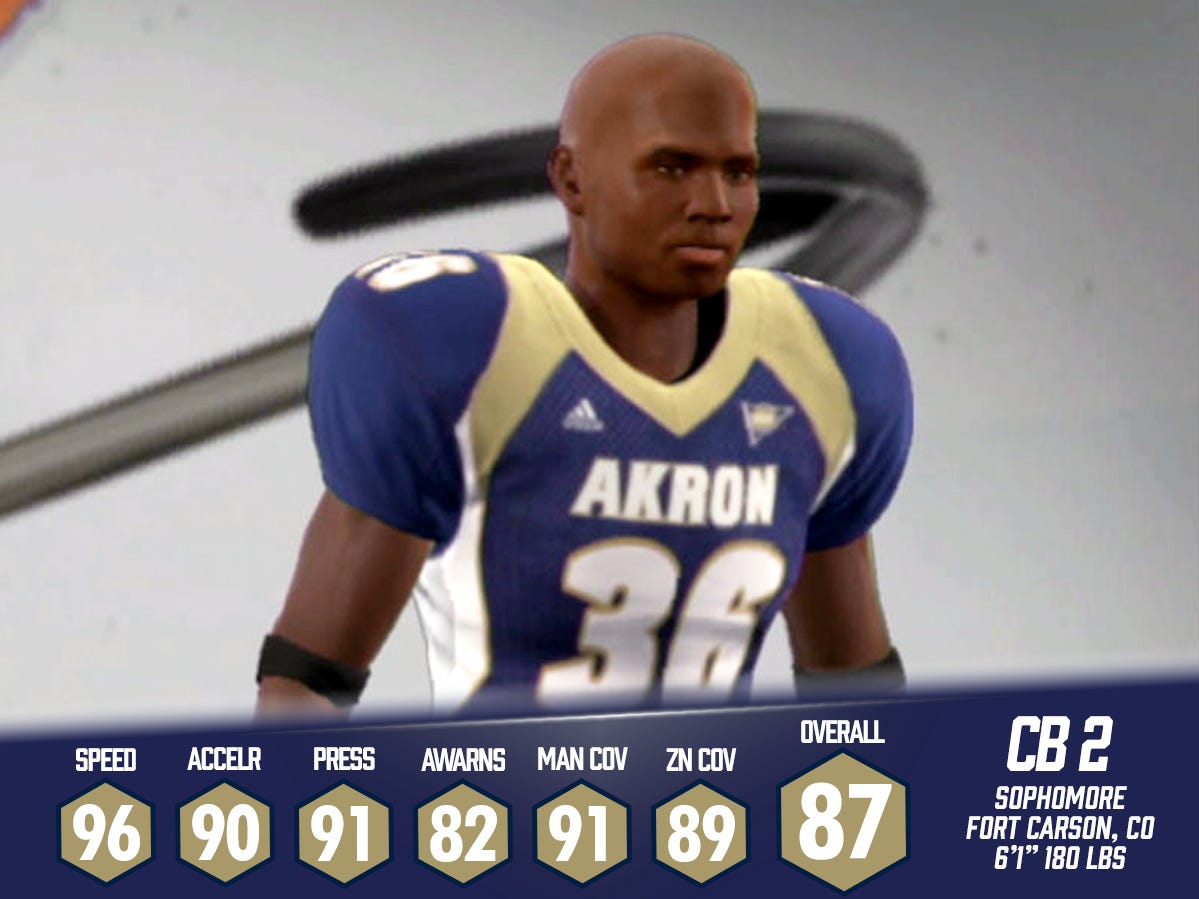 Ethan was one of the players who came to Akron after the amazing championship season. He's a former five-star recruit but the first one of ours that will play defense. He uses his speed and athleticism to ensure that he is all over the field. He can also be a dangerous threat returning the ball when needed as well.
Also from that post-championship recruiting class is the pure cornerback Howard Norman.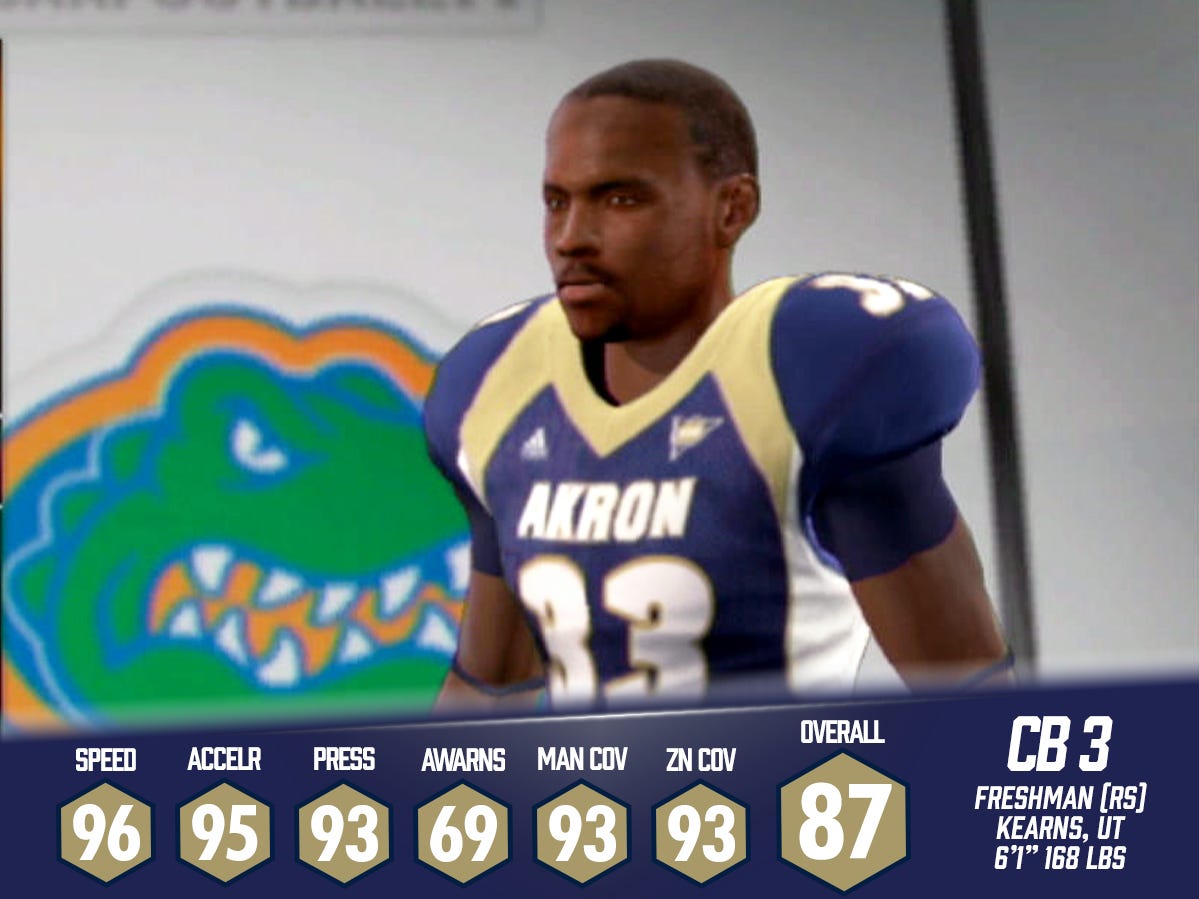 When we recruited Anthony Morris, he was the #2 CB of his class. Howard Norman was the #5 CB of his class. This is to say that, like Morris, Norman is a top-shelf talent and should develop into a pure lead cornerback to help shutdown opposing receivers. He's just a redshirt-freshman right now and still developing his awareness and other intangibles. The talent is there but he's not quite ready to be the lead corner yet.
Players Talked About In Previous Years
LOLB Dee Sims – Dee came to us from our former California pipeline and he had a solid year with 56 tackles and four sacks last year. In the streamed games, he stood out often and the hope is that he can take another step forward this year as our top linebacker.
SS Jesse McIntyre – McIntyre has been a stud in the secondary over the years but has been in the shadows behind Anthony Morris. McIntyre is not a flash turnover-generating player. He breaks up passes and is a sure tackler and has quietly put together a great career in Akron.
---
Meet the Special Teams
As we enter the junior years for P Adam Henry and K E.J. Johnson, there are still question marks about them. E.J. Johnson has not developed into the accurate kicker that I had hoped and he has taught me a lesson in recruiting kickers (ignore power, go for accuracy). As a result, K Roland Williams was recruited last year and is redshirting this year. The hope is that E.J. Johnson can become more reliable for us this year and render Roland useless but time will tell.
---
Overall Prediction for Year 10
We got burned in streamed games against good teams last year. We also got burned by injury with Fountain Drew once again proving to be too fragile for us. It's hard to predict how things will go this year. We have five games against ranked teams on the schedule and anything could happen in those games.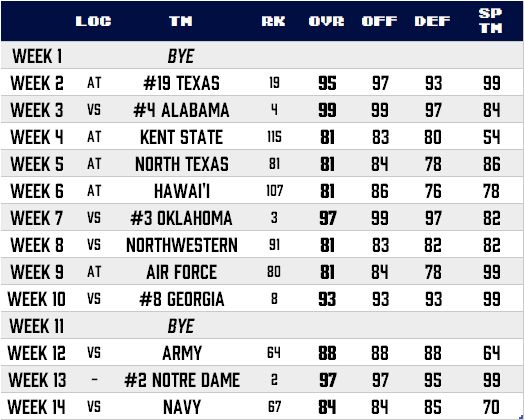 A lot will depend on the performance of this team in streamed games that we watch and I'm feeling like it may be hard to expect us to win every one of them. I'm going to predict a one-loss season that still gets us into a top BCS bowl that we win.
---
Create-A-Playbook Twitch stream tonight!
If you didn't see in the last post, I am going to create a fully customized playbook for the Zips this year. The main reason is because the computer seems to handle playbooks poorly in the streamed games so I want to weed out poorly-constructed plays and utilize our players better.
Do you also want to build a playbook? Well, hop on by Twitch tonight and help me out as I do it.

In this stream, we'll also watch the Week 2 game against #19 Texas. This will likely start at around 10:00PM. It will allow us to see the playbook in action and make sure the stream isn't as boring as just watching a playbook get created. Stop on by for that!
On Friday, we'll stream two more regular season games. Next Tuesday, we'll stream the bowl game and offseason. Here is the full Twitch schedule for this season:

I'm looking forward to hanging out with you all on the streams as you all come up with more player nicknames and other goofy stuff. You're all the best.
Since this series has been going on for a while at this point, I'd also appreciate your help in spreading the word about it if you can. It's just fun to see more people commenting and popping in the streams and hopping on our subreddit. Punch the button below to share the series, or post a link to this newsletter online somewhere for your friends to check out.
For those not jumping on Twitch, feel free to drop formation or play suggestions below that you would like for our custom playbook. Otherwise, I would love to hear thoughts about this Zips roster, the schedule and the year ahead.
Keep zippin', baby!