Welcome to the second half of the Year 9 season in the University of Akron's quest to become a football powerhouse in NCAA Football 14. To learn more about this series and read up on past installments, visit the About page of this site.
Despite giving certain proposes dates for my Year 9 posts, things have not exactly been released on that schedule because I've been busier with some grad school work. I'm going to end up spacing Year 10 out over two weeks as a result of that business. I'll write about the streaming and posting schedule for Year 10 at the end of this post. Next Twitch streams are Wednesday and Friday of this week though!
Before we look ahead, let's find out how Year 9 actually went!
The last post ended with Akron having two tough losses in games that we watched and their national title hopes in doubt. The recruiting class looked amazing but the team on the field left us with a lot of questions about our team makeup and philosophies moving forward.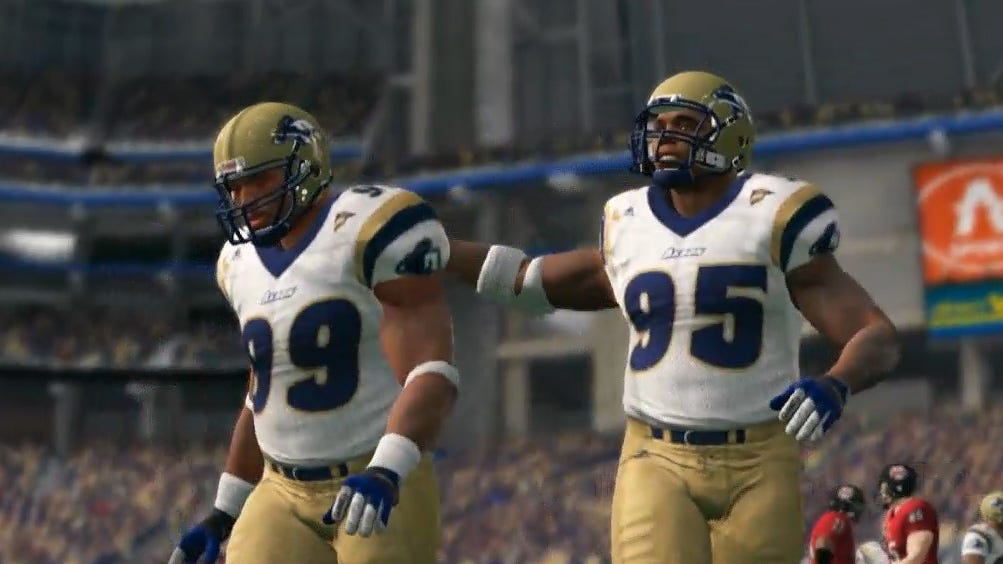 Year 9 (2021-22) Second Half
As the second half of our season looms, there are a few things that I am hoping to see. Most importantly, I'd like see QB Jon Weaver get back under control in sim games and I'd like to see QB Andrew Fountain return from injury and cap his Zips career with a big bowl win. Our kicker E.J. Johnson has been a question mark, freshman WR Kelechi King looks like a liability and HB Ian Brown has been a dud. I'll be closely watching these players too.
6-2 | Week 11 vs USC
We're fresh off a loss to Alabama here and bringing a supposedly strong USC team to Akron. They're 3-6 on the year and unranked but they are a 90-rated team that started the year ranked #8 in the country, so this isn't a game to happily look past.
I simulate the week and…
*
*
*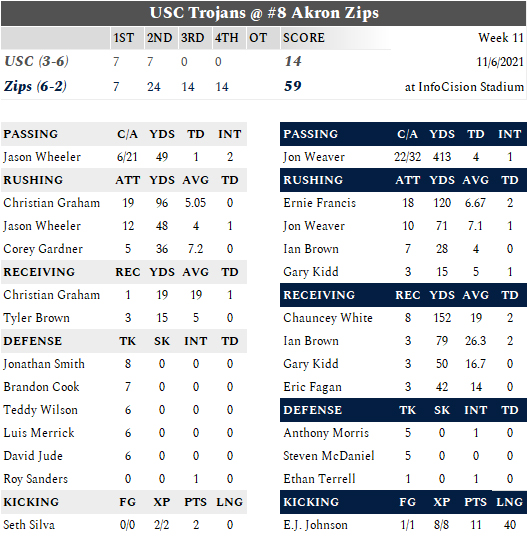 A beatdown! Yes!
Sim game Weaver is my favorite version of Jon Weaver. He has a great game here with nearly 500 total yards and five combined touchdowns. Ernie Francis seems to be outshining Ian Brown and Chauncey White is having one of the more amazing years I've ever seen at WR. Anthony Morris continues to do his thing too with another interception for his legendary career.
7-2 | Week 12 at LSU
Next up on the schedule is another incredibly disappointing team in this simulated universe. LSU has fallen pretty far over the years. While they are a 90-rated team overall, they're 2-7 on the year and unranked. We're travelling to their turf for this one likely as heavy favorites.
And?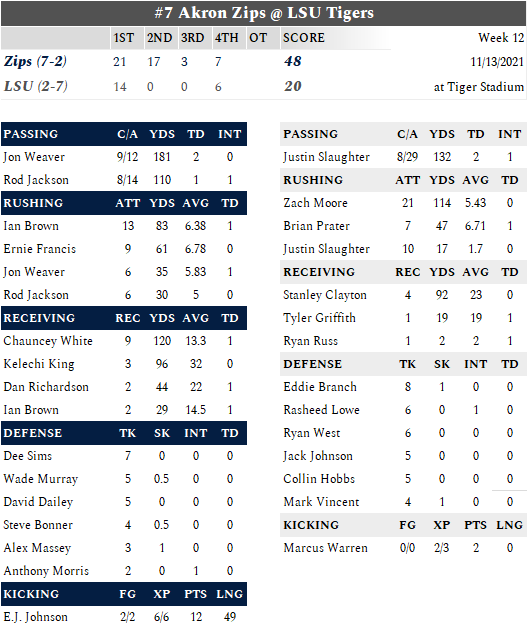 Not exactly a blowout but also not even close. We roll. Good contributions from everyone in this one, including another Chauncey gem and Anthony Morris INT.
We get a WR on the recruiting trail, Jonathan Evans (71 OVR). With some adjustments to our board for the final weeks of the season, these are our main targets: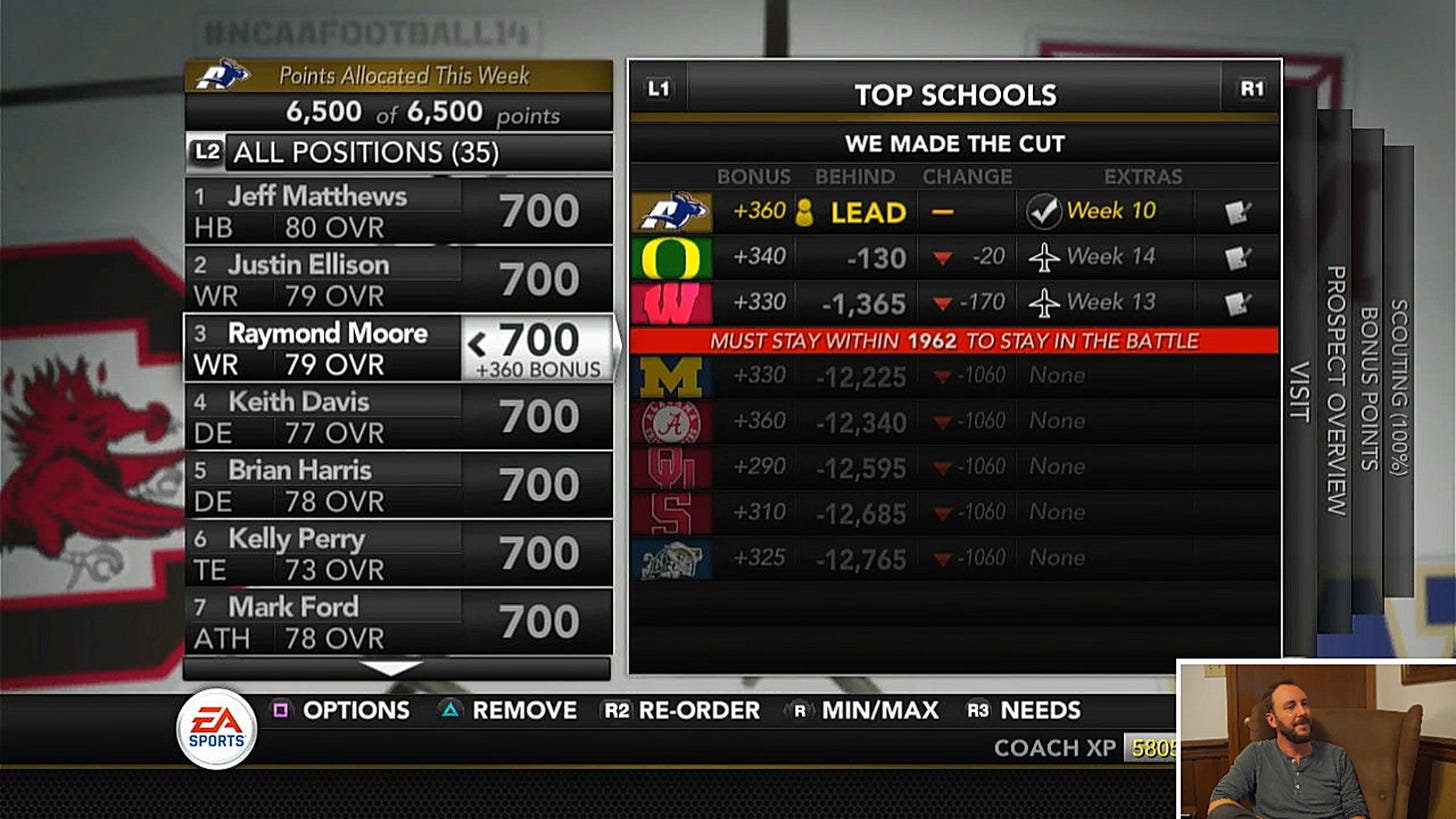 You can ignore my face in the corner there. This screenshot is from the Twitch stream last week.
With the help of those in Twitch chat, we added ATH Mark Ford to our board and have started to go heavily after him. In addition to Ford, I'd like to get #1 HB Jeff Matthews, one of those two WRs and then one of those two DEs. If we can pull off something close to that then I feel like we will have a ton of depth everywhere that we need for the years ahead.
8-2 | Week 13 at Wake Forest
We travel to my current real-life hometown of Winston-Salem, North Carolina in this next game to face Wake Forest. I can imagine the potential ramifications for the entire universe if Coach Luke and myself actually cross paths but I assume that doesn't happen and the universe doesn't explode.
Wake is rated 88 overall and this should be an easy enough game for us and hopefully the last game before Fountain Drew returns to close off his career.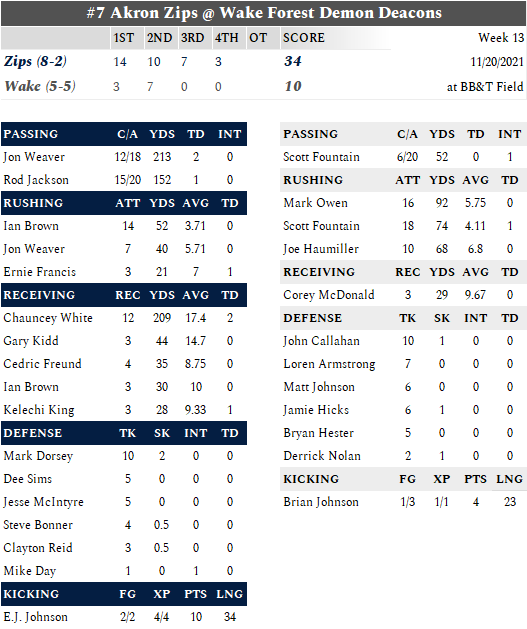 Chauncey White is a freakin' animal! I just am constantly amazed at the numbers that he puts up. He has over 1,500 yards and 20 TDs at this point in the season.
Freshman QB Rod Jackson came into this game and put up good numbers too, which bodes well for his future as our starting QB.
No movement on the recruiting front yet with our boys.
9-2 | Week 14 vs BYU
Our last game of the season is our easiest one on the schedule as BYU is rated 81 overall. The main storyline for this one is that Fountain Drew is back and I'm excited to see how he does in his last regular season game.
Beyond the game, we have a number of recruits coming out to Akron to visit so we want to put on a good show and try to get some more of these commitments tied up.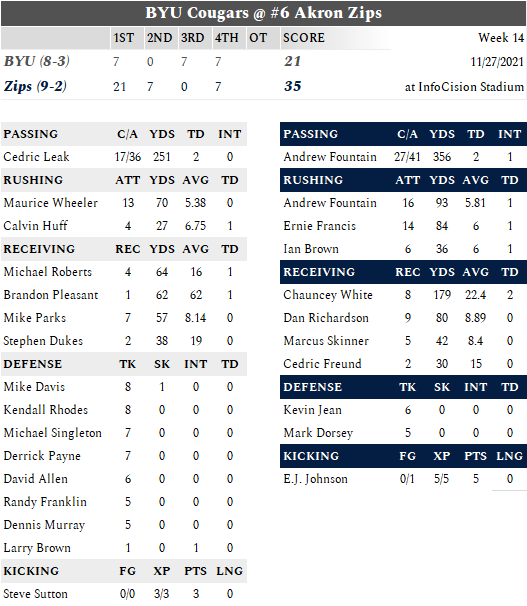 The game was slightly closer than I expected and Fountain Drew did put up good numbers but the defense just was a little sloppier than usual. Oh well. We win! As far as the recruits?
Not much traction there unfortunately!
But!
We do get K Roland Williams to commit. He is rated 78 overall and this is good news because E.J. Johnson has been a bit of train wreck and we can redshirt Williams next year to see if he maybe he can take over that role in Year 11.
As we go into our Week 15 bye, we actually move up to #4 in the polls so we have an outside shot of making the national championship if everything goes perfectly during this week and the conference championship week.
And?
Do things go perfectly?
Does luck shine upon us?
*
*
*
No. We do up #3 in the country heading in the bowl week and get invited to the Fiesta Bowl though! That seems like great news! Add another BCS Bowl to our resume!
Fiesta Bowl
So.
Um. There's a bit of bad news actually?
We play the MAC champion UMass Minutemen in this game.
If you recall, when we were in the MAC, we once built in a BCS Bowl Game qualifier for the MAC champions that we never took advantage of before Akron left the MAC. When we went Independent, that wasn't taken out of the game so UMass is in the Fiesta Bowl and we get to play them. Yipee!
They're rated 77 overall and we should roll. Here are the highlights of watching the game on the Twitch stream:
*
*
*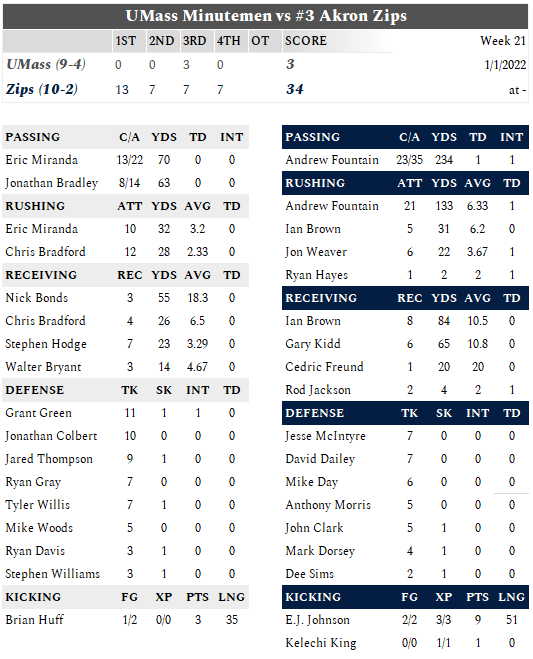 Of course we win! It's a slight disappointment that this wasn't more of a blowout but we'll take it. Once the game got out of hand, we had some fun by putting Kelechi King in at kicker and a few other oddities. Our future QB Rod Jackson naturally plays WR as well so came in to catch a touchdown at one point.
For those watching on the Twitch stream, we noticed that the playbook is not running the way we hoped in games we watch (a lack of production from Chauncey White is concerning, for instance). I'll talk about that more in a moment.
This is the end of Fountain Drew, Anthony Morris and Jon Weaver though. It's a nice farewell to a handful of players that brought us a national title. The only question is how highly they'll be drafted. I'll miss these guys and I hope we can find new legends in our future to replace them with.
At the time of publishing this post, I don't have the stats added into our Year 9 Stats spreadsheet but they'll all be loaded in soon if you check back later on.
Offseason
Many Akron records were broken as we start the offseason. Here's a list of them all:
Career Passing TDs: Andrew Fountain (97)
Season Receptions: Chauncey White (103)
Career Receptions: Chauncey White (228)
Season Receiving Yards: Chauncey White (1738)
Career Receiving Yards: Chauncey White (3711)
Season Receiving TDs: Chauncey White (22)
Career Receiving TDs: Chauncey White (41)
Career Sacks: John Clark (23)
Career Interceptions: Anthony Morris (21)
These guys did such amazing work during their time as Zips. There are some incredible careers here. It should be noted that Chauncey White is a junior and had once told us that he is sticking around for his Akron degree so hopefully we will get one more year of him adding to those records.
As far as awards, we do have three award winners!
The Biletnikoff: Chauncey White
The Thorpe: Anthony Morris
The Bednarik: Anthony Morris
Next up is the Players Leaving stage. Two players want to leave early in FS Mike Day (92 OVR) and RT Sam Malone (87 OVR). We also lose LE Bobby Willis (80 OVR) as he transfers to Purdue.
We're able to convince Sam Malone to stay by convincing him about the merits of completing his bartending degree at Akron so we don't lose our best offensive lineman. It's a great degree, guys!
As far as the draft, many Zips make it to the NFL this year: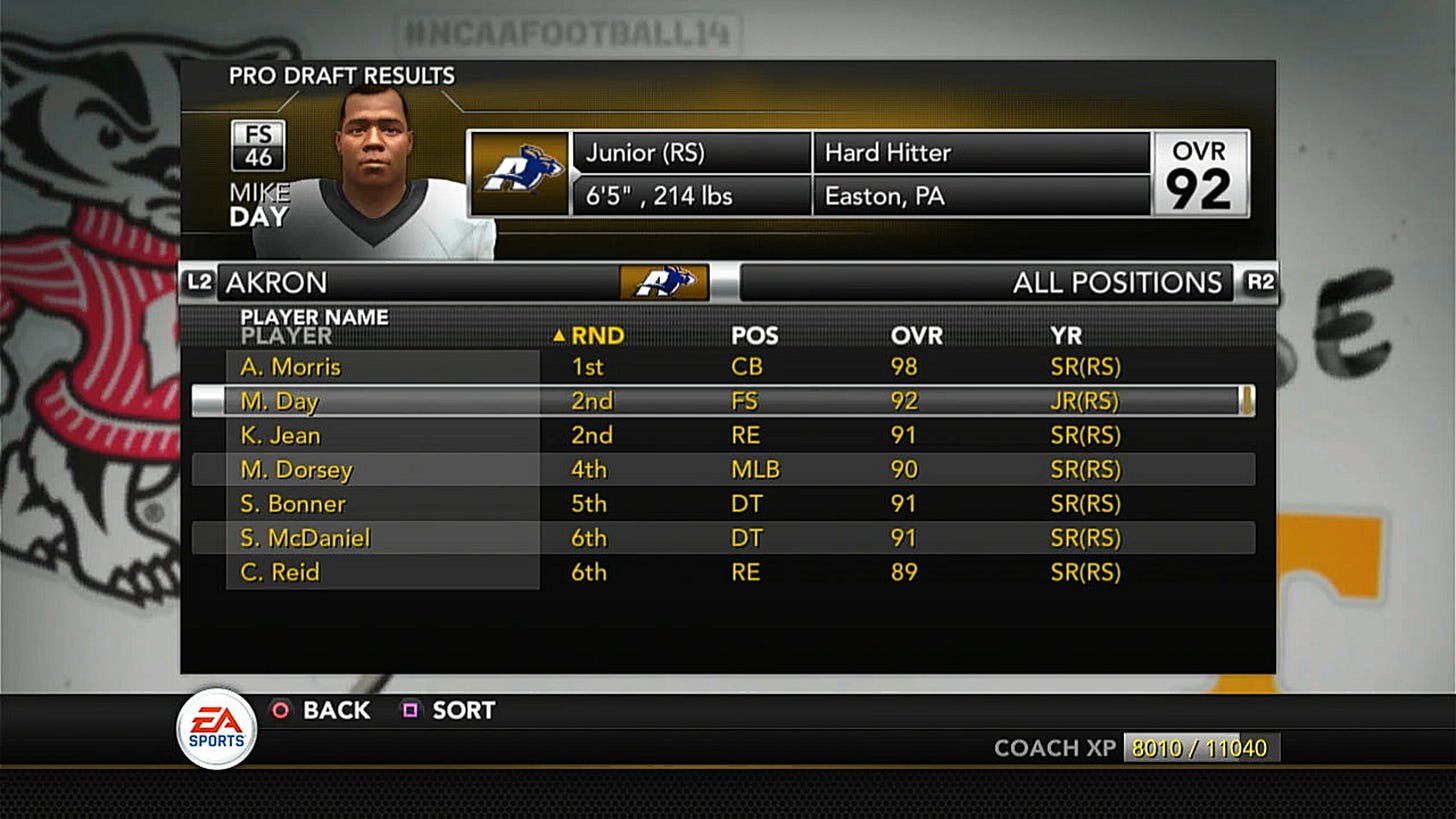 The shocking thing to me is that neither QB Anthony Fountain nor QB Jon Weaver get drafted. The NFL is weird! I guess we'll be seeing them back at Akron as QB coaches in the future.
In the recruiting portion of the offseason, I do have nine scholarships left to offer but we have such a solid recruiting class that I'm not concerned about using them all. At this point, filling up our class would just leave us with more players to cut eventually. Yes, there have been fan theories out there which say that I get a sick pleasure out of cutting guys but… no… I do dread it.
Ultimately, after some decision making, I decide to set up our board by going hard after ATH Mark Ford, HB Jeff Matthews and WR Justin Ellison. I pulled out of races for the defensive ends shown earlier as I now feel we have enough depth there. After losing safety Mike Day to the NFL draft early, I do also add SS Bryan Freeman to our top target list. This is our final recruiting board: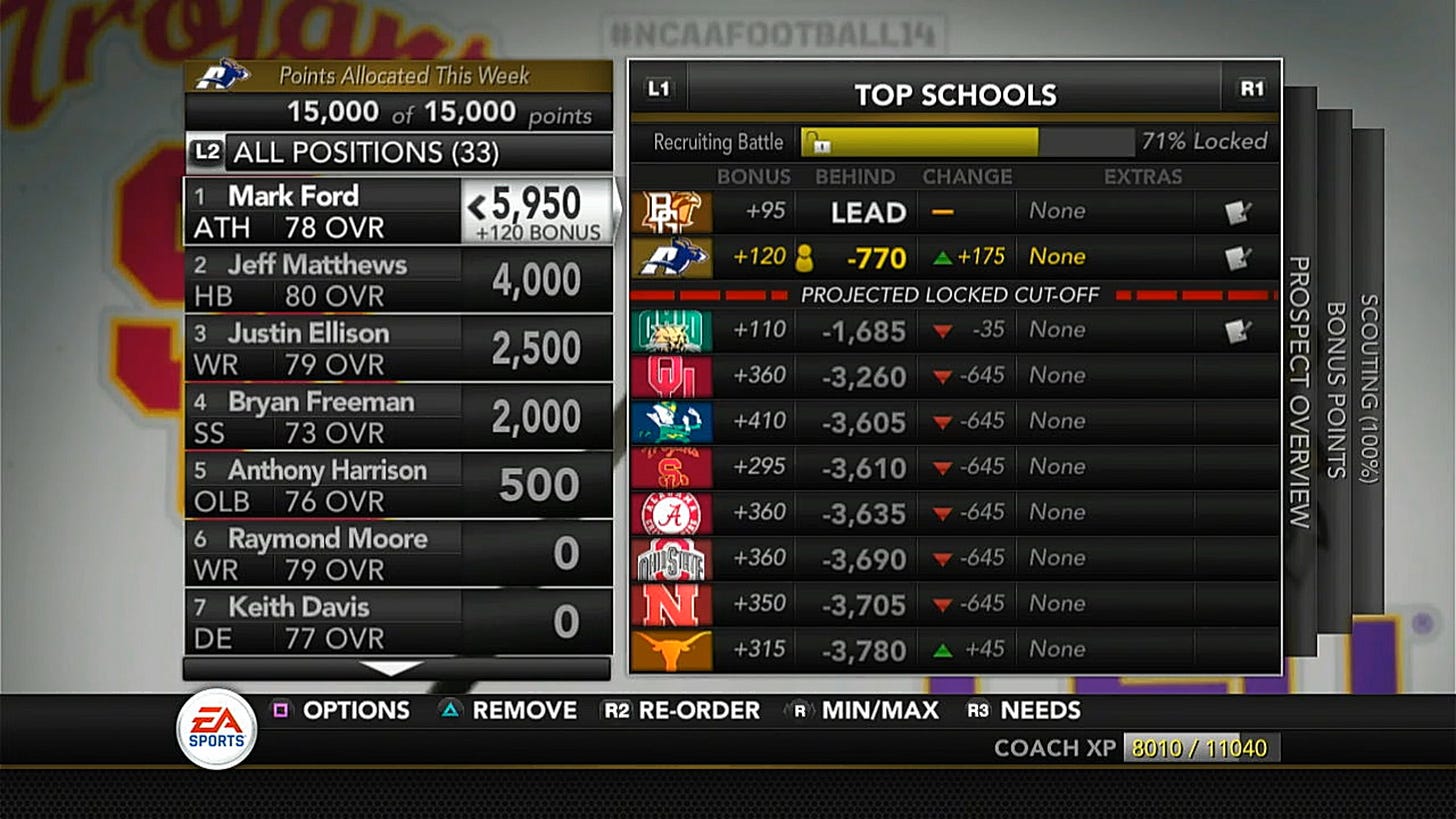 And?
*
*
*
Well… it goes okay!
We get ATH Mark Ford and SS Bryan Freeman, in addition to a DT that we had lower on our list. Our commit list looks like this to end the season: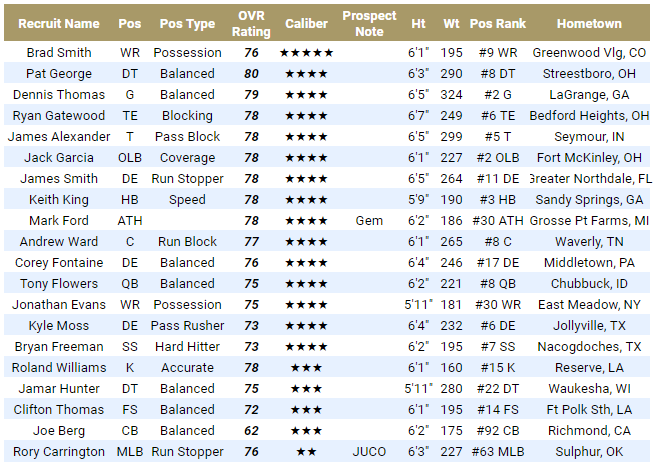 Here is the spreadsheet with all of our commits this season and other info about the dynasty.
It's a deep class. We don't have a ton of five-star gems or anything but we have a ton of four-star players that will fill many starting needs for the years ahead. I feel great about the huge amount of depth to this group.
Coach Luke's magical suit works for yet another year!
Custom Playbook for Year 10
I talked about about how our playbook is an issue in games that we watch on the stream. Using a custom playbook that removes screens from the game didn't seem to fix it but I since have found solutions that may help (one solution is apparently that we need to start the game as a User player and then switch to CPU for the game to use our custom playbooks apparently). Regardless, it was suggested on last week's Twitch stream that we make a custom playbook. So…
If you are someone who likes to get in the weeds with this kind of stuff, I am going to do a Twitch stream this week on Wednesday, September 23rd at 8:30PM EST to work on creating our custom playbook for the years ahead. I'm not expecting big viewing numbers for this kind of workshop Twitch stream but I'd love to have a couple of people pop over and work through it with me. Once again:
After the playbook is created, we can watch the first game of the season on that stream to see it in action. I hope you can make it out.
The Year 10 Schedule
Speaking of first game of the season, we set up a rough draft of next year's schedule on the last Twitch stream. Here's what it looks like: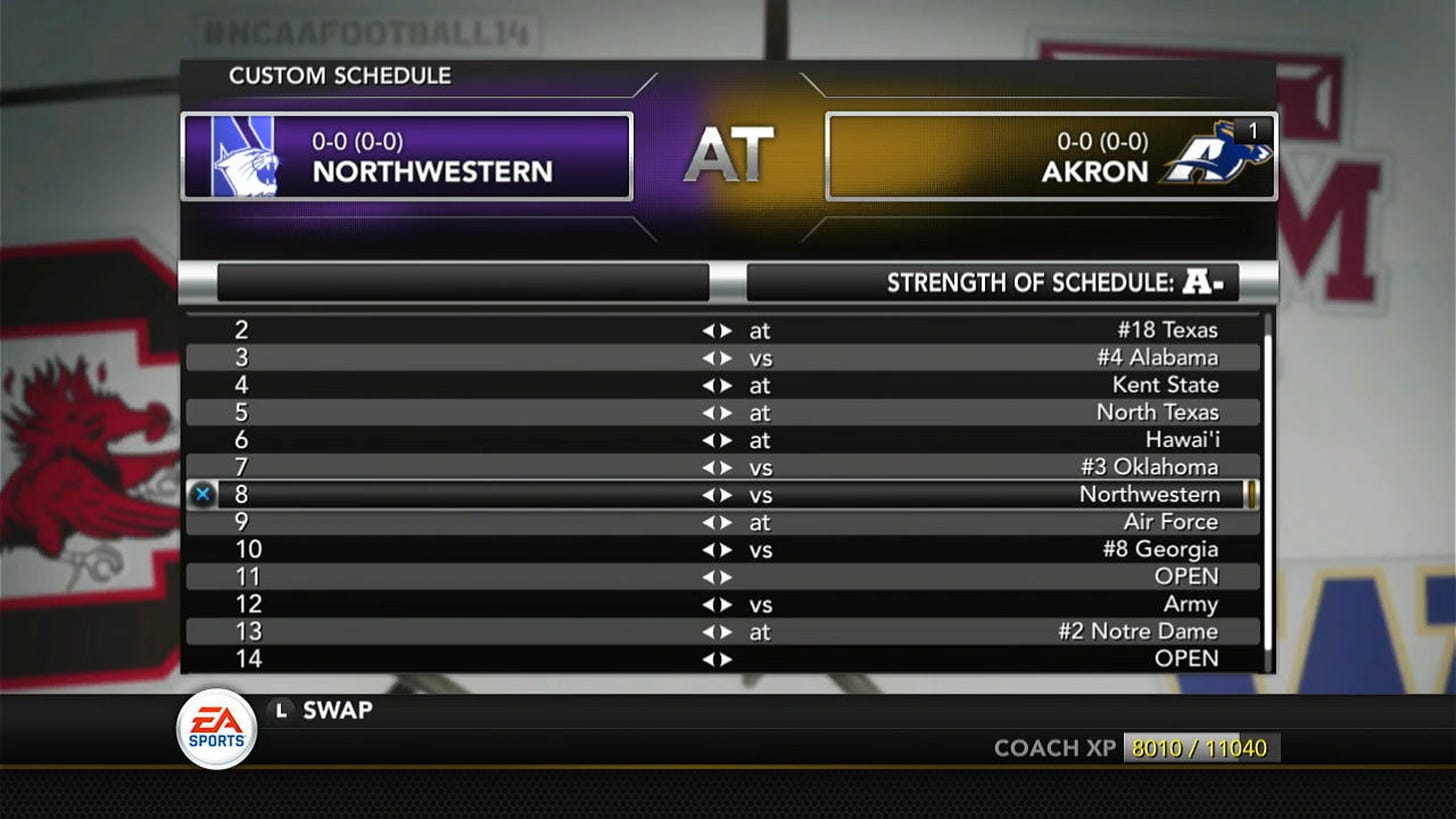 There's also a Week 15 game at home versus Navy at the end that you can't see there.
We have the service academies on the schedule as well as a former national championship rematch against Oklahoma and rematches against Alabama and Notre Dame. There are a variety of challenges for us on there but we are going to open the season as the #1 team in the country according to this screen so hopefully new QB Rod Jackson and the boys are up to the challenge.
Created Recruits
User-created QB Ricky O'Donnell Jr. had an amazing freshman season at Northwestern and seems like he might be able to revive that program. Reader-created DE Jiminy Cricket signed on to NC State during Year 9, and now we had another reader-created prospect added into the universe this year. Meet Matthew Morrow V: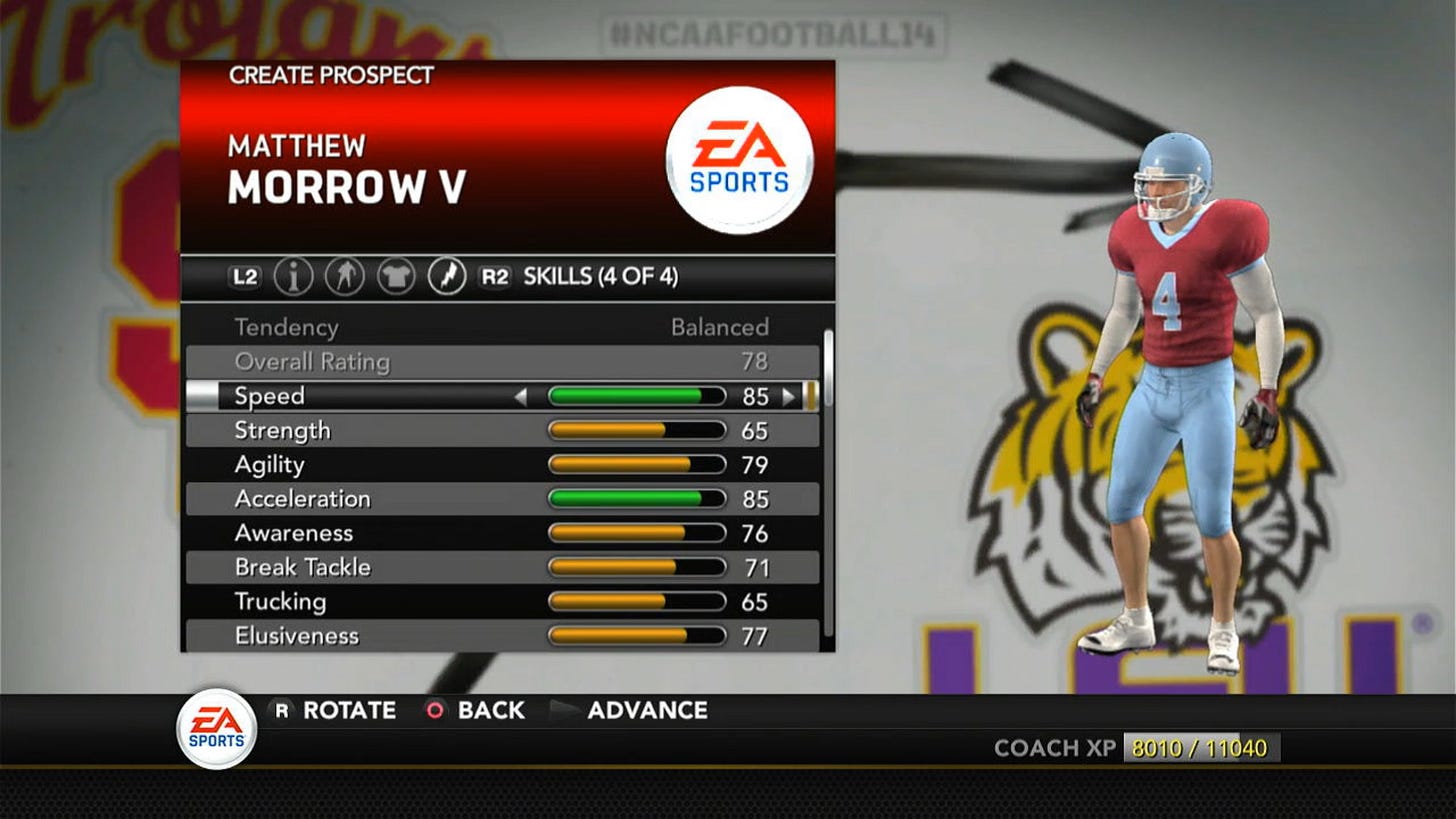 We'll be keeping tabs on his progress in the years ahead.
---
Rubber City Dynasty Scheduling
As I mentioned at the beginning of this, I have a bunch on my plate this week with grad school responsibilities so I am going to have this next season stretched out a bit more than usual. Here is the Twitch streaming schedule:

This Wednesday's stream is a bit of a silly one as I'll mainly just be working on creating a custom playbook for an hour or two. If you pop on later, you can catch us watching the Week 2 game against Texas. The more standard streams are the other two:
This Friday, we'll watch two regular season games together and sim through most of the season. Next Tuesday, we'll conclude the season-watching madness with a bowl game & offseason stream. And, if you're counting, we'll be streaming four of the games this season. Hopefully the Zips can become a good stream team!
If you don't have it already, here's a link to my Twitch channel.
I won't say exact scheduled dates for the posts here but the Year 10 Preview, Year 10 First Half and Year 10 Second Half posts should follow shortly after each of those Twitch streams.
Year 10 should be a wild one with a new starting QB for the first time in a while as we run through the Independent circuit for the second time around. There's heavy expectations as well since we're seemingly a preseason #1 team. So, yeah, lots of expectations with lots of questions to answer this year. Can't wait to see how it goes!
And, once again, if you have any interest in the nuance of setting up a playbook, remember:
Twitch stream on Wednesday night at 8:30 PM EST!