Welcome to the conclusion of the Year 7 season in the University of Akron's quest to win a national championship in NCAA Football 14. To learn more about this series and read up on past installments, visit the About page of this site.
Sugar Bowl vs #10 UConn
First and foremost, we left things off in the last post before the season ended.
We still had the season bowl left to play and I streamed that matchup and the offseason on Friday night on Twitch. It was super fun and there was a good crowd with lots of chatter throughout the game and offseason. I had a blast. But, for those that weren't there, the game is the thing you're wondering about!
And?
*
*
*
We won! The score was 27-14! It was a little closer than expected because QB Fountain Drew got injured with a concussion in the second quarter, cutting his season short. QB Cedric Todd did an admirable job in his last game as a Zip to keep the offense going though. He was dubbed Cedric The Entertainer in the chat.
Here are some highlights:
We finished the season #2 in the country after Alabama beat Virginia Tech in the national championship.
But, hey, undefeated 14-0 season, baby! We're throwing a parade in downtown Akron to celebrate our unofficial championship! We never got a chance to play Alabama due to lack of playoffs in this game so who can really say that we don't deserve the title?
I'm proud of this team and I'm so ready to continue our twenty-two game win streak next year our way to a true championship!
As far as end of season stuff, embarrassingly, I forgot to do a separate save of the season while I was on the stream so that I could record the final season stats after. So, the end-of-season stats are a bit incomplete this year for players that graduated since I was unable to look up their stats. Regardless, for those who are curious, here are the stats I did have for Year 7. A lesson learned for future streams!
As for the bowl game contest, reader Matt won the contest and he created a tiny QB recruit named Ricky O'Donnell Jr. We'll follow the progress of the little guy and see what school he goes to.
For now, let's talk about how the recruiting process went in Year 7 before we head off into the wonderland of Year 8.✓
---
Year 7 Recruiting Recap
Back in the Year 5 recruiting recap post, I talked in more depth about the NCAA Football 14 recruiting process. By now, if you've been following the series, you know that I assign recruiting points to prospective players to convince them to attend Akron. I also can use points to scout the player and I can bring them out to visit campus once to earn more points.
Preseason
The game lets me know that my only official recruiting need is to get one TE. Easy enough. Tight end is one of our least important positions in our current offense but a playbook change may be in order so it would be good to get a decent TE option.
Aside from that, I have my own goals. On offense, I see us needing a guard and quarterback to keep building those positions up. On defense, I feel pretty good about our depth almost everywhere but it wouldn't hurt to get more linebackers and linemen in our program. We're in a decent position on the whole where it feels like our team is solid almost everywhere so we can also just target the best players available.
I create my initial board by finding a mix of players who have an interest in us and players that don't have an interest in us but I feel we can convince. After a bunch of scouting and reconfiguration in the preseason, the top players on our initial board are these guys: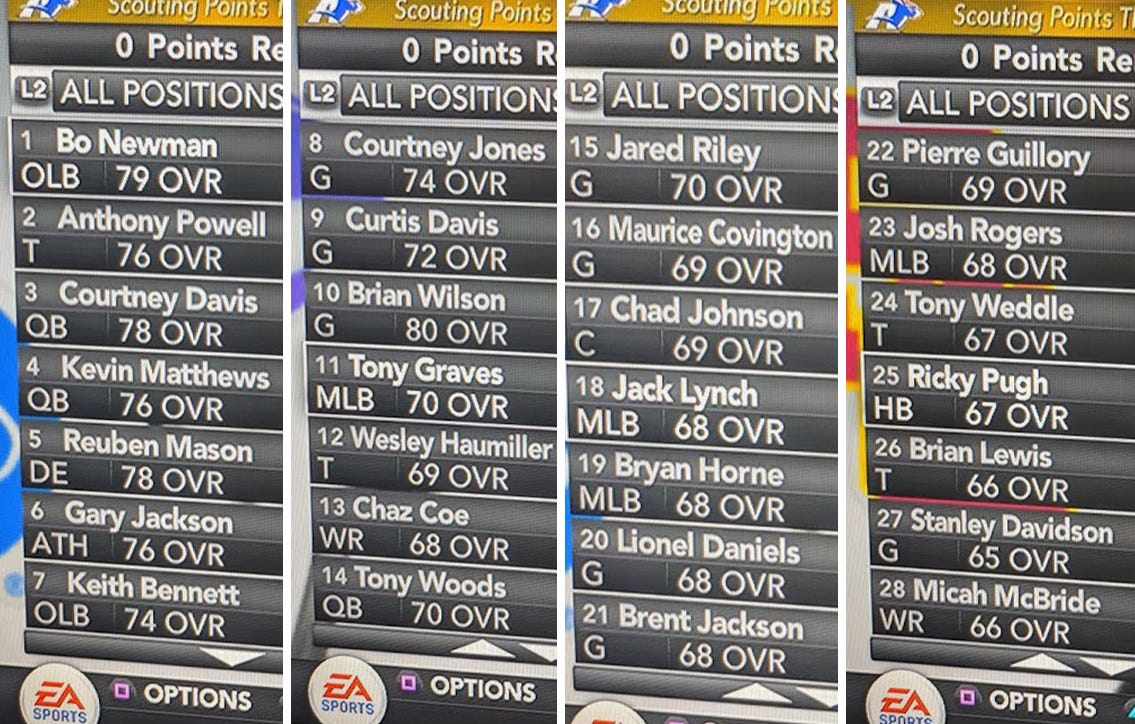 Not a lot of players with hilarious names this year but it looks like a Cortez Haumiller relative is in our mix.
Weeks 1-2 of Regular Season
In Week 1, I spend 1,250 of my 6,500 recruiting points just to scout players. I then look at players who have us as their top school and offer scholarships to them, to hopefully take advantage of our Insta-Commit ability that gives them a twenty percent chance of signing right away. Unfortunately, I have no luck with getting commits that way. I also offer scholarships to a few players that we're behind in the battles for to show our interest and get them thinking about us. We're left with 4,250 points and I put anywhere from 150-400 points in fifteen players. This will show our initial interest and then we can see how they react to it.
We play Navy in our Week 2 opening game of the season and we blow them out.
Looking at my board after two weeks, I've now been able to determine who is worth pursuing and who we need to drop. I adjust my board based on the latest findings before we head into a pivotal game against Ohio State that week. At this point, these are the main targets for the weeks ahead: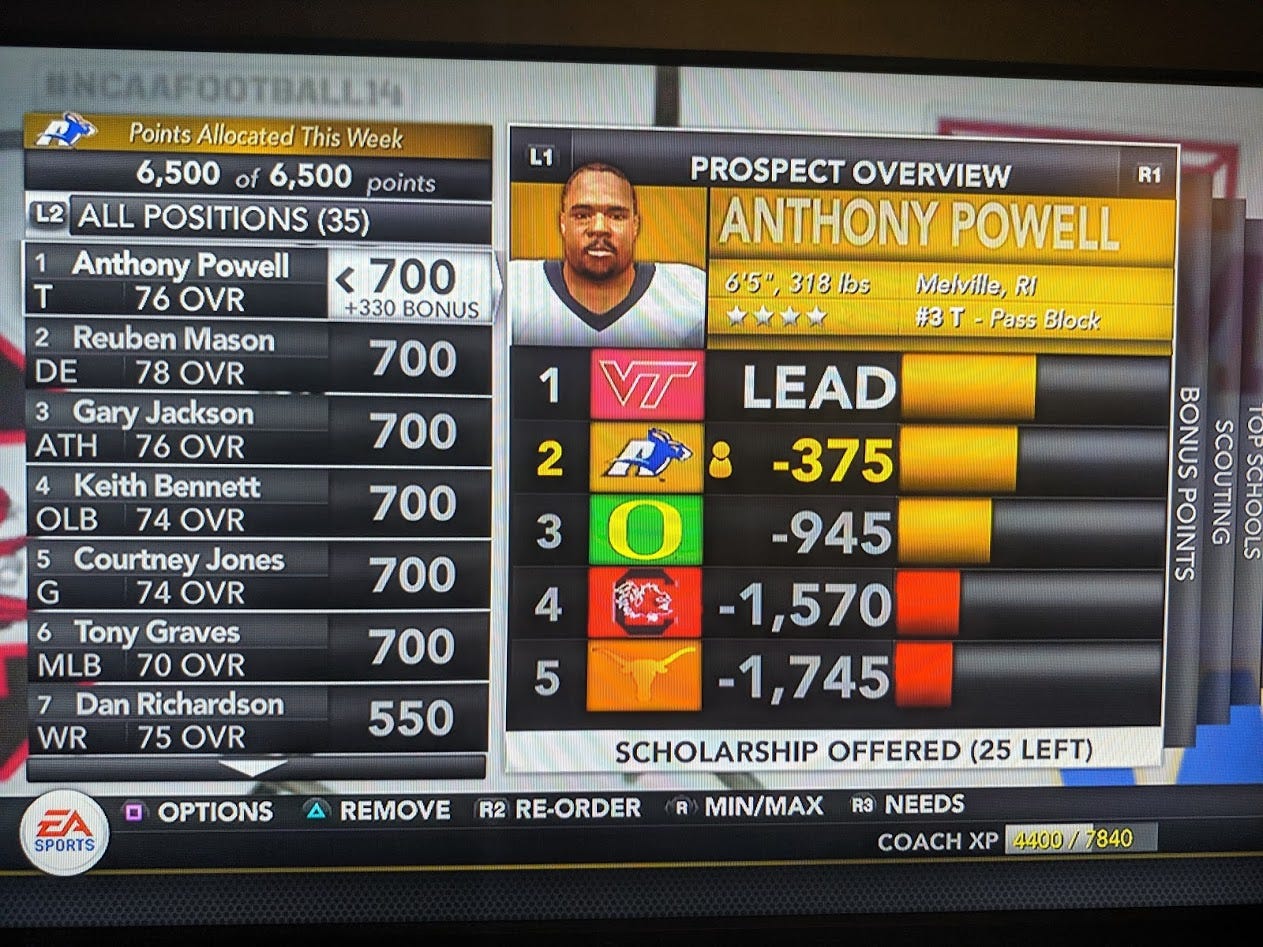 Week 6 Rivalry Game
Despite the game saying we need a TE for our team, I'm having trouble getting any of them to show interest us. Hopefully we can get that figured out sooner than later.
There isn't one particular guy from the list above that I'm really hoping for. They all seem like great prospects and I'd be happy to end up with two or three from that top seven there.
We do well in our initial out-of-conference slate by beating the two non-MAC Ohio teams: Ohio State and Cincinnati. Our recruiting battles aren't affected yet though as nobody commits and we're still in a lot of close contests.
That all leads to a pivotal recruiting moment in Week 6. We have a home game against Kent State and six recruits are invited out to watch us play:
#3 T Anthony Powell (76 OVR)
#6 DE Reuben Mason (78 OVR)
#25 ATH Gary Jackson (76 OVR)
#42 G Brent Jackson (70 OVR)
#2 OLB Keith Bennett (74 OVR)
#42 DT Josh Frederick (69 OVR)
I'd like to have more recruits visiting but scheduling didn't work out for a lot of them. Our Week 11 game against TCU will likely be when a lot of other recruits come out.
From those six visiting recruits, the only ones we're currently in the lead for are G Brent Jackson and DT Josh Frederick. I'd like to see them commit to clear them from our board, but any additional commits would be a nice surprise. First, let's win the game…
*
*
And we do!
*
*
And? We get ATH Gary Jackson and G Brent Jackson to commit afterward. It wasn't the two I expected but I'll take it. It's always nice to get an athlete in our mix and we'll likely get DT Josh Frederick to commit later.
It's not the fast start that we've had in previous years on the recruiting trail but it works. We did get a guard, which I wanted, and now I'm mostly hoping for a tight end, some linebackers, some defensive line help and another quarterback.
I also start adding players without offers elsewhere to my board, including 5-star athlete Rod Jackson. It's a long-shot but I'm hoping to build up his interest in us before other schools swoop in. This is how our board looks after that: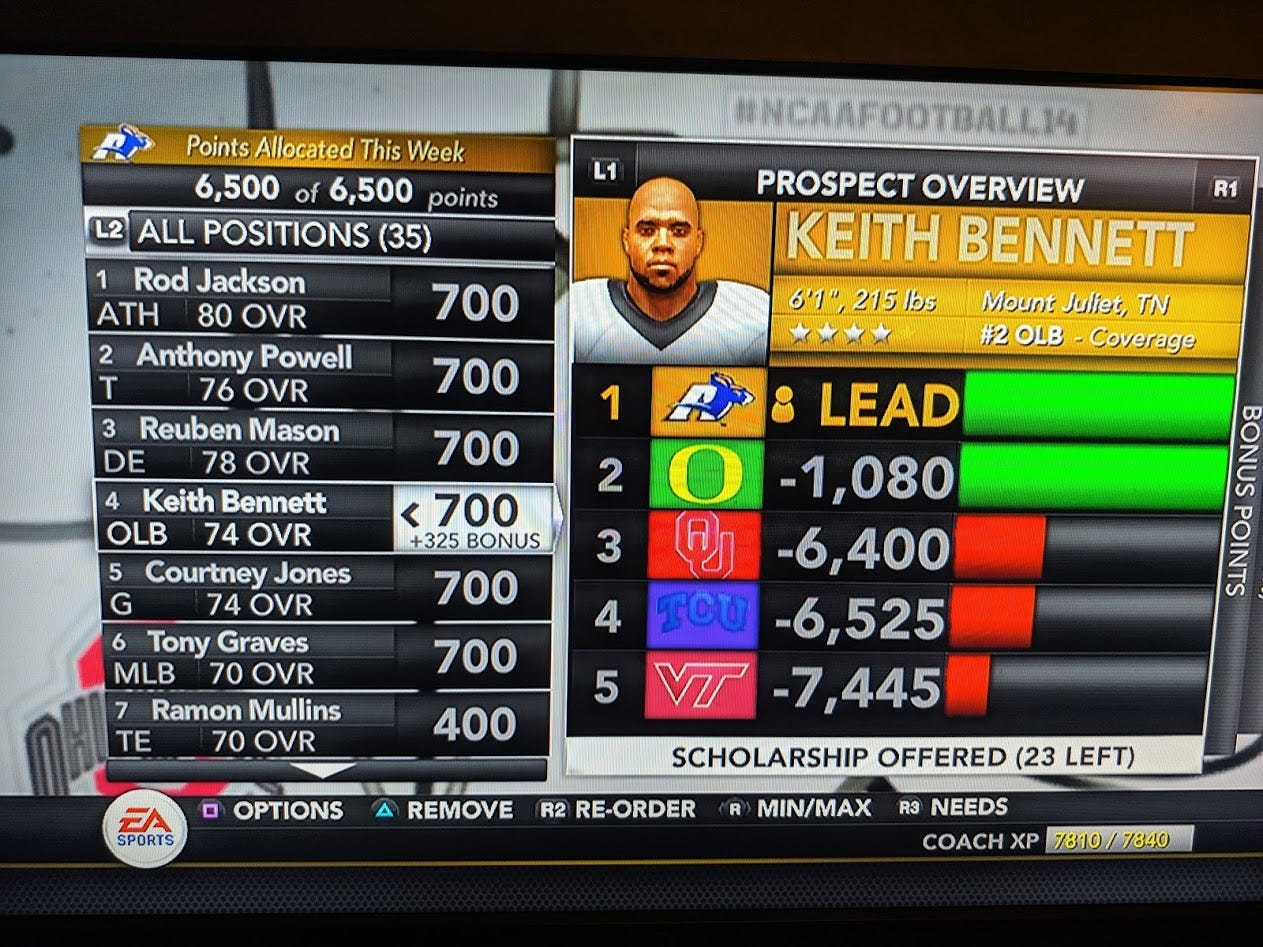 It's a weird year. We are in some really tough recruiting battles and having a harder time making up ground. We also don't have any hugely pressing needs so it may be harder to convince players that Akron offers them an option to play.
Leading up to the TCU game, we do get 4-star QB Kevin Matthews to commit to give us nice insurance at that position for the years ahead. He's the #6 QB in the nation! He's interesting because he is a balanced QB as opposed to our scrambling type we've been typically getting. He may fit into a new playbook if we move that direction. We also get DT Josh Frederick to finally commit as well so we are up to four recruits.
Week 11 vs #3 TCU
I don't love that we have one of our biggest recruiting games of the year so late in the season but that's how it goes this year. We're #5 in the country and they're #3, and we have sixteen recruits coming out to see Akron in the national spotlight. It should be a great recruiting event. We also get bonus points if a recruit sees us beat a Top 25 team as well as a team ranked higher than us. A win in this game would be big for our recruiting cycle. Here are the main players coming out to see us: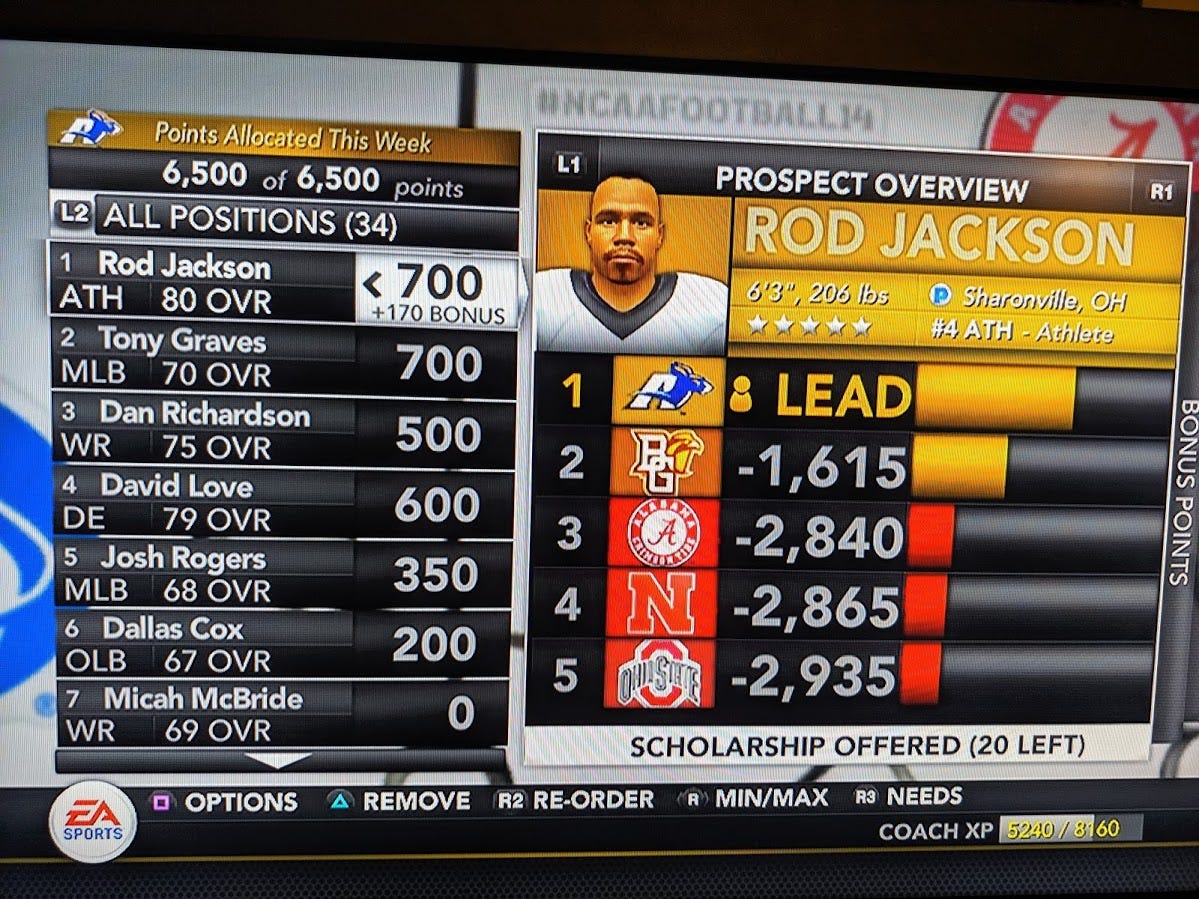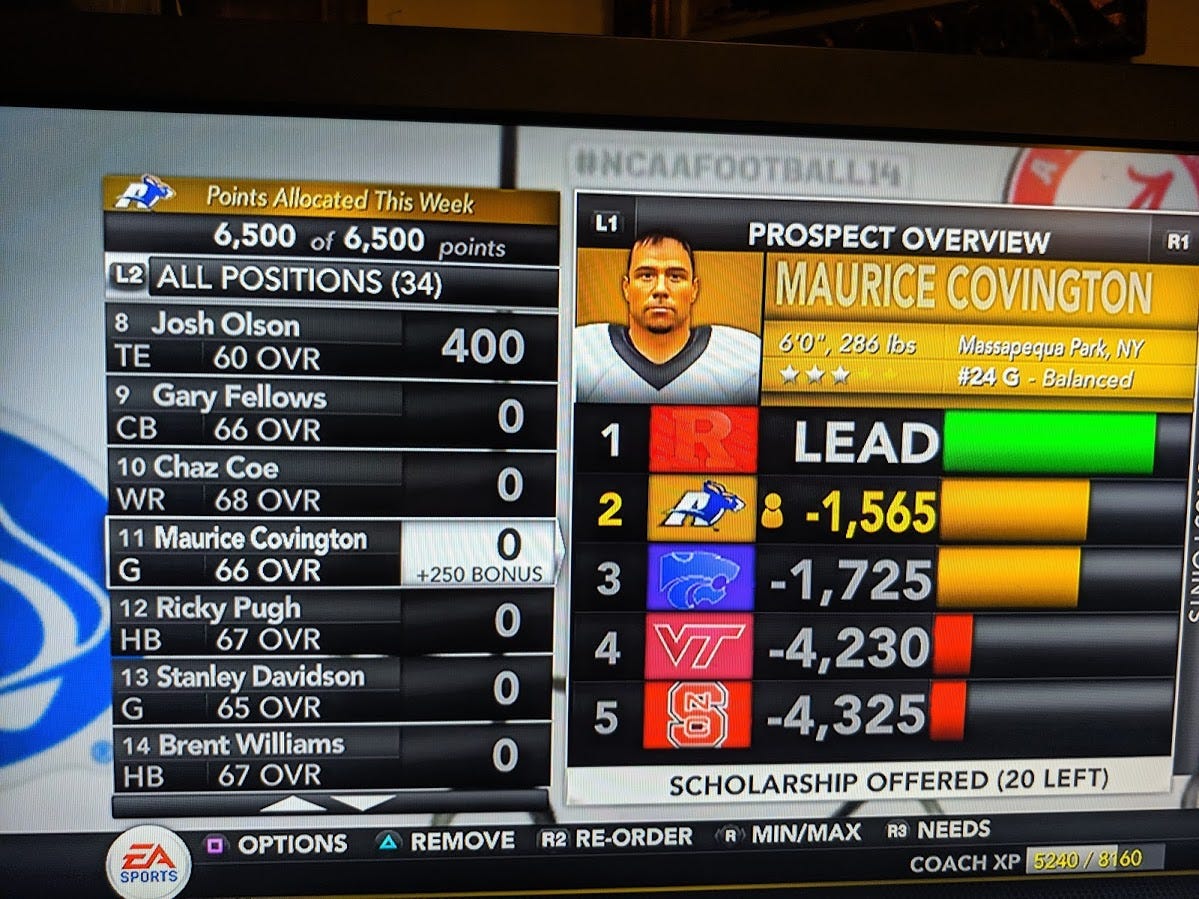 And, how'd it go?
*
*
We win the game and…
*
*
We get nine commits afterward! It's quite the haul, so as opposed to listing them all, here's a look at our entire class at this point: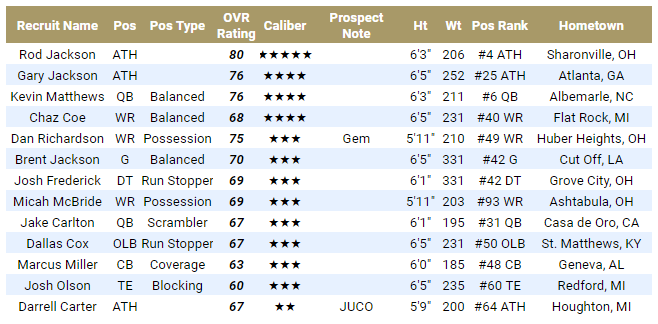 The biggest news is that we got five-star athlete Rod Jackson and he is our third five-star prospect ever. Based off his ratings, it seems like he'll be on offense in some skill position. We'll figure that out in the offseason.
After that haul, I want to focus on building the lines and getting more linebackers over the rest of the year. I rearrange my board with that in mind and here's what we have: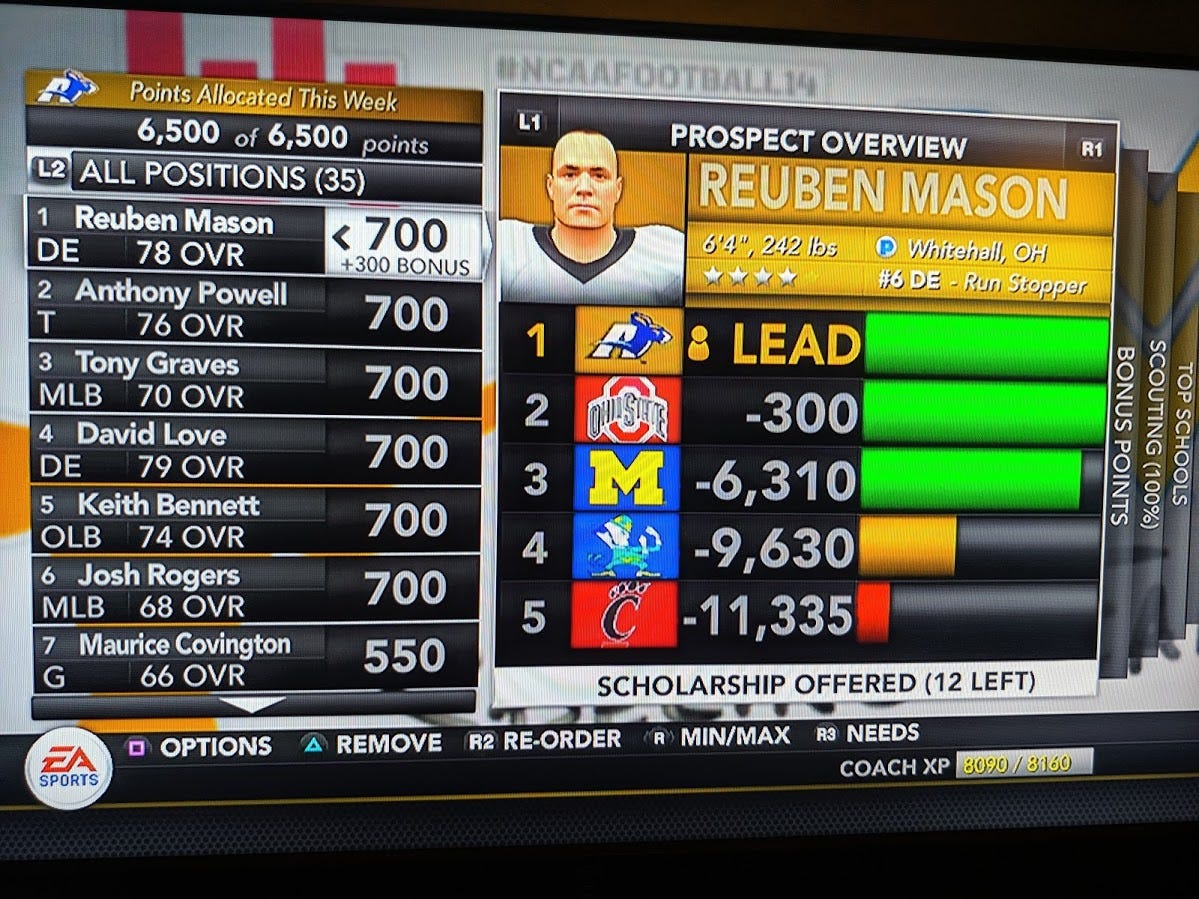 Week 12 & On
In other seasons, we've nearly had a full class committed by this point in the season. We only have thirteen guys so far but we have a solid class including a 5-star prospect on board and, honestly, we're just looking at depth at the moment anyway since we have a solid team in place.
In weeks 12 through 14, we only get a 3-star HB to commit. It's looking more and more like this year's class coming down to offseason magic unless we can pull off something in our Week 15 bye week.
But we don't.
Our only addition there is 3-star CB Gary Fellows. We have fifteen commitments. The offseason is going to be important in trying to fill out this class after all.
---
Offseason
As the season ends, we find out about a few things. We first find out that we had some school records broken this year:
School Season Receiving Yards: Edward Daniels (1352)
School Season Receiving TDs: Edward Daniels (14)
Daniels was only a sophomore so it'll be fun to see what career records he'll break as he goes on with us.
We then find out that I won Coach of the Year for the second straight year. The national media can't get enough of this Akron story.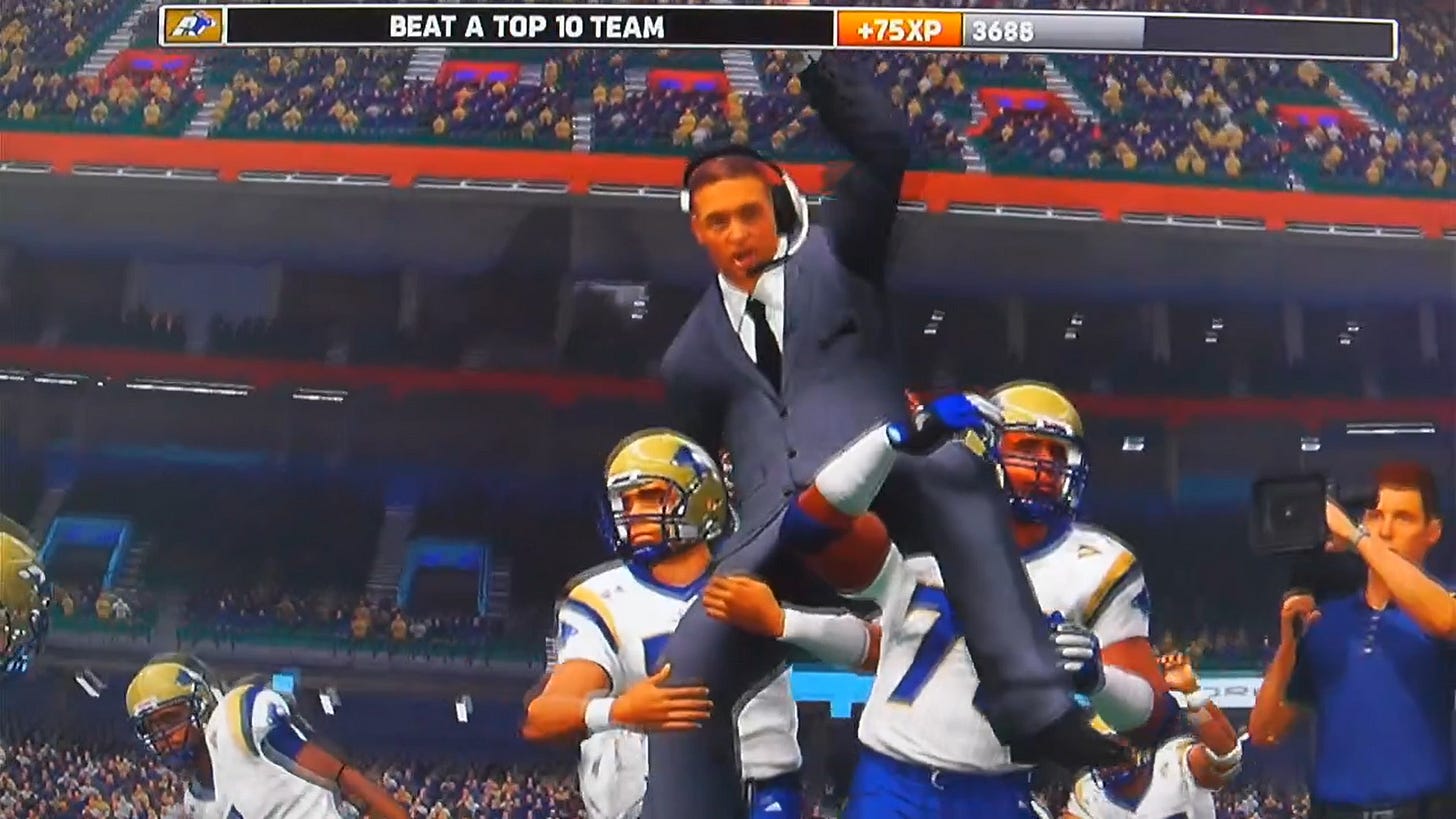 It's times like these that I must reflect on how far we've come. We're currently in the midst of a twenty-two game winning streak and have just completed an undefeated season. I really must credit the magical suit that Coach Luke wears and the players that have walked through our locker room from Kenneth Washington to Cortez Haumiller to—
Oh crap, sorry, LeBron James is outside my Akron mansion window right now. He and his family are all holding signs that say "TWO TIME COACH OF THE YEAR". I smile at them and give them a thumbs up but then close my blinds. I just can't deal with him this year. I'm a football coach and I've got an offseason to attend to.
So, yeah, let's get to it.
The first thing that happens is that we lose both of our coordinators. We get some decent in-house replacements in Level 20 OC Dan Harris and Level 25 DC John Dickson. As always, I have no say in this process and I'm happy that we keep getting high-level guys here.
In the Players Leaving stage, we first find out that the following players went to the NFL:
HB Jared Oliver (Round 3)
QB Cedric Todd (Round 6)
CB Eric West (Round 7)
Then, there's some hilarity in the Twitch stream due to a mistake that I make (you can watch it here).
CB Anthony Morris was threatening to leave as a sophomore to go to the NFL Draft. This made me sad as he's a stud, and the game wasn't giving me an option to convince him to stay. I couldn't figure out why but I accidentally hit the X button twice and it made me offer him a promise of finishing his degree at Akron. He was persuaded by that and stuck around. I was very confused for a couple minutes though as I misread what had happened and thought he was leaving. The Twitch chat tried to hard to make me aware that he was staying but I just didn't pick up on it for a bit (I even sadly said "yeah, he's staying"… great work, coach!). Anyway, Morris stays!
In the recruiting portion of the offseason, I have ten possible scholarships to give out and 15,000 recruitment points to spend. There are only really seven guys that I think we even have a shot for. We decide to go hard after DE Reuben Mason, MLB Tony Graves, and OLB Keith Bennett. Here's how the board looks: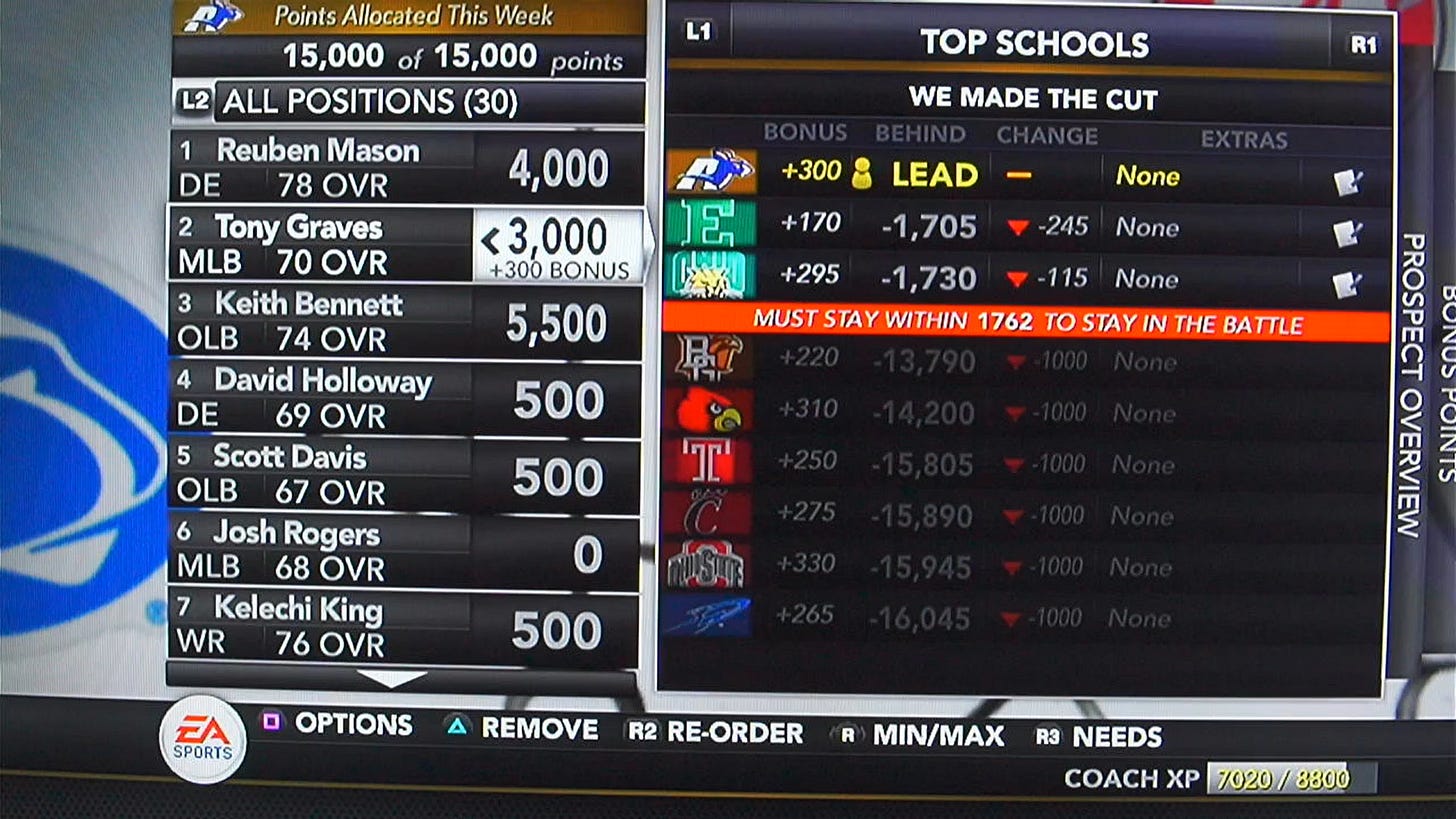 And?
*
*
*
We get a good haul! We get those three main guys as well as OLB Scott Davis, WR Kelechi King and G Brandon Hardy. This ends up being a pretty nice class!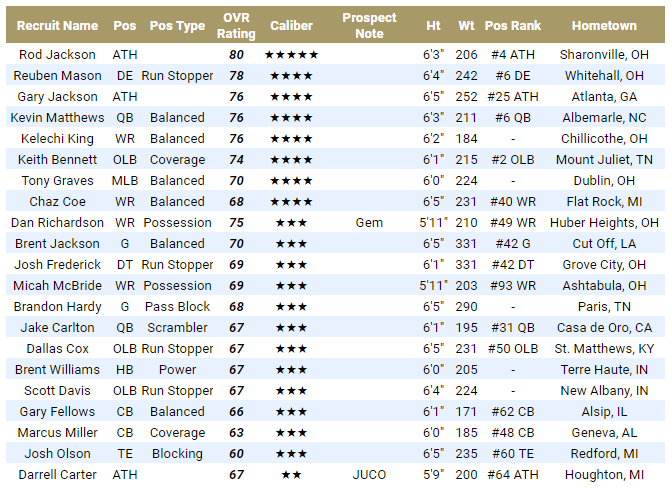 In fact, it is the #7 class in the country. I thought we were struggling this year but it all came together nicely in the end.
Here is the spreadsheet with all of our commits this season as well as the player stats from Year 7.
In the Position Changes week, we get another wonderful surprise. ATH Rod Jackson ends up being another amazing QB option, rated 87 overall. Sheesh! We're just a quarterback factory, man. ATH Gary Jackson ends up going onto the offensive line at RG and is rated 78 overall.
The Playbook Change
We will be changing up the playbook next year. I talked about this a bit on the stream. The reasoning is that the offense is balanced and strong in games that I simulate past but, in games that I watch, we are very unbalanced and run with our QB all the time. I've learned this is because of our playbook choice. That in-game QB running bonanza has resulted in multiple QB injuries over the years.
We talked about a few ideas in the stream but I want to look more into the various playbook offerings. Tulsa, Miami, Oklahoma and a few other playbooks were mentioned in the stream. If you know the game well then go into the comments here and throw some more playbook ideas for me to look at.
I want a balanced playbook that doesn't run out of the shotgun primarily, if we can. I'm open to ideas though. I do enjoy some read-option but I want to see a lot more passing.
The Year 8 Roster
The roster preview post will go up tomorrow. But here's a look at our top guys in Year 8: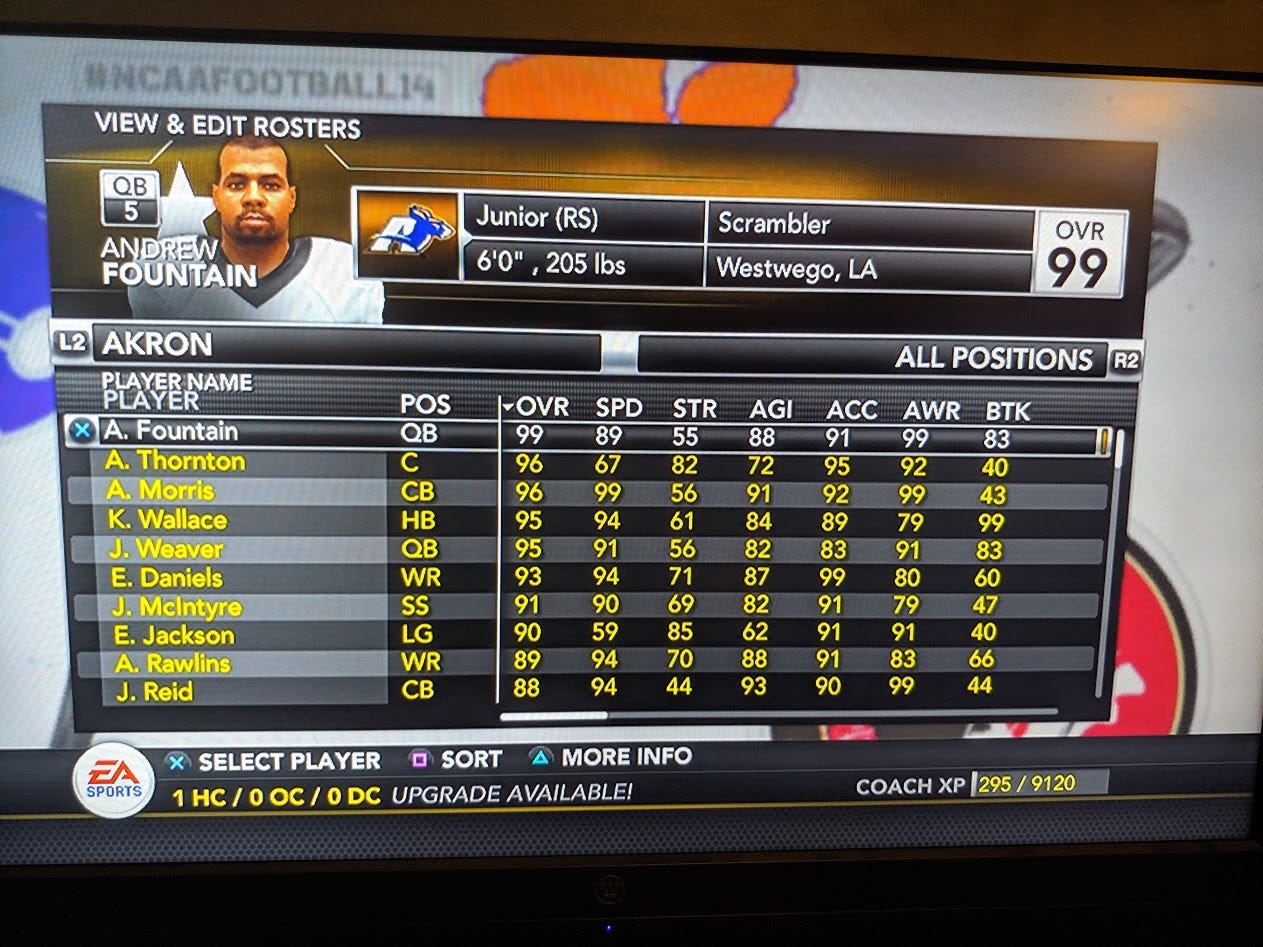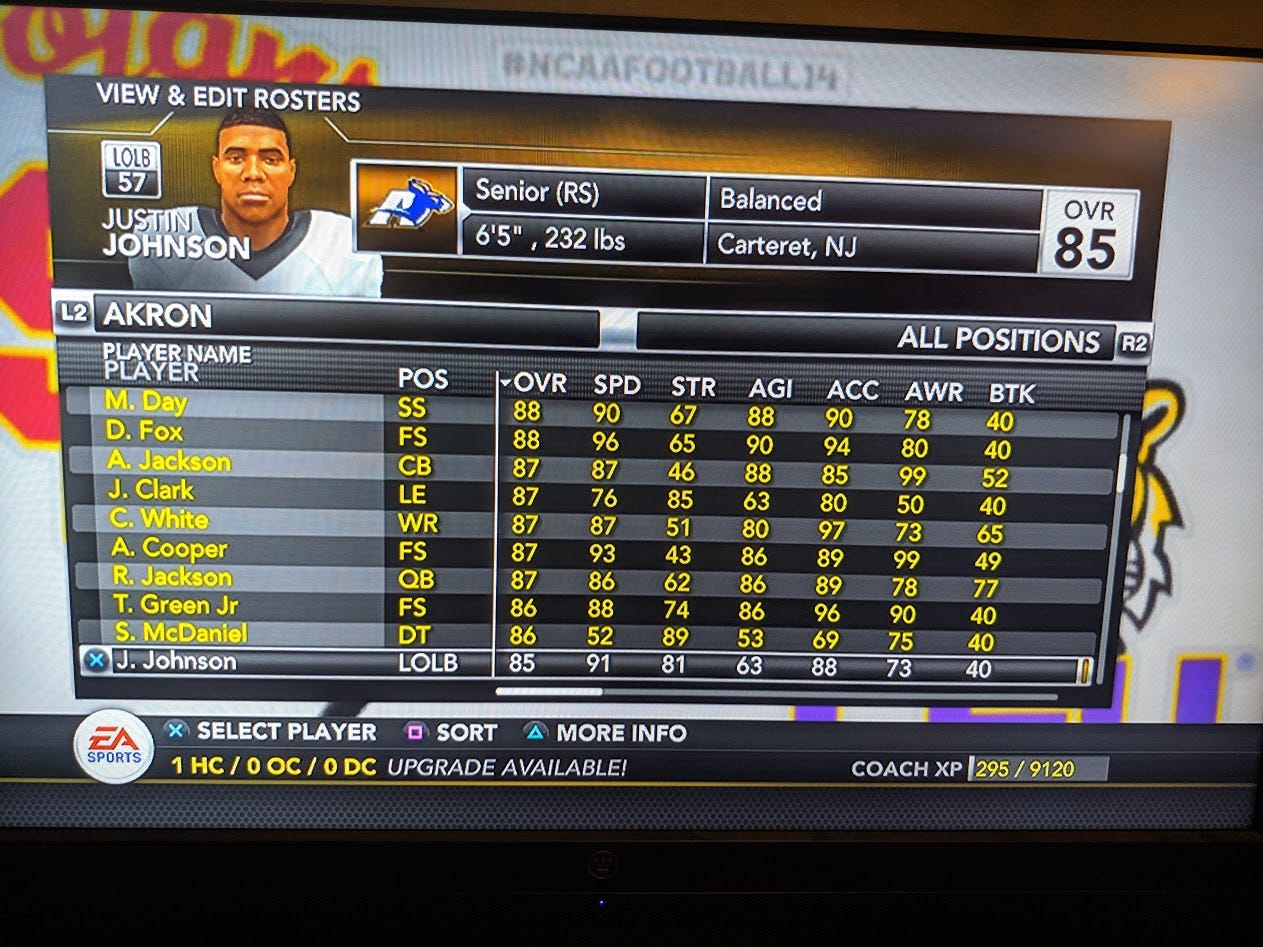 Also, we set up the schedule in the stream. I'm going to double-check the ratings of some of these teams before I fully commit to but this is most likely what our schedule will be for Year 8: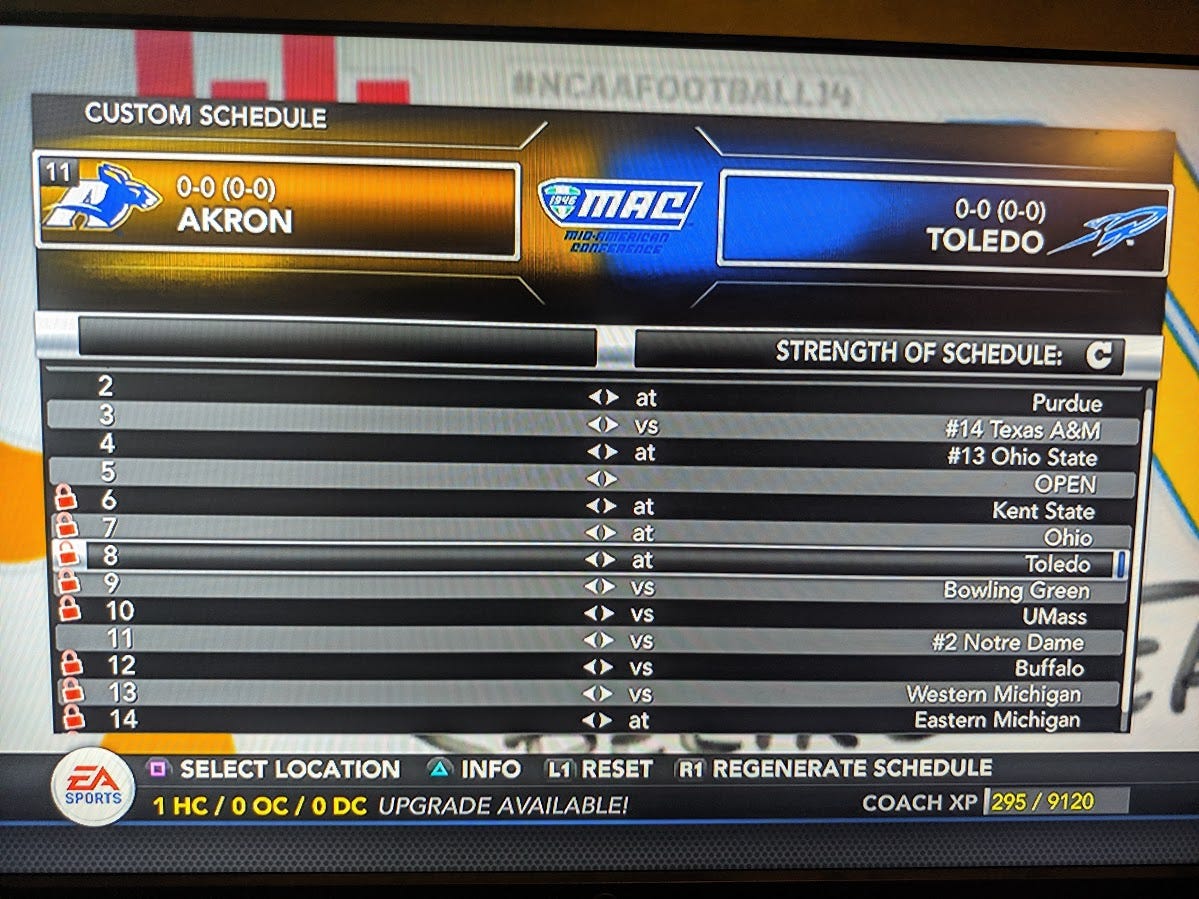 ---
Quick housekeeping notes:
I will post the Year 8 Preview sometime tomorrow (Tuesday, September 8).
I will then be Twitch streaming our regular season leading up to the game against Notre Dame on Thursday night at 8:30 PM EST (originally was posted as Wednesday but that's changed).
I'll publish the season post shortly after that stream later this week.
I've talked about our desire to be more historic than Coach Rick's Western Illinois Leathernecks who won their first title in Year 8. We are now entering our Year 8 and I cannot afford to lose ground on Coach Rick. I'm really hoping our Zips can put together a magical season here.
Catch y'all tomorrow. Share the love for the series with your landlord and whoever else you want:
Zip it up and zip it out, Zippers!