Welcome to the next chapter of the University of Akron's quest to win a national championship in NCAA Football 14. To learn more about this series and read up on past installments, visit the About page of this site.
Before we dive into Year 7, here's a recap of Year 6:
Akron went 12-2, winning the MAC Championship and The GoDaddy.com Bowl (again).
Coach Luke threatened to leave the MAC because he felt it was holding Akron back but he's been convinced to stay for now.
"Fountain Drew" Andrew Fountain took over at quarterback as a freshman and enters his sophomore year rated 99 overall.
We had the #12 recruiting class in the country. The stars of the class being HB Ian Brown (80 OVR) and DT Alex Massey (79 OVR).
If you're new to the series, you should know that I do not play any of the games. I recruit players and then simulate or watch the computer play the actual games for me.
Get your zippers ready to zip because it's time for Year 7!✓
---
Preseason
As always, the year starts in the preseason. We then start that off by choosing who will we redshirt and ask to sit out the year. The highest-rated redshirts for Year 7 are:
LE Clayton Reid (JR, 80 OVR)
HB Ian Brown (FR, 80 OVR)
DT Alex Massey (FR, 79 OVR)
RT Sam Malone (FR, 78 OVR)
LOLB Dee Sims (FR, 78 OVR)
In addition, we have a new kicker and punter both redshirting this year and they are set to take over next year after we lose K Brett Jones and P Collin Seward to graduation.
The custom schedule is always a key component of our season prep. This year, we want a challenging out-of-conference schedule that will allow BCS voters to think we can actually beat good teams. We also want to go undefeated for the first time. Lots to juggle here when choosing who to play.
We added Navy because reader Coby called me out several times for avoiding Navy. From there, I add both non-MAC Ohio schools as they are both ranked and would give us a chance to show dominance in our state. We also add a #10 TCU team because of our growing Texas connections.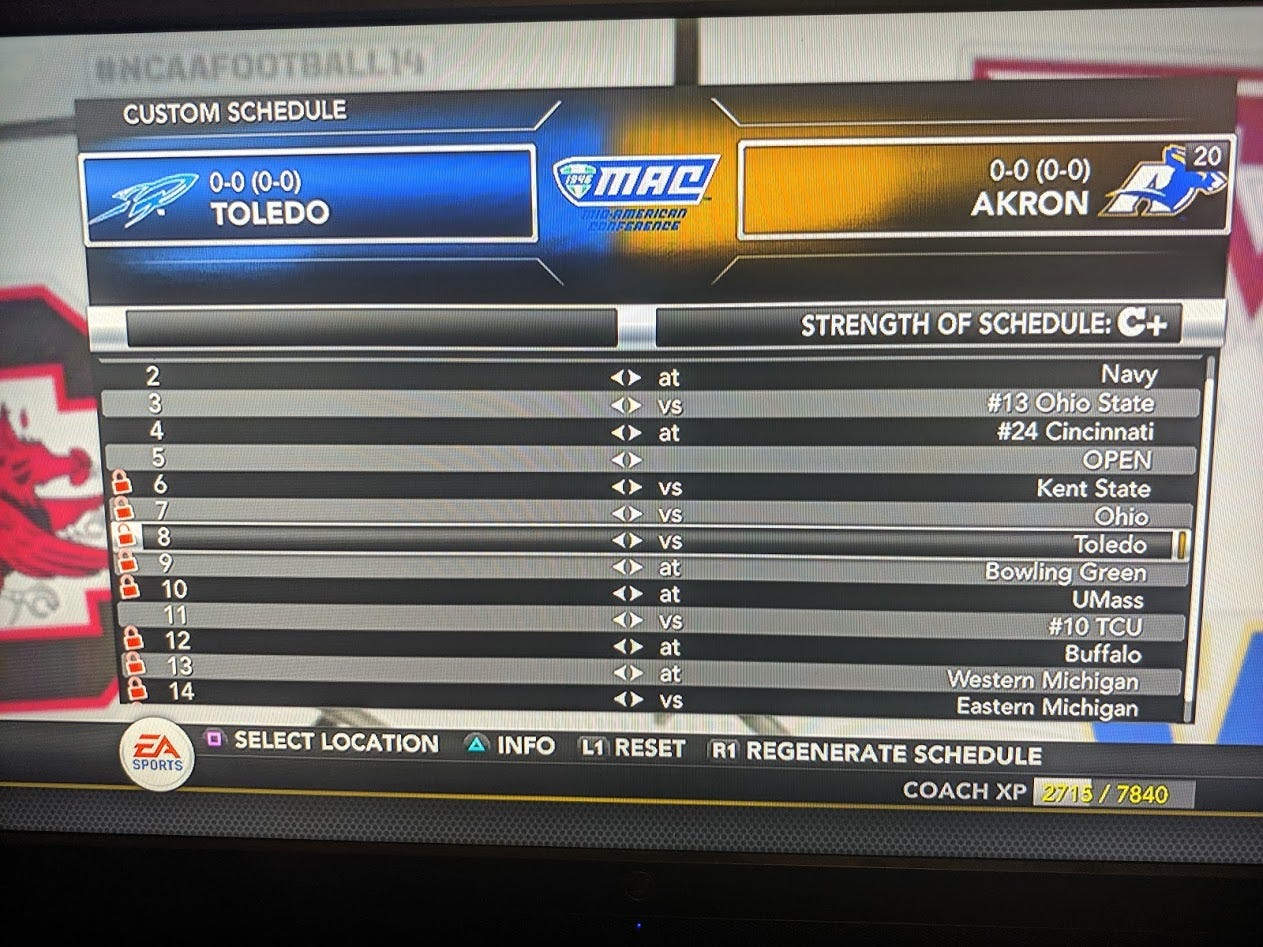 ---
Year 7 Roster
You can read about the roster in the Year 7 Preview post. Here's a look at our starters though:


---
Year 7 (2019-20)
Every season feels a bit nervewracking now. There's no margin for error in college football when we're trying for a national championship. One bad game can ruin our entire season.
That being said, I feel confident in this team and I feel like we can run the table. Now is the time to back that confidence up though.
We start our season's journey by traveling out to Annapolis, MD to face Navy.
0-0 | Week 2 at Navy
Before the game starts, I check to see our ratings and find that we are rated 93 overall (with a 99 offense and 90 defense). Navy, on the other hand, is only rated 88 overall.
We also start the season with a #16 ranking. Unlike Rodney Dangerfield, we get respect!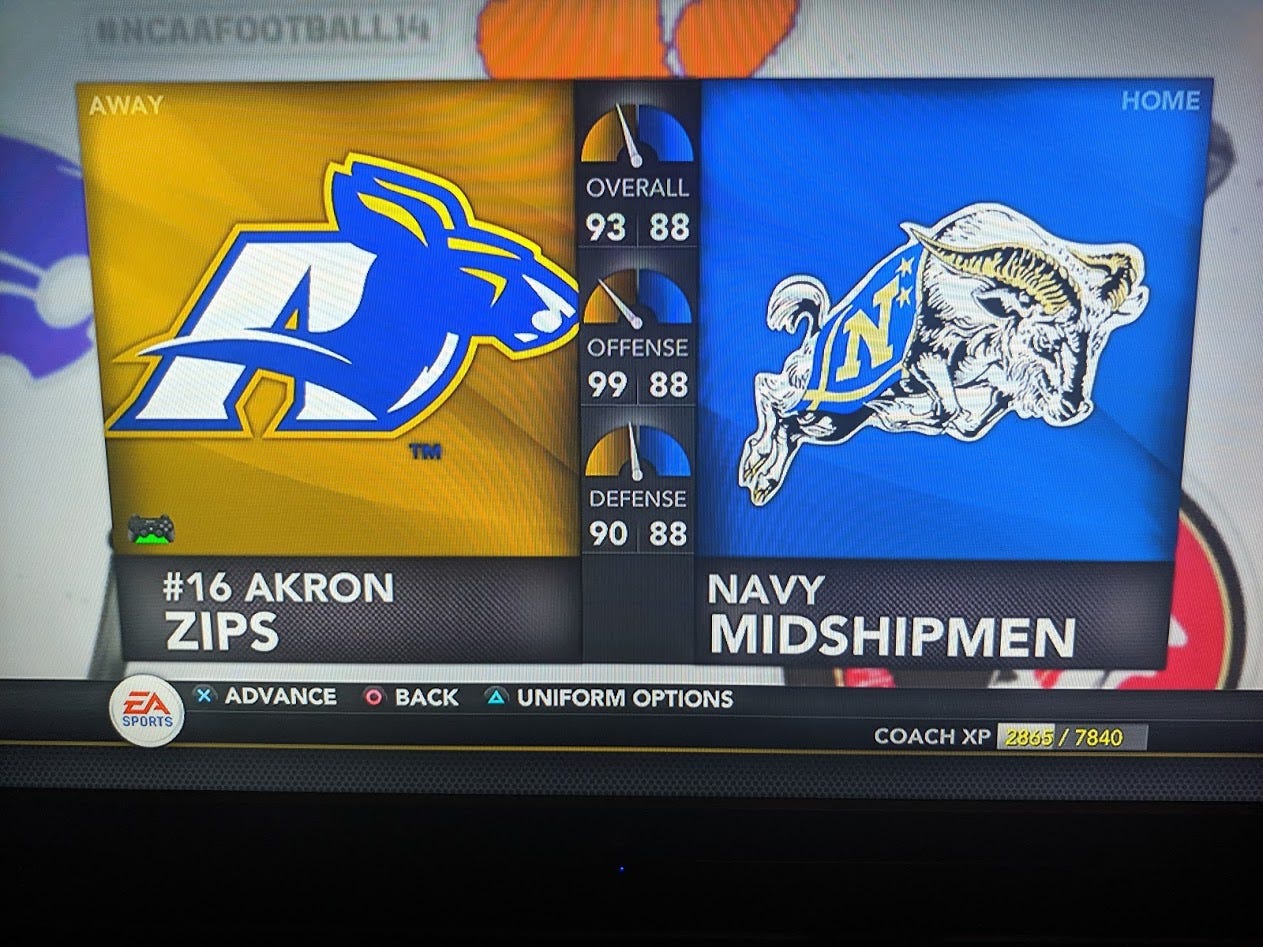 In theory, we should win. The triple option offense is tough to beat in this game so there's no reason to take Navy lightly. I simulate the game and, with that, our season is off…
*
*
*
*
*
WE SINK THE NAVY!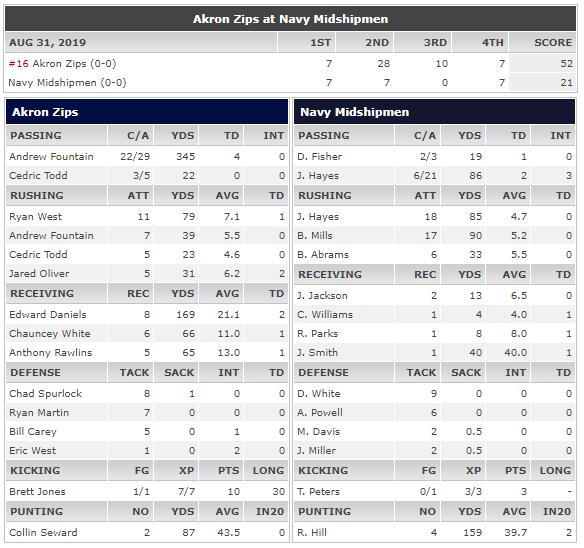 Man, this is what I wanted to see. We didn't just squeak by Navy. No, we crushed them. The passing game looked more impressive than our running game, which is a new development for our team. I love to see it.
1-0 | Week 3 vs #18 Ohio State
There's no time to celebrate as our next game is against the mighty Ohio State. We shocked the world by beating them last year and Ohio State isn't likely to play down to us again.
That being said, the matchup got slightly less dramatic after Ohio State lost their first game of the year in an upset to USF. We're actually ranked higher than them in the polls going into the game!
Either way, it's Ohio State and I'd feel weird to not record this one. So, I watch the game and I cut it down into a four-minute video if you want to see how it went:
*
*
*
*
*
My friends, our offense didn't carry the show.
No.
It was our defense! We win 36-7!
We were on the verge of a shutout but the Buckeyes were able to score a late touchdown. Andrew Fountain got a concussion as we were going up 17-0 and he left the game. It turns out that was all the scoring we needed anyway. Ohio State has a history of severely hurting our QBs so I was a bit worried when he left the game but it seems like he should be back next week.
This was a landmark win for our boys. Let's keep it going!
2-0 | Week 4 vs Cincinnati
We move up to a #11 ranking in the nation after that big win. We welcome Cincinnati next. They lost to Temple heading into this so they have fallen out of the Top 25 rankings.
We're favored to win this game but, as always, I'm nervous. We can officially claim Ohio supremacy if we beat Cincinnati and Ohio State this year. Let's f'n go!
*
*
*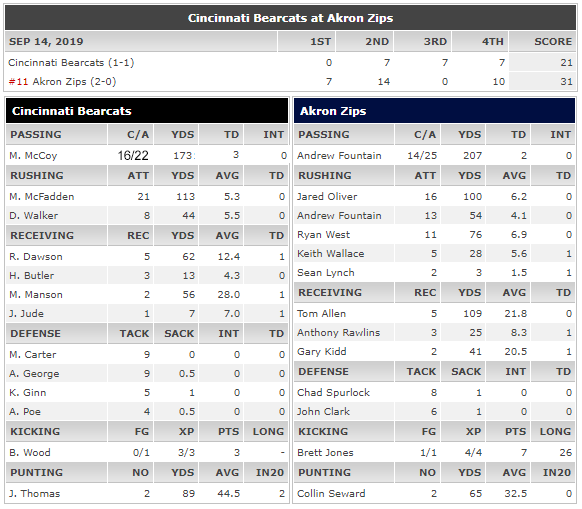 We win! It's a 31-21 victory.
Our run game carried the load here but we also did a great job of playing mistake-free football to win this one.
Now? We enter conference play and can relax a bit.
3-0 | Week 6 vs Kent State
Things are looking special this year. As we start playing against the MAC, we are the #10 team in the country. We still do have one test remaining though. In Week 11, we'll go against a ranked TCU team. Aside from that, we have eight easy games against MAC teams. An undefeated season potentially looms.
The highest-rated MAC team that we'll face this year is only rated 84 and, well, that's Kent State. The Golden Flashes have a 91-rated offense but only a 78-rated defense so our offense should have a field day. Still, we can't afford any slip-ups here…
*
*
*
*
*
We win 49-20!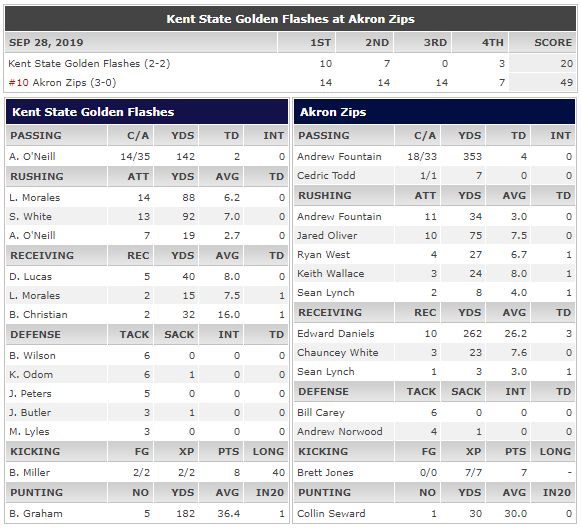 The biggest news out of this game is that Edward Daniels broke the Akron record for receiving yards in a game. He put up a monster performance with 10 receptions, 262 yards and 3 TDs.
4-0 | Week 7 vs Ohio
We're now up to #9 in the country and have Ohio visiting us next. They are rated 83 overall and are only 1-4 on the season thus far. Shouldn't be a problem. Barely an inconvenience.
And?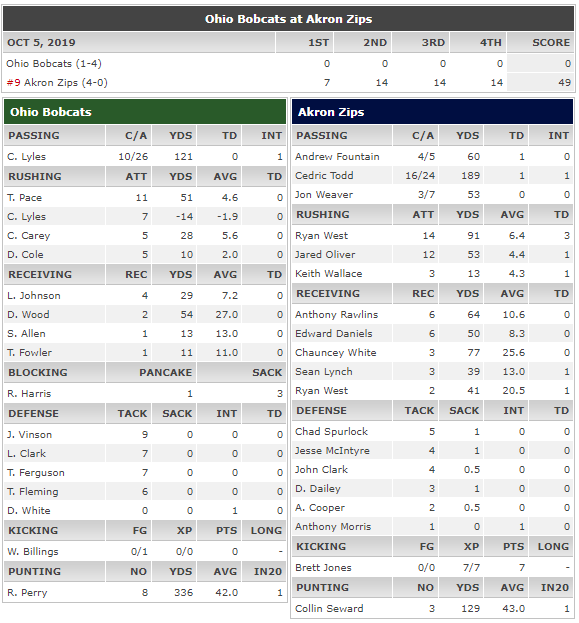 A shutout! A blowout!
This team is so good. I'd have to go back and look but I'm fairly sure this is our first shutout. I'm proud of this crazy team.
5-0 | Week 8 vs Toledo
We keep rollin' along and moving up the polls. We are now #6 in the country and have a 4-2 Toledo team on deck. Despite their decent record, they are only rated 81 overall. With the way we've been playing, why should we worry?
And?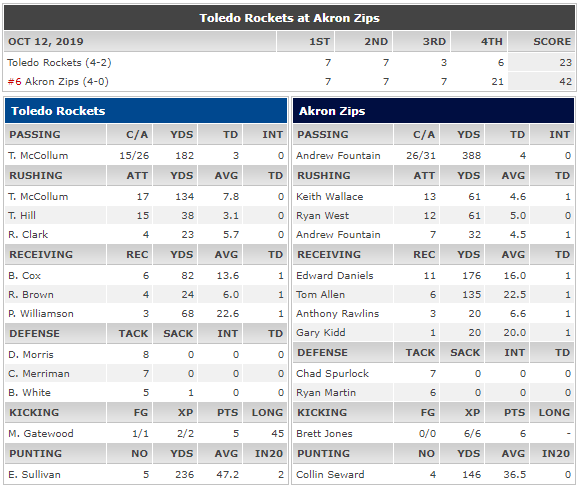 It's just a good ol' solid win. We win 42-23.
At this point, I'd be lying if I said that we're not looking ahead. We have two games left before a big clash with TCU. We're ranked #6 after this game and TCU is ranked #5.
6-0 | Week 9 at Bowling Green
No reason to be nervous here. Bowling Green is 2-4 and rated 81 overall. As Walter White would say: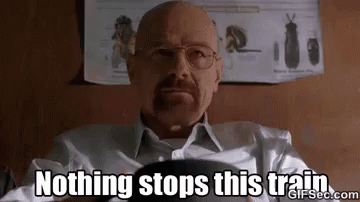 And, yup, we simulate the game and it's a beatdown: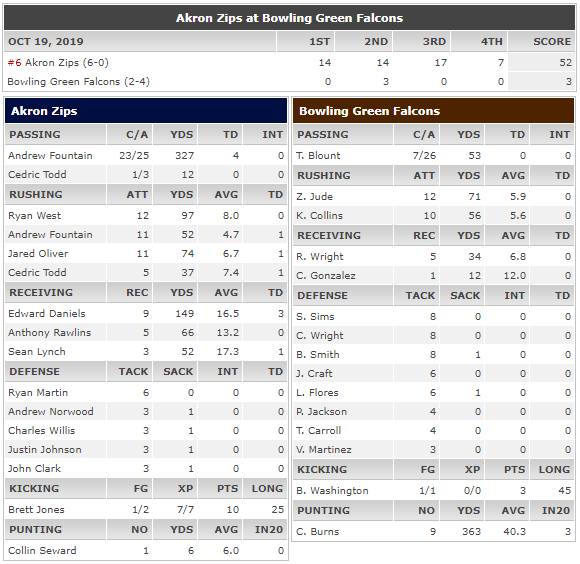 Edward Daniels put up more crazy receiving numbers. Fountain completed 23 of his 25 passes. Our defense got four sacks. Everything is awesome.
7-0 | Week 10 at UMass
Look. There's no need to even build suspense for our Week 10 game either. It's against a bad UMass team. We win.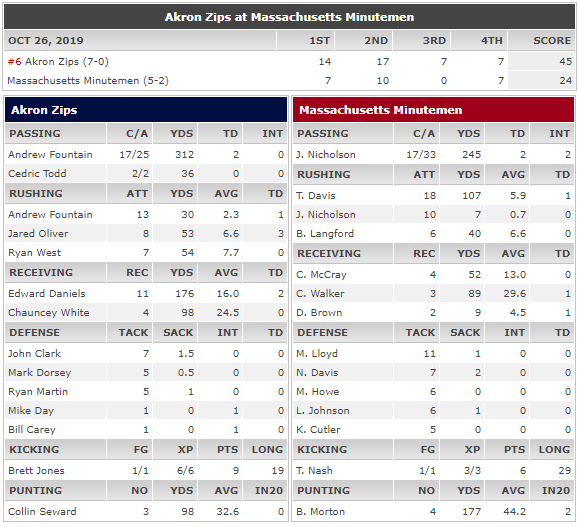 8-0 | Week 11 vs #3 TCU
Usually, I would watch one regular-season game and the MAC Championship each year but this game here feels bigger than a MAC Championship. I choose to watch and record it.
We are on the way to an undefeated season currently and this may be the last thing standing in our way. TCU is also undefeated too though. It's the #3 team in the country versus the #5 team here.
I don't know what to expect. They are clearly a good team and have one of the best offenses in the league, averaging 41.1 points per game and 509.6 yards per game with a balanced attack. Their defense looks beatable though as they have let up 400 yards per game. They are 95 overall with a 99 offense and 92 defense.
If we somehow win this game, an invite to the national championship becomes a real possibility. The main highlights of the game are edited down into a four-minute video for you:
*
*
*
*
*
WE WIN! 21-17!
It was an uglier game than I expected. Our offense looked like crap. Their offense looked like crap. Or, I guess it may be accurate to say that both of our defenses looked good? I dunno! We had 17 passing yards. They had 59 rushing yards.
The difference in this game was that we had two big runs at the end of the third quarter and that allowed us to take the lead and win the game. They had a chance to win on a late drive but our defense had a big goalline stand. Wowie kazowie. Are we maybe going to the national championship??
9-0 | Week 12 at Buffalo
Well, despite our undefeated record, we are only ranked #4 in the country at the moment. The good news is that #2 Virginia Tech plays #3 Miami this week so we have a chance to move up a spot as long as we keep on winning. We just have to beat a 6-3 Buffalo team that is rated 81 overall.
And?
We do!
It's not a blowout but we win 38-24.
10-0 | Week 13 at Western Michigan
During Week 12, #2 Virginia Tech beat #3 Miami. We move to #3 in the polls and are currently behind #1 Virginia Tech and #2 Alabama. We even receive two first-place votes by the voters!
The games to watch this week are Virginia Tech versus an unranked Georgia Tech team and Bama versus an unranked Florida team.
As for us? We play unranked Western Michigan. They're 7-3 and rated 83 overall. Let's get our win and hope for a loss from the teams above us in the rankings.
We do our job and win 33-13.
Unfortunately, Virginia Tech survives an overtime thriller against Georgia Tech and Bama beats Florida as well. We stay ranked #3 as we head into Week 14.
11-0 | Week 14 vs Eastern Michigan
This is our last regular-season game. #1 Alabama will be playing #13 Auburn so our hope is that Auburn pulls off a miracle to allow us to move up a spot here. #2 Virginia Tech is playing Virginia.
But, let's first play our game against a 1-10 Eastern Michigan team.
And?
We win, of course. It's a 63-13 massacre. We're the best.
How about the other games?
*
*
*
They don't go in our favor, no. Bama beats Auburn 45-42 and VT slaughters Virginia. We still sit in the #3 spot and the conference championship week will decide how special our season will be.
---
MAC Championship Game
We play Toledo in the MAC Championship this year. We beat them soundly earlier this year. I'm not too concerned about our ability to win this game. Instead, we'll be scoreboard-watching.
#2 Virginia Tech plays an 8-4 Clemson team and #1 Alabama plays a 6-6 Florida team in their conference championships. We need a miracle. But first, let's win our game:
*
*
We do our job and win 48-31! (Link to Box Score)
*
*
We don't get help elsewhere though as VT and Bama both win their conference championship games as well.
Damn.
Well, we stay #3 in the country. That's cool but it also makes me sad.
But, hey, we still qualify for a BCS Bowl Game!
---
Bowl Season
We are invited to the Sugar Bowl to play #10 UConn (11-1). Alright alright alright! We're the sugar men. I'm ready.
But, that's where this season recap will end because… I will be streaming this game on Twitch on Friday evening at 8:30 PM EST. You can follow me here.
In addition, I'm hosting a little contest where you can pick the winners of a handful of bowl games to win a prize. These are the bowl games that will take place from Jan 1st, 2020 and on in the game:
Jan 1 – Gator Bowl – Georgia vs Northwestern
Jan 1 – Heart of Dallas Bowl – Kent State vs Penn State
Jan 1 – Outback Bowl – South Carolina vs Michigan
Jan 1 – CapitalOne Bowl – Auburn vs Michigan State
Jan 1 – Rose Bowl – Wisconsin vs Oregon
Jan 1 – Fiesta Bowl – TCU vs Miami
Jan 2 – Sugar Bowl – Akron vs Connecticut
Jan 3 – Cotton Bowl – Florida vs Texas
Jan 3 – Orange Bowl – Notre Dame vs Texas A&M
Jan 4 – BBVA Compass Bowl – Louisville vs UL Lafayette
Jan 5 – GoDaddy.com Bowl – Toledo vs Western Kentucky
Jan 6 – National Championship – Virginia Tech vs Alabama
The contest involves picking the winners of those games. The reader with the most correct will get a chance to create a recruit in Year 8. As a tie-breaker, the total points in the Akron game and the championship must also be entered. Here's how to take part:
After opening, click File > Make A Copy
Make your picks, enter your name, and put in the total points for the two games
Then click File > Share and choose lgloeckner@gmail.com as the person to share it with.
I'm still in the process of adding data to the sheet (like the team ratings but you can at least see the team season stats in there now). I have no idea if this will work or not. Be patient with it! It might be a complete bust this year.
---
Up Next
Join the Twitch stream on Friday night! I'll likely jump into the offseason stuff after the game too so you can see a preview of our recruiting class before I post all of that info.
Either way, it'll be fun! Make sure to share this newsletter with your former high school English teacher and anyone else you can think of:
See you on Friday night when we clash with the UConn Huskies in the Sugar Bowl!