Welcome to another roster preview to supplement the series about Akron's quest for eternal glory in NCAA Football 14. For any new readers, feel free to check out the About page of the site to read about this whole project and read the past installments. This preview is meant to give you a closer look at the team since there are so many players to know on a fictional football team.
---
The sixth year of Coach Luke's tenure as the Akron Zips' head coach received national attention. The 12-2 season was capped off with Coach Luke being surprised with the Coach Of The Year award. It was a magical run where QB Darius Patterson helped lead the team to a landmark victory over Ohio State in the third game of the season. His season-ending injury in that game paved the way for freshman QB Andrew Fountain to take over the offense earlier than expected. The team rallied around the young quarterback and the defense matured as the season went on.
It's likely that the Year 7 team is even better than the Year 6 team. Can this year's team exceed a 12-2 season though? If they're better than a 12-2 team, the question then becomes: how high can they fly?✓
---
Meet the Offense
The Zips offense last year was one of the best running attacks in the country. They accounted for nearly 4,000 yards rushing between players that are mostly back this year. The passing attack stands to improve this year now that Andrew Fountain is entering his second year at the helm. I expect the Year 7 offense to be a much more balanced attack.

The offensive roster may be different this year but there's no reason to expect a dip in overall production. The part of our offense that intrigues me the most is the offensive line. We have some new pieces there but it should be a stout unit that continues to get better as the year goes on.
Do The Drew: QB Andrew Fountain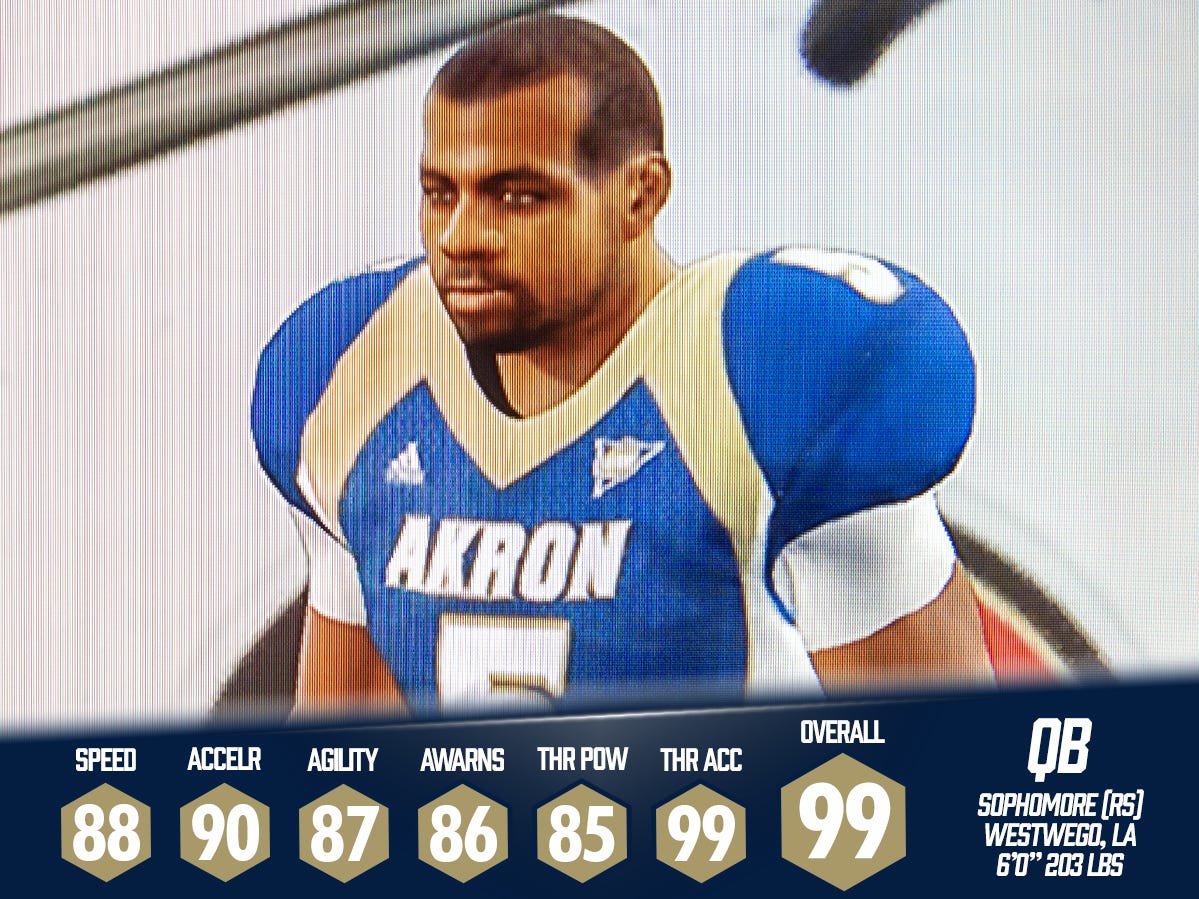 Coach Luke's quarterback hunt has always been leading to this. That hunt started when Kenneth "K-Dubs" Washington electrified the country with his legs years ago. That performance allowed the Zips to get QB Darius Patterson out of junior college with his cannon of an arm and shifty feet. QB Cortez Haumiller then showed why being a quarterback involved more than just athleticism.
Now? The former 5-star prospect from Louisiana nicknamed Fountain Drew represents an amalgam of all those quarterbacks. He can run, he has an amazingly accurate arm, and he now has the field vision that Cortez showed once upon a time too. All the previous parts have gelled into one.
In Fountain Drew's freshman season last year, he threw 20 TDs and only 4 INTs to show how he is not careless with the ball. He enters his sophomore year with the hope that he will take that throwing ability a step further to allow our passing attack to grow.
Fountain may indeed bolt for the NFL after this season but the hope is that we'll get a third Zips season out of him. It's hard to say. Given our potentially short window with him, the time to win is now.
So Fresh: WR Edward Daniels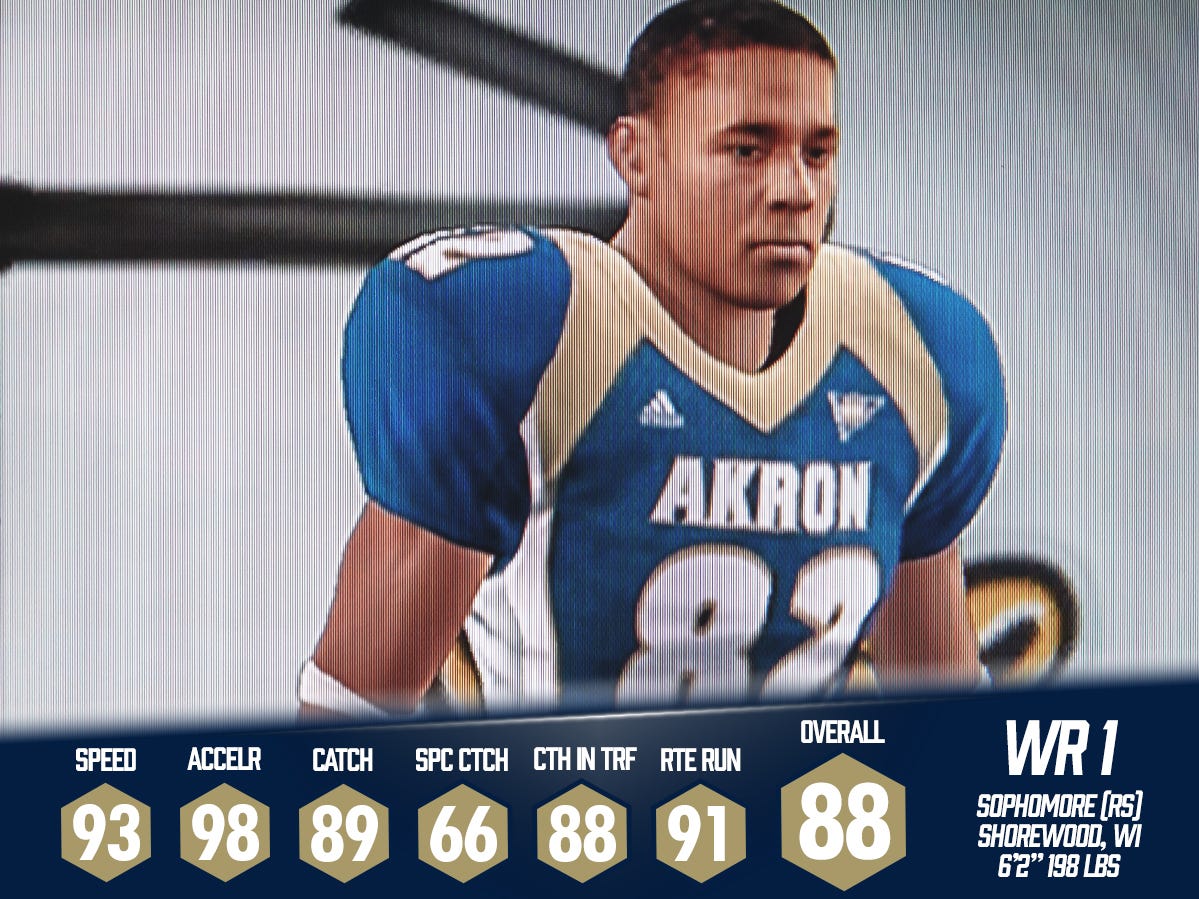 We have a shake-up at the top two receiver positions for the first time in many years this season. Lorenzo Jackson and Rodney Van have held down those spots for three years now. They've both gone on to greener pastures now and the Zips have had to move on.
Anthony Rawlins takes over the #2 WR spot and Edward Daniels is set to be our new lead pass catcher. Daniels comes to us from Wisconsin and he was hidden away the past two seasons behind a bevy of talent. He watched and learned and he is now ready to lead the team for the years ahead.
Daniels has great acceleration ability, but he stands out most with his route running and his ability to make catches in traffic. Here's an example of those skills in action during Spring Practice: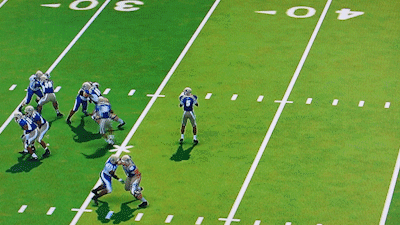 That's not an easy route nor an easy catch against an elite cornerback, but he was able to pull it off.
The Zips are sure to face off against some tough defenses this year and Daniels has shown the ability to match up with the best-of-the-best and I'm excited to see how he develops in the years ahead.
Players Talked About In Previous Years
Here are players I mentioned in the past previews:
RB Jared Oliver – He's a local Ohio kid who didn't come to us as an elite prospect but he's become one of the best runners in Ohio history already by accumulating over 3,000 rushing yards over the past one-and-a-half seasons. Oliver's almost always good for a five-to-ten yard rush every time he touches the ball.
RB Ryan West – Ryan West started as our RB2 back in Year 3 and now enters his final year with us. Oliver is the steady back who isn't explosive while West is the boom-or-bust back who will either get stopped for no gain or bust an 80 yard run on you.
---
Meet The Defense
The defense finally came alive last year and was a key part of our 12-2 team. In the last eight games of conference play, the defense let up 17.5 points per game on average. The defense should be even better this season with an elite secondary leading the way. That secondary is led by cornerbacks Anthony Morris and Eric West but the front seven also contains players who are adept at both stopping the run and generating a pass rush.

Another JUCO Legend: FS Tyler Coleman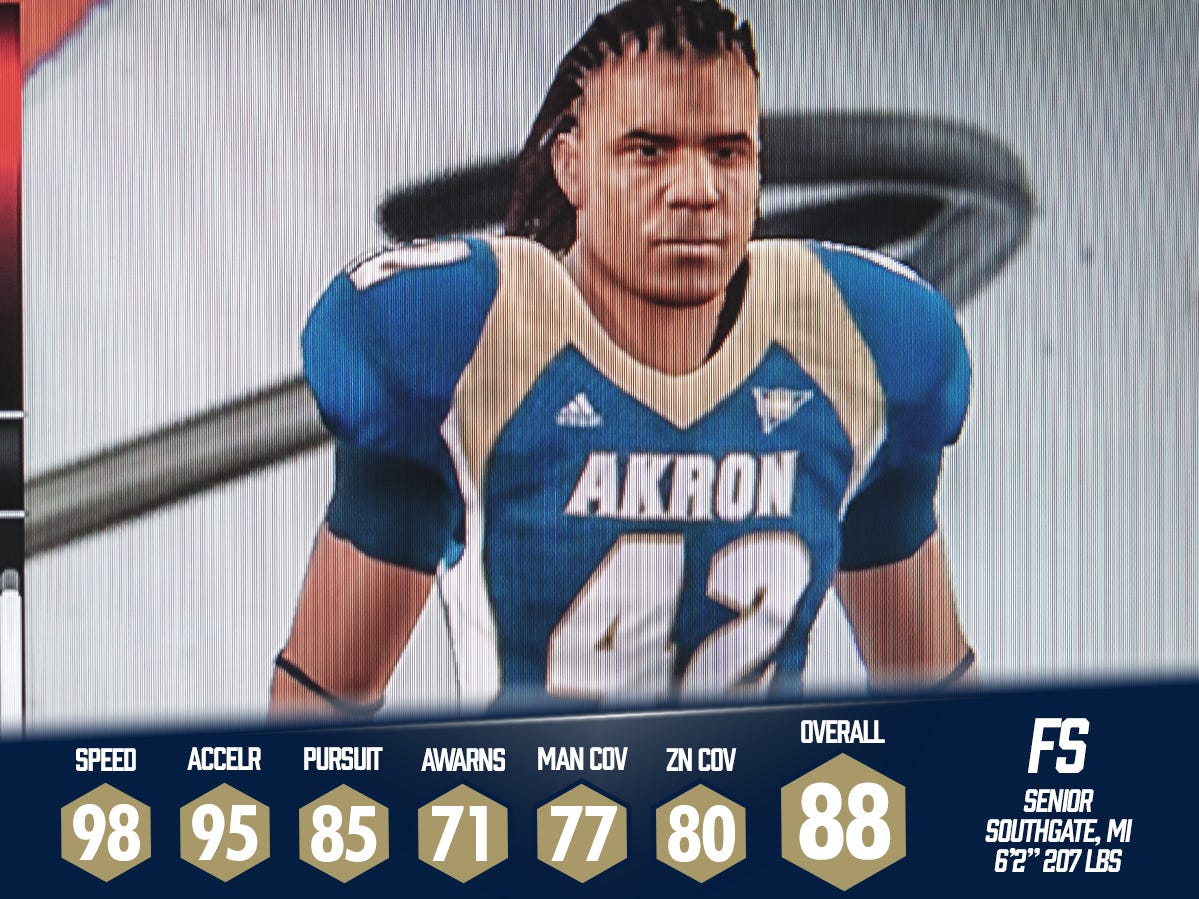 Coach Luke has become known on the JUCO circuit over the years. He's taken a number of JUCO offensive players and allowed them to have impressive college careers that have led to NFL success. Tyler Coleman may now be the first JUCO defensive player that is following that path at Akron.
He was recruited from the suburbs of Detroit and Coach Luke promised him that he'd get a chance to start for our up-and-coming team. And that he did last year in our 12-2 campaign. In fact, he rewarded Coach Luke with an epic performance against Ohio State to help us become kings of Ohio. His pick-six against the Buckeyes changed the entire course of the game, and perhaps our season: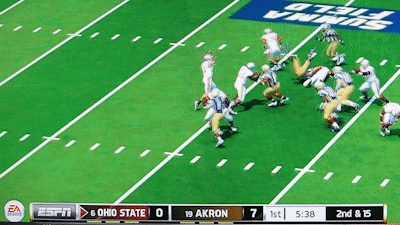 He had a total of three interceptions and four tackles for loss last year out of the free safety position and figures to be an even bigger part of our defensive attack this year.
The Safety Dance: SS Jesse McIntyre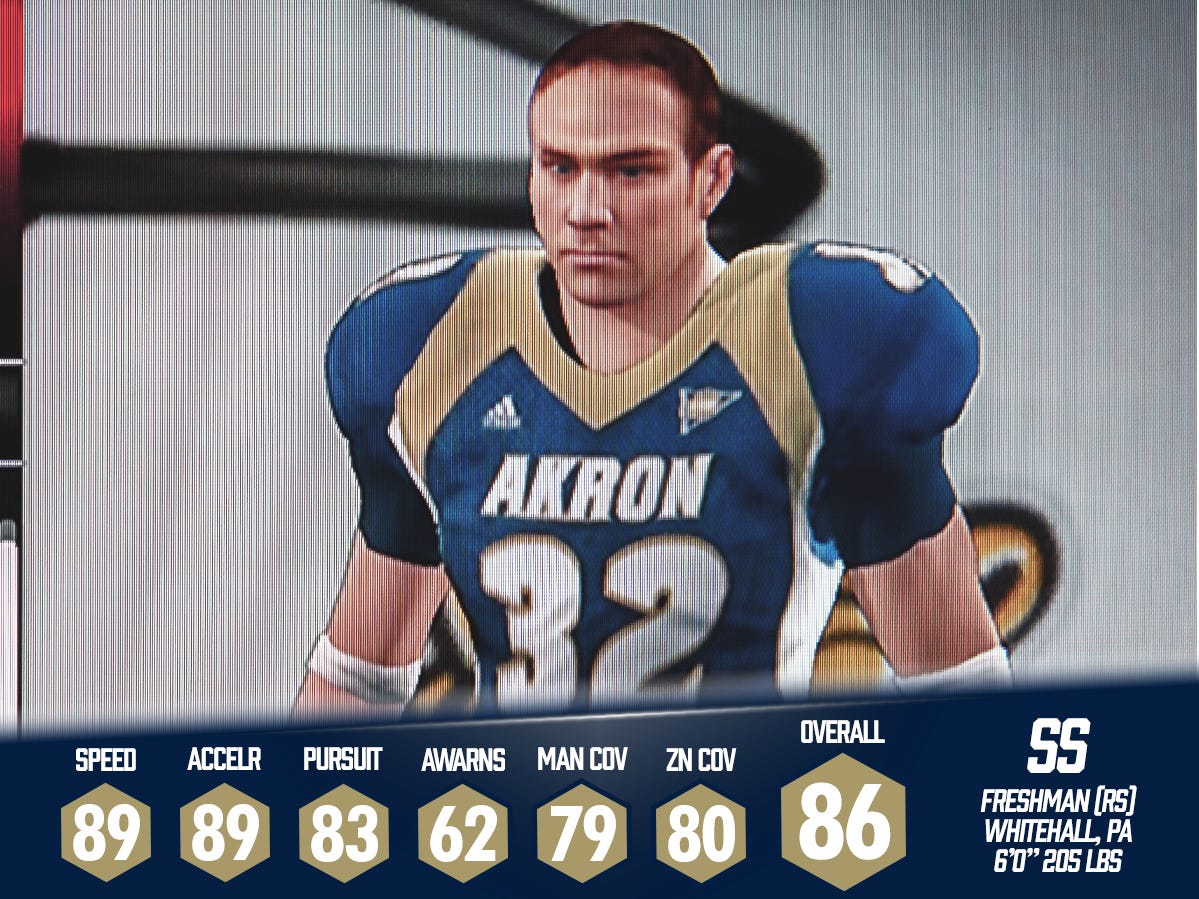 Jesse McIntyre was the prize recruit of our Year 5 recruiting cycle. He was the #5 SS in the entire country but chose Akron after Coach Luke came out to eastern Pennsylvania to visit him. Instead of talking football, they took a walk around the Lehigh Valley Mall there and talked about life and personal goals. Jesse was intrigued by this and saw Akron as a place to grow as a player and a person under Coach Luke.
He now has his first chance to start after redshirting last year. He'll be an 86 overall freshman safety and hopes to start off a long legendary career. Growing up as a Philadelphia Eagles fan, he idolizes Brian Dawkins and plans to bring that same sort of fire to the Akron defense over the next few years.
Livin' La Vida Loca: ROLB Ryan Martin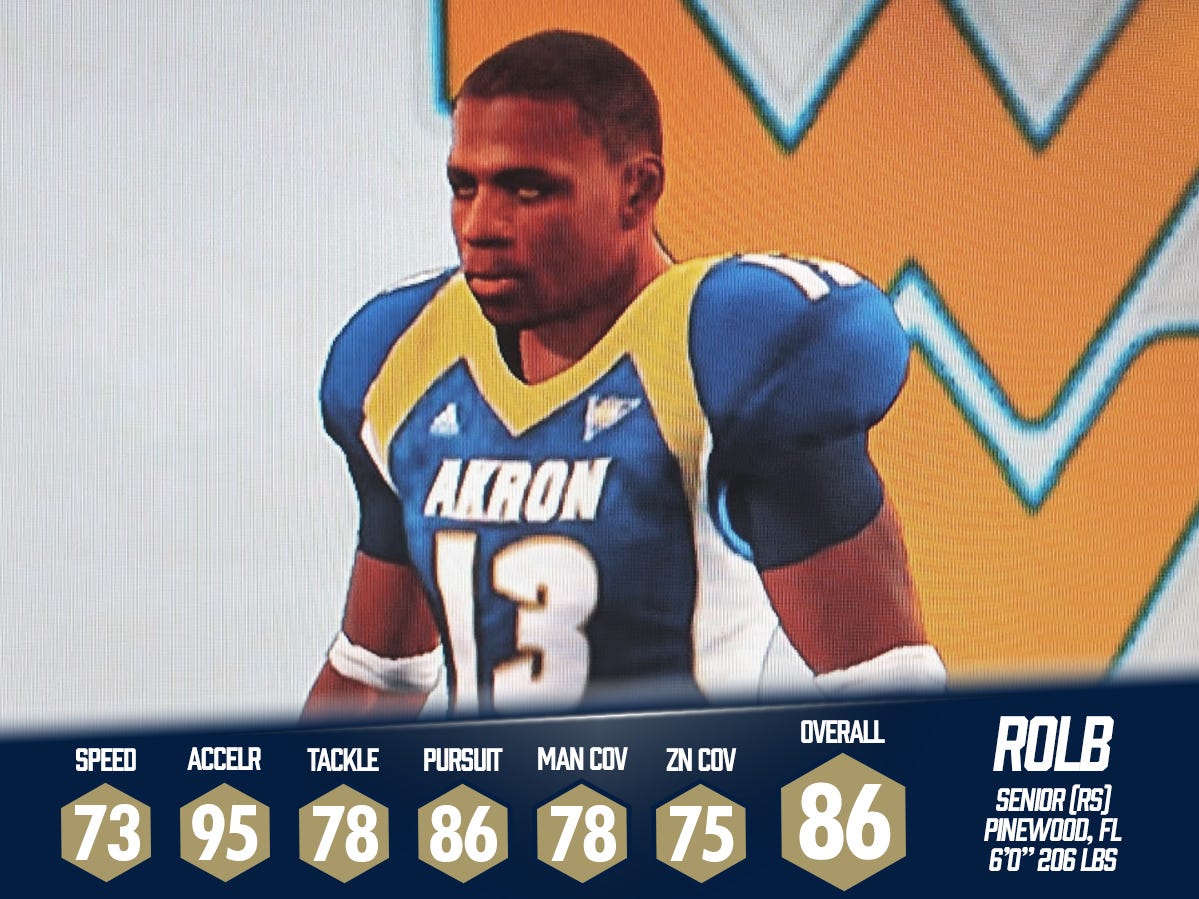 In a 3-4 defense, the linebackers are always vitally important. Ryan Martin has quietly put together an impressive career with Akron over the past few years. He's not an elite NFL prospect nor is he the star of the defense. He just does his work while making few mistakes. His elite acceleration ability will be a valuable tool on our defense this year as it will allow Martin to pursue any speedy player on an elite team.
Players Talked About In Previous Years
DE John Clark – He was a true freshman starter last year and all he did was accumulate 7.5 sacks and 24 tackles for loss during that freshman campaign. I can't wait to see what he can do this year with a year of experience under his belt.
CB Anthony Morris – The former #2 CB prospect got the chance to start last year and he too put on a show as a freshman. He had 7 interceptions last year and now is rated 91 overall as a sophomore. The sky is the limit for this stud CB.
CB Eric West – He's started at CB for four years now and rates at 90 overall in his final run as a Zip. He notably has a gigantic neck as we saw in last year's photo of him. He's also a pretty dang good coverage cornerback.
---
Meet the Special Teams
K Brett Jones and P Collin Seward are entering their final year for us after we met them as freshmen. Brett Jones is now rated 92 and he is coming off a bit of a disappointing year as his FG% dropped and he only made 18 of 25 kicks. Collin Seward is rated 94 and improved his punting average to 43.4 yards per punt last year.
We now have their replacements ready as they are taking a redshirt year this year. We'll meet P Adam Henry and K E.J. Johnson after Jones and Seward graduate.
---
Overall Prediction for Year 7
I was hyped up last season and I had expected big things. A quarterback injury derailed those plans in Year 6 but it actually may have helped set the stage for bigger things. QB Andrew Fountain got a chance to develop last year and now there's no worry about what he can do as our quarterback. I don't see why we can't make an epic run this year. Without knowing what the schedule is like, it's hard to make definitive predictions but an undefeated season isn't out of the realm of possibility. I'll just leave it at that. I'm feeling great about the Akron Zips.
Final Notes
The Year 7 Season post is coming on Wednesday. It'll account for most of the regular season but will not include the final game(s) of the season because…
There will be a Twitch stream this week of our Year 7 bowl game. It will be on Friday, September 4th at 8:30 PM EST. This is my Twitch account. Let's have fun on Friday night.
I will also be running a small little contest associated with that (you don't have to watch the Twitch stream to participate). I'm thinking it'll involve picking the winners of the BCS bowl games and perhaps the scores of those games as tiebreakers. Information about that will be included in Wednesday's post. The winner will get to create a prospect for Year 8's recruiting cycle.
This week should be fun. As I've said before, Coach Rick's Western Illinois Leathernecks won their first NCAA basketball title in Year 8 of his journey. Coach Luke is hoping to beat that timeline.
Akron is hopping! This year is gonna be crazy. This 2019-20 season is the last season before we enter the real-life year of 2020. Let's enjoy it. Invite your ex-girlfriend's boyfriend to follow along in this series by tapping the button below.
Zip Family, this year is gonna be crazy! I can feel it. Trust in Fountain Drew.