Welcome to the conclusion of the Year 6 season in the University of Akron's quest to win a national championship in NCAA Football 14. To learn more about this series and read up on past installments, visit the About page of this site.
Today's post will specifically recap the recruiting efforts from Year 6 and the offseason developments before we head into Year 7.
In Year 6, the Zips finished 10-2 in the regular season then won the MAC Championship over Western Michigan as well as the GoDaddy.com Bowl over Southern Alabama. They finished the season ranked #13 in the nation.
With the Zips seemingly on the verge of becoming championship contenders, Coach Luke needs to have another top ten recruiting class to ensure this team has the pieces that will allow them to compete at the top level.
For any new readers, Coach Luke is known for wearing a dazzling suit on the sidelines and all of his NCAA Football 14 skill points have gone into the Recruiting tree. You can call him Mr. Recruiting.✓
---
Year 6 Recruiting Recap
In last season's recruiting recap post, I talked a bit about the NCAA Football 14 recruiting process and the main cycles that occur during it. The basic idea is that we're assigning recruiting points to players to convince them to attend Akron. We scout players early on and watch their interest in us before deciding who to most heavily recruit for the rest of the season.
Preseason
The game lets me know that my official recruiting needs this year are to get two WRs. We have a ton of WR talent on the team but four of them are seniors and we need to get some depth there. Aside from that, my personal goals for this year are to continue to build up the trenches and also bring in some LB help.
Taking a glance at our pipeline states, we are not in danger of losing any pipelines but could gain some new pipeline states if we get players from Michigan or Louisiana.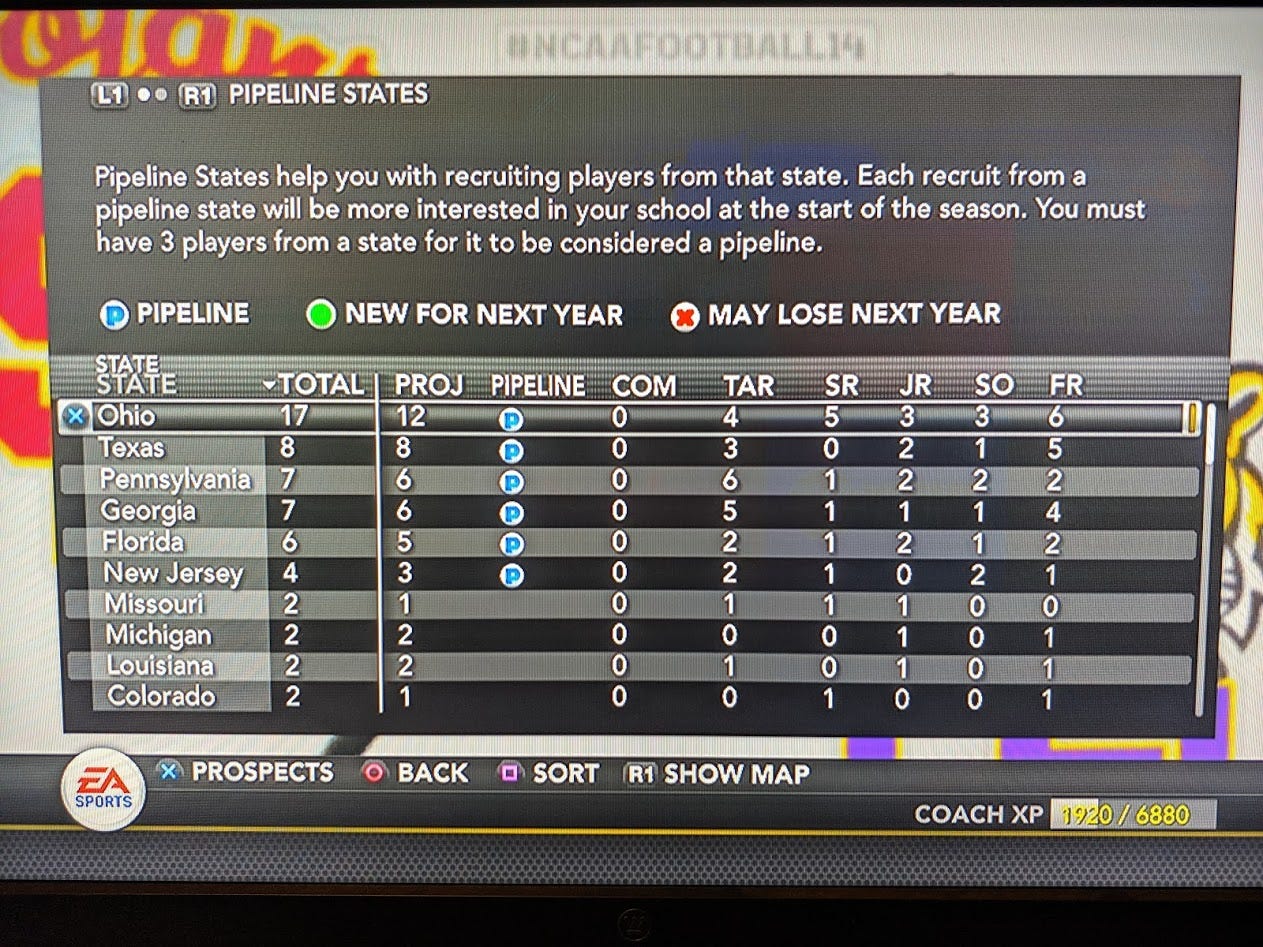 I start the season's recruiting process by looking for players that have Akron in their top ten schools. There are a handful of 4-star players interested in us but no 5-star players. After initially filling up my board, I scout twenty players and find that seven of them are considered busts so I drop them from my board and replace them. At the end of the preseason, I have eleven 4-star players and a 5-star player on my initial board: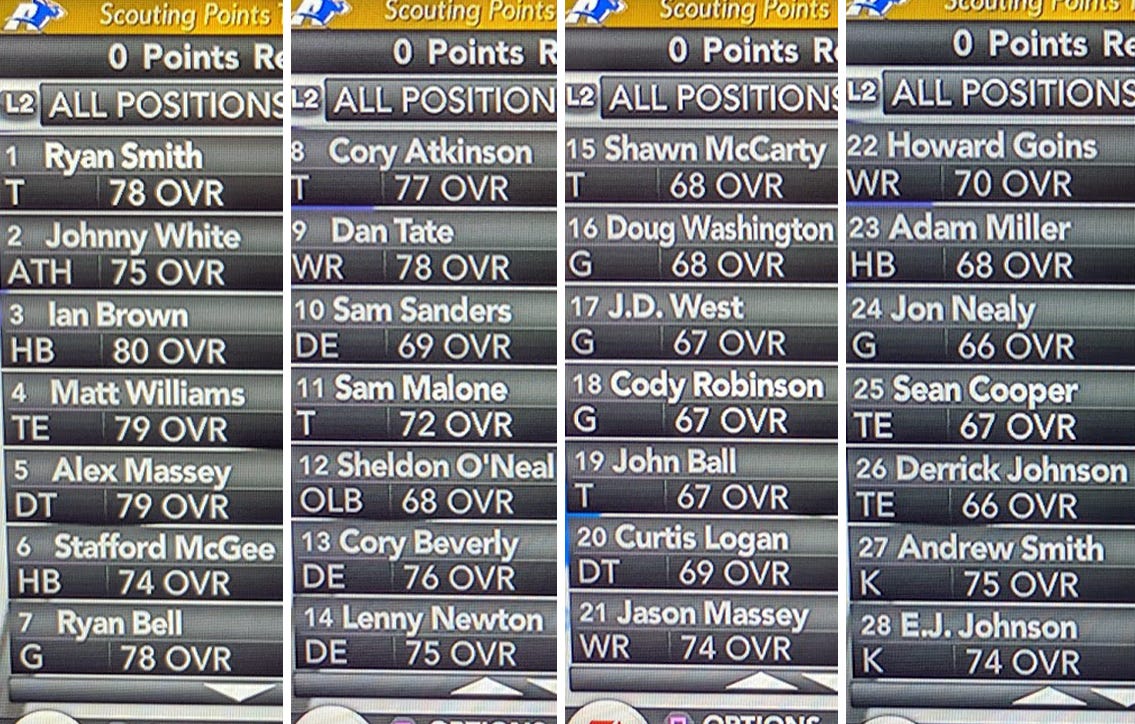 I won't lie: I have a soft spot for fun names and Stafford McGee is standing out to me. I cross my fingers that we get Staffy McGee.
Weeks 1-2 of Regular Season
In Week 1, I spend 2,500 of my 6,500 recruiting points to scout everyone on my board and offer scholarships to twenty-eight of them. Last season, we unlocked an Insta-Commit ability that gives us a 5% chance of getting a player to commit when offering a scholarship so I offer more than usual in hopes of getting an insta-commit. But… no luck. We get zero commits in Week 1.
With my 4,000 remaining recruiting points, I assign them to fifteen players to show an interest in them. I put anywhere from 150 to 350 points into each player. It's below our max we can put into a player but I want to gauge their interest in us early before we go all-in on anyone.
I simulate the week and we start to see the recruiting picture take shape. As I talked about last year, we can now see who has other scholarship offers and who is responding positively or negatively to our interest. An example of a player that looks less promising now is 4-star TE Matt Williams: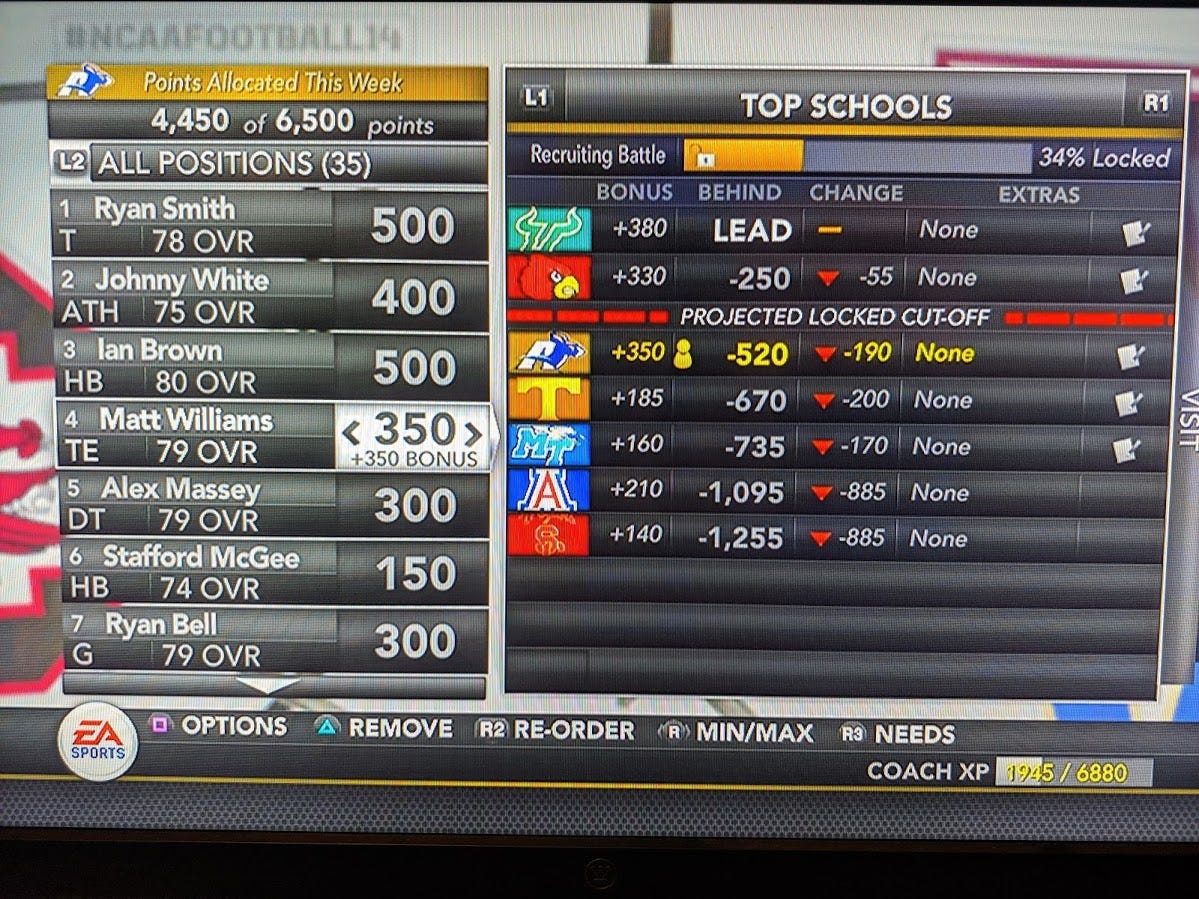 Despite putting 350 points into him, there are just too many schools in the mix and we're losing ground out of the gates. It's not a guarantee that we'd lose the recruiting battle but it seems like too much of a fight. And, for that reason, I'm out.
I drop other less-promising prospects and replace them with new prospects on our board before we head into Week 3.
In our Week 2 game on the football field, we beat Syracuse in a rousing start to our season. I'm psyched about that and make my final adjustments to our early-season recruiting board after that game. These are all tight recruiting races this year. These are the main targets for the weeks ahead: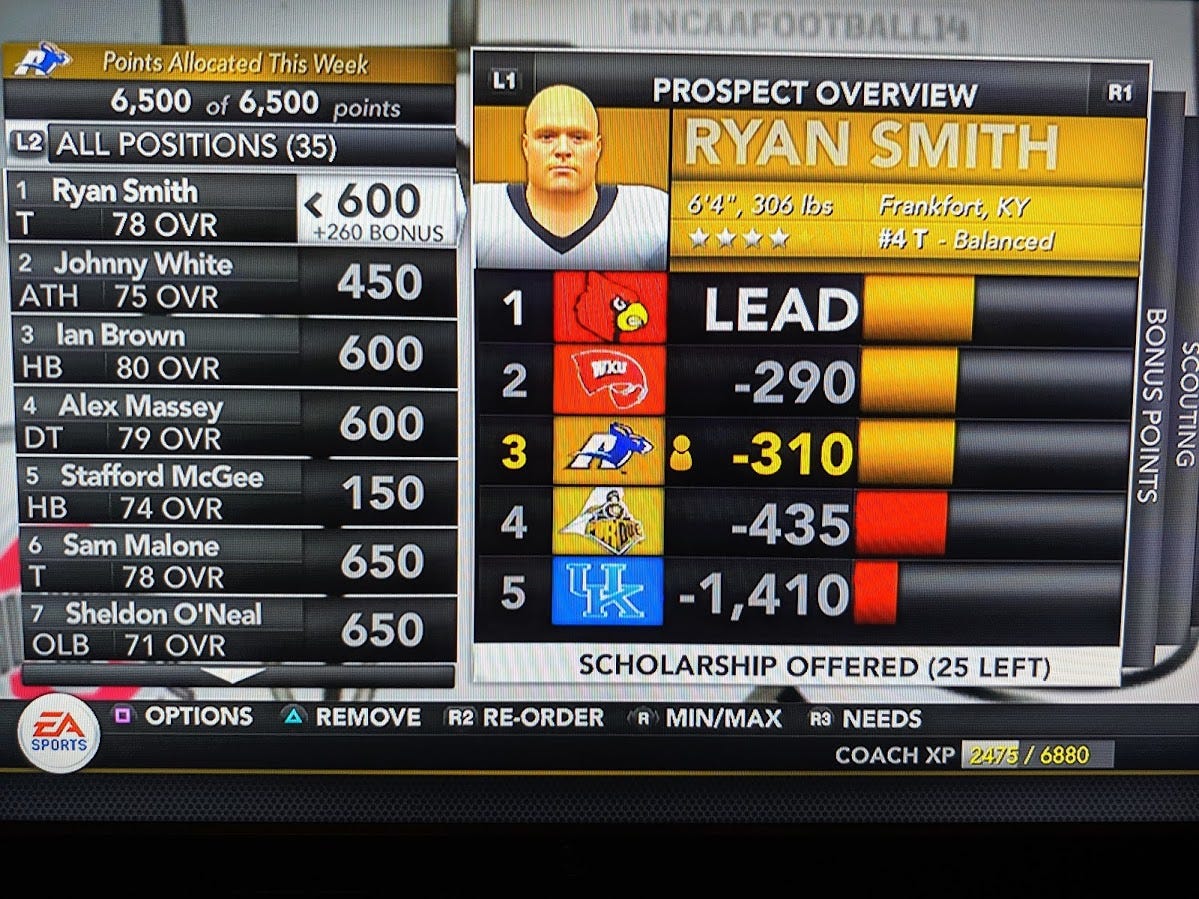 Rest of Regular Season
Our first home game of the year was against Ohio State in Week 4. It was an epic win but also changed the tides of our season with Darius Patterson's tragic injury. Unfortunately, I did not have any recruits invited out for that big win. I do decide to invite recruits out for our next home game against a ranked Rutgers team the next week, even though it's not a definite win.
In lieu of a rivalry game this year (which we play on the road), this may be the biggest game to invite recruits out for. We have ten recruits come out for it. I feel like a win against Rutgers and two recruits committing afterward would be amazing…
*
*
Nope, we lose the game!
*
*
But we get six recruits to commit afterward!

I am loving this start. Three gem prospects! Three 4-star prospects! Four linemen on either side of the ball! An 80-overall speedy halfback! Also, a guy named Sam Malone! Cheers, baby!
Seriously, it doesn't get much better than this. I love it.
My biggest goals now are to get good linebackers and receivers to come on board. Aside from that, I just want to get good players. Some of the new players added to my board at this point are WR Alonzo Summers, WR Steve McKinley, WR Eric Bailey, MLB Cody Stevenson, and MLB Wade Murray. They aren't getting offers elsewhere and I hope we can impress them before other teams swoop in. The top of our board now looks like this as we head into conference play: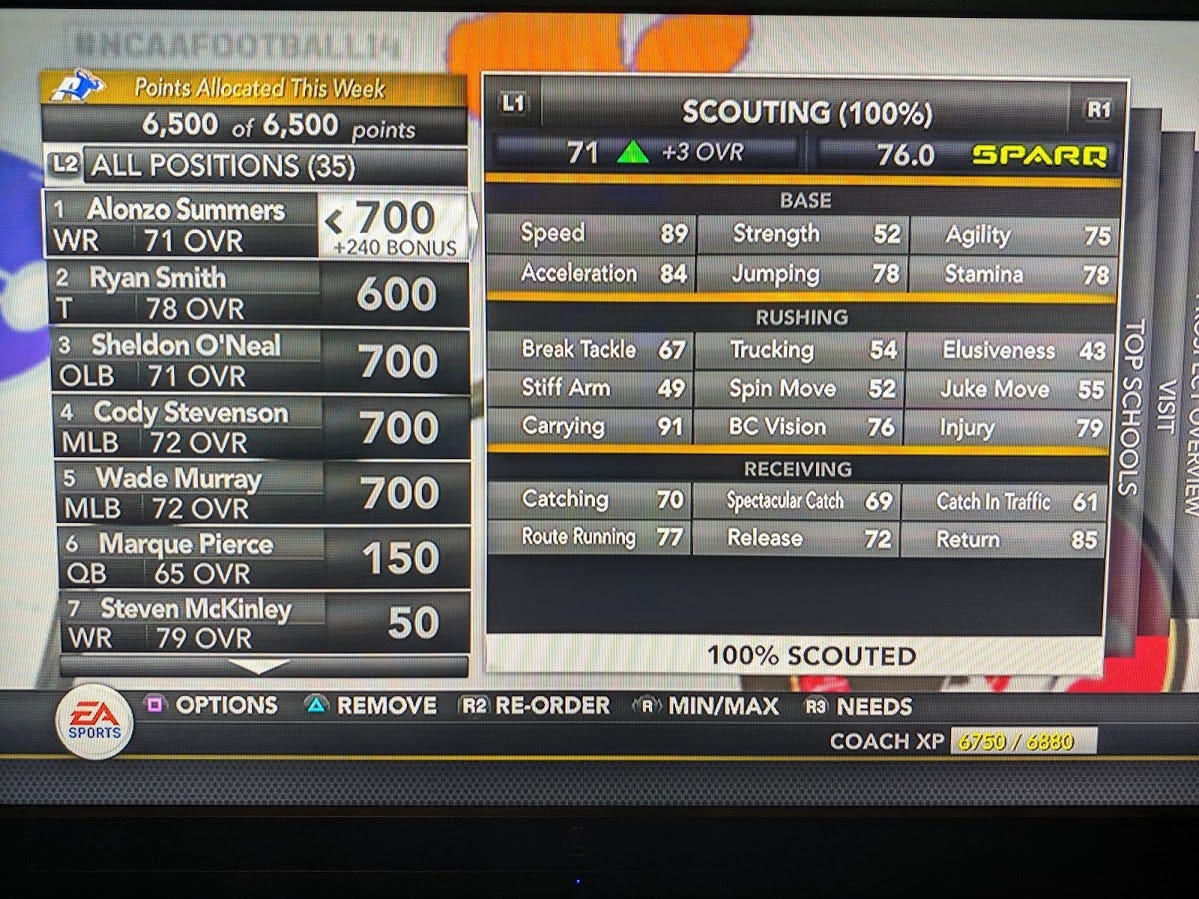 In Week 6, we play Kent State and get Fountain Drew's first win. We also get a 3-star DT named Curtis Logan. The trenches are rock solid.
Unfortunately, we follow that up by losing to a bad Ohio team in Week 7. Things feel a bit chaotic on the field and Coach Luke is trying to keep spirits high. The recruiting trail never sleeps though and we must continue to fight these recruiting battles.
Wk 8 vs Ball State
With the season in flux, it feels like some good recruiting news is needed. The Zips are returning home after a bad loss and I invite nine recruits out to come see this game. This game is against Ball State and we should win this. This is likely our biggest show for recruits left on the season. I want to see two or three of them commit so I can feel momentum start to shift for this year.
*
*
*
We win the game and we get five commits afterward!
It's actually an interesting mix here. Despite having a great kicker and punter on our team that are Juniors, I put feelers out on replacements for both of them and we got commitments there in P Adam Henry and K E.J. Johnson. We'll redshirt them next year and they'll likely provide a great special teams unit for us in years ahead.
We also get LBs finally with OLB Sheldon O'Neal and MLB Josh Riley committing. Good to get some LBs! But they aren't highly rated LBs so we'll keep recruiting LBs anyhow.
In addition to focusing on WRs and LBs for the weeks ahead, I try a new strategy: I specifically look for players in California that haven't been offered scholarships yet. I want to establish a pipeline state on the west coast to give us more options for future talent. Here's what the top of the board looks like as we head into the end of the season: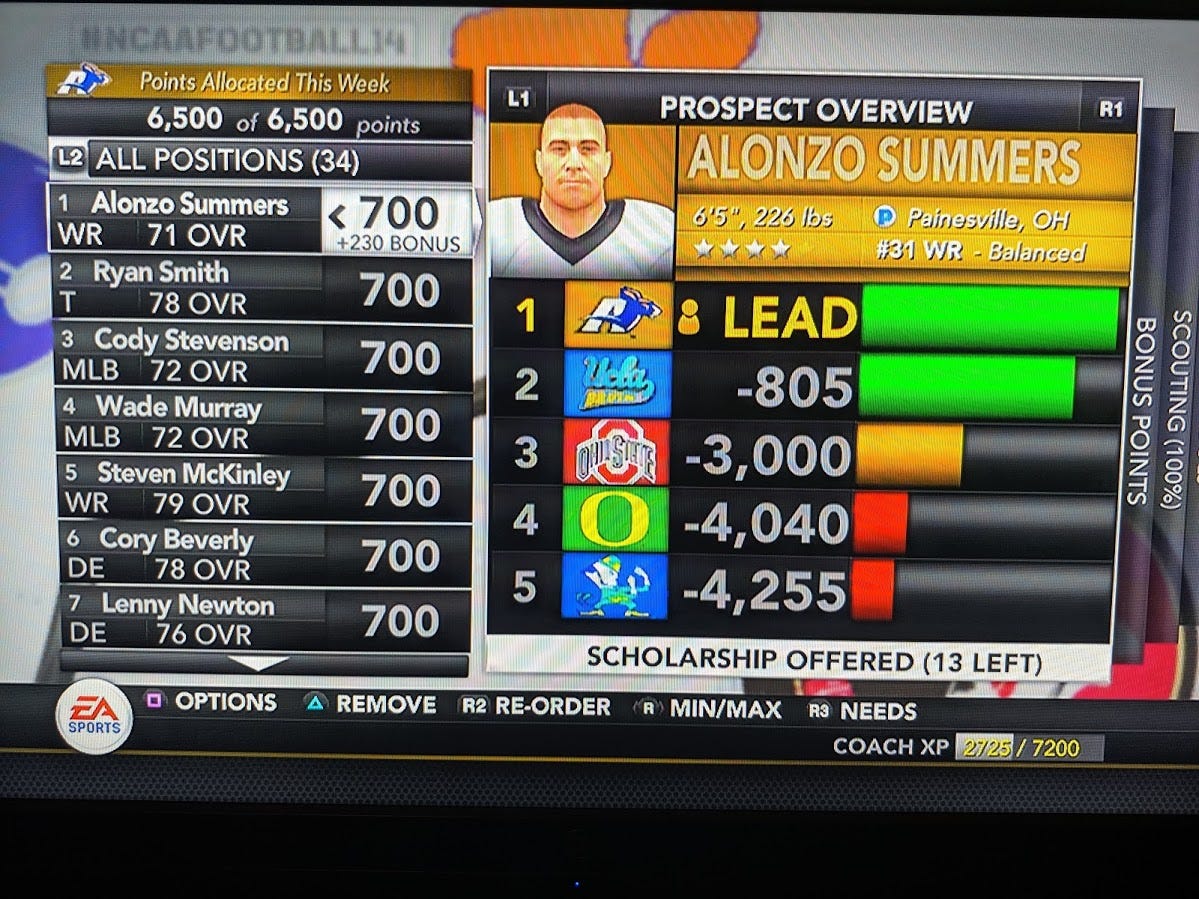 Week 9 & On
We've still got some home games on the schedule and I do end up inviting out a few recruits to visit for our win over Bowling Green in Week 9.
We end up getting five recruits to commit after that game and the ensuing bye week!
This is who we now have committed after Week 10: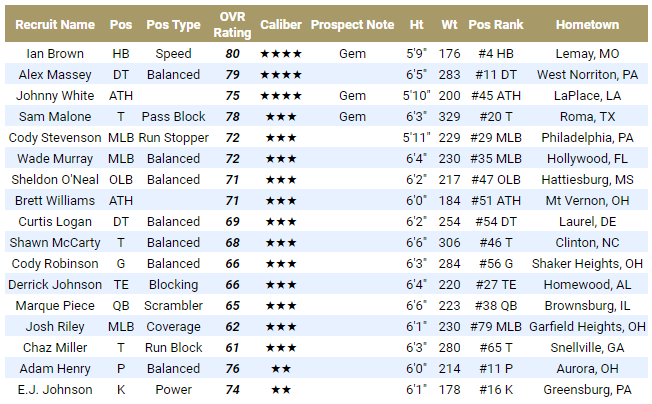 My only concern at this point is getting WRs to commit as we haven't gotten any yet. Anything else we get is all gravy at this point.
We play Miami (OH) in Week 11 and we thankfully get our first WR to commit: Alonzo Summers. Great news! Getting one more WR would make this class feel complete to me.
We have one more home game to go. I invite out a handful of final recruits for that game against Buffalo and cross my fingers.
We win the game and I get the good news! WR Andrew Skinner commits to Akron.
We've got holes filled for the future and we only have six offers left to give out over the remaining weeks and offseason. I really want some California players to commit so we can make it a pipeline state. Coach Luke wants to take California vacations midseason. I could visit LeBron in LA!
The main Cali guys on our board heading into the end of the season are Hines, Sims and Golden seen below: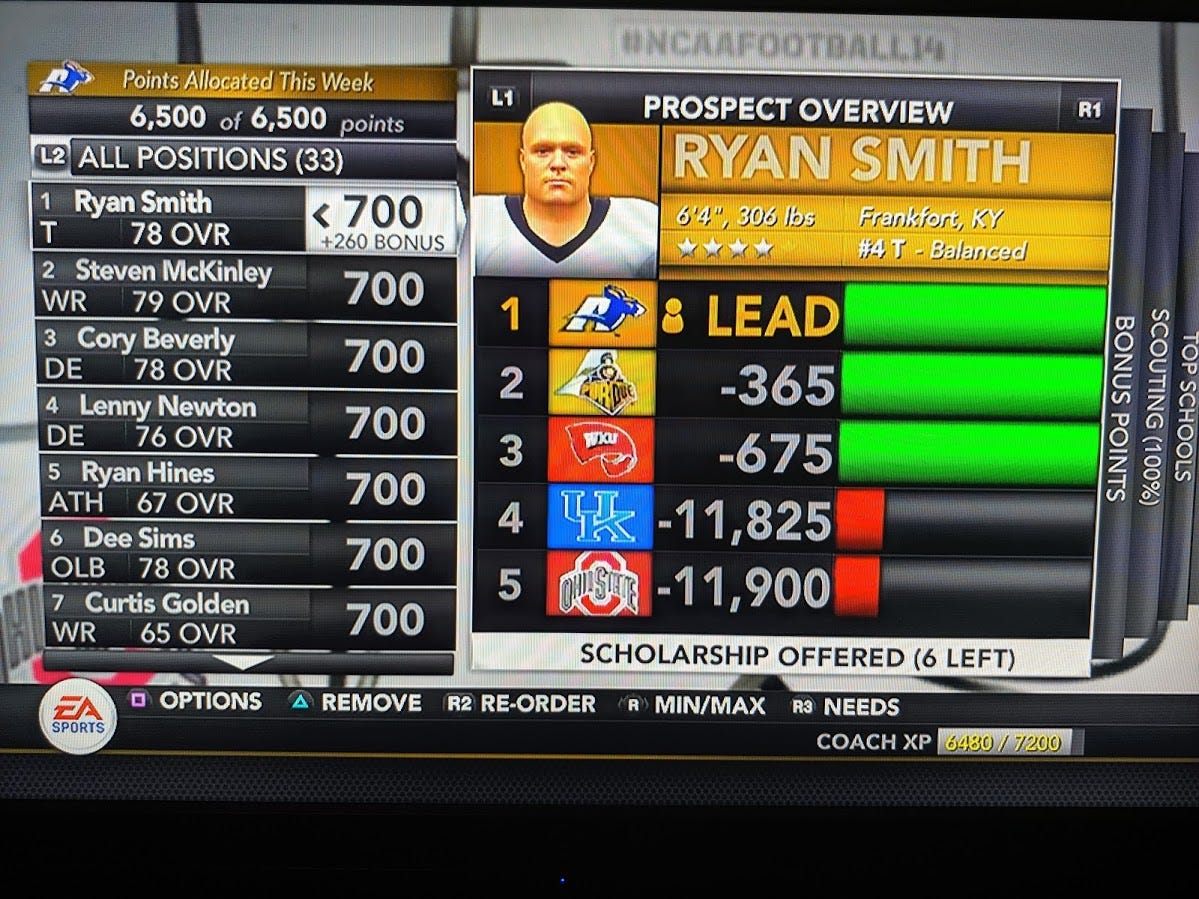 I have a few visits left to offer during our bye week at the end of the season.
I invite them out to view my suit collection and, oh baby, four of them commit right after that. All four of them are from California! Cali is now an official pipeline state for us.
We have 23 commits before the offseason even begins. Who needs offseason recruiting? Coach Luke is all about the in-season recruiting. Here's our commit list: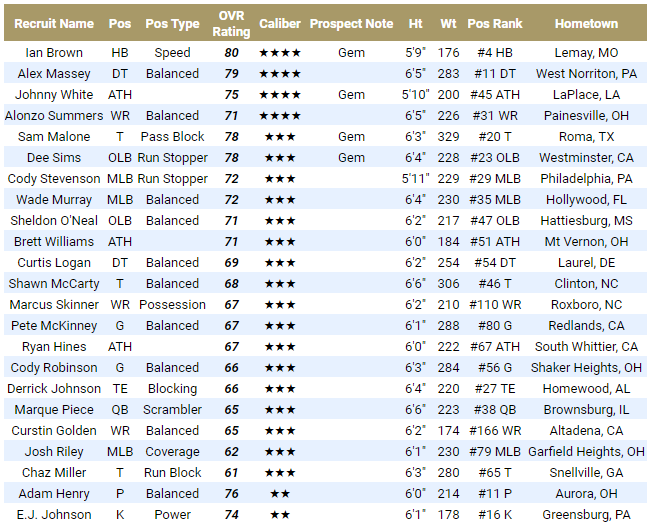 After finishing the season 12-2 with a bowl win (again!), Coach Luke reaches Level 24. Fun fact: 24 is my favorite number so this makes me happy but, in more appropriate news, this allows us to max out the Insta-Commit skill. Next year, we will have a twenty percent chance of getting recruits to commit when we offer a scholarship!
---
Offseason
As the season ends, we find out about a few things. We first find out that we had some school records broken this year:
School Career Receiving TDs: Rodney Van (28)
School Career Receiving Yards: Lorenzo Jackson (2726)
School Career Receptions: Lorenzo Jackson (189)
I'm proud of these guys! Lorenzo was a Year 1 recruit for me, and Rodney Van broke that record in only three years of playing for us. Good stuff.
I then get some major news: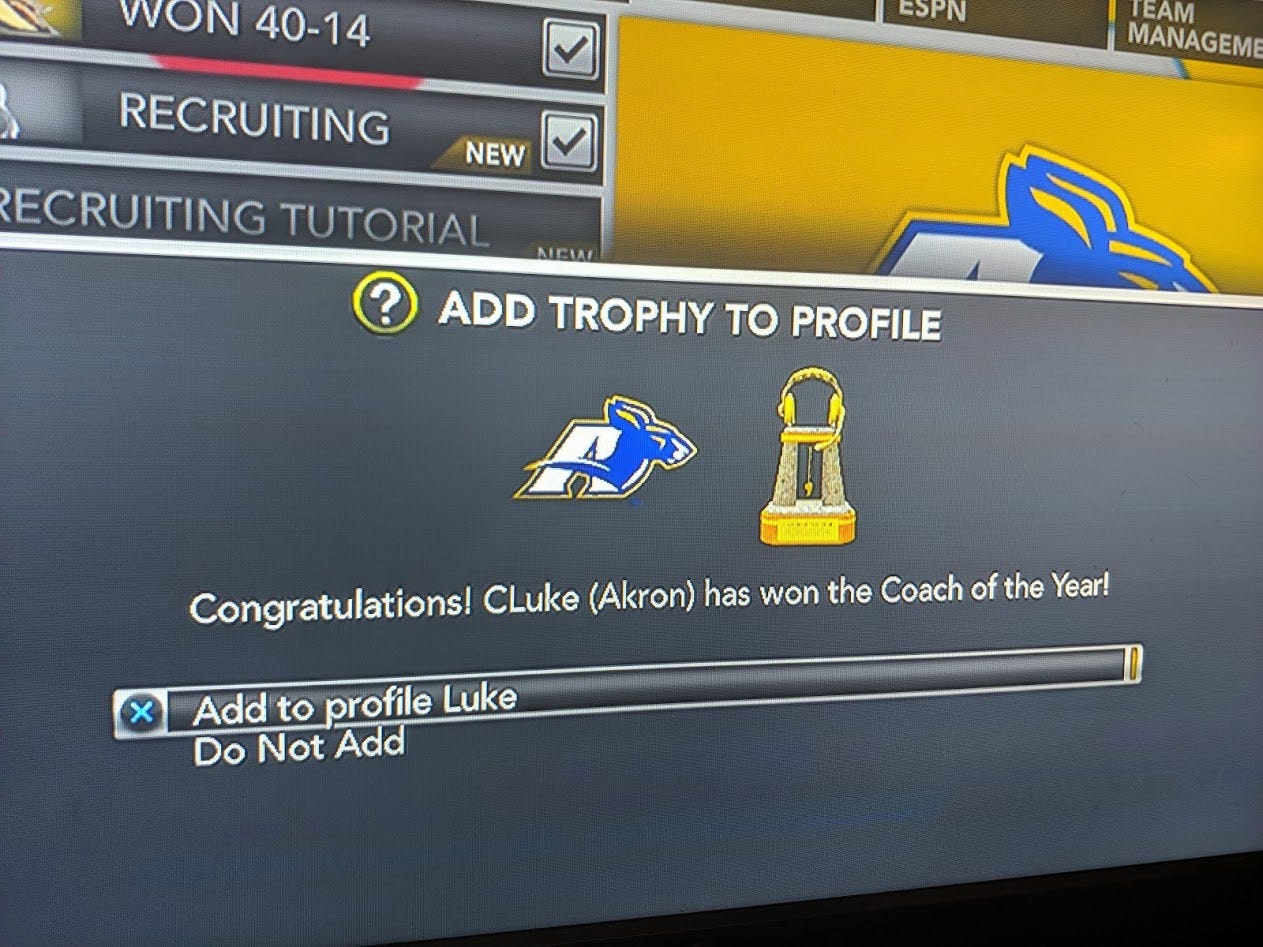 Much to my surprise, I am given the Coach of the Year award. The NCAA likes me! They really like me!
It's kind of crazy because I didn't think we did anything that outstanding this year, but I guess they liked how our team responded after losing our star QB. I'm humbled. I'd just like to thank—
—Oh, hold on. LeBron James called me up to congratulate me and I lost my train of thought. Honestly, he wasn't making much sense. Something about Taco Tuesdays at Akron and maybe moving Akron to Los Angeles. I don't know, man. I told him I had to start making dinner even though that was a lie. I got him off the phone at least.
Anyway, Coach Luke of the Year!
I gotta keep working though. There's no time to rest. The next week of the offseason is where we find out coaching changes for Akron. I'm hopeful we don't lose our coordinators as the offseason starts.
And?
Well, we kept our Level 25 OC Brad Porter but lost our DC and he's replaced by Level 16 DC Josh Barr. Not bad. I'm mostly happy we didn't get like a Level 1 dude to replace one of our guys.
In the Players Leaving stage, we find out that the following players went to the NFL:
QB Darius Patterson (Round 3)
LT Joe Greene (Round 4)
WR Brandon Carlson (Round 4)
WR Rodney Van (Round 6)
SS Mike Jacobs (Round 6)
Wow. Darius Patterson transferred to Akron, got passed over for Cortez Haumiller in his junior year then played in three games before a season-ending injury and he's a third-round pick. This kinda feels like a team using a pick on Cardale Jones. Weird! I assume he was drafted by a team like the Detroit Lions.
Seriously, I'm happy that we're now becoming an NFL pipeline. This is cool to see.
We finally reach the recruiting portion of the offseason. I have two scholarships left to offer and 13,000 recruitment points to divvy up as I'd like. I spread my points across four players mostly, putting the most points into T Ryan Smith that we are trailing for. I also throw a few extra points towards JUCO HB Stafford McGee in case we miss on other people. We can only get two of these guys anyway.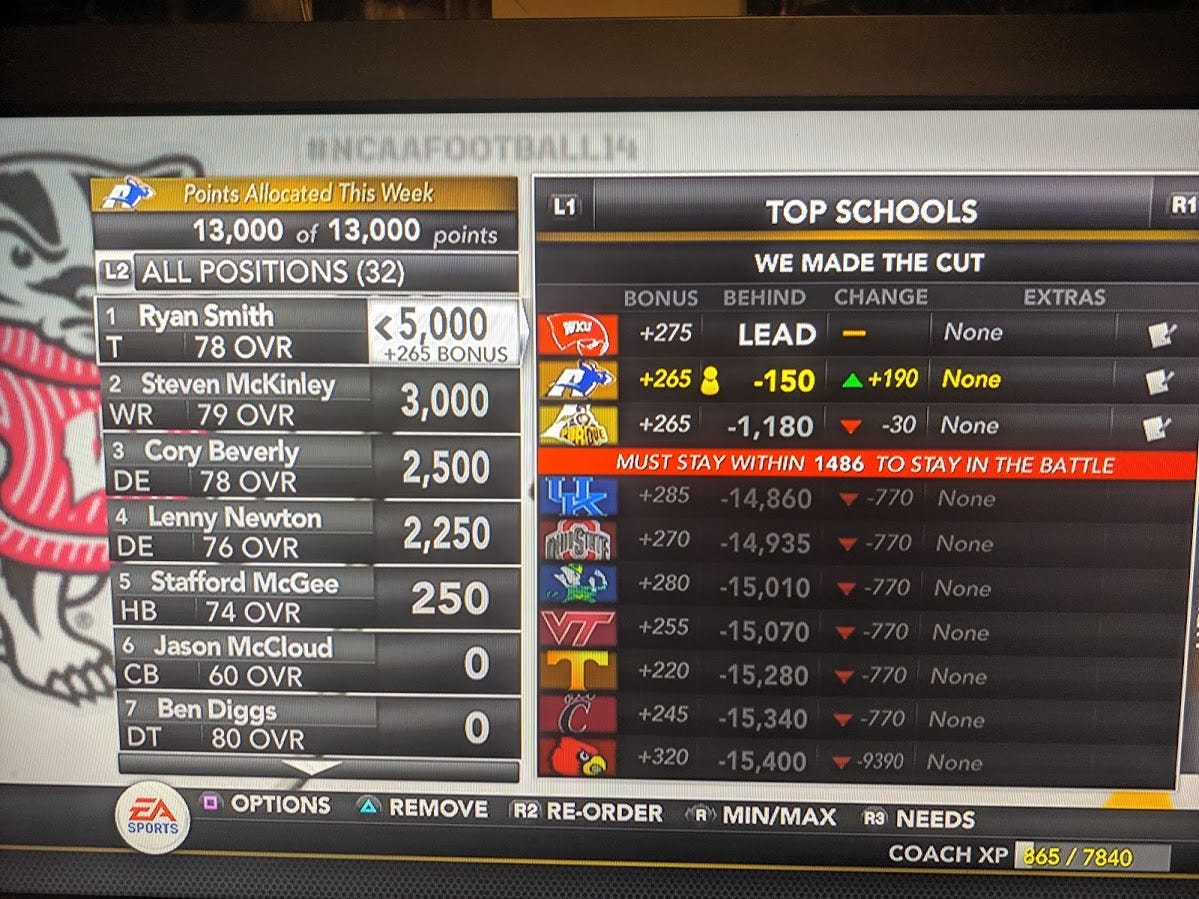 And?
*
*
*
Damn, we miss out majorly here. We do get good ol' Stafford McGee and low-rated CB Jason McCloud but we miss out on the main guys we targeted. Oh well. We end up with the #12 class in the country.
Here is the spreadsheet with all of our commits this season as well as the player stats from Year 6.
In the Position Changes week, I have three Athletes that I need to assign a position to. Johnny White is moved to CB where he rates at 69, Brett Williams is put at FS where he's rated 75 and Ryan Hines is moved to HB where he rates 67.
In the Training Results week, we find out that QB Andrew Fountain is now 99 overall with 86 Awareness. HB Jared Oliver also moved up 6 points to 94 overall in his senior year. He's become quite the player despite being an unheralded prospect.
The Conference Change
We enter the week of the offseason that many have been waiting for: the time to change conferences. There were good arguments from readers for both the Big 12 and Big Ten. There was even a great argument on Reddit about going Independent. That seemed to make the most sense story-wise.
Then, there were a few dissenters who said it would be more of an accomplishment to stick with the MAC and win it all. That stuck with me. Am I just running from a challenge here? Readers Daniel and Kahea3 surely thought so.
Well?
I called the MAC up and told them we're not done yet.
I told them I'll give them maybe two or three more years but, really, I may leave next year if our season is special enough.
At this point, the media had already picked up on the fact that arrogant Coach Luke tried to flee the MAC and we are not being looked upon favorably. The fact is that we may have to go Independent and prove our worth on our own when we bolt from the MAC.
For now? In Year 7? We're giving the MAC at least one more chance. I want to leave the conference in better shape than I found it by getting to a BCS bowl game.
Sorry to everyone who was hyped up about the conference change possibilities. All of your comments have been logged into my brain and we won't have to revisit this conversation when the actual conference change happens in the upcoming years.
The Year 7 Roster
I'll do the ol' roster preview post soon but here's a quick look at the top players on our roster as we go into Year 7: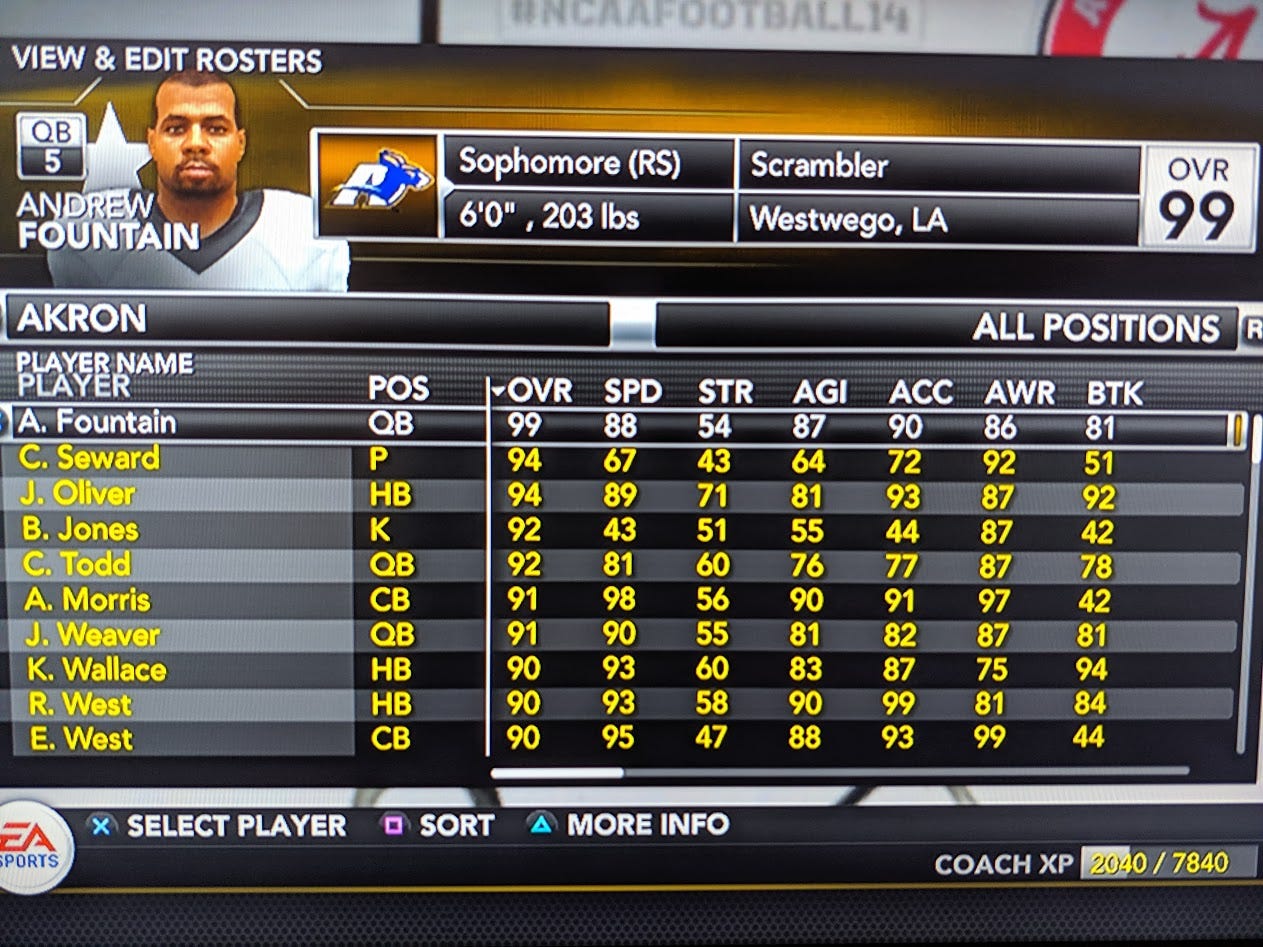 Tons of QBs and HBs and CBs at the top of our roster. It's good to see some defensive players in the 90s for once too. We're a good well-rounded team and should be able to compete with anybody.
---
Quick housekeeping notes:
I ended up having to help a friend move this weekend and this post went up later in the weekend than I had hoped. Moving sucks! Never do it! The Year 7 Preview post will go up either on late Monday or early Tuesday.
The Year 7 Season post will go up on Wednesday. There mayyyy be information on a bowl game pick 'em contest in that post.
There will be a Twitch stream of our final game(s) of the season on Friday, September 4th at 8:30 PM EST. You can follow me on Twitch here.
The Year 7 Conclusion post will go up after that and include a link to watch that stream.
Join the Rubber City Dynasty subreddit if you aren't chatting there already.
This is going to be a fun week! I can't wait to see what Year 7 brings for our Zips. If you're a fan of Coach Rick's Western Illinois Leathernecks, they won their first title in Year 8. Can we beat Coach Rick's timeline? We'll see!
That's all for now! Share this series with your old college roommate that you haven't talked to in years.
Until next time, keep zippin', Zippers!