Welcome to the next chapter of the University of Akron's quest to win a national championship in NCAA Football 14. To learn more about this series and read up on past installments, visit the About page of this site.
Before we talk about Year 6, here's a recap of Year 5:
Akron went 12-2, winning a MAC Championship but only got invited to The GoDaddy.com Bowl. They ended the season ranked #15 in the country.
We had the #11 recruiting class in the country. The stars of the class being SS Jesse McIntyre, DE John Clark, and T Nigel Crooks.
Coach Luke is now a Level 21 coach and all of his skill points have still gone into Recruiting. His famous sideline suit is almost six years old now, but it still grants him magical recruiting powers.
If you're new to the series, you should know that I do not play any of the games. I recruit players and then simulate or watch the computer play the actual games for me.
Without further ado, let's get zippin', Zippers!✓
---
Preseason
As usual, I start the year off by choosing who to redshirt for the season. Some of the notable redshirts for Year 6 end up being:
SS Jesse McIntyre (FR, 81 OVR)
RG Brandon Davis (SR, 80 OVR)
SS Mike Day (FR, 77 OVR)
FS Douglas Fox (JR, 77 OVR)
LT Nigel Crooks (FR, 76 OVR)
RE Kevin Jean (SO, 75 OVR)
WR Chauncey White (FR, 75 OVR)
There is a lot of good talent donning the redshirt this year. One of the weirder redshirts here is senior G Brandon Davis. With two senior Guards above him on the depth chart, I choose to sit him out a year so that he can be a starter next year for us.
When it comes to scheduling, I talked about the custom schedule on Reddit. It's not an easy slate but I feel like we're a good team this year and we can handle it.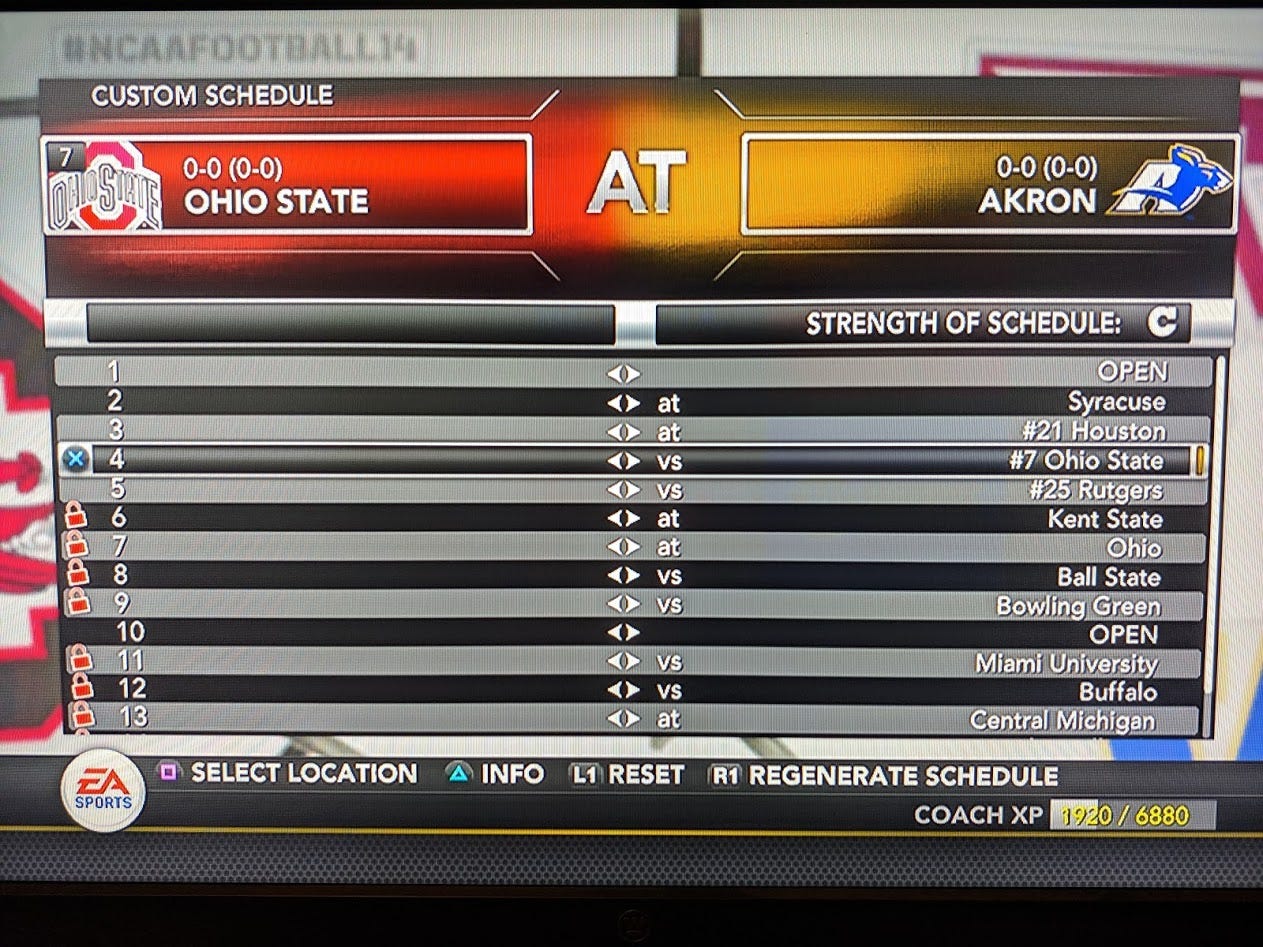 ---
Year 6 Roster
You can read about the roster in the Year 6 Preview post. Darius Patterson is finally getting the start at QB and we have top talent at nearly every position.


---
Year 6 (2018-19)
I feel a bit of apprehension now that the season is here. I predicted great things because I really feel like this can be a big year… But, it's a different feeling now that we have to actually live up to those expectations.
0-0 | Week 2 at Syracuse
We start the season off by traveling to Syracuse because reader John was itching for this. It's a weird game. They're an unranked team. We're an unranked team. They're rated 90. We're rated 90.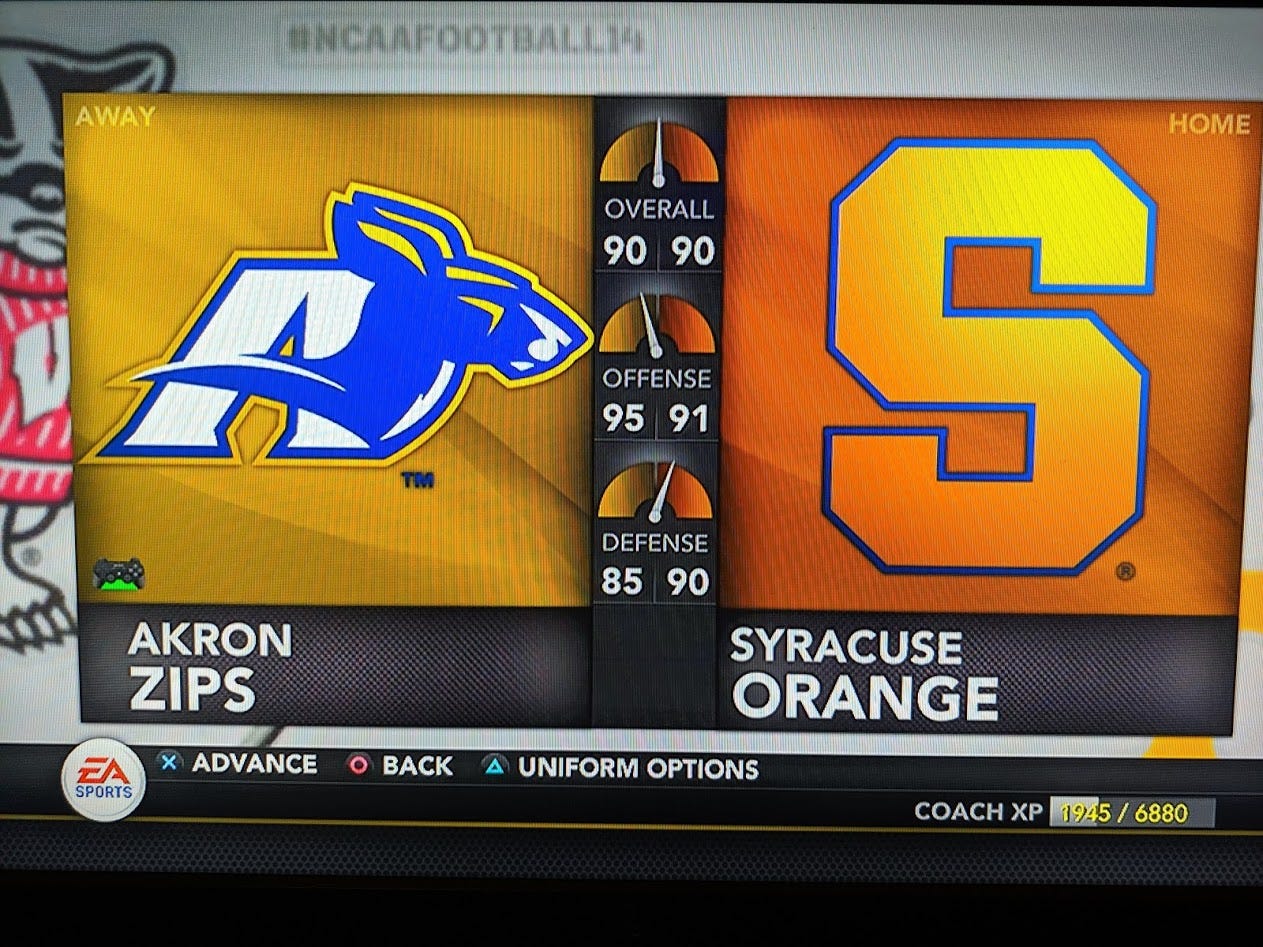 This isn't an easy game. If we're going to live up to my lofty expectations then we have to win games like this though. I don't know how good QB Patterson is going to be for us. I don't know if HB Oliver can match last year's success. I don't know what our defense can do. I'm freakin' nervous! But, eventually, I get past the nerves and simulate the game…
*
*
*
*
*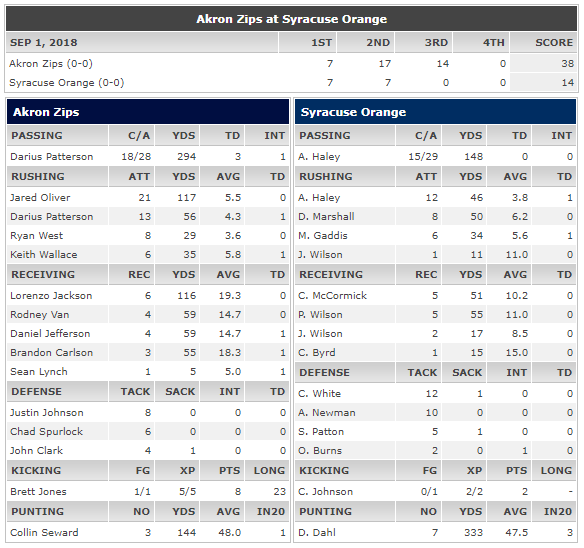 YEAH! ORANGE CRUSH'D, BABY!
Our players did all the things. Patterson played well (he's still throwing interceptions but everything else looks good). Oliver continued to put up 100-yard rushing games with ease. Our defense held them to fourteen points.
I'm very happy.
1-0 | Week 3 at #18 Houston
We're traveling to Houston next so that the many Texans on our team get a chance to have their families come out and see them.
It's another toughie. We're facing a ranked team on the road but Houston is rated 88 to our 90 so we have a chance to win this. Much like the Syracuse game, my heart is pounding as I prepare to simulate it. I just hope the simulated computer gods look down upon us favorably…
And…
*
*
*
*
*
Zippers, get zippin'!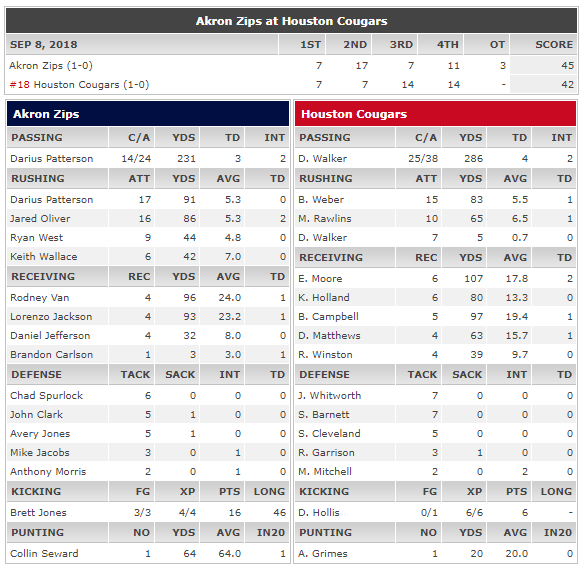 The eight Texans on our team and their families have a celebration after this overtime thriller. The Zips were down ten with six minutes left but Patterson threw a TD to Carlson to bring us within three and we tied it on a 46-yard FG with thirteen seconds left before winning in OT. Epic!
Darius threw two interceptions and I don't know why he is more mistake-prone than our previous QBs but, hey, we're 2-0 with two giant road wins.
2-0 | Week 4 vs #6 Ohio State
We enter this week with our own Top 25 ranking. We are now ranked #19. Ohio State is unimpressed with that as they are ranked #6 in the country.
In the past, we tried to start a battle for Ohio supremacy by playing Cincinnati and we failed both times we tried. Now, we're skipping right past them and going to the Ohio boss battle. Are we tempting fate? Are we flying too close to the sun? Maybe!
Ohio State is coming to Akron though. These bratty kids from Ohio State probably never thought they'd have to travel to little ol' Akron but here they are. Get ready.
This is likely our biggest game ever.
I'd be crazy to say I'm confident going into it but I record it and hope for the best. The game is a bit of a wild one, so even the edited video clocks in at seven minutes:
*
*
*
*
*
I'm struggling for words here.
If you skipped ahead, we… WON.
We went up 31-14 early but the lead quickly slipped away when they scored a TD and had a pick-six at the end of the half. The defense took over in the second half as we hit a late FG to take a 41-38 lead and then we held on.
Why am I not using exclamation points and going crazy though?
Well. Darius Patterson separated his shoulder late in the 4th quarter on the last play of the drive that gave us the 41-38 lead. He is out for the season. I'm heart-broken. Look at his face here: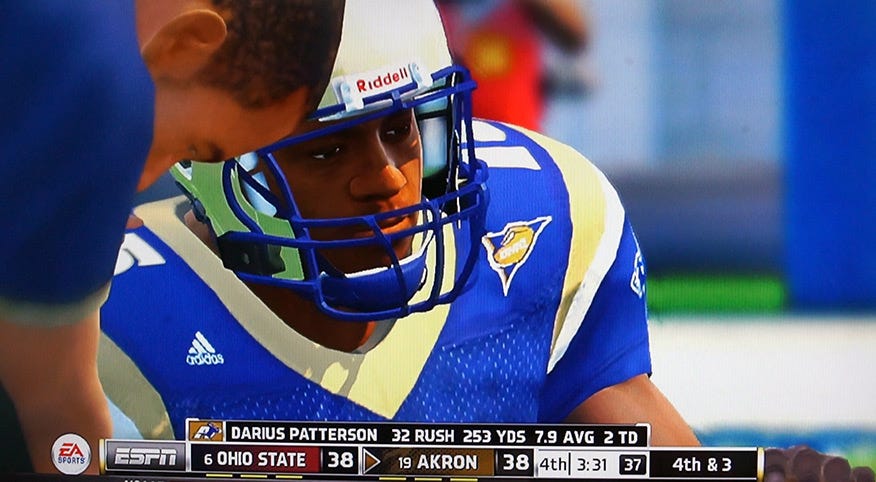 This season just got crazy. As we were on the verge of winning this game, visions of a national championship game popped into my head. But now? With freshman Andrew Fountain leading the way for the remaining games, I don't know… I just don't know.
Fountain Drew… your time is now.
I don't want to take away from the fact that we just beat Ohio State though. We're doing amazing things! It's just a tough blow to lose Patterson.
For a closer look at the stats, here's a link to the Box Score.
3-0 | Week 5 vs #16 Rutgers
I don't know what to think, man! We're up to #15 in the country and we are facing a #16 Rutgers team… but with our freshman QB leading the way.
If Fountain Drew can lead us to a close game in this one then maybe—just maybe—I will feel better about this season.
Either way, Rutgers is rated 86 to our 90. We're playing at home. Let's see what happens…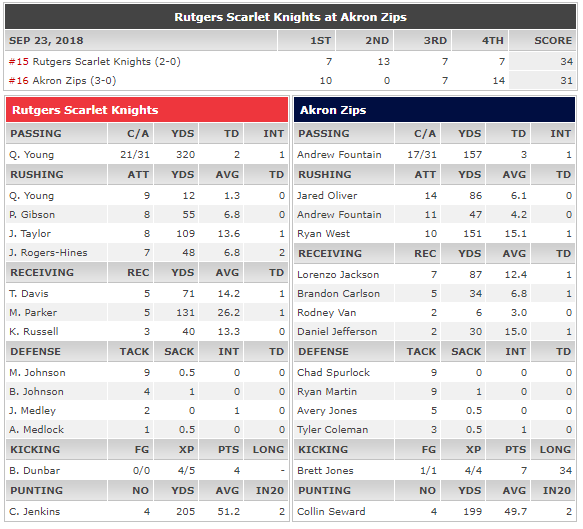 A loss is what happens.
We were in the game though! We took the lead with 2:43 left when Ryan West had an 81-yard TD run. Unfortunately, Rutgers responded with a 64-yard TD run of their own only a minute later to take the lead and ultimately win the game.
You know, I can't complain about the offense nor what Fountain did as a freshman in this game against a ranked team. The defense didn't do us favors. We put up 450 yards of offense and they put up 563 yards. That's not ideal.
Maybe I'm being too reactionary but I feel this season slipping away. We had an amazing 3-1 start against a tough out of conference schedule but I no longer feel like sweeping the MAC is a foregone conclusion.
3-1 | Week 6 at Kent State
We enter into MAC play and I hope our first game will give us some indication of what to expect over the remaining eight games.
Andrew Fountain is currently rated 93 overall with a 73 awareness rating. The hope is that those numbers will naturally increase over the season as he gets to play more. It's really not the worst thing in the world that he got to take over this early in his career.
We travel down the road to face our rivals, the Kent State Golden Flashes. Despite last week's loss, we're ranked #19 in the country. Kent's rated 83 overall and I feel like we should still be able to win this one.
And?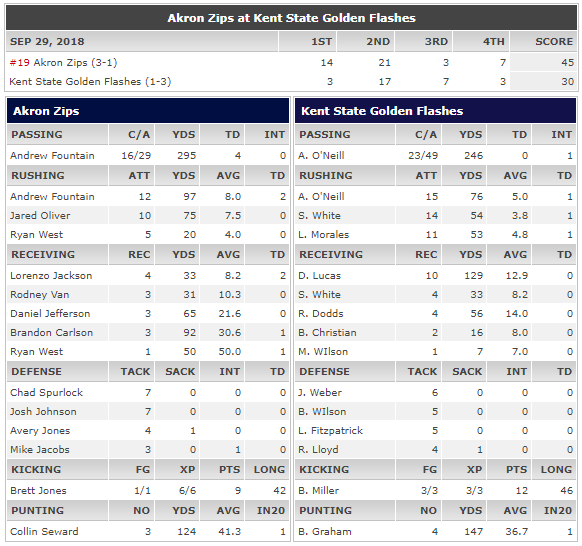 It was a good old-fashioned Coach Luke shootout game as we won 45-30!
I'm very impressed with the game Fountain Drew had. Unlike turnover-prone Patterson, Fountain didn't have any turnovers and he accounted for six total TDs while leading the team in rushing and passing.
Things are looking up. Maybe this freshman can actually be a leader after all!
4-1 | Week 7 at Ohio
The BCS is not impressed with our victory over the Golden Flashes as we drop to #21 in the polls. Oh well.
We travel across the state to play a 1-3 Ohio Bobcats team. They are only rated 81 overall. It's one of the easier games of the year. Let's get this win and start building some momentum!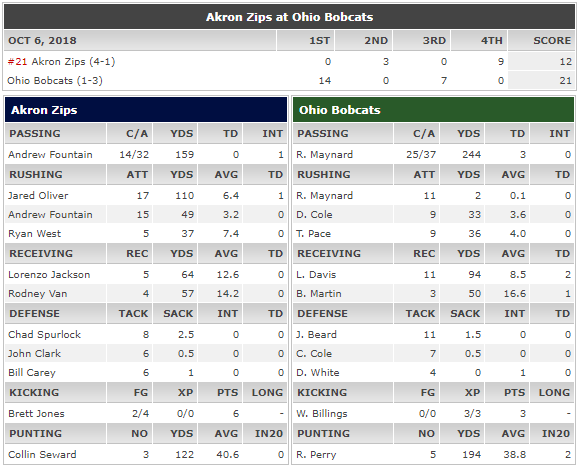 Um.
Okay.
We lose to an 81-rated team. I'm taken aback.
This season is crazy. I guess having a freshman QB means that we're going to have some extreme ups-and-downs. We only scored 12 points in this game against a poor team. I'm feeling pretty bummed about the output here.
4-2 | Week 8 vs Ball State
Needless to say, we fall out of the Top 25 rankings.
We return to Akron after those road games and get another supposedly-easy game as we face an 81-rated Ball State team. We can't take anybody lightly anymore. I really need to see a statement win here from Fountain Drew and the boys.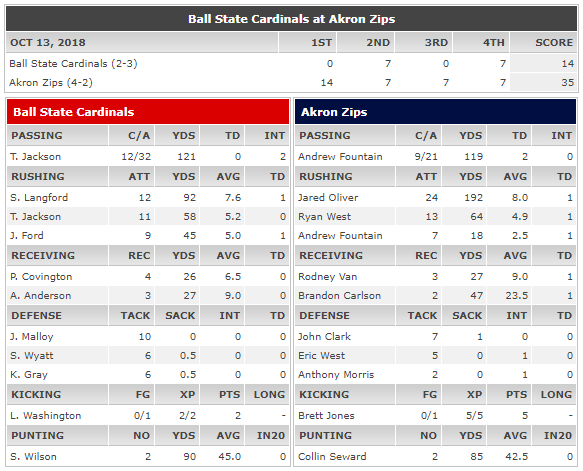 Jared Oliver and our secondary certainly chose to make a statement! I'm a bit concerned about Fountain's accuracy but at least he's not throwing up interceptions. Good win. Let's keep going.
5-2 | Week 9 at Bowling Green
This is truly the last Rodney Van redemption game. I accidentally said last year was his last game against BGSU, but he is definitely a senior now and playing his last game against his former team. NCAA Football 14 tells me that "Van's still bitter Bowling Green didn't give him a chance to start" as a headline to this game.
They're rated 83 and are 3-3 on the season. I don't know what to expect anymore so let's just watch what happens! Away… we… go!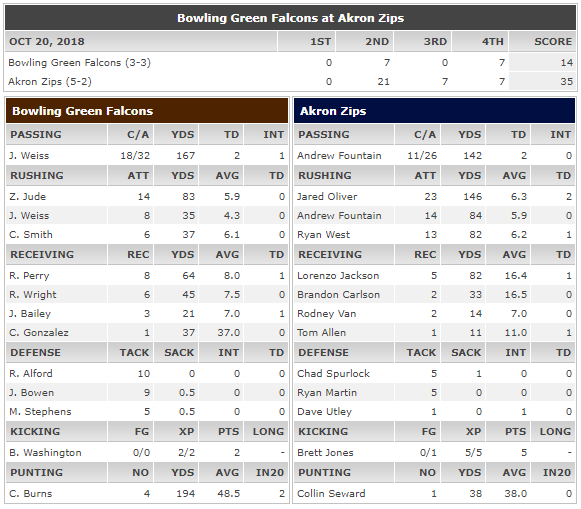 We win 35-14! That, my friends, is back-to-back 35-14 wins for Akron. Can't complain about that. The offense is shifting to a more rush-first attack to compensate for Fountain Drew's lack of accuracy. That's fine. I feel bad for our stellar WRs who are not having great years though.
6-2 | Week 11 vs Miami University
This is the toughest test in the MAC for us. They are only 3-5 at this point in the season but Miami is rated 86 overall. We need to step up here.
We're in second place in our division at this point, due to our one conference loss, so every game carries a huge importance now if we want to be back in the MAC Championship.
And?
We win 42-21! That's three straight 21-point wins for us. Zippity doo-dah!
7-2 | Week 12 vs Buffalo
While things have felt a lot more uncertain in the Andrew Fountain era thus far, we are indeed winning big now. We host a 4-5 Buffalo team that is rated 84 overall next.
And?
We win 31-17! We're rolling now!
8-2 | Week 13 at #22 Central Michigan
But, now, an interesting challenge approaches. Central Michigan is ranked #22 in the country with a 9-1 record. The good news is that they are only rated 84 to our 90. I believe we are better than them, even with our young padawan quarterback providing for some drama at times. They're a ranked team so we must take it seriously and not stumble here.
Let's f'n go!
We win 37-14! I didn't think I'd be hyped about beating Central Michigan at this point in the season but here we are!
We now hold a two-game lead within the division and have officially clinched an invitation back to the MAC Championship game. Let's keep it called the MAKRON!
I must point out that the defense is stepping up! This represents six straight games in which we've let up 21 or fewer points.
9-2 | Week 14 at Northern Illinois
We have officially returned to the BCS rankings and are ranked #21 in the nation. We are 9-2 and about to face a 2-9 Northern Illinois team that we've had a history of beating. This game isn't about the MAC Championship chase, it's about getting a higher BCS ranking and, hopefully, a better bowl game. So, let's win big!
We win 42-25! This season had been a roller coaster but we ended things in style.
---
MAC Championship Game
We're back again at Ford Field and trying for Coach Luke's third MAC title. We play Western Michigan this time. We're ranked #17 coming into this and should be big favorites to take home another title.
Andrew Fountain is now up to a 96 overall rating with 81 awareness. This kid is going to be really fun for us over the next couple of years.
We want to win the MAC and then we want a big cool bowl game to go along with a Top 15 ranking! So, let's do this thing!
The video below is a string of big plays from the game. It's three minutes long:
*
*
*
*
*
Never a doubt! We win 40-14! The MAC is the MAKRON for two straight years!
The defense made it so I never had to sweat in this game. The offense was consistently efficient, even if our passing game wasn't anything to brag about. I'm proud of my boys for overcoming adversity this year! We deserve to go to a fancy bowl game!
---
The GoDaddy.com Bowl
Dammit! We're back in this crummy bowl game again.
We are rated #18 in the country and we are playing another weak team to end the season. It's a bummer! This year, we are playing the South Alabama Jaguars and they are rated 83 to our 90.
Alas, I'm not streaming this game, nor am I watching it. I simulate the game as I expect us to win and end the season 12-2.
*
*
*
Well, it was closer than I thought but we win 34-31 in a comeback victory! We can add a second GoDaddy.com Bowl trophy to our shelf back at home.
---
End Of Season
I'm really proud of how certain players stepped up this season. John Clark stepped up as a true freshman DE with 7.5 sacks. Jared Oliver, our junior halfback, ran for 1772 yards and 17 TDs, despite his longest play of the year only being a 19-yard run. Andrew Fountain steered the offense effectively despite a 51% completion percentage. Our passing game dipped with him in charge but he only had four interceptions over his nine games, compared to Patterson's five interceptions over three.
Our players were not up for any awards except for P Collin Seward who finished 11th in the voting for the best punter award. Here are the team stats on the season: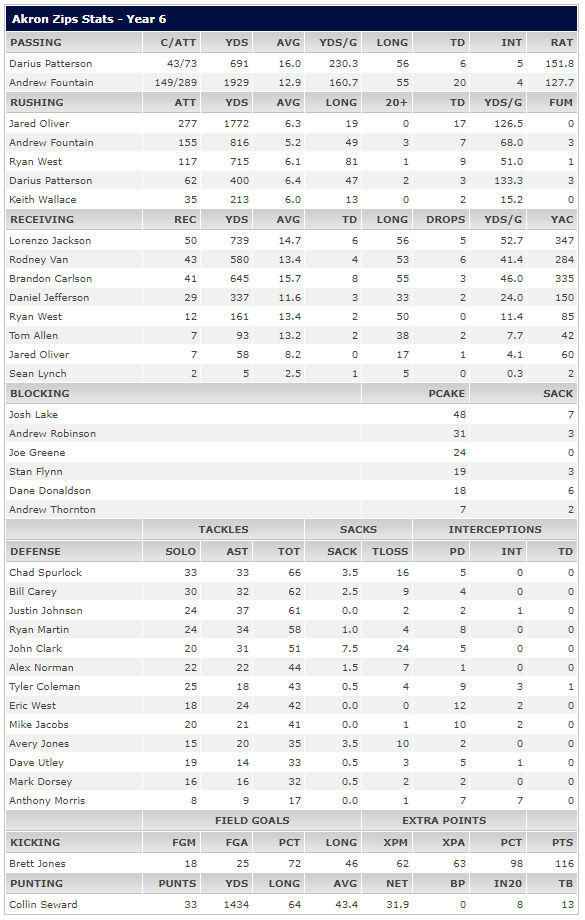 On the national stage, South Carolina beat Auburn to win the championship.
---
Up Next
Before we conclude here, I have a few housekeeping things to go over here as far as what is happening with the Rubber City Dynasty:
Year 6 Conclusion
Over the weekend, I'll post the recruiting and offseason recap for Year 6. Check your inboxes for that.
Conference Change For Year 7
We're done with the MAC. It's time to move on, friends. Coach Luke has convinced the Akron administration that we must challenge our boys in a Power 5 conference. I think it should come down to the ACC, Big 12, or Big Ten. In the comments, form your arguments about which one of those three we'll move to for next year.
Year 7 Posting Schedule
Monday – The Year 7 Preview goes out.
Wednesday – The Year 7 Season gets posted.
Friday – I will be streaming the Conference Championship and/or Bowl Game on Twitch at 8:30PM EST. This is locked in. We're doing it no matter who we play. Come on out. I'll serve punch and pie.
Saturday – The Year 7 Conclusion will be posted with a link to stream in it, and the recruiting/offseason recaps.
The tides are about to change here with a new conference and Fountain Drew leading the way in Year 7. This was a crazy year but it was a big step towards Akron's bright future.
Until next time, zip it up and zip it out!