Welcome to another roster preview to supplement the series about Akron's quest for eternal glory in NCAA Football 14. For any new readers, feel free to check out the about page of the site to read about this whole project and catch up on the past installments. This preview is meant to give you a closer look at the team since there are so many players to know on a fictional football team.
---
Before we jump into this, there's been a change since last article.
As I announced, I'll be streaming one of the regular season games this season since I watch the games anyway and figure it's cool if you want to watch it with me.
I found out that Ricky O'Donnell is doing a stream on the same day that I previously announced. I know many people read both his series and mine so that means:
The upcoming Twitch stream will be this Thursday, September 10th at 8:30PM EST!
---
Now let's commence with the Year 8 preview. The Akron Zips are no longer a cute little Cinderella story. They are a legit football program with money starting to pour in. The evidence of our legitimacy is all there:
The Zips finished #2 in the country last year and won the damn Sugar Bowl.
All of that is to say that this is a real team now with real expectations. The dream has been realized.
There's now a real fear now that the only place to go from here is downhill though. Realistically, the only way that Year 8 will be better than Year 7 is by winning a national championship and having a #1 ranking.
The Year 7 Sugar Bowl team was brimming with talent. We were a 93-rated overall team with a 99-rated offense and 90-rated defense. It was a good team, guys! If the Zips are truly going to reach the mountaintop this year, they need to be even better now.✓
---
Meet the Offense
The Zips offense continued to be epic last year. Going into our Sugar Bowl game, we had the #2 points-scoring offense in the country. In the eleven games that were simmed last year, our Akron boys put up 47.5 points per game.
It should be noted that in the three games we watched, the Zips averaged 28 points per game. The opposing defenses were tougher in those games but it's also a playbook problem, in my mind. I'm still in the process of looking through playbooks to decide what will fit our team best this year. More on that soon, but here's what our starting lineup looks like for our offense in Year 8:

According to a report I pulled from the game in the preseason, we have a 99-rated offense again. The only causes for concern are that the right-side of our line is a bit weak and our tight end is a liability. In the past, we haven't used the tight end much but we'll see how much of a role he plays in our new offense.
Keith Wallace Is Here: HB Keith Wallace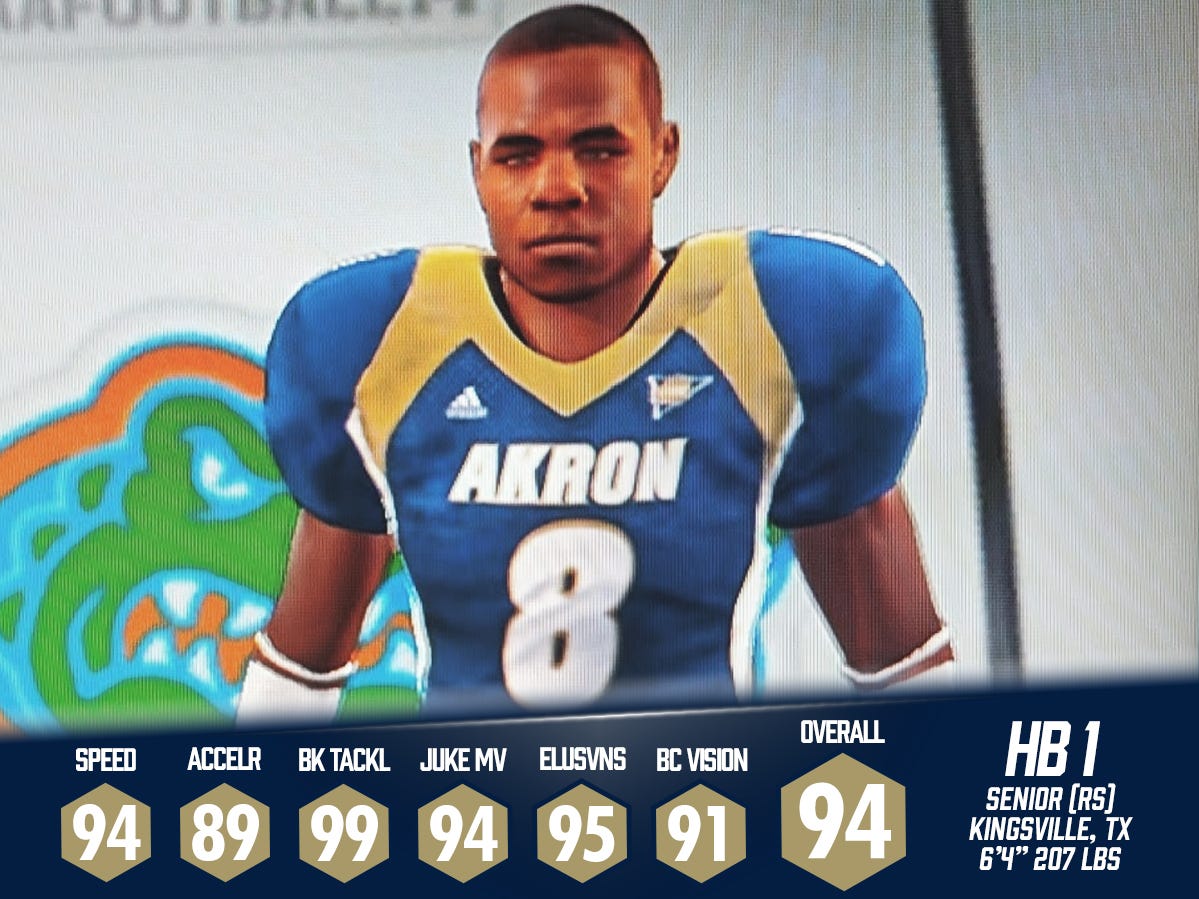 It's been a long, long time since we were in Year 3 of this series but we must go back. That was the year when we got our first legit four-star recruit, Keith Wallace. It ended up being a notable event.
This was Coach Luke's first extended visit to the state of Texas. On that trip, he started building some connections in the state as he visited Keith Wallace in Kingsville, TX and Brett Jones in McAllen, TX. It was Keith Wallace that taught Coach Luke some Texan traditions and slang. Keith even encouraged Coach Luke to take off the suit jacket while in Texas so he could appear laid-back with the southern folk.
When Keith eventually stepped foot on the Akron campus in Year 4, the thought was that he would be a staple of our offense for many years. That day never came though as he ended up getting hidden behind other running backs like Jeremy Shelton, Jared Oliver and Ryan West over the years. That didn't stop Keith from helping Coach Luke with future visits to Texas. He saw something big happening at the program and gladly helped turned Texas into Akron South for us.
His dedication to the program is finally paying off as he is the clear lead halfback in his senior year. He now represents our highest-rated running back ever and could do big things in our new offense. Coach Luke hopes that Keith's love for Akron culminates in a championship season as well as a high NFL draft status for Keith in return.
The K-Dubs Disciple: WR Chauncey White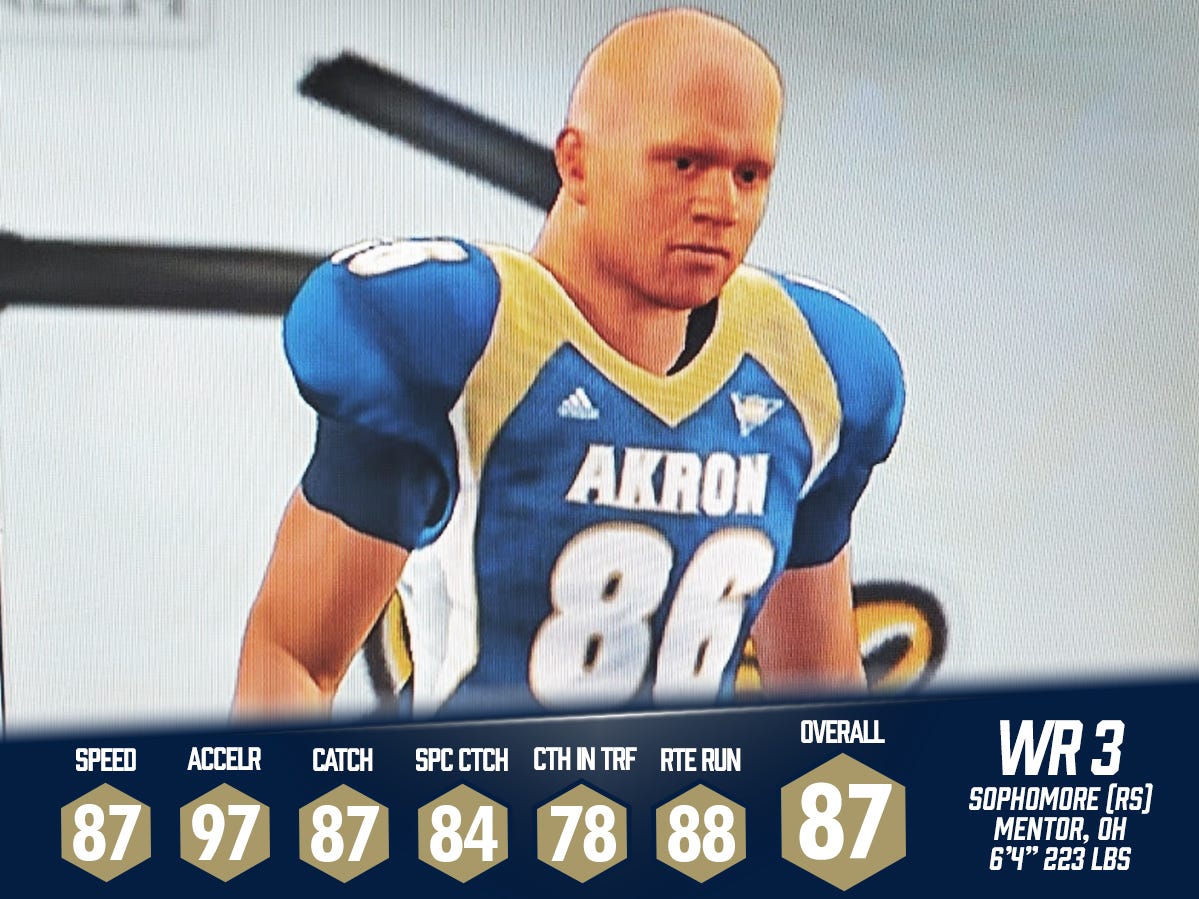 Chauncey was listed as "gem" prospect for us when we found him as a 3-star recruit back in Year 5. He's already proven himself to be a bit of a hidden gem on the field when he got two touchdowns for us against Ohio State last year as a freshman: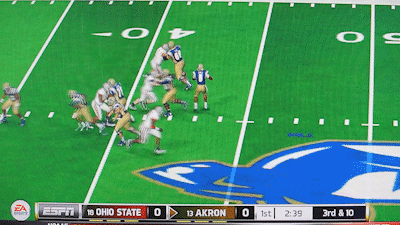 Chauncey didn't choose to come to Akron randomly. He's from Mentor, Ohio. You may remember that city as the home of Zips legend Kenneth "K-Dubs" Washington.
As a sixteen year-old, Chauncey was among those that sat in lawn chairs watching K-Dubs practice at the local high school field into the dark hours of the night. He had visions of playing for Ohio State throughout his childhood, but that summer started to create visions of playing for the University of Akron instead.
Coach Luke eventually came calling years later and Chauncey didn't hesitate to join the now-prestigious Akron program that made K-Dubs into a 1st round NFL draft pick. The city of Mentor has a strong Akron fanbase because of K-Dubs, and Chauncey plans to continue to make them proud as he enters his sophomore year.
Players Talked About In Previous Years
Here are players I mentioned in the past previews:
QB Andrew Fountain – If you don't know Fountain Drew by now, you better start learning. We're likely seeing the final year of this quarterback's journey at Akron. He is coming off an incredible 37 TD, 2 INT passing year that also included 4 rushing TDs. He stands to be our first Heisman candidate in his junior year here.
WR Edward Daniels – After highlighting Daniels as our new lead WR last year, he went off and broke school season records for yards and TDs without even playing in the Sugar Bowl. The only question is how much better he can be in his junior year.
---
Meet The Defense
The defense was unreal last year. They nearly pitched a shutout against an elite Ohio State team. They dominated UConn in the Sugar Bowl. They contained a top-tier TCU team in a low-scoring game. This year's defense is even better on paper.

We were rated 90 on defense last year and have moved up to a 93 this year, based on the preseason reports. We have a great defensive line, okay linebackers and an absolutely stellar secondary.
Texas Forever: DT Steven McDaniel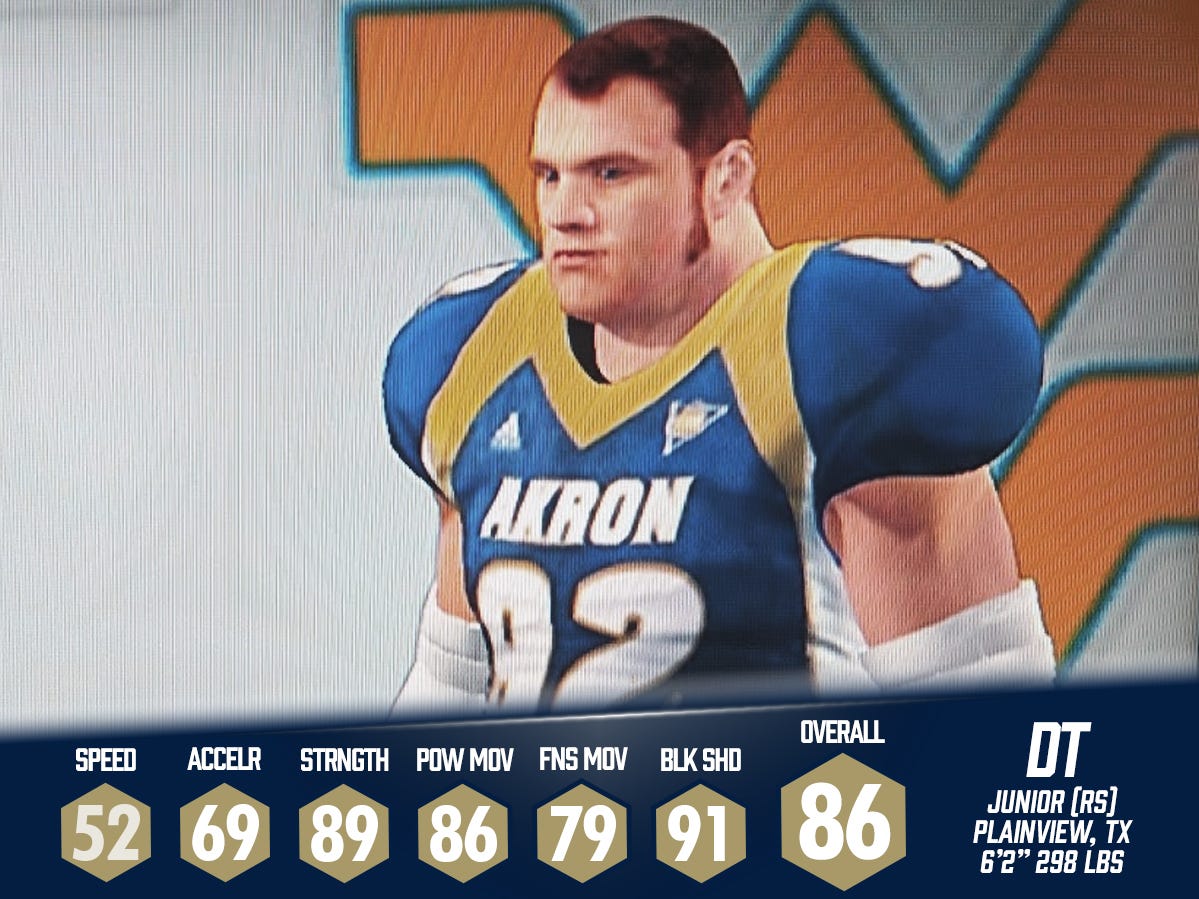 Steven McDaniel never imagined leaving Texas. He literally has the state flag of Texas tattooed on his upper back. When he got a scholarship to play at Texas Tech, it was a dream come true. Some dreams become nightmares though.
His freshman year with the team was filled with internal turmoil and an obvious logjam at the defensive tackle position ahead of him. He found himself wanting to drop his blind-allegiance to a state and just play football at a place that wasn't so chaotic. That place, of course, ended up being Akron.
Coach Luke was busy building inroads in the state and completing a recruiting year where he would bring in six Texans to the team. McDaniels wasn't blind to what was happening with the program.
He transferred that offseason as he became convinced Akron could still feel like home with so many Texans around there. More importantly, it was a chance to play in every game for a blossoming program.
There's been competition at the DT position each year but Coach Luke is dedicated to giving McDaniel his chance to shine. He was a key cog on the defensive line last year as a sophomore and will be one of the most vital pieces of our defense in his junior year now.
If we're going to win the battle of the trenches as a 3-4 defense, McDaniel has to be a dominant force. With Texas on his back and Akron on his heart, he's ready for the challenge.
Got A Reid On Ya: CB Justin Reid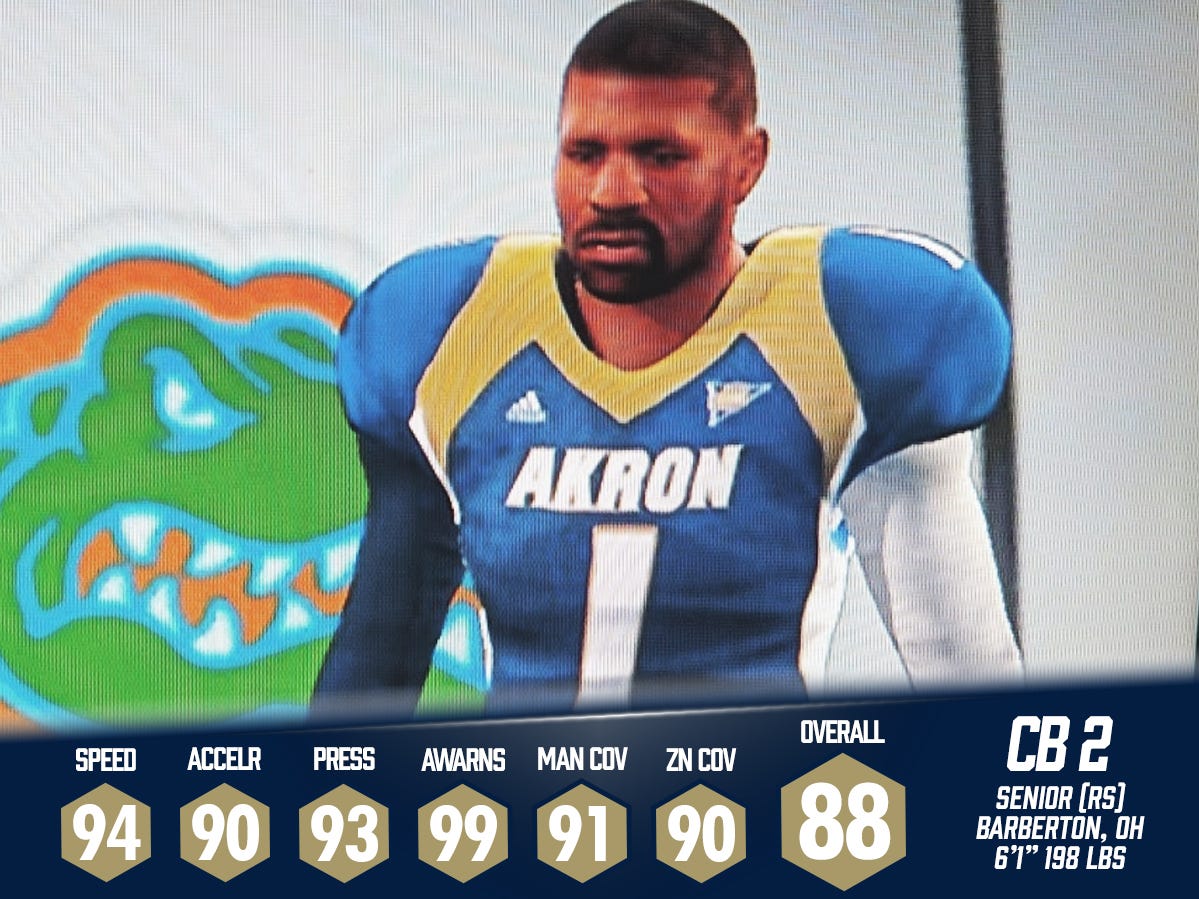 Despite being the nickel cornerback last year, Justin Reid burst onto the scene with a two-interception performance against Ohio State in Week 3 that got our hearts aflutter.
When Coach Luke recruited Justin back in Year 3 of our series, it was a minor blip on the radar. Reid was considered to be the #93 CB in that year's recruiting class and was rated at 67 overall at the time.
Justin redshirted early on and was given time to blossom into the 88 overall CB he is now. He's set to be a stud starting CB on one of the top teams in the country.
If there's any weakness in his game, it's that he lacks elite tackling ability but his coverage skills ensure that he won't have to be bringing guys down too much anyway.
Players Talked About In Previous Years
DE John Clark – He's had ten sacks in his first two seasons. The hope is that he can take a big leap forward this year and be our sack leader again after a down year last year.
CB Anthony Morris – Morris almost left the team for the NFL last year until he was convinced to stick around for his Akron degree. He's an absolute stud and was the former #2 CB in the nation in his recruit class. He's only a junior and he's rated 96 overall.
SS Jesse McIntyre – McIntyre models his game after Brian Dawkins and is now entering his sophomore year after a great debut season that included two interceptions and two sacks.
---
Meet the Special Teams
Our special teams unit is brand new for the first time in years. Change is kind of scary but we'll survive.
We have freshman kicker E.J. Johnson on the team from Greensburg, PA. He rates 79 OVR with an 89 Kick Power but 70 Kick Accuracy rating. I'm admittedly a bit worried if a big game comes down to an accurate kick this year.
At punter we have freshman Adam Henry from Aurora, OH. He rates 82 OVR with an 87 Kick Power and 78 Kick Accuracy. He continues the theme of powerful, inaccurate legs in our kicking crew.
---
Overall Prediction for Year 8
We've been chugging along for two years and I don't see much of a reason for this train to stop now. Anything could happen though. Let's talk about reasons why we may not be in the national championship hunt:
A new offensive playbook could cause our offense to perform differently than we're used to, especially in the games we watch. Just one loss in those games and our dream season is in trouble. The playbook is something to watch closely.
Our tight end and the right-side of our offensive line could create pressure issues that opposing teams could exploit.
Our linebackers are untested and could be taken advantage of against the run and/or against the short passing games of better teams.
Our schedule ain't easy! There are four Top 25 teams on there, including a 97-rated Ohio State team and 95-rated Notre Dame team. We have to be at our best at all times.
In order to have a perfect record this year, we have to be—well—perfect. The pressure is on. Here is what the schedule looks like: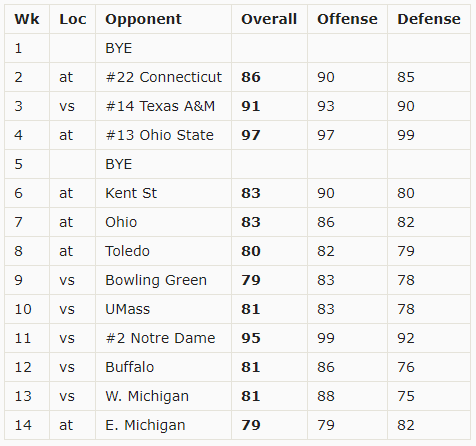 We're rated 97 overall. That means that none of our opponents are rated better than us. We should be able to run the table again theoretically. Do I think we will?
I do. I really do.
I'm nervous about each of the things I mentioned above but Andrew Fountain is super special. We also just have so many good pieces on this team. Even if anyone suffers a major injury, we have good depth at every position. I think we go undefeated, and I think we have a good shot at appearing in a national championship game.
---
Final Notes
As I play through the upcoming regular season, I'll be streaming the Notre Dame game on Twitch. That will now be on Thursday, September 10th at 8:30 PM EST despite what I said in the last post.
I'll put up the season recap post on Friday, September 11th.
Depending on what the result of the season is, we can do a Twitch stream of the bowl game over the weekend. More to come on that.
Don't forget to subscribe to the subreddit at /r/rubbercitydynasty
I really feel like this could be a national title year! I'm excited to see how it all plays out. If you have any last-second ideas for playbooks for me to consider, let me know. I'll be making that call very soon. At the moment, I'm leaning towards the M̶i̶a̶m̶i̶ Tulsa playbook at the moment.
As always, tell your friends and family about the series so they can join in. Also, be sure to mention it to your mail carrier. You can share the love by punching the button below:
Let's go Zips!