Welcome to another Wyoming Cowboys season recap as we continue to follow Coach Luke's life and career in this NCAA Football 14 dynasty. To learn more about this series, read my recent post which details what previously happened in this series.
A recap of the Year 21 season:
The Cowboys were, once again, rated 99 overall and Lamont Collins was a junior rated as a 99 overall quarterback. The offense was led by a lot of seniors. Year 21 was the best chance to win a title before Lamont would leave, which would likely be after his junior year. The Cowboys made it to the BCS National Championship Game but lost to a tough TCU team 24-27.
The recruiting class was ranked #1 in the nation. That was something that Coach Luke hadn't done since Year 10. The top recruits were DE Arvel Lovel (81 OVR), T Jake Baker (76 OVR, JUCO), DE Jon Jones (74 OVR), CB William Denman (74 OVR), CB Royce Wolf (74 OVR), and CB Alpha Hamm (73 OVR).
---
The loss to TCU in the BCS National Championship Game shook Coach Luke to his core. He had been 15-2 in bowl games prior to that and it was a shock for another coach to actually get the best of him in a bowl game. It also felt like the end of an era in Wyoming. There were seven starters on offense that were graduating and his star quarterback was likely leaving early for the NFL. Coach Luke didn't have replacements ready. It would be a long road back to getting a title shot again.
That dour feeling would disappear soon after the season ended though. One evening, Coach Luke's fax machine made that familiar shrieking sound indicating that a new fax had arrived.
He walked over to the machine and was surprised to see it was his good friend Lamont. The fax simply stated this:
Coach,

I'm back.

-Lamont
And with that, the Year 22 season suddenly didn't feel like a lost cause. This would be a revenge season.
2033-34 Roster
The Year 22 offense is scheduled to take a step back despite Lamont's surprise return. By the standards of NCAA Football 14, the offensive line unit would be going from a unit rated 96 overall in Year 21 to a unit rated 72 overall in Year 22. You can never lack hope when your quarterback is Lamont Collins though.

The defense didn't lose many starters and only got stronger since Year 21. DE Marky Mark and MLB Axel Rose are both rated 99 overall heading into the year, and the secondary looks scary-good across the board. If this team is going to make a run this year, this defense is going to have to live up to their ratings.

2034-35 Wyoming Cowboys Schedule
Prior to this season, the administration at Wyoming had been convinced by LeBron James that leaving the Mountain West Conference would benefit the school's long-term success. That may be in the works behind-the-scenes but the Year 22 schedule is full of the typical MWC opponents and some decent teams such as Oklahoma State, Oklahoma, and Minnesota. (Full Schedule View)
---
Year 22 Season (2034-35)
As we enter the latter part of 2034, the world continues to change. Manufacturing new clothes is the latest thing to be outlawed. The thrift store business is booming as a result. In addition, we've seen human clones take up a larger part of the population. Tensions are rising as aliens, humans, and clones try to govern and live together. The sports world is abuzz with rumors about LeBron James possibly being involved in criminal activity.
Coach Luke is keeping his eyes on the football field though as a big season awaits him.
If you'd like to see a video recap of the Year 22 season with clips from the games, click the video above either before or after reading the recap below.
0-0 | Week 1 vs Oklahoma State
The Cowboys open their season against the Cowboys in a game being played at Cowboys Stadium in the new annual Cowboys Bowl. In other words, the Wyoming Cowboys are playing the Oklahoma State Cowboys in Dallas to kick off the season.
Wyoming is ranked #1 in the country and this game will go a long way in showing us how good this team may be in Year 22.
*
*
*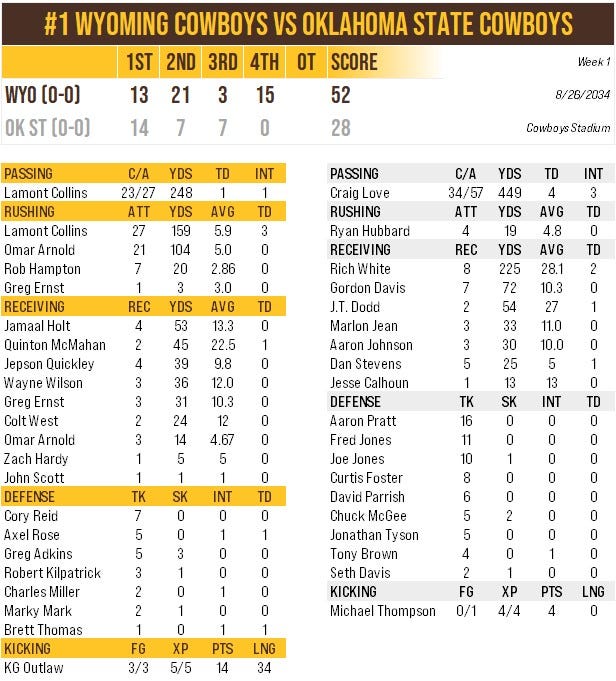 This may be the way for this year! Lamont Collins did everything on offense by himself while the defense provided the other sparks needed for this win.
Lamont ran for 159 yards and 3 touchdowns to go along with a nice passing performance. The defense scored 2 TDs and had 5 sacks in this one. KG Outlaw made his debut with a perfect kicking day as well.
Things are looking up in Laramie!
1-0 | Week 2 at Oklahoma
The matchup in Week 2 of the season is the toughest one on the schedule despite Oklahoma being unranked as the Sooners are rated 97 overall. If there's going to be a slip-up this season, it likely could be here or later against Minnesota.
To make an already tough game tougher, this game is on the road too! Yikes.
Our Wyoming Cowboys walk onto Gaylord-Oklahoma Memorial Stadium on September 2, 2034 and…
*
*
*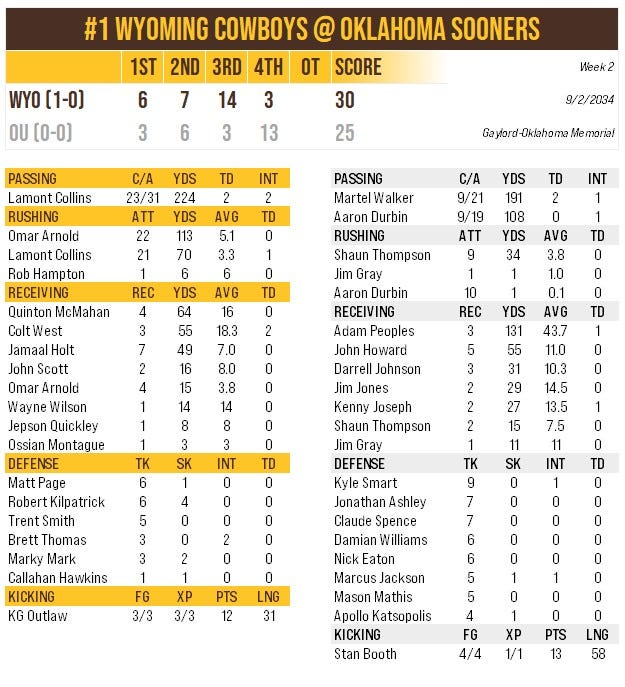 It wasn't exactly pretty but it's a gigantic win! The Cowboys hold off a comeback attempt and win this one 30-25.
The defense held the Oklahoma quarterbacks to an 18-for-40 passing day while the Sooners ran for 36 yards on 20 attempts. Robert Kilpatrick had an amazing 4 sacks while the rest of the team pitched in 4 more themselves. Brett Thomas shined with two big interceptions as well to seal this win.
We're hoping Lamont can shake off two so-so games because the defense can't save us every game this year.
2-0 | Week 3 at Nevada
The Cowboys still don't get a chance to play in front of the Laramie faithful in Week 3 as they travel to Nevada to face the Wolf Pack in their first MWC action of the year. Nevada is rated 81 overall and this should be a good chance to see what Wyoming will be capable of this year.
*
*
*
*
It's a 35-10 win. It's not the knockout punch that I hoped for but it's a win. At this point, we're looking to build a resume for a championship run and a resume for Lamont's Heisman credentials and I'm worried that we haven't done enough.
Lamont has now thrown 5 interceptions in these first three games despite the competition not being elite. That's worrisome. We saw another strong defensive performance though as we held their QB to only 161 yards on 15-for-40 passing. Marky Mark got his 4th sack of the season.
3-0 | Weeks 4 to 7
Coach Luke and the team return to Laramie for a stretch of three home games against MWC foes. As far as MWC games go, these three are some of the tougher tests but no team rates above 86 overall. We're looking for convincing wins where Lamont shines to help our title and Heisman hopes.
We struggle against San Diego State, but the offense takes shape after a bye week and puts up over 100 points in the next two games. Notably, Lamont Collins throws threw 9 TDs and 0 INTs in these three games with 2 rushing TDs as well.
6-0 | Week 8 at #12 Minnesota
We are presented with the toughest remaining game on our schedule but we get some bad news first: we have fallen to #3 in the country despite being undefeated. Our soft schedule and middling results against some teams likely are hurting us. All we can do is to keep winning though.
We travel to Minnesota to face a 95 overall Golden Gophers team. If we're hoping to move up in the rankings, we need to win this game, and winning it convincingly will help our national standing even more.
Can we pull it off?
*
*
*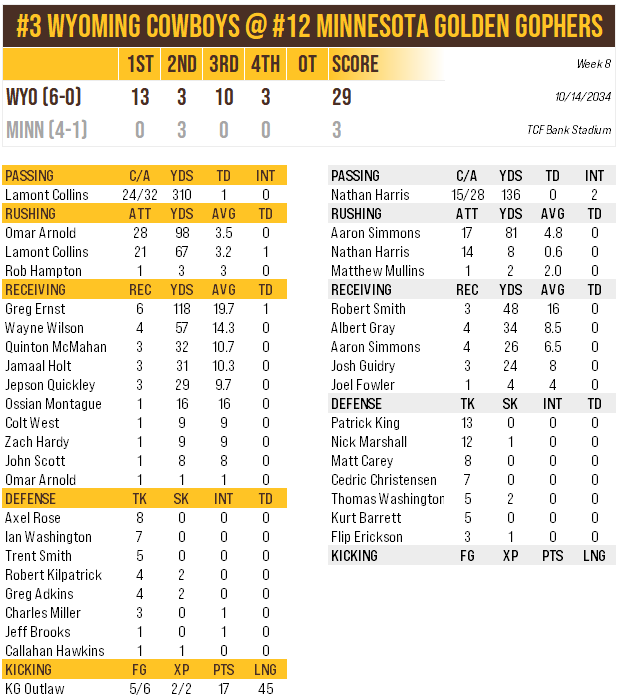 There it is! The offense did enough and the defense put on a show! That seems to be the story for this season at times.
Lamont Collins accounted for 377 yards and 2 TDs and Greg Ernst had a big game at the WR position. Really though, it's the defense yet again. Robert Kilpatrick and Greg Adkins accounted for 2 sacks each and we hauled in 2 interceptions again while shutting down their offense.
This is a big win for us as we skate into the rest of our MWC schedule for the season.
7-0 | Weeks 9 to 10
Our next two games are the easiest games on our schedule as neither team is rated above 80 overall (that means they're not good). We should win these but by how much???
That works! The defense continued to impress here while Lamont Collins threw 5 more TDs without an interception. After throwing 5 INTs in the first three games of the season, he's now thrown 15 TDs with 0 INTs over the last six games.
9-0 | Week 11 at Boise State
While the team has found a certain identity over the course of the season, a worry has started to emerge. That worry is centered around the fact that we are still the #3 team in the country and only two teams make the BCS National Championship. The good news in this regard is that the top two teams are USC and Oregon. They'd face each other in a conference championship even if they remain undefeated so that will guarantee one of them will fall out of the top spots. We just need to win our games.
Boise State represents the last tough test on our schedule as they are rated at 86 overall. That's not great, but certainly not bad. We just need to take care of business.
And?
*
*
*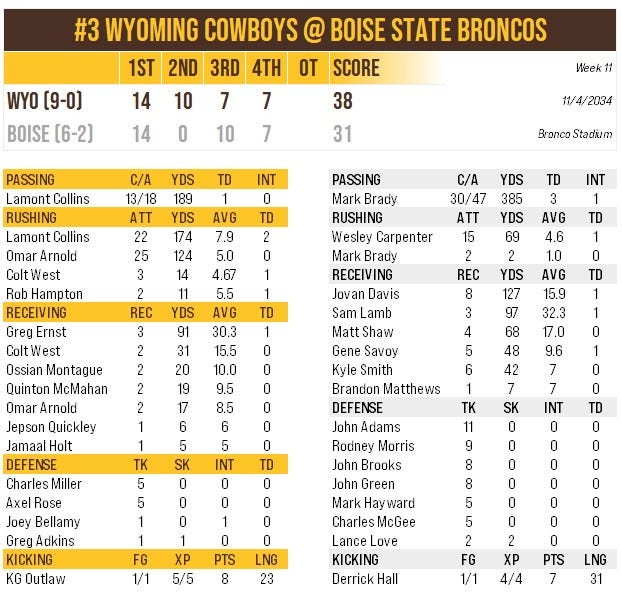 We nearly don't!
But, we win 38-31 in a game where Coach Luke's mind seemed to be elsewhere. The team only attempted 18 passes and the Cowboys seemed content to just rush the ball non-stop as they accumulated over 50 rush attempts. Boise State aired it out in response and made a game of it.
Lamont and the team held on though, partially sparked by an incredible 70+ yard rush from him that garnered national attention (clip here by Nick).
The good news is that we survived this test even if we didn't pass it with flying colors.
10-0 | Weeks 12 to 14
We close out the season with two teams that are rated 81 overall. Let's end the season strong.
These were nice wins but the bigger news is that Lamont Collins continued his impressive streak with 7 more passing TDs and 0 INTs. That's now 23 TDs and 0 INTs since Week 3. He corrected his early blunders and has found a zone that could lead to him being the first Heisman winner under Coach Luke.
In other good news, Oregon did lose prior to the conference championship week so we do actually officially move into the #2 spot at the end of the regular season here! It's looking like we'll either play USC or Texas if we make the BCS National Championship Game.
12-0 | MWC Championship vs Fresno State
Due to the nature of scheduling, we did not face Fresno State yet this year. We get that honor here in the MWC Championship on our home turf. If the rumors are true that Wyoming is leaving the MWC after this season, this could represent the last chance at a conference title for Coach Luke and the last game in the MWC for Wyoming as well.
The motivation is there for this team to make this game special.
The result?
*
*
*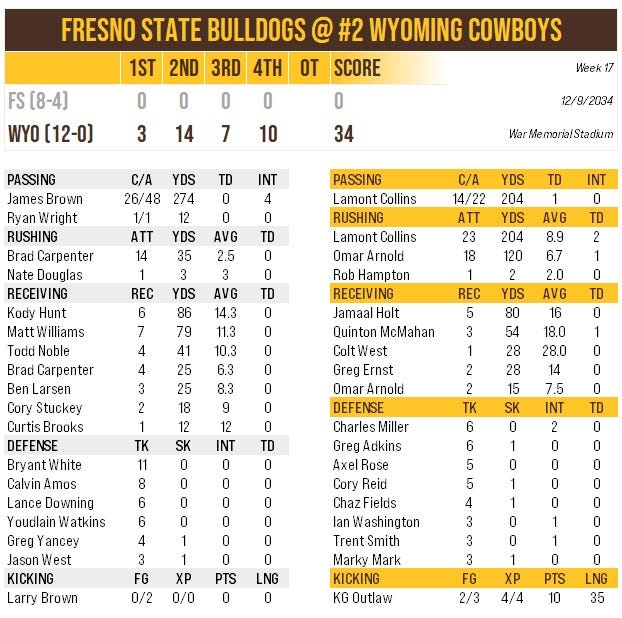 A beatdown.
Our defense continued to generate more sacks and more turnovers as they shut out the Bulldogs in this one.
But, what a feeling for Lamont! He knows that winning this game means another BCS National Championship, and he knows that his performance could win him a Heisman. There were a lot of questions about why he didn't go to the NFL. He constantly stated that he had some unfinished business that he felt was more important than money. That unfinished business was to win a championship for Wyoming and to win a Heisman for himself.
His 400+ total yards and 3 TDs in this game will hopefully provide enough of a reason for Heisman voters to choose him this time around.
Things are trending upwards as we head into the postseason.
---
Season Awards
Before we can head to our title game, Lamont Collins does get the call that he is a Heisman finalist again.
We await the news. It would be an accomplishment for him, yes, but could he also be the first Heisman winner in Coach Luke's history?
*
*
*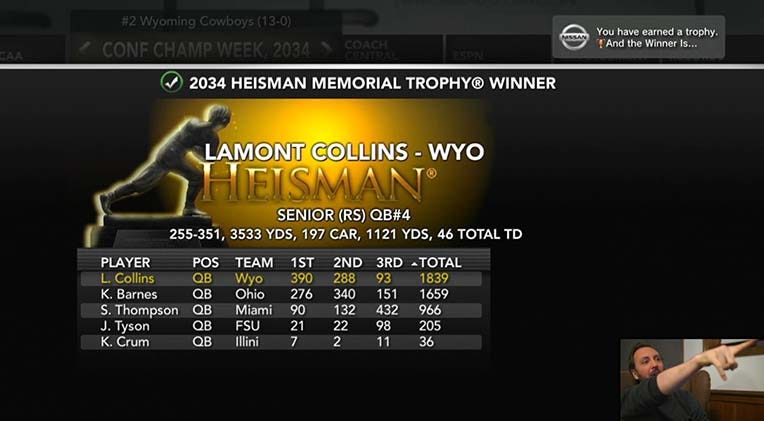 Yessir! Lamont Collins is now officially "Heisman Winner Lamont Collins"! He started the season with 6 passing TDs and 5 INTs in his first three games. He finished the season without throwing another interception as he put together this incredible season:
Passing: 255/351, 3533 yards, 30 TD, 5 INT
Rushing: 199 carries, 1121 yards, 16 TD
The road to this first Heisman in our history had been paved by Kenneth Washington, Andrew Fountain, and Leonard Sims. Lamont is the best of all of them though and he now has the award to prove it. Congrats to Lamont!
He wasn't the only award winner though. Here's the list for this year:
Heisman Trophy – QB Lamont Collins
Bronko Nagurski Award – LB Robert Kilpatrick
Rotary Lombardi Award – DE Greg Adkins
Linebacker of the Year – LB Robert Kilpatrick
Kilpatrick's season was a wild one for us. He had 59 tackles but 19 tackles for a loss, 9.5 sacks, 2 forced fumbles, and 2 fumbles recovered. Adkins was putting on a show too with 44 tackles for a defensive end as well as 17 tackles for a loss, 10.5 sacks and 2 forced fumbles himself.
Other notable performances:
Marky Mark (DE) – 59 tackles, 20 TFL, 6.5 sacks, and 2 forced fumbles
Charles Miller (CB) – 39 tackles and 5 interceptions
Many good pass catchers stepped up this year as well with Colt West, Greg Ernst, and Quinton McMahan combining for 2,339 receiving yards and 23 TDs over 146 receptions as the three main WRs.
We may have had one of our best TE performances of Coach Luke's career with Jamaal Holt putting up 57 catches, 700 yards, and 7 TDs.
---
13-0 | BCS National Championship vs #1 USC
Acts 1 and Acts 2 have been written of this story. We've seen everything laid out before us to present us with a joyous Act 3, but we've been fooled before. Making the BCS National Championship Game is not enough. Winning it matters. This year's opponent is USC and they are the only thing in the way of Wyoming getting their first title.
Coach Luke has done it in Akron. He left there in dramatic fashion and now has a chance to win his fourth title at a new school after building Wyoming from the ground up. But, it's not Coach Luke giving the speech to hype the team up before the game though:
Lamont is the one telling the team what this game means.
With Lamont setting the tone for the team, they rush out of the locker room and the game begins…
*
*
If you didn't watch the YouTube recap above, here's a timestamped link to highlights from this game.
*
*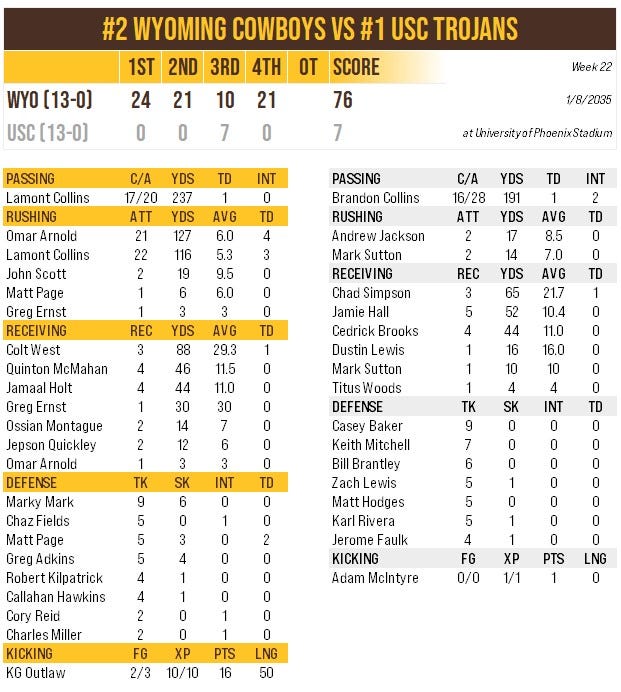 It happened!
The Wyoming Cowboys are national champions of college football!!!
This was one of the most convincing wins that I've ever seen in simulated football and it was in the BCS National Championship Game. The team refused to take their foot off the metaphorical gas pedal and repeatedly made life miserable for the entire USC Trojan offense.
Marky Mark accounted for 6 sacks by himself in this game! Greg Adkins added 4 more! Freshman Matt Page added 3 more as well as 2 defensive touchdowns! It was an incredible defensive performance where it was clear that USC was completely blindsided and off-kilter the entire game.
Lamont Collins is a Heisman winner and a national champion! His redemption story ends with 4 touchdowns in one of the most convincing national championship games in college football history. Lamont Collins will forever be remembered in Laramie as he embarks on his NFL journey now.
Look, there's no denying it: we are the champions.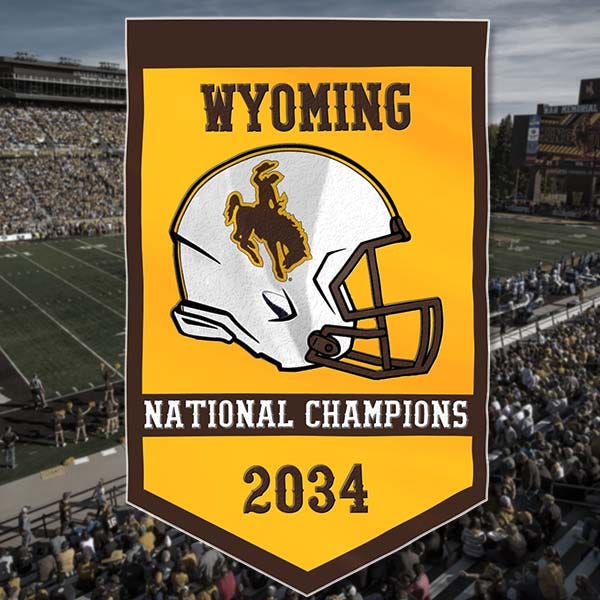 The locker room celebration was insane with everyone screaming and hollering. With so much happening, it was oddly almost hard to notice that Coach Luke was not among those celebrating. When the team declined to do press conferences immediately after the win, eyebrows were slightly raised but weirder things have happened. But, as days turned to weeks after the title game, the world would realize that they hadn't heard from the team or Coach Luke in quite some time despite this amazing championship victory.
---
The Road Ahead for Laramie City Lights
Thanks for your patience! I'm excited to reboot this series and have been getting myself ready for what that entails.
The next newsletter that you'll get will recount the Wyoming Cowboys offseason and focus a bit more on the storytelling aspect of this series. There will also be a Year 23 roster preview and then I'll actually be back on Twitch watching this team play football again. I hope you'll join me.
In the meantime, here are links that are related to the series that you may want to bookmark:
It's nice to be back.