Welcome to the next chapter in Coach Luke's quest to become the winningest college football coach of all-time in NCAA Football 14. To learn more about this series and read up on past installments, visit the About page of this site.
As a recap, here are some of the notable things you should know about last season:
The Cowboys were rated 90 overall and led by a freshman sensation at QB named Lamont Collins. They shocked the nation by going 13-1, including an MWC title and Las Vegas Bowl win.
The recruiting class was a bit weaker than normal due to coming off a 4-8 season prior. The top recruits were WR Colt West (73 OVR), DT Callahan Hawkins (70 OVR), and P Deuce (79 OVR).
Coach Luke was shocked to find that LeBron James is blackmailing him after LeBron took care of the situation with the Poet Laureates. LeBron wants a tougher schedule for Wyoming and wants to leave the Mountain West and go Independent soon.
---
Things have finally taken shape for Coach Luke and Wyoming. A star quarterback seems to be in place and championship expectations with that.
If there's any worry coming into this season, it's that Coach Luke is a bit uncomfortable leading such a run-heavy unbalanced offense. While he adapts his team to its talent, he is a passing guru at heart and worries that he is setting up a future where passing quarterbacks will ignore Wyoming during the recruiting cycle.
Winning is the important thing though. If a championship happens to come with a run-heavy offense then it's a sacrifice worth making.
2032-33 Preseason
Any questions about Lamont Collins were answered last year. It was rare to see a freshman quarterback so poised and dynamic. Coming into this season, the talent surrounding Lamont is even better and the hope is that he will be even better. This offense is sure to be dynamic with Anthony Cox and Bo Sullivan at halfback and a trio of elite receivers ready to chip in when needed.

The defense has finally matured and now has seven starting seniors on the team, including all four linebackers. This should be the year that the defense becomes one of the best in the country as the Cowboys are in the midst of a championship chase.

The schedule isn't easy, but the Cowboys still appear to be better than anybody they're scheduled to face. There are tough tests like #1 Minnesota and #4 Alabama but the toughest team on paper is our first game against #14 Florida. The hope is that we win that one and then roll through the rest of the schedule.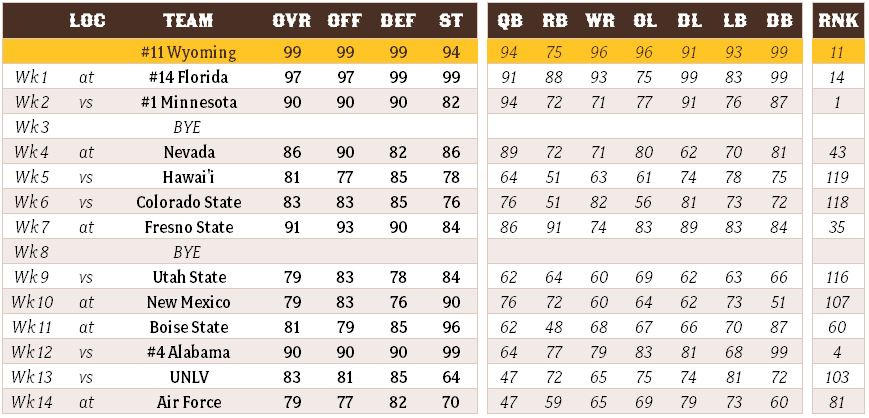 ---
Year 20 (2032-33)
Welcome to the year 2032. We are starting the third term of a cat being the President of the United States this year. Life is pretty good. It's a simpler time as we don't have cell phones nor books nor coffee nor many of the other things that you know and love in your time period. Space aliens have become regular citizens in our society after landing over a decade ago at this point. I suppose the latest news is that boats have become insanely popular. Lots of towns have become flooded so boats are nearly more popular than cars throughout the world. It's pretty neat.
Despite all of that, football is still being played as normal and our Cowboys are on the verge of a major season. Coach Luke proclaimed that he thinks this team can go undefeated this year despite the tougher schedule.
0-0 | Week 1 at #14 Florida
Based on team ratings alone, the first game against Florida will be our toughest. I hate that because it feels like our season could start a very gloomy note if this doesn't go well. You can blame LeBron for this schedule though.
With rain on the schedule in Gainesville, a messy game was in the cards for this one. Given that this is the biggest game on the schedule, here is a highlight reel from the game:
*
*
*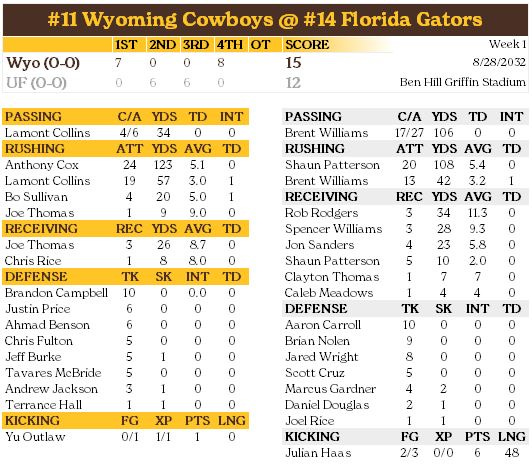 It wasn't pretty but it's a win! We beat Florida 15-12 as it came down to a missed kick to ensure victory here.
The game was seemingly in hand until Anthony Cox fumbled the ball away as we were running out the clock. Florida almost made us regret that as they drove downfield. The defense made key stops to force a field goal that their kicker doinked off the upright. What a game!
The downside is that our offense was incredibly disappointing in this one. Despite having an elite group of receivers, we only mustered six pass attempts all game. You can blame the rain, sure, but the game left me feeling like some playbook tweaks were needed to get us passing a bit more.
1-0 | Week 2 vs #1 Minnesota
There's no rest after that epic game. The #1 team in the country is visiting Laramie in Week 2 and Coach Luke is trying to implement more passing patterns into the game plan.
Can the Cowboys step up and take down the #1 ranked Minnesota Golden Gophers? If so, it would be hard for the national media to ignore the Wyoming Cowboys anymore.
And?
*
*
*
*
*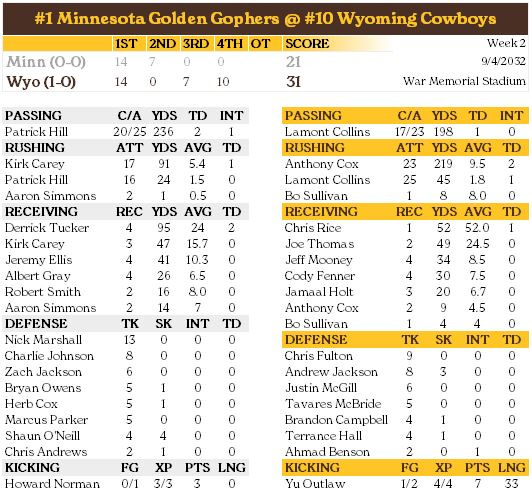 We win 31-21! Lots of players stepped up in this one but HB Anthony Cox was the star of the show. He went off for 219 rushing yards and 2 touchdowns on 23 carries. On the defensive side, DE Andrew Jackson impressed with 3 sacks himself.
The Wyoming Cowboys are officially on the map. They're ranked in the top ten in the country and now have taken down the preseason #1 team.
Our toughest foes have been taken care of and an undefeated regular season is starting to feel like a real possibility.
2-0 | Week 4 at Nevada
After two giant wins to start the season, the Cowboys were thankfully given a bye week to rest up before conference play begins. When they returned from their bye week slumber, the Cowboys were set to face an 86 overall Nevada team in Week 4.
The Pokes are looking to start strong in the MWC with a big win here.
*
*
*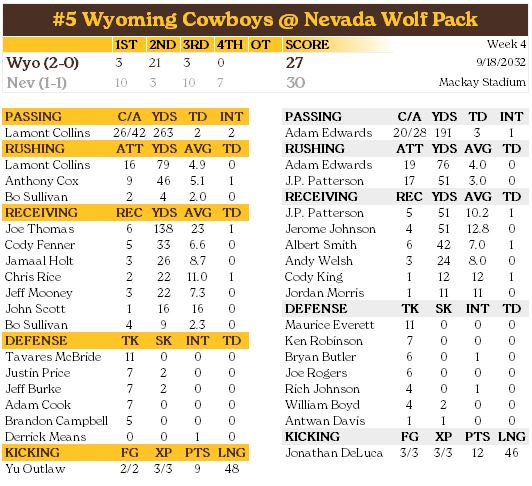 Holy crap. Noooooooo!
The Cowboys lose in a heartbreaker here. The Wolf Pack stuck around all game, despite it feeling like a given that Wyoming would win it. With the Cowboys slowing down in the 4th quarter, Nevada put together a game-winning touchdown drive at the last second to slay our hopes of going undefeated this year.
I'm kind of speechless. I really thought we had the talent to run the table this year but we collapsed in this one and now we have to win out if we want to be one of the top teams in the country still.
2-1 | Paniolo Trophy | Week 5 vs Hawai'i
The good news is that we only fall to #13 in the country after the loss. If there aren't any other undefeated teams in the country at the end of the year, we may be able to sneak into championship consideration still.
The first thing we have to do is take care of a visiting Hawai'i team that is rated 81 overall.
*
*
*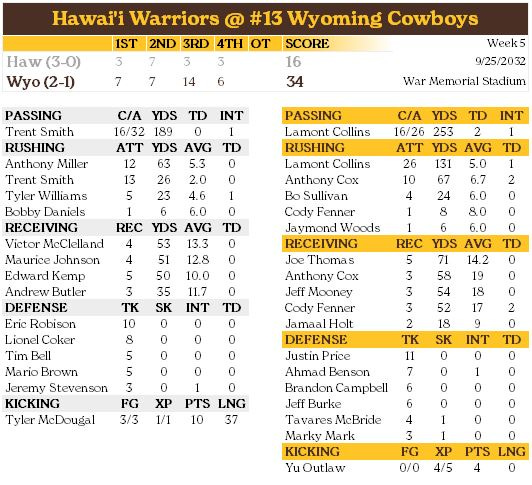 We win 34-16! What a relief.
3-1 | Border War | Week 6 vs Colorado State
The wins need to keep coming and we've got rival Colorado State on the schedule next. They're traveling to Laramie and only rated 83 overall. We can no longer take any team lightly and we want to send a message with a big win here.
*
*
*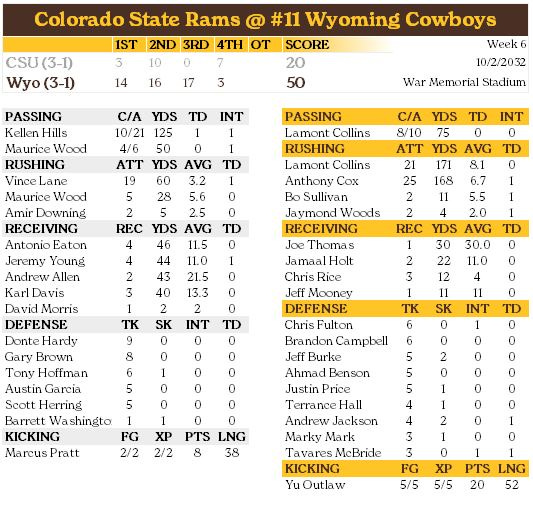 We win 50-20!
We pound the rock constantly in this one as Coach Luke has realized that is the winning formula with this roster. The team rushed for nearly 400 yards and only passed for 75 yards. Defensively, the team stepped up with not one but two defensive touchdowns as DE Andrew Jackson continued his breakout campaign and MLB Tavares McBride got a pick-six himself.
4-1 | Week 7 at #19 Fresno State
We are now ranked #9 in the country after that win but we have one of our tougher remaining games on the schedule here in Week 7. Fresno State is rated 91 overall, is undefeated and is ranked #19 in the country as we travel out to face them.
The nerves are there for this one but we have championship goals and cannot let a 91 overall team scare us at this point.
*
*
*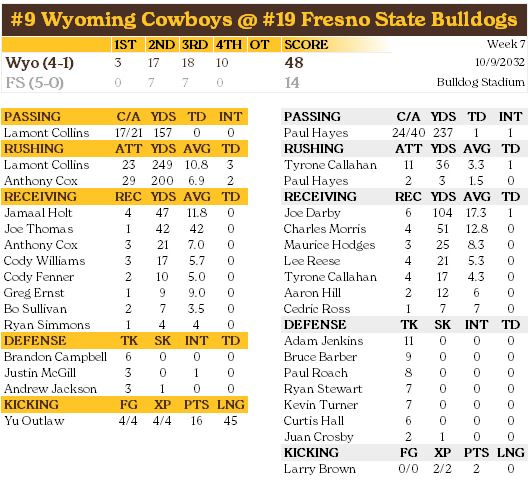 We run all over the Bulldogs as we win 48-14!!!
That's a giant win over a really tough team. We had not one but two players rush for over 200 yards! We also didn't allow Fresno State to generate much of anything against us. Just a major, major win for the Cowboys here.
5-1 | Weeks 9 to 11
After the Fresno State game, the schedule gets easier as Alabama is the only team on our remaining schedule that is rated above 83 overall. We face them in Week 12. Theoretically, the Cowboys are way overmatched for the other MWC teams that we have left.
We face three teams prior to that Alabama matchup and, predictably, we win all three games.
That moves us up to #7 in the country as we go into our pivotal matchup with 'Bama.
8-1 | Week 12 vs Alabama
In Week 12, despite us being #7 in the country, there are still far too many undefeated teams ranked above us so our title shots are looking grim. We can still relish the fact that the Wyoming Cowboys are 8-1 and favorites over an unranked Alabama team in the year 2032.
Alabama is a decent team as they are rated 90 overall, but they seem beatable and I'd be excited to take down a legendary team like the Crimson Tide.
*
*
*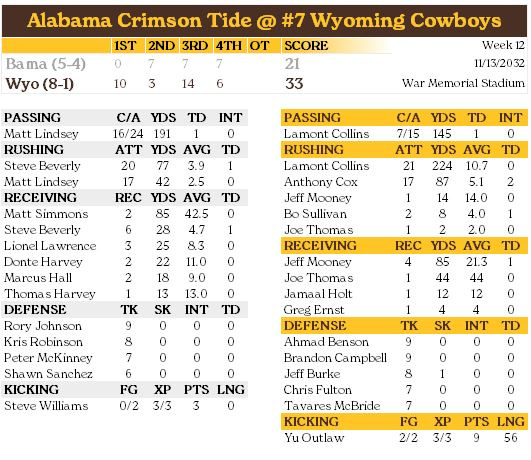 We win 33-21! We're 9-1 now and Lamont Collins is continuing to put up incredible numbers rushing the ball.
9-1 | Weeks 13 & 14
At this point, we just need to finish out our schedule strong and hope that a few teams above us in the rankings start losing. Our last two remaining games seem to be easy ones and, well…
They were indeed easy! We blow past both UNLV and Air Force and finish the regular season with an 11-1 record for the second straight season.
---
Postseason
As we enter our conference championship week, we sit at #6 in the Coach's Poll but #5 in the BCS rankings with four undefeated teams in front of us. The good news is that all four of those teams are also playing in a conference championship. If we take care of our business and three of those four teams lose then we can sneak into the BCS National Championship Game.
11-1 | MWC Championship Game vs #13 San Diego State
We're facing a talented team in our championship game as San Diego State is ranked #13 in the country and has a 10-2 record. They're 90 overall so we are still the favorite here, but the most important factor in this one might be the history of success for Coach Luke in conference championship games. He is 9-0 in those games coming into this one.
He's also currently at 199 wins in his coaching career so this could be his 10th conference championship and 200th win if all goes well.
*
*
*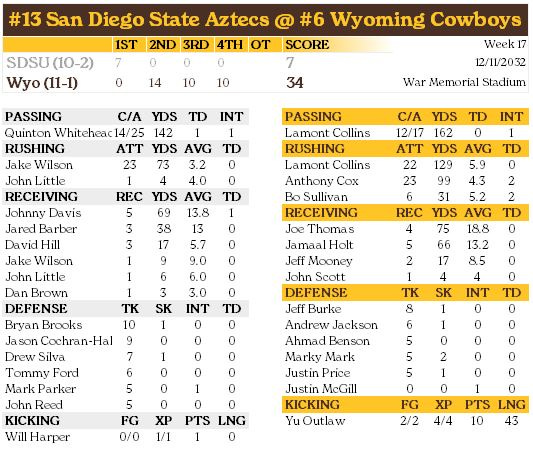 Heck yeah! We win 34-7 as our defense puts on a show in this one. We hold them to under 150 yards passing and under 100 yards rushing.
A big win but, unfortunately, we needed three of the four teams ranked above to lose in their conference championships and that did not happen. Instead, we are ranked #4 in the country after this and we receive an invite to the Rose Bowl, our first BCS Bowl Game with Wyoming!
12-1 | Rose Bowl vs #23 Michigan
The team faces a 91 overall Michigan Wolverines team in the Rose Bowl. This takes Coach Luke back to his days of coaching in the Big Ten. He was laughed at when he decided to leave there after just a few short years, which is why it would be extra sweet for his little Wyoming team to take down Michigan.
And?
*
*
*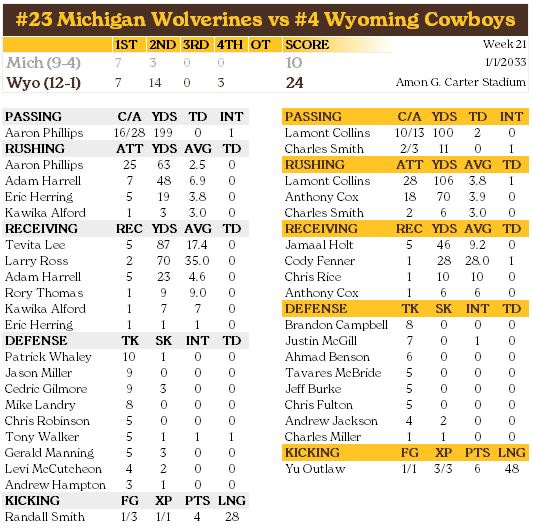 We win 24-10 as our defense carries us once again!
Our defense had some shaky games throughout the year but they stepped up when they needed to and this was a great note to end on for them.
Many of the stars had their last game with us in this one. FS Ahmad Benson and WR Joe Thomas would be drafted in the 1st round of the NFL draft just a few months after this game.
One thing is certain after this marquee Rose Bowl win: Coach Luke has officially turned Wyoming into a championship contender. Next year, maybe, is the year.
---
Recruiting Recap
I've typically included a recruiting recap that goes through the ups-and-downs of our recruiting process but I'm bypassing that this year. After twenty years, the process has the same kind of beats to it mostly. The important thing is for you to see who we did end up recruiting.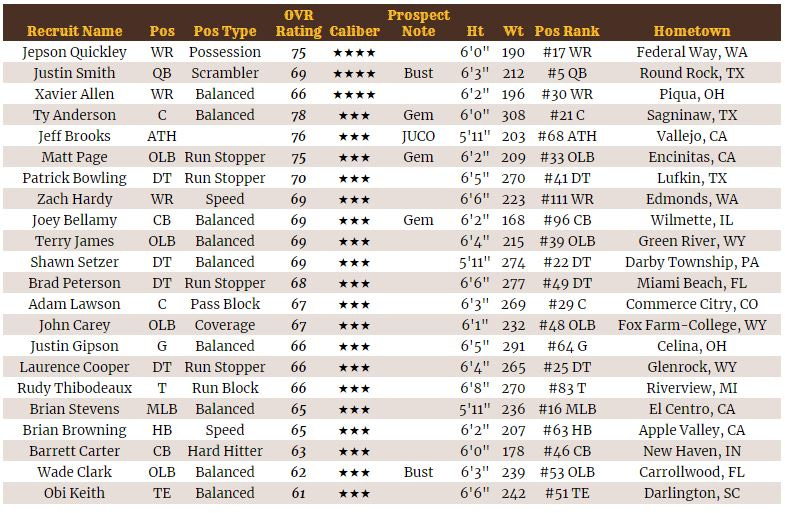 We needed WR help so I'm excited about Jepson Quickley being a star WR for us in the future. We also got a couple of exciting gem prospects in C Ty Anderson and OLB Matt Page. We finished with the #17 recruiting class. Given that I have put a number of house rules on recruitment to make it tougher, I'm happy with that result.
---
Year 21 Preview Later Today!
I will be sending out a preview post this evening and I'll be streaming tonight on Twitch too.
For now, I'll leave you with some fun stats about our first twenty years in this series. Reader Chad tallied these Coach Luke stats for us in the Discord:
Record: 201-66
Akron: 146-41
Wyoming: 55-25
Conference Championship Games: 10-0
Bowl Games: 15-2
BCS Bowl Games: 8-0 (3-0 BCS National Championship Game, 2-0 Rose Bowl, 2-0 Fiesta Bowl, 1-0 Sugar Bowl)

The 201-66 record averages out to 10.05-3.3, or rounded off, 10-3 being an average season. Given that sparkling postseason record, that means his average regular season is 9-3 (176-64 regular season, officially 8.8-3.2). Oddly enough, he's never actually finished a regular season at 9-3!
And, in closing, I've compiled a record book for our first twenty years to showcase the top seasons and top players that we've seen over this time: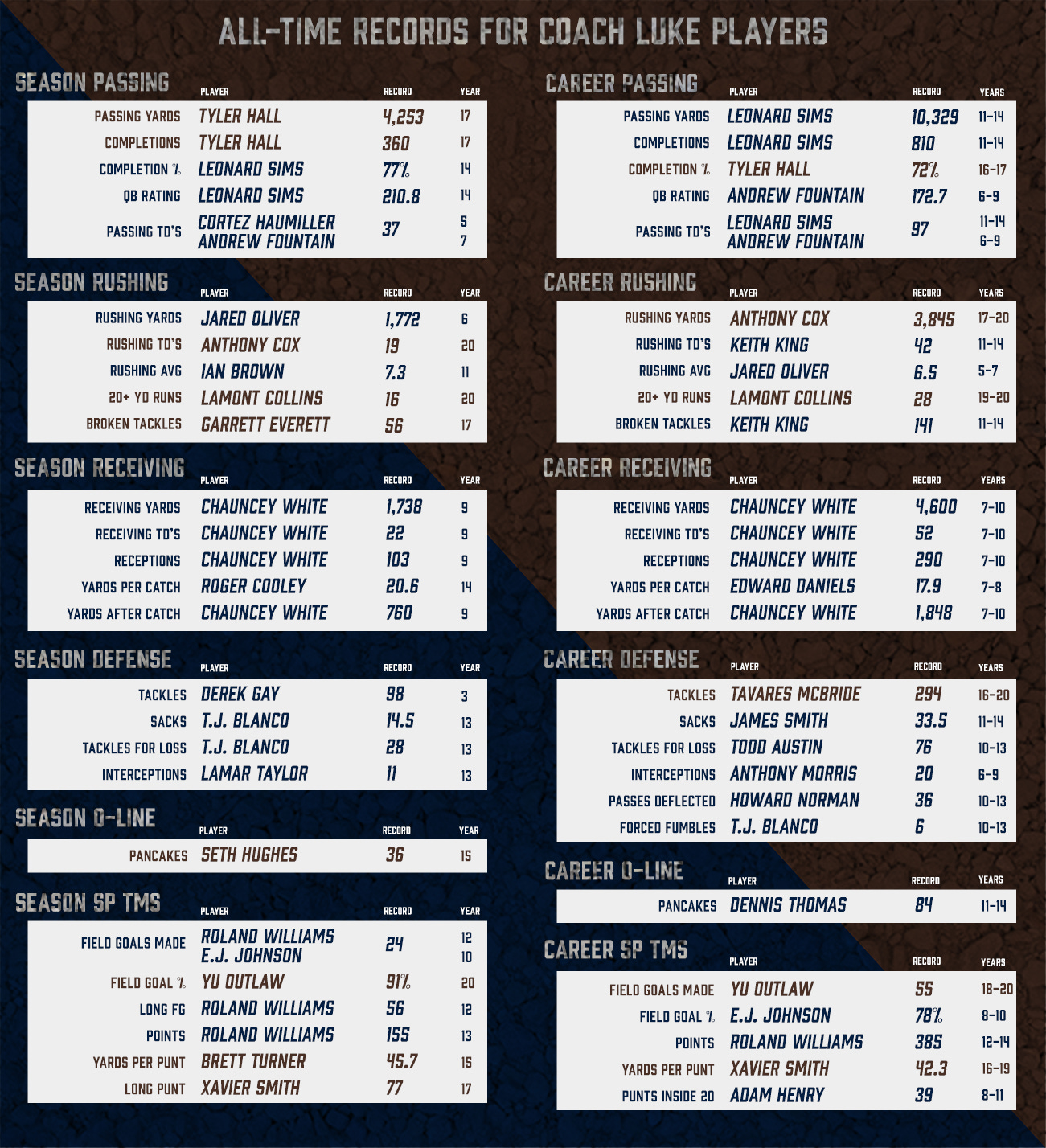 We're one-third of the way through this 60 season odyssey! I can't wait to see what other legends we'll meet in the next 40 seasons!