Welcome to another Wyoming roster preview to supplement the series about Coach Luke's journey for peace and happiness in NCAA Football 14. For any new readers, feel free to check out the about page of the site to read about this whole project and catch up on the past installments. This preview is meant to give you a closer look at the team since there are so many players to know on a fictional football team.
Before we jump in, just a quick announcement! If you are planning on viewing tonight's Twitch stream, it will start at 8:30 PM EST, as opposed to 8:00 PM EST!
---
The suit is back. The swagger is back.
Coach Luke has created a team in Wyoming that is completely his and the wins are coming now. The 2031-32 Wyoming team shocked the world by starting the season ranked 111th in the polls and then finishing the season with a 13-1 record and a top 25 ranking.
All is not well though.
Due to a dispute with LeBron James, the upcoming Wyoming schedule is a tough one. In addition, Coach Luke has found himself having a crisis of faith about the offense. In order to reduce the chance of error with his freshman star, Coach switched to a run-first spread offense last season. In his heart of hearts though, Coach Luke has an affinity for the passing game and feels bad for his receivers who are suffering in this run-first offense. While there hasn't been a total switch in offensive philosophy, he loses sleep over this dilemma regarding the direction of the offense.
Regardless, the team is loaded with talent this year and they have a realistic chance to potentially end up in the BCS National Championship Game if all goes well.
Needless to say, expectations are high and tensions are too.
---
Meet the Offense
The Cowboys team is rated 99 overall this season. Both the offense and defense have a 99 rating themselves. This team is loaded with talent. On offense, the only questionable piece is a young tight end that is only rated 78 overall. Aside from that, it's hard to find a weakness.

We worried about whether Lamont Collins could shoulder the load last year and he proved us wrong there. The worry this year is whether he'll take a step backward or not. Once upon a time, Rod Jackson looked like a savior at Akron before he regressed. The hope is that Lamont doesn't suffer the same fate.
The Anchor: LT Desmond Douglas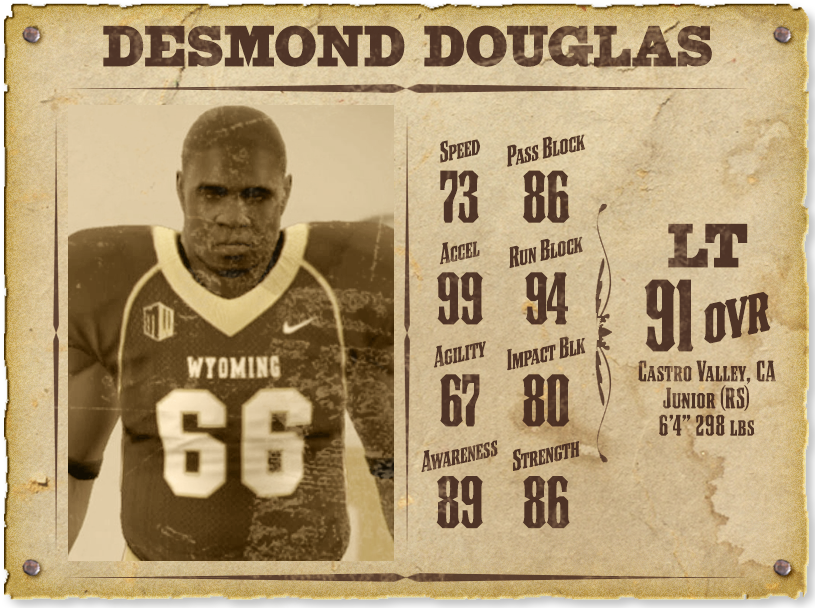 The offensive linemen will never get the star treatment on any roster but it's hard to discount everything they've done to shape our offense. When we started getting talented recruits like Desmond Douglas at LT and Justin Williams at RG, the tides shifted in Wyoming.
Desmond Douglas came to Wyoming from California and he's already seen it all in just a few short years. He's seen a pass-first offense and a run-first offense. He's seen a 4 win team and a 13 win team. With two years left to play in Wyoming, he hopes to see a national championship for the team. He knew that could be a possibility when he was recruited by Coach Luke but he's even shocked by the meteoric rise of the team.
Whenever a block opens up for the runners on the left side, we may be looking at the stars running through it but we shouldn't discount the fact that it's unsung heroes like Desmond Douglas making that happen.
Bo Knows Production: HB Bo Sullivan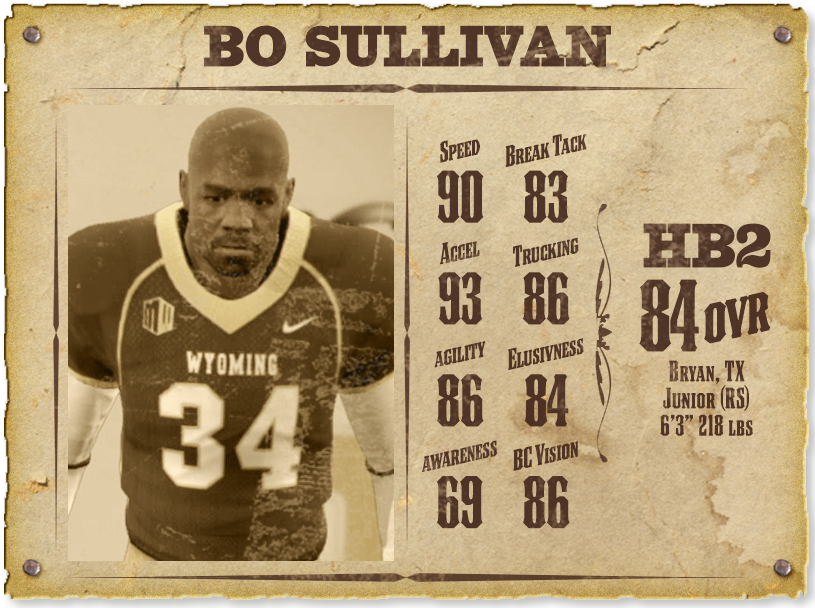 It's no accident that a man named Bo has become a star running back and baseball player at Wyoming. His parents were huge fans of dual-threat Bo Jackson from decades ago and named their son after him. Young Bo Sullivan ended up studying Bo Jackson well over the years as a result.
Bo Sullivan wasn't a touted recruit though so he immediately jumped at the chance to learn under Coach Luke. He knew his opportunity to start might be years away but that changed last year after the durable Anthony Cox went down for a few weeks.
Bo Sullivan took over from there.
He rushed for over 1,000 yards and 13 touchdowns in under 200 carries. He was a finalist for the Doak Walker Award. He became a campus legend.
And, yet, he's still the backup this year. He understands that Anthony Cox earned one last chance to shoulder the rock but Bo hopes to earn the right to start before the season is over.
Players Talked About In Previous Years
---
Meet The Defense
There's no weak spot on the defense. There just isn't. It's a team packed with talent.

There's still cause for concern though. You see, the team has a brand new defensive coordinator so the defense won't be getting the usual in-game bonuses that you may expect from a high-level coordinator. The hope is that they have enough talent to make that a non-issue.
Another President: DE Andrew Jackson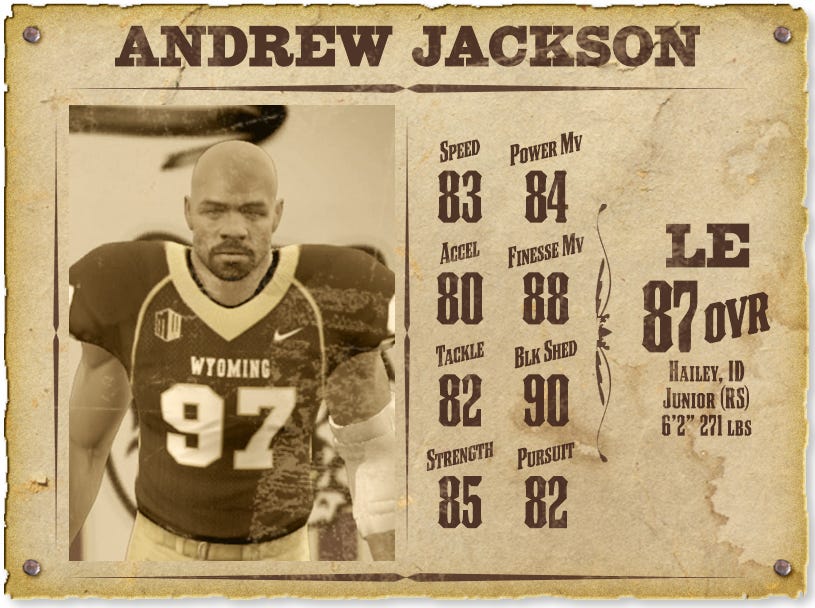 Andrew Jackson has bided his time, waiting for a chance to start. He's used to that though.
When he was in high school, he suffered a devastating elbow injury that caused him to miss an entire season. He bided his time. He waited and waited and studied the game. When he finally returned to the field, he was unleashed and put together one of the more productive seasons in Idaho high school history.
After waiting three years in Wyoming for a chance to start, the time has come for him to be unleashed once again.
The Idaho Kid: CB Justin McGill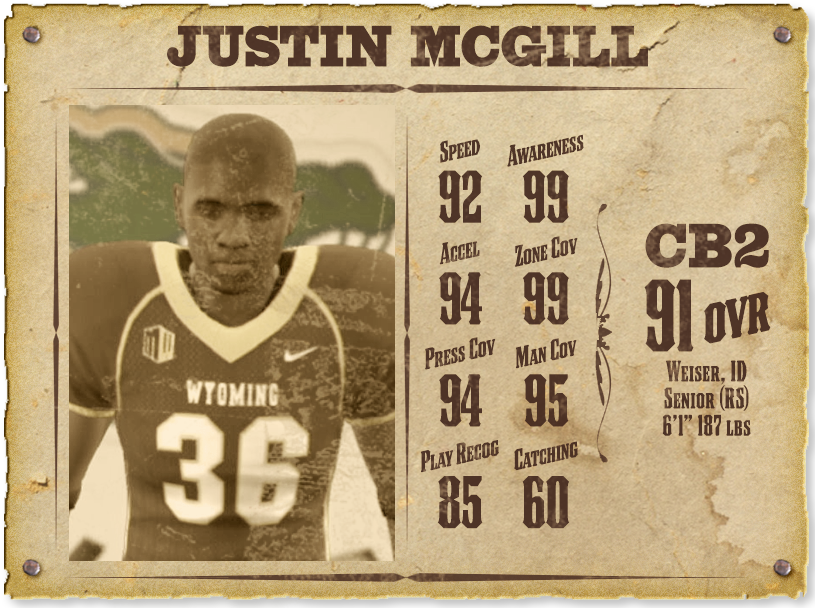 While Andrew Jackson was biding his time on one side of Idaho, Justin McGill was trying to prove himself on the other side of Idaho. He was a productive cornerback and was more interested in playing amazing coverage than trying to intercept every ball thrown his way. That resulted in him lacking the gaudy stats that would get the recognition he deserved.
Justin worried about whether that would hurt his chances of getting attention in Wyoming and tried to shift his game at times. When Howard Norman arrived as defensive coordinator, he told Justin to play his game and not worry about the interceptions. Since then, Justin has locked down the job as the #2 CB on the team and quietly shut down opposing receivers time and time again, even if he is not an interception machine.
Players Talked About In Previous Years
---
The wonderful fanbase here always contributes amazing content to add to the lore of this universe. The latest contribution comes to us from reader Chad as he writes us a Sports Illustrated feature piece about former Akron QB Andrew Fountain. Follow Chad's Twitch stream to see him play a variety of games, including the Legend of Zelda Randomizers.
Where Are They Now?: Andrew Fountain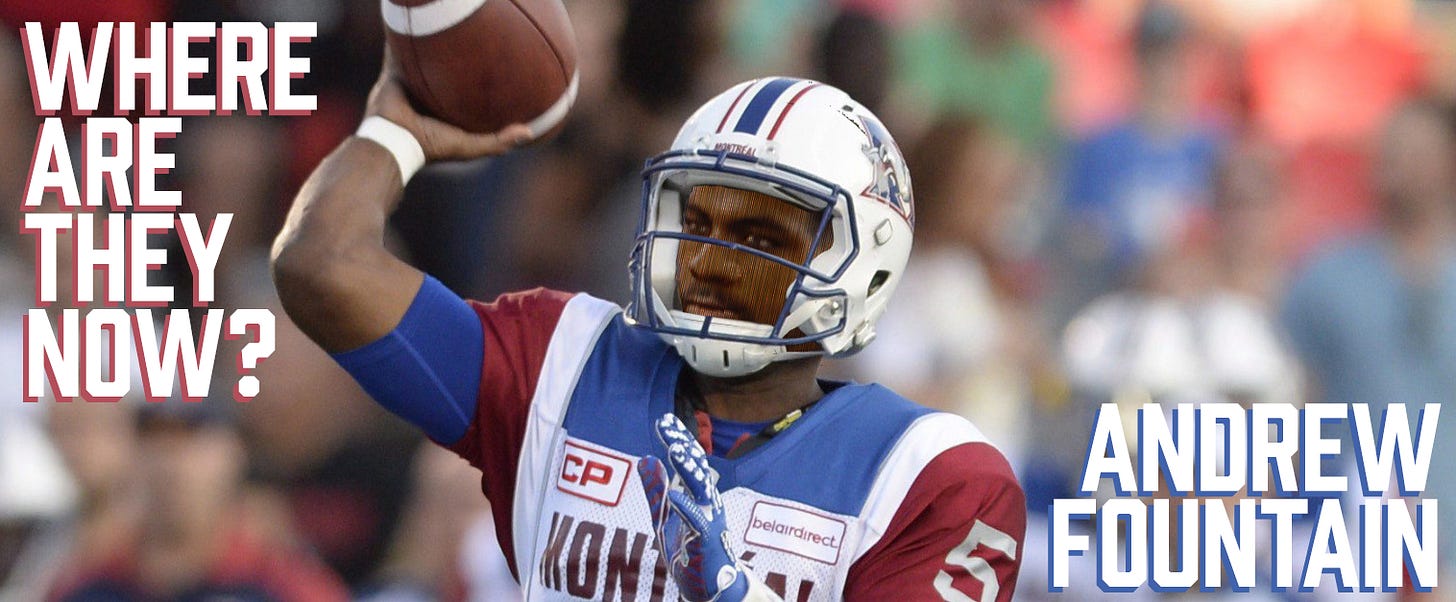 The position of quarterback is the most glamorous position in football. Very few national championship-winning quarterbacks have gone undrafted. So why doesn't it bother Andrew Fountain that he never got a chance to play in the NFL? Well, start with the fact that he did get a chance, briefly. The Louisiana native did sign as an undrafted free agent with the New Orleans Saints, and after suffering a shoulder injury in training camp, he was cut, never again to see an NFL roster. And for that, a generation of Alouettes fans is grateful, as upon rehabbing his injured shoulder, he signed with the CFL team and promptly led them to three straight Grey Cups. "Never was completely able to escape the injury bug," he says ruefully. "Eventually I just had to get out while I still could." Though his CFL career lasted just seven seasons, he had an impact on a generation of young Quebecois, and with the opening of his new quarterbacking academy, located in the Montreal suburb of Westmount, in 2030, he's confident that his impact won't lessen now that he's retired. "Montreal has a rich history of quarterbacking talent. I've seen scouts from American colleges when I go see my [students'] high school games."
Asked about the biggest adjustments to life in Montreal, he's quite frank. "The language. Growing up in Louisiana, I knew some French, but I was far from fluent even then and it's a completely different dialect. I still sometimes have to ask people to repeat themselves because I'm not totally confident in my understanding." He also credits his coach for his relaxed outlook towards the dashing of his NFL dreams. "Coach Luke, he could get pretty fiery at times during games, but off the field, he just had this Zen attitude. I'm not surprised at all that he left the hustle and bustle of Akron for Wyoming. I went to visit him out there, after my last injury. Told him I was thinking about retiring, and we talked about it for a while and he helped me feel better about my decision." He grins, and it's easy to see the electric QB from Akron's first championship team. "Hopefully the next time we talk face to face, it'll be because he's interested in one of my quarterbacks."
---
Year 20 Overview
To get a more intimate look at the entire roster, you can check out the yearly roster spreadsheet here:
LeBron James made the calls and got his wish. The team has Florida on the schedule as well as games at home versus preseason #1 Minnesota and #4 Alabama. The national attention is sure to come our way now.
On top of that, we are the #11 team in the country to start the season. With a talented roster, there are high hopes but one mistake can cost us the chance at achieving our championship dreams.
I have no idea what to expect this season but I'm fascinated to see how it plays out.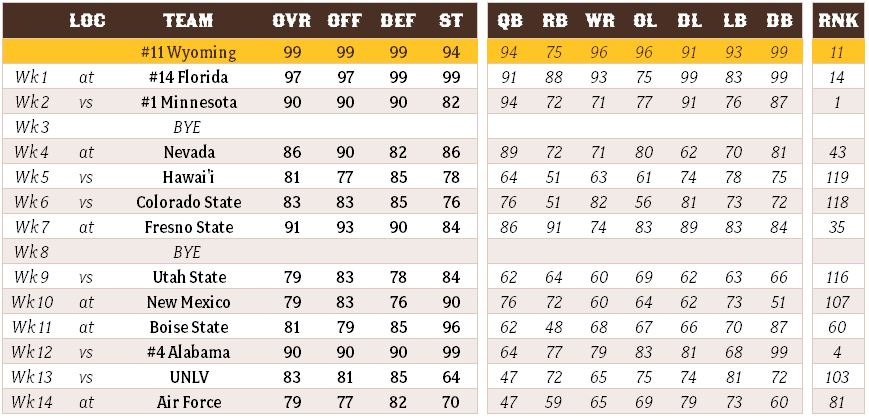 ---
Twitch stream tonight!
As I mentioned in a post earlier today, I am streaming this season on Twitch over the next week. Here is a link to my Twitch channel. Tonight's stream starts at 8:30 PM EST while the others start at 8:00 PM EST.
To be aware of last-second scheduling changes, check out the Discord for more info. Also, check out that Discord if you simply want to hang out with some cool folks. Here's the updated Twitch schedule for this season:

Can Wyoming actually make the jump to being one of the best teams in the country? Let's find out tonight and…
Let's f'n ride!