I broke the news in yesterday's post that Coach Luke is leaving Akron for the bright lights of Wyoming. It will be an exciting new chapter for this series and you'll be able to see the first installment of it tonight on Twitch at 8:00 PM EST.
Coach Luke's new beginning is bittersweet though. There's a song lyric that wisely states that every new beginning comes from some other beginning's end. It's important to recognize that something has ended here, and it would be heartless to move on from Akron without acknowledging that.
For that reason, today's post is a moment to look back and reflect. We'll take time to give a proper sendoff to our dear Akron. We spent fourteen glorious seasons there under the watchful eye of LeBron James and created lots of great memories along the way.
Yes, the decision to leave Akron wasn't an easy one for me as the person in charge of this series. I admittedly felt very connected to the team and the city. The wonderful thing is that I wasn't alone in that feeling. I've long had the pleasure of seeing the passion that many of you had for the various characters of this series too.
This fictional version of Akron would be nothing without all of you who read and take part in this series. I adore the people in this community and I love to give you all a chance to shine too when I can.
That is why today's post will be done by all of you beautiful people. It's only fair that we look back on our time in the Rubber City through your eyes.
It's time to say goodbye to Akron.
---
Rubber City Dynasty Year-By-Year
by Ray (Lord Rayzor)
I'll start by sharing a historical account of our fourteen Akron seasons. Ray wrote this wonderful piece that neatly summarizes our journey to three championships in Akron.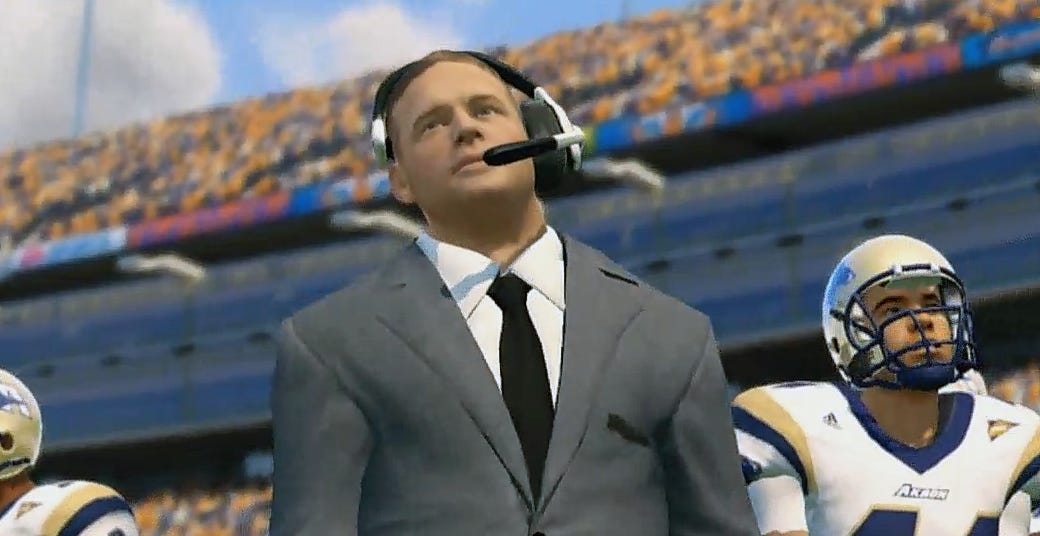 Coach Luke has arrived at Akron with a suit and a dream. He plans to take the Zips, a moribund MAC program, to national prominence. Coach Luke has been a graduate assistant at Wake Forest for 2 years, although no one is sure how he was hired or where he came from. "He was just here when we took the team photo 2 years ago, and he stayed on after that," said Wake Forest Athletic Director Christopher Pall. "HR was supposed to put together a file on him, but there was a lot of turnover, so I'm not sure if they ever did."
Whoever he is, Coach Luke is on a mission. He knows he has the job because no else wanted it, but he is determined to etch his name among the greats of the game.
Year 1 (2013), 1-11: The team is bad, failing to defeat any FBS teams. However, Coach Luke and his magic suit begin to make inroads on the recruiting trail.
Year 2 (2014), 5-7: Coach Luke benches his senior starter in favor of the more mobile Cortez Haumiller. The team starts 2-6, including a loss to an FCS school. The torches are fueled and the pitchforks are sharpened, but Cortez leads the team to a 3-1 mark to end the season and save Coach Luke's job.
Year 3 (2015), 10-4: Led by the electric running of QB Kenneth "K-Dubs" Washington, the Zips defeat Kansas for Coach Luke's first victory over a Power 5 school. K-Dubs follows up on this by winning Coach Luke's first MAC Championship.
Year 4 (2016), 9-4: K-Dubs shines in his senior year, but the Zips fall a game short of returning to the MAC Championship Game. They end the season by crushing Hawai'i 75-13 in the Famous Idaho Potato Bowl.
Year 5 (2017), 12-2: Cortez returns for his senior year, and leads the team to an unbeaten MAC regular season and second MAC Championship. The team is relegated to the GoDaddy.com Bowl due to the MAC's poor bowl ties, prompting Akron to begin seriously exploring options outside of the MAC.
Year 6 (2018), 12-2: The Zips gain a pyrrhic victory over Ohio State, as QB Darius Patterson is knocked out for the year. Freshman backup Fountain Drew leads the Zips to another MAC Championship and minor bowl game victory.
Year 7 (2019), 14-0: Akron posts its first undefeated season, highlighted by a blowout of Ohio State and a rockfight victory over #3 TCU. The Zips are not favored by the BCS, and win the Sugar Bowl over UConn instead of going to the BCS Championship Game.
Year 8 (2020), 14-0: Coach Luke and the Zips win the program's first national championship, blowing out Oklahoma in the title game. Highlights of the regular season include blowouts of Ohio State and Notre Dame. Expectations are sky-high for Coach Luke and returning senior QB Andrew "Fountain Drew" Fountain, as the team prepares for its first season as an independent.
Year 9 (2021), 11-2: Akron blows out Ohio State again, but sees its 41-game winning streak snapped by Notre Dame. Jon "Wildman" Weaver started the Notre Dame game at QB, as Fountain Drew missed 10 weeks with a broken tailbone. The Zips lose to Alabama after a crushing pick-6 by Weaver in the final minutes. Drew returns to lead Akron to a Fiesta Bowl victory in his final game.
Year 10 (2022), 9-4: Pain. The season starts with a loss to Texas after a 4th quarter collapse. The Zips lose 3 more games, including a shocker against Navy, before winning the Meineke Car Care Bowl. Zip Nation is consumed by angst, and LeBron James throws Coach Luke's cat in frustration.
Year 11 (2023), 12-1: Akron and Coach Luke manage to right the ship. A road loss to Oregon keeps the Zips out of the BCS title game, but they blow out Notre Dame, defeat South Carolina in a snow-fueled 16-turnover carnival of the absurd, and knock off Iowa in the Rose Bowl.
Year 12 (2024), 11-2: Coach Luke makes the controversial decision to move senior QB Rod Jackson to running back and start sophomore Leonard Sims at QB. The offense struggles mightily in narrow victories over Pitt and Northwestern before the Zips are crushed by Oregon. Sims responds with 482 yards the next week against Michigan to begin a long winning streak. A regular season-ending defeat against Notre Dame keeps Akron out of the BCS Title Game, but the Zips win the Fiesta Bowl after Rod Jackson leads a pair of touchdown drives in his final game.
Year 13 (2025), 14-0: Akron begins play in state-of-the-art LeBron James Stadium and leaves the ranks of the independents for a spot in the Big Ten. After years of alchemy, Coach Luke and the Zips are never seriously challenged as they crush all opposition en route to the program's second national championship. Akron opens the season with a 91-21 victory over Kent State before knocking off Auburn 77-21 and Notre Dame 42-9. The postseason is capped off by a 37-0 drubbing of Nebraska in the Big Ten Title Game and a 45-6 thumping of Texas in the National Title Game.
Year 14 (2026), 13-1: Akron's dominance continues as Coach Luke and the Zips continue to blow away their competition on their way to a second consecutive and third overall national title. With the exception of an inexplicable 44-21 loss to 5-loss Notre Dame, no one can come close to the Zips. Akron defeats 2 teams who were ranked #1 at the time (TCU 38-10 and Penn State 54-3) and finishes the season with an 87-20 victory over Michigan State. In the postseason, the Zips defeat Nebraska 62-14 and win a rematch with TCU 42-0 to secure their rings.
However, the great success of Akron has come at a cost. Victories and titles are now coming so easily to Coach Luke that they no longer have any meaning to him. Consumed by ennui and unable to sleep, Coach Luke turns on the TV late at night and settles into his recliner with a 6-pack of 9.2% ABV Great Lakes IPAs. He scrolls endlessly through the channels until he finds a rerun of the film Close Encounters of the Third Kind. Transfixed by the scenes shot around Devil's Tower in Wyoming, Coach Luke realizes what must be done.
Leaving his iconic suit behind, he leaves in the morning and drives to Laramie, Wyoming to offer his services as head football coach. The school's wizened athletic director, Buddy Ryan IV, is incredulous but eventually accedes to Coach Luke's proposal. Rejuvenated by the sight of the mountains and the thought of a new challenge, Coach Luke smiles for the first time in weeks and mutters to no one in particular, "Let's get to work."
***********************
Sing in me Muse, and through me tell the story
Of that Coach skilled in all ways of contending,
The wanderer, harried for seasons on end,
After he plundered the stronghold
On the proud heights of the BCS.
He saw the townlands
And learned the minds of many distant recruits,
And weathered many bitter nights and days
In his deep heart in the mountains, while he fought only
To save his legacy, to bring his followers rings.
---
Your Favorite Zips
On the Discord server, I asked for readers to tell me their all-time favorite Akron players along with a short reason why. I was delighted to see so many wonderful memories shared.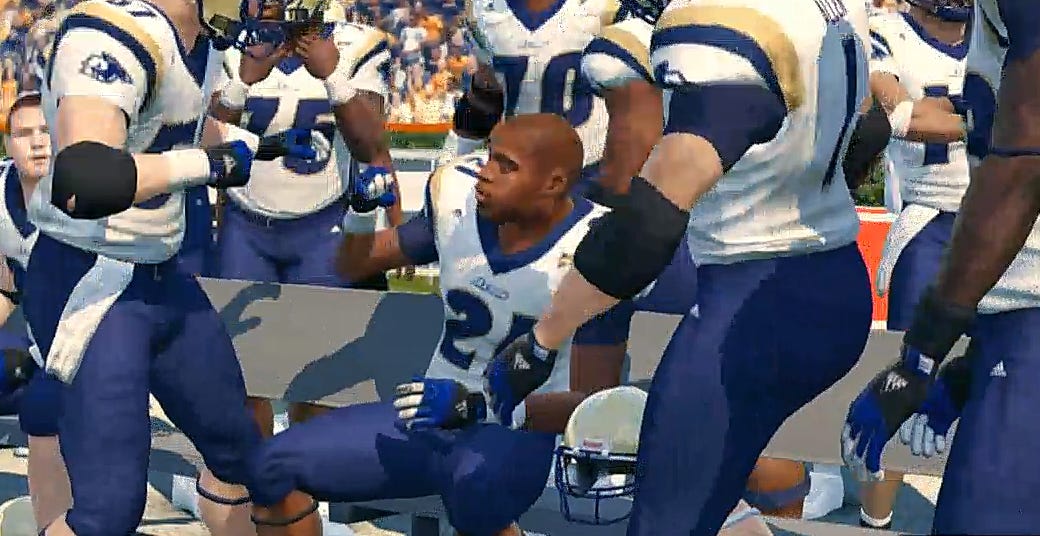 Chris (chrisraggard): My favorite Zip from the last 14 years, SS Mark Ford, was recruited as an Athlete from a small town in Louisiana. Although he was a four-star recruit, plenty was unknown about this gem recruit. We got in on him late in the recruiting process, but he knew deep down that Coach Luke was the only coach in the country who could get him to his goal of playing in the NFL. The only question was what position would Ford play, as it came down to WR or Safety. We had plenty of solid WRs at the time, but few Safeties. That decision paid off for Ford, who started two seasons for the Zips, before leaving early after his redshirt junior season. Ford was drafted in the third round and is on pace to have a solid NFL career. (Plus, it doesn't hurt that I convinced Coach Luke to recruit Ford!)
Nick (Kijhvitc): [A favorite memory of mine is] the time we made QB/HB Rod Jackson kick a thirty-plus yard field goal in his final game. That kick got him drafted.
Josh (Meany_Vizinni): My favorite player from the Akron years was Rod Jackson, because he kept Coach Luke at Akron for two years longer than he would've otherwise.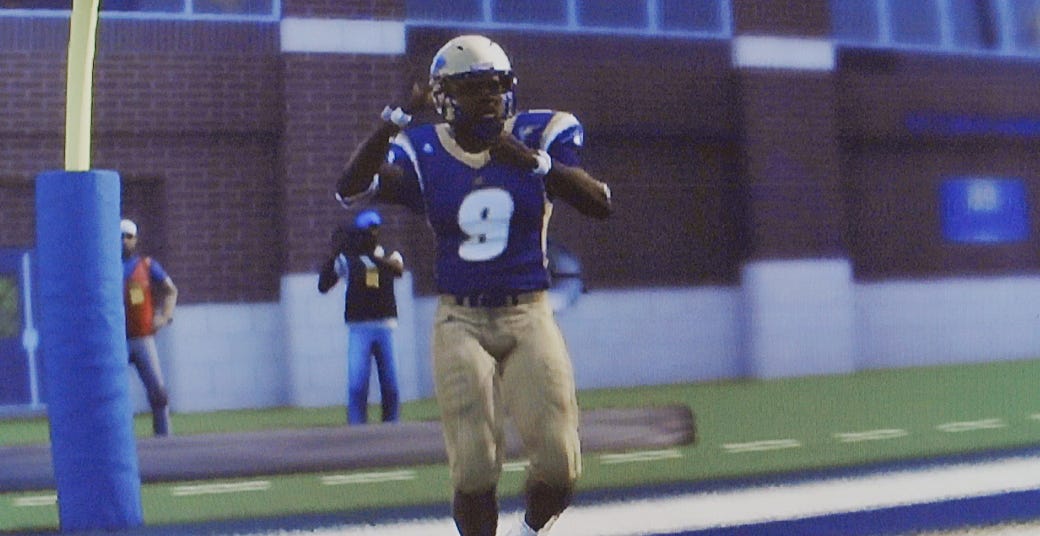 But, my serious submissions are K-Dubs and "Stone Cold" Todd Austin. K-Dubs is from my hometown, and the entire program was built on his shoulders, no question about it. "Stone Cold" was the foundation of a terrifying defense that fueled massive blowouts by keeping the Zips offense on the field, which is what made the Year 13 Zips the greatest college football team of all time.
Jake (JakeXIV_): My favorite player from the Akron years was "Uncle" Brad Smith. I said one thing about WR Brad Smith having the same name as my Uncle and it started a whole tradition that lasted a few in-game years.
Vuyo (SirVeeKay): My favorite players were CB Anthony "GOAT" Morris, WR Chauncey White, and of course QB Andrew "Fountain Drew" Fountain. All valuable contributions to Coach Luke's first championship.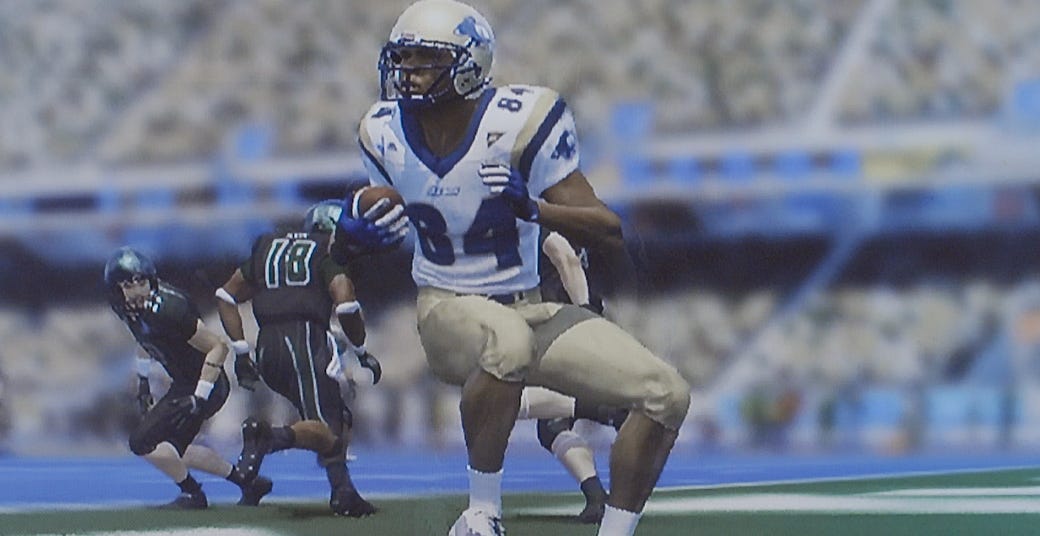 Andrew (Gards710): Rodney Van. Rodney was not an original Coach Luke recruit. But he quickly became my favorite, because he symbolized the ascent of Coach Luke and Akron. Rodney recognized the greatness coming and so he jumped ship from Bowling Green after being impressed watching Coach from the other sideline. Rodney became a scoring threat and held the school record in TDs for a few years. He was part of the first "good" Akron teams, and he will always hold a part of my Akron heart.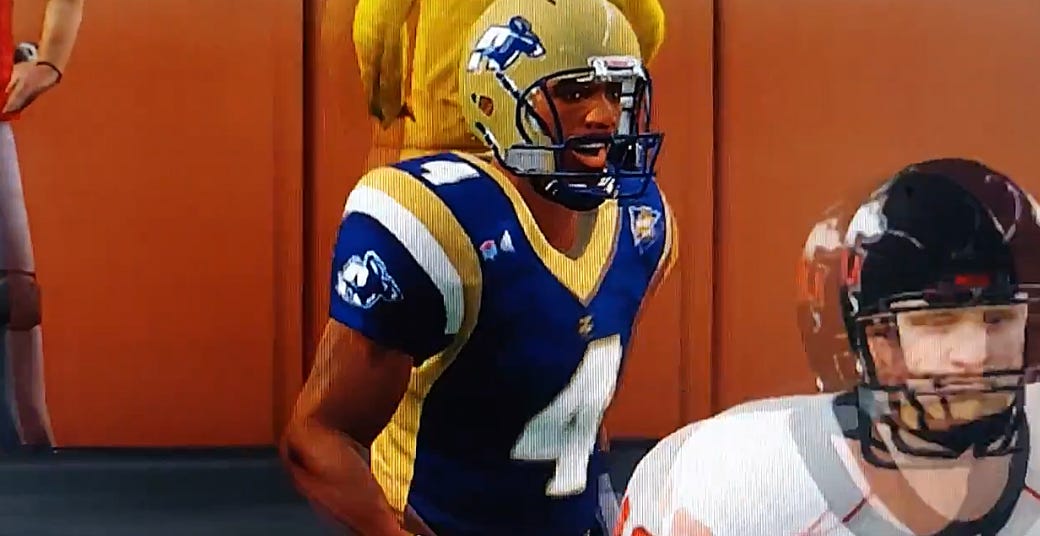 Matt (memorrowiv): My favorite Zip will always be QB Cortez Haumiller. He came in Year 2 as a freshman and saved Coach Luke's job. Despite being a less "talented" guy than our starter at the time he played with heart and grit. Coach quickly moved on from Cortez for K Dubs who became an Akron legend, and future top-five NFL pick. Off-the-field drama with Coach Luke led to Cortez being passed over once again, this time for "The Dare" Darius Patterson. Cortez though showed his signature grit, stealing the role from Patterson, and setting a TD record that was just eclipsed by Sims this past season. Cortez was passed over by the NFL but made the jump to coaching, putting aside his prior issues with Coach, and taking a job on Akron's staff. His genius-level intellect saw him quickly rise up to QB coach, take a coordinator job at rival Kent State, and be promoted to head coach of Kent State after only one season. Now Cortez has taken the jump to follow in Coach Luke's footsteps and inherit the #1 team in college football. You can't talk about the history of Zip Football without talking about "Clutch" Cortez.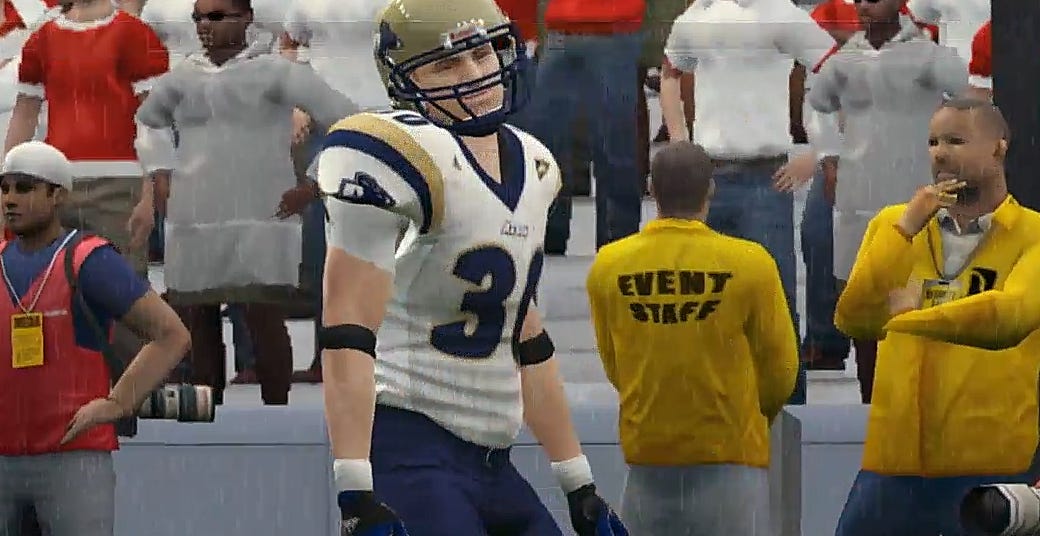 Ian (nothingbutheresay): I believe I started watching the stream around Year 9, so while many Zips legends came before my time, I still got to see some amazing teams. DE James Smith obviously tops my list of favorites, but CB Quentin "Q24" Vaughn and the criminally underused TE Ryan Gatewood were guys that I always had my eye on. I also want to give a shout out to first name twin HB Ian Brown. Dude was much maligned and disappointed us for 3 years but really shined his senior season. While Keith is the undisputed King of the Akron backfield, Brown was easy to root for and against and I love polarizing players.
---
The Ballad of Cortez "Clutch" Haumiller
by Vuyo (SirVeeKay)
One of the more unique joys about this series for me is the fact that we have a reader in Johannesburg, South Africa. His name is Vuyo. He has proudly declared himself the head of a #ZipsWorldwide movement. He reached out to me last season to send me a profile that he wrote about former QB Cortez Haumiller. In that e-mail, he said to me "I apologize beforehand for any grammatical errors you may find, couldn't find a willing party to proofread it for me."

As you'll see, he did a great job though. He gives us a deep-dive into the lore of Cortez Haumiller.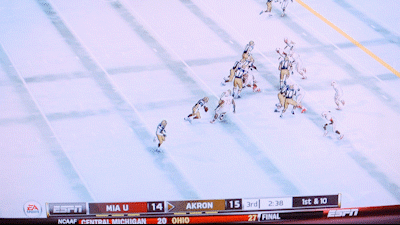 It's been 8 years since Cortez Haumiller last donned the blue and gold of the Akron Zips.
That was long before the move to the Lebron James Stadium that has become known as "Turnover Central" due to the 37 turnovers created by the elite defense of Akron on their way to a National Championship. It is home to attractions such as Taylor's Island (11 interceptions) and Blanco's Sack House (14.5 sacks).
During Cortez's time with the Zips, a MAC championship title (Northern Illinois), and the GoDaddy.com Bowl (Texas State) were both won by the man beloved called "Clutch" by the Zips faithful.
In Year 5, Coach Luke had one of the trickier decisions he had to face at the time: the battle of the Scrambling QBs. The heir apparent to Zips legend Kenneth "K-Dubs" Washington's throne, Darius "D.A.R.E" Patterson, was pitted against "Clutch" that preseason. Spring practice finally helped decide this quandary the coach found himself in. Patterson touted as the second coming of K-Dubs, a dual-threat who was known for his expertise as a tough-to-bring down runner who was also speedy, whilst Haumiller although he was known as a good runner lacked the toughness of Patterson.
D.A.R.E standing at 6'3" and weighing in at 211 pounds had the height expected of a quarterback, but he might have had to add on some weight after getting drafted in the third round of the 2019 NFL Draft by the Detroit Lions, whilst Clutch standing at 6'1" and weighing in at 205 lbs was undersized for the QB position as per traditional measures. That could be the main reason why many might not have considered him the first choice quarterback for Year 5 and maybe throughout his entire Zips career.
What settled the battle for the starting quarterback job for Year 5 was the attention to detail; Patterson was known to have the stronger arm between the two but lacked the awareness to know the subtlety required to make the right throws. The result of that decision was a season with 3180 passing yards, a 64.9% pass completion rate, along with 37 passing TDs and 6 INTs. Let's not forget his work on the ground as he rushed for 866 yards, 11 touchdowns on 185 rush attempts.
Underrated or overlooked are the words that Cortez felt described his time both at Akron and at his hometown Ephrata High School. That's why he felt a special connection with Akron though; it was underrated in the MAC and NCAA, just like him.
Born in the Amish town of Ephrata, Pennsylvania, to parents Lorenzo Haumiller and Riley Sanders-Haumiller, being overlooked was a regular occurrence as the middle child, where his older brother and younger sister had the more overpowering personalities. Whenever Cortez is asked about his siblings glee spreads across his face as he speaks in admiration of both his siblings. He confidently claims that his brother, Romano, was actually the better football player, whilst his little sister, Tia is a softball phenom for the UCLA Bruins.
Like many kids who grew up in the great state of Pennsylvania, there were only two football teams for them to support (as their parents indoctrinated them). You were either an Eagles fan or a Steeler. For years, he struggled with this decision. That was until the game-breaker known as Micheal Vick joined the Philadelphia Eagles. Most of Cortez's playstyle tried to emulate the scrambling styles of Vick and other legends like Donovan Mcnabb and Steve McNair. Of all the scrambling quarterbacks that he studied, Cortez identified most with was former Vikings QB Daunte Culpepper.
Cortez would be redshirted as a freshman during the rather interesting—yet early—days of Coach Luke's tenure. That was back before the MAC became MAKRON (say it with your chest). He was actually by Terry Bowden, in the hopes of turning the program around. He wasn't able to see this dream come to fruition, as Coach Luke and his flashy suit lulled and convinced the Akron Board of Trustees to give him a run at leading the Akron team (stare at the suit too long and you're bound to be hypnotised).
Year 2 of the Coach Luke era is when we were given a precursor of what Cortez "Clutch" Haumiller could do. That glimpse showed what Coach Luke was trying to achieve with his system that would help propel Kenneth "K-Dubs" Washington into the public eye. But, even at the peak of his powers, K-Dubs (no shots being taken at the Zips great) never reached the passing yards reached by Clutch in his lone season as starting quarterback, (all-purpose yards is even closer as Haumiller has 4046 yards whilst K-Dubs has 4128 yards, a mere 82 yards difference).
The thing that might have made the Ephrata, PA native stand out and eventually win the battle for the throne, in his opinion, was the focus on the finer details (attributes this due to his mom being a ballet instructor), knowing when to run off for the races due to his admiration of Culpepper and knowing which window was wide enough before he threw a bomb to one of his receivers to move the chains. He attributes this to his dad's throwing practice sessions whenever the Eagles lost a game. Coach Luke and Clutch always butted heads during their time together as is the case with many fans of Philly-based teams, but were always together in their support of their beloved Eagles.
When asked which game for him stands out the most for Cortez, without a moment of hesitation, he says it was the beat down of rival Kent State by the Zips (45-28), where he threw for 368 yards, 5 touchdowns, 0 INT and ran for an additional 77 yards off of 11 carries came to his mind as his signature game where he felt he finally belonged. Funny how the Golden Flashes were the first team that came to mind as he has now gone on to become the head coach of that very team.
When he looks back at his time at InfoCision Stadium, he looks back with no regrets, as he managed to accomplish what he wanted to achieve, leaving his mark in the history books of Akron, his presence in the hearts of supporters. Everything now comes full circle as his impending return to Akron faithful will be as Coach Clutch of the Golden Flashes.
---
Shaw & White
by Tommy (Deuce)
Everything posted thus far has recounted our time with Akron. Two people sent me submissions that told stories about the ramifications of Coach Luke's decision. The first piece is from Tommy. It gives us a look at two of our most recent recruits that are about to start their Zips career without Coach Luke.

Erik White and Adam Shaw have been friends for 15 years.
The friendship blossomed as cub scouts in St. Claire's Troop 433 with camping trips to Beaumount and pinewood derby races in the gymnasium. Both grew up active and participating in every sport available, but Erik was the first to find love in the game of football.
While playing junior varsity for the Mayfield Wildcats, Erik was placed in what felt like a natural role, the free safety, calling out the plays for the defense and exhibiting an uncanny leadership and understanding for the game for such a youngster.
Adam, on the other hand, found basketball with the Brush Arcs more exciting. He hit a growth spurt early in seventh grade and had a few inches on most others his age. He was able to use his size and physicality with devastating effectiveness close to the rim. That next year, Adam went from the bench behind a log jam at wide receiver to the starting tight end and strong safety. He seemed to be everywhere on both sides of the ball and never shied from contact.
Playing for rival schools in the Brush Arcs and Mayfield Wildcats, the boys cheered each other on silently. Erik became the leader Mayfield's defense needed in his junior and senior years shoring up what had been a weakness for many years and led to 6 shutouts with no opponent scoring over 21 points all year. Adam was asked to do much more for the Arc's secondary. Without much support after his sophomore year, he seemed to singlehandedly make every single tackle while racking up key first downs and touchdowns in short-yardage situations as a tight end.
The Arcs were able to keep pace with Mayfield for most of the year but lost to a stellar Chardon team in the playoffs. Mayfield advanced to the championship but lacked the running game to hold off Willoughby South in the finals. Both boys grew up watching the meteoric rise of Coach Luke at the nearby University of Akron. Despite knowing that they might fight for playing time with each other, they agreed that they both wanted to play for the best and committed to Akron.
Shaw and White seem like brothers moving into their shared double room in Leebrick Hall, arguing over who gets top bunk and racing each other up the stairs carrying heavy boxes full of their belongings. If there is any concern for either young man about the departure of historic Coach Luke to Wyoming and former Zips star—and more recently rival Kent State's coach—Cortez Haumiller coming in to helm the Zips, you would not know it from this pair.
The only comment they had was: "Coach Luke is going to regret his decision every time he sees the Zips on the schedule."
---
From Coach Luke to Coach Cortez
by Josh (Meany_Vizzini)
The final piece is a fitting end to the saga. Josh wrote up a lovely story about Coach Luke meeting with Cortez Haumiller to break some big news to him.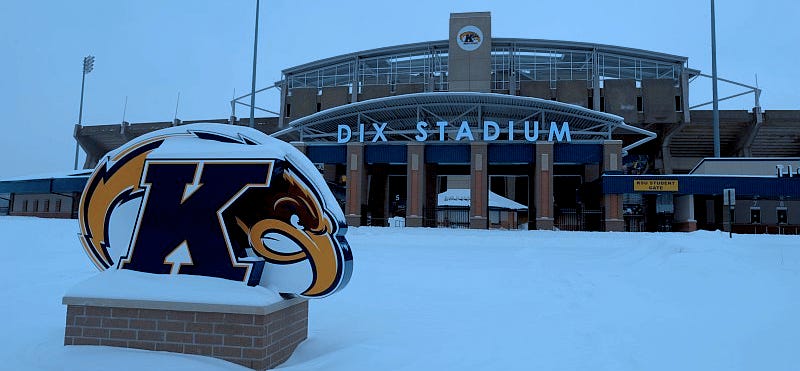 Thwip-thwip.
Thwip-thwip.
His heart beats in time with the wipers as he tries to see around the streaks they leave behind. Crappy rental. It had to be a rental, though, he knows that. Bringing his Lambo to this town would be asking for trouble, and the last thing he wants right now is to make a scene.
In the headlights, he can make out a sign. Summit Road. Fitting. He makes the turn slowly, tires fighting against the slush. Only a few turns left, and he's made it. Don't want to slip off the road now.
He parks facing the stadium and lets a light flurry collect on the windshield as he fiddles with his knit cap. Too cold for a suit today, he looks like everyone else, all bundled up. He feels like everyone else. He left his superpower behind. No more safety net, the butterflies build again in his chest. It's been a long time since he's felt that.
The car door opens, and he's stepping out. DIX Stadium. That name always made him chuckle. It seems so harmless now, but it was not always that way. He continues to walk, closer and closer to those days. The bitter cold softens, and the scent of salt gives way to wet grass, mud, and desperation. He can almost taste the autumn leaves in the air as he enters his rival's lair for the first time, winless against them, fighting for his job. He's giving a young kid from Amish country the chance of his life today, and if this doesn't work, there may be no legacy for Coach Luke.
"Coach! Good to see ya, come on in. Let's get you out of the weather."
"Thanks, Clutch. We need to talk."
"Don't tell me Kent has you worried."
"There's rumors of a big job I might have some sway in. I've been talking you up, but I need to make sure you're ready to take the next step before I stick my neck out and make a recommendation."
"Is this about the Georgia job? I wouldn't mind that weather right about now."
"Not much change in weather, I'm afraid."
"So not USC either, then. Come on, Coach, you know I've been looking, just spill the beans. Are we talking Illinois? Iowa State? Indiana?"
"No, Clutch. Akron."
---
Goodbye, Akron!
Thank you for following the Akron journey.
We may be going to Wyoming, but we'll be zipping in our hearts forever.