Welcome to the Year 14 postseason and another installment in Coach Luke's quest to become the greatest college football coach of all-time in NCAA Football 14. To learn more about this series and read up on past installments, visit the About page of this site.
---
Before I begin this post, I would like to say how much I have appreciated all of you as readers of this series. I am very thankful that you've taken this ride with me through fourteen simulated seasons. It's been an absolute pleasure and I thank you so much.
At the end of this post, I will have a special announcement about the future of the series.
The future can wait for now though because there are big games coming up right in front of us.
The Akron Zips have played so well over the last two seasons that many people are already considering them to be one of the greatest football dynasties of all time. The Zips have found ways to dominate any challengers whether they have Leonard Sims or Johnny McNeil at quarterback. Akron is on pace to put up historic numbers despite having one loss on record. They now find themselves in a Big Ten Championship game with another possible National Championship berth on the line.
There's a tension in the air though.
Prior to these games, Sports Illustrated writer Ian Newcomb broke a story about Coach Luke's future. He claimed that Luke has been growing frustrated with many aspects of college coaching and the politics of the Big Ten. That rumor sparked many unfounded theories that Luke wanted to move to a tiny house in the middle of nowhere so he could relax and focus on his hobbies.
The Zips locker room has been a mess since Newcomb's report. Coach has assured them that these are only rumors as he's told them that they need to focus on these next two games.
Year 14 (2026-27) Postseason
The Zips have had their ups-and-downs over fourteen seasons but conferences championships have never phased Coach Luke's teams. They were 5-0 in conference championship games in the MAC and they continued that run by winning in their first Big Ten championship game appearance last season.
They now face a familiar foe as they hope to keep Coach Luke's streak alive.
11-1 | Big Ten Championship vs #5 Nebraska
It was nearly a year ago to the day that the Zips shut out Nebraska in the Big Ten Championship game. The Zips might be even better this year and Nebraska may be slightly worse. For that reason, oddsmakers have pegged Akron as huge favorites in this game by favoring them to win by at least five touchdowns against the Huskers. For a top-five battle, that feels unprecedented. These Zips defy precedence though.
Winning this game would assure a second consecutive trip to the BCS National Championship Game for the Zips. There's no way that Akron could make the argument for being the best dynasty ever if they don't win back-to-back titles. This game is important for that reason.
And?
*
*
*
*
*
Another blowout! The Zips also cover the giant -37.5 point spread!
This Zips team will go down as one of the best ever. There's little doubt about that now. The only thing that they have left to do is win back-to-back national championships to cement that legacy.
Despite it being an injury-shortened season, Leonard Sims is putting historic numbers on the year and he padded those numbers in this game. Keith King had three touchdowns as well to show why he was considered a Heisman finalist this year.
Speaking of the Heisman, we find out after the game that Keith King finished second in the voting for it. That voting was fueled by his monster touchdown totals on the year.
Despite King missing out on the award, we find out a number of Zips did win national awards:
Bednarik Award & Linebacker of the Year: Jack Garcia (MLB)
Lombardi Award: James Smith (DE)
Outland Trophy & Rimington Trophy: Andrew Ward (C)
Thorpe Award: Shaun Scott (CB)
Returner of the Year: Mickey Palmer (RB)
This team has been just stacked with talent in recent years thanks to Coach Luke's recruiting prowess.
Who will all of these talented players be facing in the BCS National Championship Game though?
*
*
*
*
*
We're playing TCU again!
12-1 | BCS National Championship Game vs #2 TCU
TCU poses a unique challenge to Akron because of the fact that we played them earlier this season. TCU was ranked #1 at the time and we were rebounding from a shocking loss against Notre Dame. The Zipshandled TCU easily in a 38-10 win at that time.
TCU took copious notes about all the things the Zips did against them last time and they are ready for this rematch. It will be up to Coach Luke to flex his coaching muscles by creating a good gameplan that will surprise TCU.
Coach Luke is on a ten-game winning streak in bowl games as we enter this championship game. He's never coached a team in a bowl game that has had as much locker room tension as this one though.
In order to get the locker room to settle down, Coach Luke addresses the rumors and breaks news to the team before they head out of the locker room. It is their secret for now as he will tell the world after the game.
How will the team respond?
Watch these Twitch highlights to find out:
*
*
*
*
*
BACK TO BACK NATIONAL CHAMPIONSHIPS!
A SHUTOUT IN THE NATIONAL CHAMPIONSHIP!
THE BIGGEST BLOWOUT IN NATIONAL CHAMPIONSHIP HISTORY!
All of those things just happened courtesy of your Akron Zips. The team started slow on offense but they hit their stride once they started connecting on big plays. Sims had a monster game as he went 29 for 33 passing. The defense refused to allow TCU to do anything.
It's official: this dynasty will go down as one of the greatest college football runs ever.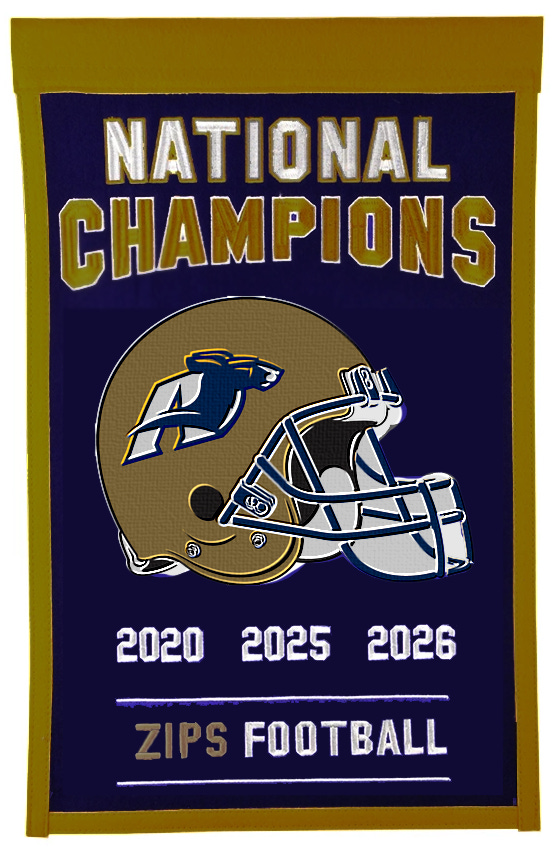 Amazing. When this series started, the stated goal was to turn Akron into a college football powerhouse. It's safe to say that this goal has been achieved in only fourteen seasons. It's been quite a ride and it feels incredible to have quickly met the goal that I had for this series.
That brings me to my announcement about this newsletter and this whole series in general…
---
SPECIAL ANNOUNCEMENT:
The Future of Rubber City Dynasty
I gave a five-minute speech about this on Twitch (which you can watch here). To save you some time, I've clipped out the moment where I announce my decision about the future of this series that I've loved working on so much:
*
*
*
*
*
If you are just scrolling through, I announced that I will be stepping down as the head coach of the Akron Zips.
*
*
*
My coaching career is not over though!
Look. Here's the deal. We've climbed the same metaphorical mountain with Akron three times now. Sadly, I don't appreciate the view from the top anymore. It's become too familiar. It's time to find a new mountain to climb.
We're going to forge ahead and find a new place to coach for Coach Luke. We're going to jump back into the game here and I will use the first week of the offseason to conduct a search for a new head coaching job.
---
The Job Search
The process of searching for a new coaching position in NCAA Football 14 is not what you may expect. You don't get a list of every position available. Instead, you literally go through every job in the country individually, starting with the more prestigious opportunities. As you turn down an offer, it gets filled by a coach from somewhere else and a new job opens up. The process continues on and on like that until all jobs are filled.
As we enter the coaching search, the first offer I get is to become the head coach at Georgia.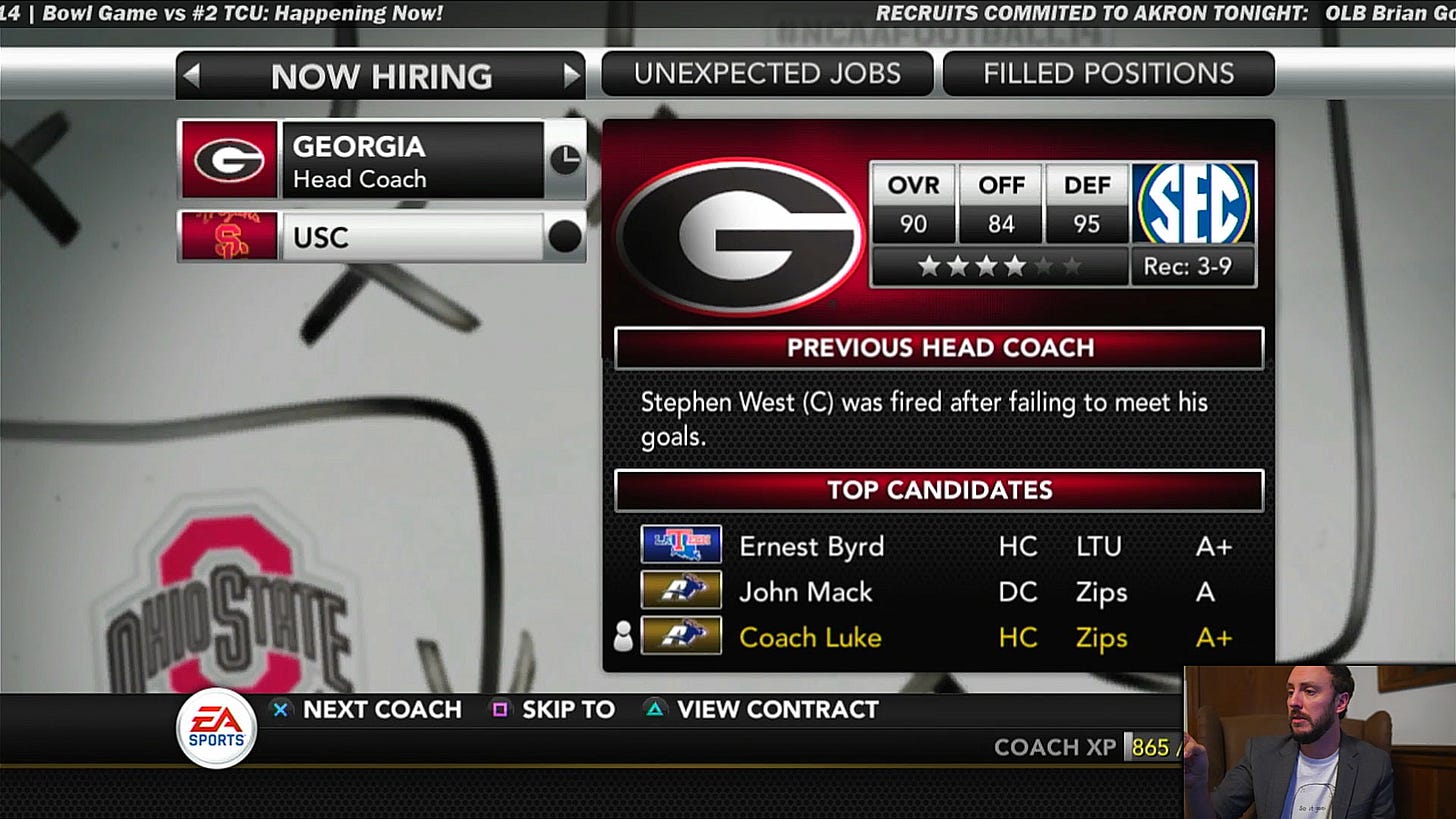 The offer is flattering but my intention is to find us a hard challenge again. As the search continues, I take note of possible restoration projects for us and Coach Luke.
The finalists in my coaching search end up being:
North Texas Mean Green
Idaho Vandals
Hawai'i Warriors
Wyoming Cowboys
These teams all have reasons why they could work for our future. North Texas gives us the ability to say "Texas Forever" all the time and they have a fun mascot named Scrappy. Idaho has the best team name of the bunch and they are Independent so we could go back to the non-conference life that I loved. Hawai'i offers the fun narrative of Coach Luke going on an extended vacation on the beach. Wyoming has cowboys and a whole western storyline also sounds fun.
I mull it over a bit but, honestly, it doesn't take long to realize where my heart is. I contact the Boys & Girls Club of Akron and tell them it's time for another Decision.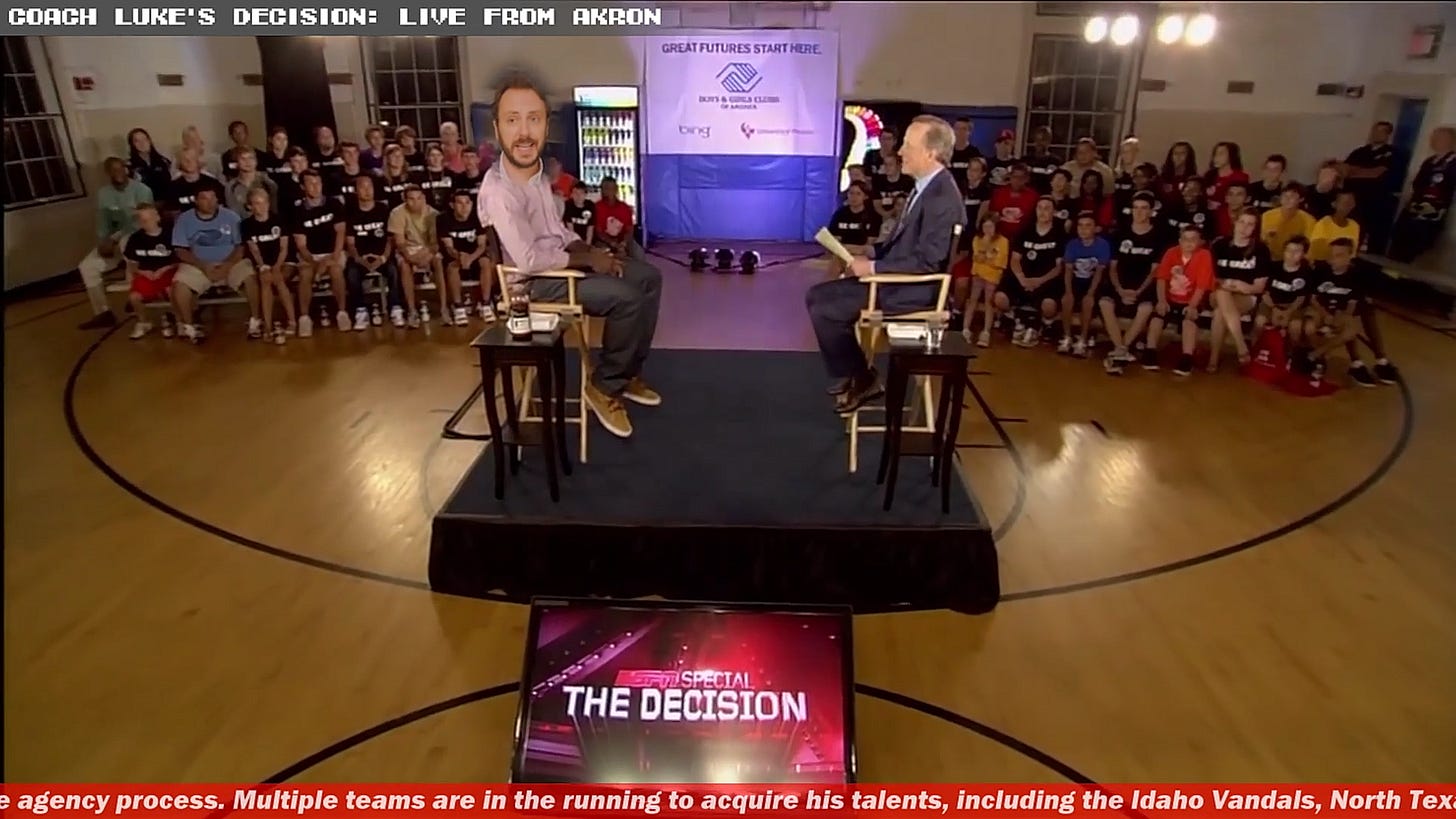 The nation eagerly awaits the news about where Coach Luke will end up. Northeast Ohio is still holding out hope that they won't have their hearts broken again. They think Akron is still on the table since I am holding my announcement there.
And?
You can watch the clip here or read ahead.
*
*
*
*
*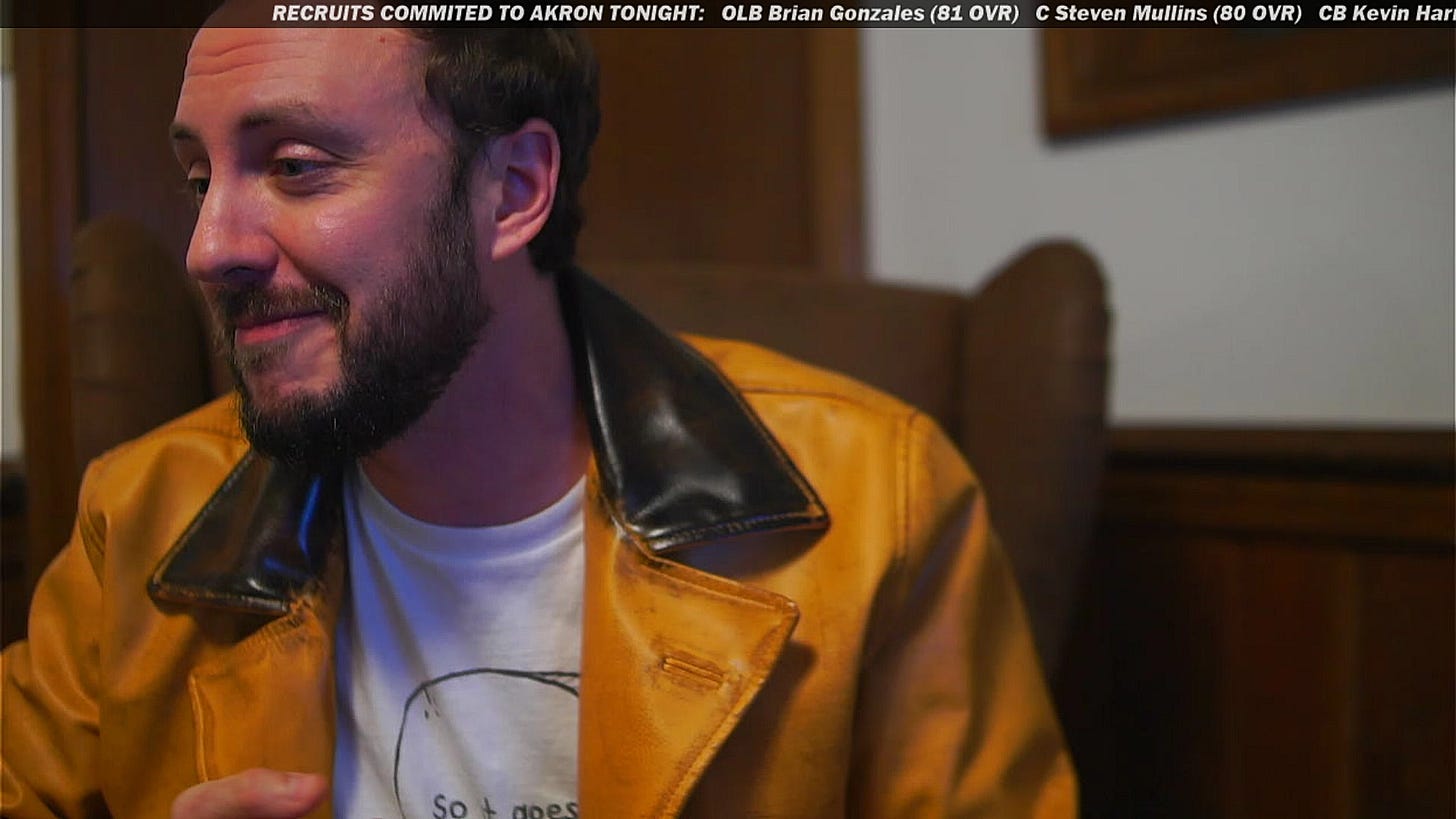 WE'RE GOING TO WYOMING!
Coach Luke is the new coach of the Wyoming Cowboys in the Mountain West Conference!
They are a lowly-rated school with one-star of prestige to their name in this game. I wanted a challenge and this surely will be one. If Coach Luke can convince players to move to Wyoming for football, what can't he do?
My move was announced at the very end of the coaching search because the Wyoming job opened up very late in the process. As a result, this caused a sudden shakeup for Akron while having very few coaches available to them.
So, which coach did they hire to replace Coach Luke?
Well…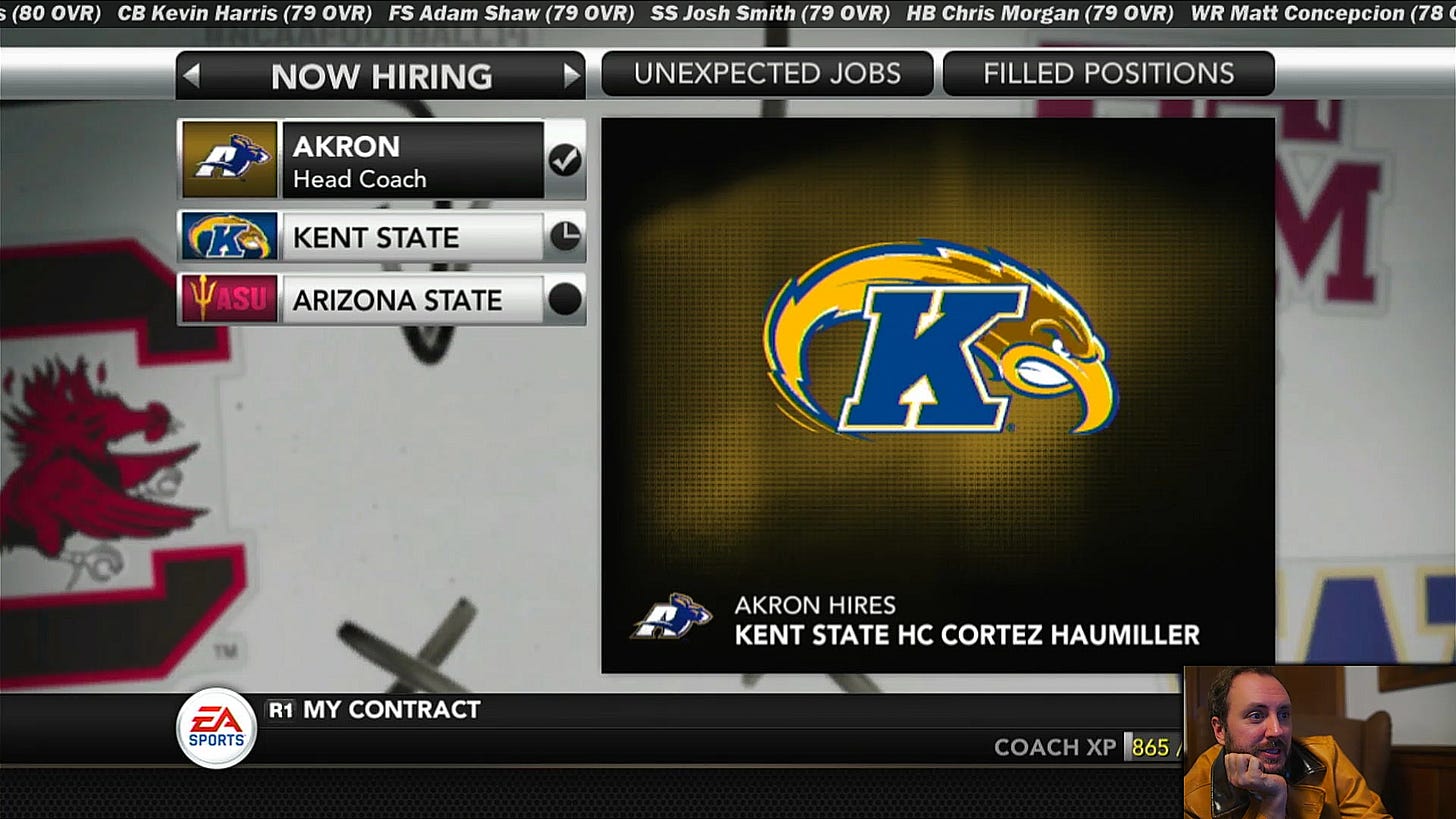 The Zips have hired Cortez Haumiller, our former quarterback, to be my replacement! Wow!
Not only am I excited about our next chapter out west, but I am also very intrigued to see how the Zips do with Cortez in charge.
---
Welcome to Laramie

This newsletter will be getting a facelift in the days ahead as I shift over to the coach of the Cowboys. It's going to be a fun era. I will explain more about the team and backstory in upcoming newsletter posts.
We'll be going through the next couple of seasons quicker than we had been as we quickly try to make the Cowboys a competitive football team. For now, you can check out our current roster here and take a look at our Year 15 schedule below: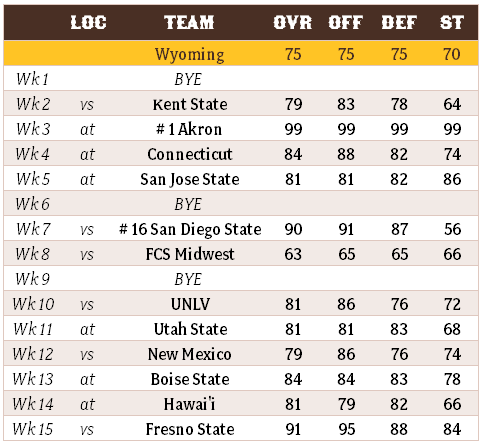 Start doing your research on Wyoming because we're all Cowboys here now. Let's ride!
---
Upcoming Laramie City Lights Schedule
Tomorrow afternoon, I will publish a retrospective that will look back on the Akron chapter of this series. It will contain quotes and stories from fans of the series that highlight the most important players and moments from our fourteen-year run. If you have anything you'd like to contribute to that, reach out to me!
For the first season or two of our Wyoming chapter, I will likely do one newsletter post per season but I haven't decided on all that yet. The posting format may change a little bit though as we're now following a team that is a reclamation project.
On Friday night, I plan to stream the full Year 15 season on Twitch. We will watch a few games but we'll mainly focus on recruiting in this stream.

If you know of people who may be interested in this series, this is a wonderful time for them to join as we're all learning about a new team together now. It's kind of a reset point and a great time for new readers to jump in.
The Discord server for this series has been extremely active lately. It's a welcoming community with nearly a hundred people chatting away about Wyoming Cowboys football and life in general. I'm still getting used to Discord myself so don't worry if you're unfamiliar with Discord and want to join!

Enjoy tomorrow's look back on the Zips era and I'll see you on Friday night for the start of our next one!
ZEEEEEEEEEEEEEEE HAW!