Welcome to the next chapter of the University of Akron's quest to win a national championship in NCAA Football 14. To learn more about this series and read up on past installments, visit the About page of this site.
As a quick editorial note, I'm going to switch back to how I used to do the posts here. Instead of having the recruiting trail essentially be a footnote after our season, I'm going to have recruiting and games all lumped into one coherent storyline for the year. There will still be two posts to get through a season but it'll be a first-half and second-half post. If you have great detective skills, you may have figured out that this post is about the first half of Year 9.
If you didn't catch last year's posts or Twitch streams, here are the things you missed:
AKRON HAD THE TOP RECRUITING CLAS IN THE COUNTRY!
OUR QB FOUNTAIN DREW DECIDED TO RETURN FOR HIS SENIOR YEAR!
Every single thing went right in Year 8 and Coach Luke now carries a 35-game win streak headed into this season. The Akron life is a great life right now. The Zips are well on their way to fulfilling the prophecy of becoming one of college football's powerhouse schools.
Let's get zippin'!✓
---
Preseason
In the preseason, we set our redshirts and Coach Luke opts to sit some of the top recruits from last year, such as:
CB Howard Norman (82 OVR)
OLB Todd Austin (82 OVR)
FS Ken Davis (82 OVR)
DE Bobby Willis (80 OVR)
OLB Keith Bennett (80 OVR)
Meanwhile, setting our custom schedule was a bit harder than usual for Year 9 since we are an independent team and had the freedom to fully set our schedule as we see fit. With the help of people in the Twitch chat, this is what we landed on: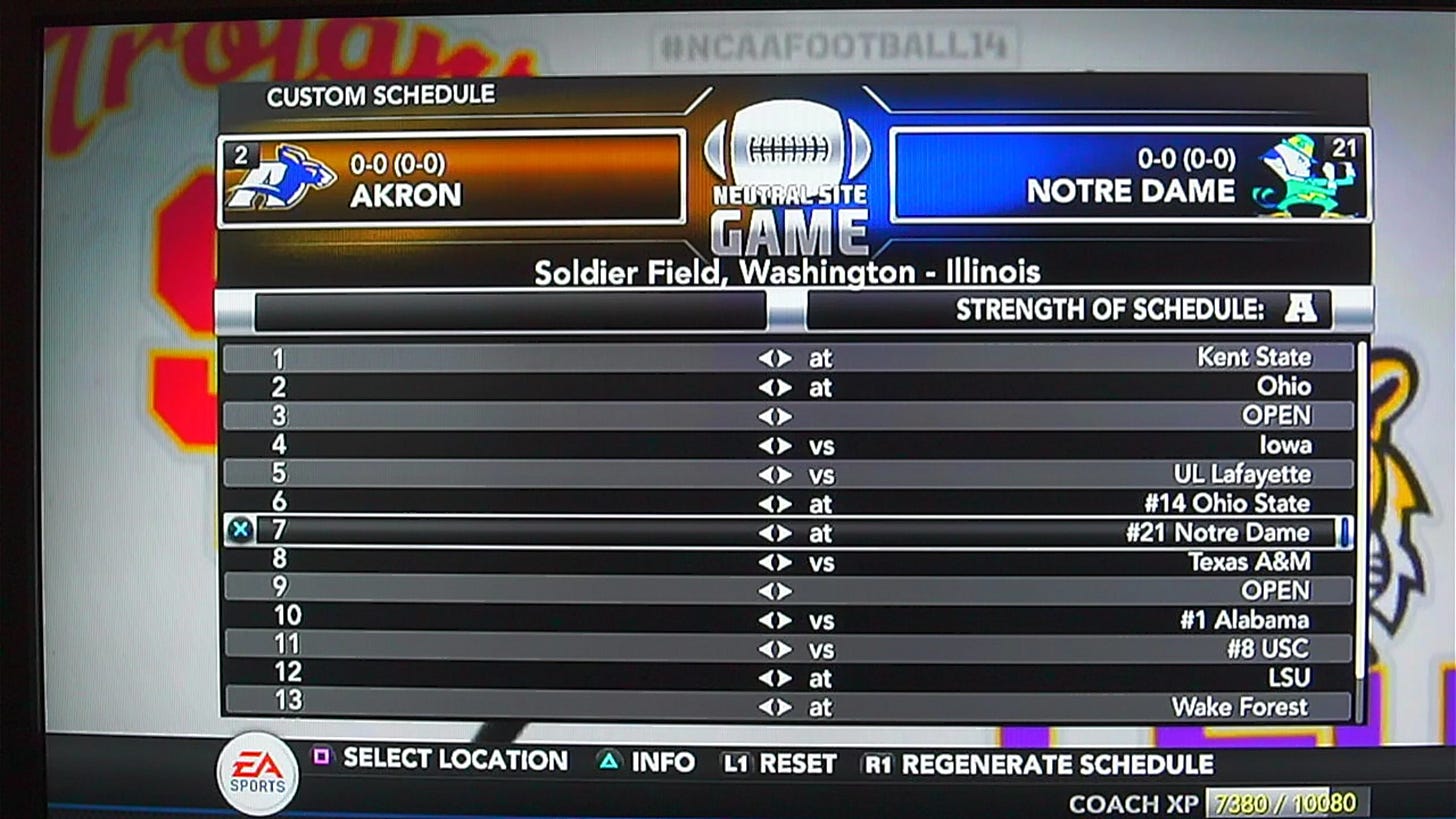 There's also a Week 14 game at home versus BYU that you can't see there. It's a tough schedule but we certainly have a roster that is equipped to handle it.
Year 9 Roster
Speaking of rosters, you can read about the roster in the Year 9 Preview post but feel free to click the images below to get a closer look at our starting lineups:


We are rated 99 overall with a 97 offense and 99 defense. There's playmakers at nearly every position, but the stars are CB Anthony Morris, DE John Clark, and SS Jesse McIntyre, QB Andrew Fountain, and WR Chauncey White.
We'll be using the Ole Miss playbook for the entirety of this season after seeing it do well for us in the Notre Dame game that we streamed last year.
---
Year 9 (2021-22)
We're in the future now! It's 2021. Coach Luke will now be using his flying car to zip around the country to do his recruiting. He'll also be zipping over to practice on his futuristic jetpack everyday. Man, the future is great! I can't wait for you all to get here.
0-0 | Week 1 at Kent State
No offense to our supposed "rivals" at Kent State but we start off the season with some easy games. I usually have some nerves to start the year but not this time! Let's just see how gaudy our numbers will be in this Battle For The Wagon Wheel…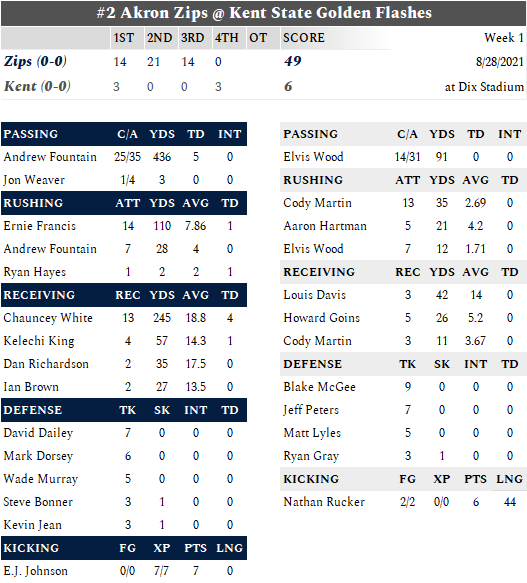 It's a 49-6 blowout! Andrew Fountain starts his Heisman campaign in grand fashion with a five touchdown and zero interception performance. Chauncey White goes absolutely ham and grabs four touchdowns while compiling nearly 250 receiving yards. My man!
On the recruiting front, I set up our board with some initial prospects to go after. The good news is that basically every five-star and four-star player in the country has an interest in us. We can now be choosy as heck.
I'm specifically looking for more WR, HB and LB help but I do want to continue to build our offensive line back up too. I fill our initial board with a wide assortment of players rated 75 OVR and better. I use our insta-commit ability by offering scholarships to players that we start the year in the lead for…
And?
We start the year STRONG with five commitments right off the bat!
#2 G Dennis Thomas (79 OVR)
#6 TE Ryan Gatewood (78 OVR)
#8 DT Pat George (80 OVR)
#8 QB Tony Flowers (75 OVR)
#17 DE Corey Fontaine (76 OVR)
Coach Luke is just phoning in his recruiting this year. He didn't even have to put on his suit to recruit these guys. What a world!
This is precisely the start we wanted though. We filled in a bunch of needs, including getting our backup QB of the future.
I assign my initial recruiting points into about fifteen guys with the following players being at the top of our list: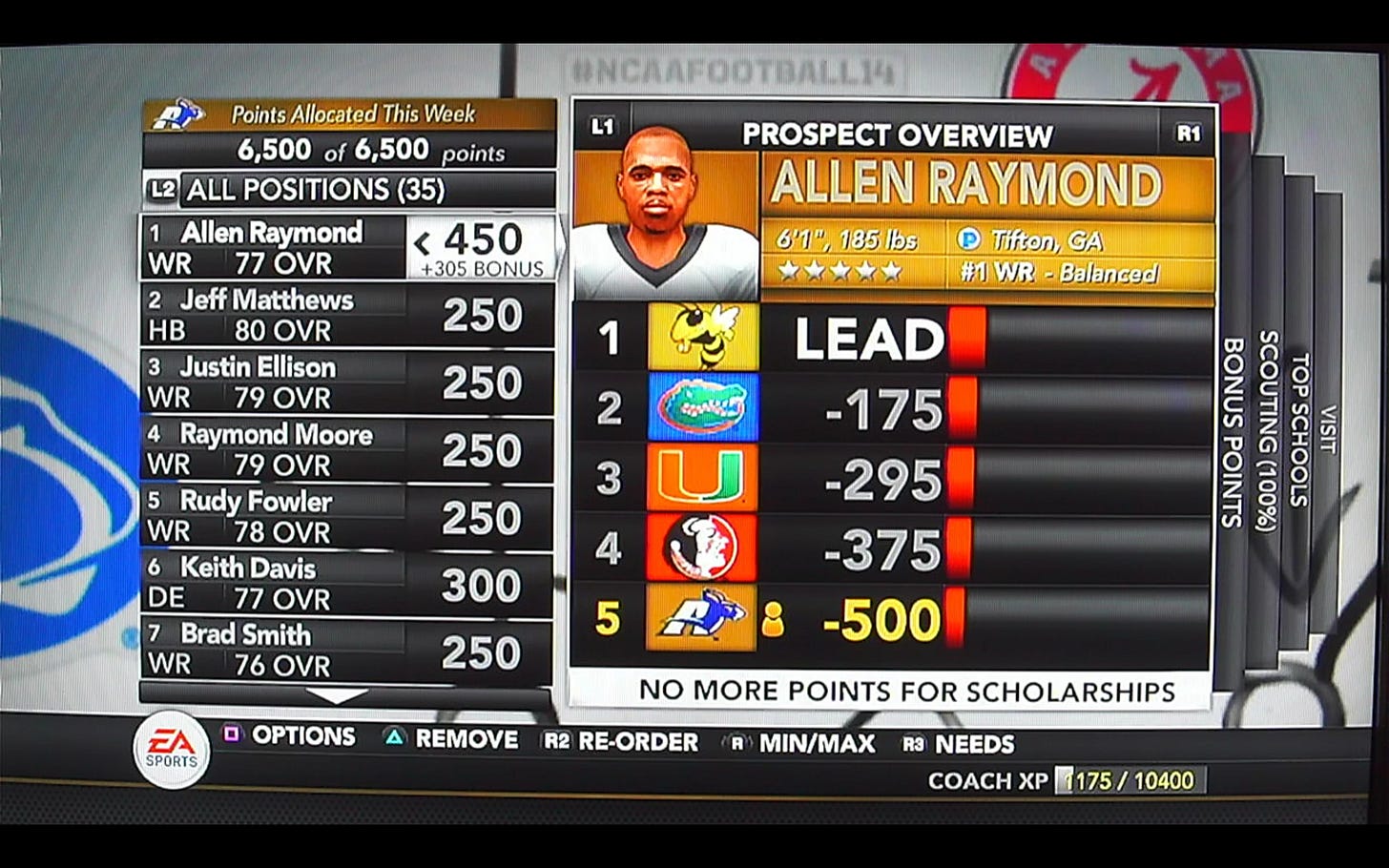 1-0 | Week 2 at Ohio
We defeated one Ohio school from our old conference last week and we get the chance to do that again this week. Shouldn't be a problem!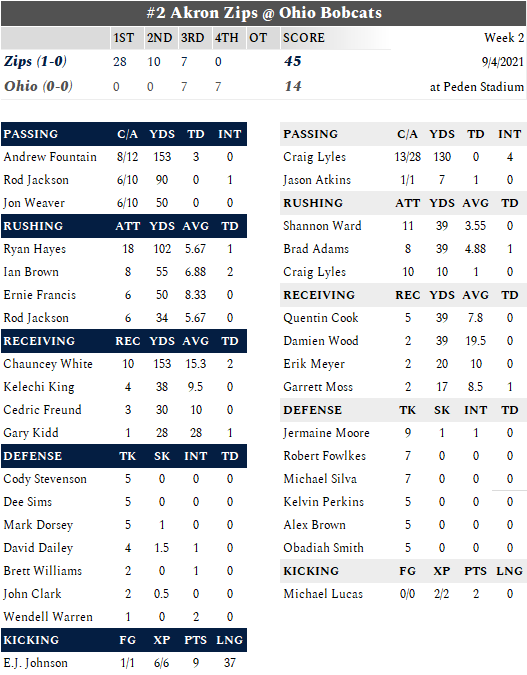 45-14! That was easy! Thirty-seven straight wins for Coach Luke now. The longest win streak in college football history was forty-seven games by Oklahoma over sixty years ago. We could match that this year!
As we look at the box score for this game on the Twitch stream, I notice the curious fact that three of our quarterbacks played in the game. That seems odd.
I then find out that Andrew Fountain broke his tailbone and is out for ten weeks. Ouch! Oh man, that's a huge blow.
Reader Chad had written up a great piece analyzing Jon Weaver's worth and, oddly enough, we are now going to see him actually get a shot to play in important games before Fountain Drew returns.
The recruiting trail doesn't sleep despite broken tailbones. Coach Luke hops in his 2021 flying car and goes off recruiting. DE Keith Davis and T James Alexander become two of our main targets at this point to continue to solidify our lines. I'm also still trying to get us a decent halfback for us to start to groom so I set my sights on Jeff Matthews, the #1 HB in the country. You gotta dream big, kids!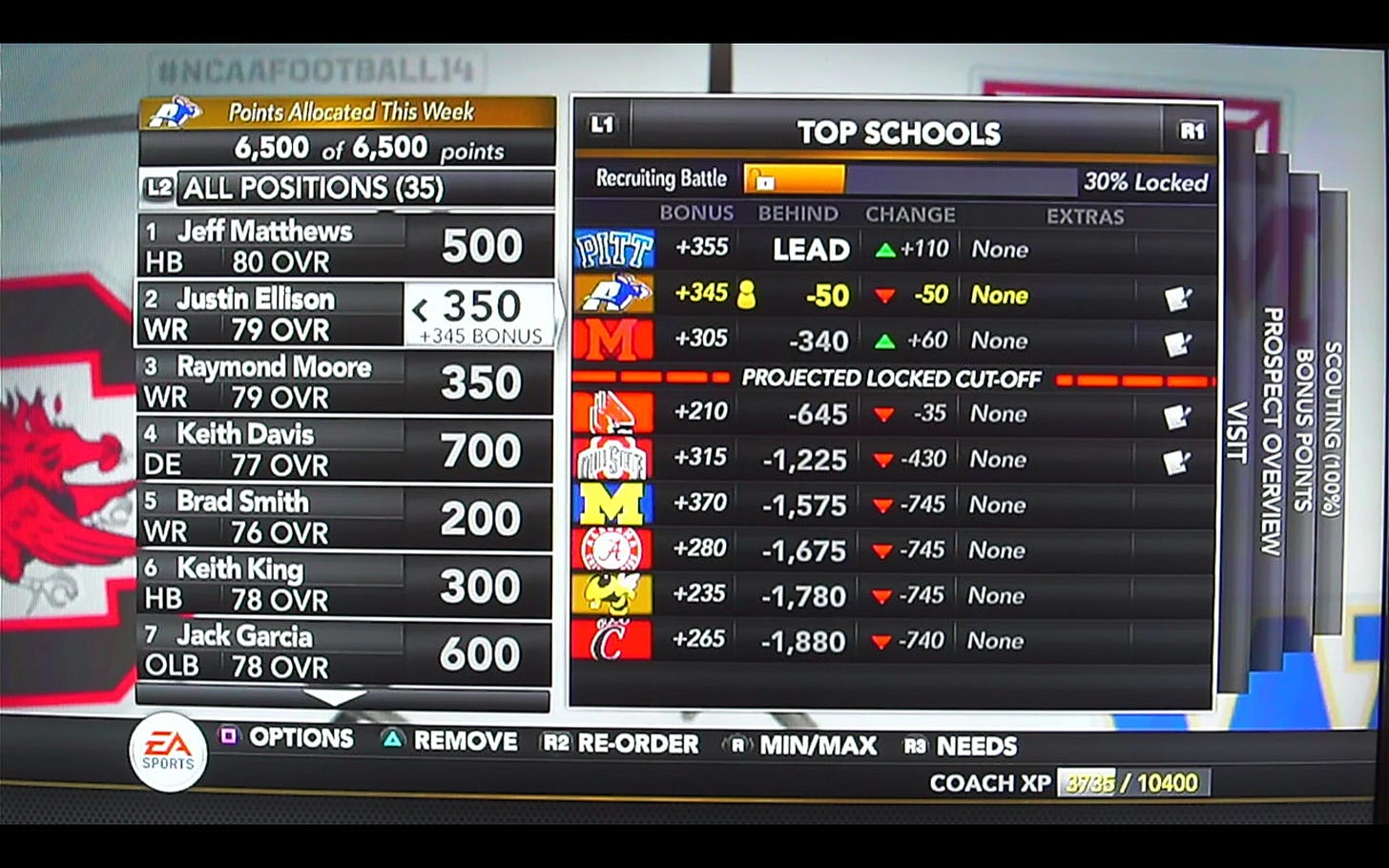 2-0 | Week 4 vs #25 Iowa
Jon Weaver's first test as starting QB this year is against a #25 Iowa Hawkeyes team. He performed amazingly against MAC teams last year but Weaver was known to be a bit wild when we watched him in game last year, earning him the nickname "Wildman". I still have full confidence that we won't lose a step with him at QB as he is a 99-rated stud as well.
*
*
*
*
*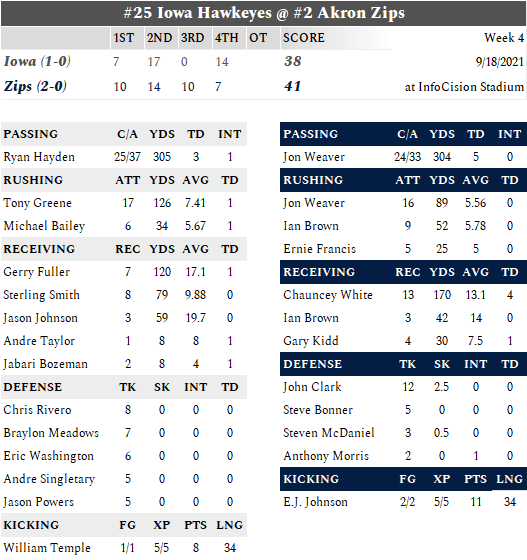 Oh boy! This was close! Jon Weaver put on a clinic though as he led the team in rushing while throwing for five touchdowns and zero interceptions. Chauncey White and John Clark had banner days.
The main storyline here is that our defense was tested for the first time in a long time and luckily our offense did enough to keep us undefeated.
We invited out a couple of recruits for this one and the good news is that we did get T James Alexander to commit after the game as well as OLB Jack Garcia. That's a new tackle to anchor our offensive line as he rates at 78 OVR. I love it!
3-0 | Week 6 vs UL-Lafayette
We move up to #1 in the country after that win and an Alabama loss! We are, once again, in the driver's seat to go to the national championship. There's a lot of tough games still left on the schedule but our Week 6 matchup against the Ragin' Cajuns isn't one of them.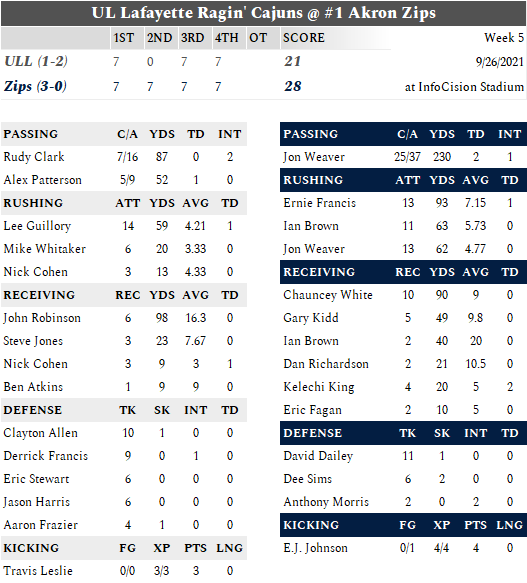 Yet!
Another close one that we survive.
Weaver threw an interception and we were not as explosive as I'm used to seeing. This is a worrisome trend but we're still winning. We're also still seeing good performances from our stars as Anthony Morris had two interceptions.
We didn't get the DE that I expected to commit but we got a stud in DE James Smith (78 OVR) to commit after this game. Last season, we got two defensive ends in T.J. Blanco and Bobby Willis so we're basically set there now.
I'm still hoping to land a decent halfback and receiver. I'd also feel good about getting another tackle and a center, as we haven't gotten a ton of talent in recent years there. Here's a look at our recruiting board heading into Ohio State: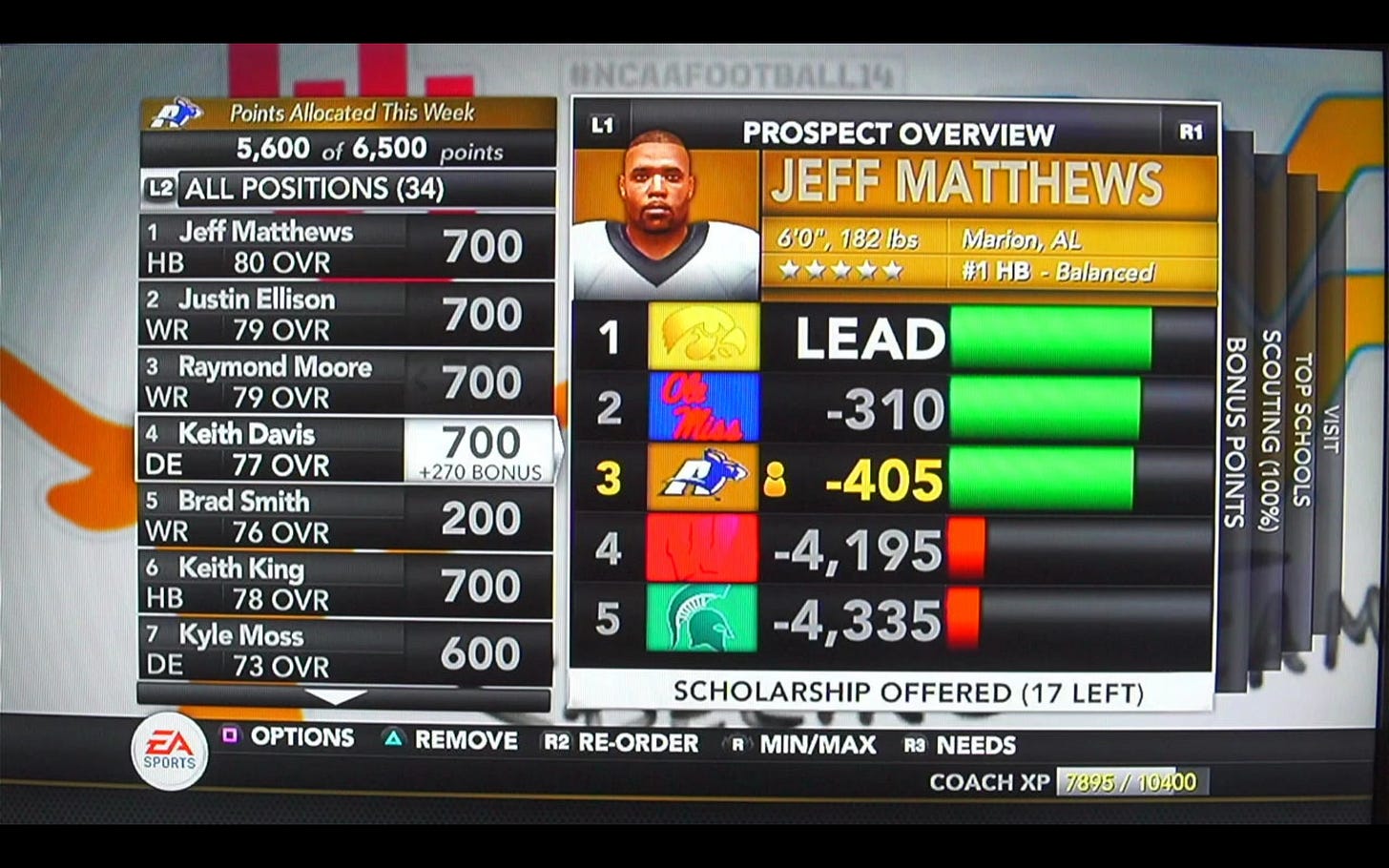 4-0 | Week 6 at #14 Ohio State
We get our annual chance to go against Ohio State and they represent the third Ohio team on our schedule. Due to the fact that they've fallen to 1-2, this game lacks a bit of the drama we had hoped for. They're still #14 in the country and this will be the biggest simulated test yet for Jon Weaver.
Let's see what he can do…
*
*
*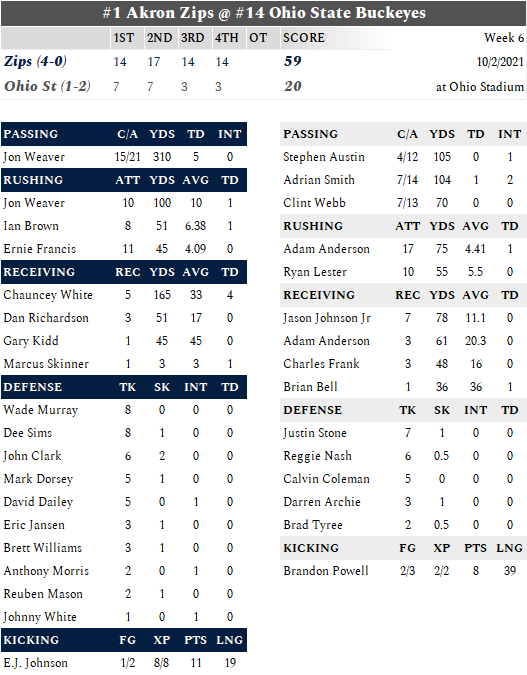 A-K-R-O-N!
Chauncey White is having a monster year and Weaver put together an amazing performance on just 21 pass attempts. We had a field day against the poor Buckeyes, ending any title hopes they may have still been clinging to. You love to see it!
No major developments occur in the recruiting world but I start to invite out players for the Alabama game in Week 10. That'll likely be a turning point in the season.
5-0 | Week 7 vs #8 Notre Dame
While it's been great to beat a couple of ranked teams under Jon Weaver's watch, the biggest tests will be against the powerhouses of Notre Dame and Alabama left on our schedule. We arrive at the Notre Dame week here and it is set to be played on the neutral site of Soldier Field.
On the Twitch stream, we decide that this is a game worth watching. I'm excited to see what Jon Weaver can do in actual game footage and hoping we blow out Notre Dame again for the second straight year. Here's the condensed game footage for you:
*
*
*
*
*
Yikes! Ugh…
The Akron win streak has ended after forty-one games. We lose 27-19.
Our offense never got going in this one as QB Jon "Wildman" Weaver was erratic and HB Ian Brown looked pedestrian. Freshman WR Kelechi King also had a share of gaffes that stopped drives. It was a tough game and frustrating loss.
Add in the fact that our offensive coordinator fell in love with the screen pass at crucial times and it was a disaster of a game. QB Rod Jackson came into the game to try to get something going but he was not ready for the moment.
Our title hopes are majorly dashed but not over. We're only a one-loss team and we'll have a good strength of schedule on the year if that holds.
In news that I hope to be very good, we do get a commitment from the #3 HB in the country, Keith King. He's a tiny speed back but we're hoping that he can be more productive than Ian Brown has been for us thus far. With a lot of our recruiting board needs filled, I start to fill our board with secondary and linebacker help.
5-1 | Week 8 vs Texas A&M
We drop to #6 in the polls. My heart is still sunken after that loss as I've gotten used to winning all the dang time. The show must go on though as we host a 93-rated Texas A&M next, the third toughest team on our schedule.
I sim the game and hope our boys can get back on track and respond after their first loss in the three years.
And?
*
*
*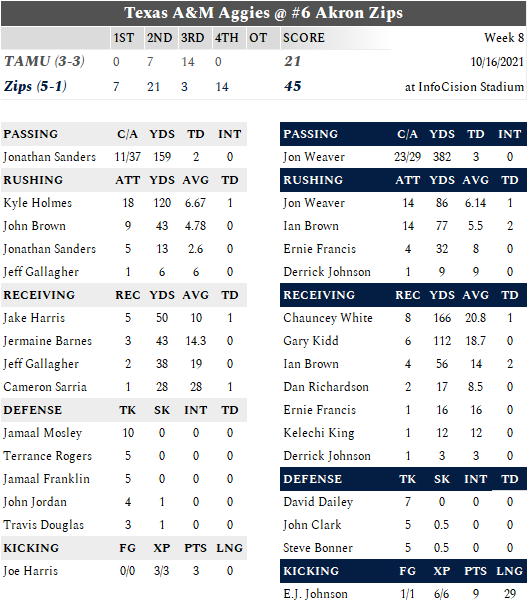 You're gosh darn right they respond!
Jon Weaver puts up the numbers of a Safeman instead of a Wildman, and Chauncey White continues to make a strong case for being a Heisman receiver. This is the boost that we needed as we head into a bye week and then play Alabama in our toughest game left of the year.
We get a 73 OVR defensive end, Kyle Moss, to commit after the game. He's our lowest rated player that we've gotten thus far. He might actually have a hard time making the team but it's good to get depth.
6-1 | Week 10 vs #5 Alabama
We travel to the neutral site of the Georgia Dome for our biggest test of the season in Week 10. Alabama is ranked #5 in the country and we are ranked #4. I don't need to hype this game up. You can figure out that our season hinges upon this important game against a 99-rated team.
I invite out a lot of recruits for this neutral site game and we'll see how effective that is. Our class is looking stacked regardless.
As for the game, well we watched it on Twitch and I've cut it down to five-minute highlight reel:
*
*
*
*
*
I just—ugh—this was a crushing loss.
Zips lose 20-13.
Wildman Weaver gave us his wildest game yet with fumbles and interceptions at every turn. We were in this game throughout and had the lead late. Instead of being careful with that ball when we had a 13-12 lead late in the fourth quarter, Wildman zipped it around and ended up throwing a pick-six.
A gutting loss here.
We'll have to rethink some things as we head into the second half of the season. We're likely not returning to a championship game but this is a time to figure out playbook issues and how to compensate for erratic players like QB Jon Weaver, WR Kelechi King and HB Ian Brown.
Look, the season ain't over! A lot will be learned in these final weeks and we can hold out hope that we sneak into the title game as a two-loss team. More than anything, I'll be watching this team closely to see what we need to fix for the years ahead.
And that's where we end the first half post.
---
Current Commitments
After the Bama game, we did get a handful of commitments with C Andrew Ward joining the fold as well as five-star WR Brad Smith. We'll take a closer look at the recruiting cycle on Friday's Twitch stream and in the next post. Here's a look at our current class: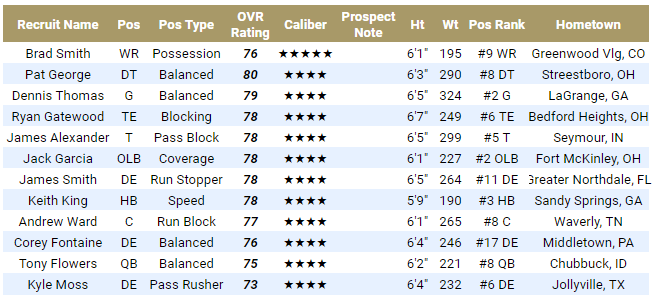 ---
Stats Dump
I found out a new way to export the game data into spreadsheets. If you're a stat geek, this is great news as I now can easily give you the stats you seek!
This is the Year 9 stats spreadsheet
The sheet includes full box scores for every game and detailed team stats for the entire team. Have fun!
---
Twitch Stream on Friday @ 8:00PM EST
I'll be streaming the rest of the season on Twitch on Friday. Will we pull off some sort of miracle and make our way into the BCS Championship Game again? Who knows?!
With so much simming to do during the season, I'll be starting streams at 7:30PM or 8:00PM each time with the goal of having a game ready to broadcast before 9:00PM. This Friday's stream will start at 8:00PM EST and we should start watching a game by about 8:45PM if you are able to pop in. We'll then go through the offseason and set the Year 10 schedule.
I've improved a few things on my end so the quality of the stream should be—as Borat would say—very nice. Whether or not you can make the stream, I'll have the next post up on Sunday morning to conclude the season.
Let's send Fountain Drew off with a BCS Bowl Game victory! Zip it up and zip it out!