Welcome to the conclusion of the Year 8 season in the University of Akron's quest to win a national championship in NCAA Football 14. To learn more about this series and read up on past installments, visit the About page of this site.
The last post ended with us about to head to the BCS National Championship game. I'm going to take a moment to walk through how the recruiting year has gone leading up to that game so you understand where we're at.
If you weren't on the Twitch stream last night then I'm sure you can't wait to see how big game went. Patience is a virtue, my friend!
…or you can just scroll down and then scroll back up, I suppose.
Year 8 Recruiting Recap
Back in the Year 5 recruiting recap post, I talked in more depth about the NCAA Football 14 recruiting process. By now, if you've been following the series, you know that I assign recruiting points to prospective players to convince them to attend Akron. I also can use points scout players and I can bring them out to visit campus once to earn more points in our attempt to woo these guys.
Preseason
The game lets me know that my only official recruiting need is to get one center for our team. Cool beans. Outside of that, I'd like to see us bring in another tight end talent with that potentially being a bigger part of our offense moving forward.
Well… outside of that… I'll just go with best prospects available because we're pretty dang solid at most positions. This is a good team.
In an initial recruiting search, there are two five-star players and eighteen four-star players with Akron in their top ten schools. I guess players suddenly want to come to Akron. We're cool now. Teens like us.
I create my initial board by finding a mix of players who have an interest in us and players that don't have an interest in us but I feel we can convince. After a bunch of scouting and reconfiguration in the preseason, the top players on our initial board are these guys: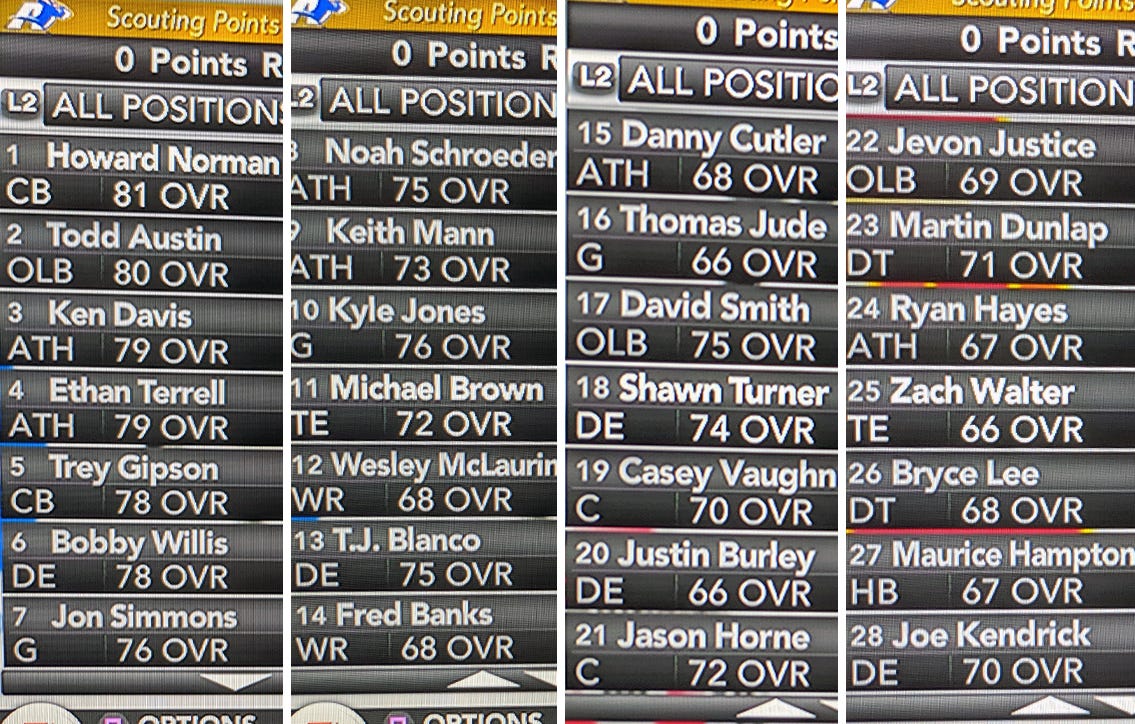 It feels fitting that a lot of players labeled as ATH (Athlete) are interested in us. We aren't starving for a particular position and they don't have a natural position. Two guys at the top of our board are gem prospects that are 4-star players that I found to be rated much higher than their projection after scouting them.
Weeks 1-3 of Regular Season
You all know the deal by now if you've been following this part of the series. I use these early weeks to scout players, assign a small amount of points in players and make initial scholarship offers (hoping I get insta-commits if we're the top school for that prospect). I gauge interest after I see how they react to our initial romances then I drop players from the board, and go hard after guys I think we can get.
In Week 1, I used up 1,700 of our 6,500 points on scouting and scholarships. I show an initial interest in sixteen prospects to see how they react by assigning 100 to 500 points in them. The good news out of this is that our Insta-Commit skill finally pays off as we got a blocking TE to commit right away, Zach Walter (only 63 OVR though). Naturally, he's from Texas.
Prior to the Week 2 game, we move into the front-runner seat for 5-star ATH Ethan Terrell so I make an offer and we get another insta-commit. Booyah! Unlike many of our previous athletes, he doesn't project as a QB. He looks to maybe be someone in our secondary or a RB/WR. We'll see in the offseason. This is a tremendous start and we're finally seeing the benefit of this insta-commit skill.
Ethan Terrell becomes the fourth ever five-star commit as he joins Andrew Fountain, Jon Weaver and Rod Jackson in that pantheon.
We play UConn in Week 2 and we squeak out a win and follow that up with a solid win over Texas A&M.
We get lucky enough to get another insta-commit as DT Martin Dunlap (70 OVR) committed to Akron as well. I'm loving our luck with that feature this season.
From there, I make my adjustments to the board based on who is showing interest. This is what we're looking like for our top targets: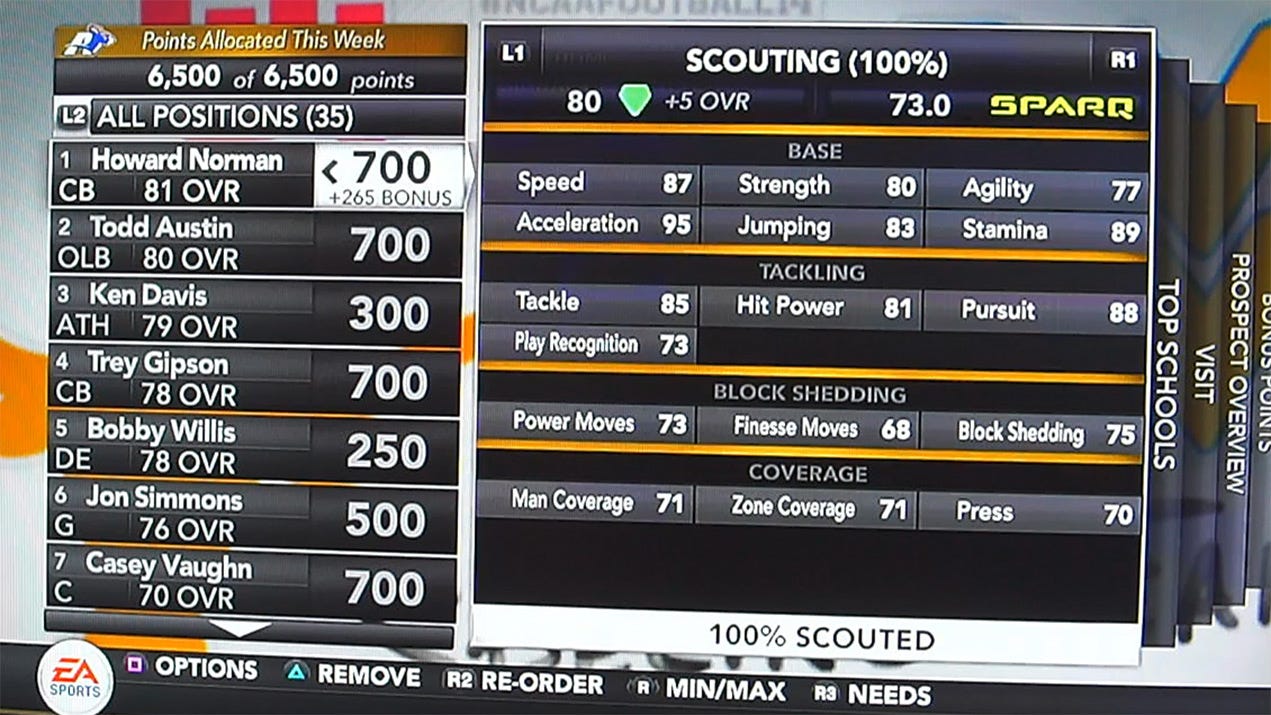 Weeks 4-10 of Regular Season
As usual, these early battles all lead up to some game where we invite the recruits on campus and try to impress them and get them to commit. Unfortunately, our schedule doesn't offer much opportunity early on for marquee visits. The biggest game will likely be in Week 11 against Notre Dame. That's a long time to wait for prospects to come out, but it's also our best chance at earning maximum points on prospects. I do invite a handful of guys out for a Week 9 matchup against Bowling Green but that's likely not gonna be a big chance to earn recruiting points (you get bonuses for beating ranked teams, for instance).
I'm still hoping to woo some guys in the weeks leading up to that but that's hard to do with out a visit.
BUT, WAIT, I'M WRONG!
Due to our rising stock in the nation, we are lucky enough to get a handful of commits over these weeks without having to do much more than just put recruiting points in them. These commits include:
DE T.J. Blanco (75 OVR) ★★★★
ATH Ryan Hayes (73 OVR) ★★★★
CB Howard Norman (81 OVR) ★★★★
OLB Javon Justice (70 OVR) ★★★
I'm insanely happy that we got Howard Norman. He was my top target on the board this year. We got him to commit early and that ensures we have an Anthony Morris replacement for the future. Morris has showed me how important it is to have a lock-down CB, not only in games we watch but games we sim. Howard Norman will eventually step into that role as the #5 CB recruit in the country. Also, getting a 4-star defensive end in T.J. Blanco shouldn't be understated either. I love that.
Basically, I'm very pleasantly surprised with how this is all shaking between insta-commits and getting some high-quality commitments without a visit. Our commitments currently are:

I arrange our board after all of these early commitments and this is what our board looks like as we head out of Week 10: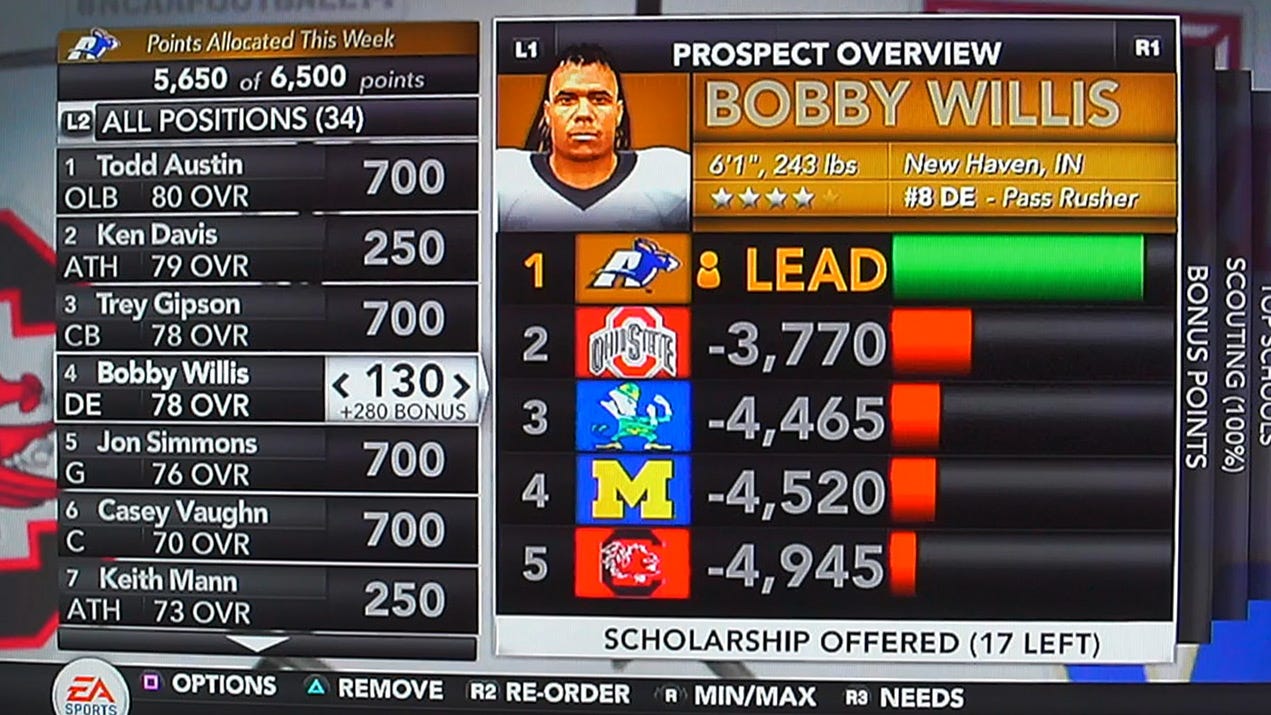 I'd be really happy to get OLB Todd Austin, CB Trey Gipson or DE Bobby Willis. We want to build an elite defense to go with our offense. Despite best efforts, I specifically haven't been able to land an elite LB in any of our classes so Todd Austin is especially appealing. We just need to convince him to attend Akron instead of University of Michigan.
Week 11 vs #3 Notre Dame
Just like last year, the biggest recruiting event is happening later than I'd like but here we are. We're here in Week 11 and about to play on a national stage in a monumental matchup against Notre Dame. We have seven commits already and then there are a total of thirteen players coming out for this game. We can basically settle up our recruiting class with one big game here.
Here are the main players coming out to see us:
OLB Todd Austin (80 OVR) ★★★★
ATH Ken Davis (79 OVR) ★★★★★
CB Trey Gipson (78 OVR) ★★★★
DE Bobby Willis (78 OVR) ★★★★
G Jon Simmons (76 OVR) ★★★★
ATH Keith Mann (73 OVR) ★★★★
DE Joe Kendrick (71 OVR) ★★★
Getting even three of those particular guys would really hype me up. Of the other six players coming out, I'll take what we can get. These seven guys are the main targets for our class at this point.
We watch the Notre Game game which, yes, we win!
Let's see how it affected the class though…
*
*
*
*
*
Eight total commits!!!
We get ATH Ken Davis, DE Bobby Willis, G Joe Simmons and DE Joe Kendrick from that list above! Nice! It looks like Ken Davis projects either in the secondary or as a HB/WR so that's good too. He's now our fifth-ever five-star prospect! A five-star coach gets five-star players, if you ask me.
Also, Bobby Willis and Joe Simmons are going to beef up both of our lines. Love to see that. I'm really happy with this haul. We also get four of the other visitors to campus to commit. Here's the class now: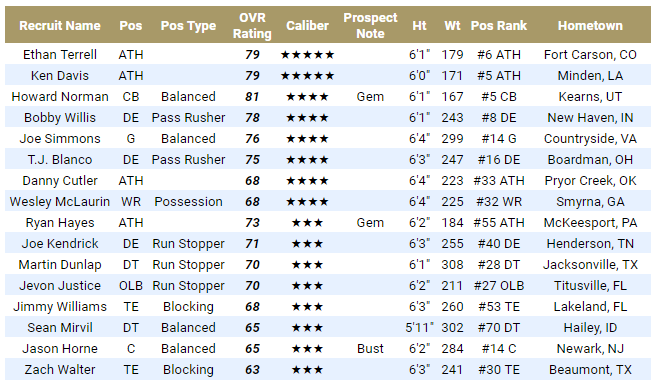 After getting all of those great recruits, I want to focus on building the lines and getting more linebackers over the rest of the year. I rearrange my board with that in mind and here's what we have: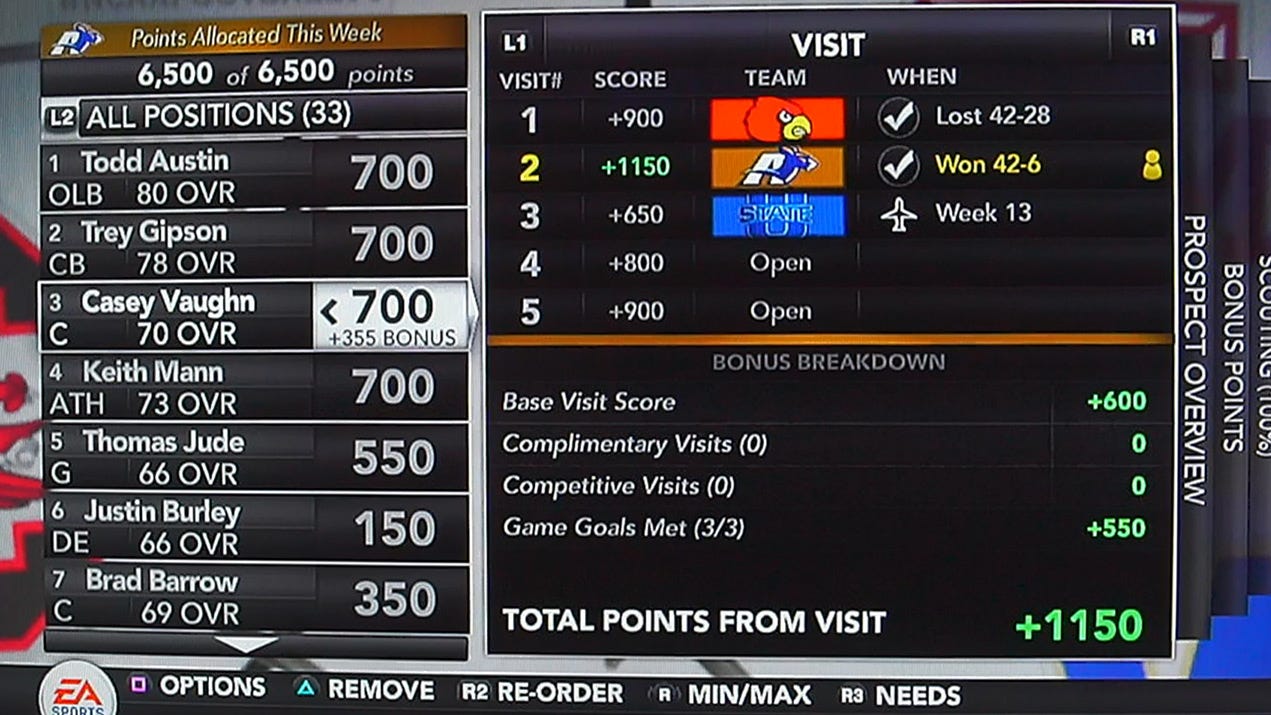 Week 12 & On
We're pretty golden right now. I'd feel much, much better about the class if we got both OLB Todd Austin and C Casey Vaughn. We have a need for a backup center at this point still so I'd like to secure that. But, regardless, we have fifteen of our twenty-five scholarships already given out going into Week 12. Things are good.
After our Week 12 game against Buffalo, we get big news that Trey Gipson has committed! Our secondary is unreal. We got an 81 OVR and 79 OVR CB to commit this year and also got two Athletes that could slot in there as well. Anthony Morris may likely leave this offseason and it looks like we may be in good shape even if he does.
I don't think I'm going on a limb by saying this looks like our best recruiting class ever already: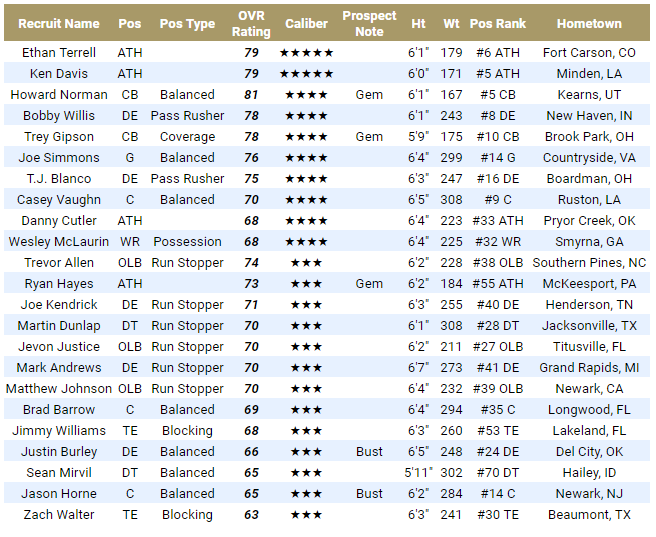 In no shock to anybody, with this sort of quality and quantity of players, we have the #1 ranked recruiting class in the country at this point in the season.
---
BCS National Championship vs #2 Oklahoma
And now, the moment you've been waiting for…
We've made it to the BCS National Championship Game to face off against a 10-2 Oklahoma team (who somehow were ranked higher than an 11-1 Alabama team).
They're rated 99 across the board. This won't be easy. Nothing is given. Everything is earned. Let's go!
Here are the highlights from the Twitch stream. The first three minutes are the game footage and then there is a little press conference where I talk to people in the Twitch chat:
*
*
*
*
*
NAKRONAL CHAMPIONS! WE DID IT!
WE DESTROYED THE SOONERS 38-3!
It seemed over just moments into the game really. Andrew Fountain and the boys came ready to play and demoralized Oklahoma right out of the gates. Unbelievable. The defense was tremendous with eleven sacks and three turnovers. We actually used our run-heavy playbook in this one and just ran it down their throats but any playbook would have done it with the way our defense played. Our backups came into the game with almost a quarter left to play.
Ladies and gentlemen…
The Akron Zips are the national champions of football!
In fact, the banner is stitched and ready to hang at Infocision Stadium for all of time: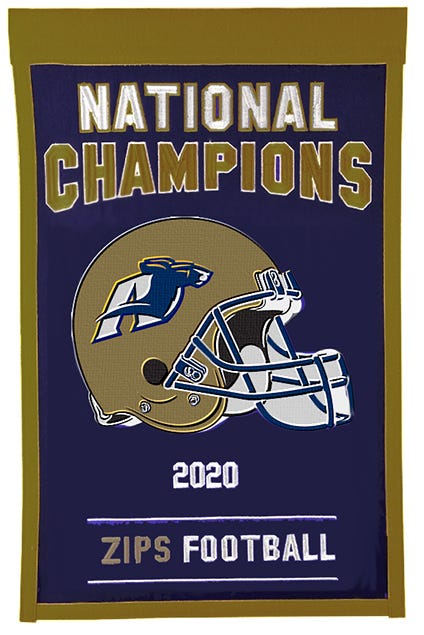 There's so much to say about this team. We became a championship team because of getting players like Kenneth "K-Dubs" Washington to buy into our program early on. Despite having bad defenses for a while, the players started to arrive thanks to our early successes. It was the Cortez Haumillers and the Jared Olivers and all of the players who came along the way that helped us land the recruits that created this amazing team.
And what a team it was! Anthony Morris is the best cornerback I've seen. He just completely shut down anything that came his way, and he has racked up interceptions at an alarming rate over his career. Andrew Fountain is equal parts dazzling and careful. He can put on a show without being a turnover machine. Our WR crew with Edward Daniels, Chauncey White and Anthony Rawlins was hard for any defense to handle as any of them could haven blown up for 100 yards in a game. Our defensive line, led by John Clark, showed the world how good they were by baffling Notre Dame and Oklahoma's quarterbacks. Their eleven sacks in a title game just goes to show how dominant our defense became.
What I'm saying is: the 2020-21 Zips will go down as one of the best teams we'll ever see. I can already feel that. We're going to lose players. We're going to have rough spots at times in our future. I can't imagine having a team that is as dominant as this Zips team from top-to-bottom again. I just have to pause and appreciate what we saw…
Akron is now on the map and in the history books.
I hate to even move on from this but the question now looms out there: what now?
Well, this journey was never about creating a single championship for the University of Akron. The title of my very first post noted that we were beginning Akron's "quest to become a football powerhouse" and that still is the goal here. A football powerhouse is not a school that won a title one time. Teams like Alabama, Notre Dame, Ohio State, Michigan, USC and Oklahoma are renowned because they've won time-and-time again. We hope to join those ranks.
Basically, what you need to know is that Coach Luke has a giant number six on a wall in his office. That's how many titles Bear Bryant and Nick Saban have both won. I'm gunning to break that record.
So…
Let's get to the offseason and get ready to run this thing back!
---
Offseason
As the season ends, we are alerted that Andrew Fountain broke the school's record for career passing touchdowns this season. It was previously 64 TDs and he ends the season with 86 passing TDs in his Zips career. That's probably how it will end with him. He won the national championship and likely will be a top NFL draft pick as he's been sitting at 99 OVR rating for a few years now. What a career it's been.
We also are alerted the University of Akron has offered Coach Luke a seven-year contract extension. It's funny what a 35-game win streak and national championship will do. Coach Luke signs the contract. Akron for life. We also are able to resign both of our coordinators to an extension too which is great news.
Next up is the Players Leaving stage. We actually get some stunning news here:
CB Anthony Morris is staying and…
QB Andrew Fountain is staying!
Wow! That's not what anybody expected. I love to see it! Welcome back, Fountain Drew! We love you!
There are a handful of players that want to declare for the draft, including our top three receivers. In the Twitch stream, we come to an agreement that we're going to limit our abilities as a simulated coach slightly by only allowing us to try to convince one player to stay per year and we can only offer him a promise of finishing his degree. The reasoning here is that the "convince player" ability is a bit too powerful in this game and we need to handicap ourselves a little bit. We use that power to convince WR Chauncey White to stick around which means we are losing these players early:
WR Edward Daniels (93 OVR)
WR Anthony Rawlins (89 OVR)
FS Andy Cooper (87 OVR)
Tough losses. We also lose a number of good seniors like our award-winning center Anthony Thornton (96 OVR), halfback Keith Wallace (95 OVR), guard Ed Jackson (91 OVR) and many more.
We're not rebuilding though—we're retooling.
In the recruiting portion of the offseason, I only have two possible scholarships left to give out. The main guy I still want is OLB Todd Austin. We need to beef up our linebacker corps for the future. With the help of the chatters in the Twitch stream, we decide to put points into ATH Eric Fagan and WR Keron Sears.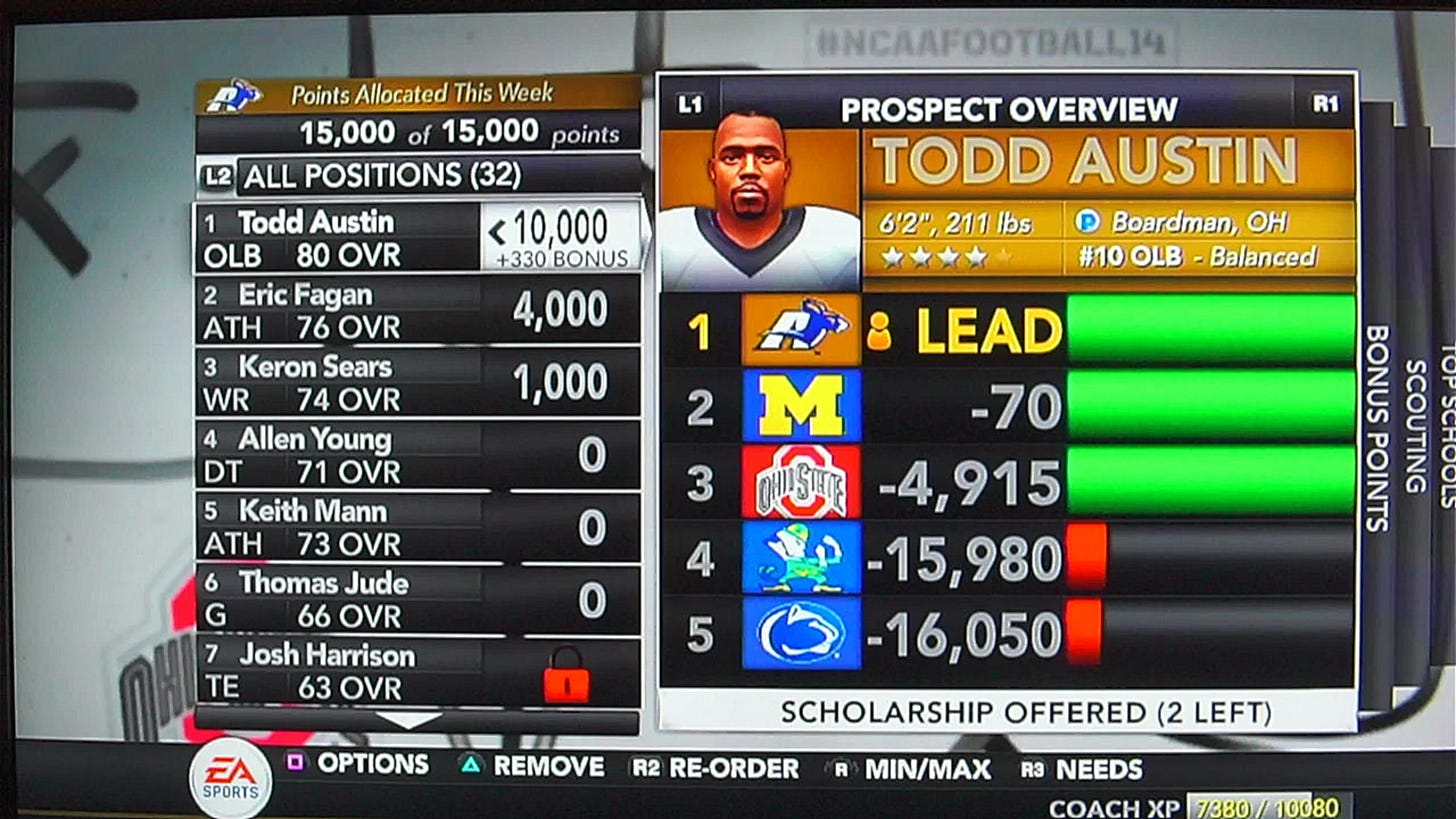 And?
*
*
*
We get Austin and Fagan!
We're now offseason champions too, my friends! We finish with the #1 class in the country. The good news just doesn't stop this year!
Here is the spreadsheet with all of our commits this season and other info about the dynasty.
In the Position Changes week, there's a lot of discussion in the Twitch stream about various players being moved around. The most important thing that happens though is that our athletes are put at these positions:
CB Ethan Terrell (81 OVR)
FS Ken Davis (82 OVR)
HB Ryan Hayes (74 OVR)
TE Eric Fagan (71 OVR)
We follow up this moment by agonizing over cutting thirteen players from the team. It's truly the toughest part of the job for Coach Luke. He's a players' coach but even players' coaches have to break some hearts sometimes.
Conference Change
At the end of Year 6, Coach Luke gave the MAC an advanced warning that their time was up. He promised them another two years so that they could adequately prepare for life without Akron. That time has run out. Despite two nationally-renowned seasons, the University of Akron is still in the process of trying to figure out what to do with all of this influx of revenue and they haven't quite built all of the amenities and upgrades needed to be part of a major conference. There's been discussions with the Big 12 and Big Ten, but our university has more work to do in order to accommodate the requirements of those bigger conferences. Instead, we're gonna go it alone.
In Year 9, Akron will be Independent. A team without a conference. A vagabond. A drifter who was born to walk alone.
It'll be fun because we can build the schedule that we want. It'll give the university a couple years to get ready for the conference shift so that they can be a productive member of a power conference. Importantly, it won't stop us from having a chance to be in the national championship hunt the next couple of years. I'm excited.
The Year 9 Schedule
We set up a rough draft of next year's schedule on the Twitch stream. Here's what it looks like: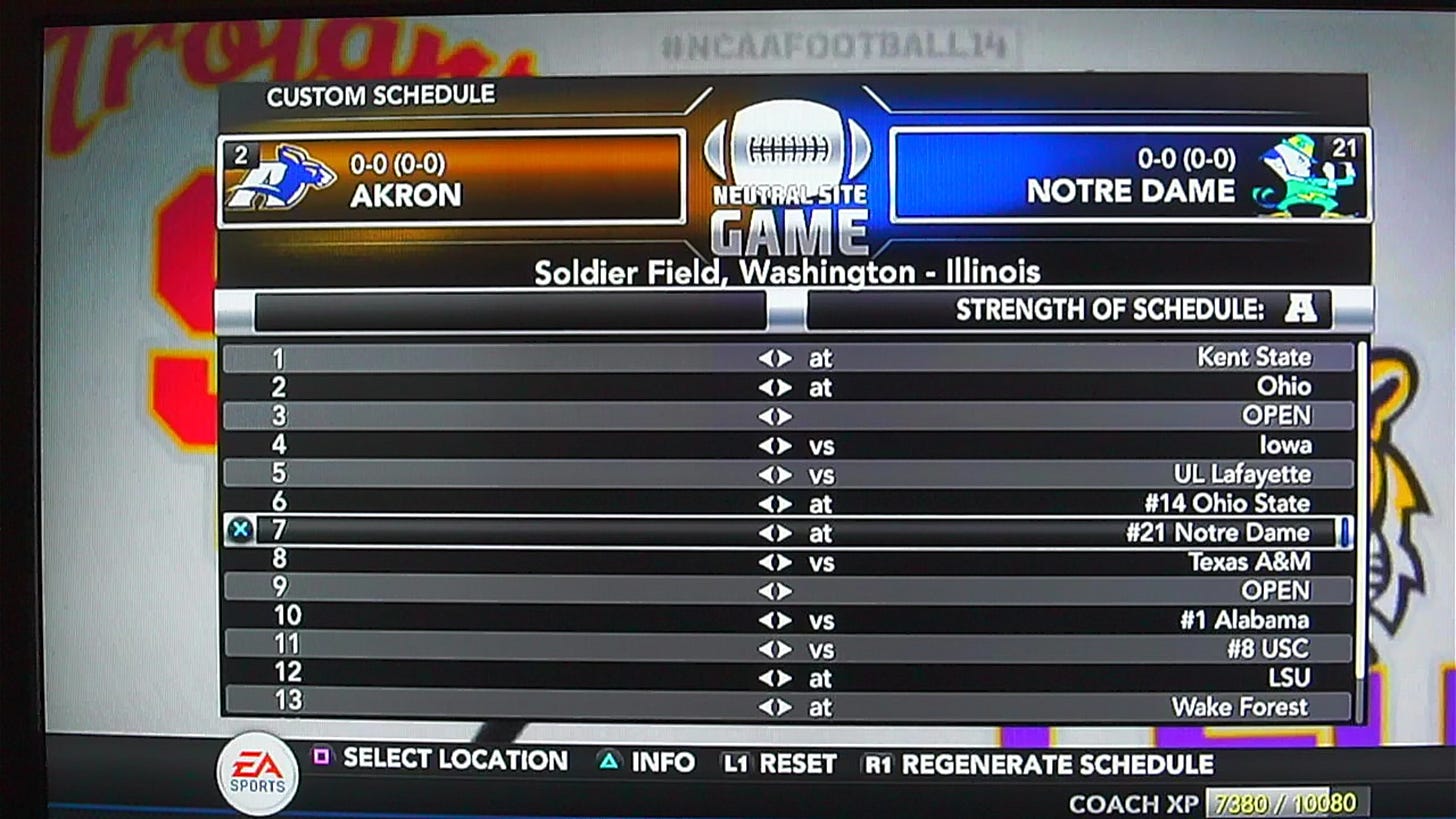 There's also a Week 14 game at home versus BYU that you can't see there. We'll have our Ohio Gauntlet on the schedule, a handful of Big Ten teams to start introducing ourselves to that conference, and a bunch of marquee teams like Notre Dame, Alabama, USC, Texas A&M and LSU.
The Notre Dame and Alabama games are actually neutral site games at Soldier Field and the Georgia Dome.
If you happen to have any major objections or things to consider for this schedule, speak now in the comments below or forever hold your peace. Next season, we'll retire the Ohio Gauntlet and honor our new Independent roots by running through the service academies instead.
Created Recruits
We now have two reader-created recruits in the Rubber City Dynasty cinematic universe. Matt created 5'5" QB Ricky O'Donnell after winning last season's bracket contest. He has committed to Northwestern.
This year, we had the wonderful addition of DE Jiminy Cricket to our universe. We'll keep tabs on this cricket's progress.
---
Rubber City Dynasty Scheduling
For those that dig actually watching this stuff happen live, I will be doing regularly scheduled Twitch streams each week. Every Tuesday night, I'll be streaming the regular season and a marquee game of our choice (or two!). Every Friday night, I will be streaming our season's bowl game and the ensuing offseason.
I like to have a set schedule and this makes it so we're not conflicting with real live football. On Coach Rick's latest stream, he promised he'd try not to overlap with my schedule here and that's beautiful. He's the best. I'm happy we'll have some consistency here.
This will be the schedule this week, and hopefully all weeks after:
Tuesday morning: Year 9 Preview post
Tuesday evening: Regular season Twitch stream at 8:30 PM EST
Wednesday evening: Year 9 Season post
Friday evening: End-of-season Twitch stream at 8:30 PM EST
Sunday morning: Year 9 Conclusion post
Let's win some more titles starting in Year 9. We're coming for Nick Saban and Bear Bryant now! I'm psyched and I hope you are too!
NAKRONAL CHAMPIONS, BABY!!!