Welcome to the next chapter of the University of Akron's quest to win a national championship in NCAA Football 14. To learn more about this series and read up on past installments, visit the About page of this site.
We've arrived at Year 8, but it is going to be hard to top Year 7's results for Coach Luke and the Akron Zips:
They were undefeated and finished #2 overall after winning the Sugar Bowl.
Coach Luke brought in the country's #7 recruiting class, headlined by QB Rod Jackson, DE Reuben Mason and RG Gary Jackson.
For those new-ish to the series, Coach Luke is a recruiting dynamo with a Men's Wearhouse sponsorship deal since he is known for wearing suits on the sidelines. Sometimes, when his dry cleaner has a bad day, he has to wear a track jacket on the sidelines instead though.
Year 7 was great but I'm feeling really good about this team. The hope is that we can continue our undefeated ways but have it end with a national championship game this time around.
For those just joining the series, please note that I do not play any of the games we see. I do recruit players, set the playbooks and then simulate or watch the computer play the actual games for us.
This is Year 8, Zippers. Let's get zippin'!✓
---
Preseason
Year 8 starts just like any other year before us as we start it by redshirting players. The highest-rated redshirts for Year 8 are:
QB Rod Jackson (87 OVR)
QB Kevin Matthews (81 OVR)
RE Reuben Mason (80 OVR)
WR Kelechi King (77 OVR)
WR Dan Richardson (76 OVR)
These are all guys that just didn't have a path to playing time as freshmen so there's no harm in sitting them for a year and letting them loose next season.
The other preseason housekeeping is to set the custom schedule. Viewers on the Twitch stream last week helped me set the initial schedule but I did make one change afterwards. I took out Purdue and replaced them with #22 UConn. I did this because it upped our strength of schedule from a C to a B- despite UConn having a much lower overall rating than Purdue. I wanted a slightly harder strength of schedule in case the BCS factors that in.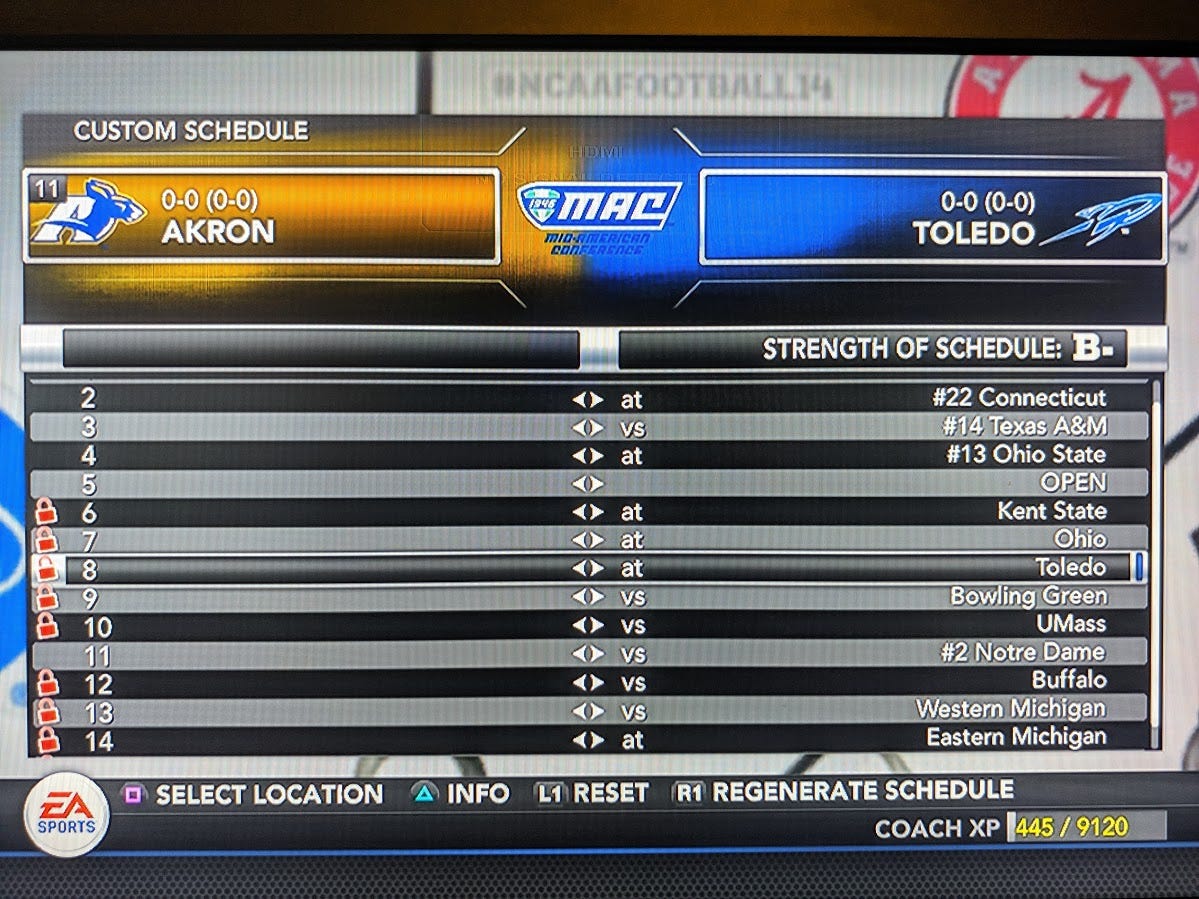 ---
Year 8 Roster
You can read about the roster in the Year 8 Preview post. Here's a look at our starters though:


The offensive playbook has been a topic of discussion that I started recently. Ultimately, for games that I sim past, I'll use stick with our New Mexico playbook because I don't want to mess with something that is working. The problem has been regarding the games that we watch. For those games, it's been decided that we'll use the Ole Miss playbook. It has some shotgun, pistol, a nice mix of read option runs, and more versatile pass plays. I think it'll open up our offense when we're actually watching the games.
---
Year 8 (2020-21)
Welcome to the year 2020. We've reached modern times in this journey. I'm hoping that our fictional football team's 2020 year isn't as disastrous as real-life 2020 has been for so many of us.
I'm—as always—a bit nervous as we sit here at the start of the season. We can't afford any slip-ups and we'll be experimenting with a new playbook! It's a bit scary. Did I meddle too much with a successful formula? Or did I do the thing that takes us to the next level? My stomach is in knots.
0-0 | Week 2 at #21 UConn
This is a rematch of last year's Sugar Bowl that we won. UConn wanted revenge and invited us out to their turf for a ranked battle to start the season. They think they actually stand a chance against us.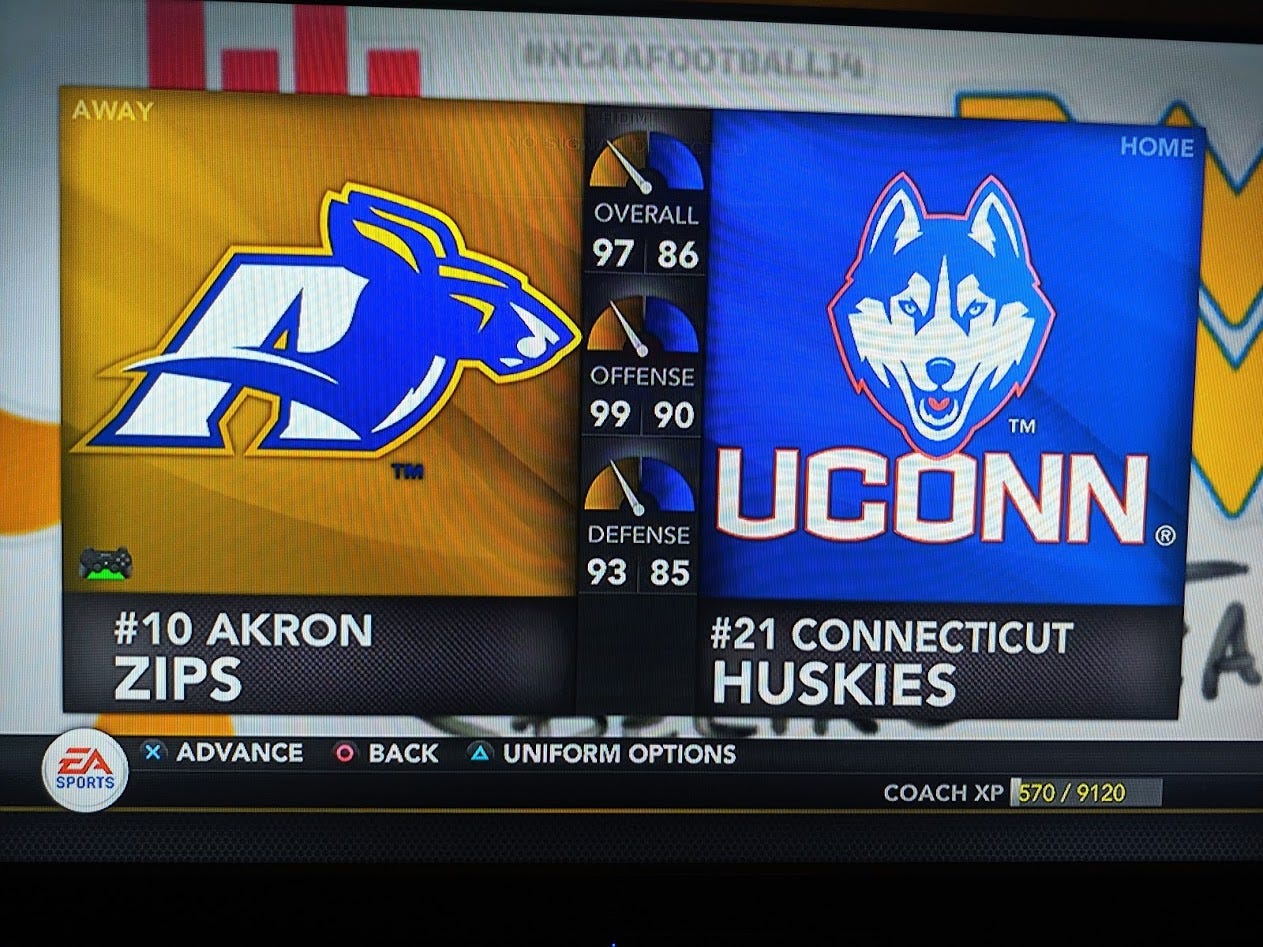 But, the ratings tell a different story. We are #10 in the country to start the year and we are rated significantly better than #21 UConn. We have a 97 overall team with a 99 offense and 93 defense. They have an 86 overall rating and we should win this game by a big margin. Let's start the season off with a bang!
I still nervously close my eyes as I click the simulate button.
*
*
*
*
*
Um.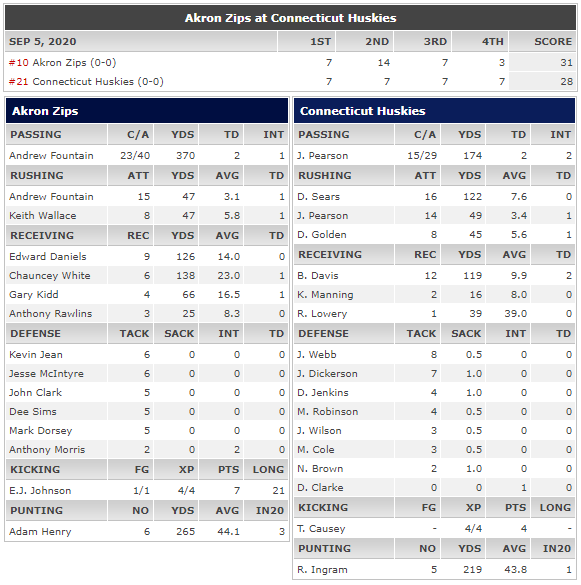 It's a win… but barely! Fountain Drew threw an uncharacteristic interception and Keith Wallace didn't get anything going in the run game. Our defense didn't generate sacks. This feels like a bad way to start the season. Yikes.
It's a win though. I can't be too mad. I just wish we saw a bit more here from, well, anybody.
1-0 | Week 3 vs #21 Texas A&M
We now return back to Akron and have Texas A&M coming out to play us. It's a treat for the many Texans that make up our roster now. A&M has already lost a game but they are still holding on to a Top 25 ranking. They're rated 91 overall, which is five points better than the UConn team we just squeaked past.
We're still the favorites here but last game didn't inspire confidence in me. Our season could essentially end with any of these games.
Here we go…
*
*
*
*
*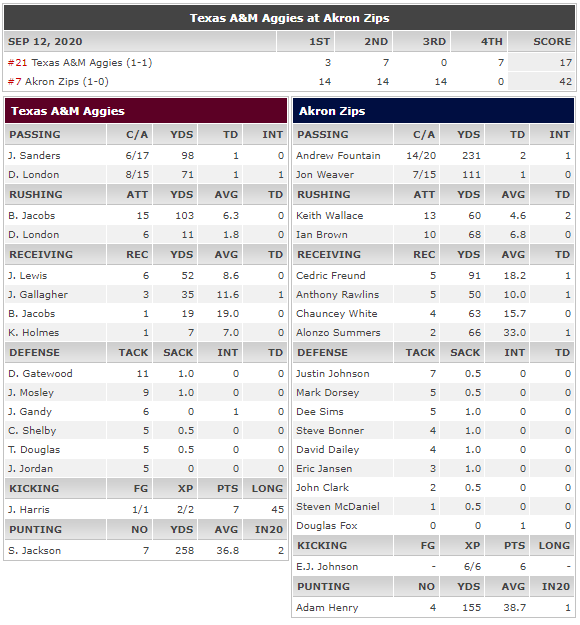 Okay. Phew.
That's better! 42 points!
The offense was kind of well-rounded with nobody really breaking out. Our defense put on a clinic with six sacks as they limited A&M to ten points until a late touchdown.
It looks like Fountain Drew either got injured in the game or was benched once our lead got big enough. He's not on the injury report for the next game thankfully because it's a meaningful one…
2-0 | Week 4 at #22 Ohio State
Ohio State week has arrived.
It seems like every team we play is barely holding on to a Top 25 ranking. The Buckeyes lost a game already and they're ranked #22 in the country as we travel out to Columbus to face them this year.
They are rated 97 overall, like us, but we are playing on their turf now. There's every reason to believe that we are underdogs in this game despite the fact that we've moved up to #5 in the rankings. I haven't seen anybody on our team break out to convince me that we can someone who can take over a big game like this.
My original plan was to watch this game but we'll be watching our Week 11 game against Notre Dame instead, so I sim this hugely important game and hope for good news…
And?
*
*
*
*
*
It's a beatdown! O-H! I-O!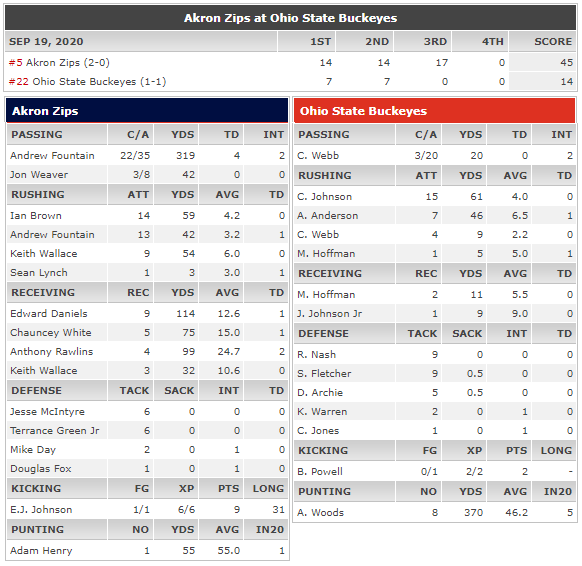 The Zips defense just went nuts! The OSU QB was 3 for 20 with 20 yards and 2 INTs. Have mercy!
On offense, we continue to be an equal-opportunity provider with everybody chipping in but nobody stealing the show. Fountain Drew is a bit more turnover prone this year, but he is playing against tougher defenses thus far. Keith Wallace has yet to establish himself as the runner I hoped he would be. I'm a bit worried about that.
These are minor complaints though after we just torched Ohio State on their home turf. Amazing stuff.
Now? Let's relax with some games against the MAC.
3-0 | Week 6 at Kent State
The MAC should be easy sledding as we are rated 97 overall and the two highest-rated MAC teams on our schedule rate at 83 overall. It would take some catastrophe for us to blow one of these games… I think.
We start by travelling down the road to Kent, OH. We'll be facing one of those 83-rated teams in the Golden Flashes.
And?
We light up the Flashes! Once again, everyone chips in and no particular player takes over. We just have so much talent.
4-0 | Week 7 at Ohio
We get some amazing news as head into our matchup with Ohio…
Akron is ranked number two in the country!!!
Why is this significant? It means that we are in the driver's seat for a national championship game. If we win out, there's no reason to think that we should drop in the polls. It's great news but it also means that the pressure is legitimately on.
First up? Coach Luke and the boys have to take care of business against Ohio. We travel out there and they are the highest-rated MAC team left on our schedule as they also rate at 83 overall.
And?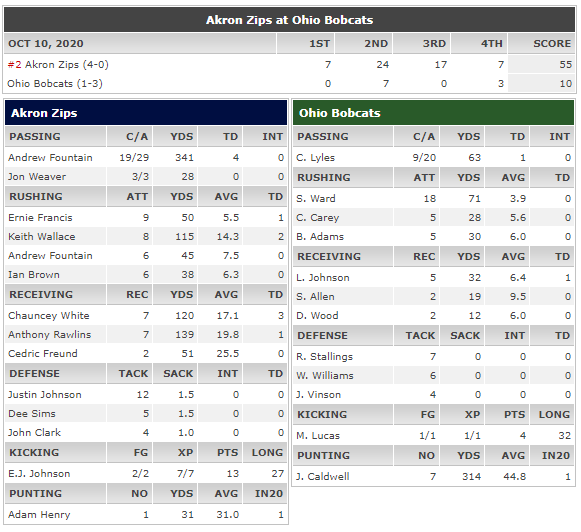 We're torching folks now! These are the type of games we should expect in MAC play now. Andrew Fountain has his best game of the year. Keith Wallace compiles over 100 yards on just eight carries. Chauncey White fills up the stat sheet. LB Justin Johnson has a huge day on defense. It's all good, man!
5-0 | Week 8 at Toledo
Week 8 arrives with more good news. We're now ranked #1 in the country. A first under Coach Luke.
Everything is coming to fruition! I want to celebrate because I realize how close we are to realizing the championship dream. Notre Dame looms on the schedule and that game will determine this season's fate.
We can't look ahead though. Time to take care of business. We travel to Toledo and…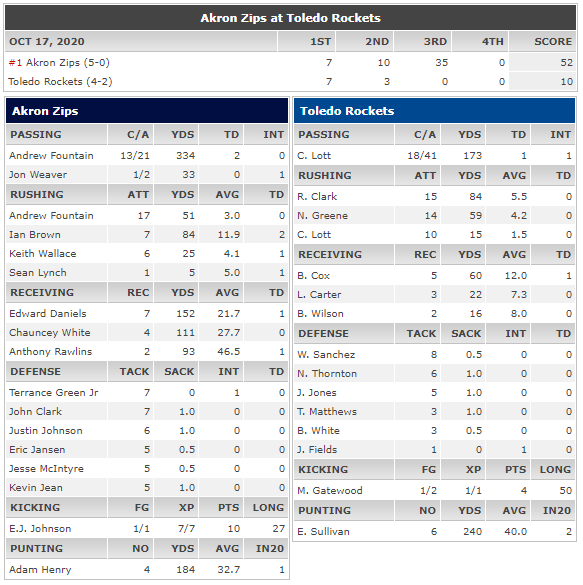 We dispose of them easily. Let's keep zippin'.
6-0 | Week 9 vs Bowling Green
Bowling Green is rated 79 overall. This one should be easy enough. Just two games left before Notre Dame.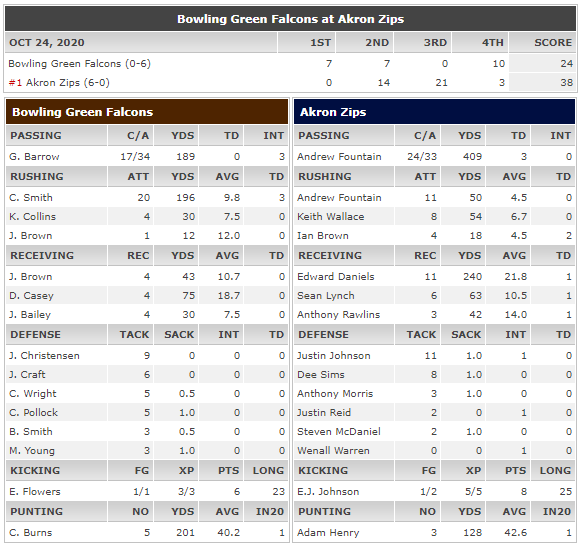 Oh whoops. We got caught looking ahead and the game was a bit closer than we're used to here. Their running back went off and had a day for himself. It's a win though so let's not get too down on ourselves.
7-0 | Week 10 vs UMass
UMass is a terrible team. We learned a lesson in not looking ahead last week though. So we focus completely on this game.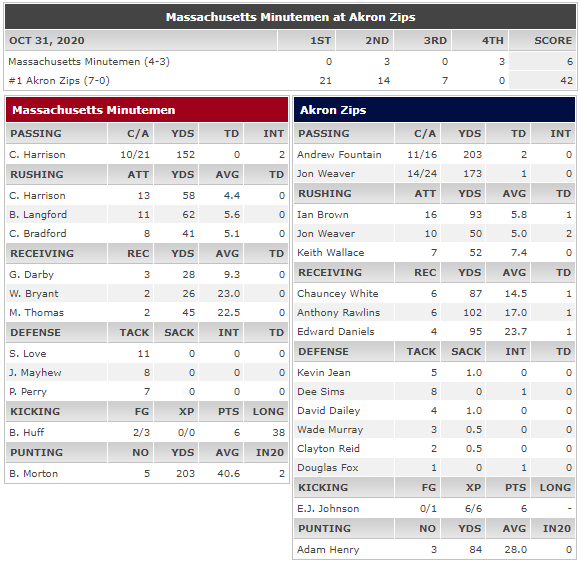 Perfect! We win 42-6.
Our first mission has been accomplished as we're undefeated heading into the big game against the Fighting Irish.
8-0 | Week 11 vs #3 Notre Dame
What can I say? You can surely understand how big this game is.
Notre Dame is rated 95-overall and they are #3 in the country. They have a great rushing offense while our rushing defense is the weaker part of our team. This may be a matchup that lines up well for them.
I won't hype it up any more than it needs to be hyped. You get it.
I streamed the game on Twitch but I still condensed it down into a highlight package for y'all. Here is a three-minute video of the main events of the game:
*
*
*
*
*
We win 35-17!!!!
The score doesn't tell the story, my friends. We were up 35-3 and brought in backups against Notre Dame here. We were rolling. Big credit to the defense as they rattled the Notre Dame quarterback all day and allowed us to build a lead so they couldn't use their rushing attack against us.
The bad news is—yes, there's bad news—Fountain Drew hurt his shoulder on a throwing play. He was out for the game and now will be out for three weeks. We have a tremendous backup in former five-star recruit Jon "Wildman" Weaver so all is not lost. That being said, it was a bit worrisome how erratic Weaver looked in the game at times.
But, hey! My dear new friends, we now have a path to the national championship! We've done our jobs. We just need to close out the MAC here.
Weeks 12-14
Let's just run through the box scores for the rest of the regular season, shall we?
Admittedly, I was a bit nervous as I clicked through each of these game but my fears quickly subsided as we destroyed everyone in our path. QB Jon Weaver went off in that first game, earning NCAA Player of the Week honors. QB Andrew Fountain was healthy enough to return for the Eastern Michigan game so there is no worry about his status for a potential national championship game.
---
MAC Championship Game
The last game on our schedule is the good ol' MAC Championship. We get a rematch with a Western Michigan team that we took care of just two weeks ago. They're rated 81 overall to our 97 overall. I'm finally feeling a bit relaxed as we've been on a warpath now.
Here we go!
*
*
*
*
*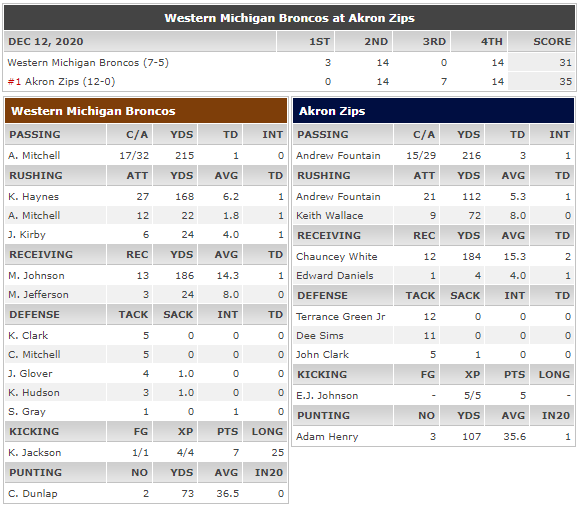 Oh my. That's close.
You can watch me and the people in the Twitch chat react to seeing this score here. If you watch that clip, you can hear a ridiculous cricket that was a guest star on the stream all night! Love that guy!
But, look, we barely won this. We actually had to score a TD with three minutes left to take the lead. We almost slipped up and blew this whole thing. I guess we were caught looking ahead again.
BUT WE WON THE MAC! MAKRON, BABY! THAT MEANS WE ARE HEADED TO…
---
The 2020 BCS National Championship Game
Yes! We are standing at the mountaintop after all these years. Oklahoma is here with us at this mountaintop though, and they're a dang good team (you can see me look at their roster on the Twitch stream here).
I'm going to be watching and streaming the game on Twitch again on Saturday night at 8:30PM EST.
I may break out a suit jacket for the event. I may even have a bottle of Akron's own Hopping Frog beer on ice just in case we win. What I'm saying is that we may possibly have some fun if you stop by and join the party.
This is Year 8.
This is 2020.
Your Akron Zips are playing in the National Championship game against the University of Oklahoma. It's all happening! I'm psyched!
---
Year 8 Season Stats
If you're curious about the year's stats thus far, here's a look at the team.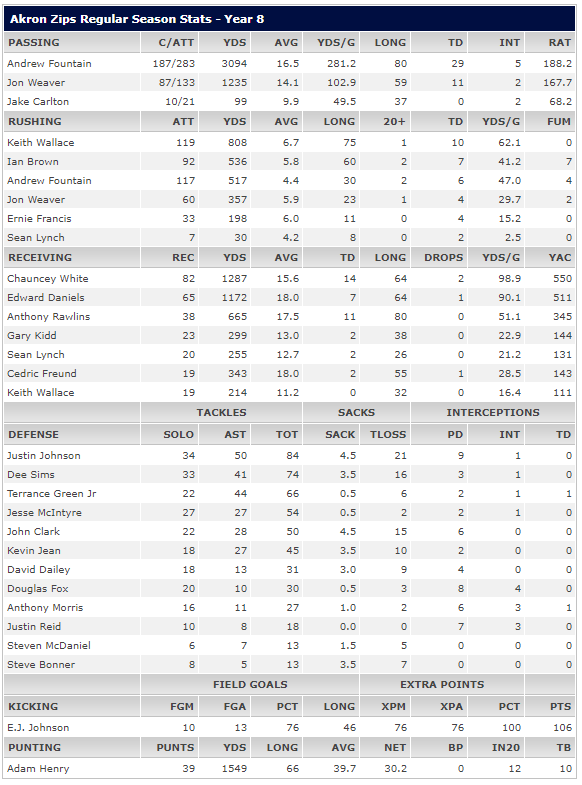 ---
Up Next
We've got the national championship up next! That's what's up!
A few notes though! Given the short turnaround, we'll forego the bowl game pick 'em contest this year. If you're in the Twitch chat on Saturday, we'll figure out some contest though, like picking the total points of the game, so that someone can still create a recruit for next year.
For those that can't make the stream:
I'll put up the Season Conclusion post on Sunday night, with a video recap of that game included.
We'll see how the Year 9 posting schedule goes from there for the week ahead, but I'll let you know in that Sunday post. In an ideal world, I'd say we have a consistent night for each of these things but we're not there quite yet.
Before we wrap up, a question for the readers: does everyone still want the Season Preview posts?
With Twitch streams that people can watch and multiple posts a week, I don't want to spam you with too much stuff if it feels that way. If we drop the Season Preview, I could two posts per season but include some notes about the roster on a Reddit post each week on our subreddit. What do you all think? I'm down for whatever.
Anyway, let's not look too far ahead though! The National Championship Game is here! The time has finally come! See you on Saturday night or stay tuned for the results of the game!
Get your Mountain Dew and suit jackets ready! We're zippin', baby!