Welcome to the conclusion of the Year 5 season in the University of Akron's quest to win a national championship in NCAA Football 14. To learn more about this series and read up on past installments, visit the About page of this site.
Today's post will specifically recap the recruiting efforts from Year 5. I'll then recap the offseason and give a quick look ahead to Year 6.
In Year 5, the Zips finished 10-2 in the regular season and then went on to win the MAC Championship over Northern Illinois as well as the GoDaddy.com Bowl over Texas State. They finished the season ranked #15 in the nation.
Year 6 will be the first time that the Zips roster is filled entirely with Coach Luke recruits. This recruiting cycle is an important step towards making the Zips a championship team within the next few years. Let's see how things went on the recruiting trail as Coach Luke ventured the country in that fancy suit of his.✓
---
Year 5 Recruiting Recap
In NCAA Football 14, the basic concept behind the recruiting process is that I'm choosing how many recruiting points to put into a prospect each week. In addition, players have certain preferences that give each team a natural bonus each week. The other way to gain points is to invite prospects out for a recruiting visit. Once the prospect reaches a certain unknown threshold of points, he commits to a school.
As the coach, the other way I spend recruiting points is by offering scholarships or scouting players.
There are three phases to recruiting as I see it:
Preseason: I load up my recruiting board with players that I want to show interest in. I scout the max of twenty players and drop any major busts from the board and replace them with other players.
Weeks 1-2: I finish scouting all players on my recruiting board, replacing players as needed. I offer scholarships to my most important targets and use the remaining Recruiting Points to show interest in players without going all-in quite yet. By Week 2, I can see which players are responding to our interest and I start removing players that we won't be able to get, replacing them with more players.
Week 3 and on: This is when a more clearly defined recruit board takes shape. I know who we're in the running for and I am actively going after about fifteen guys each week. As players commit to Akron, I start changing up who those fifteen players are.
Preseason
The game lets me know that my official recruiting needs this year are to get two MLBs and one OLB. Filling the linebacker void is a key for this recruiting cycle. Aside from that, I'll just be mostly focusing on defense and trying to get players in the trenches on either side of the ball. You all know by now that I love those trenches. That's how we win.
I start the process by looking for players that have Akron in their top ten schools. There aren't any 4-star nor 5-star players with that level of interest in us, so I add a bunch of 3-star players. I do still choose to add some 4-star players to our boards despite us not being in their top ten initially. I have faith that Coach Luke's fancy suit will win them over.
These are the main targets on our board after the preseason phase: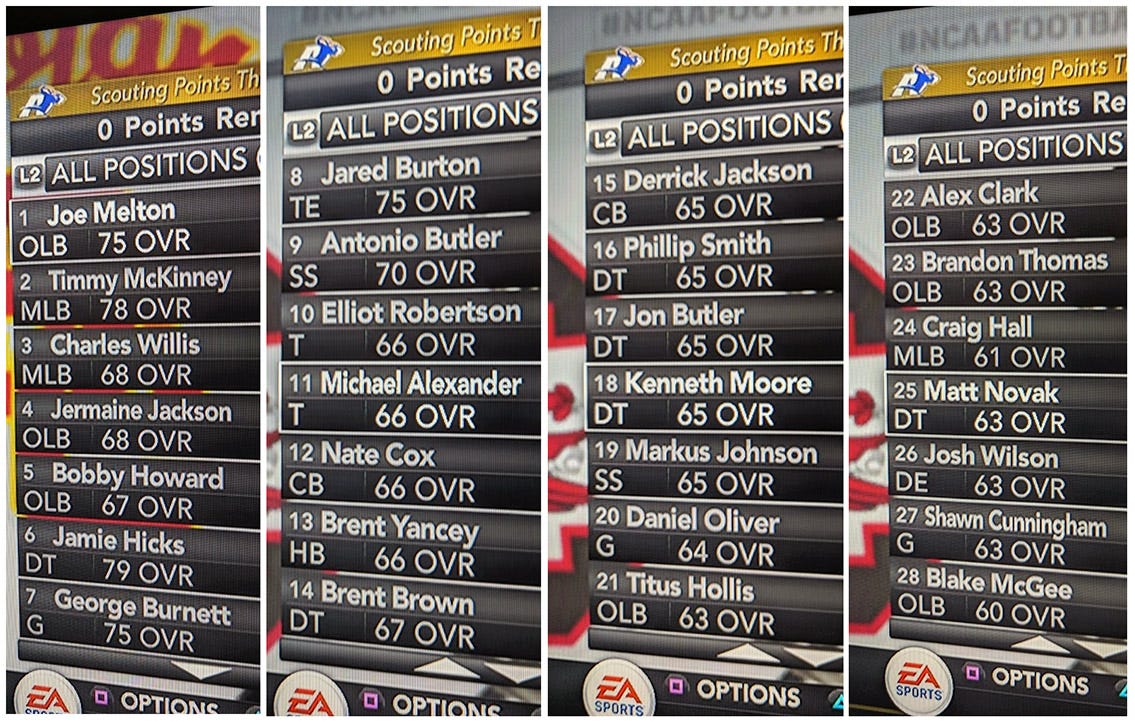 Week 1-2 of Regular Season
In Week 1, I spend about a third of my recruiting points to scout all the players on my board and offer scholarships to twenty of them.
I use the recruiting points to show an interest in about fifteen players. I don't overcommit to anybody at this point. Instead, I put anywhere from 100 to 400 points into each player. In Week 2, I'll be able to see if our interest swayed them at all, and I'll also see how many other offers the player is getting.
I simulate the week and we start to see the picture take shape in the next week. For instance, here's how the battle looks for 4-star OLB Joe Melton: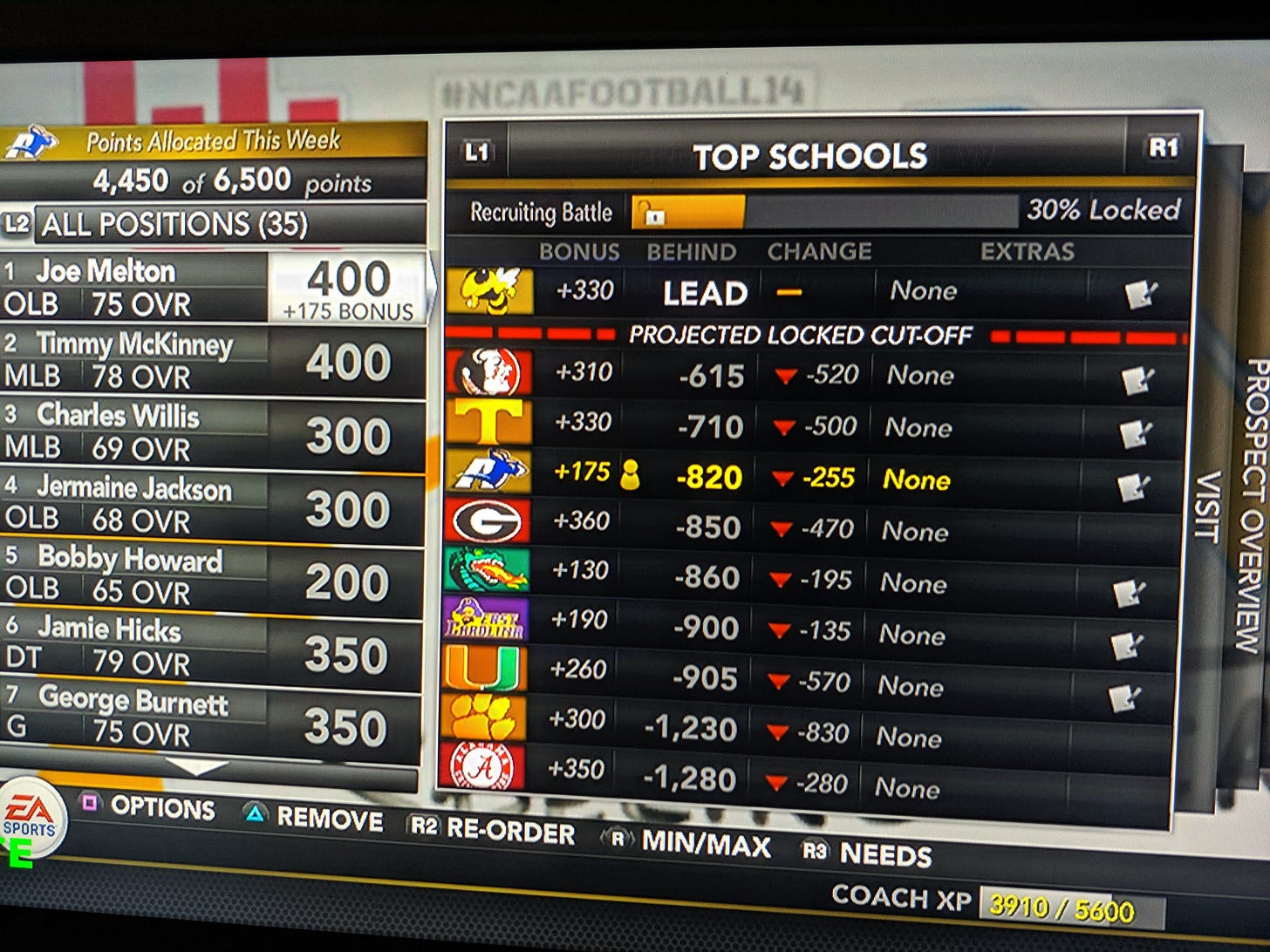 Despite putting 400 points into him, we're losing ground on Georgia Tech and have a smaller natural bonus for him than the schools above us. He also has six other scholarship offers. Needless to say, there is no reason to continue using points on him. I back out and remove him from the board.
Things look more positive for 3-star OLB Bobby Howard: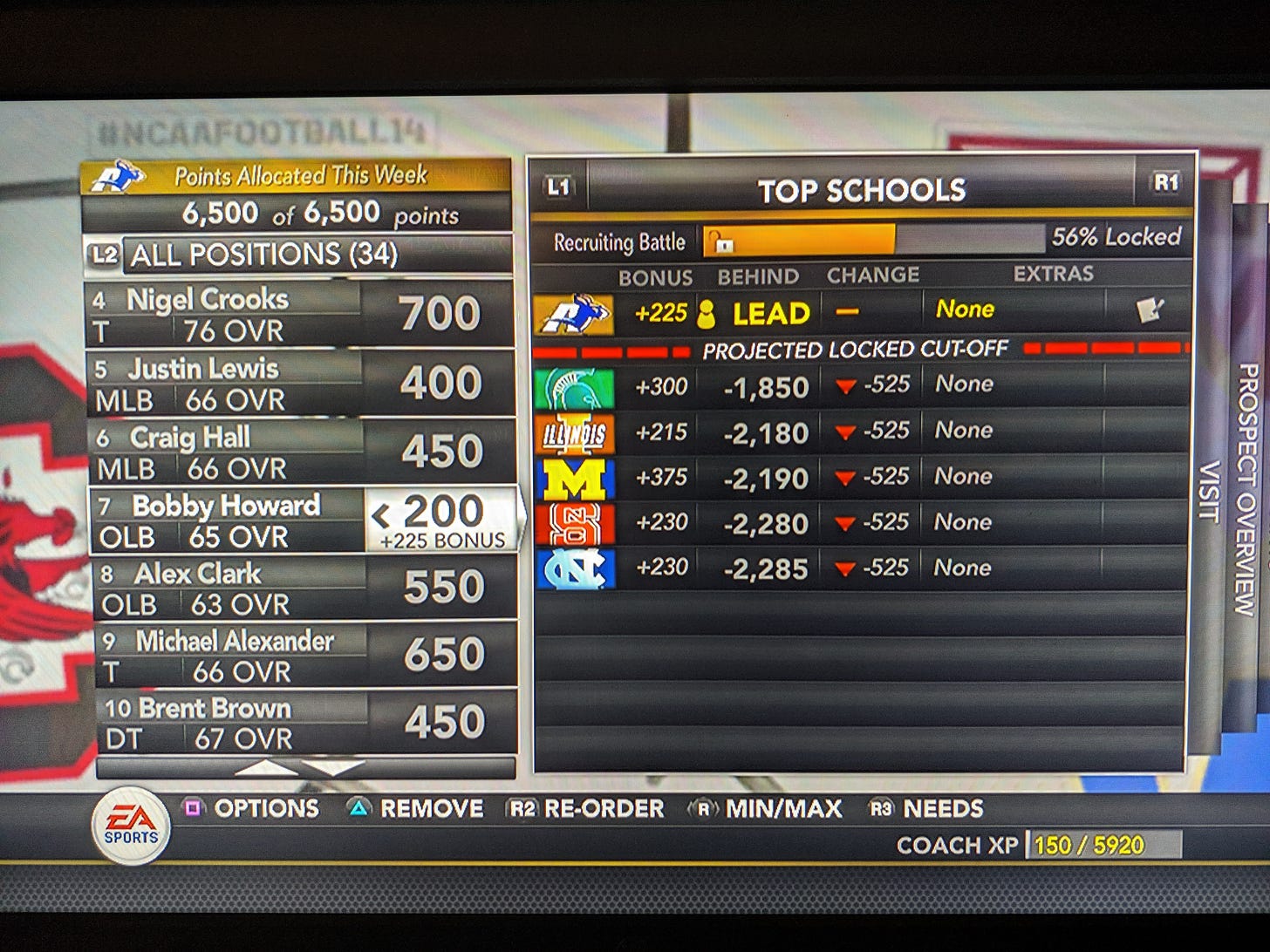 I had only put 200 points into him and we still gained ground over everyone else. He also has no other offers at this point. It seems like we'll have no trouble getting him to eventually commit so I won't put that many points into him each week.
Our recruiting picture has taken a more defined shape after these first two weeks. These are the main targets for the weeks ahead: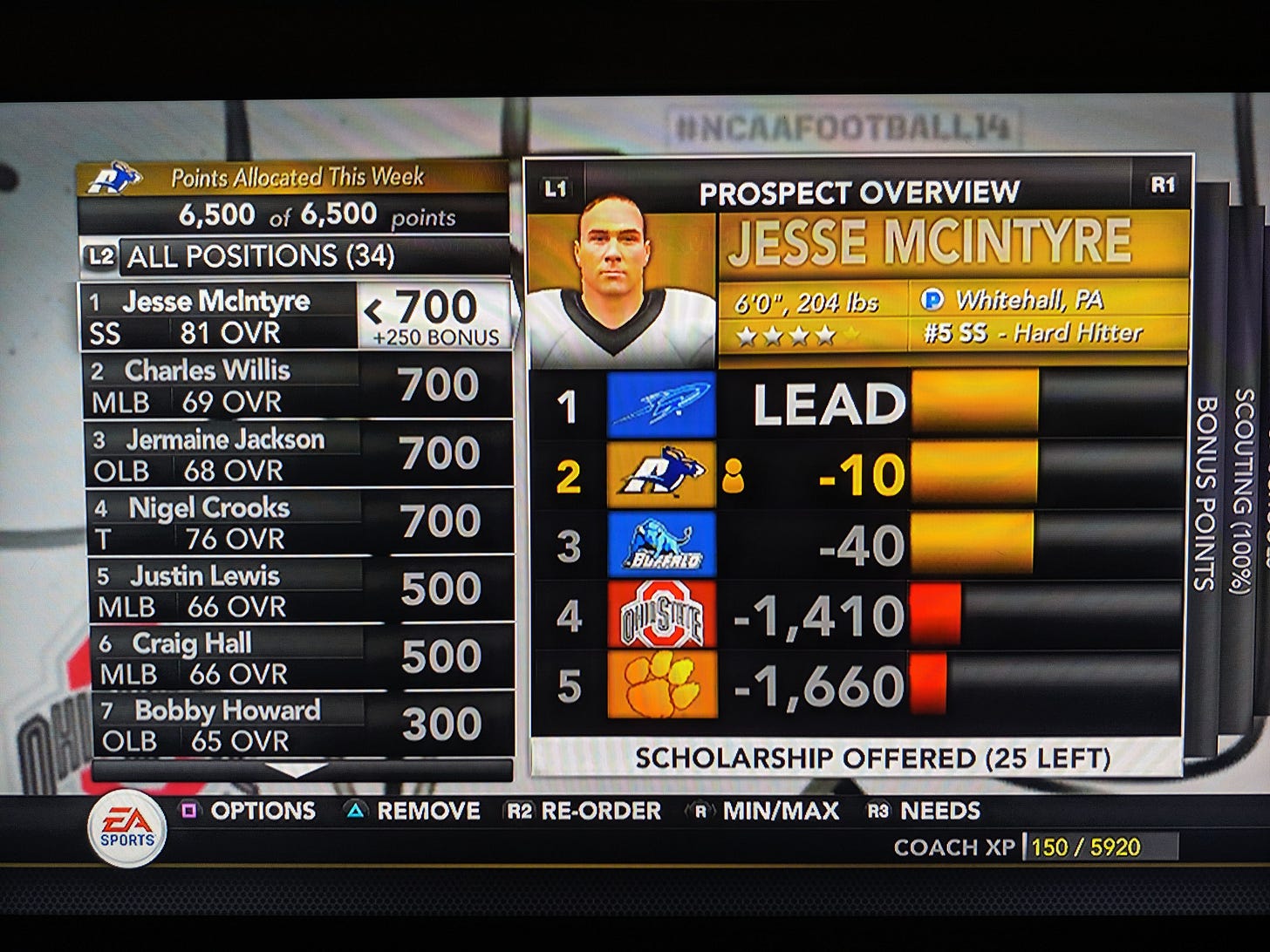 Rest of Regular Season
I am officially harnessing my hopes to five main players at this point:
SS Jesse McIntyre (Whitehall, PA)
MLB Charles Willis (Swainsboro, GA)
OLB Jermaine Jackson (Miamisburg, OH)
DT Jamie Hicks (Hope Mills, NC)
T Nigel Crooks (Humble, TX)
Nigel Crooks and Jamie Hicks are 4-star players that we'll have the toughest time convincing, but I like to dream big.
Considering that LB is a big need, I'm also going after MLB Justin Lewis, MLB Craig Hall, and OLB Bobby Howard. We have a good lead for each of them so I don't need to push too hard, but I continue to put a moderate amount of points into them.
After beating Tulsa in Week 3 of the season, I notice that we're not making up enough ground to stay in the hunt for 4-star DT Jamie Hicks despite putting maximum points into him. I drop him from the board. Our other long-shot prospect, T Nigel Crooks, is looking like a tough battle but we're staying in the fight against major schools: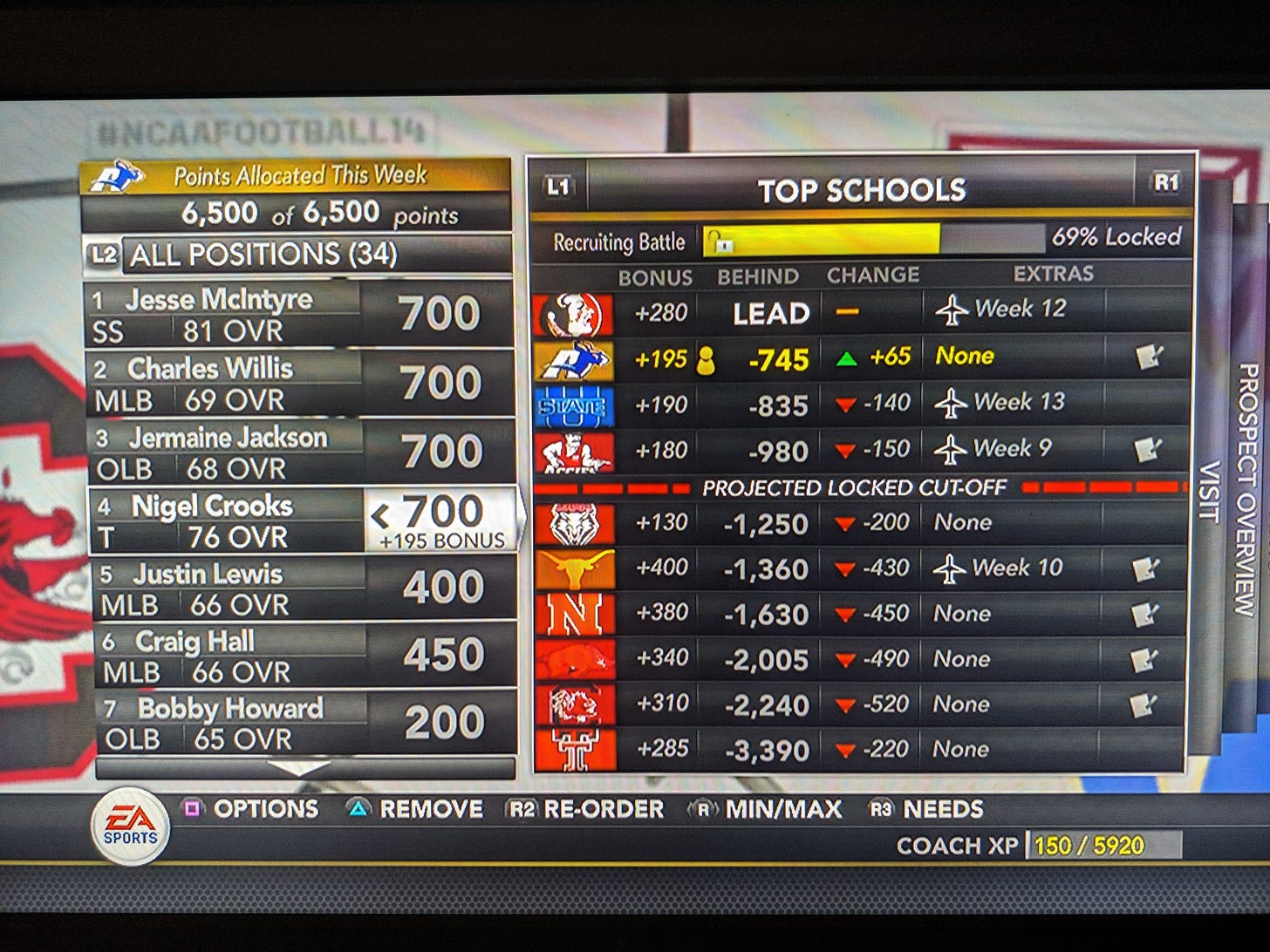 I do some reconfiguring of our board and add four highly-rated players to my pursuits at this point. Those players are Antoine Fowlkes, Mike Day, Vernon Williams and James Vincent. I show moderate interest in them to start our courtship and hope for the best: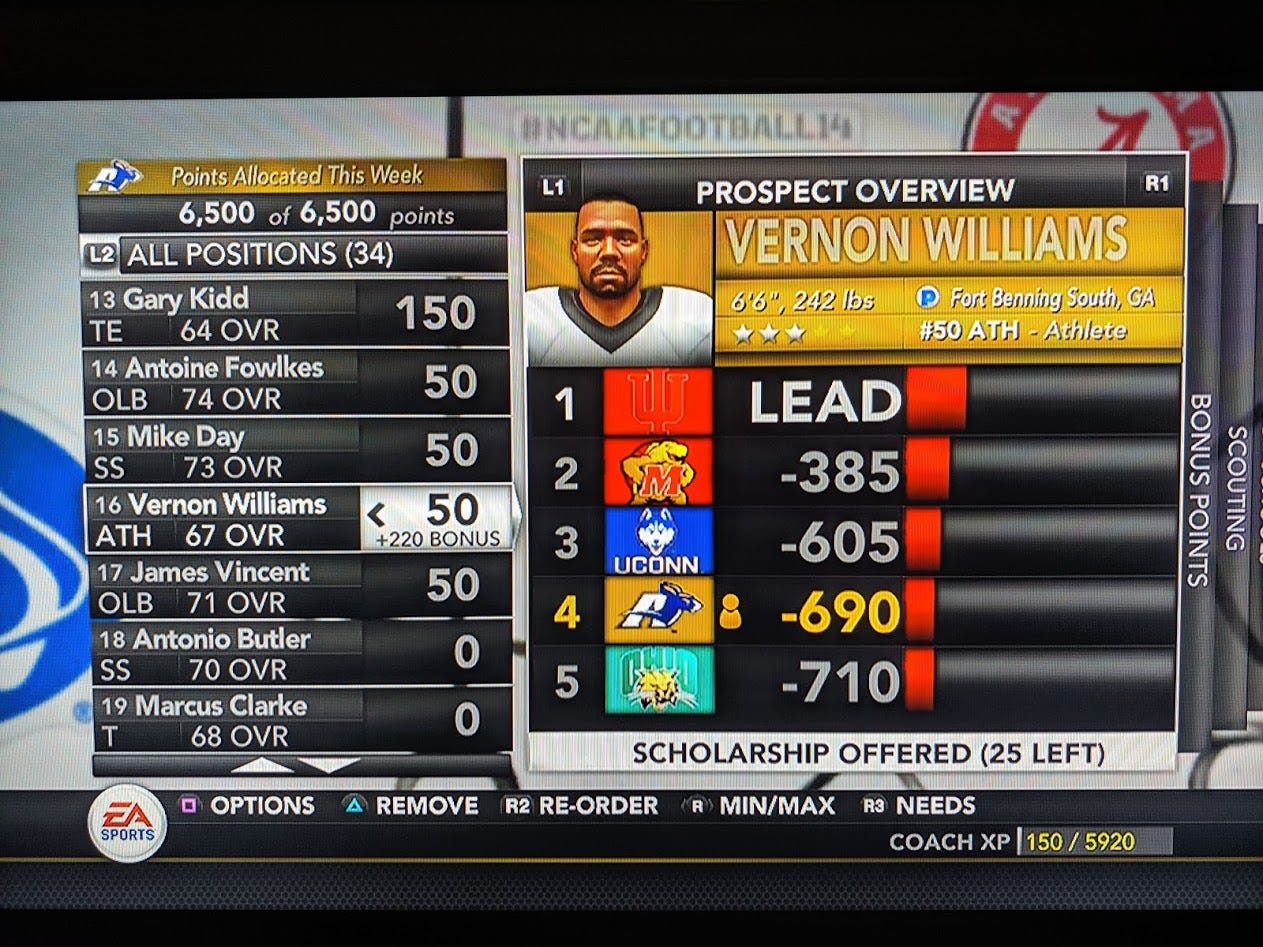 We're staying mostly focused on the defensive side of the ball because we already have a ton of young talent on offense for the years ahead.
We lose a game to #7 Arizona in Week 4 and we don't yet have any commitments to Akron after five weeks. No need to panic yet though because that will likely all change after our big home game in Week 6 versus our rivals Kent State.
Week 6 Rivalry Game
I end up inviting eleven players to visit Akron for our rivalry game. We get bonuses based on how well we do in the game at the positions for each of those players, and we get a bonus if we beat a rival team. That's why this is such a major week. We hopefully will gain enough points to push some players over their threshold to commit.
Any commitments that we get from this game will have a big effect on the rest of the recruiting cycle. Instead of continuing to devote points to those players, we can move those points to other battles.
My hope is that we win the game and get three or four commits from it. I'm not optimistic we'll be that lucky though because we're in a lot of close recruiting battles. If we end up with one or two commits, it may have a negative effect on our entire recruiting process as we'll have to keep our points committed to a lot of tight recruiting battles.
We end up winning the game itself versus Kent State, but did we win the recruiting battle?
*
*
*
*
*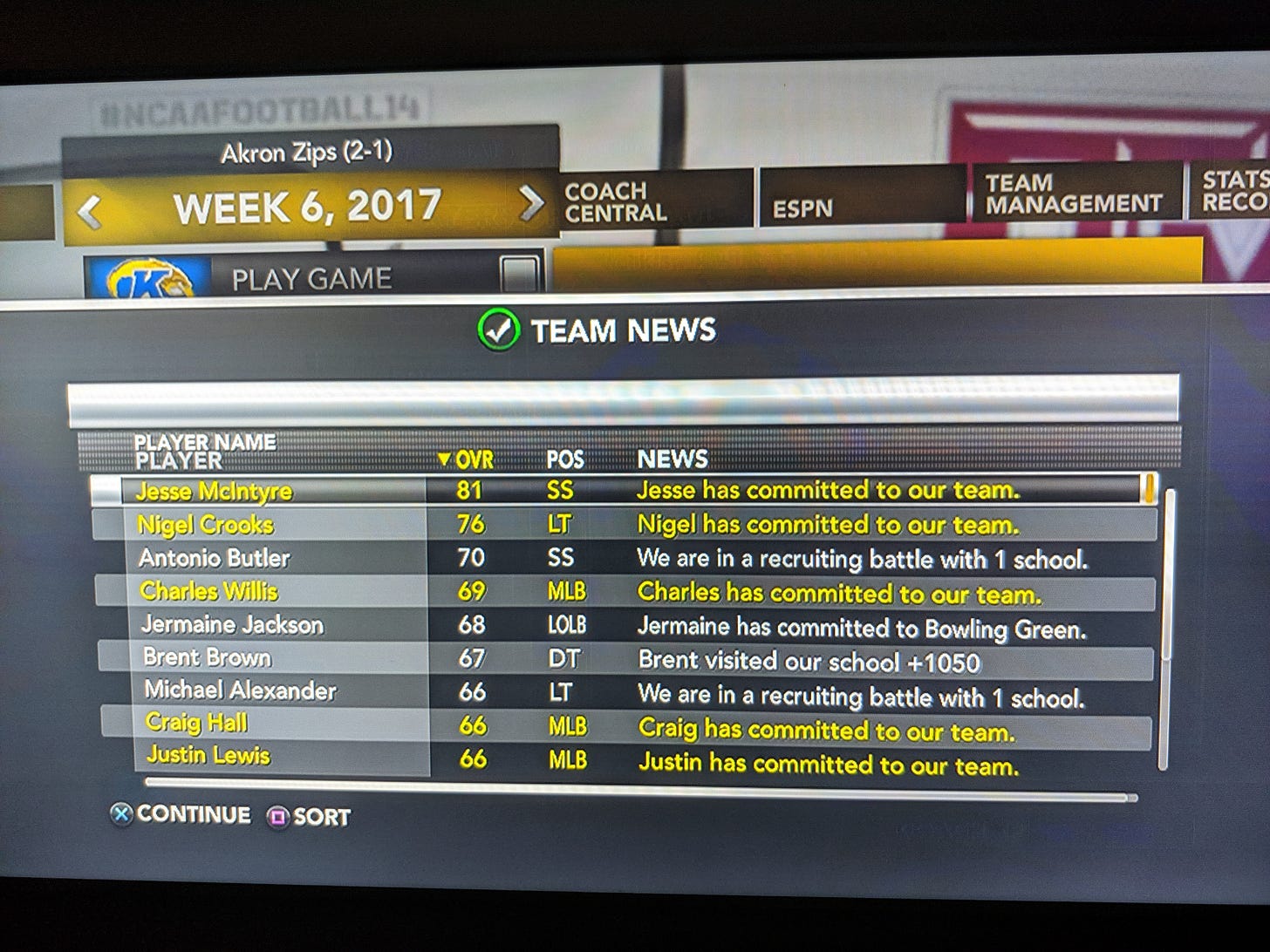 Oh my! You can only see five of them in that screenshot, but seven players committed to the Zips after the game!
First off, we got frickin' Crooks! Nigel Crooks feels like a name straight out of a Charles Dickens novel and I'm so hyped for the lad. I really thought that would be an all-year battle. We were his first visit of the year, and we convinced him to come to Akron before four other major schools ever got to see him. That's HUGE. He's the #6 T in the country coming to us from Texas! We'll keep winning in the trenches, baby.
We also got the #6 SS in the country Jesse McIntyre (81 OVR) and the MLB that I was going hard after Charles Willis (69 OVR). A player rated 80+ is not something you find every day. Jesse McIntyre is a huge get and will pair nicely in the secondary with last season's #2 CB Anthony Morris.
This is an amazing start.
Here's what our current commit list looks like:

I start adding new guys to our board since we cleared up 4,000 points that we had assigned to those players. I look closer at our team and determine that I'd like to bring in some help at FS, DT, and G.
Week 7 & On
As the season moves along, some players start to commit to other schools and I have to refill our recruiting board. I feel good about almost all of the positions on our roster, so I employ the Memorrowiv Method. This was a reader-suggested tactic to search for the fastest players and target some of them. I add CB Wendell Warren, CB Henry Holt, and FS Douglas Fox to our board from those searches. I also search for 4-star players in our pipeline states who haven't gotten any scholarship offers yet. I add QB Blake Sanders and DE John Clark to our board from that.
We go on a five-game road trip in the middle of the season, which actually hurts our recruiting efforts as I can't bring in any players to visit campus during that time. This slows things down for us but we still get a handful of minor commits over those weeks. The next turning point will be after our next home game in Week 13 versus Central Michigan though.
I invite out ten recruits for that game.
And?
We got seven of those players to commit and now have a total of sixteen commitments at this point!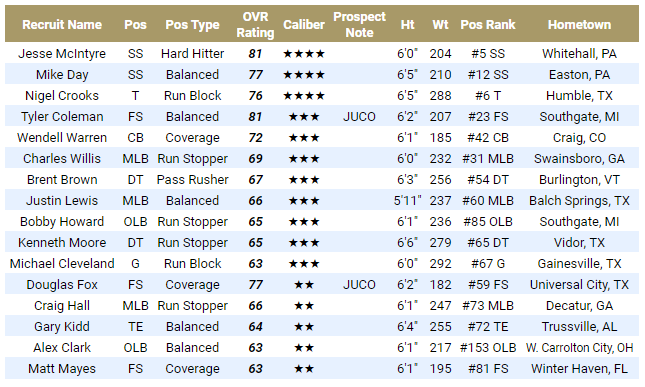 There are a few weird things that have happened in our recruitment process. The first is that we've only gotten one commitment from our home state of Ohio. We're a national program now, for better or worse. The second weird thing is that we have an overload of safety talent. I was pursuing a couple of options there for us and they all committed. So it goes. The last weird thing is that we have five players coming from Texas. Texas forever, y'all?
Despite having lots of points freed up after Week 13, it's too late in the season to really add anyone to the board that we can likely sway in a few weeks, but I take a swing and add #52 HB Ernie Francis since he has no other offers. This is what the top of our recruiting board looks like heading into the last week of the season: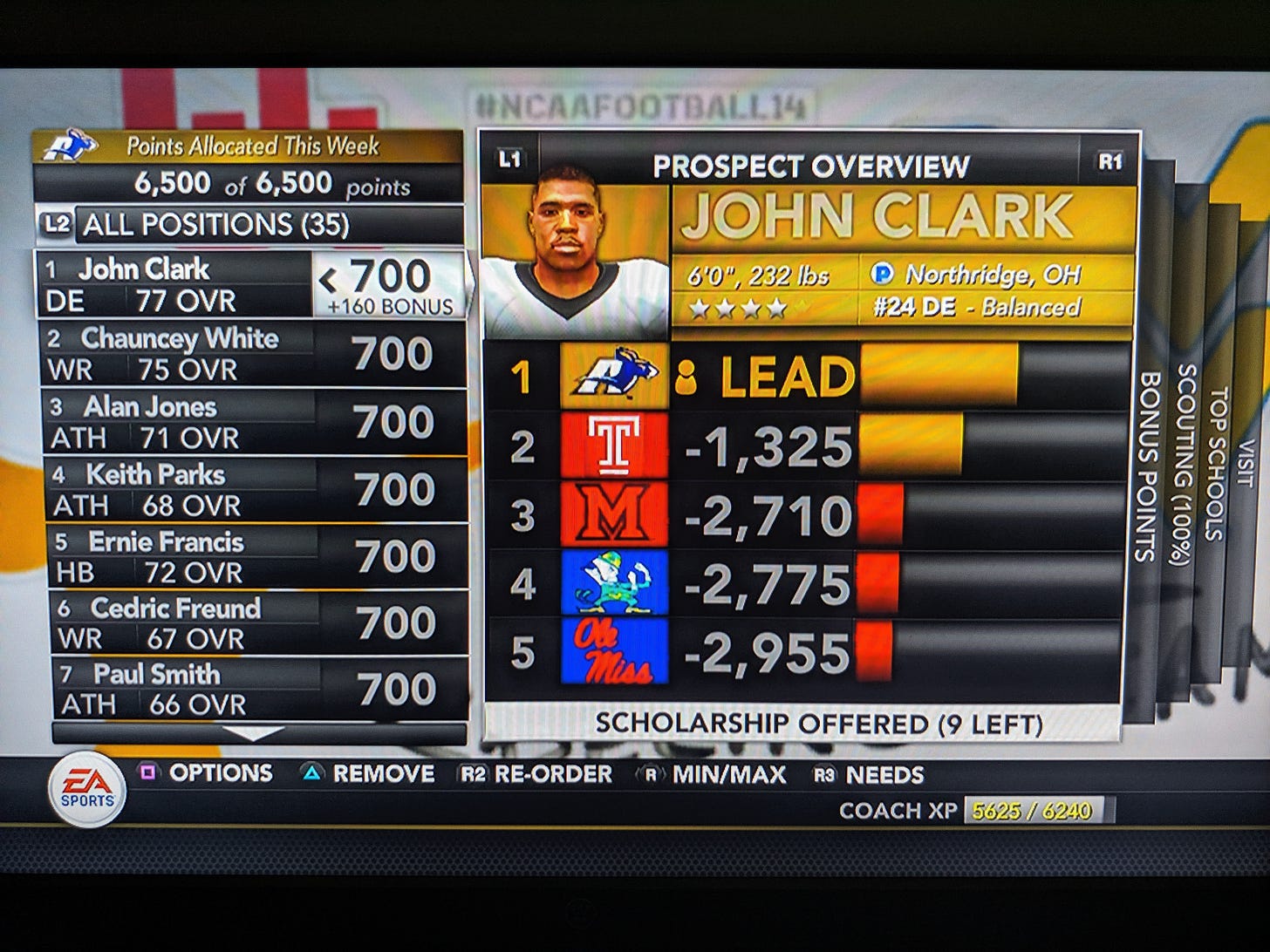 A handful of those players end up committing in that last week, leaving us with twenty-one commits at the end of the regular season! The offseason recruiting process will once again be a mere formality.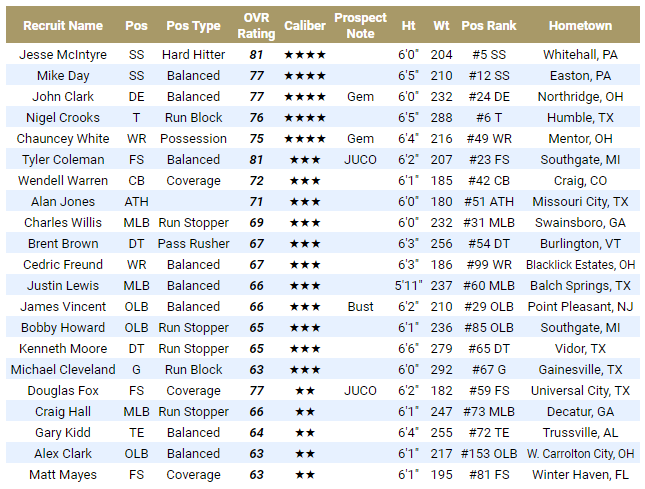 After finishing the season 12-2 with a bowl win, Coach Luke reaches Level 21. This is significant actually! It allows us to unlock the Insta-Commit ability, which will be helpful in Year 6 because it sometimes gets recruits to commit without using any recruiting points on them.
---
Offseason
We finished the year as the #15 team in the country and the offseason starts with the University of Akron asking—nay, begging—Coach Luke to sign a 6-year contract extension. I do! I love Akron.
As I try to rest before the offseason starts, there's a knock at my chamber door. I open the door and it's LeBron James again. You may remember him as the former best thing to come from Akron. He tells me that he wants to retire from the NBA and join the Zips as our Offensive Coordinator. It's ridiculous. I tell LeBron that I already have a great coordinator and that he should stick to basketball. He is a bit downtrodden but understands and I make up an excuse to cut our conversation short as it's a bit uncomfortable.
The next week of the offseason is when coaching changes occur. Despite telling LeBron our coordinators were set, we actually lose both our defensive and offensive coordinators to other schools. Traitors!
But… it ends up being an upgrade! We get Level 22 DC Shawn Coleman and Level 24 OC Brad Porter to join the Zips (this is a process that I have no control over). This bodes well for our Year 6 success as it will give tons of bonuses to our players. I'm excited!
In the Players Leaving stage, we lose FS Orlando Whitworth as he transfers to Pitt. No worries there. We also lose eleven seniors to graduation including a lot of guys I grew attached to like QB Cortez Haumiller, FS Shelton Bush, HB Jeremy Shelton, CB Joe Jennings, CB Kenny McKinney.
As I predicted in this season's press conference, Cortez does not get drafted into the NFL. I loved the dude but that just felt too much for him. But, man, he was such a key piece to our success despite being an unheralded prospect that we inherited. #ThanksCortez
I find out in the next stage of the offseason that a player wants to transfer to Akron. He's a freshman DT named Steven McDaniel from Texas Tech rated 70 OVR. Sure, buddy! Hop aboard the Zips train!
We finally reach the recruiting portion of the offseason. I have three scholarships left to offer and 11,500 recruitment points to divvy up as I'd like. I decide to spread the points among four athletes and HB Ernie Francis, who I started pursuing late in the season. Honestly, getting one or two is fine at this point.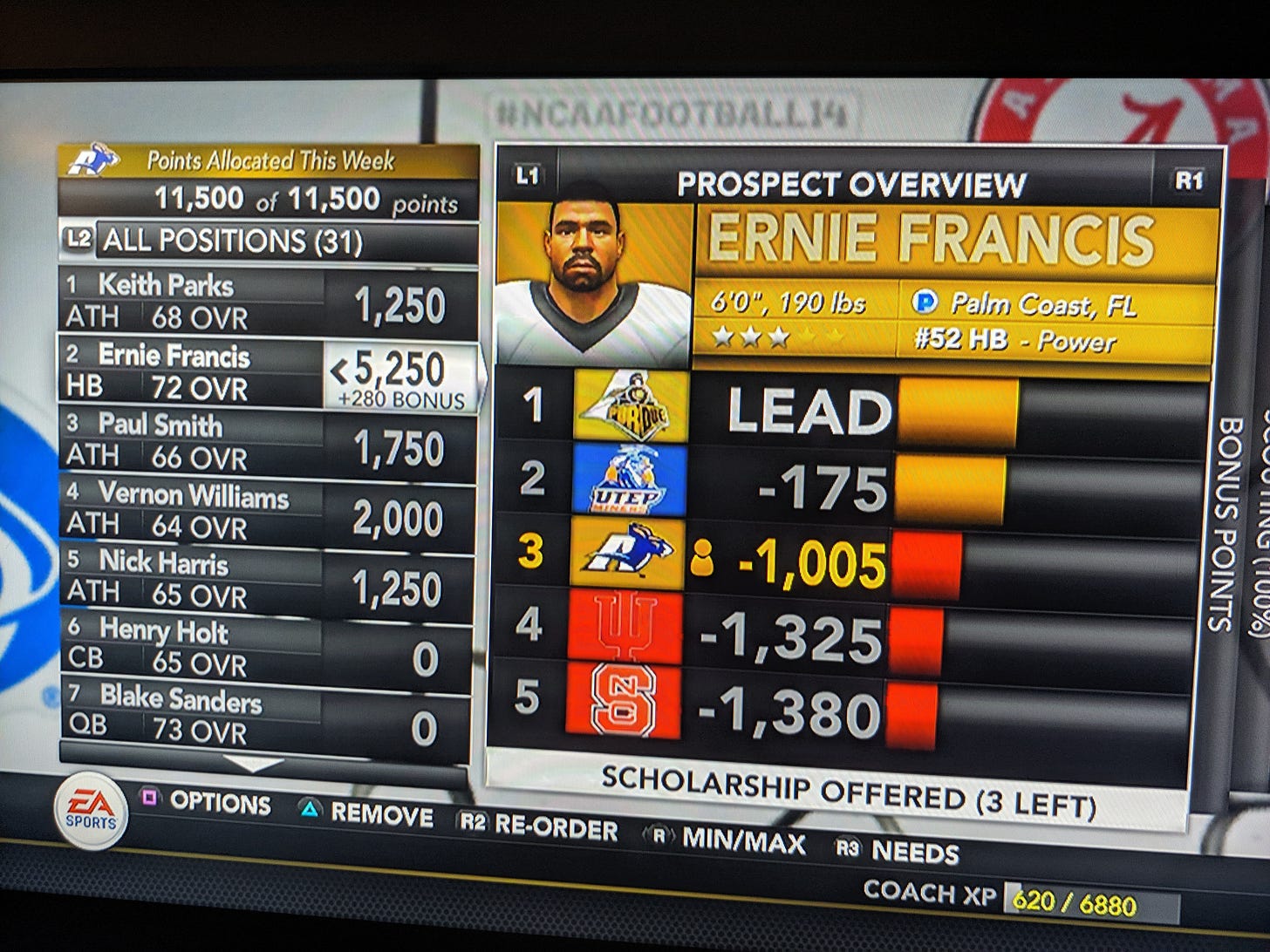 We get HB Ernie Francis and ATH Vernon Williams! We end up with the #11 class in the country. We're consistently among the top recruiting programs in the nation now. Coach Luke's fancy magical suit and recruiting powers are quickly turning Akron into the powerhouse that we dreamed they would become.
Here is the spreadsheet with all of our commits this season as well as the player stats from Year 5.
In the Position Changes week, I have two Athletes that I need to assign a position to. Vernon Williams goes to RE and is rated 66 there, and Alan Jones goes to HB and is rated 70 there.
In the Training Results week, we find out that Senior QB Darius Patterson improved by 4 points to 96 overall. Freshman QB Andrew "Fountain Drew" Fountain improved by 5 points to a 92 overall (hat tip to redditor ChrisEvansCapnA for the nickname). It's not quite a QB controversy but there's some drama here.
As the offseason ends, I get the opportunity to change conferences and BCS Bowl tie-ins. I was thinking we could assign the MAC Champion to the bowl game of our choosing but, alas, I can only put them into a major BCS bowl. That feels like a bridge too far. We'll keep the MAC as it is this year but we may need to shake things up soon. We'll be a ranked team next year though and I feel like we can make a more prestigious bowl game regardless.
Here's a quick look at the top players on our roster as we go into Year 6: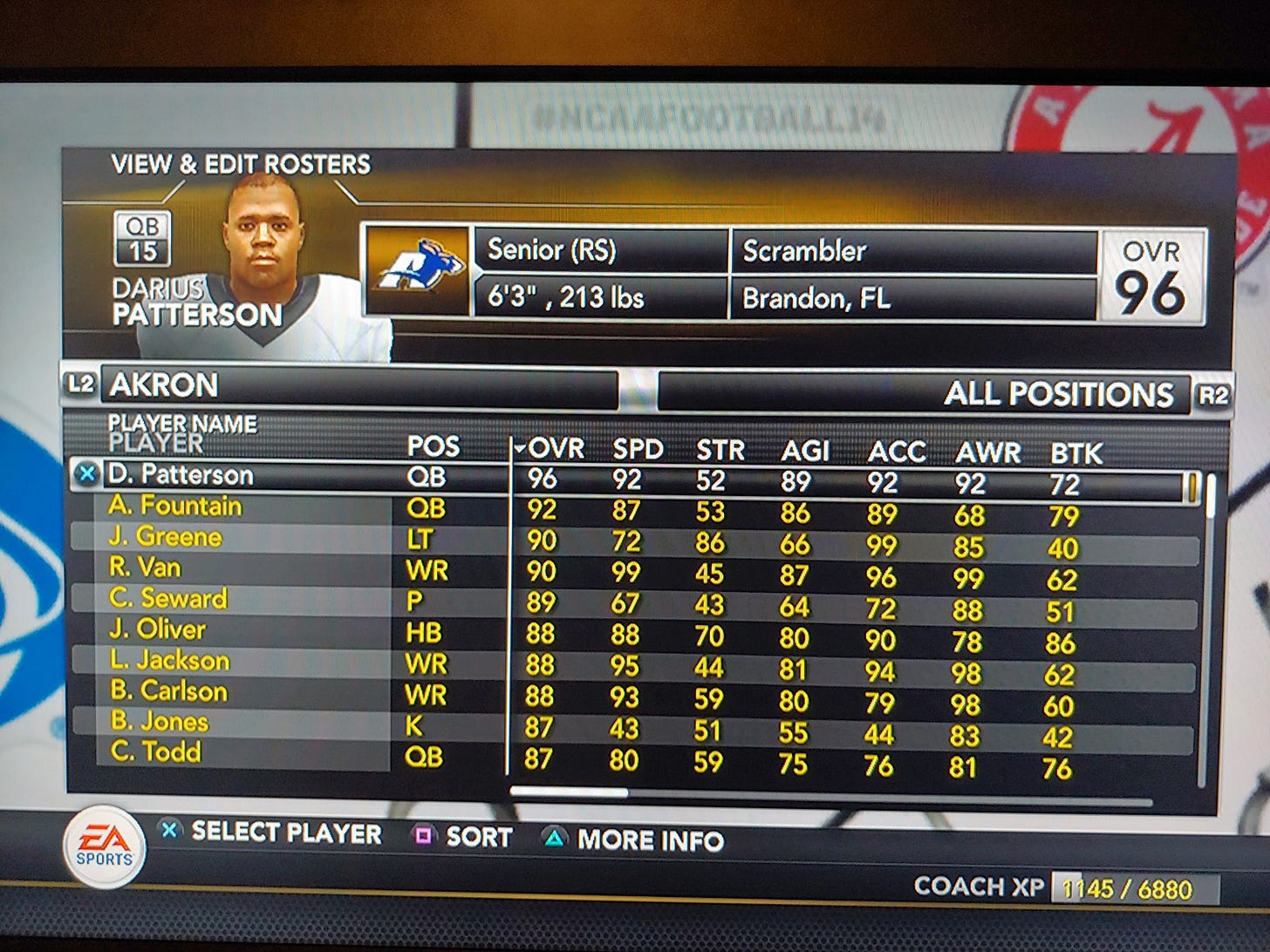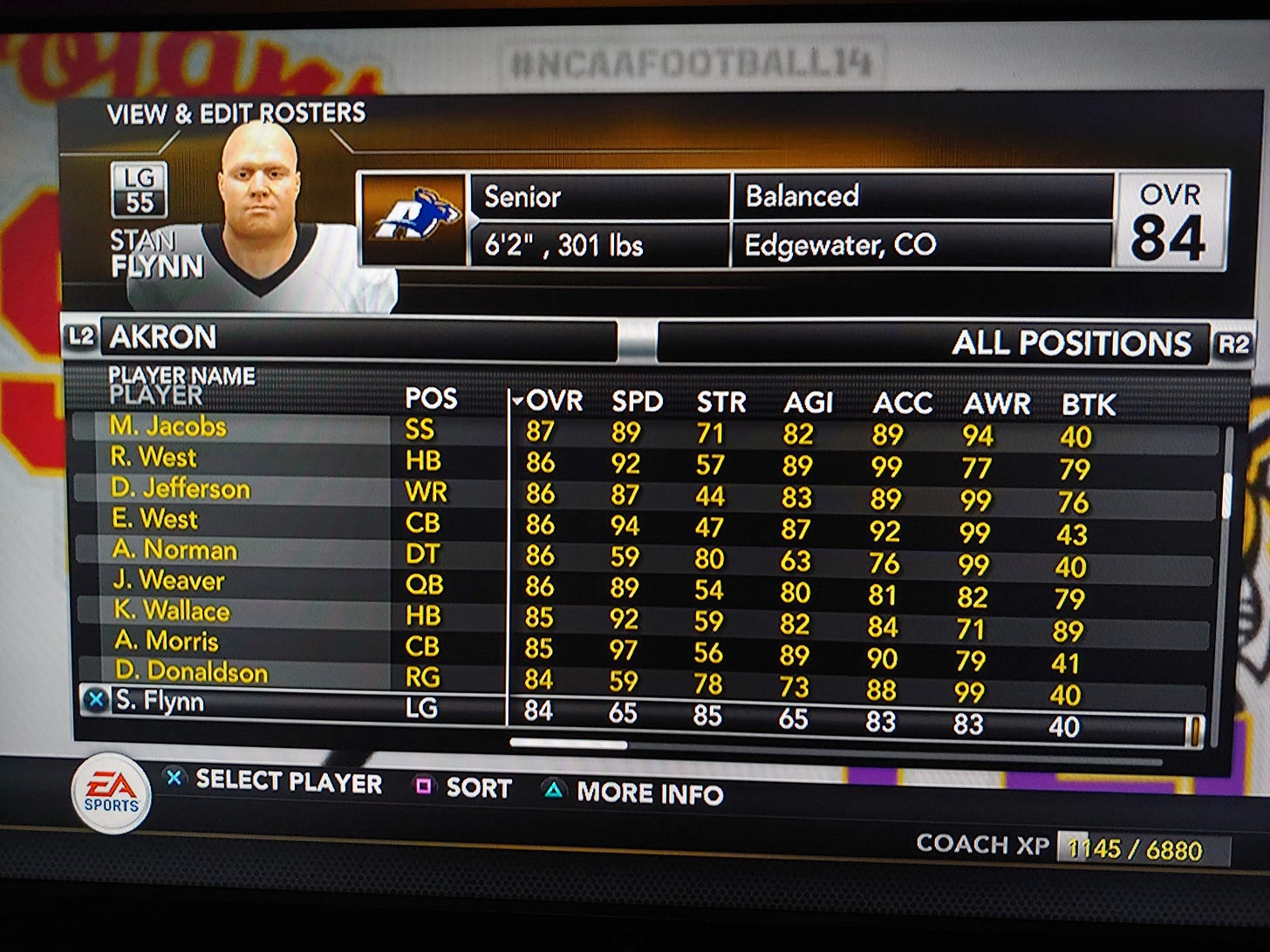 We have a very good team and should be able to compete with almost anybody now. As we think about custom schedules for next year, no team is off-limits anymore.
One of the main decisions for next year is whether I give Andrew Fountain the chance to shine as freshman QB. My gut says we won't do that just because his awareness rating is so low.
---
Quick housekeeping notes:
Despite trying out this new format this season, where we had a Season post and a Recruiting post for the year, I'm not totally sure that'll continue. I might go back to our old way of having those together but split the season into two parts to give more time for everything.
Year 6 Preview comes out Tuesday regardless.
The Rubber City Dynasty subreddit is a place to get updates or chat between installments of this series.
I think Year 6 is when we start to compete with the best of the best. Getting into a major bowl game isn't out of the realm of possibility. It's gonna get crazy!
Before you head off, make sure to share the newsletter with your book club and whoever else may be interested.
As always, stay zippy, y'all!