Welcome to the next chapter of the University of Akron's quest to win a national championship in NCAA Football 14. To learn more about this series and read up on past installments, visit the About page of this site.
I'm trying out a new format for this season. You may gotten used to things here, but as the wise House of Pain once said, "you get used to one style and, yo, I might switch".
Our new format is that this post is solely focused on the games from the Year 5 season. I won't mention our recruiting process at all in this post. Tomorrow's post will recap the Year 5 recruitment and then go into the offseason.
Before we jump into the games from Year 5, here are the key things from Year 4:
Akron went 8-4 in the regular season and missed the MAC Championship. The Zips dominated the Famous Idaho Potato Bowl against Hawaii for Coach Luke's first bowl win.
QB Kenneth "K-Dubs" Washington played his last season as a Zip and was picked in the first round of the NFL Draft.
We had the #4 recruiting class in the country. The stars of the class being 5-star QBs Andrew Fountain and Jon Weaver, as well as the #2 CB in the country Anthony Morris.
Coach Luke is now a Level 17 coach and all of his skill points have still gone into Recruiting. He's an unconventional coach known for wearing a suit as well as strategically calling out his players to the media.
If you're new to the series, you should know that I do not play any of the games. I recruit players and then simulate or watch the computer play the actual games for me.
With all of that said, it's time to jump into Year 5, Zippies!✓
---
Preseason
Before the season starts, I get the opportunity to redshirt players and set a custom schedule.
The notable redshirts for Year 5 end up being:
QB Andrew Fountain (FR, 87 OVR)
QB Jon Weaver (FR, 82 OVR)
CB Anthony Morris (FR, 81 OVR)
HB Adam Walker (JR, 79 OVR)
LG Ed Jackson (SO, 74 OVR)
Anthony Morris could have been a starter right away but we have two 80-rated CBs in place already so he wouldn't provide much a value-add here. We'll extend his career and hope for elite CB play out of him the next four years.
Andrew Fountain is going to be an incredible starter for us. He'll likely be about a 91 OVR when he enters his freshman year and quickly skyrocket to a 99 OVR in the years after. I just wonder how quickly he'll leave us for NFL glory. I'm very excited about this kid. I need a nickname for him.
When setting the custom schedule, I opt for two ranked teams on our schedule this year and put #16 Arizona and #17 Baylor on there. I had scouted the ranked teams and these teams are rated in the mid-80's so they seem more beatable than a 99-rated Ohio State.
Aside from that, I go to my readers and their various pleas and affiliations. Tulsa makes the schedule based on a suggestion from reader Bradley and BYU makes the schedule because reader Kacey has been wanting them for a while. Our strength of schedule is a C+ and includes a crazy 5-game road stretch in the middle.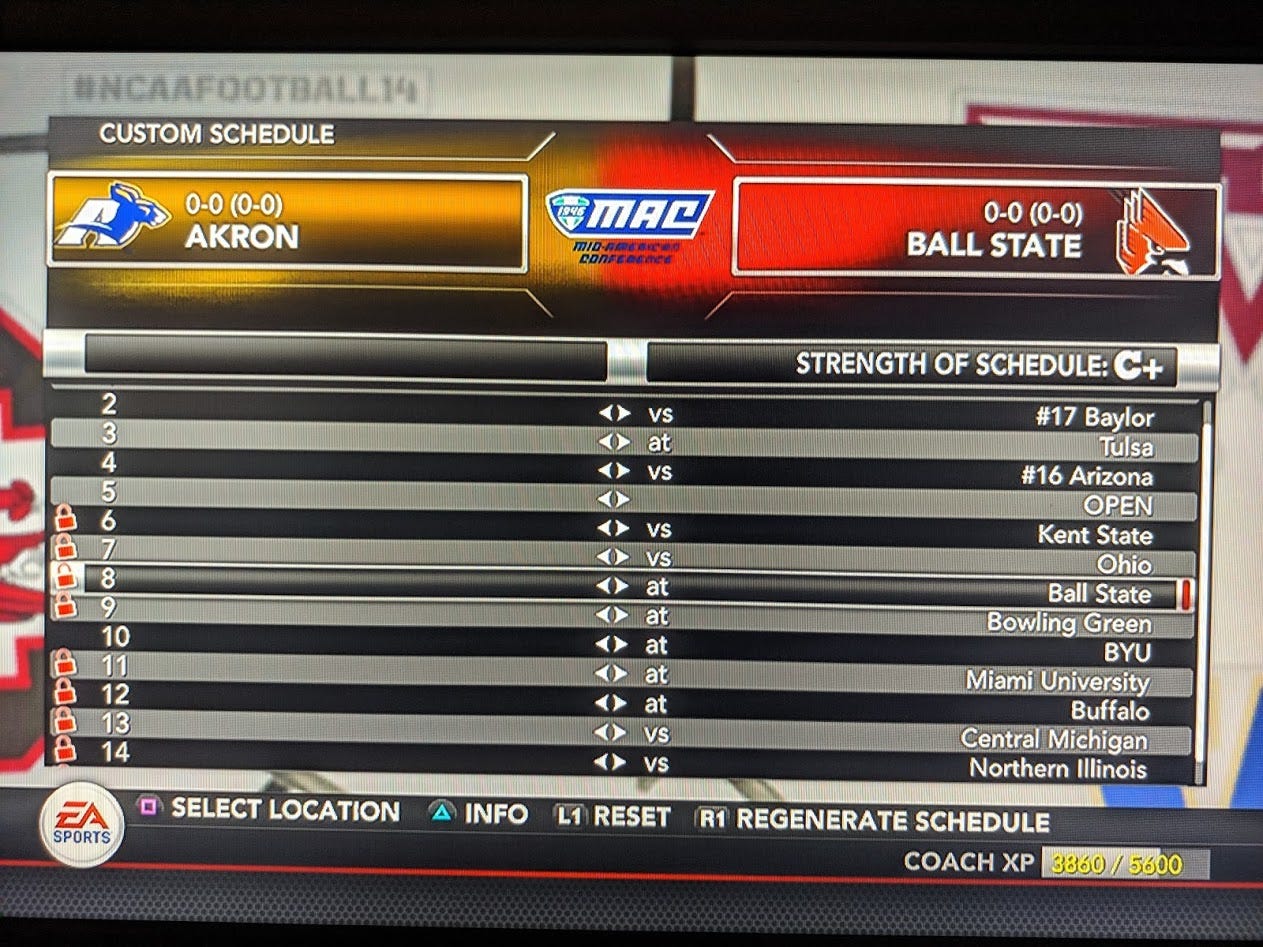 ---
Year 5 Roster
You can read about the roster in the Year 5 Preview post. The big news is that Cortez Haumiller (SR, RS) is getting the start at QB. He's on a very short leash though, and Darius Patterson (JR, RS) is sure to make an appearance in some games if Cortez shows any signs of struggle.


---
Year 5 (2017-18)
Before we jump into this season, another note about the format here. I found a box score generator made by Operation Sports. This is great because NCAA Football 14 doesn't have any game screen that gives a decent box score in one shot. I'll be using these generated box scores to show a bit more of the stats from these twelve regular-season games. Statheads, rejoice!
0-0 | Week 2 vs Baylor
The first game of our season is a true test for our Akron boys as I scheduled a ranked Baylor team to be our first opponent.
But…
Baylor played SMU in Week 1 and lost, so they are no longer ranked when we face them here in Week 2. That's okay. Still a big game.
I find out here that we are rated 84 overall this year. We were 77 last year with K-Dubs, so this is a big jump up. We are rated 88 on offense and 80 on defense. For comparison, Baylor is rated 86 overall (91 offense, 83 defense).
Let's see how Cortez does in his first start since Year 2…
And?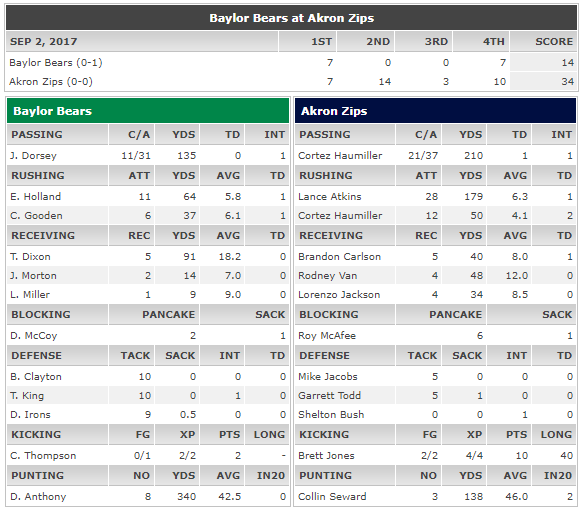 My friends…
We crush them 34-14.
Jeremy Shelton got injured but he isn't on the Injury Report after the game though so he seems to be okay. Lance Atkins turned in a stellar performance as the lead back instead. Cortez does fine but he was not at a K-Dubs level of excellence.
All in all, it's a win! Wins are sweet! And wins over higher-rated teams are even sweeter!
1-0 | Week 3 at Tulsa
The QB situation is still messing with my head as go into our next game. I was not dazzled by the Cortez showing against Baylor so, needless to say, his leash remains short for that QB1 spot. Perhaps our next game against Tulsa will provide clarity.
It's not an easy game as they are rated 83 to our 84 and we're going on the road to face them.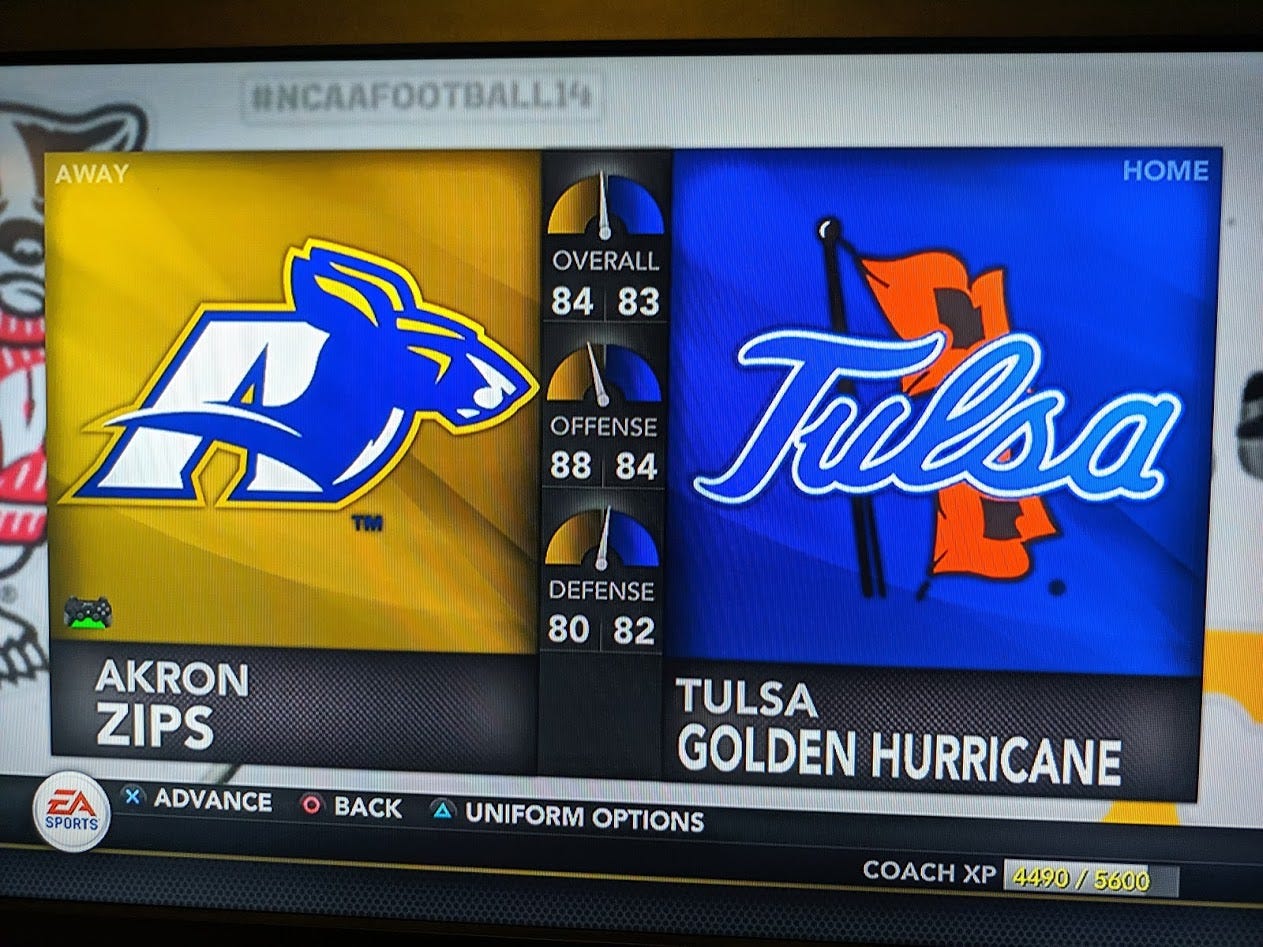 I simulate the week…
And…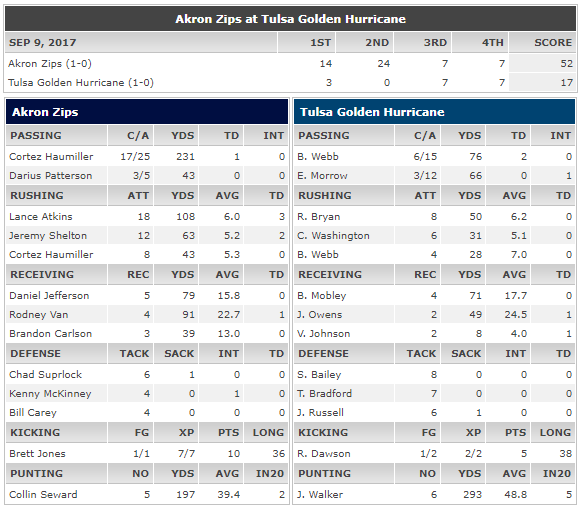 We demolish the poor Tulsa Golden Hurricane in a 52-17 beatdown!
Cortez was fine again (17-25, 231 yds, 1 TD, 0 INT with 8 rushes for 43 yards). I can't really complain but my mind still wonders what Darius would do. I keep looking at him on the sidelines and wondering if I made the right call. But, hey, we're 2-0 with two blowouts under our belt!
Defensively, Kenny McKinney returns an INT for a TD! McKinney must still be motivated by my Year 4 press conference where I called him out!
2-0 | Week 4 vs #7 Arizona
The biggest game of our regular season is up next. Arizona is #7 in the country and rated 88 overall. They are coming into our house. It's a chance to show the world that we belong with the best.
We are 1-0 historically versus ranked teams (undefeated!). Can we shock the world again?
I decide to watch and record this game. As a reminder, I do not play these games. It is CPU vs CPU. I edited down the game footage. The video ends up being four-and-a-half minutes:
*
*
*
*
*
Crap.
We lose 22-10 and the offense never looked good.
Despite it being a tie game at the time, I put Darius in to end the second half. He responded by throwing two interceptions in three possessions. I saw enough and went back to Cortez. Our offense still stunk but at least he wasn't turning the ball over.
I don't know if my QB shuffling cost us the game but it seemed hopeless either way.
For a closer look at the stats, here's a link to the Box Score.
2-1 | Week 6 vs Kent State
I would be giving very serious thought to benching Cortez at this point if Darius didn't look like doo-doo in his chance to shine. So, Cortez gets yet another chance to start as we enter in-conference play.
We have our rivals up next. Kent State is only rated 79 this year! They're 1-2! This game shouldn't be a problem. This will give us a good indicator of whether Cortez should be benched or not.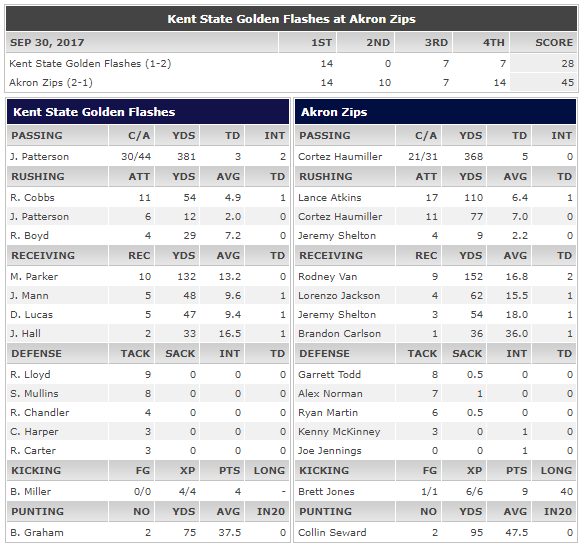 And… Cortez decides that he should not be benched. Okay, player. Play on.
His job security has increased and I won't over-analyze the QB play now unless there's a good reason to.
The defense struggled a bit in this as we let up a ton of yards. We ran up the score with two late TDs that let us pull away though.
Sweet Zip babies, we're 3-1 and beat our rivals again.
3-1 | Week 7 vs Ohio
In more good news, we get another home game in Week 7. The bad news is that this will then be followed by a 5-week road trip. Who scheduled this crap?!
Oh wait. It was me. Whoops.
Well, let's make this last home game count. Ohio is maybe the toughest MAC team we'll face as they're also rated 84, just like us. This feels like a pivotal game… Come on, Akron, let's go!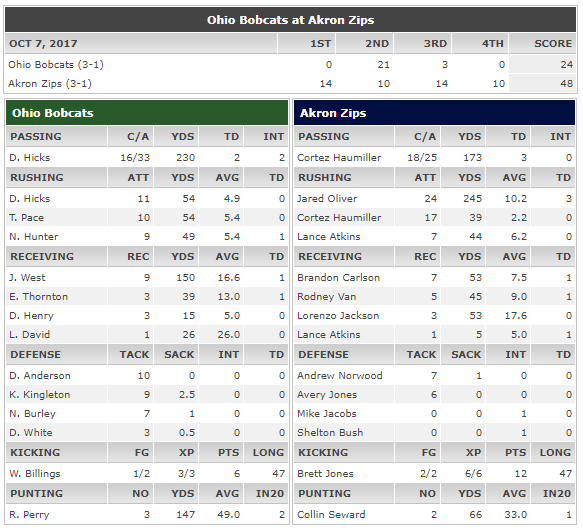 Look at that! We keep rollin' rollin' rollin', yeah!
Cortez continues to play mistake-free football even if he is not dazzling with his legs like K-Dubs once did. What shocks me is that our third-string RB Jared Oliver went off in a huge way. I check our Injury Report (the game doesn't alert you of injuries when you're simming). And… I get bad news.
Lance Atkins is out for the season with a broken wrist. Jeremy Shelton is out for 2 weeks as well.
Atkins, man. This hurts. He was in his senior year. He came to us as a JUCO player and had put up 1073 yards on 169 rushes in his season-and-a-half with us. He was on his way to a great year here too. I'm bummed for him.
Oliver will have to step up for the time being until Jeremy Shelton can return. We also have former 4-star recruit Keith Wallace available at HB. This is a position that we can afford some injuries as we have tons of depth.
4-1 | Week 8 at Ball State
I thought Ohio would be our toughest MAC test but look at what we got here!
Ball State is 5-0. They have the #1 Rush Defense and #9 Offense in the country. They are also #2 in turnover differential. They are only rated 83 overall but maybe they play better than their rating, like us.
With bated breath, I simulate the week…
And?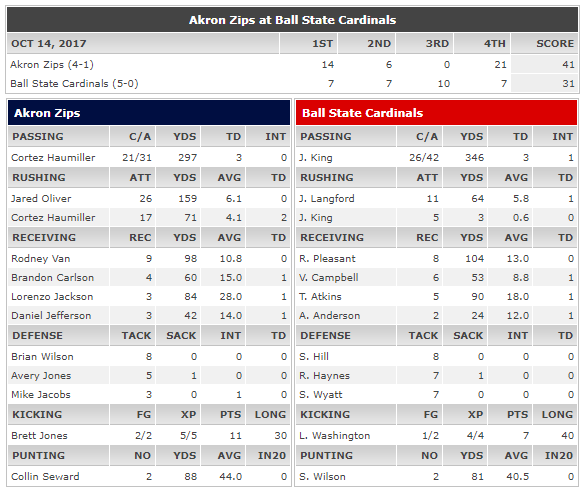 What a win! We win 41-31 and a huge fourth-quarter allows us to pull away at the end.
We are the f'n Zips and we don't mess around!
5-1 | Week 9 at Bowling Green
The next game on our road trip is against Bowling Green. This is the last Rodney Van redemption game as he is playing against his old Bowling Green team for the last time since he transferred to Akron.
They're having a great year and are 5-2, but we're on a roll at this point.
I cross my fingers…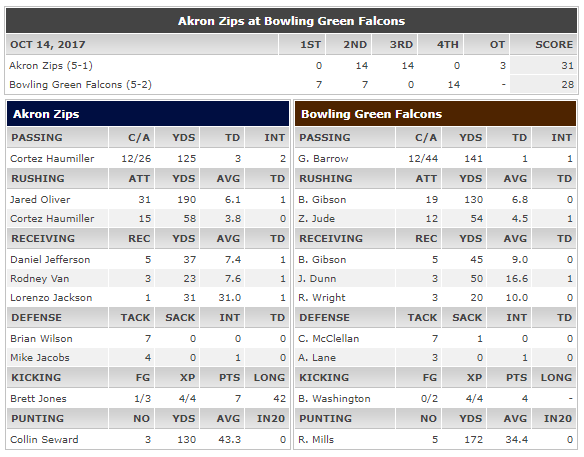 Ooo! An overtime thriller that we almost let slip away from us. Phew!
We'll take it. Cortez plays his first game where he seemed to make mistakes as he threw two interceptions. Jared Oliver continues to play incredible football at the HB position for us.
We're 6-1. Let's go!
6-1 | Week 10 at BYU
This is our only non-MAC team left on the schedule. Usually Week 10 is a bye week for us but I threw BYU in here this time.
BYU is 3-5 and rated 83 overall but they do have a 90-rated offense and 78-rated defense. It feels like it could be a shootout based on those ratings. We're no stranger to shootouts though. Let's go!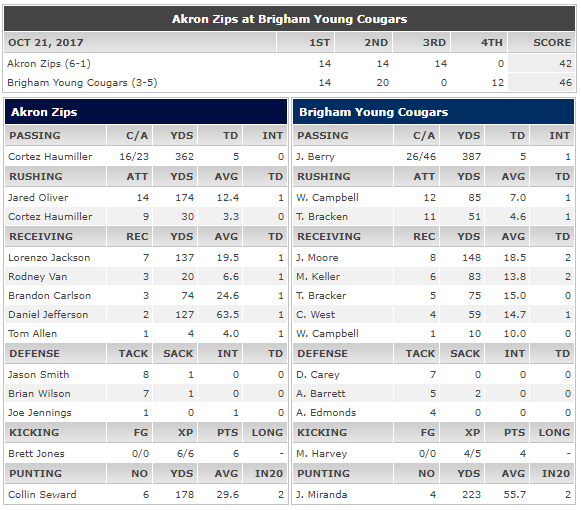 Oh no! It was a shootout! But we are the ones that got shot up. BYU goes on a late run to steal this one from our grasp.
The offense went nuts for us with Cortez, Oliver, Jackson, and Jefferson all having monster games. The defense just folded when we needed them.
Bummer.
Let's finish out conference play strong at least…
6-2 | Week 11 at Miami University
We are undefeated within the MAC at this point so we are in control of our own destiny as far as making the conference championship. There are two teams lurking behind us in the MAC East with 3-1 conference records. Basically, we just have to keep winning.
Next up is Miami. They are only 3-5 on the season and they're rated 83 to our 84. We should be able to handle this but who knows after that BYU debacle…
No problem at all! Another huge and efficient game from Cortez Haumiller. And, despite initially being our third-string HB, Jared Oliver goes off again.
7-2 | Week 12 at Buffalo
The rest of our MAC schedule looks a lot less scary and hopefully, we can now put on cruise control and head into the MAC Championship game.
Buffalo is next on our schedule. They are 3-6 and rated 83 overall. There are maybe two things to worry about though. The first thing is that they ruined our season last year. The second thing is that reader megabux651 had correctly predicted all the season's game to this point and they predict us to lose to Buffalo as we go 9-3 on the year.
So?
We win 35-21! Phew.
8-2 | Week 13 vs Central Michigan
Two easy games left on the schedule. Coach Luke's job at this point is to just make sure the boys stay focused and don't get too relaxed.
Welp. We win this one 38-31 but this was a tough game! We rallied for 21 straight fourth-quarter points to steal it. We had two running TDs by Cortez and then a pass to Rodney Van with one minute left to take the lead at the end.
With this win, we officially clinch the MAC East and will be in the MAC Championship!
9-2 | Week 14 vs Northern Illinois
Let's end the season right!
The team gets it together and goes off for a 51-17 win to end the season. We achieved double-digit wins on the regular season, baby! And, my friends, we are ranked #24 in the country after that game!
But, all of the news isn't good. HB Jared Oliver got injured and is out for the season. We had quite a few injuries this year with T Joe Greene, HB Jared Oliver, HB Lance Atkins now all out for the year.
---
MAC Championship Game
We're baaaa-aaa-aaa-ck!
We took a year hiatus from the MAC Championship but we are back again this year.
In a lucky twist of fate, we are playing Northern Illinois in the championship. This is interesting for two reasons: it's the team that we beat in the MAC Championship in Year 3, and it's the team we just played and demolished in the last week of the regular season. Call me James Brown because *yow* I feel good.
But, the team needs some motivation and Cortez needs a send-off. I call a press conference!
Avery Jones and Alex Norman have been talked about publicly and now it's game time! Here we go!
I edited the game footage down to the main highlights, as usual. It's a three-and-a-half-minute video.
*
*
*
*
*
The MAC is officially The MAKRON again!
We win 41-20. Avery Jones didn't respond to my press conference but Alex Norman certainly did as he had two sacks!
It was a little tough there in the third-quarter as Northern Illinois was starting a comeback but our defense that saved the day. Joe Jennings returned an interception for a touchdown and we blew the game open from there.
We are conference champs once again!
MAKRON!
---
The GoDaddy.com Bowl
My original plan was to stream the bowl game this season. It seemed like it would be good to end this post prior to the bowl game so we could all watch the it together and laugh and have fun.
But…
The downside of winning the MAKRON is that we get placed in this silly GoDaddy.com Bowl where we get the honor of facing a 75-rated Texas State Bobcats team. That's actually the lowest-rated team we've faced all year.
That's not worth a stream party. I sim the game and I make note that, in the offseason, I'll change what bowl game the MAC Champion goes to. We'll do our first stream party next year perhaps.
As for the bowl game?
We blow out Texas State 45-17 and end the season ranked #15 in the country with our 12-2 record. There's no denying it now: we have arrived on the national stage.
I can't wait to start playing against some of the big boys next year and have our chance to be in a major bowl game!
---
Year 5 Stats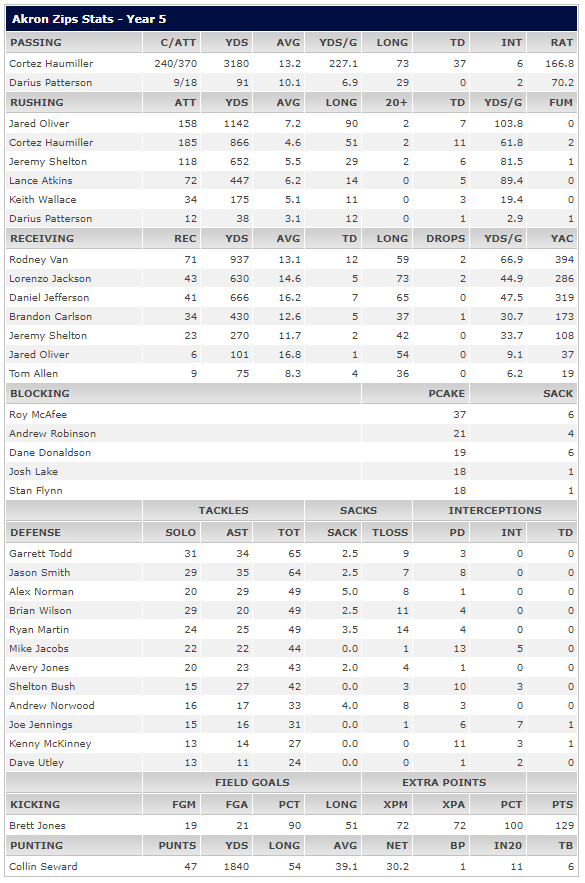 ---
Up Next
Year 5 is not done though! I haven't even talked about the crazy recruiting year that we had. Tomorrow, I'll post about the recruiting recap and we'll look at what happens in the offseason leading into Year 6.
In the comments, I'd love to hear what you thought about this season (and also this new way of presenting the season). I'd also love to hear any ideas for what bowl game we should make the MAC Champion go to from now on.
Either way, you know the deal! Share the newsletter love if you want to…
And, until next time, go Zips!