Welcome to another roster preview to go along with our series about Akron's quest for eternal glory in NCAA Football 14. For the uninitiated, feel free to check out the About page of the site to read what this whole project is about.
This preview is meant to give you a closer look at the team because it's hard to cover all of the key players on a football team in my yearly recap post. This is your chance to meet the Zips and maybe find your favorite player for the upcoming season.
We are just coming off a MAC Championship for Coach Luke and the Zips, so expectations are through the roof. The Zips have gone from a 1-win team to conference champions in just two short years. The rise may have been too meteoric though and this could be a letdown year, as there are certainly holes on the Year 4 roster.
Before we dive into the Akron roster, I must note that there is sad news for real MAC football fans as the 2020-21 season will not happen this year. We will still play through that season in our fictional universe as if this horrible pandemic never happened. Our fake world here is blissfully ignorant of real-life tragedies such as this.
That being said, let's take a trip into that fantasy land to meet your Year 4 Zips.✓
---
Meet the Offense
We had a good offense last year! For Year 4, we've improved at nearly every single position by significant amounts, so big things may be in store.

The biggest outcome of this mass improvement will be a more versatile attack. We're going to be a bit less run-heavy this year, and we'll try to take advantage of Kenneth Washington's throwing ability now that we have good options for him out there.
Here are some of the key players to know about for this year, and the years ahead.
The Savior: QB Kenneth "K-Dubs" Washington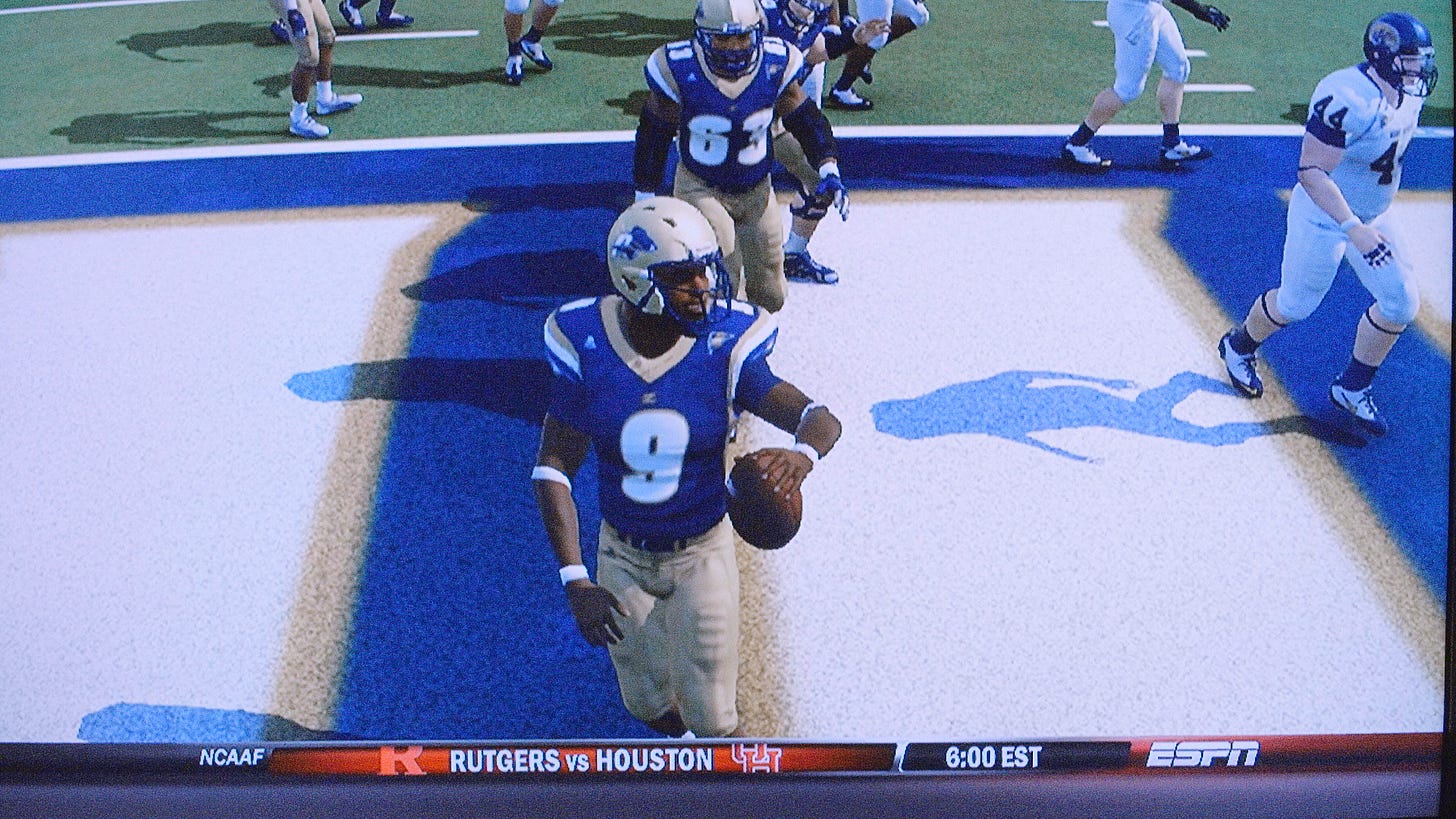 At this point, we all know the story of Coach Luke's fateful recruiting trip to the shores of Lake Erie to recruit K-Dubs out of junior college. We know about Kenneth's quiet demeanor off the field. Now, after last season, we certainly know what we can do for us on the field too.
In Year 3, he had 2005 passing yards to go with over 1415 yards rushing. His impact on the field was hard to fathom at times. Every play was a legit chance for a highlight, including this unforgettable game-winning 67-yard touchdown run against Kent State that catapulted K-Dubs to Zips Legend status:
The critique on his game has been that he only completed 52% of his passes. He heard about this constantly and worked tirelessly to improve in the offseason.
During the spring months, the locals from his hometown of Mentor, Ohio would go to their high school football field to watch K-Dubs practice throwing ball after ball into the dark of the night. His hard work has paid off for Year 4. From last year to now, his Throw Accuracy has improved from 86 to 90 and his Awareness from 79 to 92.
He's still an exceptional running option too with 91 Speed, 87 Acceleration, and 86 Elusiveness. With a stout offensive line, led by LT "Very Mean" Joe Greene (Player Card), there's a good chance he will improve on last year's 1400 rushing yards.
The only questions at this point are how he will cap off his Zips career and how high he will be drafted in the NFL Draft.
Heir To The Throne: QB Darius Patterson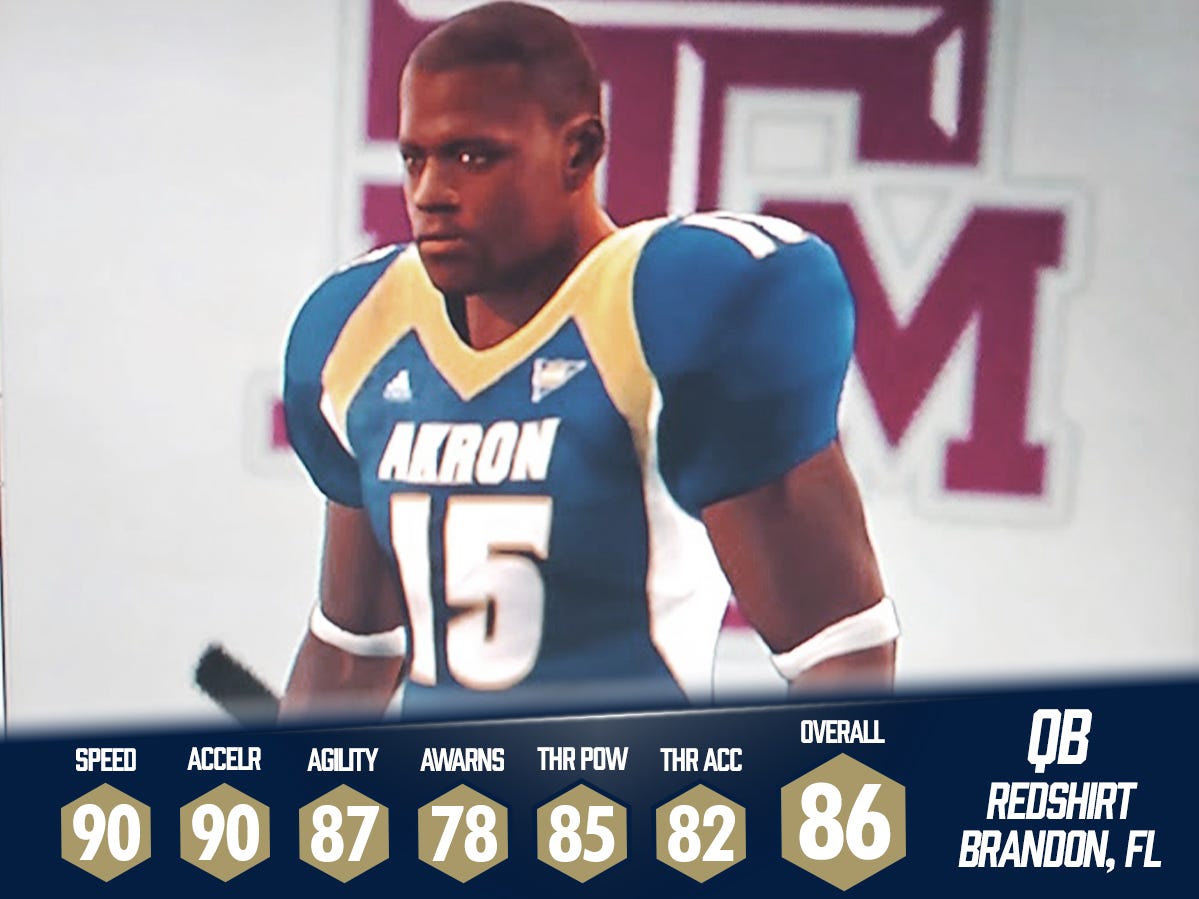 "Clutch" Cortez Haumiller was always told that the plan would be for him to take over as Zips quarterback after K-Dubs left. With the program accelerating their growth so fast, more options emerged though. Still, Cortez was gutted when Darius Patterson committed to the Zips and Coach Luke announced him as the quarterback of the future. Coach Luke never recruited Cortez though, and the two often butted heads.
Darius is from the Tampa suburb of Brandon, Florida and that's where Coach Luke first met him. As Darius was finishing up junior college, the Zips were not on his mind at all so Coach Luke's visit wasn't expected to do much. Upon watching a Tampa Bay Bucs game together, Darius was impressed by the football insight that Luke had. He also loved Coach Luke's suit.
Throughout the year, Darius started to see highlights of K-Dubs showing up on ESPN and he envisioned himself being the next step in the Akron ascension. He signed on board the Zip train soon enough.
He redshirts this year and is ready to watch and learn, but he plans to bring swagger to the team when he arrives in Year 5.
The JUCO Boys: RB Jeremy Shelton and RB Lance Atkins
The rise of K-Dubs set the junior college circuit on fire last year—not just in Ohio, but nationwide. Jeremy Shelton heard the chatter in his rural town of Hazen, ND, and so did Lance Atkins in his tiny town of Russaellville, KY. These two weren't after bright lights and big campuses. They wanted to be part of a school that valued the work junior college kids put in. They wanted to be part of a program like Coach Luke's.
And, now they're here as running backs out of junior colleges and they're ready to be a two-headed rushing attack over the next two seasons.
Shelton is the main man, rated at 81 overall. He's a speed back with 94 Speed, 91 Acceleration, 90 Agility, 91 Elusiveness and an 86 Stiff Arm ratings. Atkins is a bit more balanced but with 90 Speed, 84 Break Tackle, 79 Ball Carrier Vision and 85 Juke Move ratings.
They saw Akron finish as a #3 running school in the country in Coach Luke's third year and they hope to continue that tradition.
The Turncoat: WR Rodney Van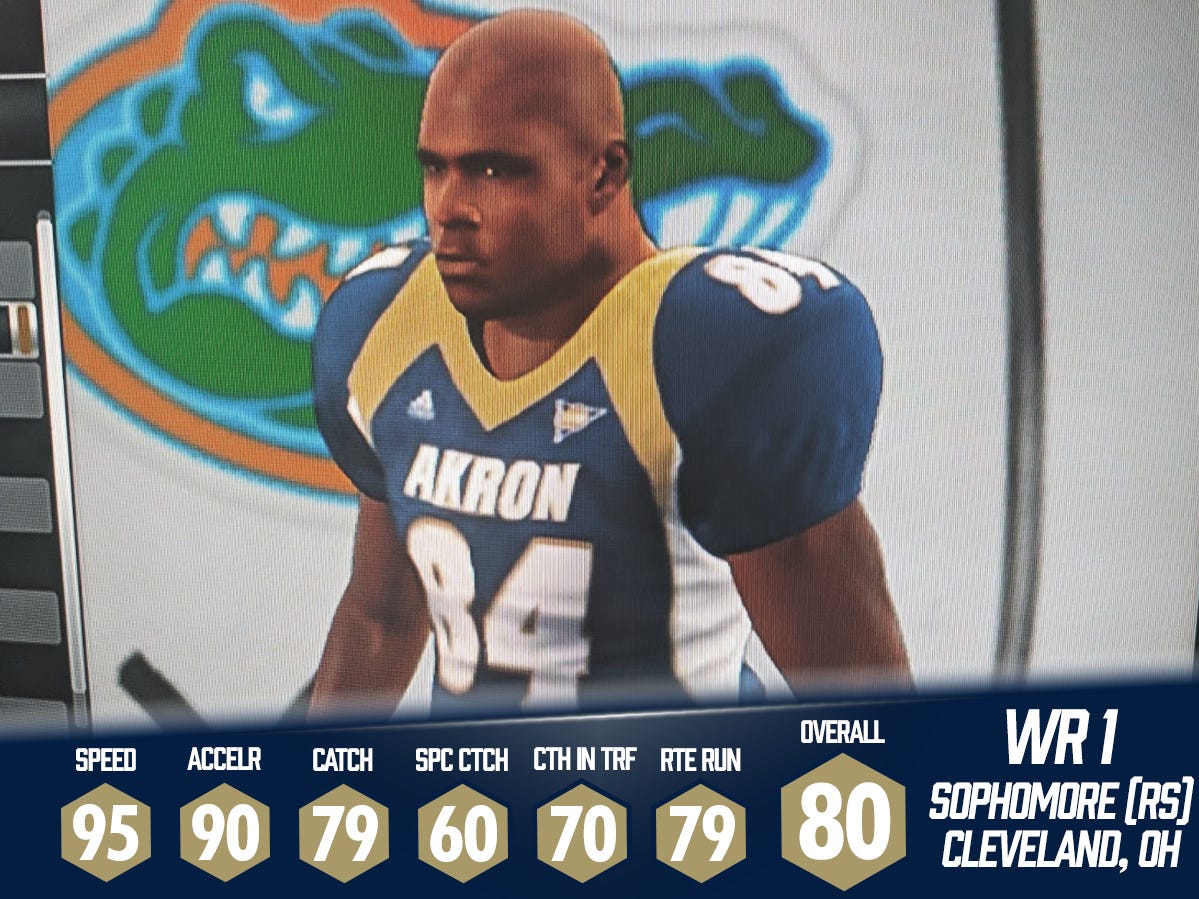 The storyline of Rodney Van is one of my favorites this year.
Rodney committed to fellow MAC team Bowling Green and played a season there, but he noticed that his Bowling Green team seemed content to be average. Midway through the season, his team handed the Zips a 38-9 smackdown in Akron. Van took special note of the way Coach Luke was treating his players that day during a tough loss though. It wasn't a shock to him that the Zips won three of their remaining four games that season. His fellow Northeast Ohio buddy, Kenneth Washington, ran into Rodney soon after the season and they talked about how special the Zips were becoming.
He would go on to shock Bowling Green by transferring to Akron that offseason. The coaches and his former teammates didn't take it kindly. They let that anger get the best of them during Van's redshirt season last year as they laid an egg and lost to Akron 20-6. Van was ecstatic and a postgame tussle nearly took place before Van took the high road.
In Year 4, he will get a chance to step on the field in a Zips uniform finally and prove to the world that he was right to trust Coach Luke and the Zips. Akron won a MAC Championship without him on the field and he's determined to prove they can do even more than that with him out there.
---
Meet The Defense
I had said that nearly every offensive position improved from Year 3 to Year 4. Well, on the other hand, the defense weakened in nearly all positions. Unless there was a returning starter, we are worse at every position this year.

If I were to try to point anything to feel good about (and there's not much), it's that we only have two seniors this season. The defense will improve over the next few years but it's bad for now. Our defensive line looks downright putrid. The linebackers and safeties are solid though they aren't spectacular.
The Beach Boy: MLB Brian Wilson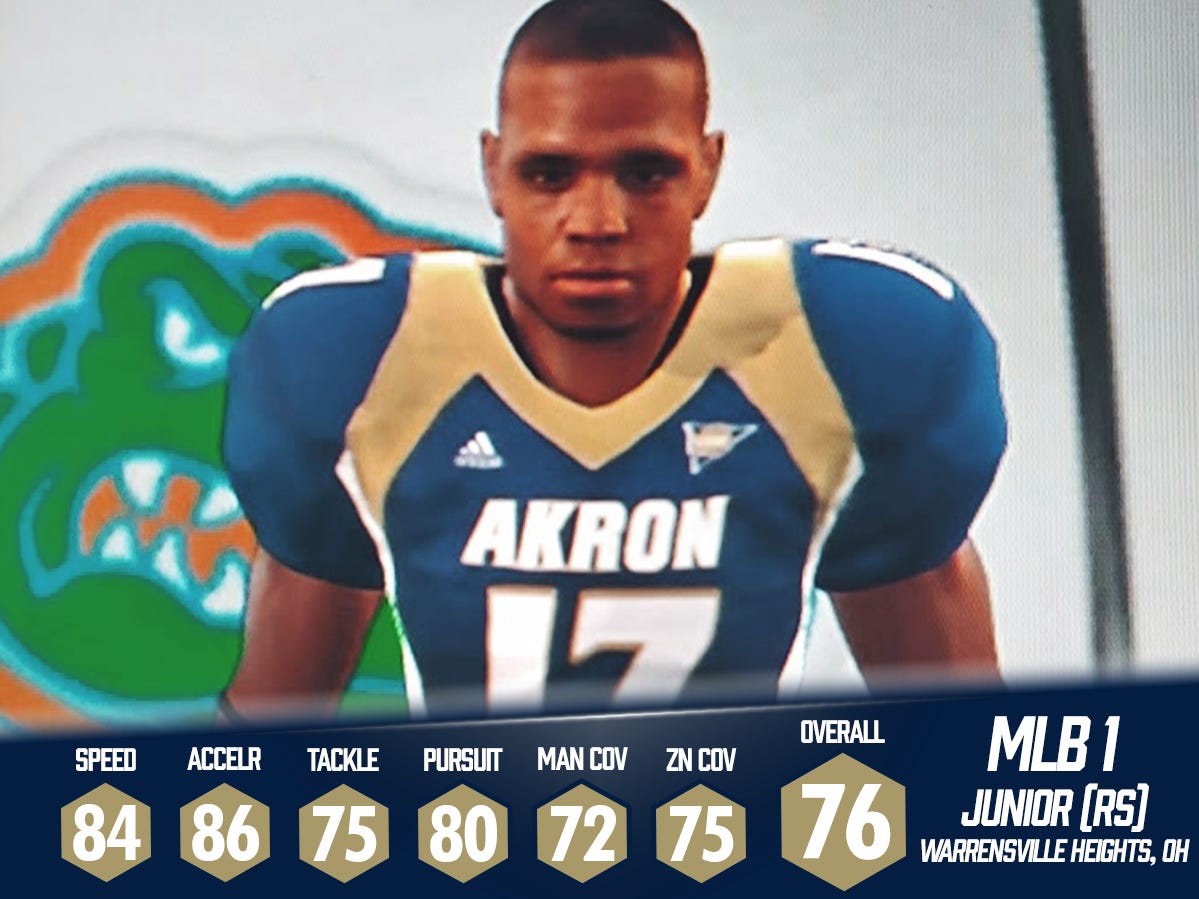 The senior outside linebackers are in their last year with us, but Brian Wilson (not that Brian Wilson) is just a junior and one to watch this year. I'm interested to see what he'll do as a Coverage MLB. He lacks the Acceleration and Pursuit ratings that our other MLB, Garrett Todd, has. The hope is that his Zone and Man Coverage ratings will help us cause a little havoc in this passing game though.
Brian's one of the remaining players who were not Coach Luke recruits. He was a freshman when Coach Luke came aboard and now we're in his junior-redshirt year. His development is a key piece of our future.
The Leader: FS Shelton Bush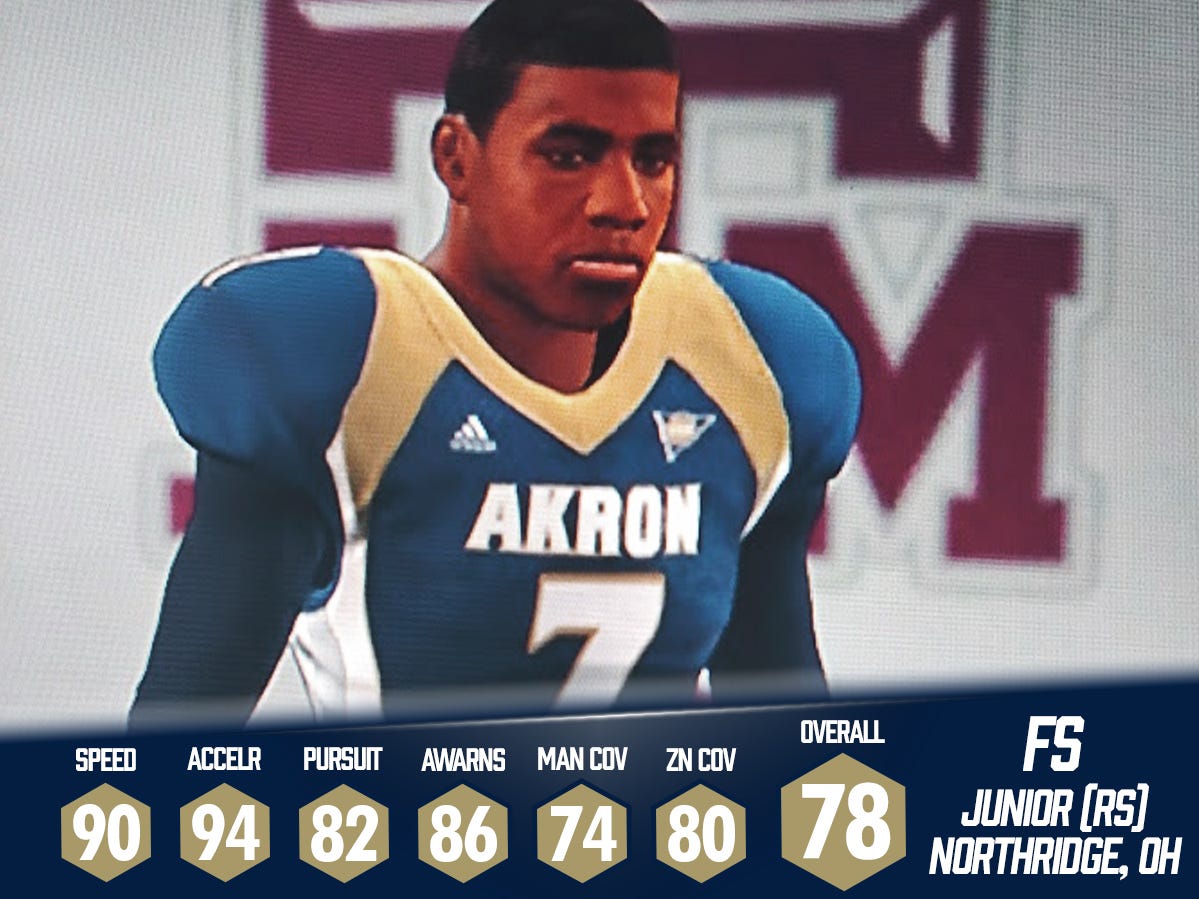 Shelton Bush is another player that didn't come from Coach Luke's recruiting cycles but he is a vital piece of our defense. He seemed to pop off the tape when watching games last season, accumulating 10 tackles in the MAC Championship game alone. Though he's categorized as a Coverage FS, he has great Speed, Acceleration, and Pursuit ratings that allow him to get to the ball carrier.
My concern with him has nothing to do with him really. Jamar Fisher popped off the tape in Year 2 but was a major letdown in Year 3. I'm apprehensive about whether Shelton Bush will let me down too. I really don't want to see him take a step back and have to call him out in press conferences. I'll remain an optimist for now though.
Meet the Special Teams
When our stellar special teams unit departed after Year 3, Coach Luke ensured that we would have two stellar freshmen to replace them.
The Fresh Men: P Collin Seward and K Brett Jones
Brett Jones comes to us from McAllen, TX with a thick Texas accent, and he frequently yells "Texas Forever!" after he makes a big kick. Jones rates at 78 overall as a freshman and could certainly rise to a 90+ rating over our four years together.
Collin Seward could have a similar rise as he rates 77 as a freshman. He's from way down in Kokoma, IN. I'm excited to see him continue our tradition as a world-famous Punt Team.
---
Overall Prediction for Year 4
We've got an offense! We've got a real, legit, true-to-life offense that can run and pass and do all the fun things. The whole playbook is open. In a normal year, I'd be very excited! But—
We don't have a defense. Like, it's bad. I'm hoping linebackers and safeties will step up when needed. Either way, these Year 4 games will likely be shootouts.
Our schedule is a bit tough. I posted the schedule on our subreddit already and I predicted a 7-5 season there. The Zips played over their heads last year and certainly could do it again. I do envision the team getting hot at the end of the year and I will predict another MAC Championship and our first bowl win. It may be tough at times early in the season, but I think there's a magical run in this team still.
What do you all think? Is the defense too much of a problem for us this year? Or, is our offense so good that we will overperform?
Final Notes
As I noted last week, we've got a subreddit for this dynasty at /r/rubbercitydynasty. Thanks again to reader Memorrowiv for creating it. Hop on over there and start some Zips chatter in lieu of real MAC football this year.
I plan to drop the Year 4 recap on Wednesday, August 12th.
If we make a Year 4 bowl game, I may end up doing a Twitch stream of it so we can watch the final game of the K-Dubs era together. We'll see! Regardless, follow me on Twitch if you're into that kinda thing for when that streaming time eventually comes.
The Zips continue to be on the rise and will be on a championship path soon enough. Invite your chiropractor, your uncle, and whoever else you can think of to join in this wild journey. More appropriately, if you know any sad MAC football fans, share the Akron Zips love with them.
See you on Wednesday, Zipheads!