Welcome to the next chapter of the University of Akron's quest to win a national championship in NCAA Football 14. To learn more about this series and read up on past installments, visit the About page of this site.
Let's recap some of the key points from Year 2:
We finished the year 5-7 overall, with freshman QB Cortez Haumiller stealing the job and going 4-4 down the stretch. As a team, we were rated 70 overall to start the year.
QB Kenneth "K-Dubs" Washington was redshirted and is set to make his debut in Year 3.
We signed twenty total recruits and had the #41 recruiting class in the country. The stars of the class were T Joe Greene (76 OVR), QB Cedric Todd (71 OVR), and SS Mike Jacobs (71 OVR).
Coach Luke is now a Level 9 coach with all of his skill points going into the Recruiting skill tree. He wears a fancy suit and still hopes that potential recruits find that to be cool.
Year 3 is sure to be a key year in Coach Luke's tenure with the Zips. I predicted a 6-6 year in my Year 3 Preview. Readers on the Rubber City Dynasty subreddit are also around that mark, with 7-5 being the most optimistic prediction.
As a reminder, before we go into Year 3, I do not play any of the games in this series. I do the recruiting and either simulate or watch the computer play the actual games for me.
Okay. Let's get zippy.✓
---
Preseason
In the NCAA 14 preseason phase, we get to redshirt players, set a custom schedule, and fill up our initial Recruiting Board with prospects to target.
On the redshirting tip, one decision is made for us. We had a transfer at the end of last season, WR Rodney Van from Bowling Green, but he cannot play this year due to transfer rules, so we will redshirt him.
With that in mind, the notable redshirts for Year 3 are:
WR Rodney Van (SO, 76 OVR)
QB Cedric Todd (FR, 74 OVR)
RB Jared Oliver (FR, 70 OVR)
MLB Garrett Todd (JR, 69 OVR)
CB Eric West (FR, 69 OVR)
LOLB Ryan Martin (FR, 68 OVR)
Our official recruiting needs this season, according to the game, are 1 DT, 1 P, and 1 K. We're losing both our punter and kicker so I gotta really work on my special teams pitch to recruits this year. I hope that I can sell them on my "Punt Team, Baby!" slogan.
There are two 4-star prospects interested in us out of the gates: the #4 DT in the country, Ricky Horton, and the #16 HB, Keith Wallace. We'll see if I can reel them both in. The rest of my recruiting board is filled up with 3-star prospects as well as some kickers and punters.
The other preseason housekeeping item is to set our custom schedule. I've decided there will be no more FCS teams on our schedule. We're facing real teams now! They're not gonna be good teams, but they will certainly be real!
The reader comments gave a lot of good ideas and I took them all into account. Our non-conference schedule includes Kansas, Cincinnati, Wyoming, and Idaho. Cincinnati is specifically included because reader TooMuchDad suggested that we eventually try to defeat everyone in the state of Ohio and become the Ohio state university.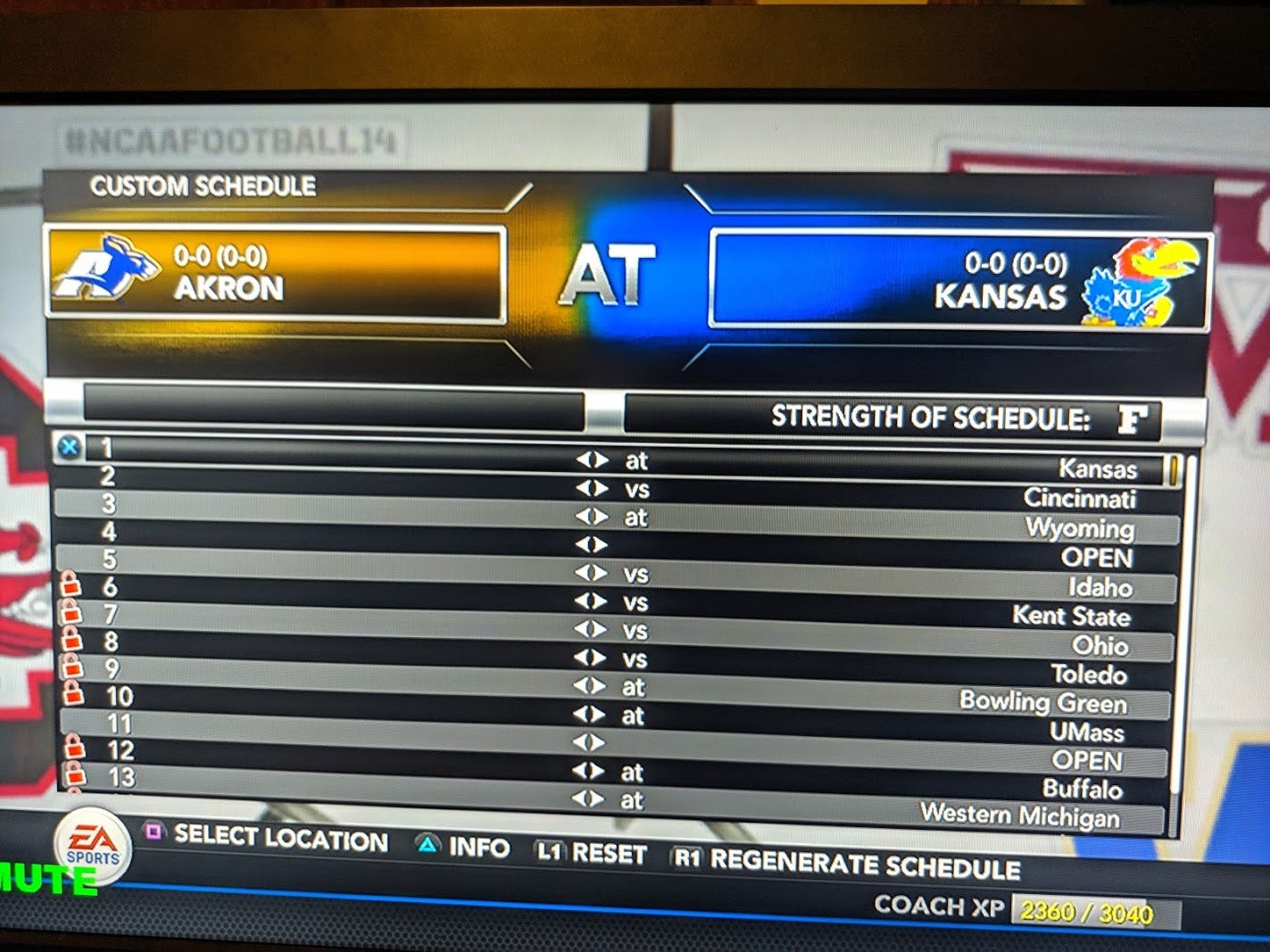 ---
Year 3 Roster
If you want to learn more about some of our Year 3 players, feel free to browse the Year 3 Preview piece I posted earlier this week. Regardless, here's a quick look at our projected starters on offense and defense.


---
Year 3 (2015-16)
Our season opens in Week 1 with a trip out to Lawrence, Kansas to face the Jayhawks.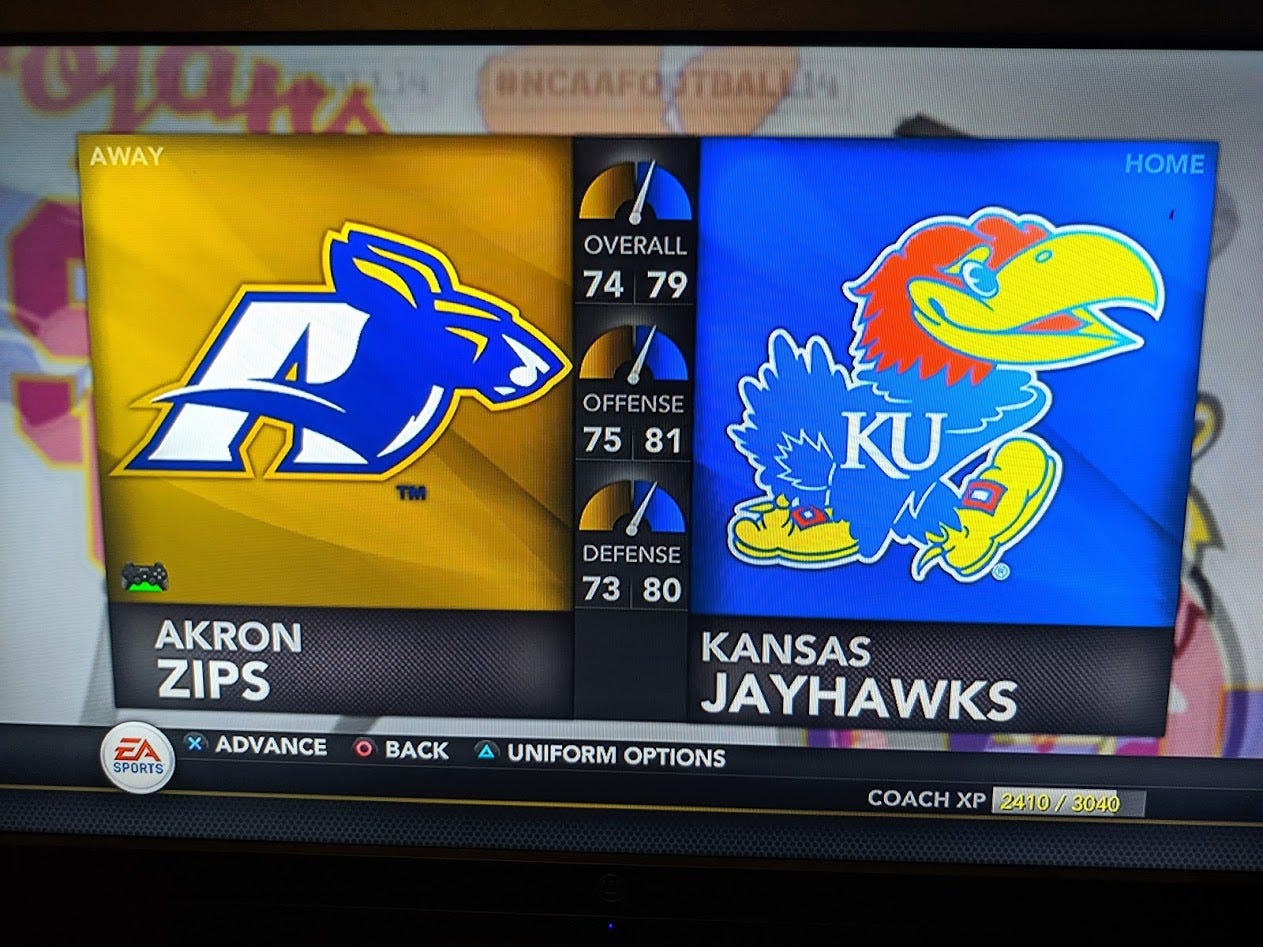 Our team is rated at 74 overall this year. We are long past the days of when we were rated 61 overall in Year 1. With Kansas rated at 79, it would be an upset to travel there and pull off a win. The fans are hyped though. In the subreddit, upon seeing the schedule preview, reader drewmg pointedly said that we "absolutely cannot lose to Kansas."
I simulate the game with bated breath.
And?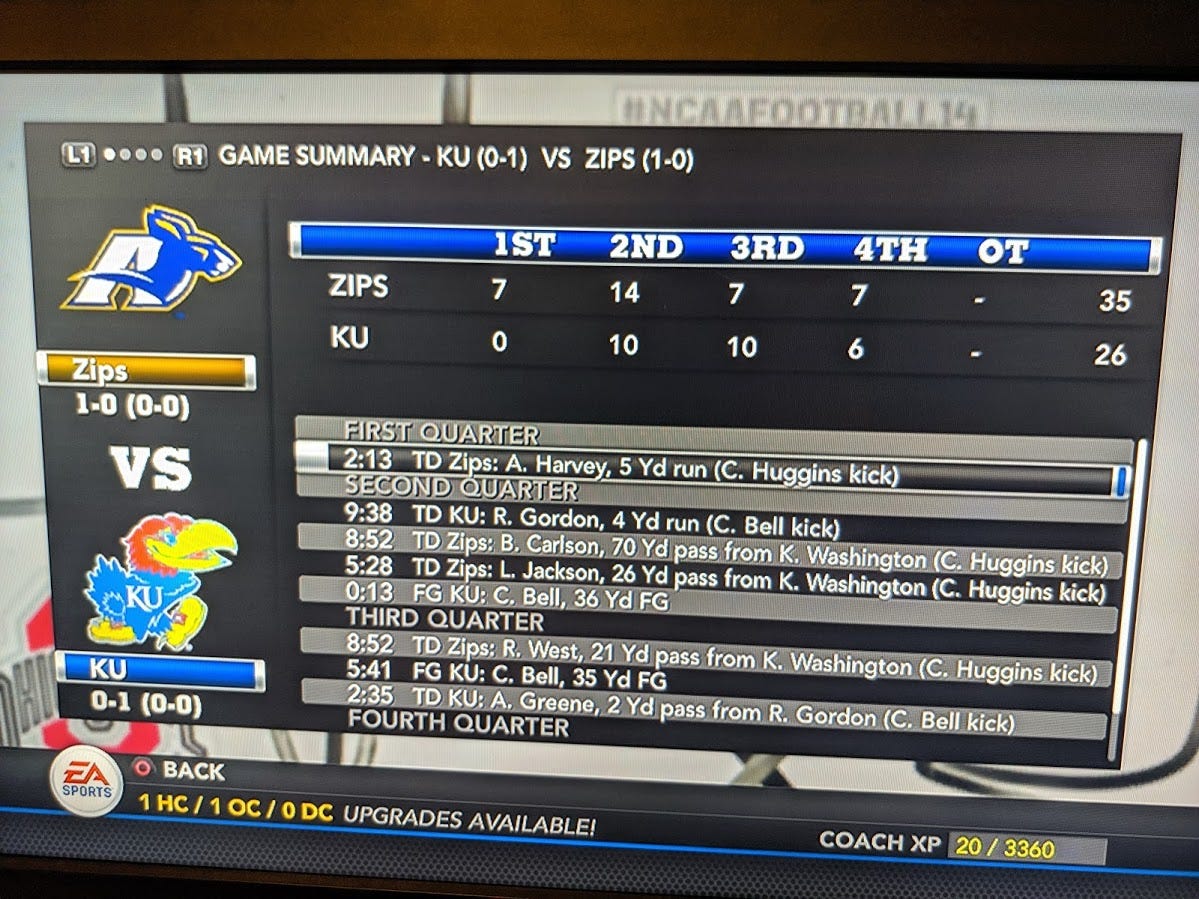 We win! Some of the key stat lines:
QB Kenneth Washington: 13-27, 229 Yards, 3 TD, 0 INT, 21 rushes, 125 Yards
RB Andrew Harvey: 20 rushes, 70 yards, 2 TD
RB Ryan West: 4 rushes, 25 yards, 1 reception, 21 yards, TD
WR Lorenzo Jackson: 4 receptions, 53 yards, TD
Nobody really stood out on defense in the box score but all of the guys I wrote about offensively in the Year 3 Preview did the things I dreamed of them doing. I'm feeling, as Lizzo would say, hella good.
In Week 2, Cincinnati comes to Akron to give us our first chance to become kings of Ohio. They're rated 88 to our 74 though, and you can guess the result. We lose. It was a close 20-27 game though. K-Dubs struggled with accuracy again (9-27 for 78 Yards, 1 TD, 0 INT) but our defense had a strong effort led by Derek Gay's 10 tackles, 2 TFL, 1 sack. It's good to see us compete with the Ohio big boys, but our time hasn't come yet. We'll play Cincy again next year and try this again.
We have two out-of-conference games left before our rivalry game at home versus Kent State. I'm inviting recruits out for that one.
In Week 3, we lose 14-24 to a 75-rated Wyoming team as they bottle up our run game (39 carries for 146 total yards at 3.7 YPC).
We then have a winnable game at home versus 70-rated Idaho. I actually feel more nervous about having a game where we are the favored team for once. I invite our 4-star DT Ryan Horton to visit Akron for this one as it was the only open spot on his schedule for us. This only adds to nerves.
And?
…
We win!
Crushed 'em, in fact, to the tune of 42-14. That's a great momentum builder as we head into our rivalry game against Kent State. Harvey and West combined for 168 rushing yards and 4 TDs. We were up by so much that K-Dubs took a seat and Carlson got snaps. You love to see it.
The recruiting trail is getting hot as well. I invite ten recruits to come out for our rivalry game the following week.
Week 6: Rivalry Game vs. Kent State
This is the Battle for the Wagon Wheel. Our Zips (2-2) are rated 74, and Kent State (2-2) is also rated 74. We lost 17-21 in Year 1. We won 28-21 in Year 2.
I'm going to watch this game and finally see what this team looks like on the field.
Before the game, I hold a quick informal press conference without my suit to address the state of the team (it's a 3-minute video if you do watch).
With the media properly informed and the fanbase properly pumped up, we watch the game.
I edited the game down to a 5-minute video here:
*
*
*
*
*
Holy moly. Crazy crazy game.
If you skipped past the video, we won! 31-24. There were no turnovers in the game and nearly 1,000 yards of offense between the teams. Just an offensive display from both teams.
K-Dubs ran for over 250 yards with 4 touchdowns. He was super fun to watch.
I was constantly nervous when our defense was on the field, but a win is a win is a win. We've got the Wagon Wheel for the second straight year, and we're 3-2 headed into the rest of conference play.
Rest of the Season
Coach Luke levels up to Level 11 after the game. Another new suit is in order. More points go into the Recruiting Tree, and we're now able to go over the 500 point max for an individual recruit (now up to 550).
Our recruiting process takes shape after our Kent State win. Five of the ten visiting recruits committed to Akron after that game. Here are the first commits of Year 3:
2-Star G Roy McAffee (77 OVR) (JUCO) (Gem Prospect)
1-Star DT Sean Evans (69 OVR) (JUCO)
3-Star C Anthony Thornton (69 OVR)
3-Star G Ed Jackson (68 OVR)
3-Star T Shawn Calhoun (66 OVR)
All in the trenches! As I've said in the past, I want to build up our lines and win there first and foremost. This is a great start to our Year 3 recruit cycle.
I'm still hard at work trying to bring in some future stars for us though. Here are the guys we are in the driver's seat for:
4-Star HB Keith Wallace (74 OVR)
3-Star ATH Darius Patterson (78 OVR, JUCO)
3-Star T Josh Lake (69 OVR)
3-Star HB Lance Atkins (77 OVR, JUCO)
3-Star FS Terrance Green Jr (64 OVR)
3-Star CB Justin Reid (67 OVR)
3-Star C Carl Hall (66 OVR)
1-Star P Collin Seward (77 OVR)
2-Star K Brett Jones (77 OVR)
I'm really crossing my fingers about Keith Wallace. Lots of schools are going after him, but he would be our first legitimate 4-star player if we get him.
We have a good history with JUCO players, as both K-Dubs and our starting tackle Kris Jackson came to us from junior colleges. If we get either ATH Darius Patterson or HB Lance Atkins then that'll be a huge immediate boost for Year 4.
The best way to impress these recruits is on the football field though. In the subreddit, reader megabux651 predicted us being 3-2 after five games. They were right. They also predicted we'd lose our next two games against both Ohio and Toledo.
And?
They were wrong.
We did lose to Ohio (27-34) but then we crushed Toledo (41-17)!
I get the great news that JUCO HB Lance Atkins commits after the Toledo game. HB Andrew Harvey is set to graduate and we didn't have a great replacement at HB for Year 4. Lance Atkins is rated 77 overall though and will be an immediate starter for us. I love it.
As we lose out on the pursuit of some recruits, we start employing The Memorrowiv Method. In the comments, reader Memorrowiv suggested that we specifically look for untargeted speedsters when in doubt. I sort our recruiting search by speed and add some fast guys to my board to see what'll happen.
In our next two games, we upset a 77-rated Bowling Green (20-6) but then have a disappointing loss against 74-rated UMass (27-34). It's been an inconsistent season. We are 5-4.
On the plus side, our recruiting efforts are going amazingly well though as we get our punter Collin Seward. Punt Team, baby! We also do get K Brett Jones (77 OVR), HB Chris Ralph, FS Terrance Green Jr, and T Josh Lake.
Looking at the conference standings, we are actually in the hunt to win the MAC East and get into the conference championship game.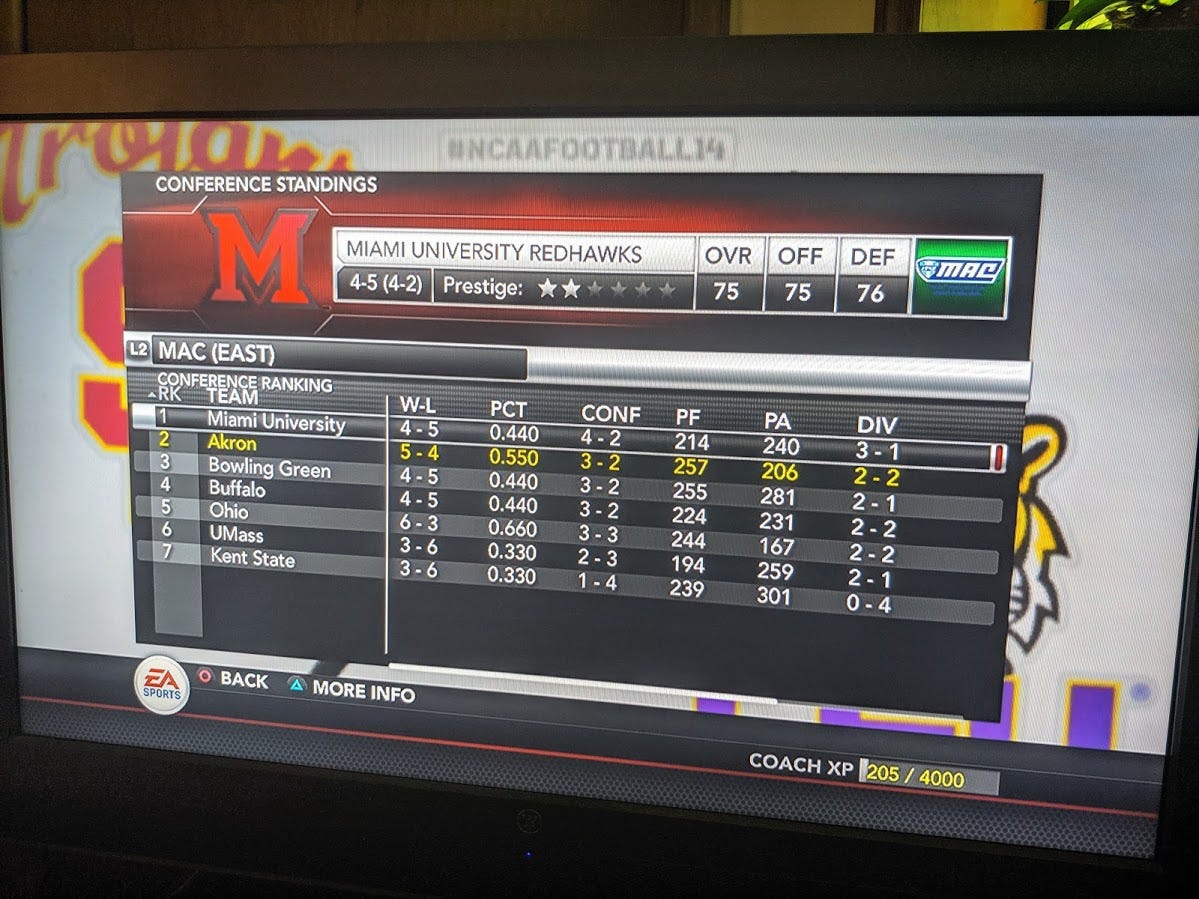 The last three games obviously are crucial if that were to happen.
And? They go like this:
at Buffalo – W 31-28 – We were down 28-14 going into the fourth and mounted a big comeback. Harvey rushes for 130 yards.
at Western Michigan – W 31-19 – Michael Johnson (LE) had 6 TFL and 3 Sacks to win MAC Defensive Player of the Week.
vs Eastern Michigan – W 42-14 – Well well well. When this team gets hot, they get really hot.
We finish 8-4! We are going to the MAC Championship game in Year 3! Unbelievable! I seriously did not see this coming.
In other great news, we have finished the regular season recruiting cycle by getting twenty commits. An epic achievement for Coach Luke. We have the #54 recruit class in the country at this point.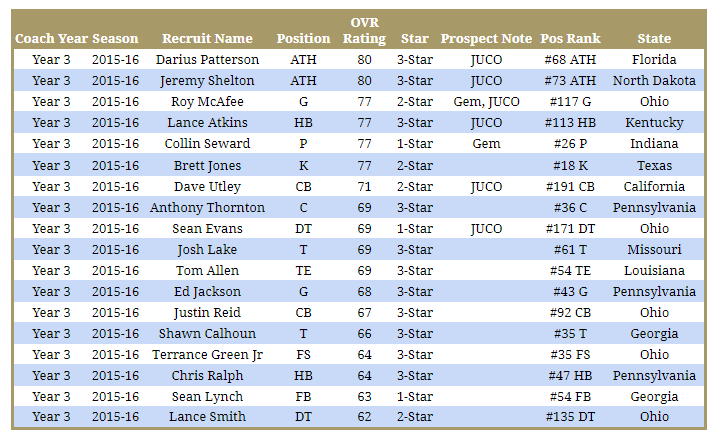 We don't have any 4-star commitments (I'm still really hoping we get Keith Wallace), but we've got a lot of JUCO talent coming our way. That will help us a lot in Year 4.
We also got one of the speedsters that I targeted with the Memorrowiv Method, CB Dave Utley.
The regular season is over but the Zips still have games to play this time around!
MAC Championship Game
In the MAC Championship, we go against an 83-rated Northern Illinois Huskies team that is 6-5. They have the #40 defense in the country, and are a run-first team led by HB James Faulk who has rushed for 108 yards per game this year. We travel to Ford Field for this one. Pressure? It's on.
I call another emergency press conference to publicly call out a couple of players before the game (3-minute video).
On the actual football field, I cut the game footage down to just the main highlights. The video clocks in at three minutes:
*
*
*
*
*
MAC CHAMPIONS!!!
I called upon the defense to perform in my pregame press conference. And that they did. Jamar Fisher got an INT. Cook finally ate. Derek Gay had 2 sacks and 8 tackles. Big days all around. We stomped 'em 36-22 and are MAC Champions in our third year.
I'm shook. Proud but shook.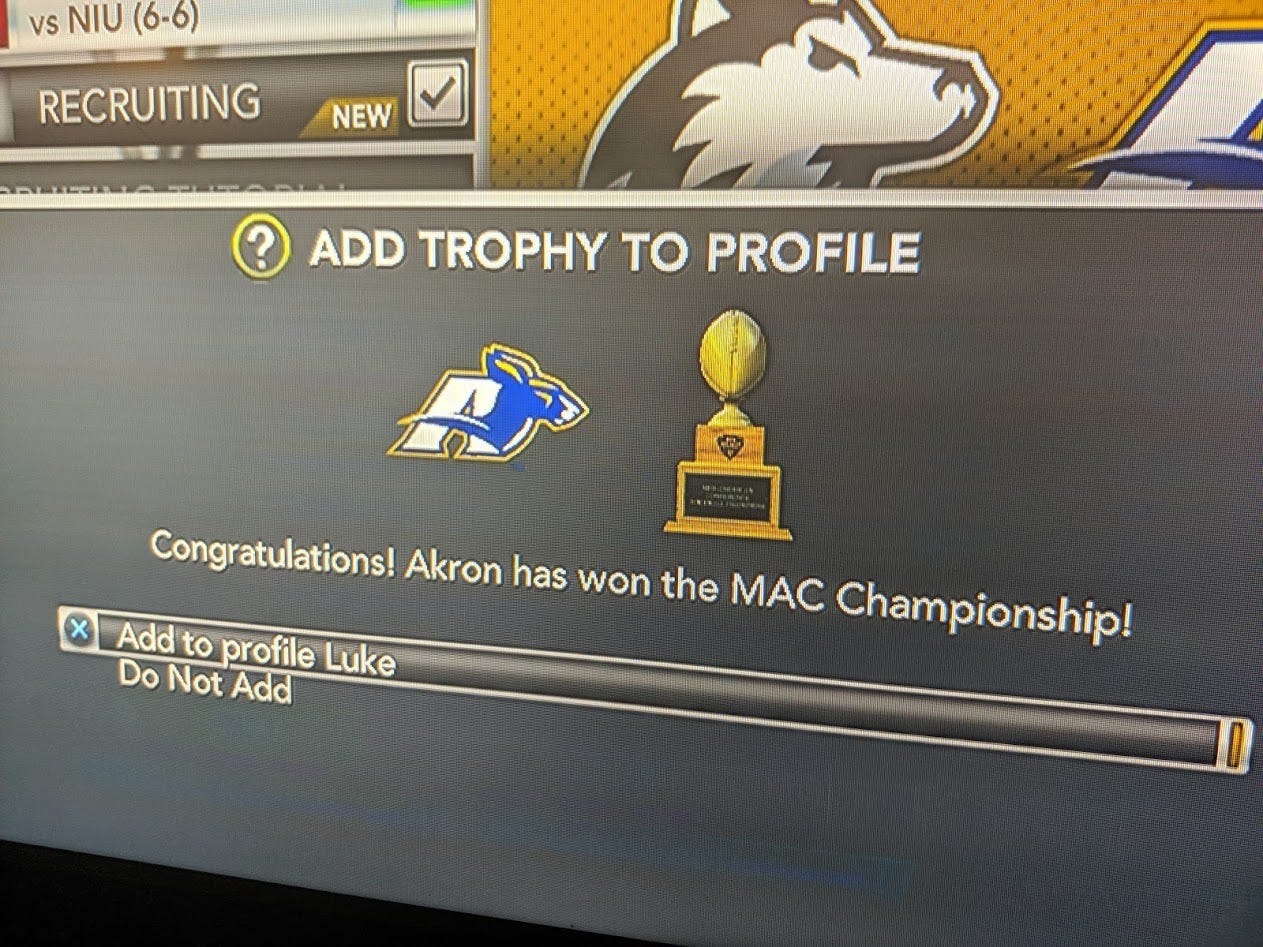 The gift of Kenneth Washington in our first recruiting cycle just can't be understated. He catapulted us to relevancy immediately. There was drama over whether to redshirt him last season but it looks to have paid off. We have a MAC Championship to our name, and we have one more year of K-Dubs Mania. I'm teary-eyed.
As a fun side note: He has improved his overall rating to 91 throughout the season. Next year is gonna be silly.
Our season still isn't over though!
We get an invite to the GoDaddy.com Bowl to play an 81-rated UL-Lafayette Ragin' Cajuns team.
The GoDaddy.com Bowl
Those Ragin' Cajuns have the #3 rush defense in the country, which does not bode well for our offensive style. We do have the #3 rush offense in the country though. It's strength meets strength. They're a better-rated team but that hasn't scared us all year.
Let's f'n go.
*
*
*
*
*
And?
Well, we lose 26-21.
I watched the game but didn't record it. We were getting crushed 20-0 and it looked hopeless for a while. We battled back to briefly take a 21-20 lead before the Ragin' Cajuns hit a 79-yard pass for the win.
Our time hasn't come yet but we're coming.
I'm just feeling really proud of what the Zips were able to accomplish. Lots of good kids on this team.
On the national circuit, we get a crazy championship with South Carolina defeating Indiana, of all teams, 31-29 in the title game.
---
Offseason
What a successful season.
Before the offseason begins, I sit back in my armchair with a glass of wine and reflect on how far we've come in only three years. My moment of peace is soon interrupted as LeBron James personally shows up at my house and proudly tells me that Coach Luke is now the real king of Akron. I invite him to hang out but he declines. It was kind of an awkward visit, but I appreciate the passing of the Akron torch.
After one day of respite, the offseason begins.
It starts on a weird note as both of our coordinators leave. I'll reiterate that we have no control over the signing of coordinators in NCAA Football 14 for whatever reason. Luckily, the game doesn't promote interns for us and we get suitable replacements. Our new offensive coordinator is Chris Wall and our new defensive coordinator is Mike Jennings. They are both Level 8.
We go into the offseason recruiting week with seven scholarships left to offer. I look over my Recruiting Board and decide there are only six guys that I really feel any affinity towards.
I've had readers shouting at me to not spread myself so thin in offseason recruiting and I heed that call.
My most important target is the 4-star HB Keith Wallace. He'll got most of our 10,000 offseason recruiting points.
In addition, I like TE Joey Jones. He is a 77 OVR gem prospect standing at 6'7". It seems like he would be super fun to see on the field.
Here's our recruiting board: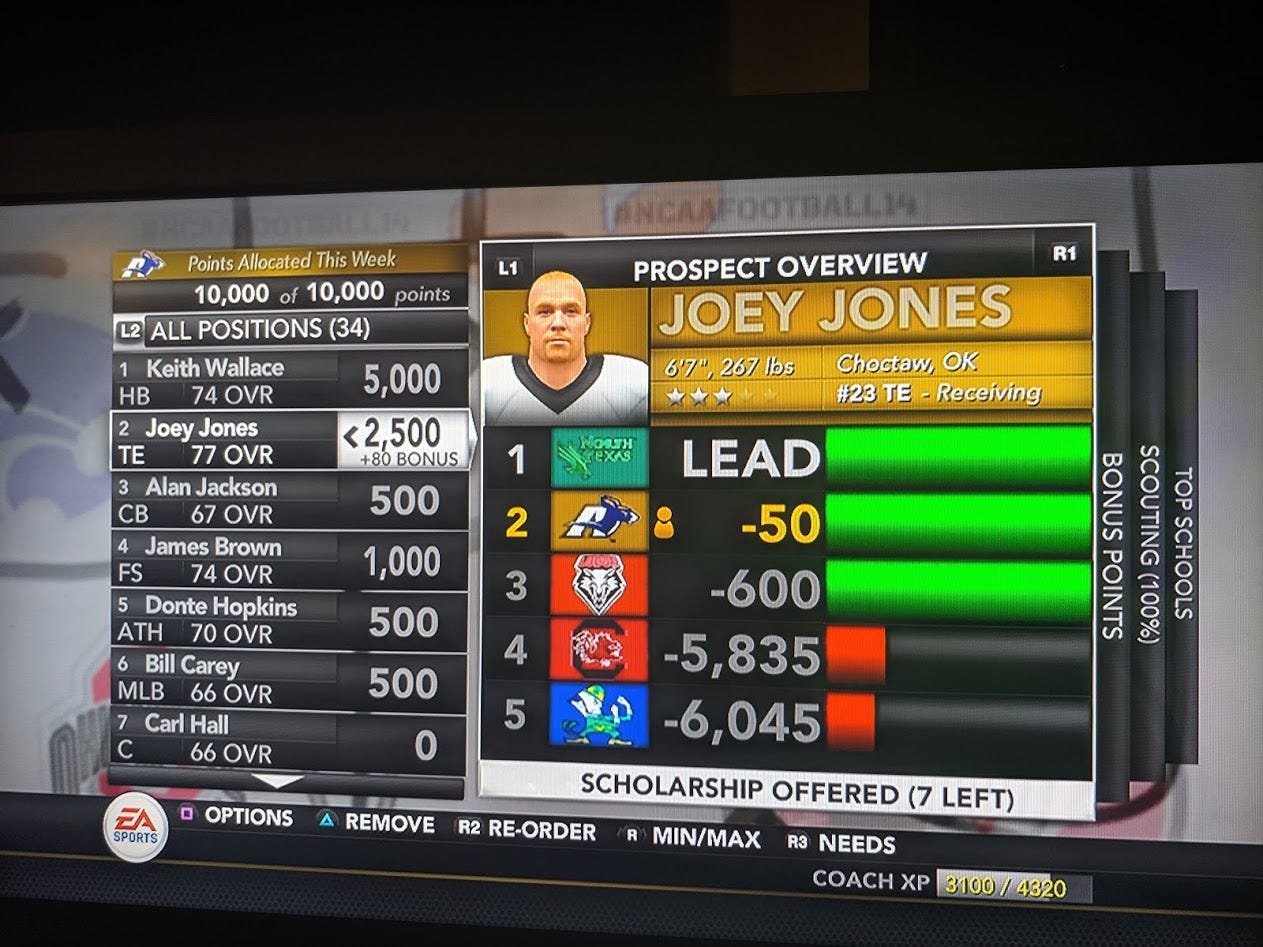 And?
We get 4-star HB Keith Wallace!
We get 3-star CB Alan Jackson!
We get 3-star MLB Bill Carey!
Wallace seems like a legit stud. He's the #16 HB in the country. We're becoming the running capital of the nation.
Here's what our final class looks like: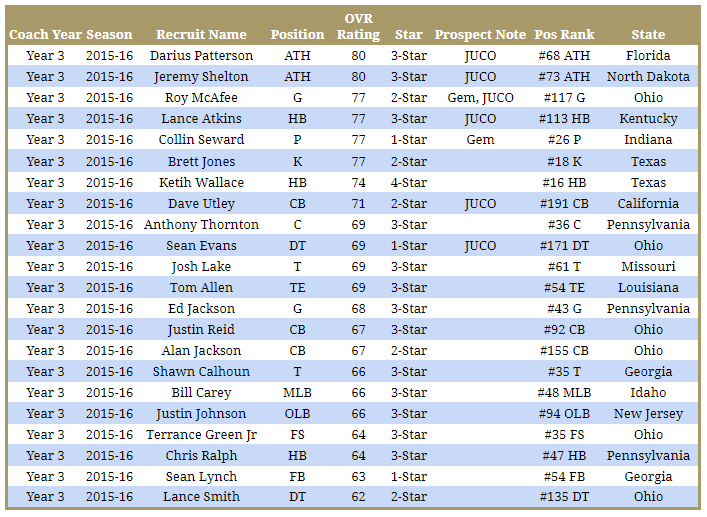 And, here is the spreadsheet with all of our commits this season as well as the player stats from Year 3.
We end up with the #51 recruit class but I kinda like this class better than last year's #41 recruit class due to actually having a solid 4-star recruit and lots of JUCO talent to use right away. Year 4, once again, is looking amazing.
In the Position Changes week, I have two recruited Athletes that I need to assign a position to.
Our first athlete is JUCO Darius Patterson and… I am shocked to find that he's the second-coming of K-Dubs and rates at 86 as a scrambling QB. That's… insane.
Welp! I think we have a future plan in place!
I assign Patterson to QB, and I will redshirt him in Year 4 while K-Dubs plays out his senior year. In Year 5, the Darius Patterson era begins apparently. I have no nickname for him. I'm kinda speechless at our stupid luck.
Our other JUCO athlete is Jeremy Shelton. He is assigned to HB where rates as an 81 overall player.
During this Position Changes week, I also move newly-recruited JUCO G Roy McAfee to LT where he goes from a 79 to a 78. We needed some talent there with Kris Jackson graduating.
As we get to Training Results week, we get to see how much some of our studs have improved. Players typically improve by three to six points during this week.
And? The big news is that Kenneth "K-Dubs" Washington goes up five points and is now rated 96 overall! Holy crap. The MAC is not ready.
As we head into Year 4, our roster is starting to look legit. I feel we have more depth than ever and we don't have glaring weaknesses. Here's a glance at our top players: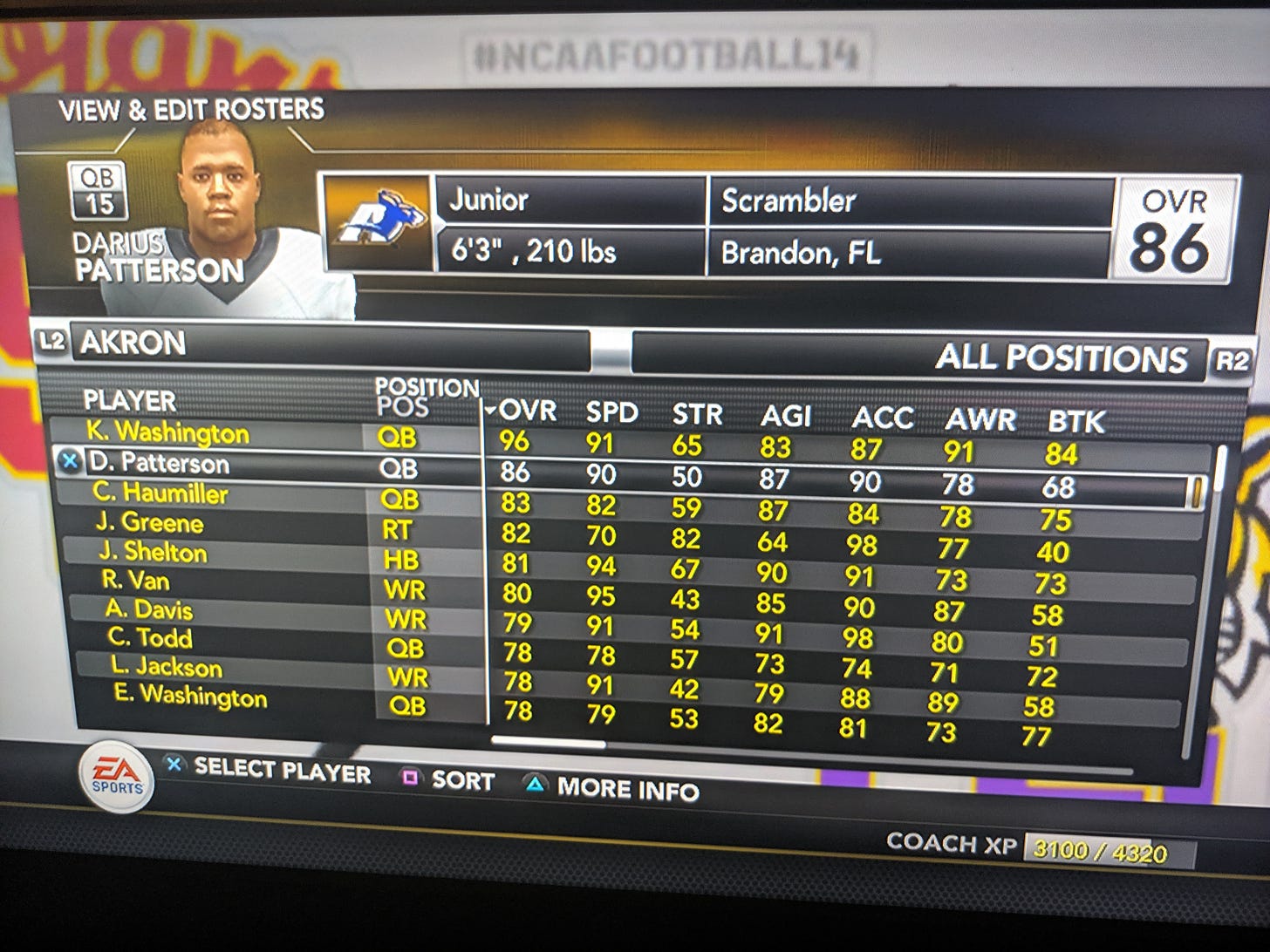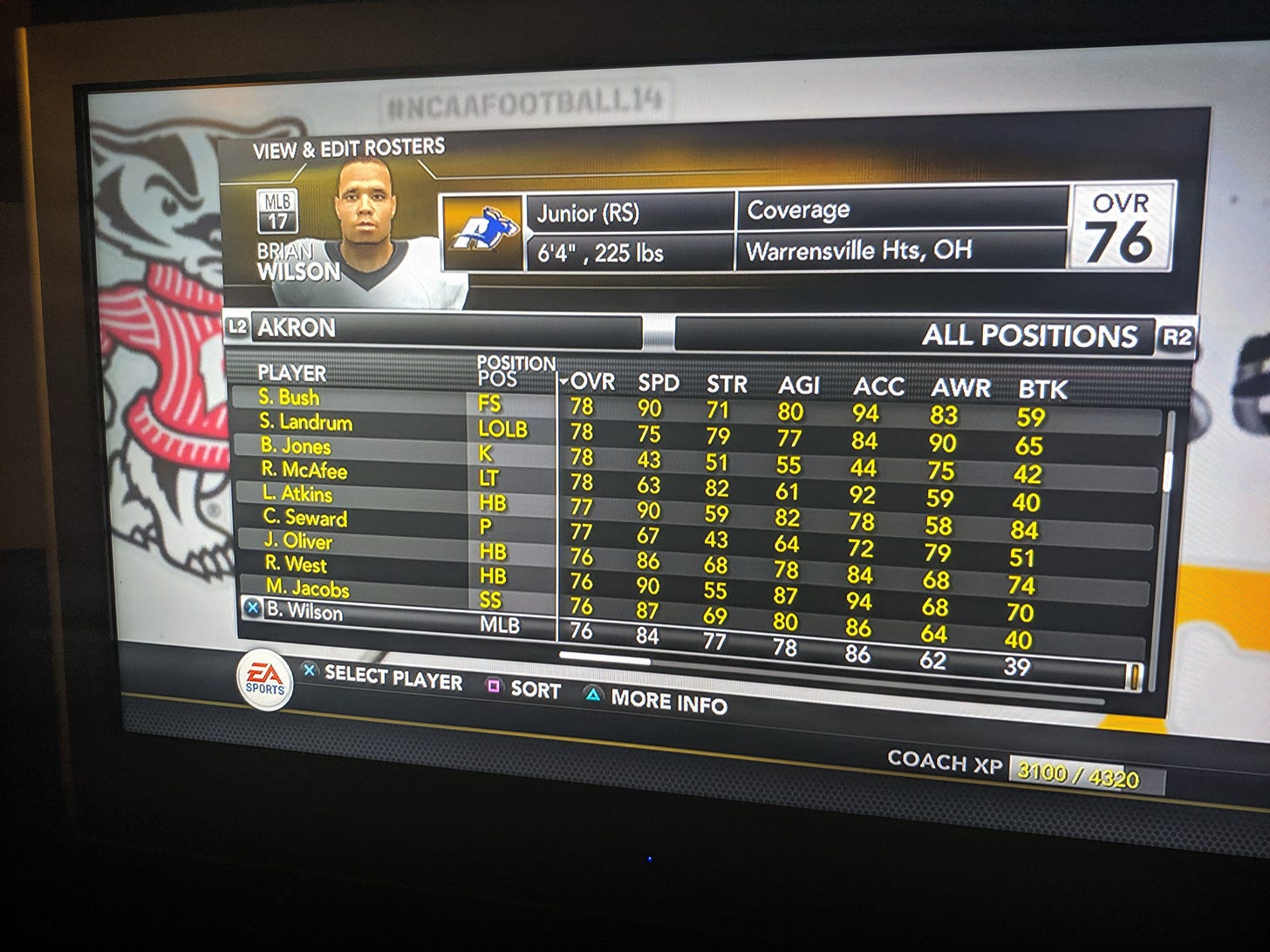 In Year 4, I want Akron to win the MAC again. The MAC is officially MAKRON now and we want to prove that by winning it again.
I also want to see us have a tougher schedule, so let me know of schools that you would love to see on our schedule for the out-of-conference portion of Year 4. Either way, Year 4 is gonna be nuts and our last chance to see K-Dubs. I can't wait to see what happens.
I'm having a lot of fun doing this series. I really love all of the support I've gotten from you all too. You all are the frickin' best!
Anywho, Zip Family, we're doing this! We took the MAC in Year 3. Let's shock the world in Year 4!
Until next time, zip it up and zip it out!
To be continued.