EA Sports made college football video games for over twenty years before the unexpected final game in the series, NCAA Football 14. Lawsuits shut down any future attempts at profiting off of college athletes in video games, so we are left with this being our last college football game. The game's cover features Michigan QB Denard Robinson, and Denard judgingly stares into our soul every time we want to play a college football game again nowadays. The game is amazing though and thankfully the series left on a high note when it was released in July 2013.
We are all secretly trying to escape the madhouse that is the year 2020. What better way to do it than to escape back to a simpler time like 2013? Ah yes, Breaking Bad was about to enter its final season, and we were all quoting our favorite lines of dialogue from the movie Gravity. I want to go back to those days.
That's why I am dusting off my copy of the game to start a new blog series that is heavily inspired by the amazing work of Ricky O'Donnell.
Ricky has been doing a series since March that has followed a fictional Western Illinois basketball team in the game NCAA 2k8. He has led the Leathernecks to multiple national championships through his recruiting prowess as he sits back and watches game simulations on Twitch.
I admit that my adventure here is nothing more than a copy of Ricky's valiant effort, but it is in a different sport, on a different long-forgotten game, and I'm literally a different human being. Therefore, I conclude that this will be… different.
Welcome to the first entry in a series that will be attempting to turn The University of Akron Zips football team into NCAA champions. In the real world, they are a team that's proudest achievement is winning a single MAC championship in 2005 during a 7-6 season. That's their best season in school history. That's it.
This series will start in the 2013-14 season and attempt to write a new story for the city of Akron their football Zips.
---
I'll only be simming through the games so my talents on the sticks can't save me here. The main focus on our journey will be recruiting football talent into the city of Akron, Ohio.
How does recruiting work?
As you would expect, there are hundreds of recruits available throughout each season, rated from 1-star to 5-star prospects. As a coach, we get to have a Recruiting Board with a max of 35 players on it at any time, and we have the ability to change that board as we go. We also have a max of 25 scholarships to give out every year.
Coaches can scout players to get a better sense of their ratings. From there, coaches attempt to recruit a player by assigning recruiting points from their limited pool to the player (as a new coach, we get 5000 recruiting points to give out in a week with a max of 500 to each player). Coaches can also invite the player to visit campus one week to gain bonus points. The success of our recruiting efforts is made visible by showing the recruit's top 10 schools and how many points behind the leader each school is.
The recruit gives various bonuses to schools based on what he desires in a program (close to home, academic prestige, playing style, etc) so there are ways to get ahead without even putting points into a recruit.
Successful recruiting requires paying attention to how our efforts are going with each player and knowing when to cut your losses and replace a player on our recruiting board. Another key part of the success is paying attention to what players are not getting ignored by bigger schools and targetting them.
Why is this going to be challenging?
At first, there won't be any recruits above 3-stars that will show an interest in the University of Akron. We won't impress anybody by losing lots of games in our first year or two as well. We're going to have to hope to use our very limited recruiting points to find hidden talents (those points go up as our coach gains experience). Before our coach levels up, we just don't have a lot of points nor bonuses at our disposal. Recruiting will be tough in the early years and we just have to hope to keep our job long enough to see the fruits of labor.
To keep our job, we can't rely on our gameplay skills. We just have to hope that our computer coaching is… not terrible… despite our players being terrible early on.
So you won't be playing any of the game — just simming them?
Yup. We recruit players. The computer plays it out for us. Sometimes we watch.
---
Enough with the chit-chat, let's turn the Zips into a football factory.
Year 1 (2013-14)
When you create a coach, you get to choose an offensive and defensive playbook. I chose the New Mexico (Pistol) playbook on offense. Custom playbooks are an option but I want to stick to the game's playbooks and this playbook, at a quick glance, seemed to have some nice variety to it with option runs and good passing plays. This feels like a playbook that can take advantage of whatever future recruits we get.
On defense, there aren't as many playbooks to look at but we choose the 3-4 Multiple. This, once again, just feels like a playbook that lets us do—um—multiple things.
With those decisions done, Coach Luke is created. He wears a suit on the sidelines because the game of football is a formal event for him.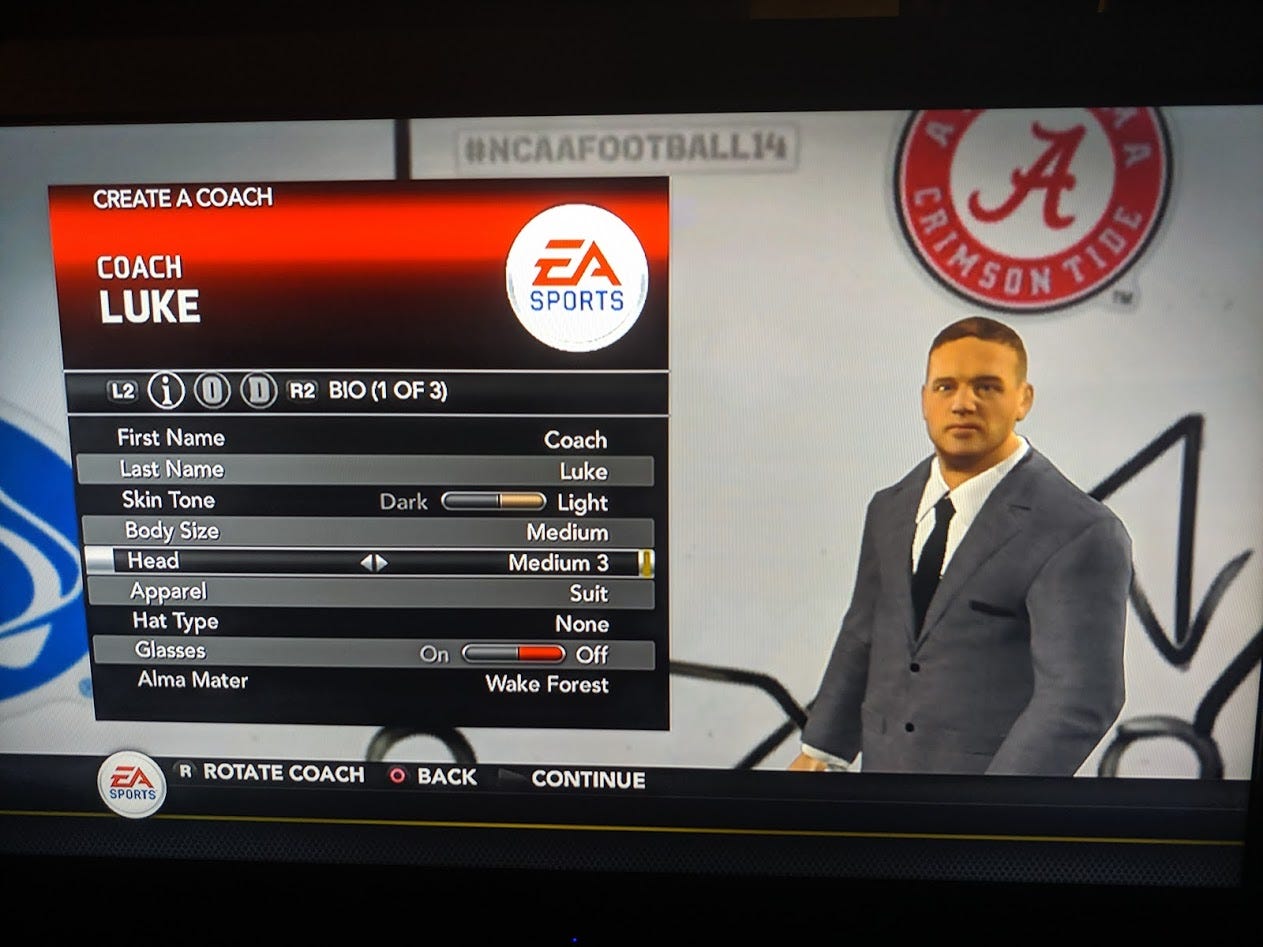 What recruit will be able to resist a man in a suit telling him about the city of Akron? And, just you wait until he informs our recruits that our team is called the Zips!
After Coach Luke is born, we are assigned two assistant coaches. Our OC is Josh Stewart and our DC is Brandon Anderson. Will they stay with us for our whole career or is this a stepping stone for them? Time will tell.
I get to assign one skill point to myself and the assistants. I am going to focus solely on the Recruiting tree for Coach Luke (there's also a Coaching tree that affects gameplay but… no, Recruiting is everything to us). The first task is to get my Scouting ability up as quickly as I can. Meanwhile, the assistants are each given skill points that help them increase player stamina and reduce player injury. We typically will naturally level up a few times during the season and assign more skill points to abilities that give us more recruiting points and other bonuses.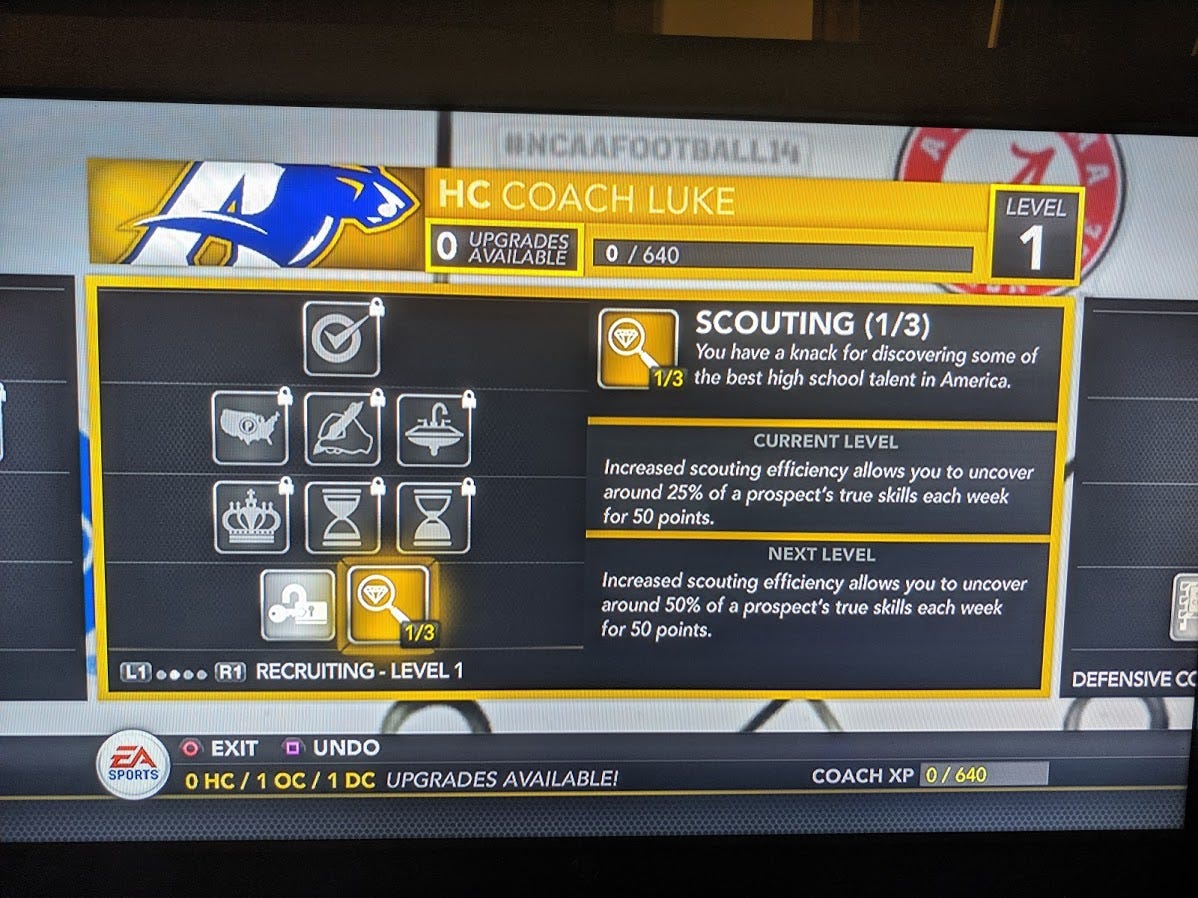 We get to choose who to redshirt for this first year and, yes, this roster is straight-up trash. I choose to actually redshirt as many decent guys as I can because I feel like the administrators at Akron won't fire me after one season regardless of how bad we are. We'll fall on the sword in Year 1 and hope that this redshirt party gives us a less terrible team in Year 2. Notable redshirts are:
QB Cortez Haumiller (FR, 70 OVR)
WR Aaron Davis (SO, 68 OVR)
WR Isaiah Miller (JR, 66 OVR)
FS Jamar Fisher (JR, 78 OVR)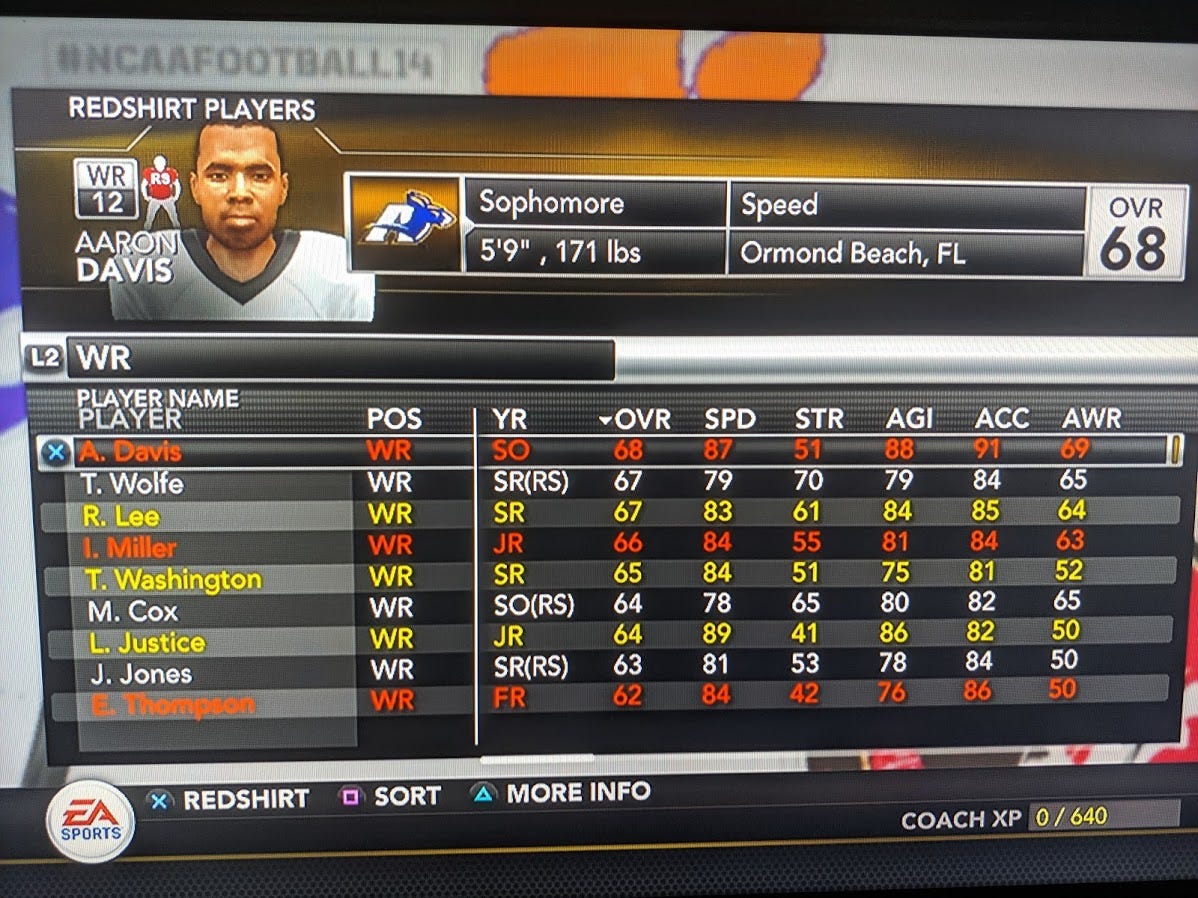 After redshirting, we can adjust our schedule and I do make a slight adjustment. I make sure we have two generic FCS teams on our schedule instead of one (they are the worst teams in the game). For me, the first two seasons are going to be brutal and I need to somehow get us a win or two to keep my job. My personal goal for both Year 1 and Year 2 is to get two wins in each season.
Entering Year 3 with a job and four wins on my coaching resume will be about as good as we can hope for. Year 3 is when things will start to get interesting… I hope. Year 4 is when we'll compete for a division title. Year 5 is when we become a ranked team. In my head, that's how I see it playing out.
I'll spend more time talking about recruiting than the games this first year because I don't expect us to win much of anything. For instance, looking at our first matchup, we can see that our team is rated 61 overall. If you don't know NCAA Football 14, that's pretty much as bad as it gets. Walk-on players are generally rated close to 60 OVR as freshmen. That's about what our whole team rates out to be. Yikes.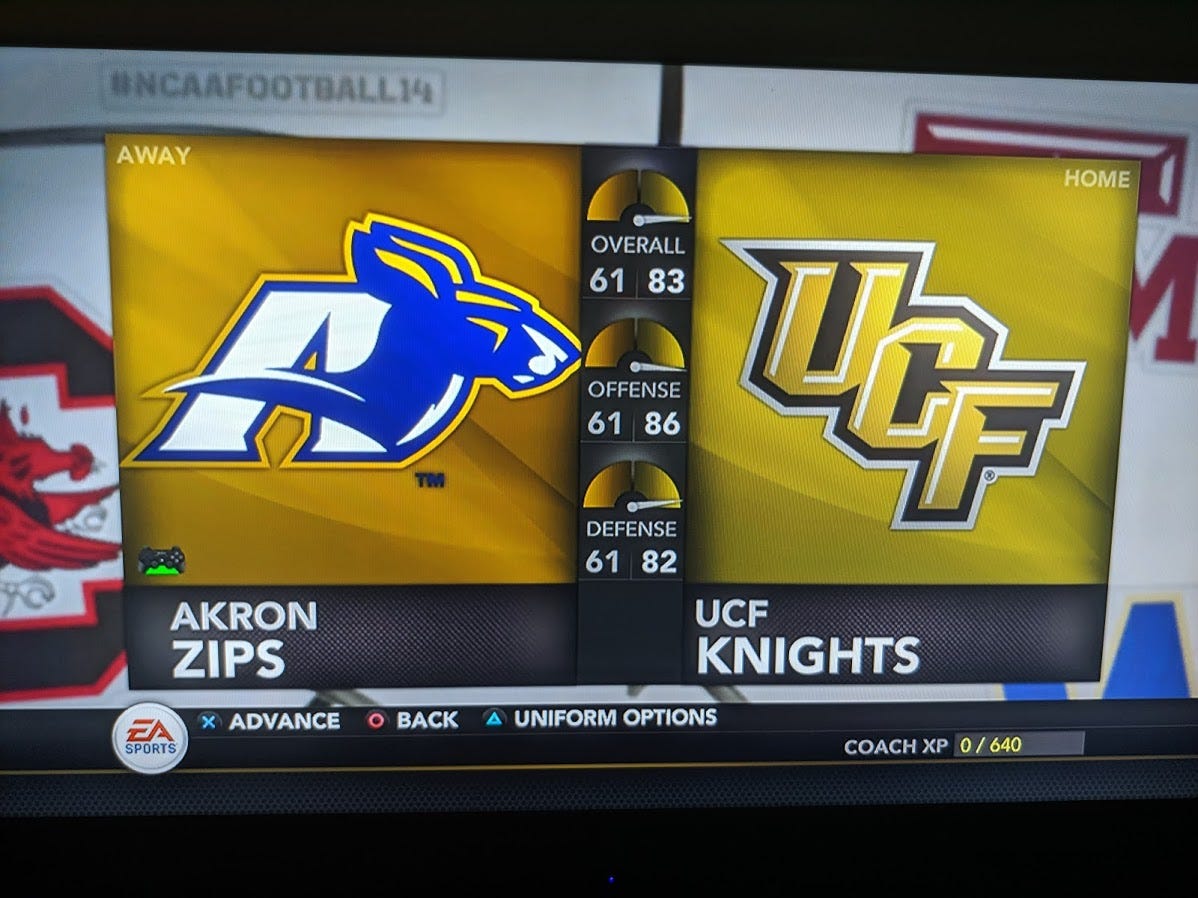 We lose Week 1 to UCF but only lose 30-7, which I honestly consider a moral victory because we didn't get the doors blown off. In Week 2, we thankfully beat an FCS team 27-0 but, just to show how bad we are, we lose to the other FCS team on our schedule in Week 3 while getting shut out. After six weeks, this is how things went:
L at UCF (3-2), 7-30
W vs FCS East (—), 27-0
L vs FCS Midwest (—), 0-21
L vs UL Lafayette (3-2), 20-37
L at Bowling Green (4-2), 17-27
L vs Ohio (4-1), 13-20
Honestly, not a huge shock that we're 1-5 out of the gates. This team is bad. I'm mildly surprised that we've been hanging in games against decent mid-major teams. Coach Luke is showing promise. It must be the suit.
Our numbers look bad across the board compared to other MAC teams too. Here's how we compare in Offense: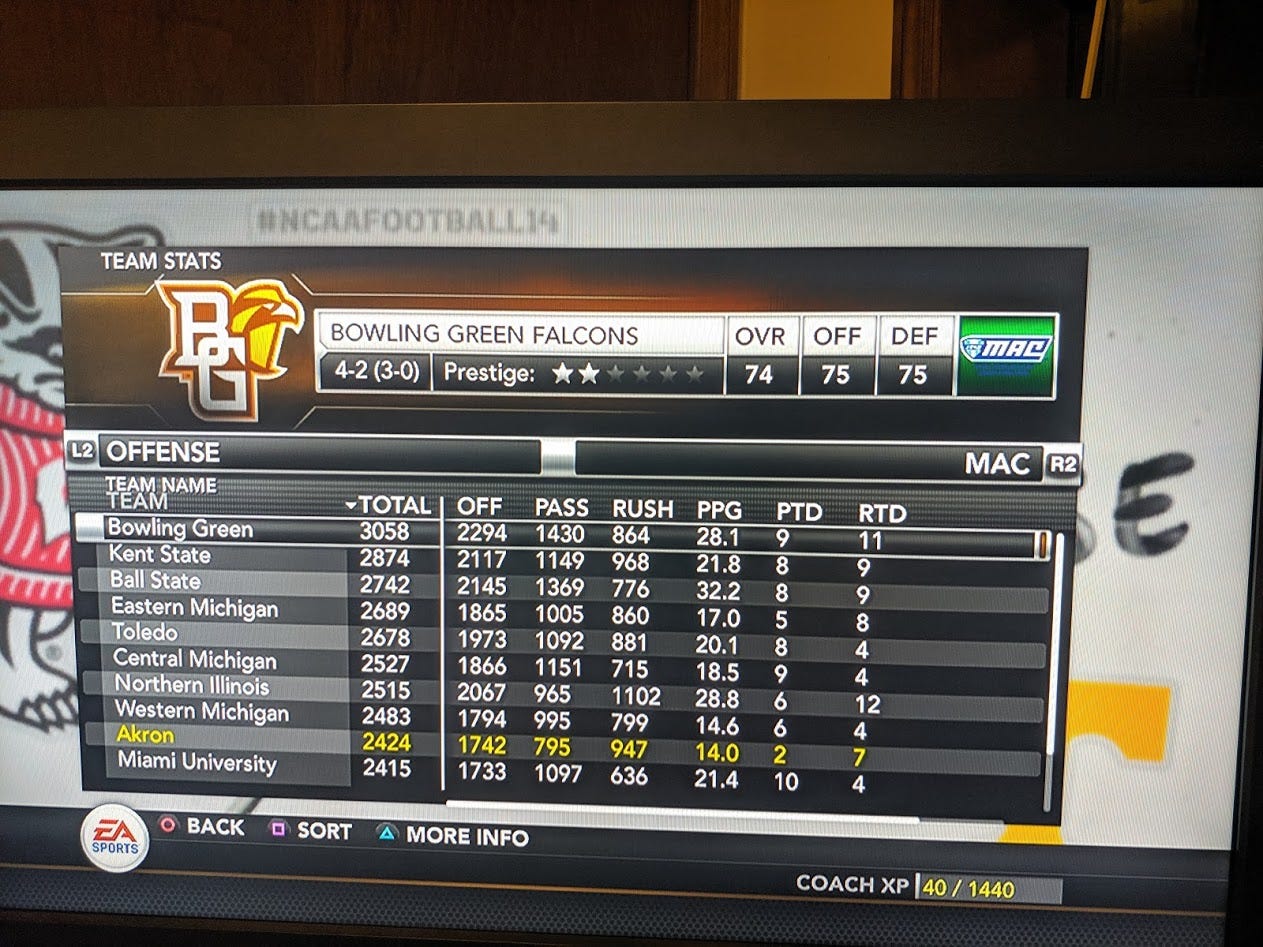 The recruiting trail is the main focus at this point. There's really no sense in analyzing the games now.
I've got about twenty recruits that I feel I'm at least in the race for. Getting even half of these would be a huge start. I should note that recruiting is always going to be the toughest in the first two years. The coach starts at Level 1 and gains skill points that we put into Recruiting bonuses, so he'll get better at recruiting through the natural game process, but Year 1? We lack those bonuses and have a bad team and, well, we just hope for the best.
I'll give you a snapshot of who we are targeting at this point in the season. Though this shows their "overall" ratings, I haven't done much scouting this year because we didn't have the ability for it right away. You reveal a player's "true" rating through spending points on scouting, so these ratings aren't accurate.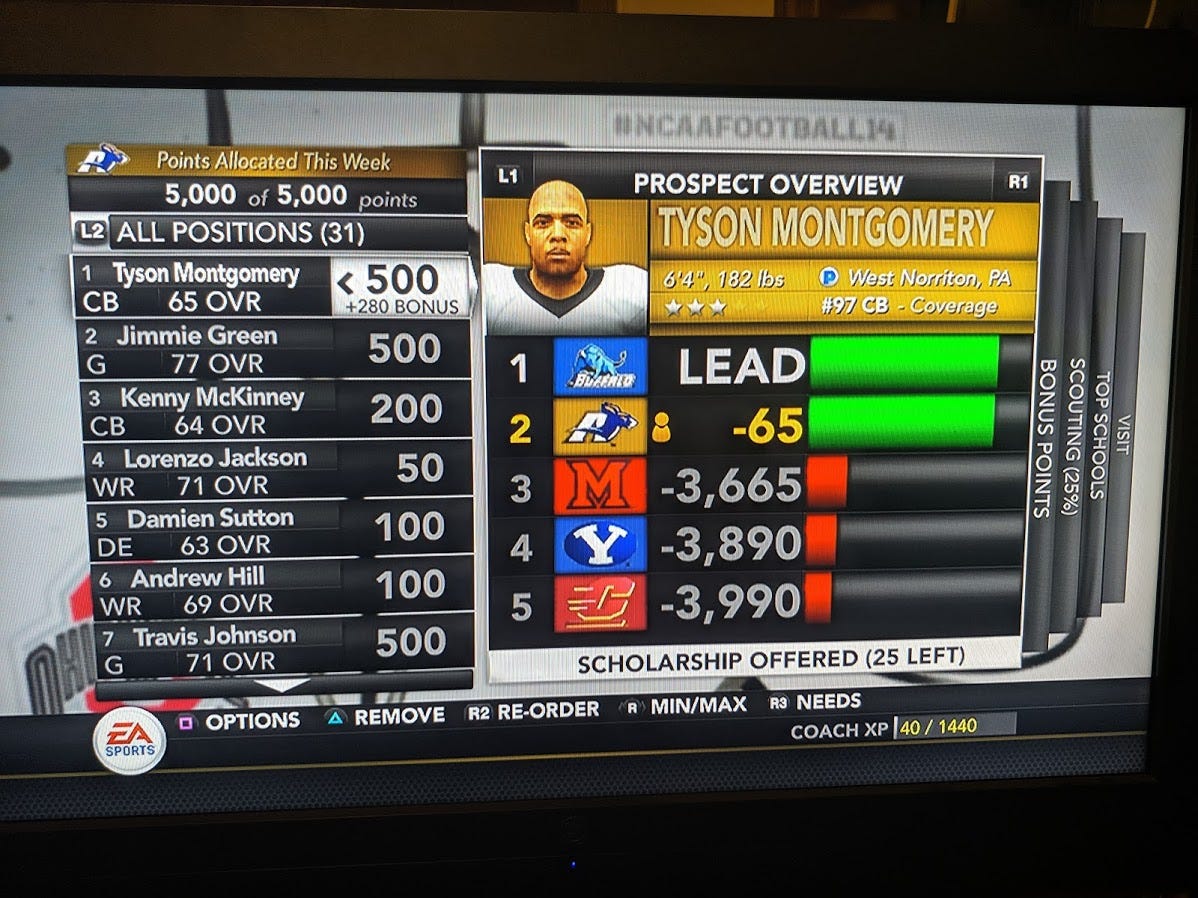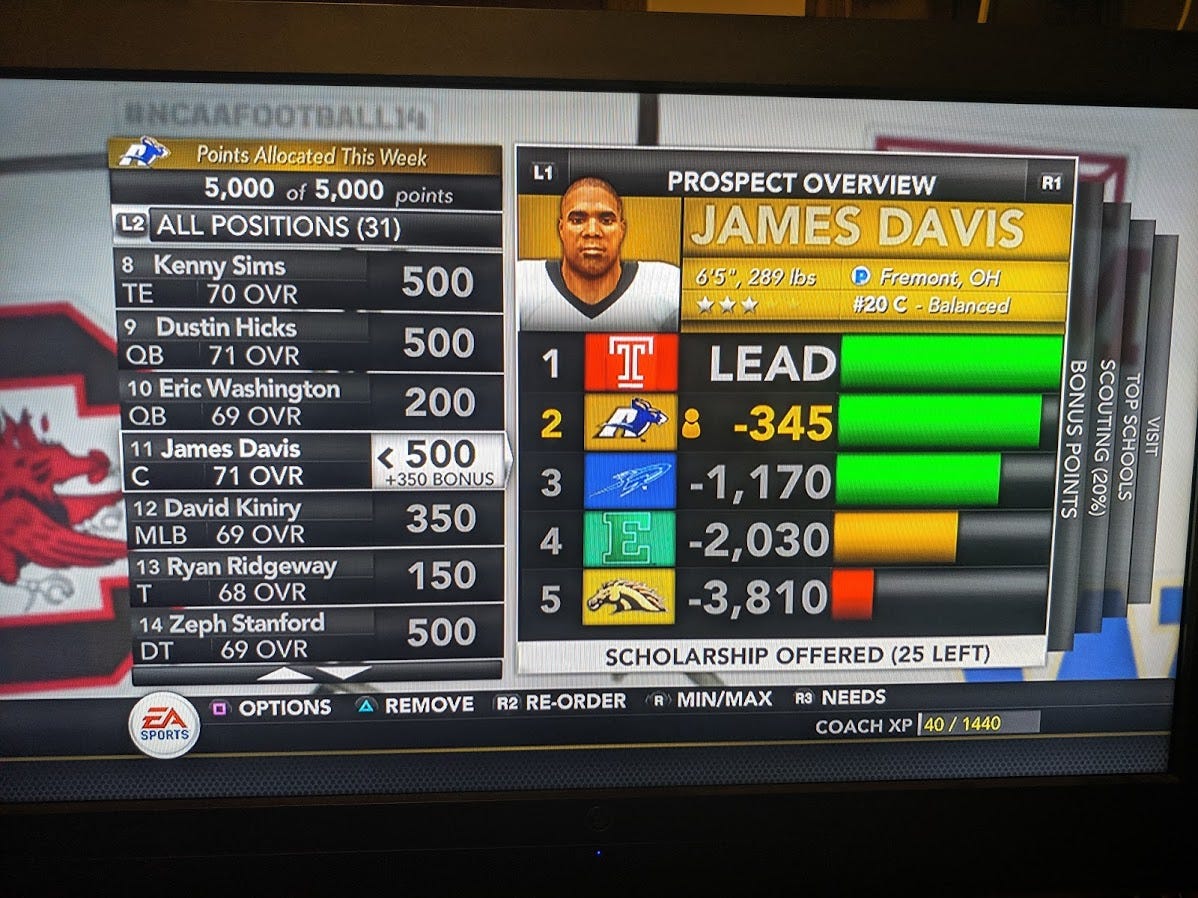 We've got a number of decent options and I'm hoping for some good news from these recruits soon. We're inviting most of our recruits to visit Akron for our rivalry game against Kent State in Week 10. That'll be a big one, though I naturally expect us to lose.
After Week 8, despite being 1-7, we get our first-ever recruit signed under Coach Luke. The suit is working!
Our first recruit is a 3-star talent. He's a 6'2" scrambling QB named Eric Washington rated at 66 OVR and from our home state of Ohio.
Honestly? That's a pretty good signing for us. Assuming we redshirt him and he improves by 4 or 5 points a year, he could be close to a 90 OVR QB by his senior year. We need that; I'm pretty hyped. Eric Washington's trust in our vision by becoming the first recruit ever will not be forgotten.
As we reach Week 10 and our pivotal Kent State rivalry matchup, there's no other major recruiting news. Eric Washington stands alone in his dedication to Akron and Coach Luke.
Despite us being major underdogs in this game, I decide to record the game in case we get any particularly fun low-lights or anything.
I edited the video into a shortened recap of the game that is under six minutes long. About a minute into the video, my inner fan wakes up and you can start to hear me screaming at various plays that unfold.
*
*
*
If you skipped right past it, I don't blame you. Here's what happened: we were in the game but our starting QB, Joe Carlson, tried to do too much while leading a comeback effort and he injured his foot. We lost the game 17-21.
Unfortunately, our visiting recruits were NOT impressed by this weird game and nobody committed afterward.
That's a major bummer actually. We'd generally want recruits' visits to get them to sign right away so we can start using points on other players. At this point, I start looking for 1-star and 2-star JUCO (Junior College) players that aren't being recruited as I'm getting worried about the number of players we may get.
In Week 12, we have our most promising chance of getting a second win this season. We face a UMass team that has a 61 rating just like us…
But, I won't even bother building suspense. We lose again. We still only have one win on the season.
The good news is that get our 5th coaching skill point after it, and I choose to now get an extra 500 recruiting points for each week of the second half of the regular season. That could be key right now.
After Week 12, we also land our second-ever recruit: a 3-star coverage CB from Huntsville, AL named Kenny McKinney rated at 67 OVR. Solid!
---
With a couple of weeks left in the regular season, these are important targets on our recruiting board that I think we are in the driver's seat to get:
3-star CB Tyson Montgomery – 69 OVR
3-star WR Lorenzo Jackson – 70 OVR
Here are ones that we're in the race for but I'd feel really lucky if we get:
3-star G Travis Johnson – 71 OVR
3-star C James Davis – 71 OVR
3-star ATH Kenneth Washington – 74 OVR (JUCO)
3-star WR Andrew Hill – 69 OVR
2-star T Kris Jackson – 79 OVR (JUCO)
3-star OLB Jeff Perkins – 74 OVR
An important gameplay note here:
When it comes to recruiting, you are given a player rating before you scout somebody. For instance, Kris Jackson's initial rating was 71. If you spend points to fully scout a player, you may find out they are a Gem prospect if they are actually way better than their initial rating, or a Bust prospect if they are actually way below. Finding these Busts and Gems gives you coaching XP points. Also, it's the reason why scouting is important. For a little program like ours, finding a Gem prospect that is being under-recruited helps get us talent. Kris Jackson was a Gem find for us because he is actually rated 79 overall. He'd be a nice get as a JUCO player.
Now back to the matter at hand:
We also have one remaining game on our schedule in our quest to get a second win but it's against a 6-5 Toledo team that is much better rated than us. We lose that game and end our first season with a horrible 1-11 record. We won't get fired but are likely on the hot seat for the next season. Ugh.
However, we do sign 3-star 6'3" speed WR Lorenzo Jackson from Rhode Island before the season concludes. He's the #65 WR in the class so this is probably our best signing yet… out of the three that we signed.
Nobody else signs before we enter the offseason. I am worried about only having three guys on the dotted line and having lots of holes to fill.
The season concludes with Alabama defeating Ohio State to win the national championship. So it goes.
Offseason
We don't lose our job but our job security is rated as Low at the moment. That's understandable.
Both of our assistant coaches are gone, with DC Stewart retiring and being replaced by Alan Gordon, and OC Anderson being replaced by Zac Davis. I have no control over these hires.
Luckily, the two new coordinators are both Level 4 like our previous coordinators, which means they already have some skills. It's a pain getting a Level 1 coordinator and having to build him back up.
During the Players Leaving week of the offseason, we lose a handful of seniors which is fine because they all meant nothing to me. Also, nobody from Akron enters the draft early. Shocking!
We enter the final shot at recruiting. The offseason recruiting is a little different in that you have 10,000 recruiting points to spend in one shot (unless you level up that ability to get more) and you can offer each recruit an uncapped amount in your final attempt here. I've got a ton of spots to fill so I'm going to stretch those 10,000 points out as opposed to going all-in on a few guys. I hope I don't spread it too thin and hurt our chances though. Here's a look at the top guys that we target and how we're assigning points: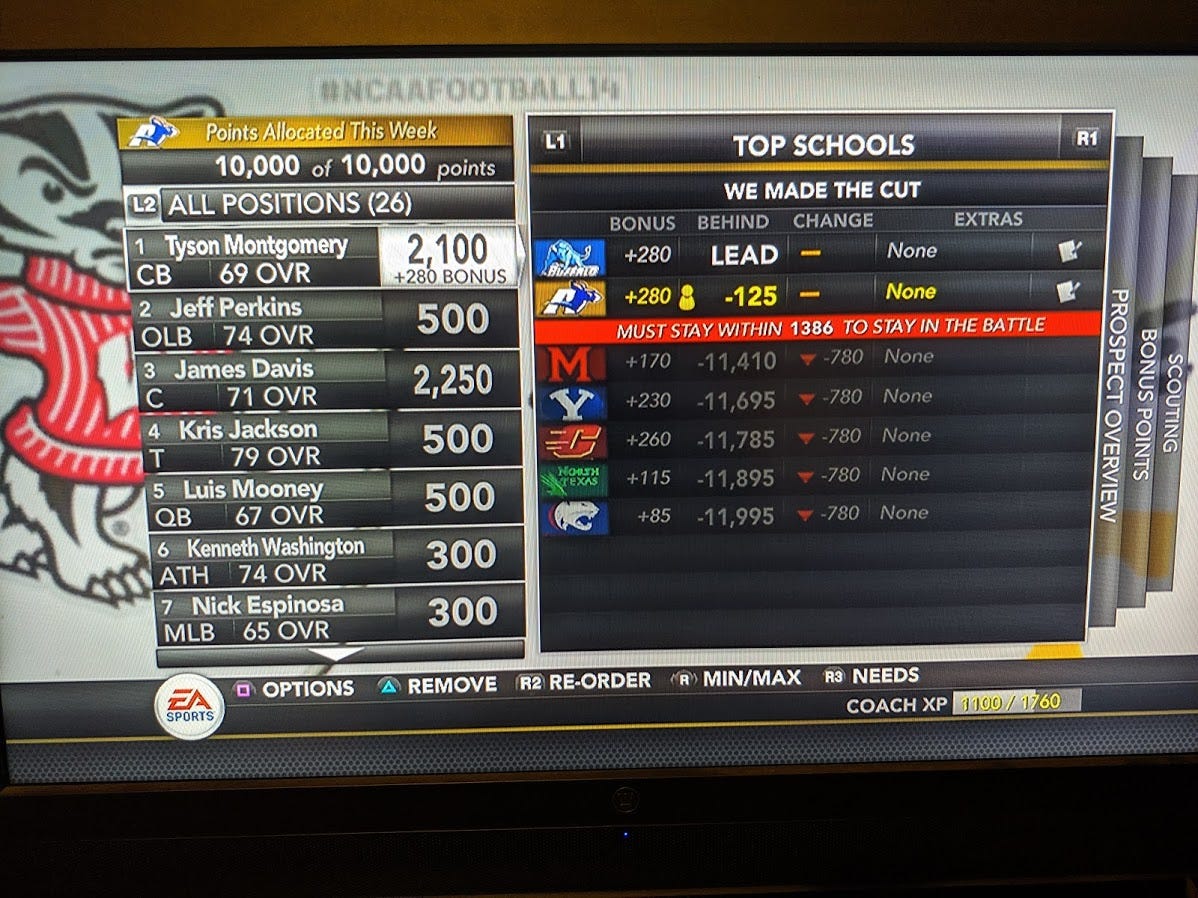 I put points into fourteen recruits. I don't feel confident though. If we sign… six of them then I would feel quite good. That would give us nine total recruits if that happens.
Say a little prayer, if that's your thing.
*
*
*
*
*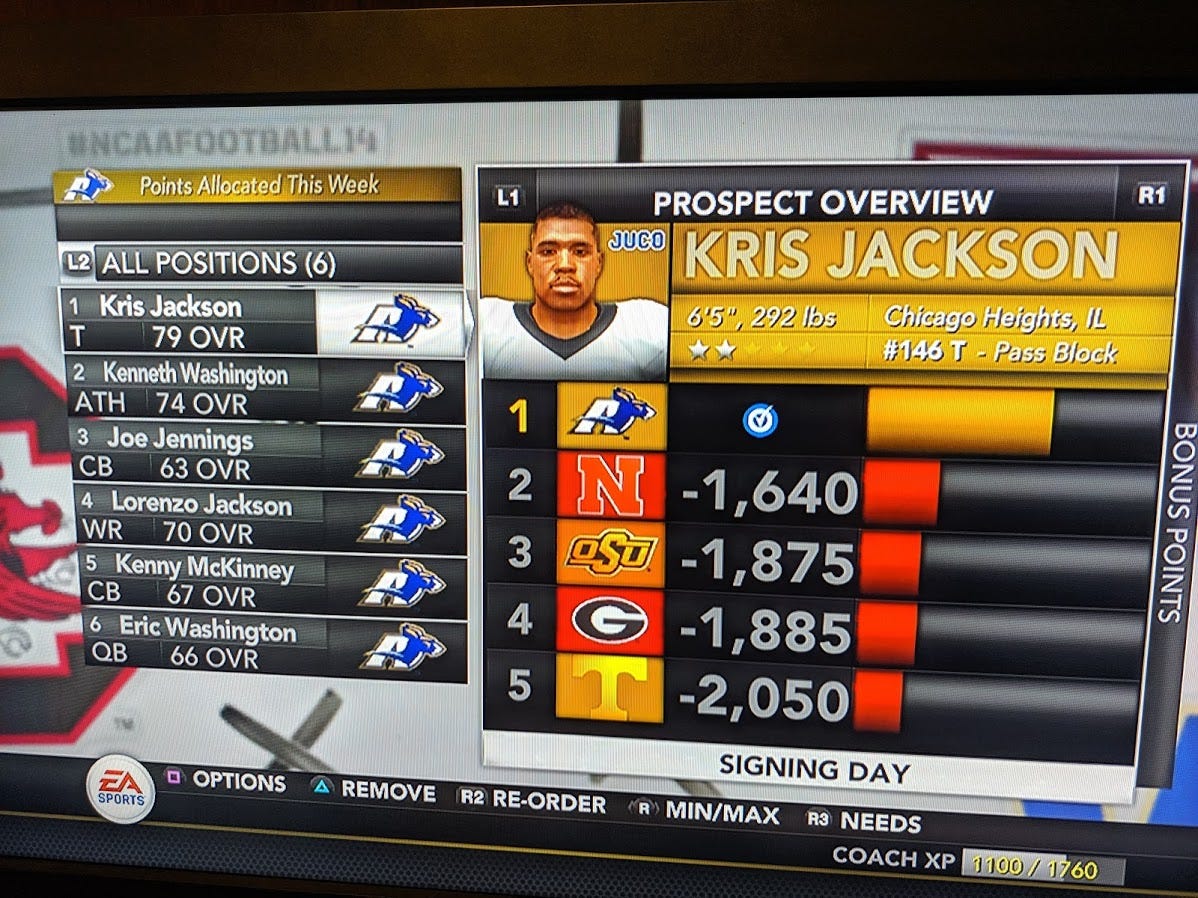 Disaster.
We only get three new recruits and have six total recruits. Wow.
Granted, those six players seem really talented but, ugh, we need lots of guys to trust Coach Luke if we're going to build something here.
Kris Jackson and Kenneth Washington are JUCO players, so don't be too confused by their super-high ratings. They're likely Juniors and will only be with us a short time.
Also, the "ATH" position is a player who usually is good at multiple positions and we'll get to choose where to put him. Kind of a grab bag type thing, so I'm not even sure what we have with Kenneth Washington yet.
---
We get to the Position Changes week of the offseason. This is where we get to move guys around on our roster and see where we will focus our training efforts. This is also where we can see where the ATH recruit will play best, in addition to maybe moving guys to new positions.
As I check out our ATH, I find out that Kenneth Washington either rates as an 85 overall QB or an 81 overall RB. Wow! I mean… wow, that's huge. It looks like Kenneth Washington is our new QB. He's a junior and, given the talent behind him, I likely will not redshirt him. He's an instant jolt to the team.
Our other QB recruit, Eric Washington (is he Kenneth's younger brother???) is a freshman who WILL be redshirting though. The Washingtons are both local Ohio boys and ready to put the Zips on the map.
As we get to the Offseason week where we'd cut players, we can see that Kenneth Washington is the top-rated player overall on the team.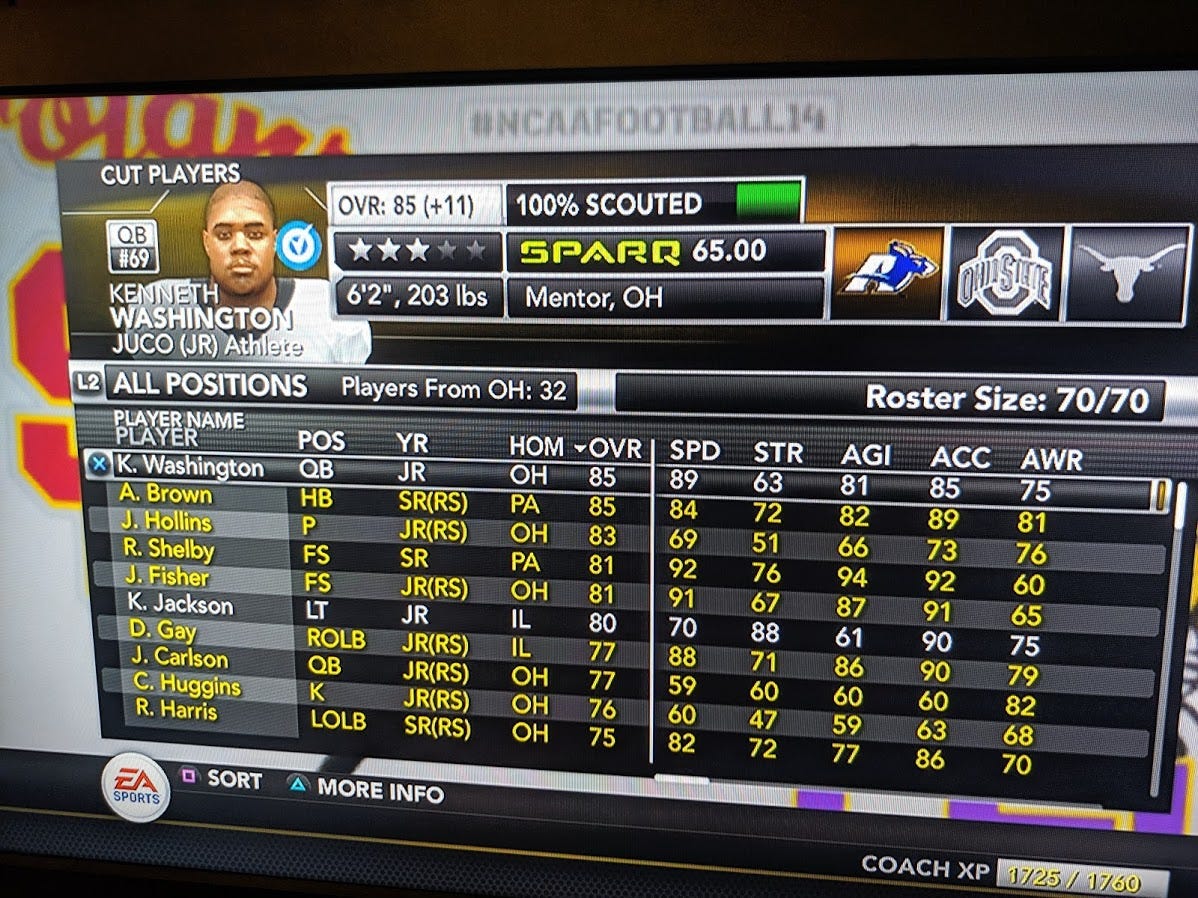 Kenneth was a Gem prospect as he's actually rated 11 points higher than he seemed without scouting. I'm actually kind of excited now. Maybe the recruiting year wasn't all bad. "K-Dubs" wears number 69 for now but that's subject to change by the time the season starts.
As the new season opens, we're presented with various options, including redshirting, setting our depth chart, creating our schedule, and filling our recruiting board to start the year.
I will save all of that for the Year 2 post.
A big decision looms as I think about whether we can risk redshirting Kenneth Washington or not. He gives us an instant shot at winning games but, with a redshirt year, he would maybe be a 90 QB in his junior year and 95 QB in his senior year. That could be amazing for little' ol' Akron!
The backup QB option isn't terrible as we did see Joe Carlson ball out a bit against Kent State in the video above. We also know we aren't competing for a division title this year. I now find myself leaning towards redshirting K-Dubs and just hoping we win two or three games this year in the meantime.
As we conclude, here's a look at some of the current redshirting decisions that we have and how Coach Luke looks in his Recruiting skill tree after the first season.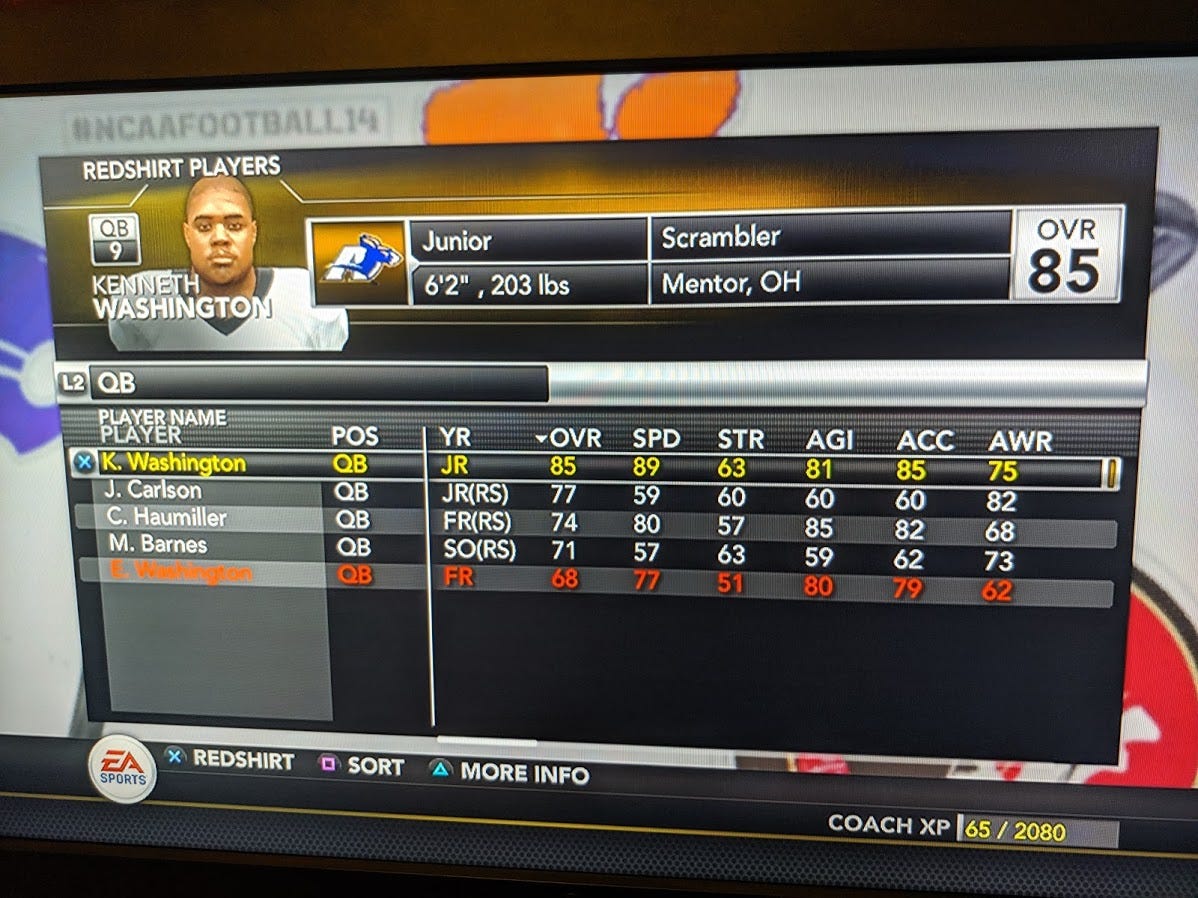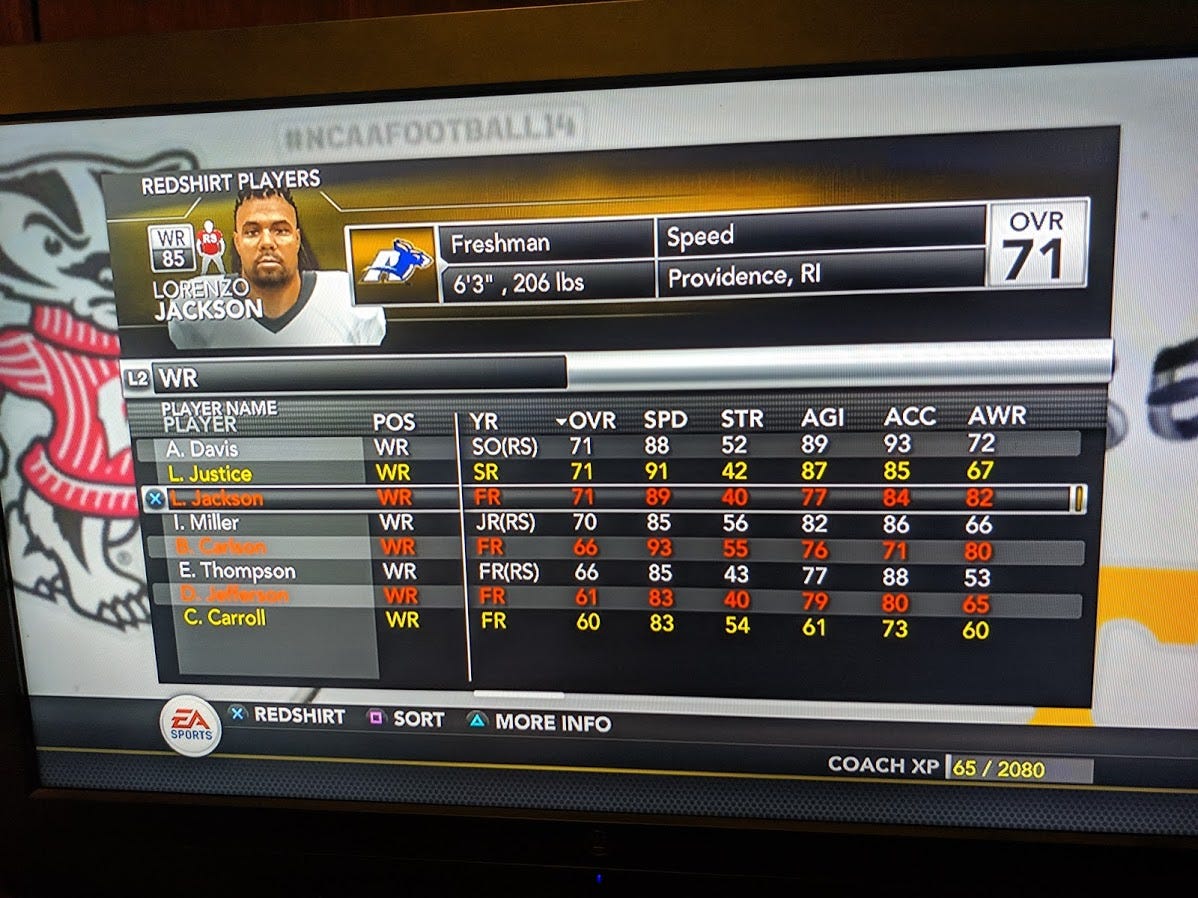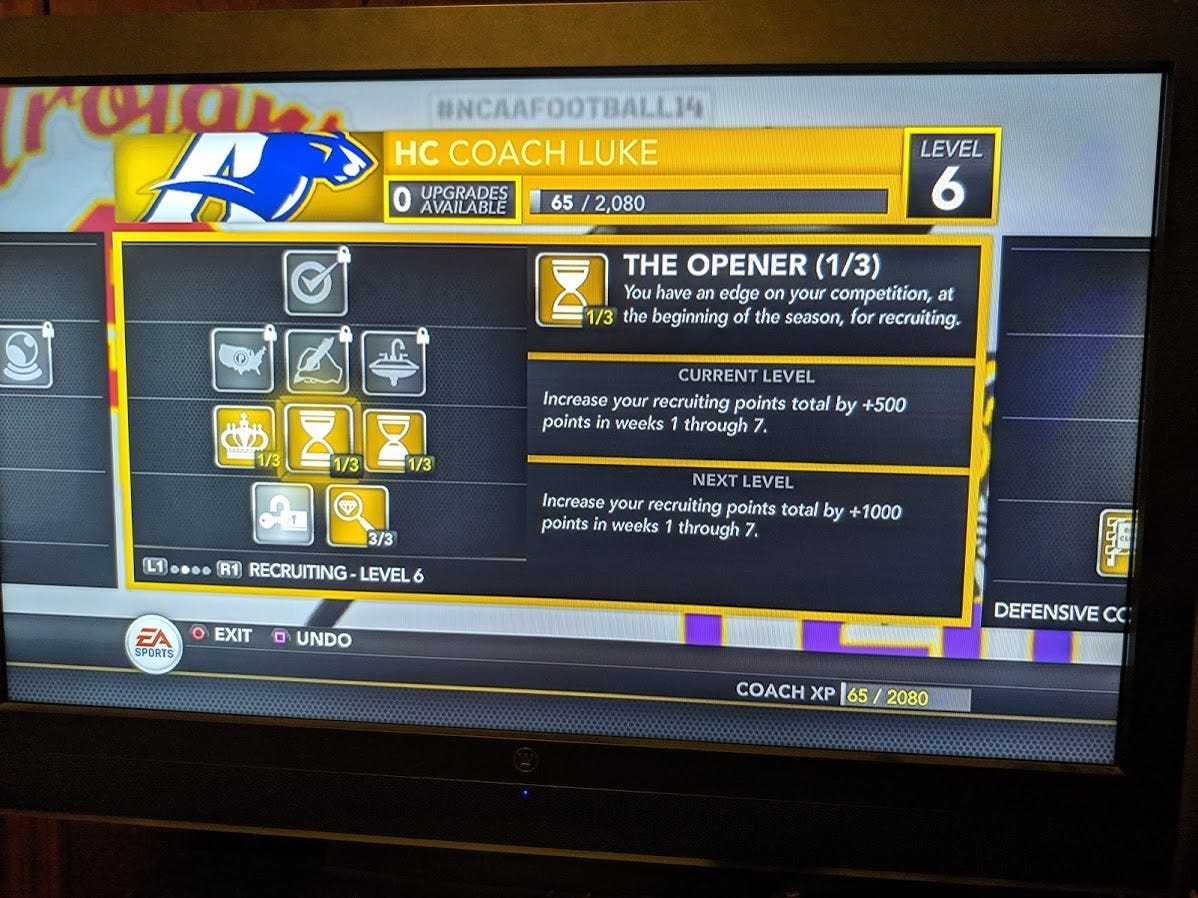 If you have thoughts about the K-Dubs redshirt decision or our custom schedule options for Year 2 then drop those in those comments below.
The Zip era has begun. Get ready for a wild ride.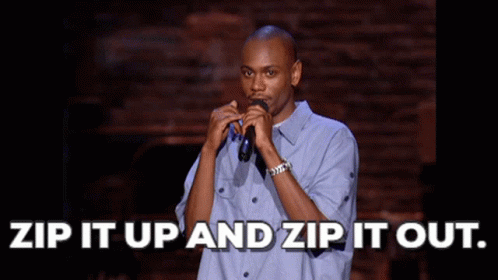 To be continued.
Also, if you have feelings about what recruit/prospect data you would like to see when I present them in future seasons then let me know in the comments too. For instance, in the years ahead, we'll likely be getting 15-25 recruits a year so I've thought about presenting their info in a Google Sheet as opposed to writing a long list in the post.