Welcome to the next chapter of Akron's quest to win a national championship in NCAA Football 14. In our opening post, I talked a bit about the game concepts, the idea behind what we're doing here, and we saw a shaky debut season from Coach Luke's Zips.
Every epic saga starts with a dark beginning though. I mean, we wouldn't love the Star Wars prequels so much if we didn't see Anakin's lowly beginnings, and we're creating something sure to be as beloved as those prequels here.
Let's recap some of the key points from Year 1:
We finished the year 1-11 overall, with an embarrassing 1-1 record vs FCS teams. As a team, we were rated 61 overall to start the year.
We signed six total recruits, including two stud JUCO players. The star of the class is JUCO QB Kenneth Washington rated at 85 OVR.
Coach Luke reached Level 6 and all his skill points went into the Recruiting skill tree. He wears a fancy suit and he hopes that potential recruits find that to be cool.
After Year 1, my message to fans and the wonderful city of Akron has been this: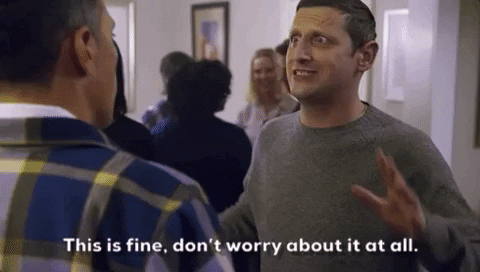 ---
Preseason
There are a few decisions we need to make before Year 2 can begin. The biggest decision is whether we will redshirt QB Kenneth "K-Dubs" Washington.
In my last post, I talked about the pros and cons of redshirting the JUCO prospect. He is rated 85 OVR and would be an instant offensive boost, but I admit that I also love the idea of having him rated even higher in Years 3 & 4 with better weapons around him. There were some hot takes in the comments:

As this decision loomed, I tried to sleep on it, but I tossed and turned all night. The comments all seemed to wisely suggest we should try to win in Year 2 to impress future recruits. I admittedly couldn't escape the feeling that K-Dubs is a lottery ticket that we needed to take full advantage by redshirting him and seeing his full potential later on.
I eventually stared into the eyes of Kenneth Washington's avatar and gave it deep thought. Despite the fan opinion, I decided I had to break some bad news to the avatar though. Our future is far too important. The avatar, thankfully, seemed unfazed.
K-Dubs is redshirted. The fans may riot. I may get fired. However, I made my bed and I shall lie in it.
Looking at the pieces on our roster, I do think we can do things to win though. That played into my decision.
The notable redshirts for Year 2:
QB Kenneth "K-Dubs" Washington (JR, 85 OVR)
QB Eric "Little Dubs" Washington (FR, 68 OVR)
WR Lorenzo Jackson (FR, 71 OVR)
FS Shelton Bush (SO, 70 OVR)
In the preseason, we fill our Recruiting Board up with prospects to target. Our official position needs this season, according to the game, are 1 MLB, 1 DE, and 1 C.
Looking out at the recruiting trail, there aren't any 4-star recruits interested in us out of the gates. We load up our 35 spots on the Recruiting Board with 3-star prospects.
The other preseason housekeeping item is setting our custom schedule. Just like Year 1, I need to add fluff games again, so I put two FCS teams on our schedule. This should be the last year of that, assuming Coach Luke still has a job in Year 3.
In other scheduling news, reader AP21MVP requested we play at Minnesota because they feel that the Gophers play down to competition. We take that suggestion and open up our season in Minnesota. Our strength of schedule grades as an F, and let's hope that's not too hard for our Zips. My goal is just two wins, but three or four wins would ensure that we keep our job.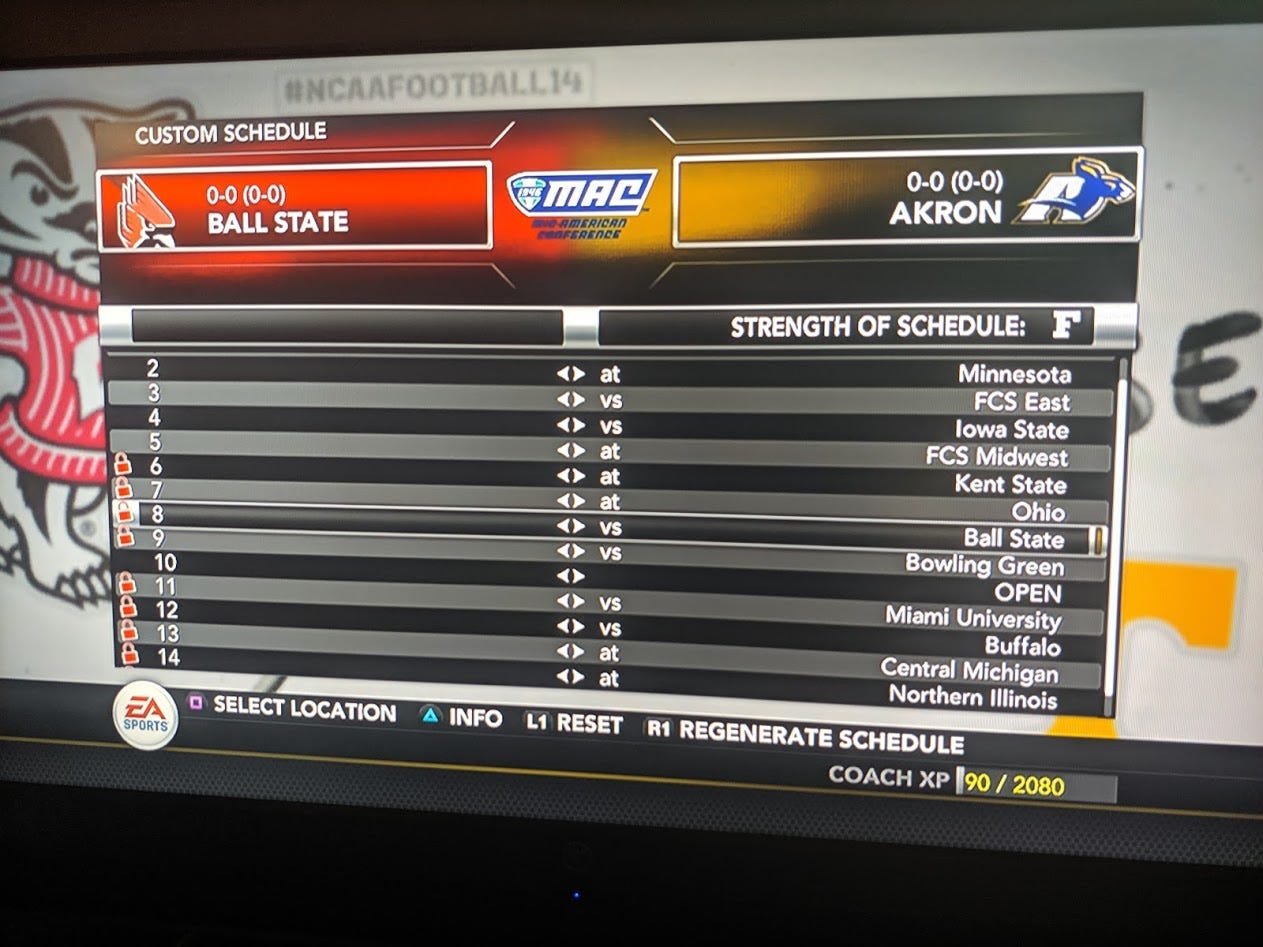 Let's take a look at the best players on our overall roster to start out the year (noting that K-Dubs is redshirting):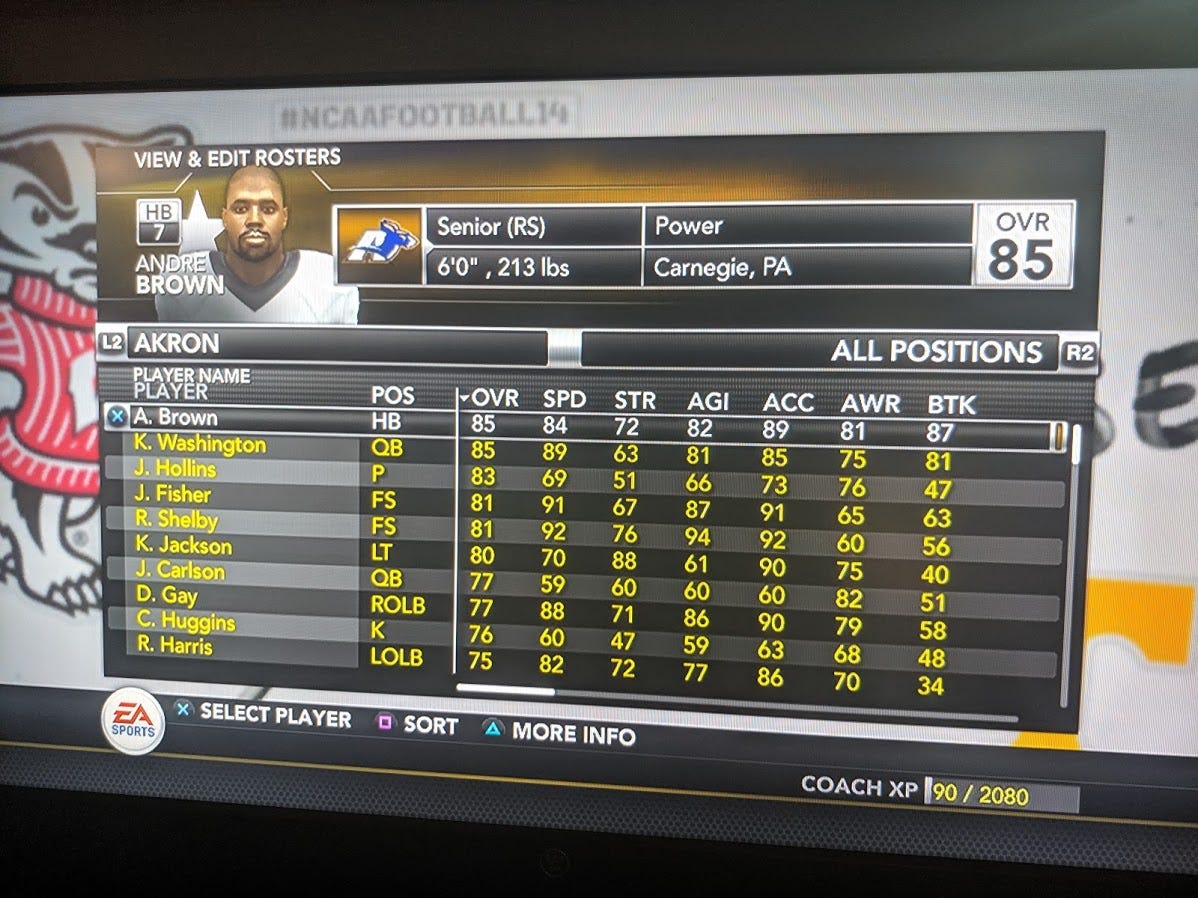 Our best player is a power running back named Andre Brown. Adapting to our strengths is important, so we will be a run-focused team to take advantage of Andre. Our next best active player is our punter. Yup. Punt Team, baby!
I feel good that we have last year's other JUCO recruit Kris Jackson (80 OVR LT) anchoring our offensive line.
In our last move before the season begins, I see that we have two good FS's, so I end up moving Jamar Fisher to be our starting CB this season.
---
Year 2 (2014-15)
Our season opens in Week 2 with a trip out to sunny Minnesota to face the Golden Gophers. I'm sure that our Akron boys pay a visit to the Mary Tyler Moore statue there before our game.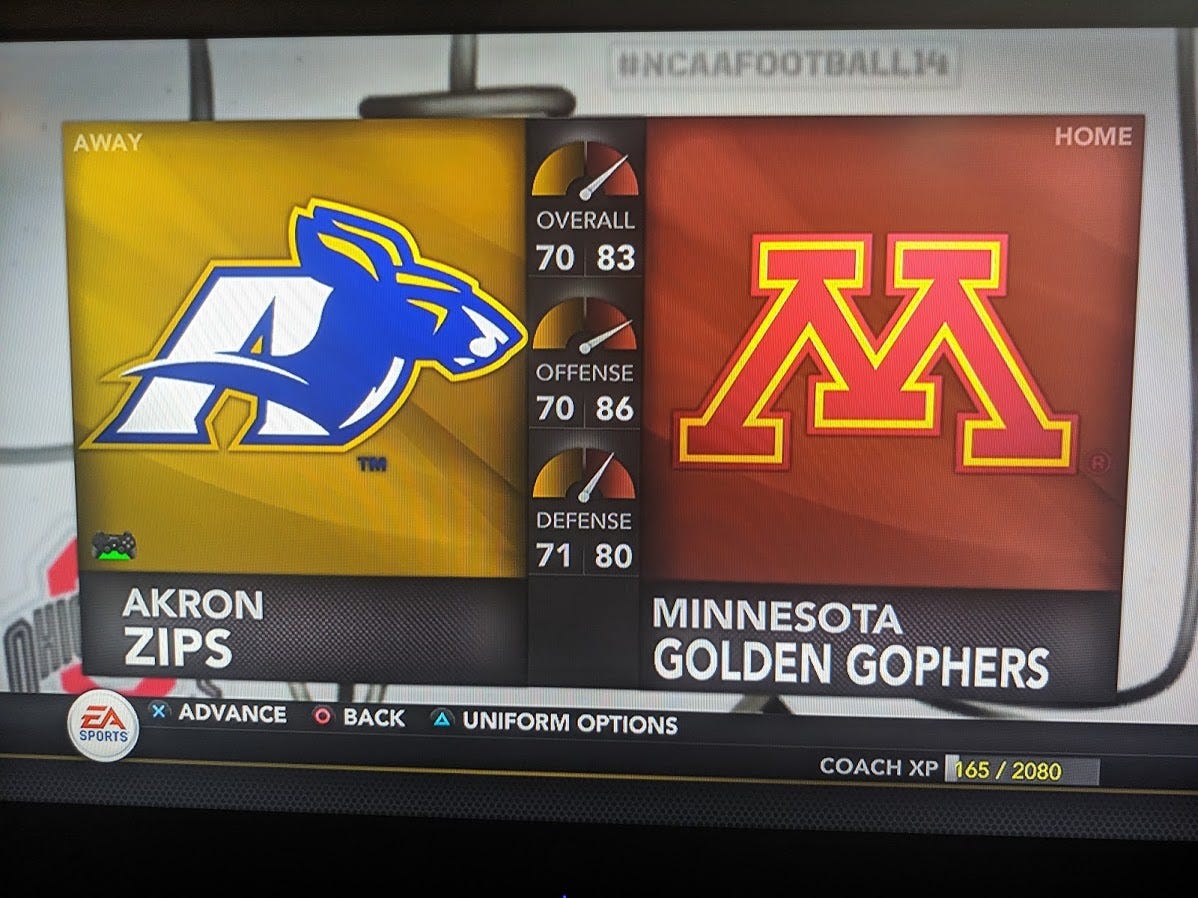 Our team is rated at 70 overall this year. That's a big improvement over last year's 61-rated team actually! I don't want to get cocky but maybe—just maybe—we're not a one-win team this year. Minnesota is rated 83 overall, so this is a measuring stick game if nothing else.
We lose the game 14-26, and that feels like a moral victory. We were able to not get blown out and we likely covered that fictional spread, ruining bettors' days all over the country.
We follow that up with our first FCS matchup, where we beat FCS East 19-3 and I let out a little sigh of relief. We then lose to Iowa State in a 10-17 matchup. Once again, we're fighting in these losses at least.
We're 1-2 to start the season and our final non-conference game is against FCS Midwest. This is the dreaded FCS team that actually beat us last year when we were rated 61 overall. I hold my breath as I simulate this, hoping that we can avoid another letdown.
And?
Oh no. We lose again. FCS Midwest breaks my heart again. Ugh. A 7-14 loss.
I'm downtrodden. I'm nervous. I see the fans sharpening their pitchforks and ready to riot.
I decide this team needs something to shake it up, especially with conference play about to start. We cannot be a one-win team again.
Coach Luke studies QB Jim Carlson's poor performance against FCS Midwest (9-19, 109 yards passing) and decides to make the change. He demotes Carlson (JR, 77 OVR) in favor of scrambling QB Cortez Haumiller (FR, 74 OVR). The thought here is that a scrambling QB may be a better fit for our run-oriented offense this year.
Haumiller's first test will be in our rivalry game at Kent State. We suffered a tough loss against the Golden Flashes at home last season. With a new QB in a rivalry game in a season that we desperately need another win, this game feels very important to the future of Akron. I decide to watch and record it again.
This is the Battle for the Wagon Wheel. Our Zips (1-3) are rated 70. Kent State (1-2) is rated 72.
I edited video of the game into just four-and-a-half minutes of football drama (any accidental cursing by me is bleeped out this time):
*
*
*
*
*
OMG. What a game. We win 28-21. I was sweating bullets after they scored on the first drive. I was sweating even more of these bullets as we struggled to get any offense going at first. Once Cortez Haumiller settled in, we got a nice thing going though.
The highlights don't show it but our defensive line was swarming their QB all game and that was huge. CB Jamal Fisher (who I moved from FS in the preseason) had a big game too with a sack and that game-changing INT. Our LOLB Roy Harris wins MAC Defensive Player of the Week with 5 TKL, 4 TFL, 3 SKS, and a forced fumble. Beast game.
We honestly should have won 21-14 but, instead of kneeling it, Coach Luke ran up the score on our rivals and punched in a late TD to go up 28-14 to which they responded with a quick TD of their own. Coach Luke has no chill.
Cortez looks like our starter for the rest of the year. Jolt to the offense successfully accomplished. Coach Luke also levels up after the game and likely buys himself a new suit or something.
The boys get a bit too amped from this win though and get demolished by Ohio University in Week 7 to the tune of 21-47. We are 2-4 on the season at this point.
On the plus side, we got our first two recruits of Year 2 to commit after that game. A 2-star JUCO MLB Garrett Todd (68 OVR) and 3-star C Andrew Robinson (64 OVR) are hopping aboard the Zip train. That fills two of our three positional needs for the year so that feels like a good start.
Speaking of recruits, let's check in on the recruiting trail now as things are starting to take shape there. These are the players that I feel we are likely to get at this point:
3-star ATH Ryan West – 68 OVR
3-star G Stan Flynn – 67 OVR
3-star DE Avery Jones – 63 OVR
3-star HB Adam Walker – 67 OVR
3-star HB Jared Oliver – 69 OVR
3-star T Joe Greene – 76 OVR (A gem prospect)
3-star CB Eric West – 68 OVR
3-star G Brandon Davis – 64 OVR
3-star MLB Jeff Williams – 60 OVR
3-star HB Jeremy Brown – 68 OVR
Yes, that's a lot of players! That's also a lot of halfbacks! That's how the recruiting process goes sometimes. If they all commit, we'll deal with that problem when it happens.
Here are the prospects that we're in the hunt for, though I'd feel lucky if we get them:
3-star G Dane Donaldson – 69 OVR
3-star SS Mike Jacobs – 71 OVR
3-star DT Alex Norman – 66 OVR
4-star WR Pat Brown – 66 OVR
We also have a bunch of other fringe guys filling up our 35-man recruit board, but these are the main focuses right now. A lot of these recruits are being invited to visit for the Miami University game on our schedule in Week 11.
Going back to the actual games, we get demolished by Ball State, 3-24, and Bowling Green, 9-38, in our next two games and fall to 2-6. Maybe the Cortez Haumiller experiment is a complete disaster?
The echoes of the commenters who wanted K-Dubs ring through my ears at this point. I am haunted by this decision.
On the bright side, we do get five commits after those games. G Dane Donaldson (69 OVR) was one I didn't expect us to get. I'm hyped. Aside from him, we also bring in ATH Ryan West (68 OVR), G Stan Flynn (67 OVR), G Brandon Davis (64 OVR), and DE Avery Jones (63 OVR). We have now signed somebody at all of our positions of need. That's not only good news, but it gives us coaching XP points for filling our team needs.
My team philosophy is that we need to build up the lines first and foremost, so I'm psyched that five of seven commitments are on the offensive or defensive lines. Also, we have seven signings in Week 8 and that's more than had ALL of last year. Progress.
The next game is Week 11 against Miami. The 2-6 Zips host the 2-6 Miami University Redhawks. They're rated 74 compared to our 70. This is an important game with recruits visiting, so I watch this game as well and record it to see if we can pull off this upset.
I clipped out the main plays of the game and strung it together into a two-minute highlight reel.
*
*
*
*
*
What a wild game. They came out the gates with a long touchdown on the first play of the game, and we constantly had costly penalties that prevented us from scoring more. We were outgaining them by tremendous amounts despite the score being so close for a while. The tides eventually shifted and we blew the game open. 36-14 win.
The Zips seem to like it when we record the games this season.
We're 3-6 and, man, I'll take it. After a 1-11 first season, our job looks much safer now (we jump from 77% job security to 94% after that win).
We also get six (!) recruits to commit after that game. I'm most excited about T "Very Mean" Joe Greene (76 OVR) as he was a gem find in scouting for us. I love to have an offensive line anchor. Other commits are HB Jared Oliver (69 OVR), OLB Ryan Martin (66 OVR), DT Alex Norman (66 OVR), DE Andrew Norwood (61 OVR), and MLB Jeff Williams (60 OVR). For this brief shining moment, we are the #26 recruiting class in the nation with twelve 3-star recruits and one 2-star recruit.
We're lesser-rated than all of our remaining opponents and this is how it goes:
L – vs. Buffalo – 7-30
W – at CMU – 35-20
W – at NIU – 36-14
Well, hello Mr. Upset. We pull off two big wins on the road by large margins against teams that were rated better than us. Excellent news! We finish 5-7 on the year and we are gonna be back for Year 3 with a stud QB leading the way. I can't freakin' wait.
Before the offseason, five more recruits commit. At this point, I won't overload you with names now that we're bringing in so many. I'll give a full recruit list at the end instead.
On the national circuit, which we hope to join one day, Notre Dame defeats Texas in the title game this year.
---
Offseason
Despite early trepidation, we keep our job and even get offered a six-year extension. We sign that dang contract. Akron for life.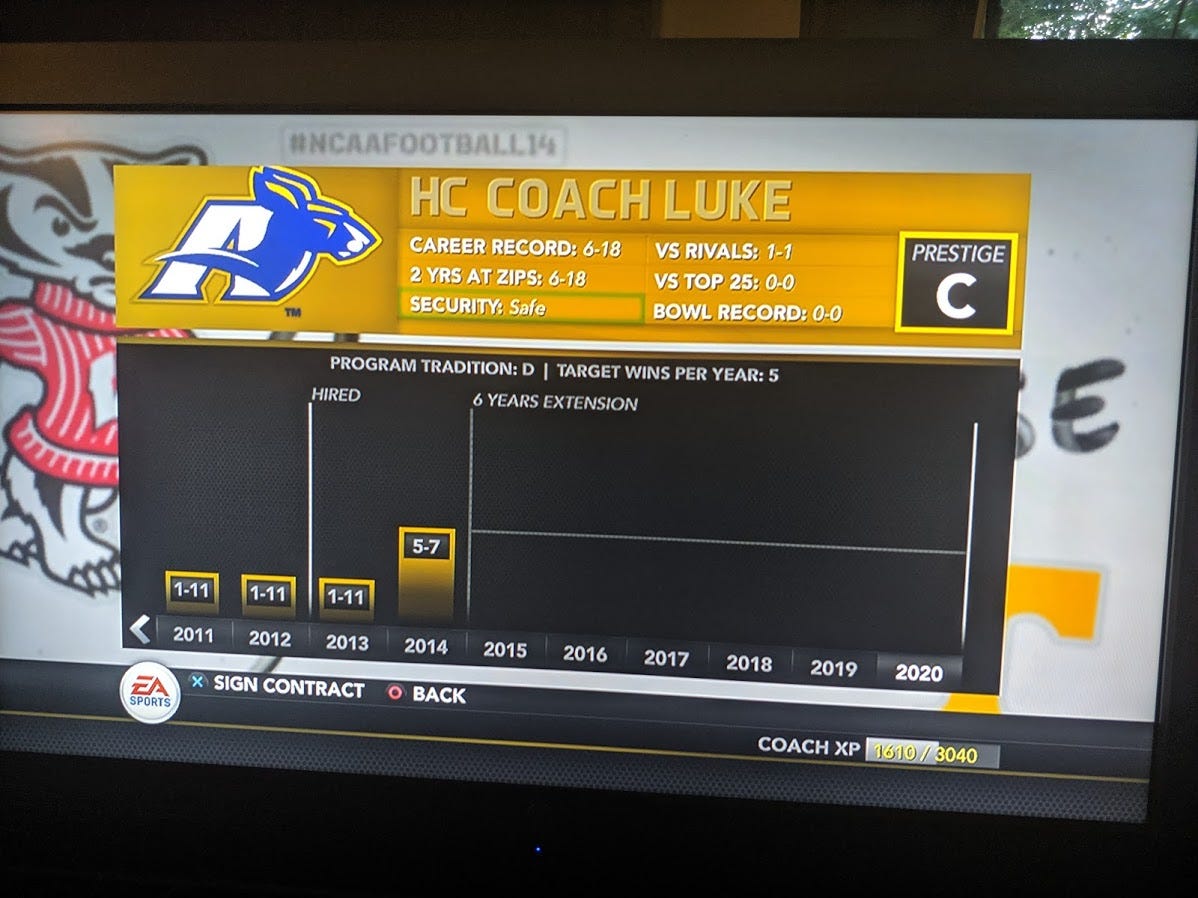 LeBron calls Coach Luke after we sign this contract and he is in tears. LeBron is so happy that we are representing his home town of Akron so well.
It seems like a minor thing but I'm also psyched that both of our coordinators stay on board, with DC Alan Gordon even signing an extension. As I mentioned in the last post, we have no control over this coordinator hiring/firing business and sometimes you get stuck with some duds when one leaves.
On the Transfer circuit, we lose a 60 OVR DT Shaun Goodman as he decides to transfer to WKU for more playing time. It's all good, Goodman.
On the flip side, a 71 OVR freshman speed WR named Rodney Van transfers to Akron from Bowling Green. Rodney Van seemingly has no relation to Deke Van.
We lose stud RB Andre Brown to graduation. In our two seasons, he rushed 510 times for 2,745 yards and 15 TDs. There will be many Akron legends in our future but Andre was an OG that served us well.
In our offseason recruiting week, I load up on a few guys, including going hard after a punter because I love me some punters. Punt Team!
Here's our last group: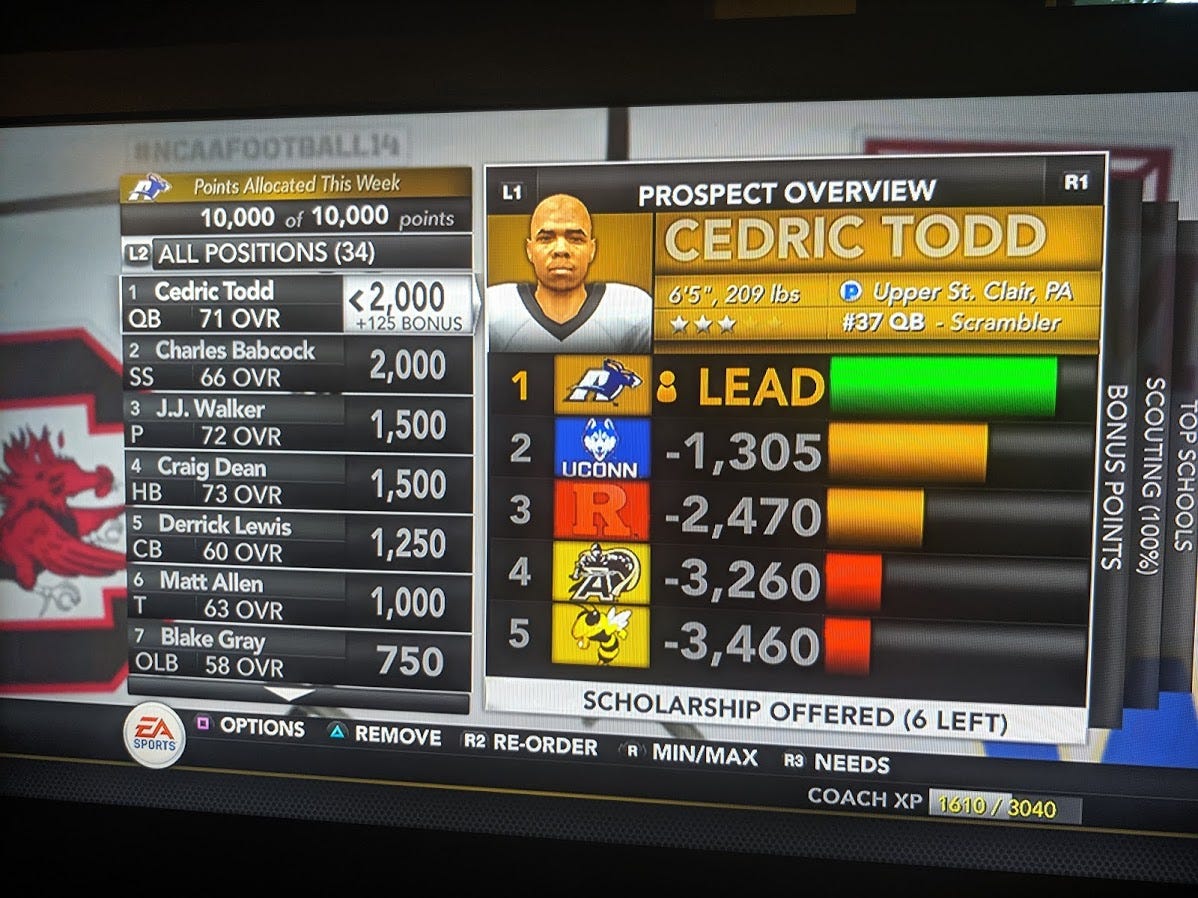 We only get Cedric Todd from that list (not the punter though—ugh). We also land our first ever 4-star prospect, WR Pat Brown. He's a bust of a prospect rated at 66 OVR, but we'll take it.
We get coaching XP for having the top class in our conference. The MAC runs through Akron from now on. I can feel it.
We end up with the #41 recruit class in the country (one 4-star, seventeen 3-star, one 2-star, and one 1-star). Unexpected but nice. Coach Luke is working magic.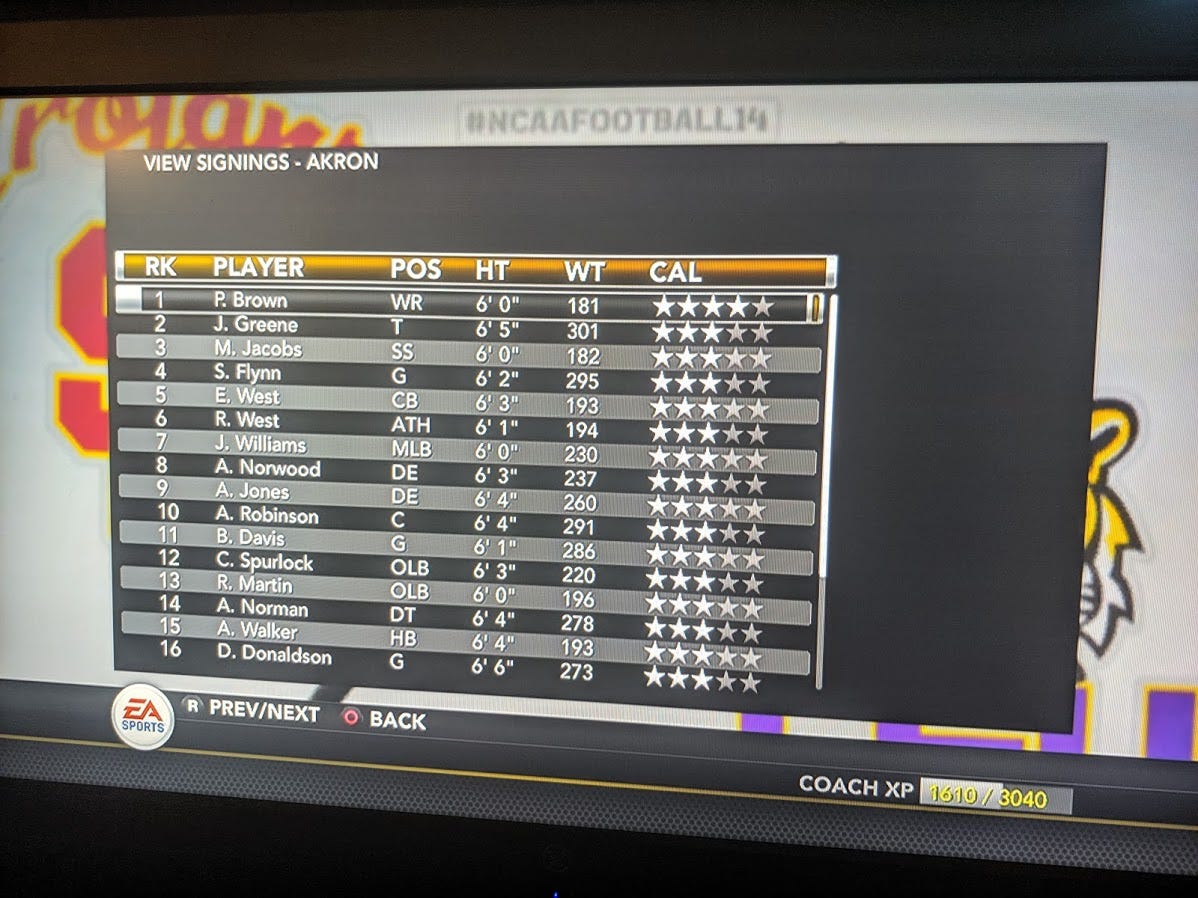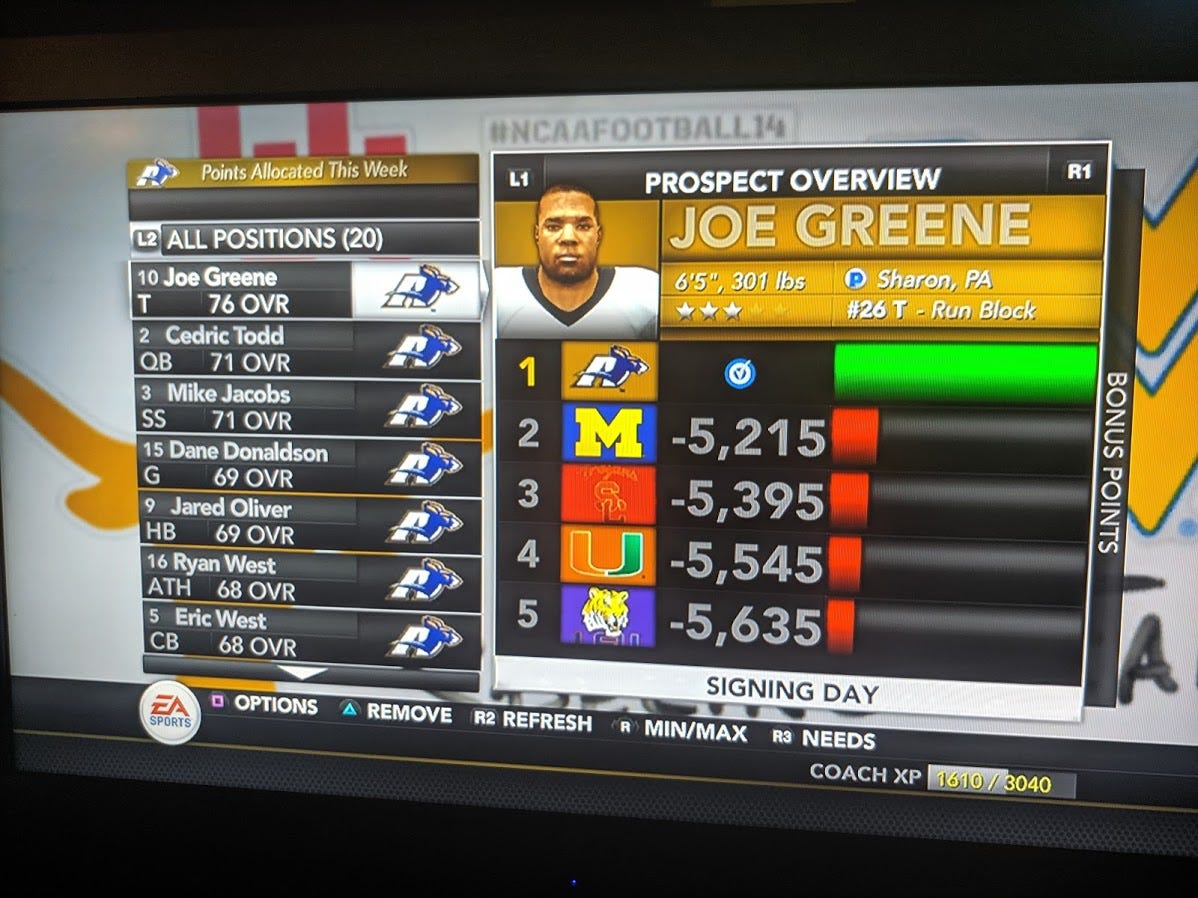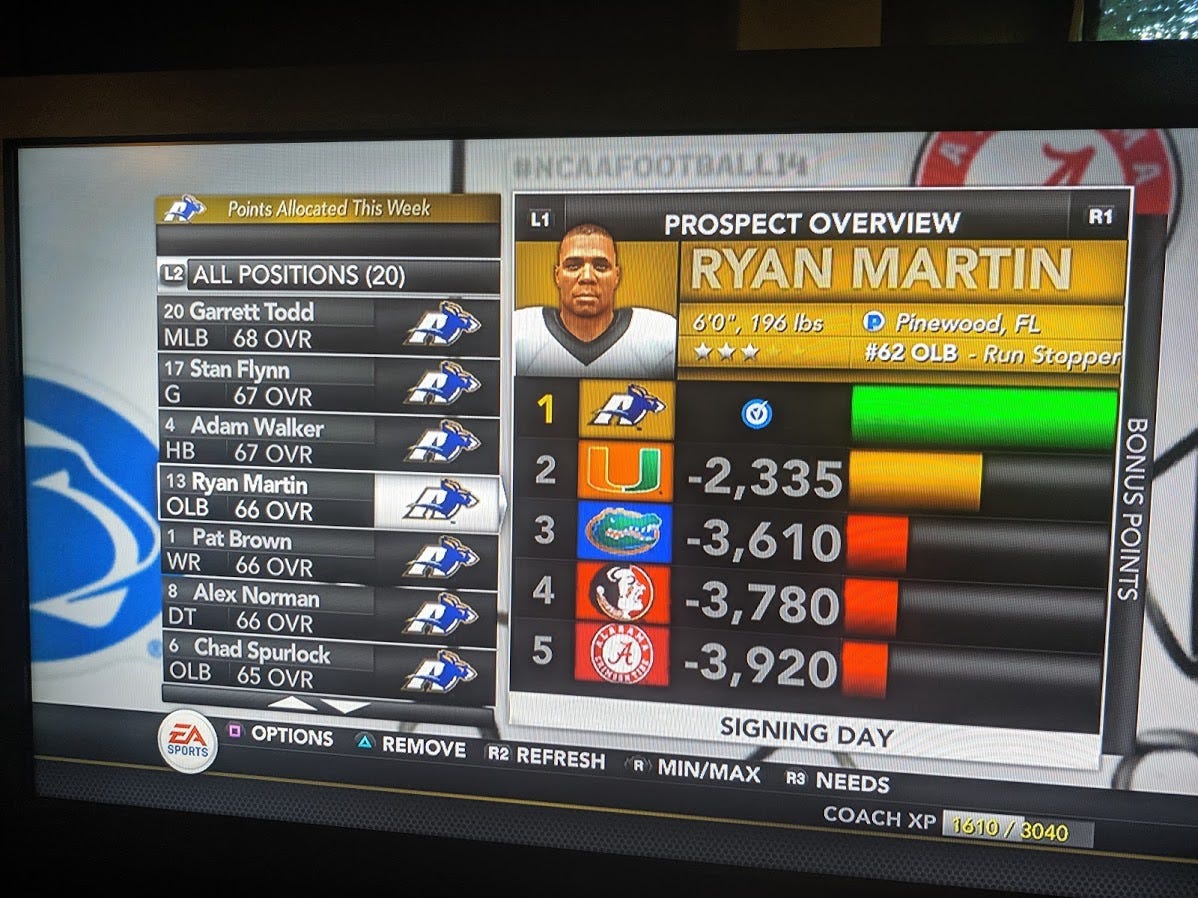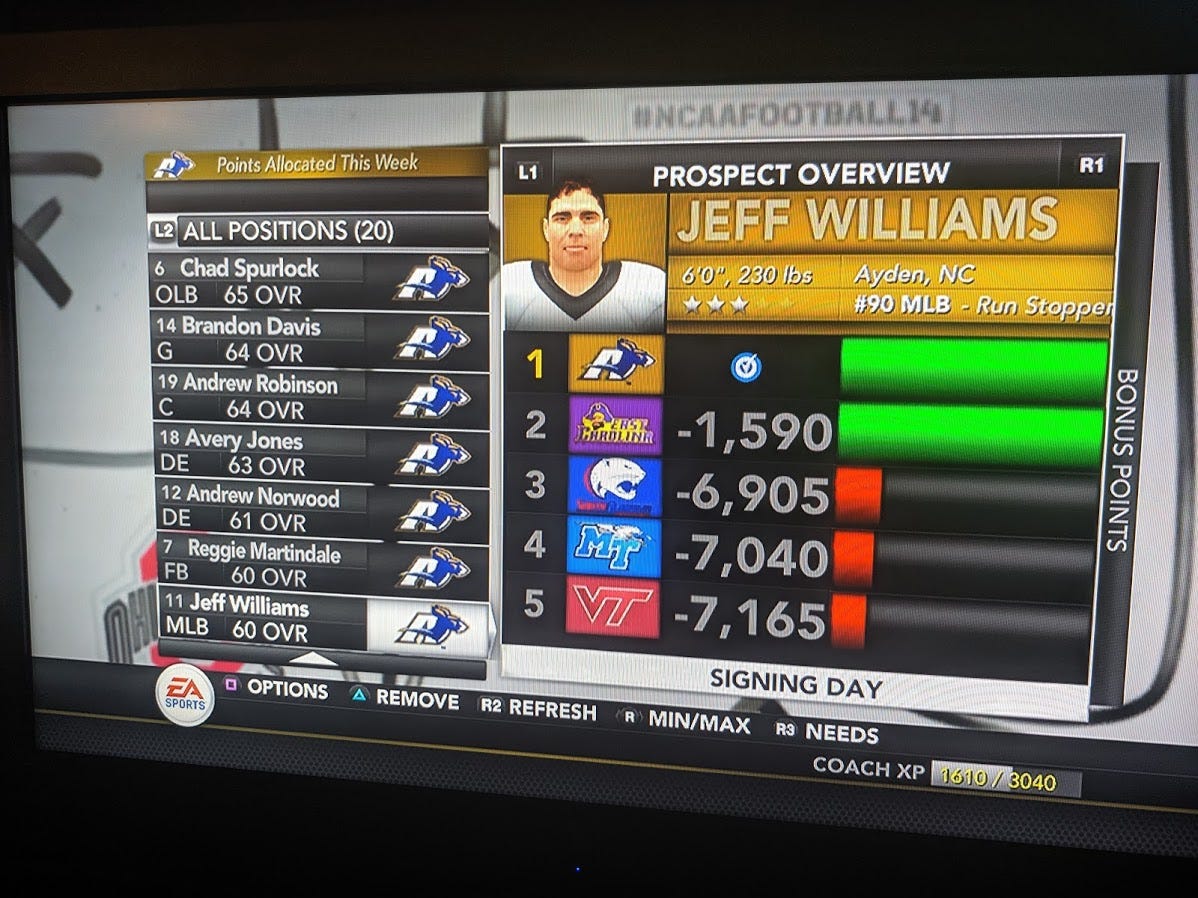 The future? It looks bright. I might have to wear shades.
In the Position Changes week, we assign Ryan West (ATH) to be a 70 OVR HB for us.
Next up is the Training Results week. This is where we see how much our players improve going into the next season. The biggest question here is: how much did Kenneth "K-Dubs" Washington improve? In a typical offseason, a player improves by anywhere from three to six overall points. We're hoping for something on the higher end.
And?
Oof.
Sadly, he only improves by three. He is an 88 OVR QB next year as a Junior. Still frickin' awesome. I'm not gonna mope too long about this.
As we move on to the Year 3 Preseason, the redshirt decisions aren't as crucial this year, so no big arguments about a prospect like K-Dubs and his fate.
Side note! Most of the reader pleas about K-Dubs didn't come in until after I already played Year 2. There were good points and likely would have swayed me if I hadn't played already.
After the season concludes, I realize how many prospects will be coming in each year and how that's a lot to include in these posts. I opt to create a spreadsheet to show all of that for the future. I also am putting some season stats in there so we know who our future record-holders are.
I didn't think of the idea for this spreadsheet until the offseason so I was unable to grab stats of seniors who graduated (like Andre Brown). Future years will be more robust.
In the comments, drop some ideas about who you want on our custom schedule. If you have general ideas about the series and how we should approach things, I'd love to hear that too. Is there any interest in having games streamed on Twitch in the future? Maybe starting in Year 4?
Before we close this up, here's a glance at our roster going into Year 3: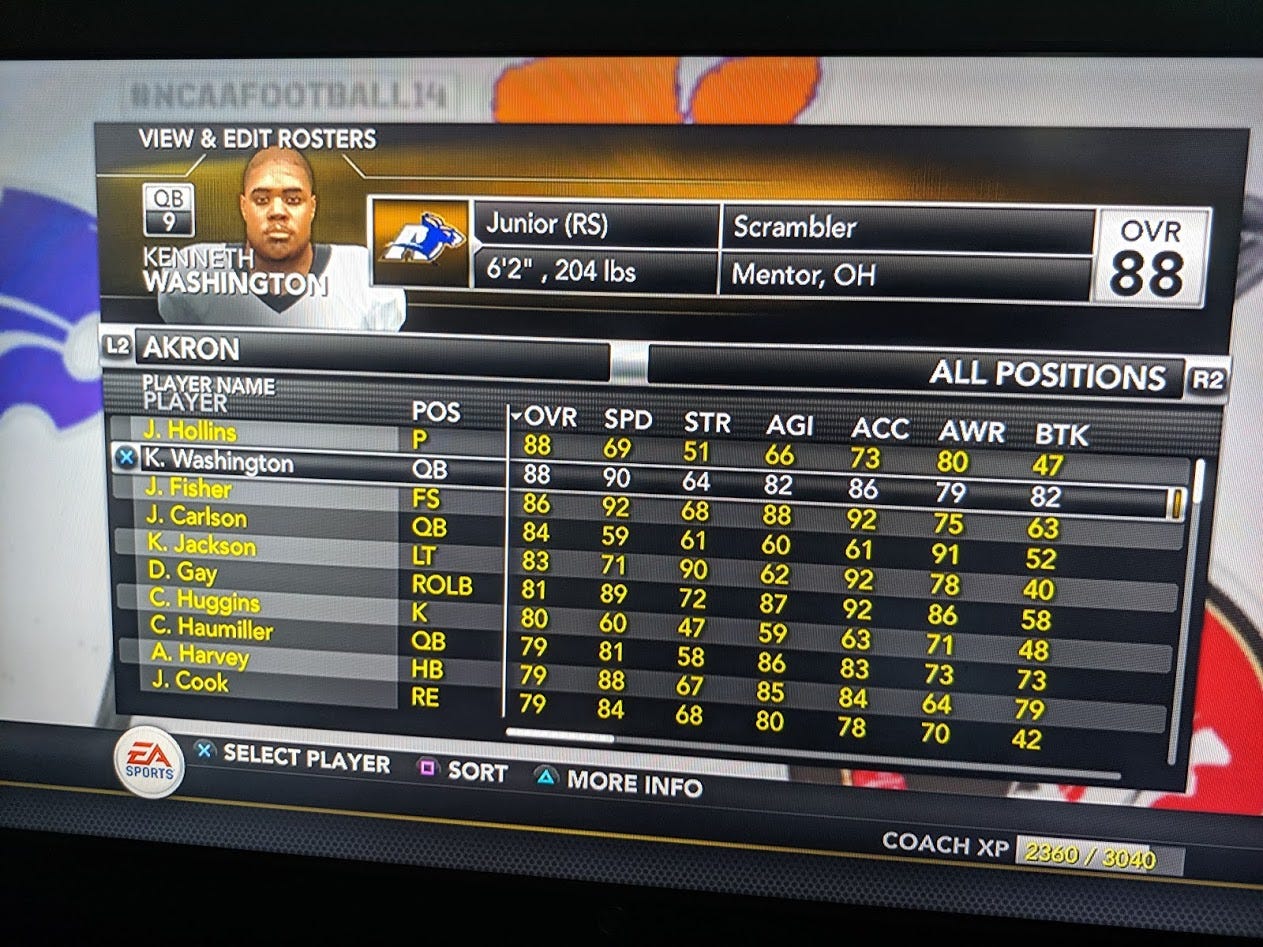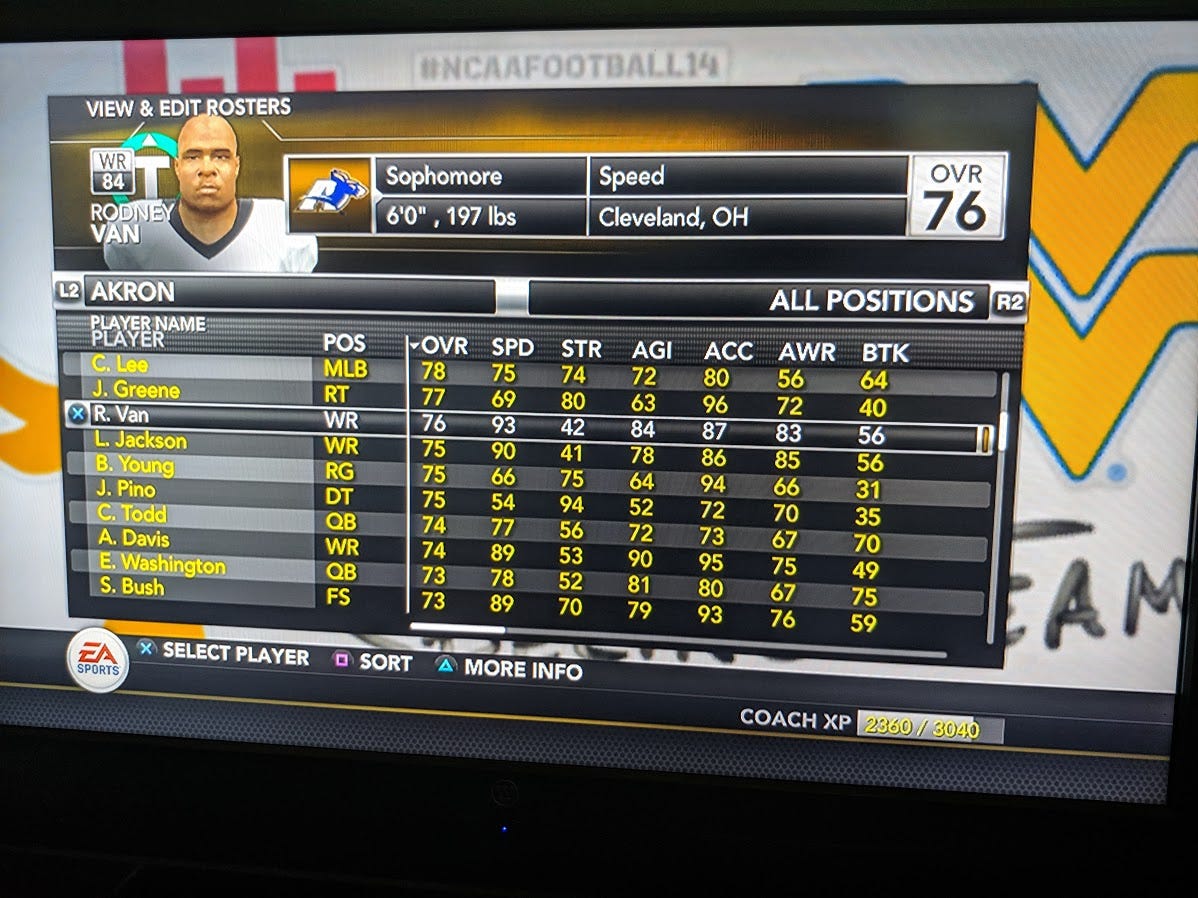 I think the Zips are going to be competitive in Year 3! I'm not promising a MAC title run but it could happen sooner than later.
Spread the word to your friends, family, and pets so they can join in on this journey. Especially your pets.
Zip it up and zip it out, my new friends.
To be continued.