Welcome to the next chapter in Coach Luke's quest to become the winningest college football coach of all-time in NCAA Football 14. To learn more about this series and read up on past installments, visit the About page of this site.
As a recap, here are some of the notable things you should know about last season:
The Cowboys were rated 81 overall but had too many stumbles in-conference to make the MWC title game. They got an invite to the Armed Forces Bowl where they beat UAB and finished with an 8-5 record.
Coach Luke beat out Coach Cortez and the Akron Zips on the recruiting trail as the Cowboys finished with the #24 class in the country and Akron finished #26.
The stars of the recruiting class were WR Jeff Mooney (79 OVR), G Justin Williams (77 OVR), T Desmond Douglas (77 OVR), CB Derrick Means (75 OVR), and DE Andrew "Chuck" Jackson (74 OVR).
Coach Luke was kidnapped by Wyoming's Poet Laureates but escaped and is ready to win some football games.
I'm going to split this season into two recap posts as it was a season with a lot going on. I'll recap the regular season here and then recap the postseason, recruiting trail, and offseason tomorrow.
---
Two seasons.
Fifteen wins.
Ten losses.
That's the tally at this point in Wyoming. It doesn't sit right with Coach Luke. Wyoming has yet to shake up the Mountain West Conference after two years. MWC should stand for the Mostly Wyoming Conference by now.
Luckily, the Cowboys have a roster filled with talented seniors this year. They aren't Coach Luke recruits but they still can get this dynasty jump-started and officially on the map. With thirteen seniors in the starting lineup, the time to win is now.
2029-30 Preseason
As always, you can read the roster preview article to get more info about the team's players.
The offense has a lot of talent at the skill positions. It's not a problem for this year but those positions are all filled with seniors so next year may be dicey. This year will rely on the pocket passing ways of Tyler Hall and the bruising ways of Garrett Everett if our offense is to be successful.

On defense, we are also almost exclusively relying on senior leadership. The hope is that Terrence Crews will step up at CB and that the other seniors will create a cohesive group despite the fact that we don't have a defensive coordinator to start the season.

According to the schedule, it looks like we should be able to compete in every game this year. We only have one game on the schedule where the team has a higher overall rating than us and that's in our first game.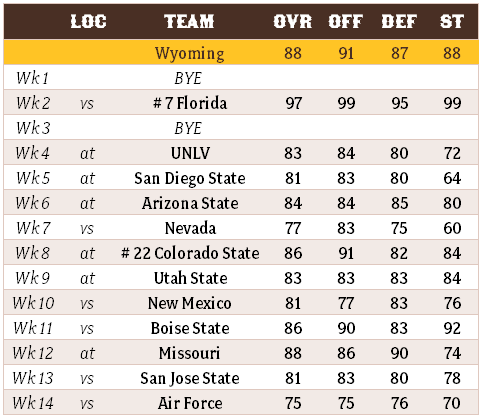 With a limited only-35-man recruiting board, we are mostly hoping for just getting the best players available but we also need help at MLB, QB, and DE for our future success. In lieu of giving you recruiting updates mixed in with the game recaps, we'll revisit the recruiting process within the End of Season post tomorrow.
---
Year 17 (2029-30)
As I write this recap to you from the year 2029, I can barely remember how things were in your time. In 2029, cats have taken over most of the American government positions since a cat has been President for five years. The government is actually run better than ever and, as a bonus, it's cuter than ever too. Everyone watches CSPAN now because it's so dang cute.
Aliens from other planets have inhabited America for nearly a decade and they've now learned how to speak English. They have funny accents though that humans like to do impressions of.
Oh, cell phones are outlawed. We've gone back to landlines in the future. This was voted on by the people and it was basically decided that nobody wanted the hassle of being able to be contacted on a device at all times. Communication is a bit slower but everyone is a bit happier.
You might find it odd that the future is about getting rid of things as opposed to adding more things to the world, but one of the greatest lessons we've learned in the future is that the Age of Excess (as we call your current time) was maybe a bad idea.
As always, these things from the future don't affect the game of football in Wyoming though, so let's get on with the footballing.
0-0 | Week 2 vs #7 Florida
Our first game of the season also represents our toughest test of the season. We are a team that is rated 88 overall and the only team that rates above us on our schedule is the Florida Gators here in Week 2. They are rated 97 overall and, honestly, we shouldn't stand a chance in this game.
What I'm looking for in this game is some heart. I want to see if we stare in the face of giants and not get scared.
And?
*
*
*
In lieu of YouTube highlights this season, I'm testing out the idea of linking to clips of Twitch highlights instead, so here are highlights from the game. Let me know if you hate this in the comments:
*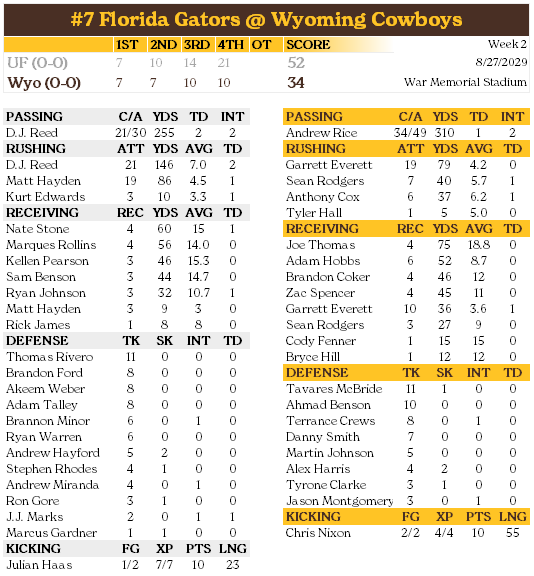 We hung with them for most of the game but fell apart late in the fourth quarter, unfortunately. QB Tyler Hall started the game in an abysmal fashion and was temporarily replaced by Andrew Rice. Rice provided a big spark for us though and ended up staying in the game the whole time. This is not what Tyler envisioned when he got the starting QB job for the Cowboys this year and the hope is that it lights a fire under him.
We lost. That was expected. We hung in the game. That was maybe not expected.
I'm actually fine with this result and feel like we have the capability to win the rest of the games this season now that this team showed some heart.
0-1 | Week 4 at UNLV
The team takes a week off and goes on a long walking trip around Wyoming to get their bearings back before they take the long trip to play UNLV on the road. A win here will get the season on track again…
*
*
*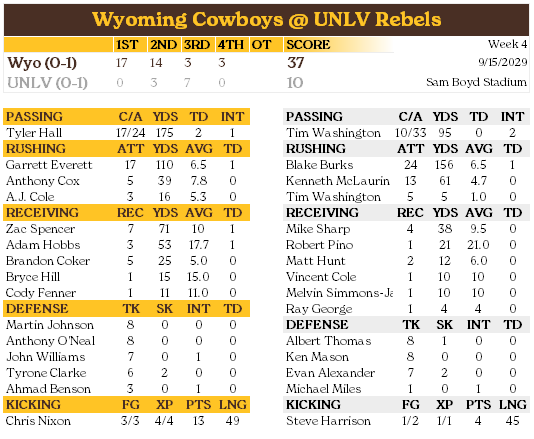 A blowout win over a conference foe is just what we needed! Tyler Hall responded to his benching with a strong performance and Garrett Everett showed he is capable of leading the backfield.
1-1 | Week 5 at San Diego State
The goal at this point is to hopefully sweep our conference games as we earn a trip to the MWC title game. We are going to take a step back next year after our seniors leave so we really need to capitalize on the talent we have. That will start by winning our next conference game as we travel to play San Diego State here.
*
*
*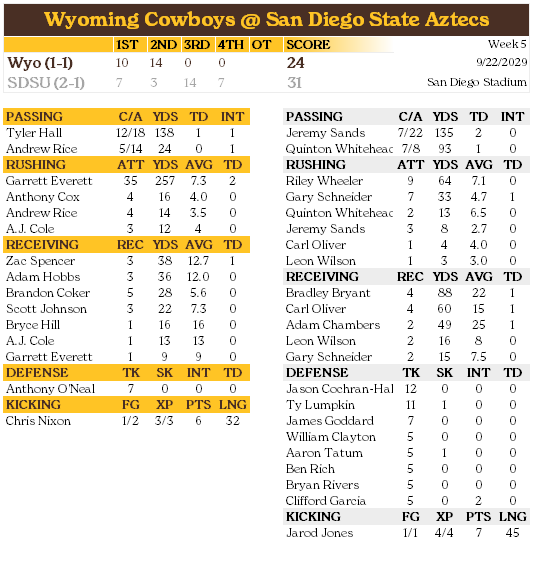 Oh my. We lose 31-24 to a team that was only rated 81 overall.
Tyler Hall got injured midway through the game and Andrew Rice was never able to find his footing in this one. That only proved that his job is Tyler Hall's when healthy. Garrett Everett tried to carry the load himself and, goodness, he almost did it. He had 257 rushing yards and 2 touchdowns but the Cowboys defense failed us in the second half in this one as the Aztecs stole a win from us.
This season is not going as planned.
1-2 | Week 6 at Arizona State
The conference slate of games started 1-1 and, honestly, it may be nice to get a break from it. We get that break in Week 6. We do stay on the road but travel to Arizona State next. They are rated 84 overall and represent one of the tougher matchups on our schedule. While this would do nothing for our MWC championship hopes, it would still be a big game for building team confidence.
*
*
*
This was a close game throughout and it came down to the wire. This is the play that decided the game.
*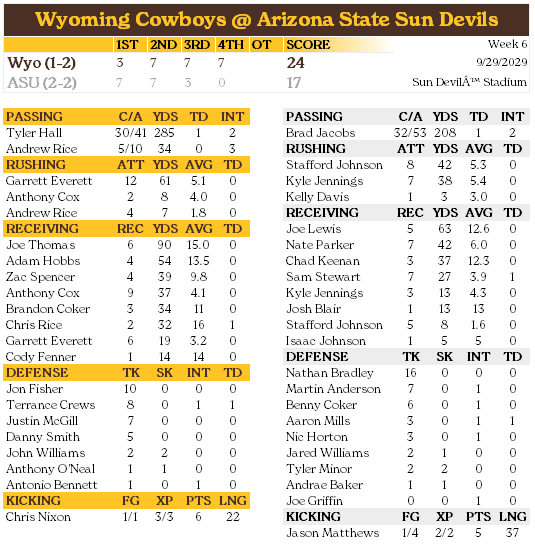 We win 24-17!
Tyler Hall struggled at QB early in this one again and was temporarily replaced by Andrew Rice. Andrew Rice, once again, proved he is not ready for that responsibility so the ball was given back to Tyler Hall. He willed the team to a comeback victory in a thrilling game and statement win for the Cowboys.
2-2 | Week 7 vs Nevada
We finally are done with our three-game road trip and are riding a high after beating Arizona State. We are back to playing games within the MWC now and need to get rolling if we're going to try to win the conference this year. The Week 7 game against Nevada at home is a big opportunity for that as they are the second-worst rated team on our schedule at 77 overall.
*
*
*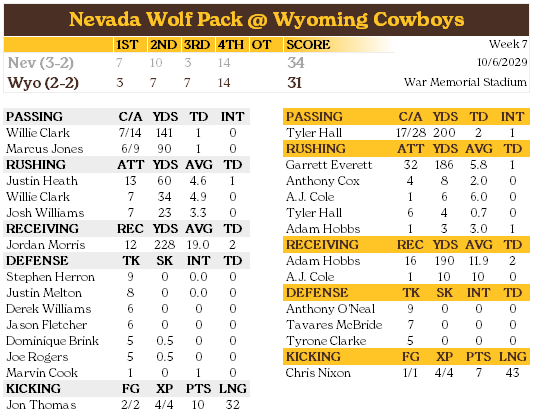 And we lose 34-31.
This team is immensely frustrating.
We had standout performances from Tyler Hall, Garrett Everett, and Adam Hobbs on offense but the defense just did not create turnovers nor sacks and we suffered for it.
We are now 2-3 on the season and have a rivalry game coming up in a week. Coach Luke gathers his star senior players and gives them an immensely motivational speech. He explains to them that if they have clear eyes and full hearts then, in his opinion, they can't lose.
He hopes the speech changes the season for this struggling team.
2-3 | Border War | Week 8 at Colorado State
Despite his insanely effective speech, Coach Luke pulls aside Tyler Hall before this game and tells him that the time for flip-flopping quarterbacks is over. He understands that bringing in Andrew Rice has rattled Tyler Hall a bit and he promises that is done now. The hope is that this motivates Tyler and gets the team going in this big game.
In addition, Coach Luke realizes his plan to not use a defensive coordinator in Wyoming was foolish now. It's midseason though and he can't hire a successful defensive mind from some other team, so he calls upon an old friend instead. There's a former Akron defensive legend that was never drafted to the NFL and is living in nearby Utah. That man is CB Howard Norman. Coach Luke calls him up and tells him he needs him to lead his defense this year. Howard excitedly puts away his knitting project and joins the team for this game as their new defensive coordinator.
*
*
*
This was a close game early and tied 7-7 until this epic play broke the game open.
*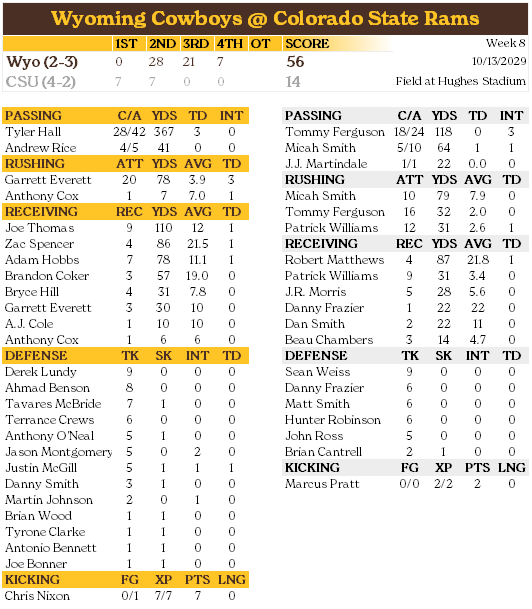 We win 56-14 in a rivalry game! Tyler Hall didn't play the whole game only because it was so big of a blowout that we could rest him. The defense responded amazingly well to Howard Norman's leadership and had four interceptions and eight sacks in this one.
The Cowboys maybe have momentum again!
3-3 | Bridger's Battle | Week 9 at Utah State
With Howard Norman's epic performance in his first game as defensive coordinator, I'd love to have confidence that this team is about to go on a roll but we've been burned too many times this season.
Our next game is another rivalry game. This is the Bridger's Battle against an 83 overall Utah State team and we're traveling to beautiful Logan, UT for this one. The winner takes home a shiny rifle.
We want that rifle.
*
*
*
This was a close game and a gigantic turnover changed the momentum here.
*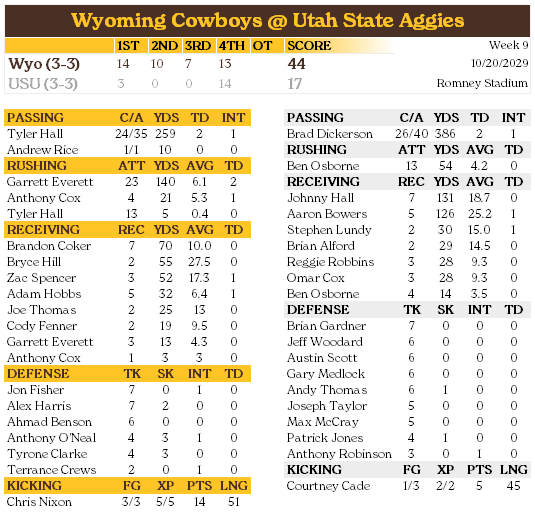 Garrett Everett has a big game with 140 yards rushing and we blow out the Aggies 44-17 in this one!
4-3 | Week 10 vs New Mexico
We desperately need to keep these good vibes rolling now as the division is actually within reach. We are 3-2 in the conference which, surprisingly, has us tied for the division lead with Colorado State. Luckily, this is a season where nobody has run away with the division so there's a good chance we can make the conference championship if we manage to keep winning conference games.
Next up? A home game against New Mexico.
*
*
*
Woohoo! We win 41-21 and continue to have a lead in the MWC Mountain division.
5-3 | Week 11 vs Boise State
We have three conference games left and the toughest one on our schedule is against an 86 overall Boise State team. With our team at 88 overall, this poses a tough matchup. It's not a stretch to say that we need to win this game though as we are still tied with Colorado State coming into this one.
And?
*
*
*
This game was full of highlights.
*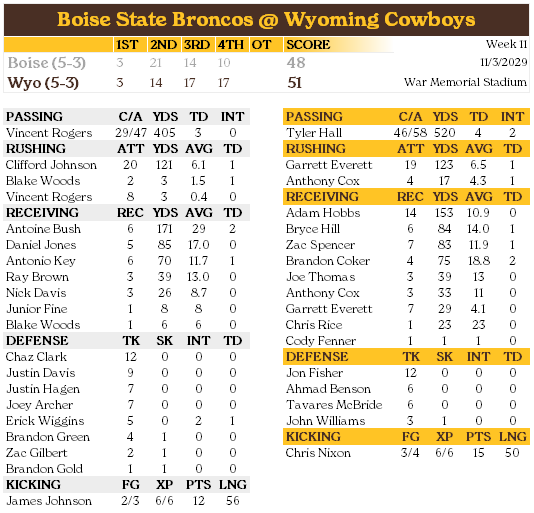 We win 51-48!
The highlights may not do it justice because this was one of the more epic games we've watched in our Twitch streams. It was constantly back-and-forth as neither defense stepped up when needed. Tyler Hall delivered an unforgettable performance with 520 passing yards and 4 touchdowns.
We're on a four-game winning streak and we still have control of our conference championship destiny!
6-3 | Weeks 12 & 13
We have an out-of-conference game against Missouri in Week 12 followed by a conference game against San Jose State. Basically, we just need to keep winning as we are deadlocked with Colorado State but hold the tiebreaker over them. If we keep winning, we're going to our first MWC championship under Coach Luke.
The games go like this…
After a huge win over a power conference team on the road, the team stumbles at home in a game that should have been a win. The winning streak is over but… luckily, Colorado State also lost. We are now tied for the division lead with both Colorado State and Utah State as we all share a 5-3 conference record. We hold the tiebreaker over both which means we make the conference championship if we win the last game of the season.
7-4 | Week 14 vs Air Force
You get what's on the line here. If we win? We're in the MWC championship game. If we lose? Then, likely no conference championship for us. Air Force is rated 75 overall. We should win…
And?
*
*
*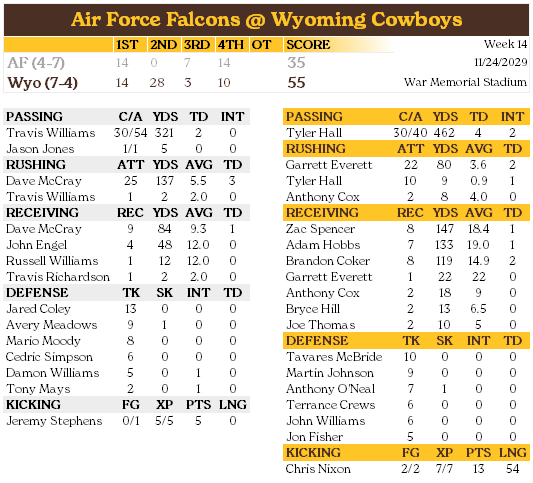 We win! We're headed to our first MWC championship game! After starting the season 2-3, this seemed like a far-fetched outcome but here we are! Thanks to some senior leadership, this team never gave up and we now have a chance to make this season something special.
Our opponent in the conference championship is our other rival team: Hawai'i. Beautiful. Let's get it.
---
To Be Continued…
There will be another newsletter piece coming your way tomorrow to recap the final parts of the season as well as the offseason and recruiting process for the year. Until then, have a spectacular Sunday!