Welcome to the next chapter in Coach Luke's quest to become the winningest college football coach of all-time in NCAA Football 14. To learn more about this series and read up on past installments, visit the About page of this site.
As a recap, here are some things you should know about last season in Wyoming:
The Cowboys went 10-4 across a wild season that included their first MWC championship under Coach Luke and a bowl win over Stanford.
Nearly the entire starting offense and defense graduated after that season, leaving the team in a very bad spot for this year.
The stars of the Year 17 recruiting class were QB Lamont Collins (82 OVR), DE Marky Mark (80 OVR), CB Chris Fulton (79 OVR), and MLB Axel Rose (79 OVR).
---
LeBron James couldn't apologize enough to Coach Luke for ruining their plan last season. He accidentally revealed everything to the evil Poet Laureates and they are now back to actively trying to ruin Wyoming football. LeBron is a wreck over it.
LeBron brainstormed afterward and approached Luke with a new plan this year. The plan? Tank the season.
It would help convince the Poet Laureates that we were playing their game and, by redshirting star players, it would give us a chance to shock the world and win big only a year later.
Coach Luke was hesitant but agreed to it in the end. Star players like MLB Tavares McBride and FS Ahmad Benson took surprise redshirt seasons. Senior leaders like LG Toot Tutins suddenly were taking a year off. The team was designed to be bad. Coach Luke was very uncomfortable but understood the task ahead.
The team must be bad this year and we must just suffer through it.
2030-31 Preseason
You can get a glimpse at the potential future stars that are on this team by looking at the roster preview I wrote earlier this week, which you can read here.
On offense, we're hoping to see the young WRs develop and see some sparks from freshman QB Charles Smith and sophomore HB Anthony Cox.

The defensive players that we're watching are CB Derrick Means and our young linebacking group.

It's not going to be a pretty year but we just hope our players have fun. Looking at our preseason schedule paints a prettier picture than reality: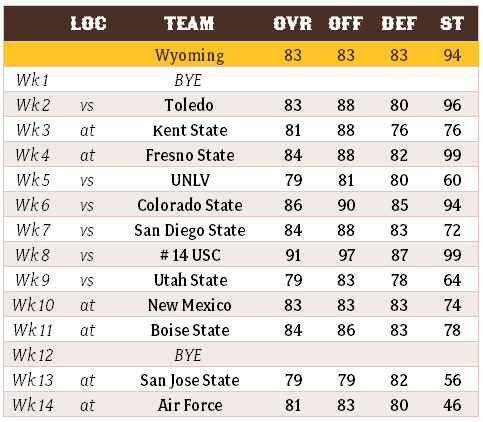 We are not rated 83 overall. We are rated 78 overall to start the year after the number of players that we redshirted. We are likely going to lose a lot of games and we are likely going to lose them by big margins.
The football being played may not be fun to watch but we're hoping to still land some great recruits for our future. These are the top targets on our recruiting board to start the season: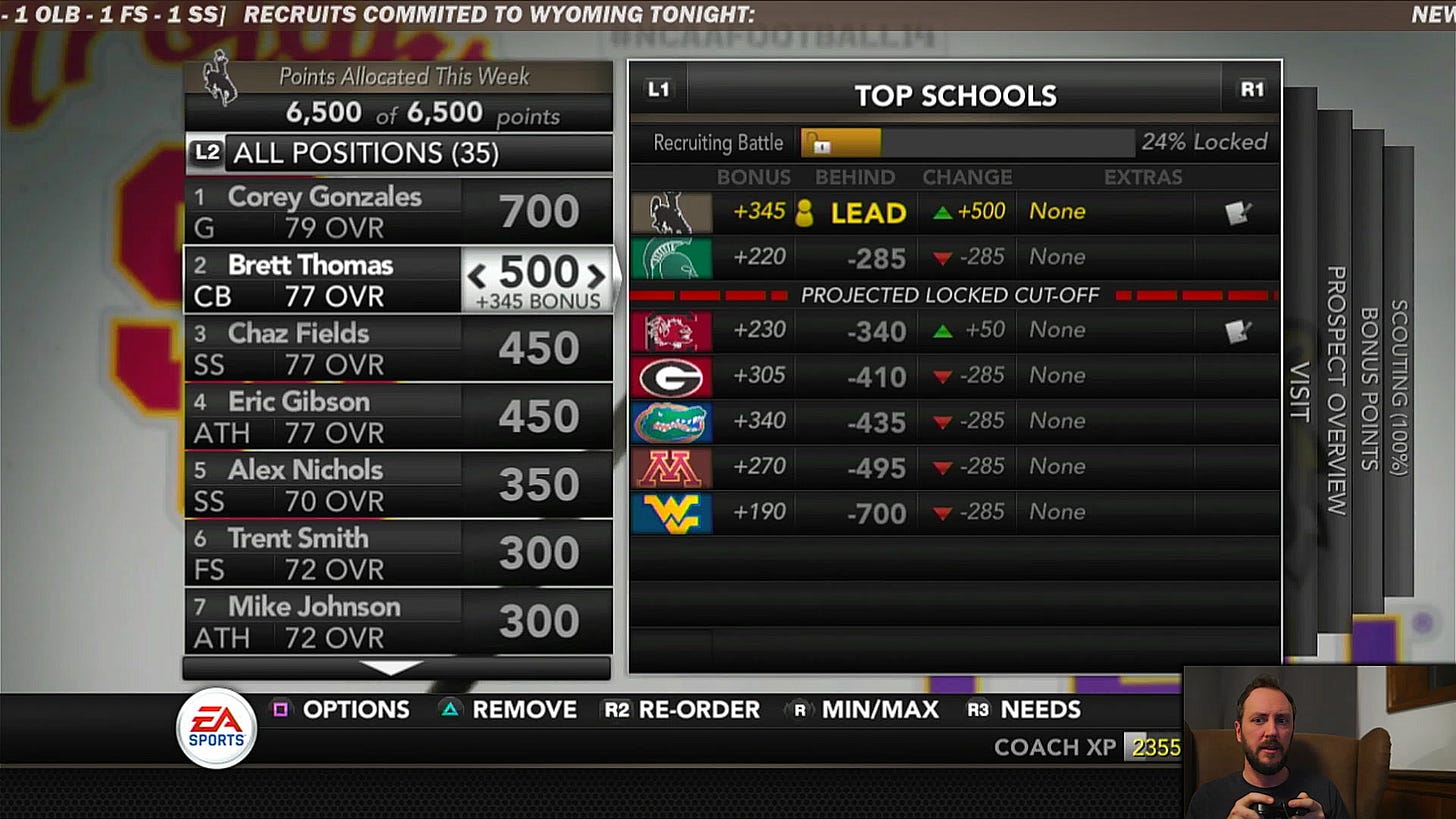 ---
Year 18 (2030-31)
This is not the typical season that you may be used to reading about in this newsletter. This is a season that was made to go poorly by design. It doesn't mean it's a pointless season. We'll get to see whether QB Charles Smith can lead a run-heavy attack. We'll get to see young players develop. Heck, we might even surprise the world and win some games.
If you'd like to just watch a very silly recap video of the entire season instead of reading about the season, check out this YouTube video before you skim ahead:
0-0 | Week 2 vs Toledo
As with most games this year, we are an underdog in our first game of the year. This one is against Toledo and being played in Laramie. It's a flashback to our MAC days and we get to see a young kicker named Chad Ashton that reader Chad created.
We win! By some miracle, our offense looked formidable and we put together a great game and scraped out a win to start the season. Anthony Cox has over 100 yards rushing and Charles Smith was able to sling the ball around pretty well.
Maybe this season will be okay?
1-0 | Week 3 at Kent State
We're taking another trip down memory lane in our second game as we travel to Kent, OH to play the Golden Flashes. Coach Luke shows the team some of his favorite sites from the area and introduces them to the black squirrels that populate the campus. They play a football game after that.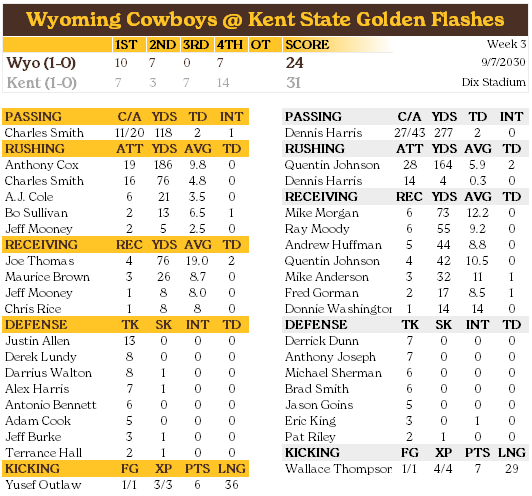 This game is more of what I'd expect this season to be. We lose 31-24 and are hindered by our young quarterback's inability to generate passing offense. We ran the ball great with Cox and Smith combining for over 250 yards but it wasn't enough. Our defense didn't make the big plays and we have our first loss of the season.
1-1 | Week 4 at Fresno State
As we switch over to games in the MWC, the hope is that we can maybe start to generate some upsets and create a little miracle season. Winning at Fresno would be tough as they are rated 84 overall but that's why we play the games. Let's hope for the best…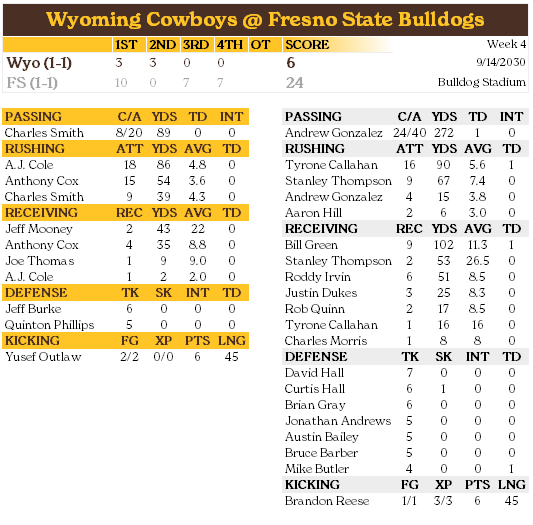 Okay, yeah. That makes sense. We lose 24-6.
We generate almost no offense at all and our defense doesn't generate any sacks nor any turnovers. We fall hard and now have a losing streak on our hands.
1-2 | Week 5 vs UNLV
Despite the losses on the field, we still have future players to recruit on the recruiting trail and that will involve inviting them out to campus for games that we may lose. Coach Luke chooses UNLV as the first game to invite recruits out for. They are only rated 79 overall and represent one of our rare chances for a win. With nearly ten recruits coming out to visit, a win would be big here.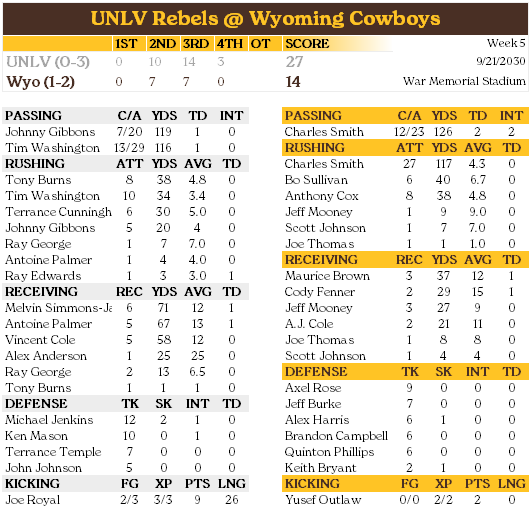 That win does not come as we lose 27-14.
Charles Smith tries to carry the offense by himself with 27 rushes and 23 passes. It may not have been the best idea as we could only muster 14 points in this game. Our defense also just couldn't generate the big plays we needed to break this game open.
As for the recruits who visited?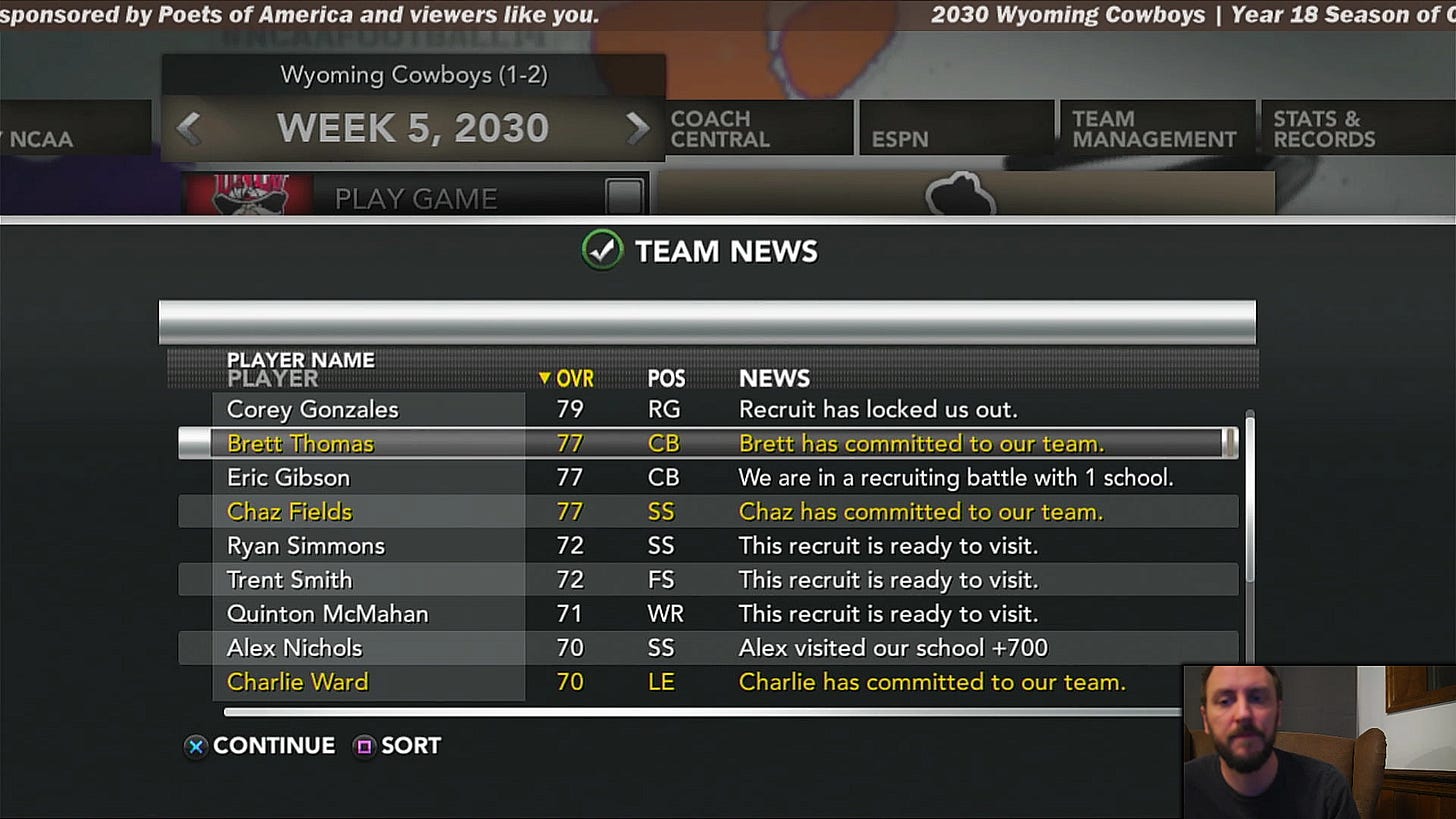 Well, we actually do pretty well there! We get two very highly rated recruits for our secondary and a potential starting defensive end for the future. Getting three future starters for our defense in one week feels pretty nice in this lost season.
1-3 | Weeks 6 through 8
As we sit at 1-3, the season feels like it is already slipping away. It's just about recruiting now. I haven't seen enough of a spark from the team to feel like Charles Smith is our future quarterback nor that any players are going to wow us this year. We schedule our next horde of visits for Week 9 against Utah State and hope we can win some games before then.
This is how the games go:
After getting destroyed by our conference foes, we somehow manage to hang with the #2 team in the country. That's comforting but the fact remains that we are a 1-6 team after seven games. One more loss will take us out of bowl game contention.
1-6 | Week 9 vs Utah State
We are floundering now and we desperately need a rare win here. We have almost all of our remaining recruits coming out for this game and want to land a few more future starters for our Cowboys. We must beat a 79 overall Utah State team on our turf to do that though.
And?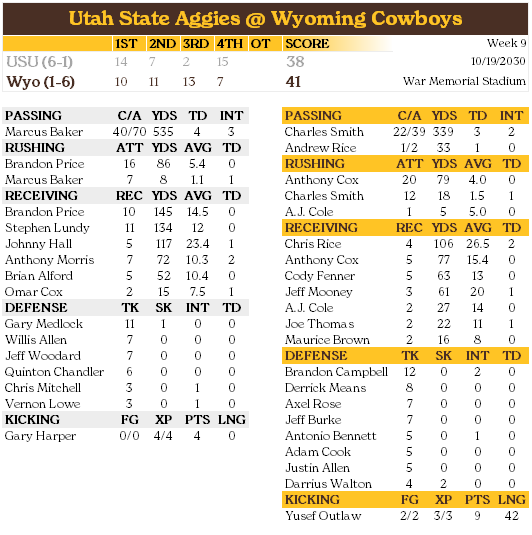 We do it! We win 41-38 in a game where we let up over 500 yards passing. Brandon Campbell had two interceptions for us out of the linebacker position and Chris Rice caught two touchdowns and we finally have something to be happy about in Laramie!
As for the recruits? We get a nice haul of serviceable players.
WR Quinton McMahon (71 OVR) | ★★★★
WR Matthew Wilson (66 OVR) | ★★★★
G Ryan Bailey (65 OVR) | ★★★
CB Chris Smith (64 OVR) | ★★★
DE Antonio Graham (64 OVR) | ★★★
T Eric Allen (63 OVR, Bust) | ★★★★
These could be borderline starters for us in the future depending on how they develop. We may not be setting the world on fire with our recruiting class but we're doing just fine. This is fine.
2-6 | Week 10 at New Mexico
After our fun little win over rival Utah State, we travel to New Mexico and hope to keep the good vibes going.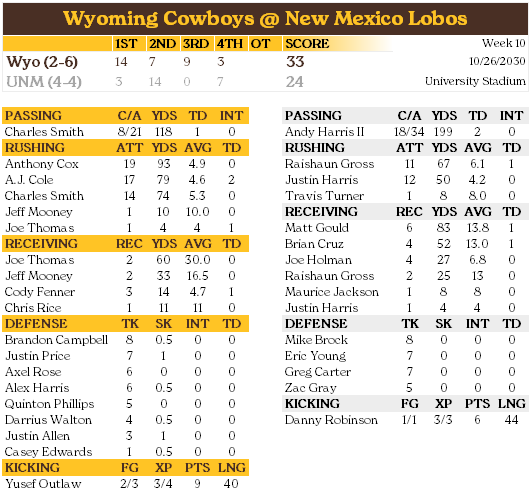 And… we actually do. We win 33-24 and suddenly have a winning streak happening. We are 3-6 and have an outside shot of making a bowl game if we can beat all of our remaining opponents.
Our offense relied on a three-headed rushing attack and we generated a ton of sacks in this one. Have we suddenly found a winning formula with this weird team?
3-6 | Week 11 at Boise State
We can test this new winning formula in a big game against Boise State. They are rated 84 overall and represent the toughest remaining team on our schedule. It's time to cowboy up and make a bowl game!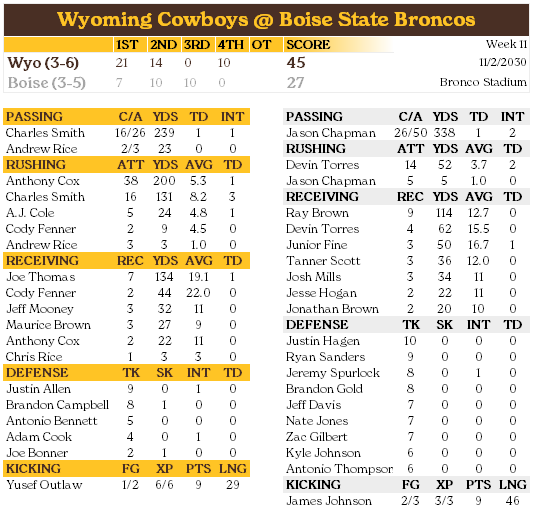 Holy crap! The wins keep coming and they don't stop coming. We win 45-27 and now have a three-game winning streak. With two winnable games left on the schedule, we might just pull off a miracle here.
Big props to our rushing attack for their five touchdowns in this huge win for Wyoming!
4-6 | Week 13 at San Jose State
We take a bye week to cool down a bit before this next game. The boys relax and try to meditate and focus and keep the momentum going.
After all of that mindful relaxation, we play an 81 overall San Jose State team on their turf. Let's do this thing!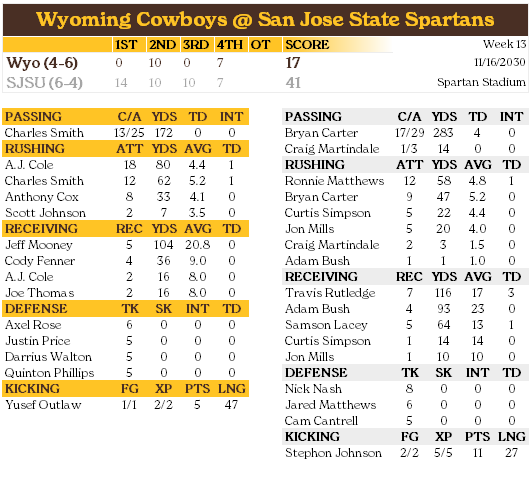 Oh. Right. We're bad.
We lose 41-17.
After that, we lose the last game to Air Force as well (Box Score) to end the season at 4-8. No bowl game for us but that's just fine. This is fine.
The Poet Laureates are ecstatic and actually ask Coach Luke if he is willing to stay for another year because they are happy to see he is capable of losing so much. They convince the university to give Coach Luke a contract extension.
The reverse happens in Akron. After another losing season, Coach Cortez Haumiller is fired by Akron. Our connection to the school is officially over. They are becoming worse and worse every season without us. I'm sad but happy. It's like seeing your ex get depressed after you're gone.
---
Offseason
Before the offseason even starts, we have our entire recruiting class decided and committed. So there's actually no drama at all to the offseason. We had ended up grabbing a few more marquee players late in the season, such as ATH Eric Gibson and OLB Ian Washington. Gibson slots into playing the secondary and we basically have created an entire fearsome secondary this year: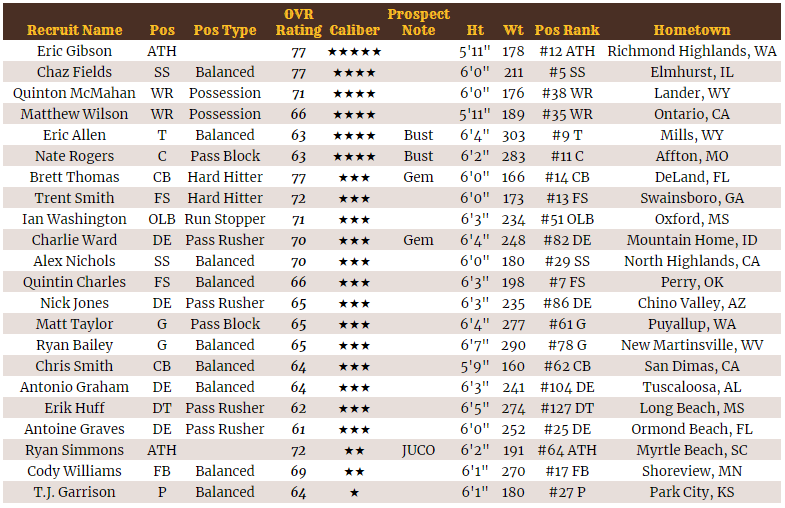 The season is over. We tanked. This was fine. Everything was beautiful and nothing hurt.
---
Year 19 Starts Tonight!
So, yes, we rushed through a terrible season but it was partially because we wanted to get a fun season! The Year 19 team looks like it will actually be very good as they are rated 90 OVR in the preseason. I will be sending out a roster preview later today and then we'll be starting the season with a Twitch stream tonight.
I am not 100% sure what the schedule will be for this season as far as Twitch streams because of the holiday, but I do know that we are streaming tonight at 8 PM EST and Tuesday at 8 PM EST as well. We'll see beyond that! The best way to get updates is to be a part of our Discord server.

We survived a bad year! Now it's all blue skies ahead!