Welcome to the next chapter in Coach Luke's quest to become the winningest college football coach of all-time in NCAA Football 14. To learn more about this series and read up on past installments, visit the About page of this site.
Before diving in, this series will be taking a short break after today's article so I can catch up on some of my documentary filmmaking work. There will not be a Twitch stream tonight nor on Friday of this week. Consider this to be a season finale of the series after 16 episodes. After this finale, we'll have a break for a bit and then start this thing back up again later.
As a recap, here are some of the notable things you should know about the first year in Wyoming:
The Cowboys were rated 75 overall but surprised the nation with a 7-5 season that ended with a Pointsettia Bowl loss to Washington.
Coach Luke nearly beat out Coach Cortez in Akron on the recruiting trail as the Cowboys had the #17 recruiting class and Akron was #16.
The stars of the recruiting class were MLB Tavares McBride (78 OVR), FS Ahmad Benson (77 OVR), and WR Joe Thomas (74 OVR).
---
The second season in Wyoming is upon us. With just one season of work done, the future is looking brighter already. The administration at Wyoming is ecstatic that the team already made a bowl game under Coach Luke. They don't have big dreams beyond that. Getting another bowl game appearance would be enough to keep them happy, it seems. Coach Luke is laying the groundwork to turn the team into a championship contender though and is hopeful that he can make more progress with recruiting this year.
Despite how proud the school is of Coach Luke's work on the field, they were not happy with the expenses that Coach Luke incurred in his first year of recruiting. They implored him to not travel so much and to only go after a small number of players this year. Unlike when Akron imposed this restriction upon him, Coach Luke understood and accepted it this time. He came to Wyoming for the range life and, more importantly, for the challenge.
Let's cowboy up!
2028-29 Preseason
I wrote a more thorough roster preview to introduce you to the team, which you can read here. The abridged version is this team is much improved over last season. There are a couple of seniors that we'll be relying on for offense. It's a pretty dang good offense that is rated at 84 overall.

The hope is that QB Leon Powell can deliver a good season in his one year as a starter for us. It will be up to a shaky offensive line to protect him, but there's hope that this could be a team that wins a conference championship and makes a bowl game.
Those hopes will rely upon our defense too though. The defense is rated 80 overall but has fewer glaring weaknesses than our offense:

As we look at the schedule that's been set for this season, things do look promising for Wyoming as there are only a few games that seem like obvious losses on the schedule.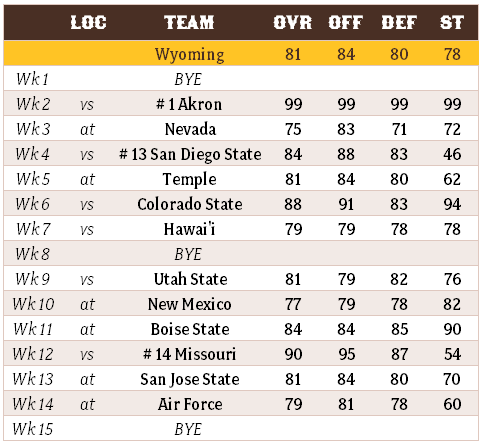 On the recruiting trail, the main goal is to build up the trenches by targeting linemen on both sides of the ball. Getting help at any position is certainly important though as this is a team that simply needs to get better everywhere. The initial top recruiting board targets look like this: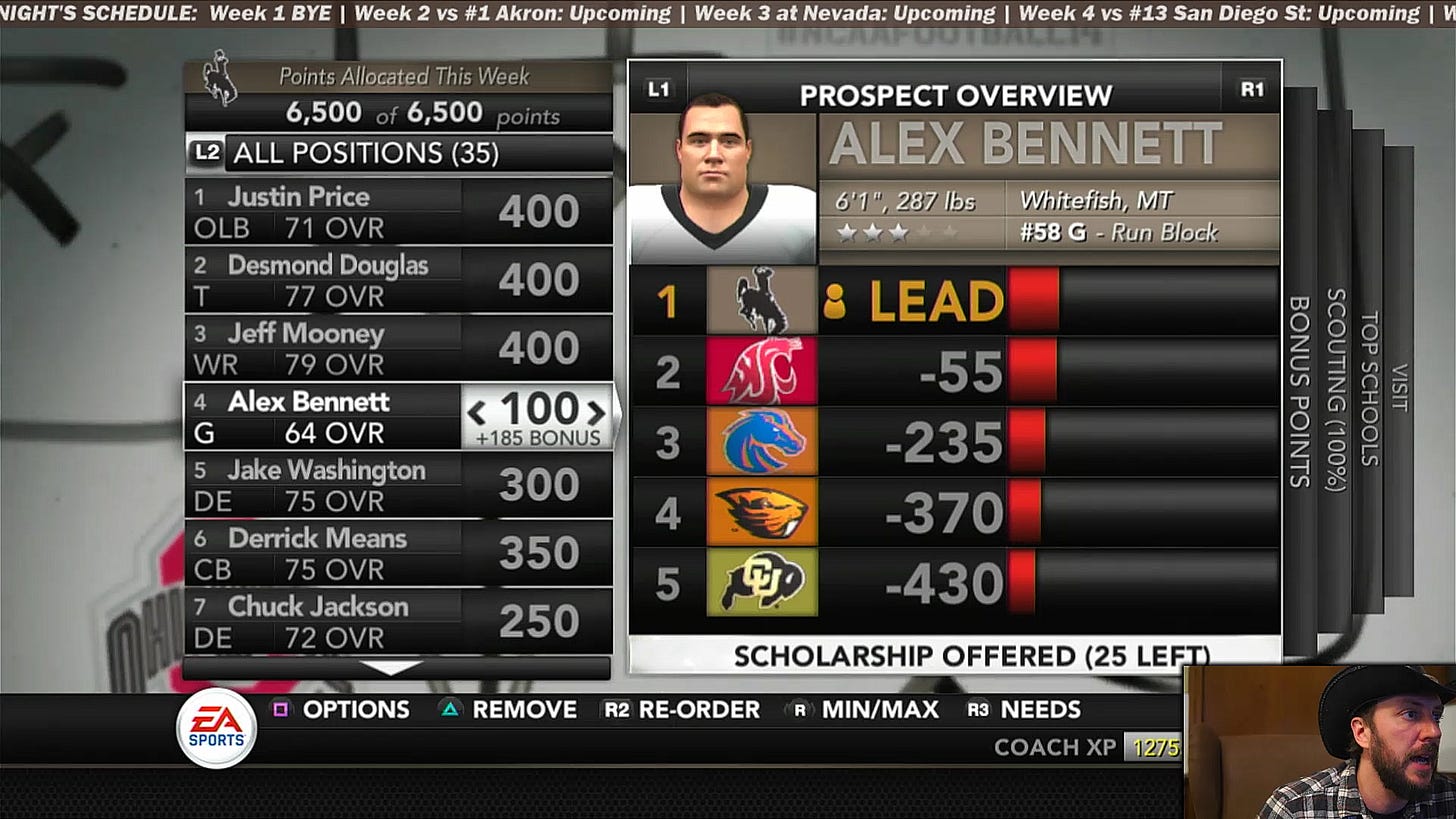 ---
Year 16 (2028-29)
As we enter the year 2028, the world continues to change at a breakneck pace. The latest change that has shocked everyone is that eating utensils no longer exist. They're just gone. Knives have been replaced by little laser swords. Forks have been replaced by little laser pokers. Spoons, sadly, have not been replaced yet. Eating soup is messy in 2028.
This has no effect on football in Wyoming though. Things are looking up for Coach Luke and the boys. There is legitimate optimism in Laramie and the surrounding region for the first time in a long time.
0-0 | Week 2 vs #1 Akron
That optimism may be short-lived though as the season-opener is against our old friends from Akron. Coach Cortez just came off a loss in the BCS National Championship Game and is looking to run up the score on his old coach this time around.
The Zips travel to visit us in Wyoming. Coach Luke's former players do not make a special trip to visit his house and say hi though. The mood is tense.
As for the game?
*
*
*
*
*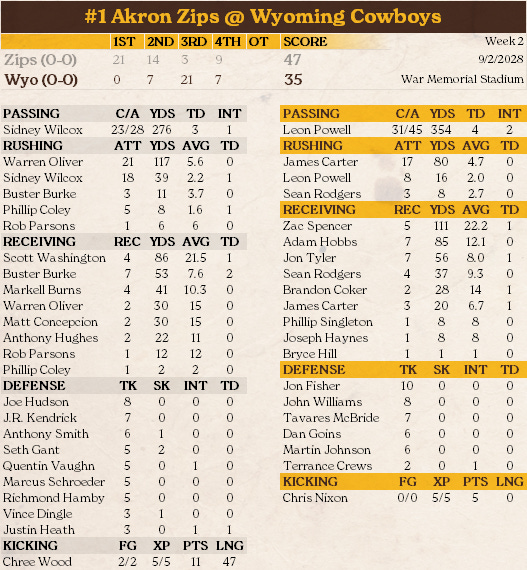 It's a loss, as expected, but not a bad loss! We lose 47-35. It started slow but the Cowboys were able to piece together a decent game against the Zips. The fact that we kept it within two scores and put up 35 points on Cortez's defense is a great sign for how this year may go.
It's hard to ever be proud of your team after a loss but this is one of those instances.
0-1 | Week 3 at Nevada
The next game on the schedule is against a team that is only rated 75 overall compared to our 81 overall. This is a game that we should definitely win! What a feeling to be favored in Wyoming.
We win 35-16! We're 1-1 now. The offense and defense both click in this game for us. The star of the game is HB James Carter as he delivers over 100 yards and 3 TDs on just 16 carries.
On the recruiting trail, we haven't made a ton of progress yet but we are in the lead in a number of recruiting races. The recruiting landscape will likely change in Week 6. We are scheduling a handful of prospects to visit us that week in a rivalry game versus Colorado State.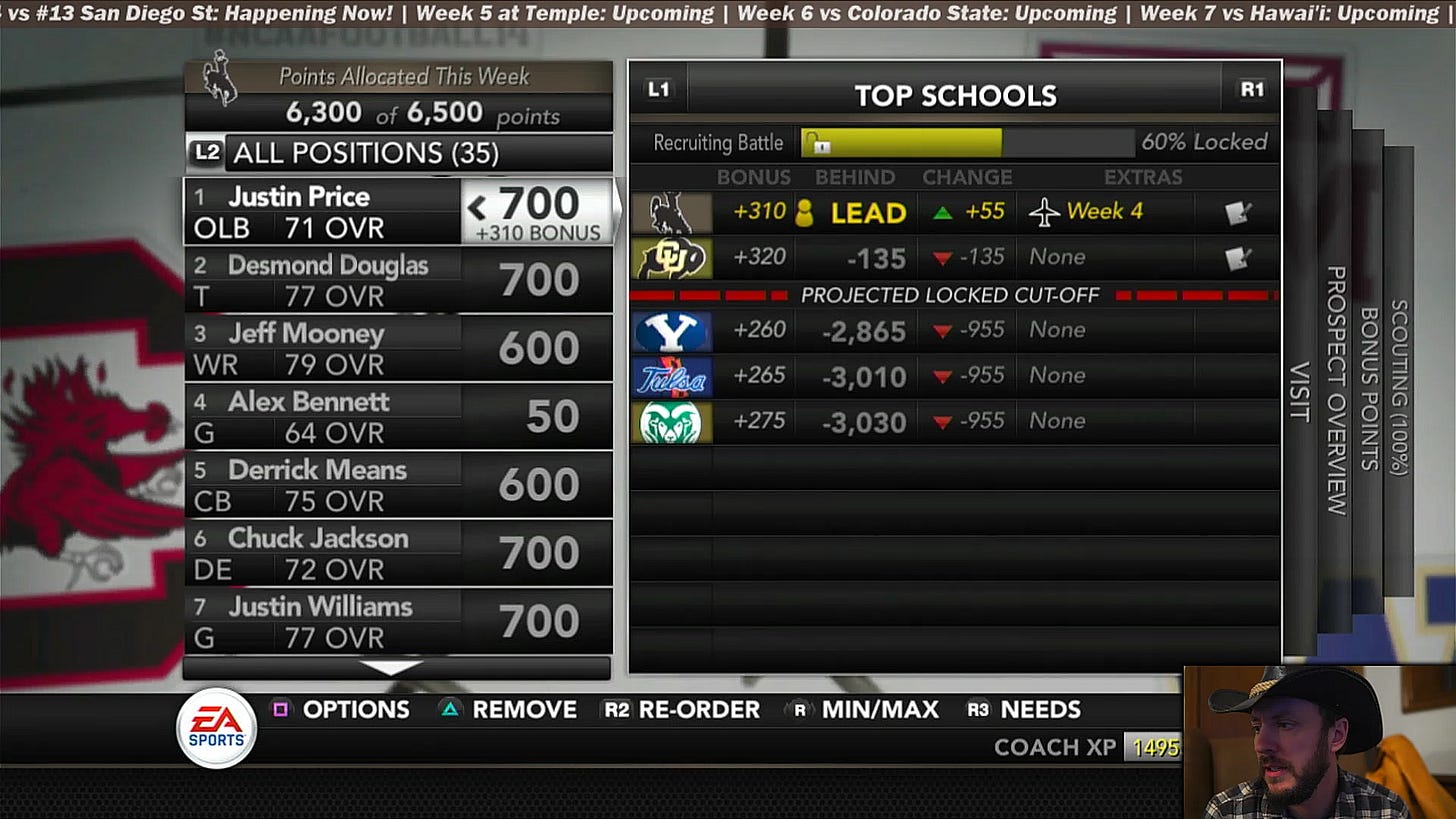 1-1 | Week 4 vs #9 San Diego State
After that Nevada win, an interesting challenge approaches. We have a San Diego State team visiting us that is ranked #9 in the country. Yes, this is the same team that was ranked #6 in the country last season when we shocked the world with an upset over them on their turf.
It seems crazy but… can we ruin their season two years in a row?
Let's watch!
*
*
*
*
*
In a classic game, we win 10-3! What a wild, wild game in the wild, wild west!
Their kicker was an absolute dud and missed four kicks. Our kicker, Chris Nixon, wasn't much better as he missed three. To add to the drama in this close game, it came down to a booth review of an overturned touchdown in the final minute to ensure victory for the Cowboys. We win though and have our second victory over San Diego State in two years!
That was a super fun game and another major win for the program.
2-1 | Week 5 at Temple
Coming off an amazing win like that, the hope is that we can now build some momentum and start to rattle off a bunch of wins in conference play. The season goal is to win a conference championship and start building up Wyoming as a major player in the MWC.
Before we can do that, we have an out-of-conference game against a similarly-rated Temple team. This is not a guaranteed win. If this is going to end up being a special season, we need to win these games against similarly-rated teams though…
And?
*
*
*
Big 45-21 win! We jump to 3-1 on the season!
Now, we have a slate of conference games ahead of us and we have a number of big games where recruits will be coming to campus. Things are looking up for the Pokes!
3-1 | Week 6 vs Colorado State
Our next game is a doozy though. It brings our rivals to campus in a Border War game against Colorado State. This one will be tough as they are rated 88 overall. We are surely the underdogs here.
The hope is that our home field advantage and crafty coaching can catapult us to victory here. With a handful of recruits coming out to see this, I hold my breath and hope that we get a big win over our rivals…
*
*
*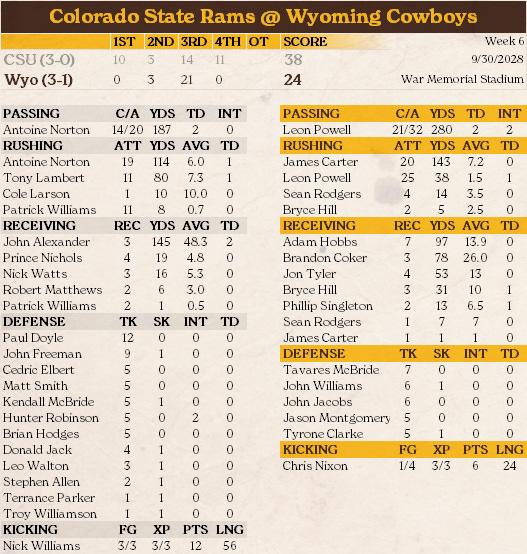 Oof. Tough loss. We lose 38-24. Our defense didn't do us any favors in this one and Leon Powell was a bit too turnover-happy again.
Do we at least win some recruiting battles?
Eh.
Not exactly, but we do fine. We get two offensive linemen to commit to us in G Adam Hall (67 OVR) and T Walter Jones (66 OVR). These guys can be building blocks for our line in the future!
No need to feel bad about getting two potential offensive line starters of the future, but we need to have more success with recruits in the weeks ahead. We start lining up any remaining players on our board to visit in Week 9 when we play Utah State. That is our next chance for a major turning point in recruiting.
3-2 | Week 7 vs Hawai'i
With our season hitting a rough point, we get a breather against a 1-3 Hawai'i team that is rated 79 overall. We need to win this one to get us an in-conference win and get this season back on track.
And?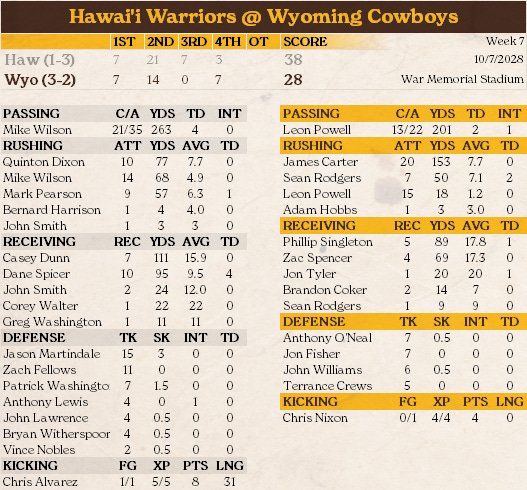 Holy crap. A letdown game! We lose 38-28.
Sadly, this really hurts any chances of making a conference championship this season. A few other teams in the MWC are having good seasons and our two in-conference losses may be enough to do us in. There will still be chances to have some moral victories and win some recruiting battles over the rest of this season but we'd have to go on a major winning streak to have a special season here.
3-3 | Week 9 vs Utah State
With the season on tilt, the main thing we're cheering for at this point is a good recruiting class. Our next game against Utah State is a pivotal moment for that. We have a dozen players coming out and we need a win to impress them.
And?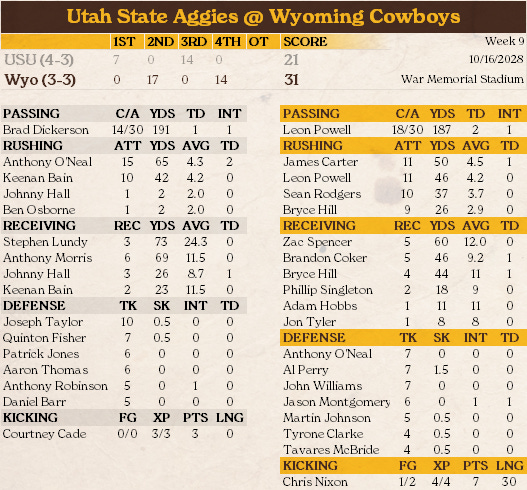 We get the win we needed! That's huge because it leads to a major day with our recruits too! The following players commit after the game:
K Yusef Outlaw (80 OVR) | ★★
G Justin Williams (77 OVR, Gem) | ★★★★
T Desmond Douglas (77 OVR, Gem) | ★★★
CB Derrick Means (75 OVR) | ★★★
QB Andrew Rice (68 OVR) | ★★★
T Charles McFadden (66 OVR) | ★★★
CB Adam Cook (66 OVR) | ★★★
G Alex Bennett (64 OVR) | ★★★
ATH Charles Smith (63 OVR) | ★★★
TE Scott Johnson (61 OVR) | ★★★
Our recruiting job is pretty much done for the season now! We've locked up players at a lot of key positions. We have a mix of potential future stars as well as future glue pieces. Plus… we got a kicker named Yusef Outlaw on the Cowboys! Outlaws for life!
For the rest of the year, the main person left on our recruiting board that I'm holding out hope for is a 79 OVR WR named Jeff Mooney. Aside from that, it feels like another solid recruiting season for Wyoming regardless at this point.
Weeks 10 Through 14
We're in the latter half of the season and the recruiting process is pretty much settled while the dream of a conference championship feels far-fetched. At this point, our goal is just to get into a bowl game for posterity. We need two wins in five games to make that happen as we are 4-3 at this point.
And, here's how those games go…
Not too shabby! Three wins in five games and we end the regular season with a 7-5 record. That gets us an invite to the Armed Forces Bowl to play the UAB Blazers.
7-5 | Armed Forces Bowl vs UAB
This game is a little treat for our boys. UAB is rated 79 overall so we are favored to win this one. I'd like to see the Pokes end this season with our first bowl win in Wyoming under Coach Luke.
And?
*
*
*
*
*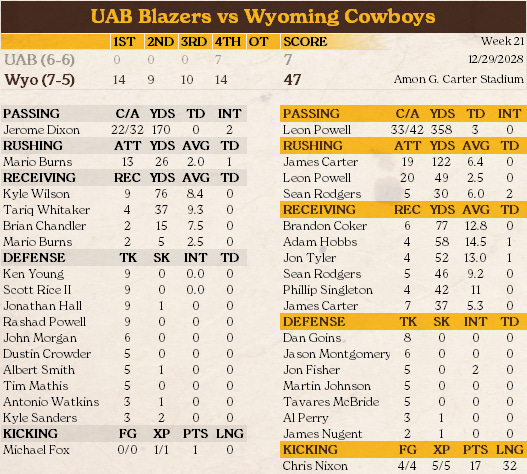 Huzzah! We win 47-7 as Leon Powell ends his short Cowboys career with a big day.
In other news on the season, the University of Akron is struggling without Coach Luke. They fell out of the rankings for most of the year. They were able to win the Big Ten but fell to Oregon in the Rose Bowl as they finished the season 9-5 and out of the Top 25 rankings.
---
Offseason
With the recruiting class all-but-decided, we're mainly just hoping to get the two final players on our recruiting board in the offseason. They're both four-star players and would be potential future stars for us: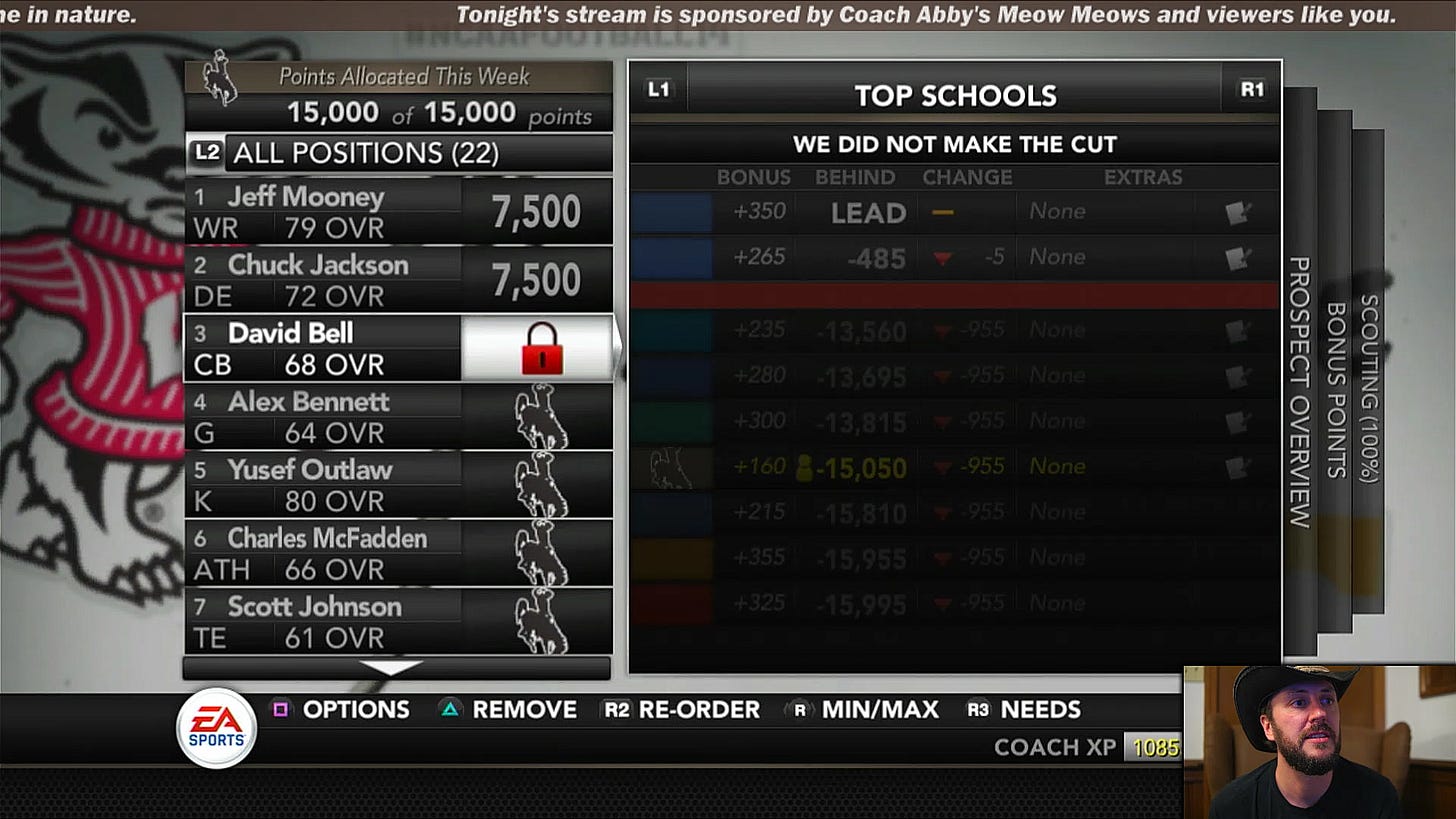 We end up getting them both! That's huge! I'm over the moon about Mooney and… I'm… just excited about Chuck Jackson! Here's how our class looks: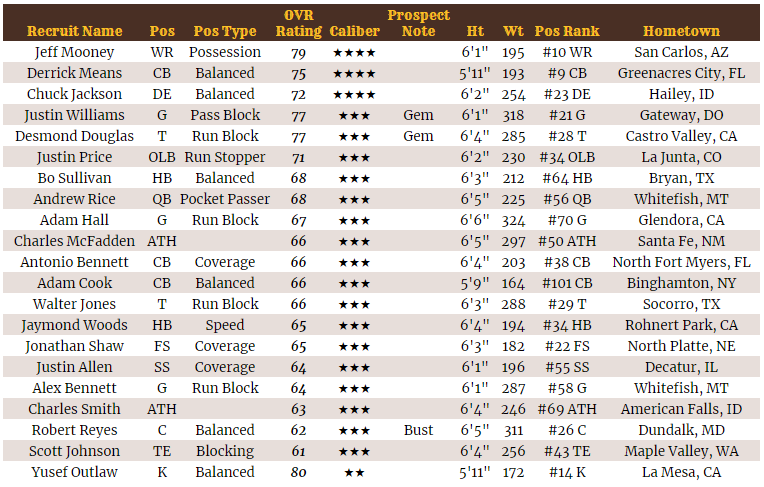 The class is actually a step-down from last year as we have the #24 class in the country. That's perfectly fine though as this is still a damn good class. Two of our three-star players are gem talents hidden in there.
The funny thing is that our friends at Akron end up with the #26 class in the country. Yes, that's right: we already are outdueling Cortez and the Zips.
It feels like we are on a great path with Wyoming and that we are a year or two away from being nationally relevant again. The recruiting classes have been solid and our young guys have been developing nicely. Life is good.
---
A Life Of Leisure, Interrupted
Ah, the fresh air and the nice people.
When Coach Luke moved to Wyoming, he craved both those things and immediately got them. Not long after accepting the job, he was contacted by a small group of people that consisted of the past and present Poet Laureates of Wyoming. They invited him to hang out with their elite group and wouldn't you know it? Coach Luke and the poets became fast friends.
If you're unfamiliar, Poet Laureates are esteemed local writers that are formally recognized by the state of Wyoming. Only one person can hold that state-appointed title of Poet Laureate at a time. There are five past and present living Poet Laureates in Wyoming, and they seemed very interested in getting to know Coach Luke when he arrived.
The Poet Laureates were incredibly welcoming of Coach Luke and went out of their way to invite him over at least once a week to hang out. It was very innocent and the topic of football was rarely touched upon. They were instrumental in teaching Coach Luke about Wyoming traditions and for helping his mental health. It was nice to have such kind friends.
With his second Cowboys football season concluding, Coach Luke was excited to spend more time with his Poet Laureates in the offseason. Soon after the impressive bowl win over UAB, he went over to the Poet Laureates' ranch one night to hang out.
The lights appeared to be off in the ranch as he walked up, but he knocked at the door regardless. Instead of them running to greet him as usual, he just heard a gruff voice say "come in, Luke."
He slowly opened the door. Upon doing so, he found that the only lights in the room were candles that lit the faces of the five Poet Laureates sitting around a dining table.
"Take a seat," said their leader Gene.
Luke felt like the vibes were off as he walked over and sat down at their table. "Are we not playing gin rummy tonight, y'all?" he asked with a nervous laugh.
"We need to talk about the direction of your football team," Gene said flatly.
"Oh." Luke started to laugh. "It was a pretty good year. I really think we'll start turning a corner next season though. We'll be a great team soon."
"Right," Gene said in blunt agreement. "That's exactly the problem."
---
To Be Continued…
As I stated at the start of the article, I need a vacation from the series. You can consider this a season finale with the series returning in the near future after a break.
If it's not obvious, this is a passion project for me and not a means of steady income. Despite it being a side project, I probably end up spending well over thirty hours a week on it between streaming games, video editing, writing articles, data generation, graphic design, and responding to various things related to the series. As you could imagine, that time and energy can take its toll after doing this for five straight months.
I need to ensure a passion project doesn't completely take over and distract me from the main parts of my life, so I need a little break from this for a bit. After a little time to chill, I'll be back at it with renewed vigor.
In the meantime, if you want to chat with me about life or football or anything under the sun, you can find me on the Discord server.
The Cowboys team for next season actually looks pretty good, so it'll be a fun season when I return. I'll post the Year 17 Preview article when I know what the schedule will be moving forward.
Take 'er easy!