Welcome to the next chapter of the University of Akron's quest to win seven national championships in NCAA Football 14. To learn more about this series and read up on past installments, visit the About page of this site.
Before I jump into things, I want to draw everyone's attention to our Discord server that has been created. I think it fills a better place for our fanbase than the subreddit though that'll still exist for long-form pieces. The Discord server has already been great for chatting about the playbook, sharing cooking tips, sharing music with each other, and slandering Zips players. I welcome you to join if you want to get to know the fellow readers of this series.
Today's post will chronicle the first half of the Year 11 season, but I'll be streaming the end of it tonight on Twitch! More info at the end of the post about that.
---
It feels like it would be a stretch to say that Coach Luke is in threat of losing his job at Akron, but questions have been raised about his team's performance since they left the MAC. The media and fans have now wondered if the Akron championship and undefeated streak were only the result of playing in an inferior conference like the MAC. Coach Luke is coming off a four-loss season and knows that he needs to have an impressive season on the field rather than just on the recruiting trail.
Without further ado, let us commence with the zippin'!
Year 11 Schedule
This season's schedule seems like it may be tough but still more reasonable than last year's gauntlet that we faced. We have a mix of elite competition, mid-tier competition and chump teams like the Kent State Golden Flashes.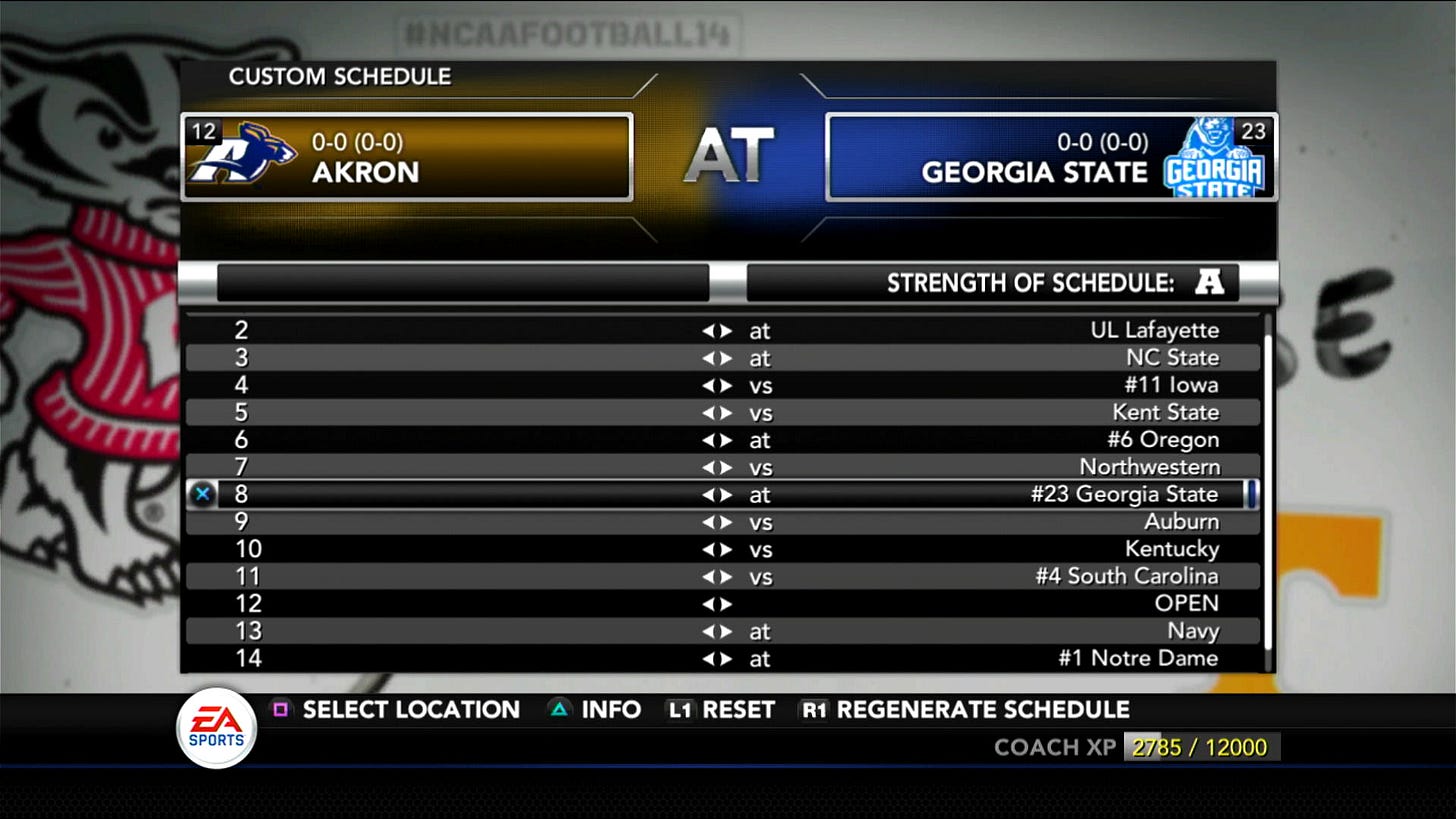 Year 11 Roster
The Year 11 roster, on paper, is maybe our best roster ever under Coach Luke. You can read about it here in the Year 11 preview post.
What I've learned is that ratings on paper do not dictate performance in games that we watch. Rod Jackson is a 99 OVR quarterback but he can be jumpy and erratic. Ian Brown is a 99 OVR halfback but he seems to drop like a ton of bricks at the first hit.
Regardless, I'm just incredibly hyped about our defense's potential. The secondary has tons of future stars like CB Ethan Terrell and CB Howard Norman. The linebackers have intriguing talents like OLB Todd Austin. I can't wait to see what this team can do on the football field.
---
Year 11 Season (2023-24)
We're in the year 2023 now. What a world! The big news in current events in the Year 2023 is that aliens have landed on Earth and now live among us. The aliens are not great athletes so I doubt we'll see any playing football for Akron, but they do love the sport and have become big fans of Coach Luke.
Speaking of Coach Luke, he's got a big year ahead of him as he tries to restore faith in the Zips both locally and nationally.
He knows the pressure is on and, thus, he starts the year off in a big way. Before we even get into Akron's first game in Week 2, we are able to sign two recruits as insta-commits. We get a balanced QB in Sidney Wilcox (77 OVR) and a balanced MLB in Joe Hudson (77 OVR).
The year hasn't even gotten going and we have two prime players at key positions. You love to see it.
0-0 | Week 2 at UL Lafayette
In a weird flex, Coach Luke demanded that UL-Lafayette was on our schedule this year. We lost to the Ragin' Cajuns in The GoDaddy.com Bowl back in Year 3 and Coach Luke hasn't forgotten. No better way to show the world how far we've come, I suppose.
The team takes the trip down to the bayou to have a little southern vacation and play some football.
The vacation? It was great. As for the football?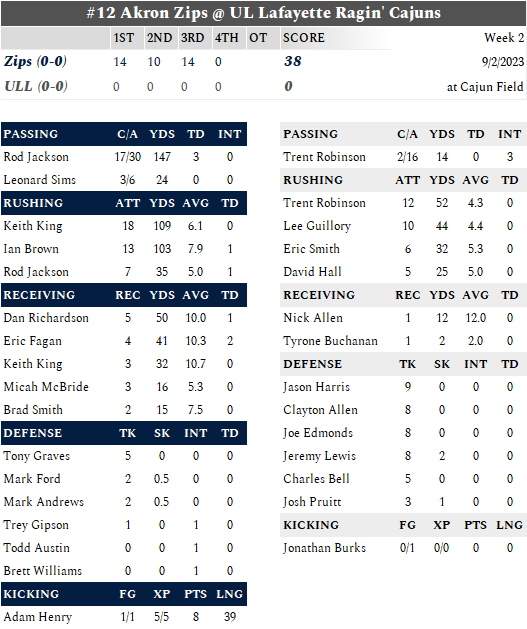 Also great! Amazing to see our defense start off with a shutout and hold the Ragin' Cajuns to a mere fourteen yards passing. The year of the defense, baby!
1-0 | Week 3 at NC State
We then travel a little bit further north to the wonderful state of North Carolina to face an 86-rated NC State team. They offer a slightly tougher test for us than the Ragin' Cajuns, but we should still be big favorites for this one.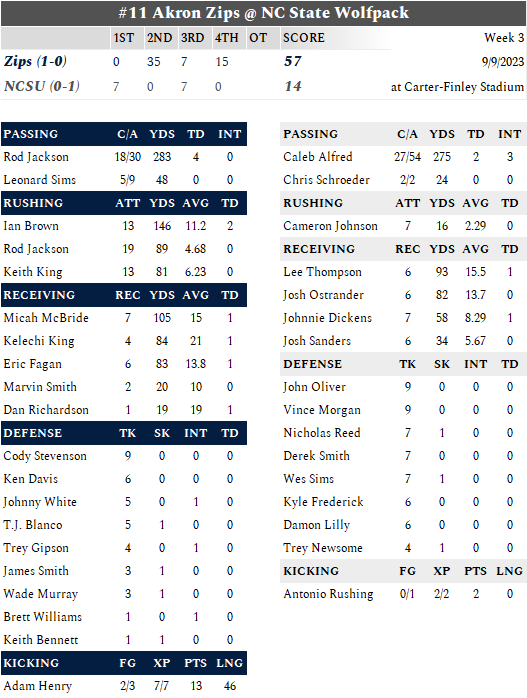 Not a problem! Our running game continues to put up great numbers and we're seeing a bit of freshman QB Leonard Sims getting into games and getting experience.
On the recruiting front, I am setting my sights on offensive and defensive line help as a top priority. After the shifting and reconfiguring that goes on within the first weeks of recruiting, here is how I set the recruiting board: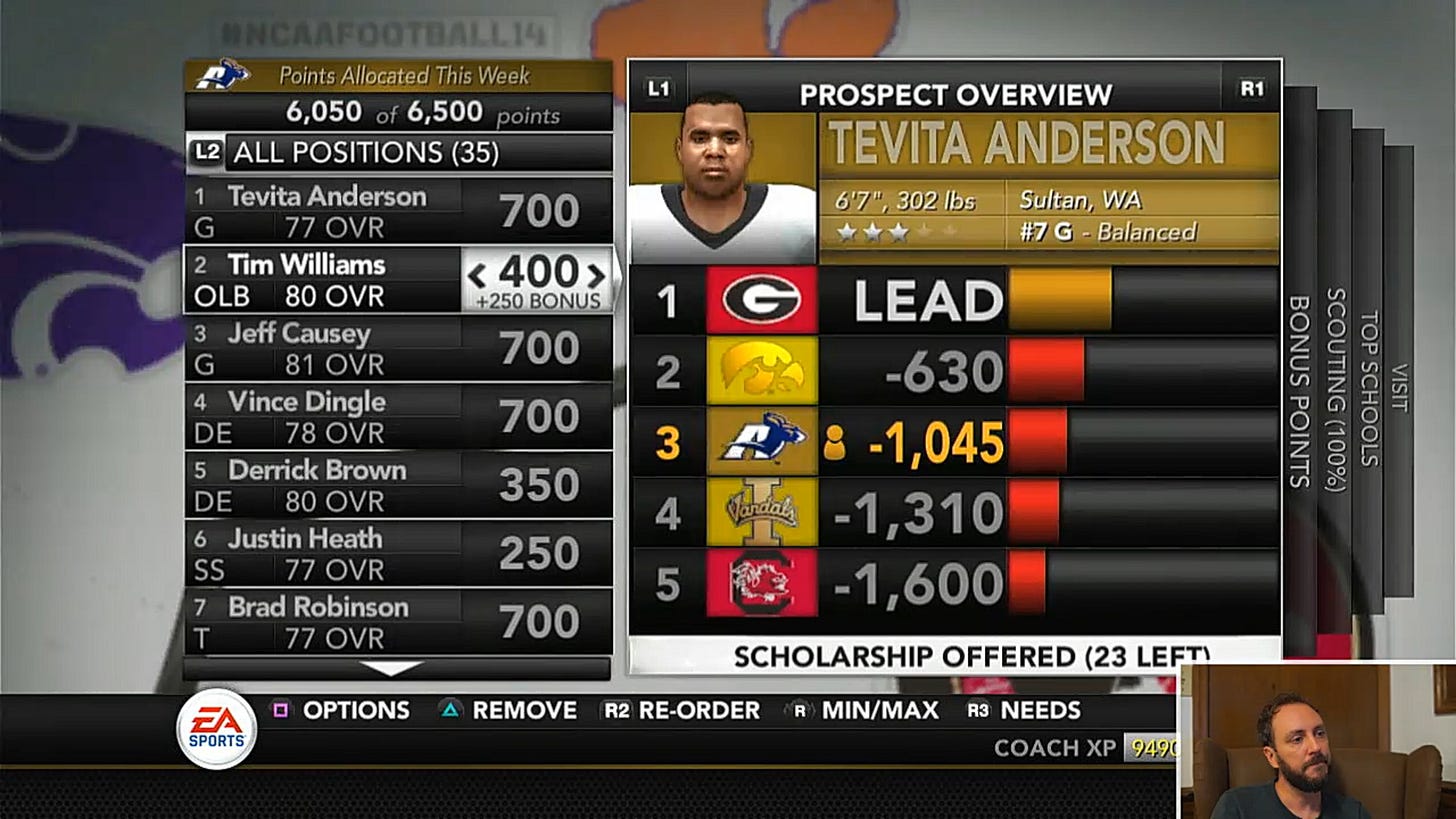 These players are our top priority. Event though DE Derrick Brown is higher rated, I'd be super excited to get DE Vince Dingle because that's just a solid name for a future Zips player. Let's cross our fingers that we can get this Dingle character.
2-0 | Week 4 vs #9 Iowa
We return to Akron finally and have our first home game. It's a tough test against a higher-ranked Iowa Hawkeyes team. If our season is going to turn into a special one, this is the type of game that we need to win. The Hawkeyes are a 90-rated team compared to our 99 rating. We theoretically should win this game. Theories are for nerds though.
I invite out a handful of prospects to visit Akron and watch this game. The hope is that we can get some early commits to clear them from our board and allow us to focus on other players.
Let's win this game and impress some recruits!
*
*
*
*
*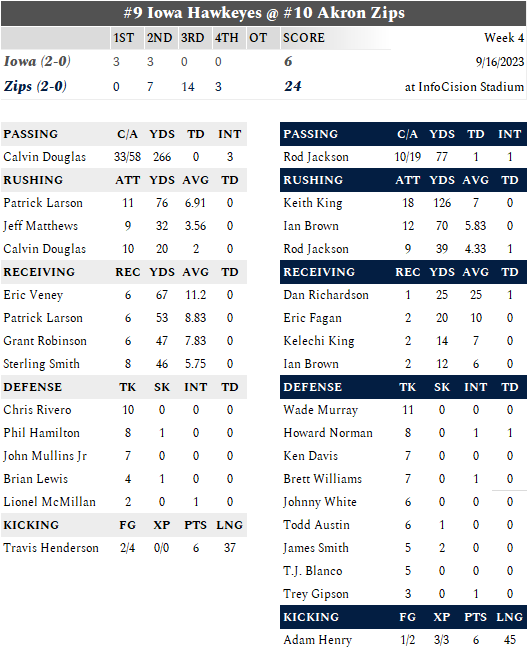 Another defensive masterpiece! Howard Norman gets a pick-six and the defense shuts the Hawkeyes out in the second half. The Coach Luke offensive playbook looks a little iffy though as the team has some struggles passing the ball.
Big win!
In the other anticipation from the game, we do get prospects to commit after the game!
T Brad Robinson (77 OVR)
CB Travis "Barker" Parker (74 OVR)
MLB Travis Matthews (76 OVR)
The most exciting commitment T Brad Robinson to secure our offensive line. I've been worried about both our depth and our future on the line so I'm happy to beef up our trenches.
All in all, to have five players committed by Week 5 feels like another tremendous start to our recruiting. We've already gotten two MLBs to fill the center of our defense in the future. We secured some o-line help and a potential QB of the future. Everything's coming up Akron.
3-0 | Week 5 vs Kent State
Our next game is against some team from Kent State. I think we used to play them before and I think they like to call themselves our rivals. The folks at Kent State even call this game "The Battle For The Wagon Wheel" even though the wagon wheel has lived on Akron's campus for nearly a decade.
I invite out a bunch more recruits for this "rivalry" game against Kent State.
And?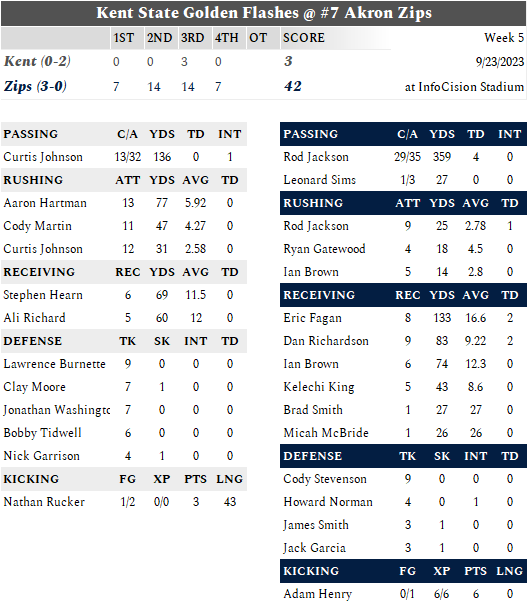 The defense doesn't quite get the shutout but they do their thing! In this game, our rushing attack falters but our passing game does well. This playbook is a bit wild like that! We also do get two recruits to commit to Akron after this nice little win.
The big news?
We get DE Vince Dingle (78 OVR) to commit! Dingle is a Zip, baby! Let's go!
Oh, and TE Joe Hill (70 OVR) also joins the team as a potential rotational tight end of the future.
3-1 | Week 6 at #4 Oregon
In one of our biggest road games ever, the Zips travel to Oregon in Week 6 to face the #4 Oregon Ducks. They are rated 91 overall so, despite their high ranking, this should be a game that the Zips can win. Getting this big win on the road will undoubtedly show the country that we're back in the title hunt this year.
This game was among the games that we watched on Twitch. You can find the highlights from that game condensed down into a three-minute video here:
*
*
*
*
*
Oh man. We lose 21-9.
This was just a disaster of a game. Our offense was not only pedestrian but downright hard to watch. We brought in backup QB Leonard Sims for a few drives to try to right the ship but he was no better than QB Rod Jackson. Our defense did an admirable job but they couldn't do anything to save us from our putrid offense here.
Coach Luke and his gang of assistants hold an emergency meeting after this game to talk about the state of the offensive playbook and try to implement new concepts for the rest of the year. After that big meeting, Coach Luke then sneaks away and goes back to his true passion of recruiting.
With five players already committed to the Zips for next year, we make some changes to our board and invite prospects to visit for our upcoming Auburn game. Here is what our board looks like at this point: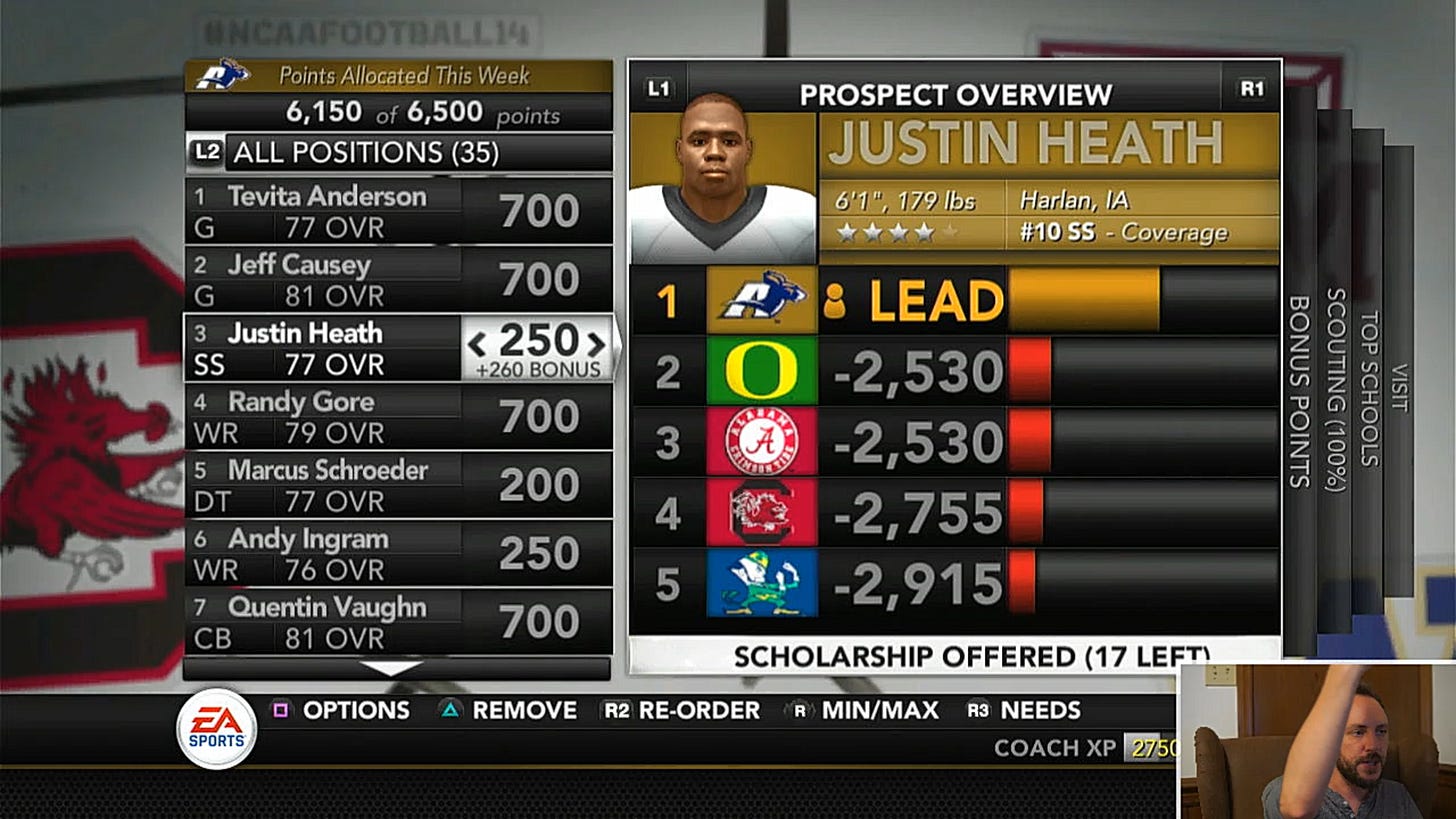 While I'm hoping to build up the trenches first and foremost, getting some help at WR has now become a priority. I'm giving thought to new playbooks and concepts after seeing our offense fail in games that we watch. Part of that new philosophy may involve air raid concepts and having more depth at WR.
4-1 | Week 7 vs Northwestern
We return to Akron for a palate cleanser after that rough loss. Our season is not over by any means but we need to get hot now if we want to return to a BCS bowl game. We next face an 81-rated Northwestern team that is led by QB Ricky O'Donnell Jr.
And?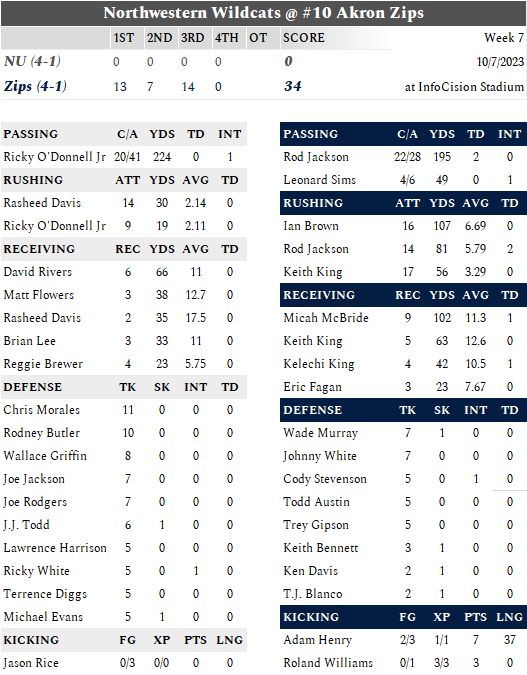 The defense pitches a shutout! This is our second shutout of the year and the fourth game that we've held a team without a touchdown. Incredible.
In other good news, the offense gets back on track with a run-focused spread offense approach. Coach Luke has sent a message to the BCS and that message is: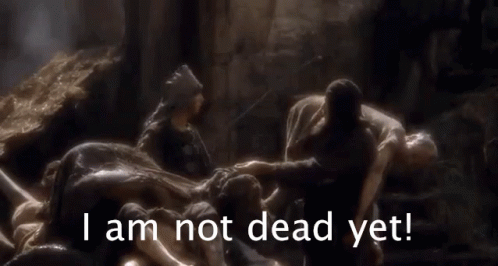 To cap off a great week, Coach Luke gets the call and WR Randy Gore (79 OVR) has committed to Akron! He's a five-star player and the #2 WR in the country. This is a big get for us and could ensure that we have a productive passing attack in the future when paired with the two other five-star WRs we got last year in Sean Odom and Roger Cooley.
5-1 | Week 8 at Georgia State
We travel to Georgia to play a preseason-ranked Georgia State team. They're no longer ranked and we just hope our team can put on a show against the lowly Panthers.
And?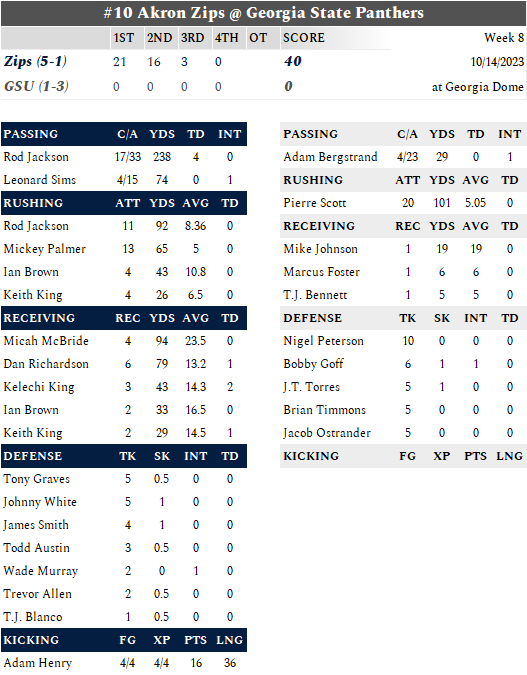 Back-to-back shutouts, baby! I love this year's defense so frickin' much.
6-1 | Week 9 vs Auburn
Our next matchup is against Auburn and it is noteworthy because they have reader-created Matthew Morrow V at halfback but he's buried on the depth chart currently.
It's even more noteworthy of a matchup because we have a handful of recruits coming out to visit for it. The Tigers are an unranked team this year but they are still rated 91-overall so this isn't one to quickly scroll past.
I watch the game nervously…
And?
*
*
*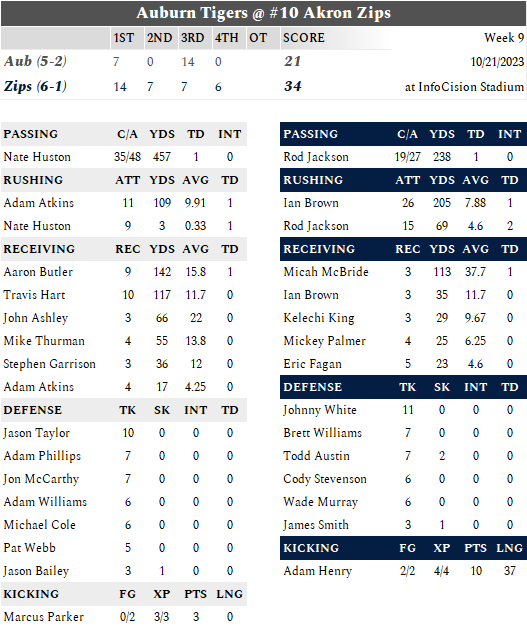 The Ian Brown game! Coach Luke's switch to spread offense running concepts midseason is paying off in a big way. Our defense has a bit of trouble for once but the offense does their job to keep this season on track.
Given that we had recruits coming out to visit, it's no surprise that we are able to get some commitments after the game:
CB Quentin Vaughn (81 OVR)
OLB J.D. Parks (71 OVR)
G James Brown (68 OVR)
CB Trent Ware Jr (68 OVR)
Many of these players may either be cut or backups for us in the future but Quentin Vaughn is a super-exciting player. He rates as having a 98 Speed already and I can't wait to see what he does on the football field for us moving forward.
7-1 | Week 10 vs Kentucky
At this point, we're kind of looking ahead to key ranked games against South Carolina and Notre Dame on our schedule. I hate to admit that because looking ahead is always a recipe for trouble.
We've got 86-rated Kentucky coming to Akron in our next matchup though so let's do work.
And?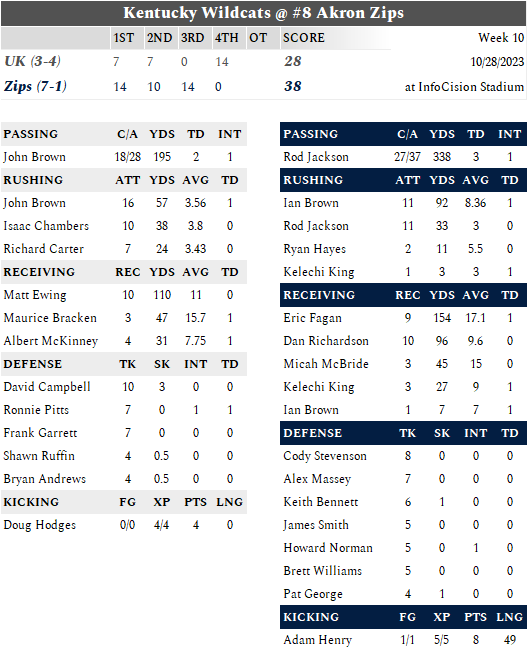 Welp, it wasn't a blowout but it's still a win and that's what we needed!
We land a handful of prospects after the game too with JUCO SS Corey Johnson (79 OVR), SS Justin Heath (77 OVR), and WR Calvin Thomas (72 OVR). The rich get richer.
8-1 | Week 11 vs #8 South Carolina
We're ranked #9 in the country at this point with our one loss. There are six undefeated teams in the country unfortunately so we've got a tough path ahead of us.
Whether or not we return to a title game, we want to restore the faith in the Zips though. Our game against #8 South Carolina is a big step in that process.
They travel to Akron. It is a snow game. We watched the game on Twitch. Here's the six-minute highlight reel:
*
*
*
*
*
This game nearly broke me mentally…
But we win! 27-20!
There were sixteen total turnovers in this game between both teams. It was like a game of hot potato but… in the snow… so, cold potato? Regardless, it was crazy. Nobody could hold onto the ball and we somehow survived this insanity to take the win.
We now have two remaining regular season games against Navy and Notre Dame. They are both teams we've lost to in recent years. A lot is riding on the outcome of those two games.
But, this is where we end today. We'll find out how those games go and our bowl game result in the next post.
---
Current Commitments
We did get a couple more commits after the South Carolina game to give us a stout little class thus far. Here is who we have committed to Akron this year: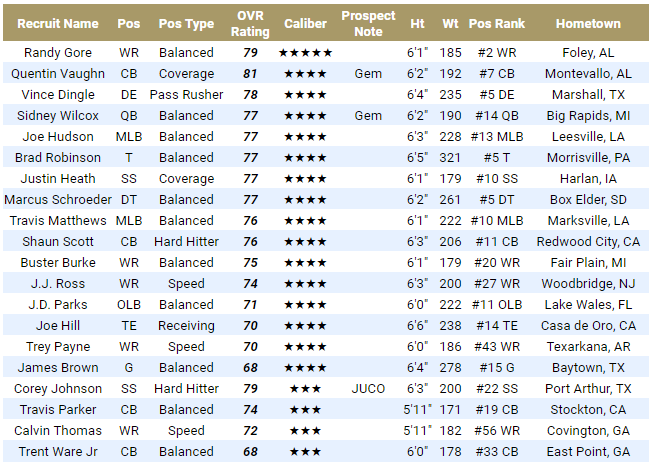 If you do happen to join the Discord server, you can see screenshots of each of these players' ratings there.
---
Housekeeping
So, in full disclosure, the playbook had looked a little shaky in games we watched. After the Oregon game, I ended up having some deep conversations with reader Josh and others on the Discord server. Ultimately, we made some playbook changes and we will now have three playbooks in the future based on our team's makeup: a Spread run playbook, a balanced Air Raid playbook and a pass-focused Air Raid playbook.
Join the Discord if you want to join in on these behind-the-scenes discussions about the team.
Also, here's a link to the spreadsheet that contains our team stats and box scores for the season thus far.
---
Friday Night Twitch Party at 8:00PM EST!
I'll be streaming the rest of the season tonight on Twitch. If you haven't stopped by a stream yet, I swear they are super fun and there's a good crowd of us watching these games and chatting about it as we do.
Here's the thing though: we may make a major bowl game tonight. I don't know which game it'll be. If we happen to make it to a national championship game, I'll post an alert on my Twitter.
The Twitch channel link is here if you wanna pop in at some point. It'll be a late night.
You don't have to watch on Twitch though because the next post will go up over the weekend! Stay tuned and, as always, let's f'n zip!