Welcome to another roster preview to supplement the series about Akron's quest for eternal glory in NCAA Football 14. For any new readers, feel free to check out the about page of the site to read about this whole project and catch up on the past installments. This preview is meant to give you a closer look at the team since there are so many players to know on a fictional football team.
The atmosphere is tense in Akron in the year 2023. The Zips are no longer at the top of the college football food chain after a four-loss season, and there's plenty of blame to go around.
HB Ian Brown has not lived up to being rated 99 overall and seems like a poor fit for this offense. QB Rod Jackson hasn't electrified in games that we've watched. The players themselves may not be the whole problem though. Coach Luke's game management skills and playbook creation ability have been called into question. The Akron faithful are upset and Coach Luke is feeling the pressure.
The Zips are trying to get back in the national title conversation in Year 11. Coaching ability aside, does Coach Luke even have the pieces to make that happen?✓
---
Meet the Offense
The offense lost stars WR Chauncey White and T Nigel Crooks in the offseason, but the offense actually seems better than ever despite that. The Zips were rated 97 on offense the last two years but they are now back up to a 99 rating.

Ratings don't mean everything though. The biggest concerns are about the depth at wide receiver and the weak links on the offensive line. As long as those issues don't become a problem, this offense should be electric.
Another King Emerges: HB Keith King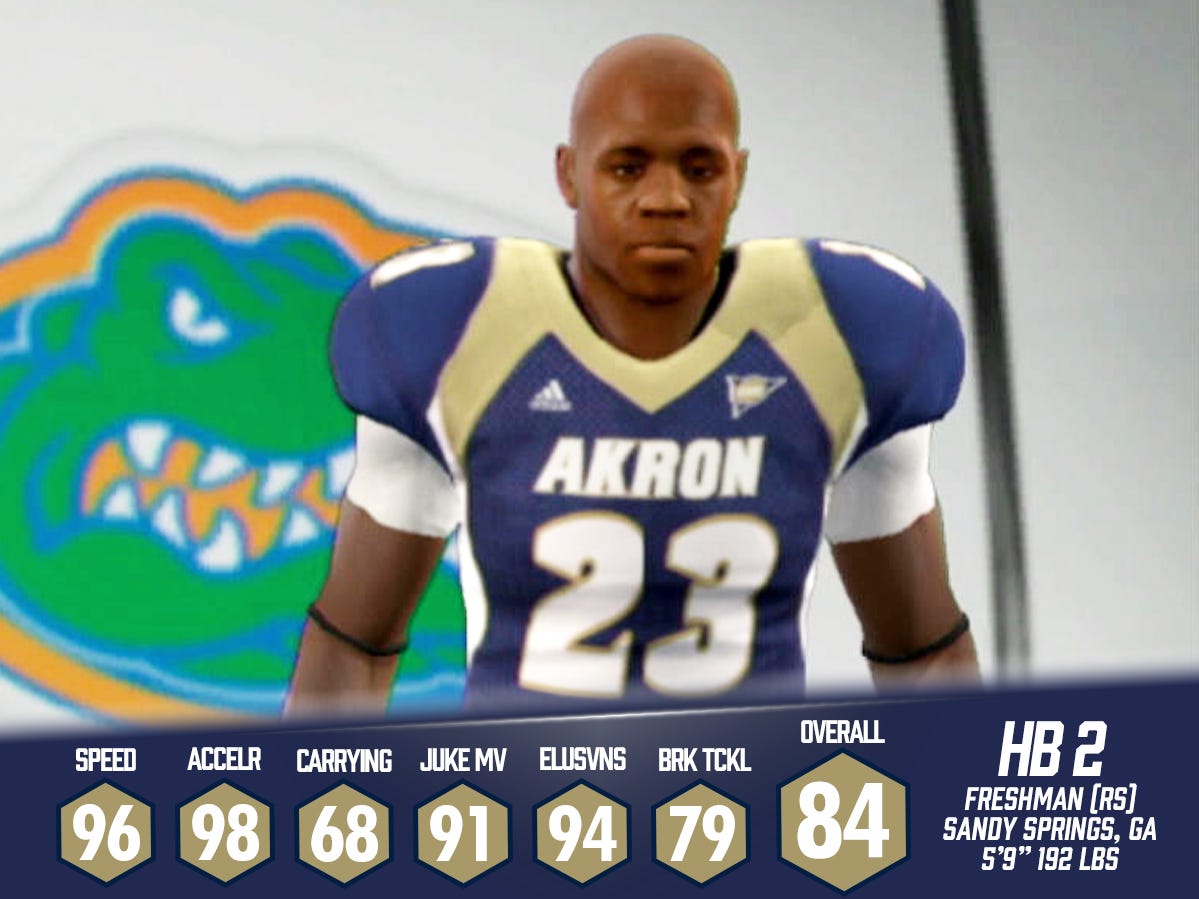 When Keith King arrived on campus, it initially irked Kelechi King. The two eventually got past the fact that their names are so similar and they developed a kinship. Keith and Kelechi now constantly joke with Coach Luke about recruiting a third King so that they can recreate the movie Three Kings. It's a weird joke for teenagers in the year 2023 to make but let's let them have their fun.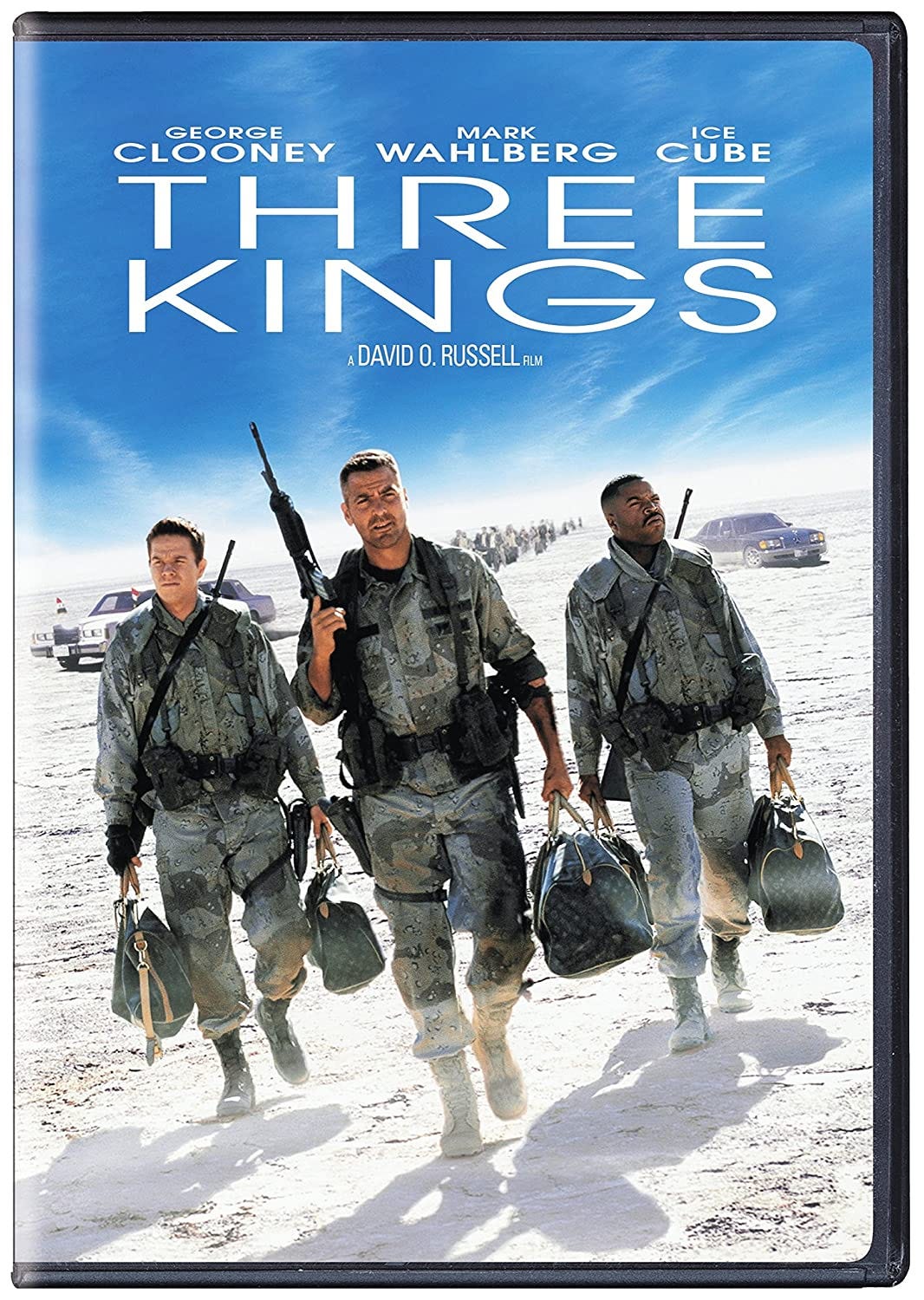 Keith King may be the most important young Zip to know right now. If you've been on the Twitch streams, you know that starting HB Ian Brown has been one of the biggest disappointments for Akron over the past few years. Keith King is the man destined to take over for our fallen star.
It's likely too soon for Keith to step into that role this year but he'll be worked into the offense to hopefully develop during the year. If Ian Brown continues to fail, Keith King needs to be ready to replace him.
The Start of Something: TE Eric Fagan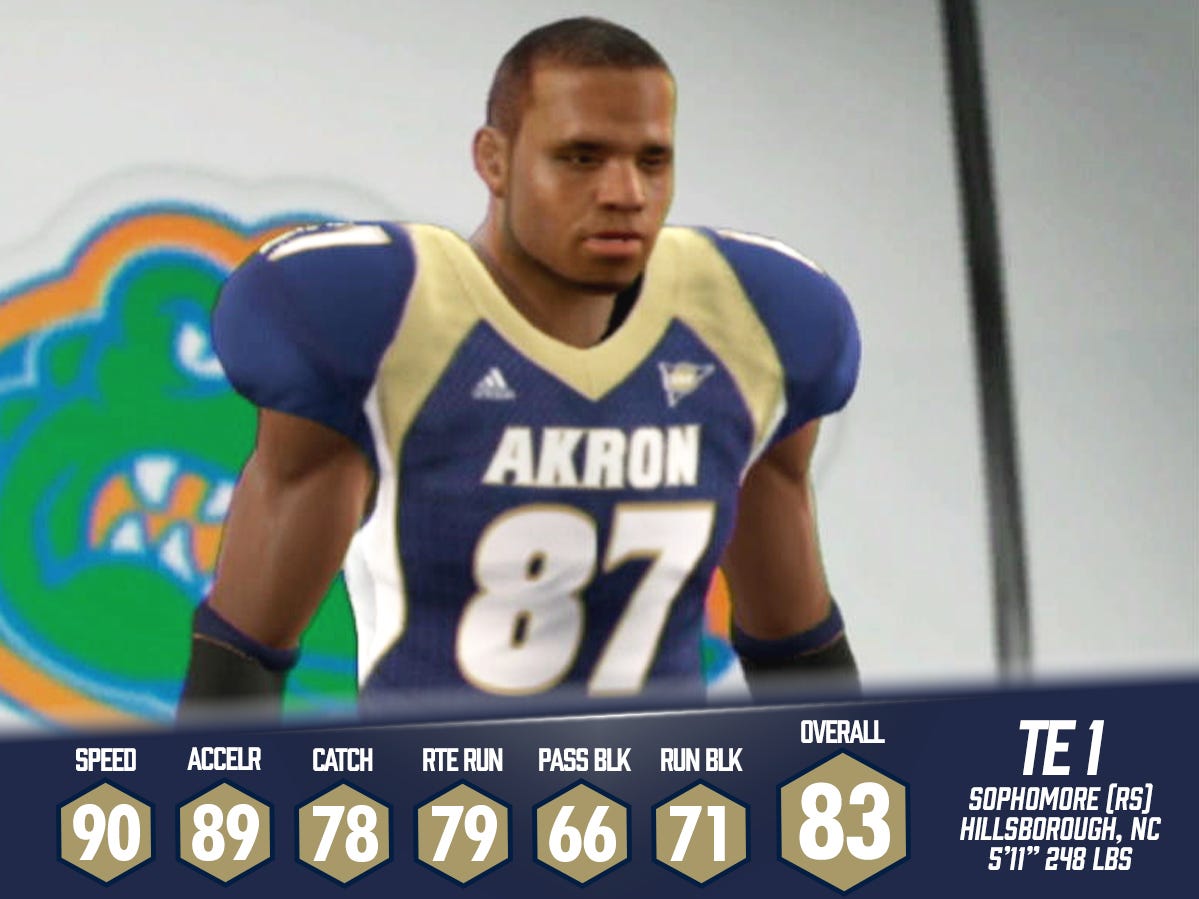 Eric Fagan is one of the most interesting and exciting pieces in our new offense. Fagan was recruited as an athlete and could have played many positions but Coach Luke chose to develop him as a tight end. Most tight ends don't have this sort of speed and catching ability. Those unique traits are what moved Fagan above higher-rated Ryan Gatewood on the tight end depth chart.
Coach Luke has a number of sets in the playbook that hopefully should utilize Fagan as a secret weapon this year. There's a lot of hype about whether Eric Fagan can be the first great tight end that Akron has had under Coach Luke.
Players Talked About In Previous Years
HB Ian Brown – I thought this tiny speedster would be our next great Akron running back. His high ratings haven't matched up with what we've seen on the football field though as he has been unable to top 600 yards rushing in both of the past two seasons. Mentioning Ian Brown's name to Akron fans these days is sure to activate a gag reflex.
WR Kelechi King – Kelechi had an incredibly disappointing freshman year but started to bounce back in his sophomore year. He still had five drops and didn't accumulate a ton of yards last year but he was mostly acting us our #4 WR. This year, he's getting the chance to start again and we hope this is the next chapter in his redemption arc.
QB Rod Jackson – We may be entering Rod's last year as a Zip because there's a decent chance he could want to go pro after this year. Rod had a great year as a starter last season that was capped off with him being a Heisman finalist. It wasn't all sunshine and rainbows though. In games that we watched, he looked unwilling to wait for routes to develop. This resulted in his eventual benching in favor of pocket passer Kevin Matthews. Rod will likely continue to shine in sim games but we want to see him step up in games we watch in Year 11.
---
Meet The Defense
It's been incredible to watch the rise of our defense over the years. It's hard to imagine that defense used to be our weakness, but it's certainly been our strength in recent years. Last year, the Zips held opponents to ten points or less in seven of their games.

We lost some key pieces, as always, but I actually think this year's 99-rated defense may be our best yet.
Stone Cold: LOLB Todd Austin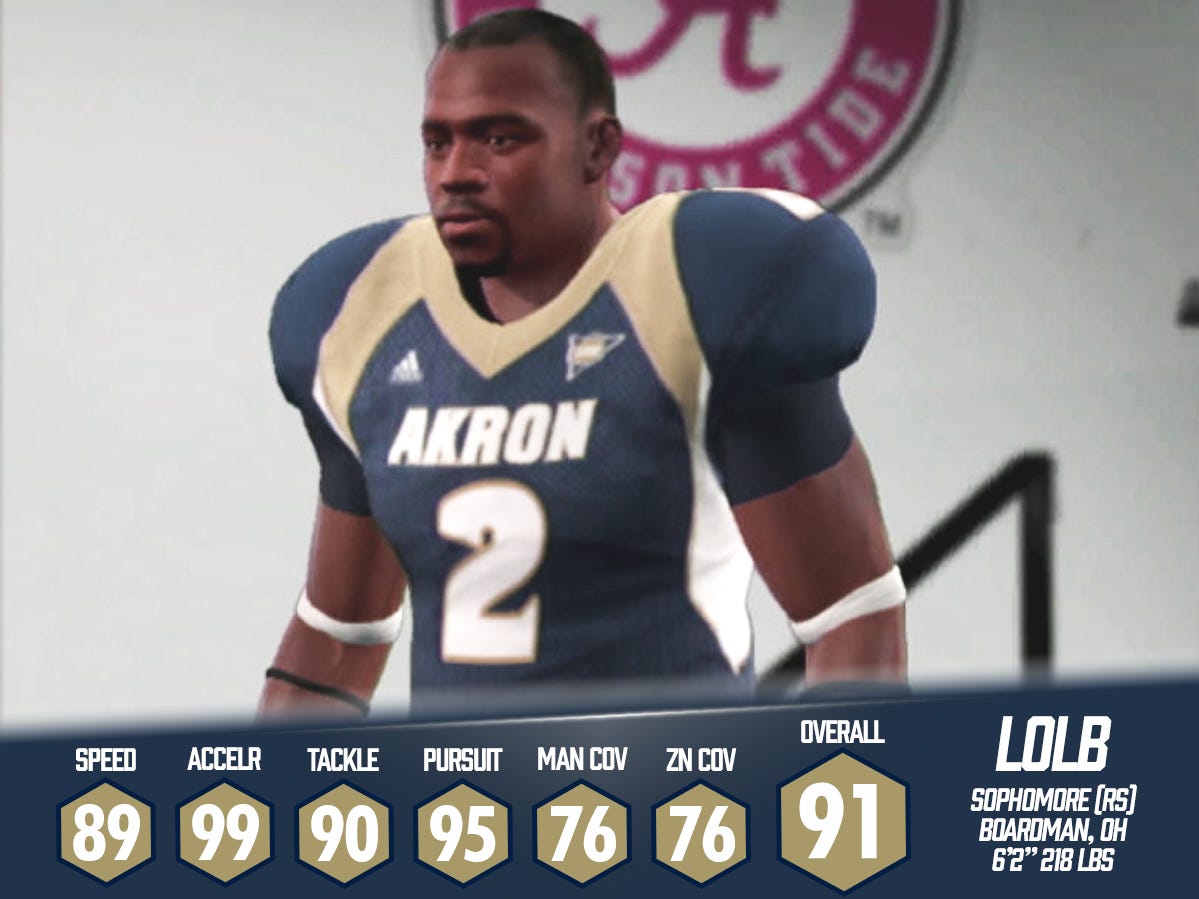 While Akron's recruiting program goes around the entire country, there's still something that is extremely satisfying about finding a local star. Todd Austin came to us from the outskirts of Youngstown, OH. He's part of a new generation of players that have only seen Akron as a successful football team growing up. When Coach Luke called Todd for the first time, he was extremely nervous to talk to the legend himself. Todd still has to pinch himself every day to believe that he gets to play at Akron under the legendary young coach.
He's an exciting player with great speed burst and pursuit abilities on the left side of our 3-4 defense. Only in his sophomore year, he's already rated 91 overall and has the potential to be the best linebacker that we've ever seen at Akron.
Massive: DT Alex Massey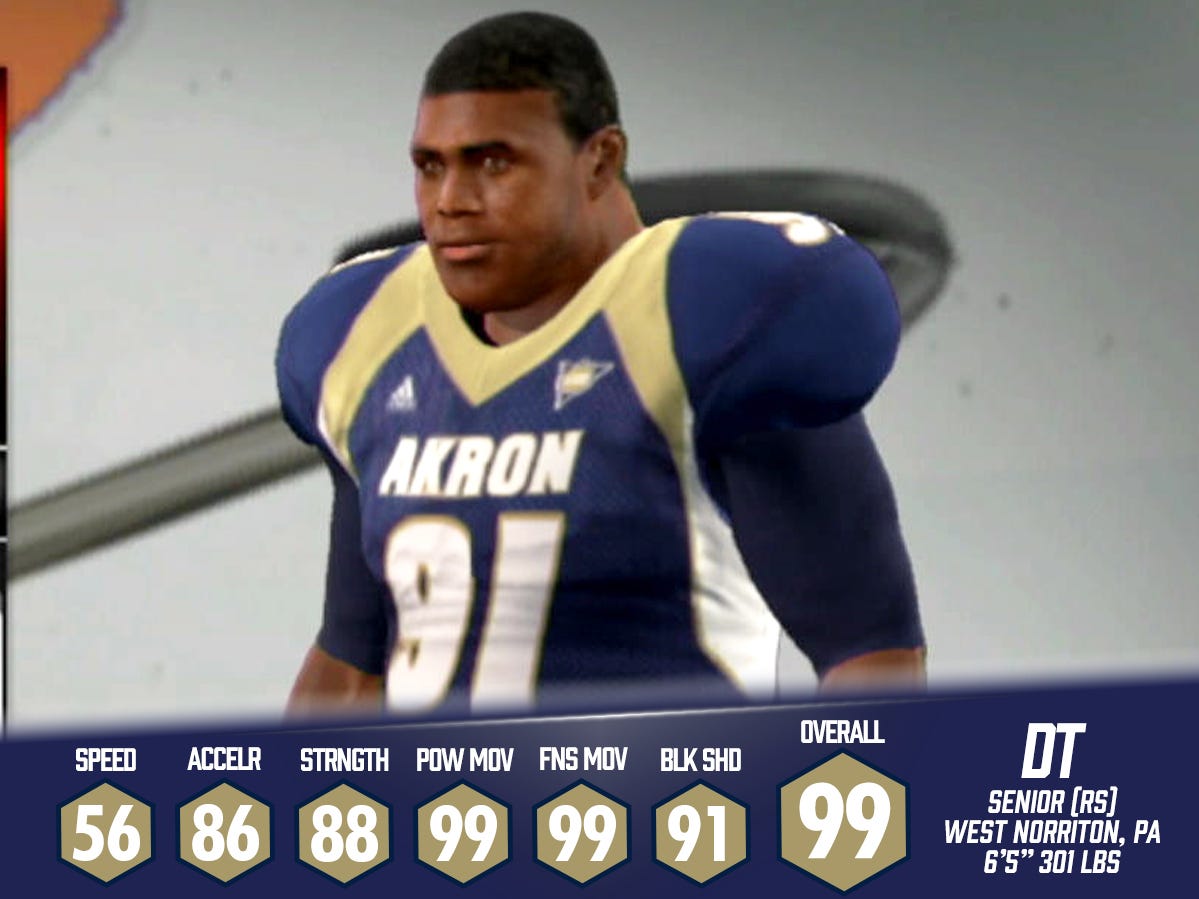 Alex Massey has quietly worked his way up to being the highest-rated defensive player we've ever had at Akron so I just had to give him a little shoutout as he enters his senior year. He's a nose tackle and started to accumulate impressive numbers last year with 11 tackles for loss and 3.5 sacks. He has a great ability to generate backfield penetration with both a 99 rating in power moves and finesse moves. I'm very curious to see what the 99-rated nose tackle can do in his last year here for us.
Players Talked About In Previous Years
CB Howard Norman – There are high hopes for Howard Norman to be one of our next great cornerbacks. He was eased into the defense as a freshman last year as he mostly played nickel cornerback. He gets the chance to be the #1 guy this year and is already rated 93 overall as a sophomore.
CB Ethan Terrell – Ethan "E.T." Terrell never redshirted and jumped right into being a productive cornerback for us. Last year, he wowed Akron fans with four interceptions in two games to start the season. Now entering his junior year, the hope is that he can continue to be an interception machine in Year 11.
---
Meet the Special Teams
Our punter Adam Henry, rated 97 overall, enters his senior year and will start the season by serving as both the kicker and punter. He is our first ever dual-threat special teams player. We do have long-necked Roland Williams as a freshman kicker on the roster as well, but he'll be eased into the role.
---
Year 11 Schedule
Our schedule has a bit more balance this year when compared to Year 10. There are five opponents that are ranked to start the year but only two of them are rated 95 or above.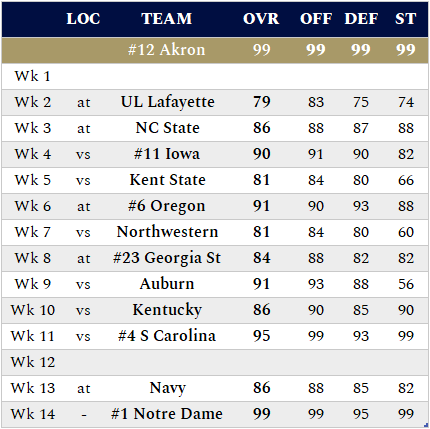 ---
Friday Night Twitch Party!
It's Friday and that means that I'll be on Twitch tonight watching the start of the season with you all. You don't need a Twitch account to watch but you do need one if you want to join in the goofy chat. The chat is filled with multiple people named either Andrew or Matthew. There's a cricket in my house that chirps along with the game. It's fun times. Here is a link to my Twitch channel.
The stream will start at 8PM EST and will go late into the night. We'll be watching multiple games from the first half of the regular season.
There will also be streams on next Tuesday and Friday night to finish watching the season. Here is the season streaming schedule:

I hope you can make it tonight! Either way, there will be a recap of the first half of the season going up sometime next week. However you choose to follow this ongoing series, I appreciate you and the support!
Happy Friday! Let's freakin' Zip!